As we continue our journey into The Great Inversion series, we turn our gaze towards the second transformational shift that is set to redefine the Travel and Mobility Tech landscape.
In our first article, we explored how communities are driving the demand side of travel, ushering in a new era where the traveler's voice takes precedence over an "assets-driven logic". This transition is leading us towards a consumer-oriented future, a reality where the "why" and "how" of travel have become the central focus.
This brings us to the theme of our second episode: "Advanced Means".
This trend captures the evolving meaning—the "means"—of travel.
As the COVID-19 pandemic continues to leave its mark on our lives, it has fundamentally accelerated a "rethink" around core questions that drive our travel decisions.
These include the simple but profound inquiries:
Why do we travel in the first place?
And how do we want to travel going forward?
The Three Pillars of the "Advanced Means" Movement
In our exploration of the "Advanced Means" trend, we have identified three distinct movements that are reshaping the way we perceive and experience travel.
Let's take a closer look:
Blurred Travel: The COVID-19 pandemic has spurred an evolution in work concepts, giving rise to what we refer to as "Blurred Travel." Moving beyond the conventional categories of "business travel" and "leisure travel," Blurred Travel represents a new purpose for travel, one that seamlessly blends work and leisure. However, this blurring of boundaries isn't the only shift we're witnessing in business travel.
Travel Augmentation: The notion that every meeting requires in-person attendance has been relegated to the past. Today, a plethora of digital communication tools facilitate easy planning and execution of meetings, radically transforming the means by which we conduct business interactions.
Furthermore, as we cast our gaze into the future, we see not only a digital but also a virtual evolution of work culture.
We're standing on the cusp of an era where immersive meetings and interactions are facilitated by advancements in metaverse and immersive technologies. Both pioneering startups and industry stalwarts like airlines are starting to tap into the potential of this exciting new realm.
Trip3: This discussion around metaverse movements ties into the larger theme of Web3, a new internet infrastructure rooted in blockchain technology. This revolutionary framework allows users to own their data, potentially overhauling the entire travel supply chain by altering the means through which travelers interact with the ecosystem of services.
Imagine the possibilities: using Web3 wallets, travelers could experience a more streamlined journey, from the booking process to airport security and customs procedures, all while earning loyalty benefits from their preferred providers.
In the following sections, we'll delve deeper into each of these categories, illuminating the transformative impacts they're set to have on the travel landscape.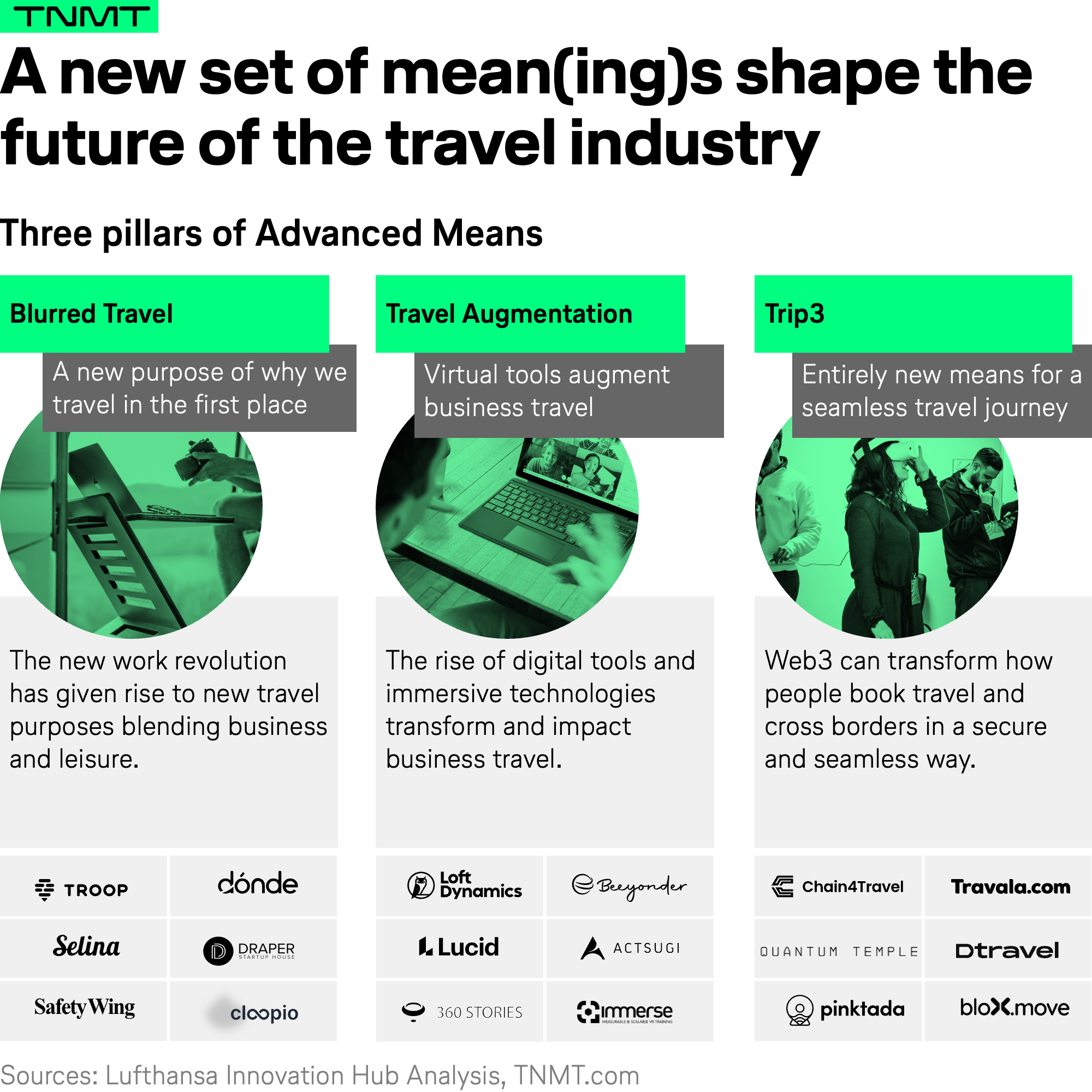 1. The Rise of Blurred Travel Goes Beyond Bleisure
"Bleisure" and "Blended Travel"—terms signifying the fusion of business and leisure travel—were concepts familiar to us even before the pandemic. But the travel landscape is now witnessing a more profound transformation, one that we term as "Blurred Travel."
Unlike its precursors, Blurred Travel is driven by a fundamental shift in the purpose and meaning of travel, resulting in the rise in extended stays and accelerated by the phenomenon of "revenge travel." This transition underlines a complete rejig of our traditional understanding of travel purposes.
Two key data points validate this transition:
The surge in long-term stays as recorded by Airbnb. In the summer of 2021, extended-stay bookings nearly doubled to 24% from 14% in 2019, and even in Q1 2023, they made up 18% of gross nights booked.
Our own analysis of flight booking data, in partnership with Skyscanner, also reveals this drastic shift in booking patterns. In 2018, short stays (<4 days) and classic holidays (5-14 days) represented over two-thirds of all bookings to Thailand. However, in 2022, the situation transformed significantly—both travel categories now account for less than 60% of travel demand, while extended stays have grown by over 40%.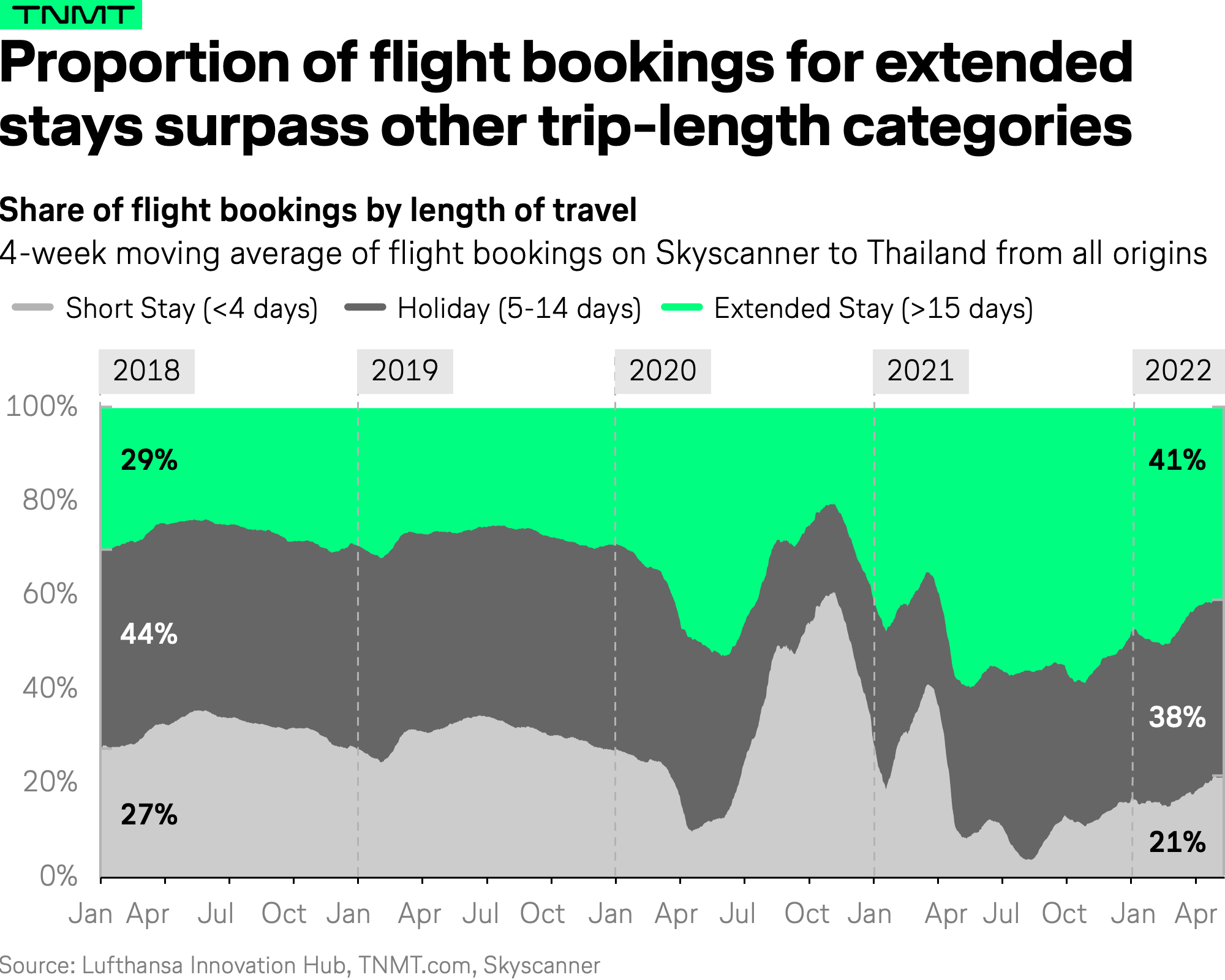 These findings are significant, given that traditionally, vacations of 14 days or less have long dominated travel bookings. The rise in extended stays is a clear indicator of an increasing number of travelers combining work and vacation.
To better illustrate these new types of Blurred Travel, we have developed a Post-Pandemic Blurred Travel Overview, represented in the chart below.
This framework features two dimensions: "state of movement" (home vs. traveling) on the vertical axis, and "travel purpose" (work-related vs. leisure-related) on the horizontal axis.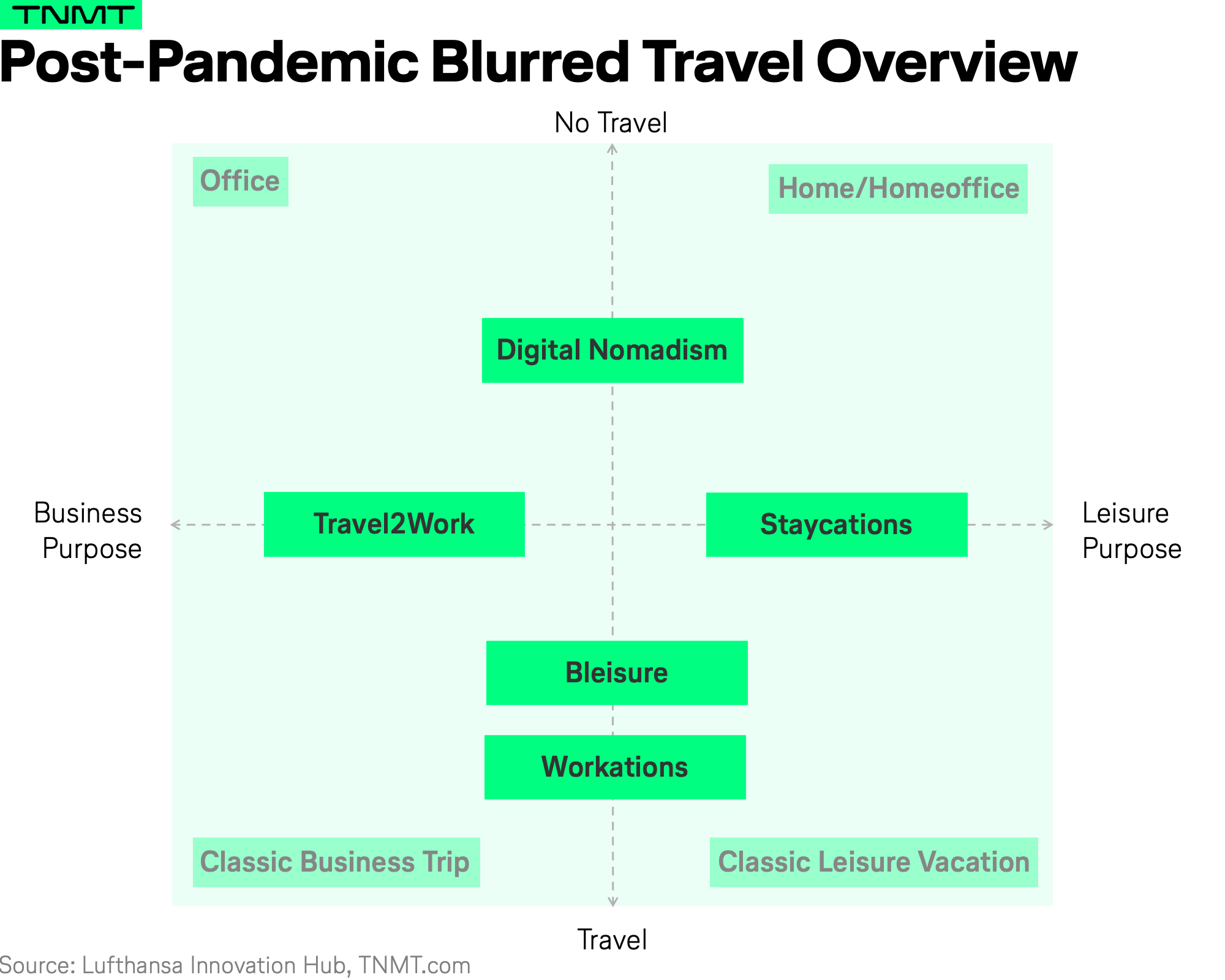 The intersection of these dimensions forms four distinct quadrants—the office, the home, the classic business trip, and classic leisure vacation, which were previously separate and distinguishable. However, the pandemic-induced shifts have blurred these boundaries, leading to a range of new travel types.
New tech players have emerged to serve these changing travel purposes, with innovative startups carving niches for themselves in this evolving travel landscape.
Here are three noteworthy examples:
Selina: UK-based Selina is a hospitality provider with a unique value proposition for digital nomads. By offering "beautiful places to stay, travel, and work abroad indefinitely," it's positioning itself as a key player in the Blurred Travel era. Its month-by-month coliving program, CoLive, allows digital nomads to work from any Selina hotels for extended periods.
Navan: A corporate travel platform based in the US, Navan (formerly TripActions), provides expense and travel management tools. It supports both enterprise clients and individual bleisure travelers, allowing users to book accommodation and transport for personal trips at preferential rates and offering customized expensing for different types of travel expenses.
Campsited: A Dublin-based campsite booking platform, Campsited introduced an "open-air work from anywhere" program. By offering campsite workations as a perk to companies, it's redefining the meaning of business accommodations.
The rise of Blurred Travel and the solutions catering to this shift underlines the industry's transition from a binary classification of "business" and "leisure" to a more flexible, purpose-driven model.
2. Travel Augmentation For Next-Generation Business Interactions
In the second chapter of our Advanced Means analysis, we cast our gaze on the profound changes that have been unleashed within the business travel landscape.
Specifically, we focus on the explosive growth and integration of digital communication tools that have established themselves as advanced means of communication during the pandemic.
Just to underscore the magnitude of this shift, consider this: during the height of the pandemic, Zoom's market cap was an astounding $150 billion—more than the 15 largest airlines in the world combined!
As the pandemic tightened its grip, countless business interactions migrated into the digital arena, leaving an indelible mark on corporate travel. This transformation is evident in the recovery patterns of the travel industry.
While leisure travel in North America and Europe has essentially returned to pre-pandemic levels, a full recovery of business travel is not expected until late 2024 or 2025.
The impetus behind this shift?
Two key factors stand out that are closely intertwined:
Firstly, the emergence of cost-cutting measures implemented by companies on business travel.
And secondly, the rising availability and improving quality of virtual substitutes for communication and collaboration, see the chart below.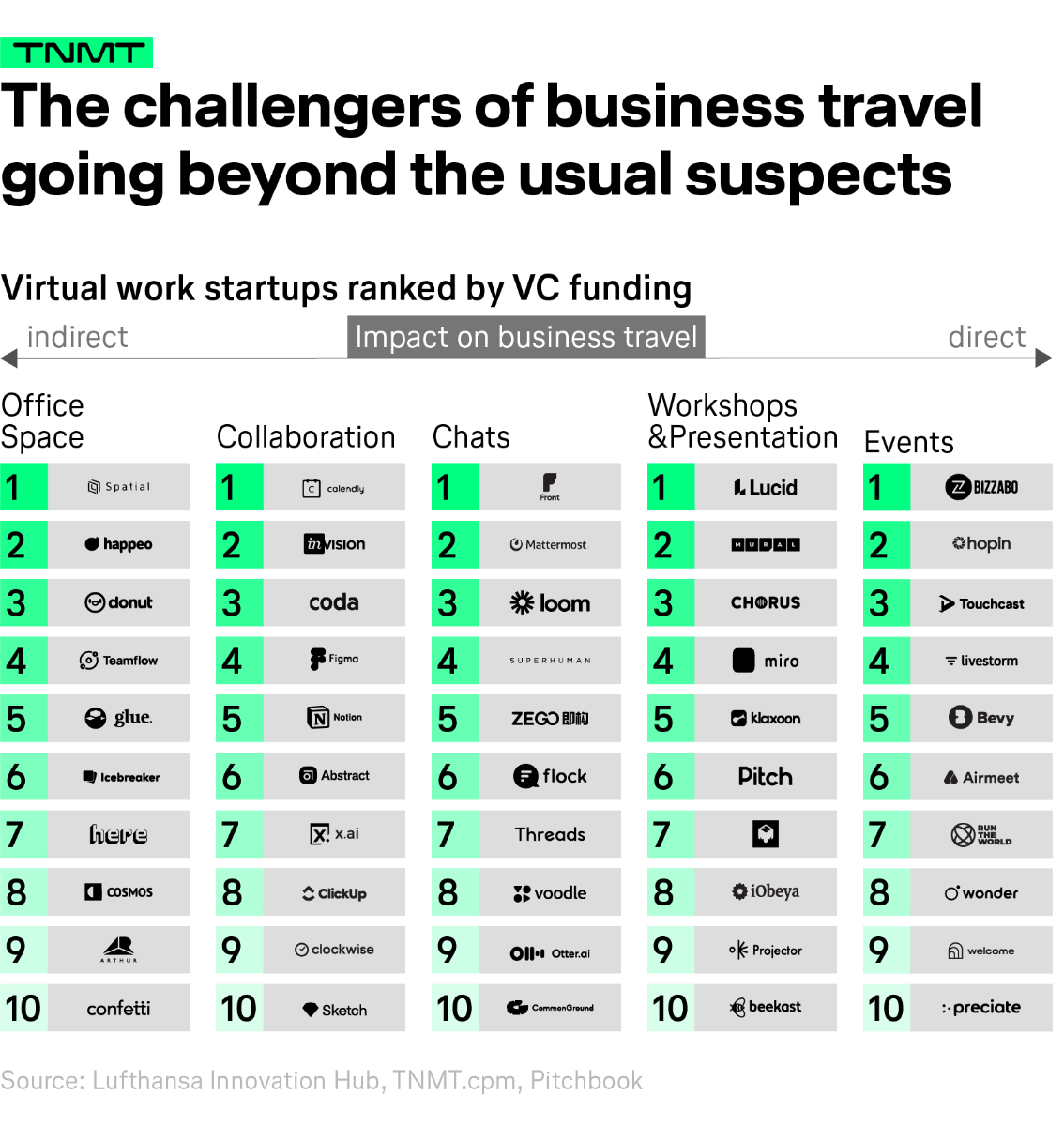 This phenomenon has proven enduring, even in the post-pandemic era, prompting a reevaluation of when and why business travel is necessary.
High-stakes sales meetings and critical negotiations, where trust is paramount, have largely returned to their in-person format.
Conversely, internal meetings and collaborative workshops have increasingly adopted a hybrid model, combining face-to-face interaction with remote attendees and digital tools, facilitating seamless procedure and diverse engagement.
As technology continues its relentless advance, becoming increasingly immersive and interactive, we may see further augmentation, and in some cases, substitution, of physical travel.
The emerging concept of the (travel) metaverse, with its shared, collective digital spaces, promises to dissolve the boundaries between our physical and virtual realities further.
However, until we reach such a stage, the trend appears to be towards augmentation, enhancing travel experiences with rich insights and immersive experiences, from "try before you buy" scenarios to more interactive cultural tours.
Our Travel Metaverse Framework classifies current travel examples based on their potential to either substitute or augment/supplement key aspects of the travel journey and/or operations.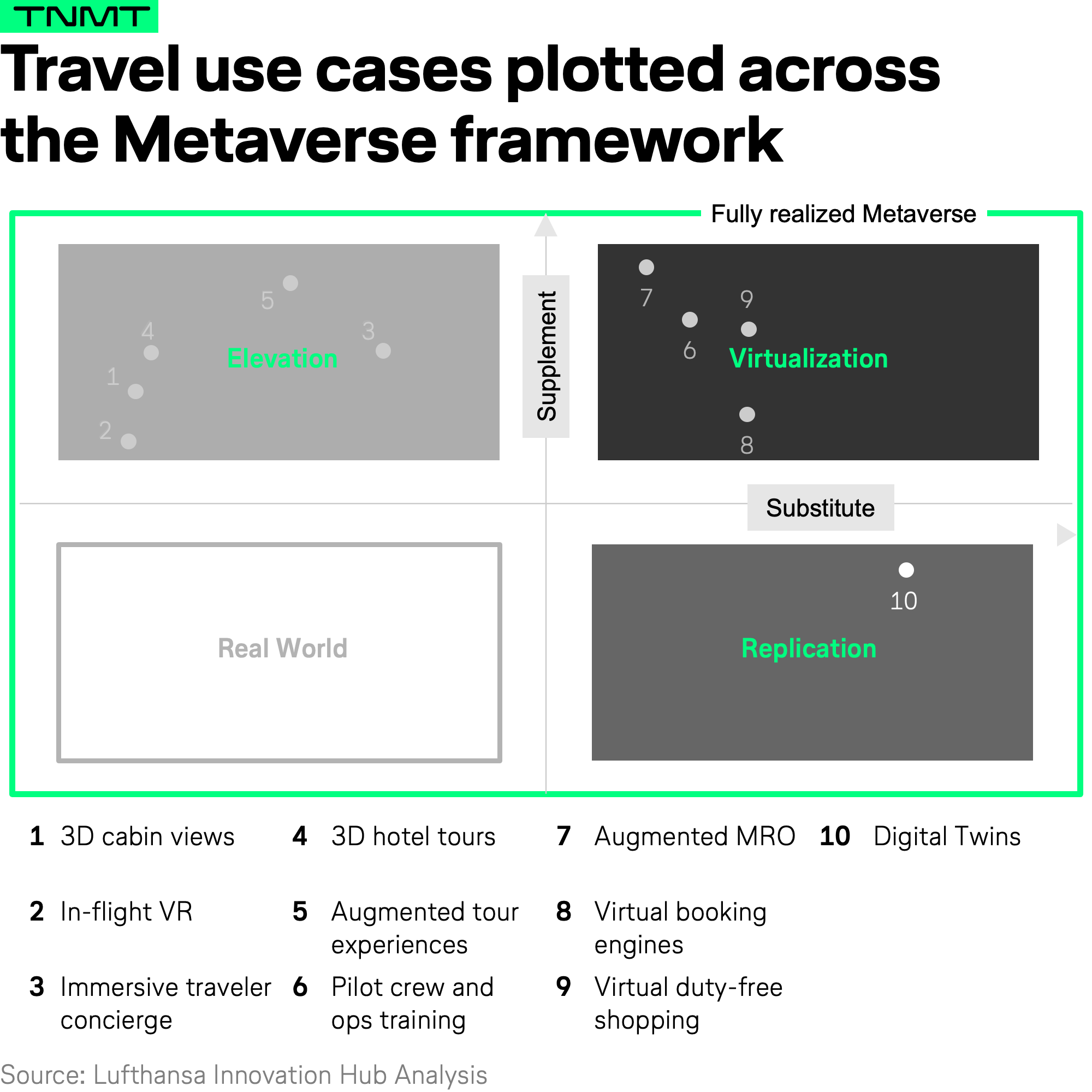 3. Exploring Web3's Influence on the Future of Travel
In the third chapter of our Advanced Means exploration, we step into the intriguing world of Trip3, a term we coined to describe the influence of web3 technologies on travel.
The potential of Trip3 is transformative, promising to revolutionize how consumers book travel, cross borders, verify their identities, and interact with loyalty programs.
At its most optimistic, Trip3 might finally deliver on the long-awaited promise of a truly "seamless travel journey". For this vision to manifest, however, travel providers will need to make drastic shifts in their customer interactions and travel product offerings.
But how can web3 and its associated technologies—including blockchain, NFTs, tokens, and cryptocurrency—impact how travelers engage with the travel ecosystem throughout their journeys?
At the heart of this shift are web3 wallets. Mirroring the functionality of popular digital wallets like Apple Wallet or Google Wallet, web3 wallets leverage blockchain to securely store items like tickets and booking documents.
In the context of travel, these wallets could streamline the traveler's journey, offering:
Secure storage for traveler documents and information: Web3 wallets can store essential documents like passports, visas, and health certificates, along with personal preferences and interests.
Seamless bookings: By storing all this information in a decentralized wallet, users can selectively share data with travel providers, speeding up the booking process. All information sharing is consent-based.
Identity verification: The underlying blockchain technology serves as a digital ledger, recording data verification instances like border crossings or security checks at airports.
Loyalty rewards storage: NFTs can also be stored in web3 wallets, an innovation increasingly adopted by travel providers like airlines as an add-on to existing loyalty programs.
Easy reselling or returning of blockchain-based tickets and bookings: Blockchain technology can streamline this process, bringing additional benefits to travelers.
Additional transaction channels: Web3 wallets can support transactions via cryptocurrency, ideally stablecoins, giving travelers the ability to transact across any number of currencies.
The question remains: are we moving towards a future of blockchain-based travel wallets?
The answer remains elusive.
While many decry the metaverse and crypto as overhyped, it is undeniable that the use of blockchain-based wallets has steadily grown over the past two years, even weathering the so-called "crypto winter" or "NFT winter".
This growth suggests a solid user base ready to expand further into the travel context.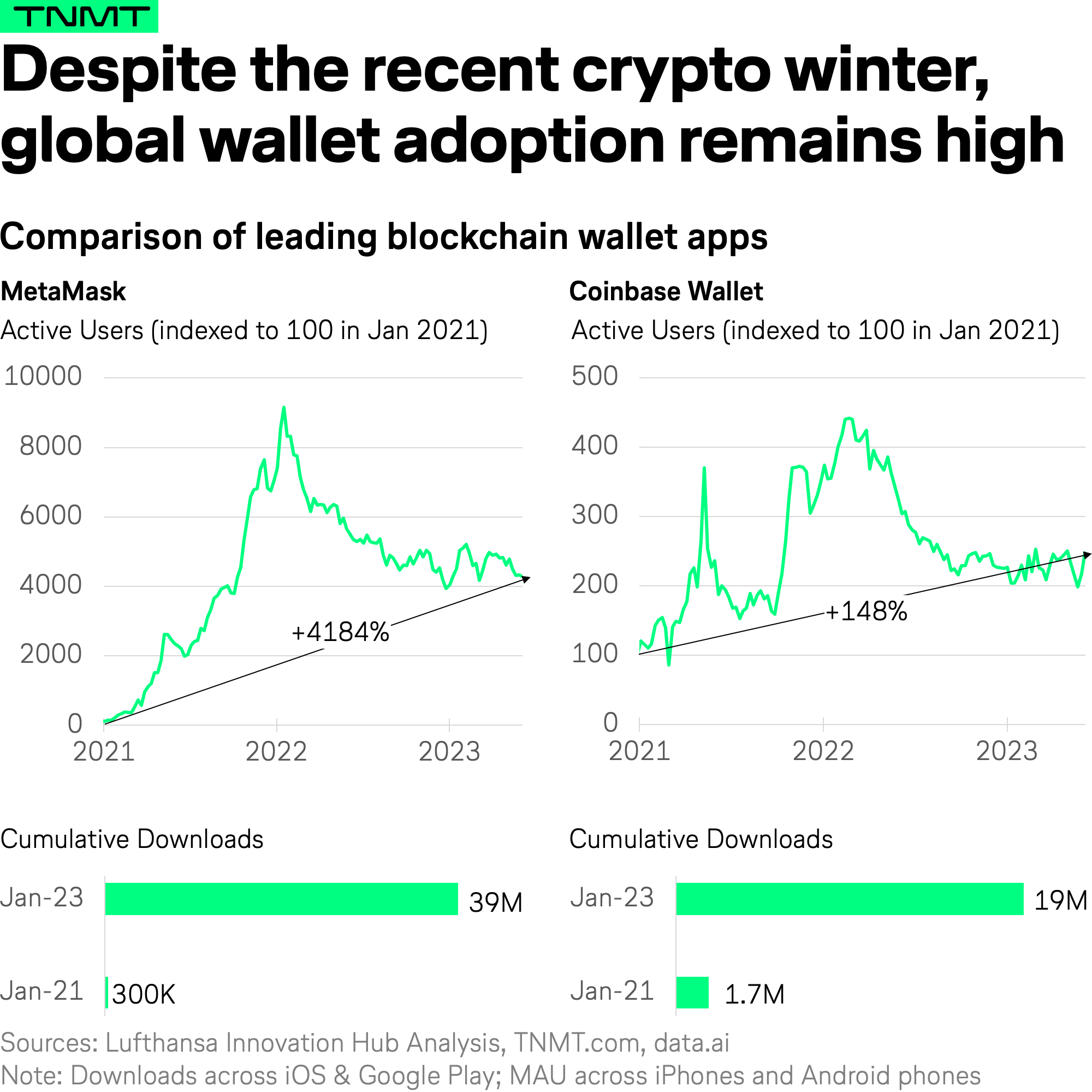 Beyond the traveler, travel providers too stand to reap substantial benefits from web3 adoption.
Blockchain technology can help develop a more seamless infrastructure for cross-border payments and settlements, create avenues for direct distribution, streamline inventory management, and provide new means of asset monitoring.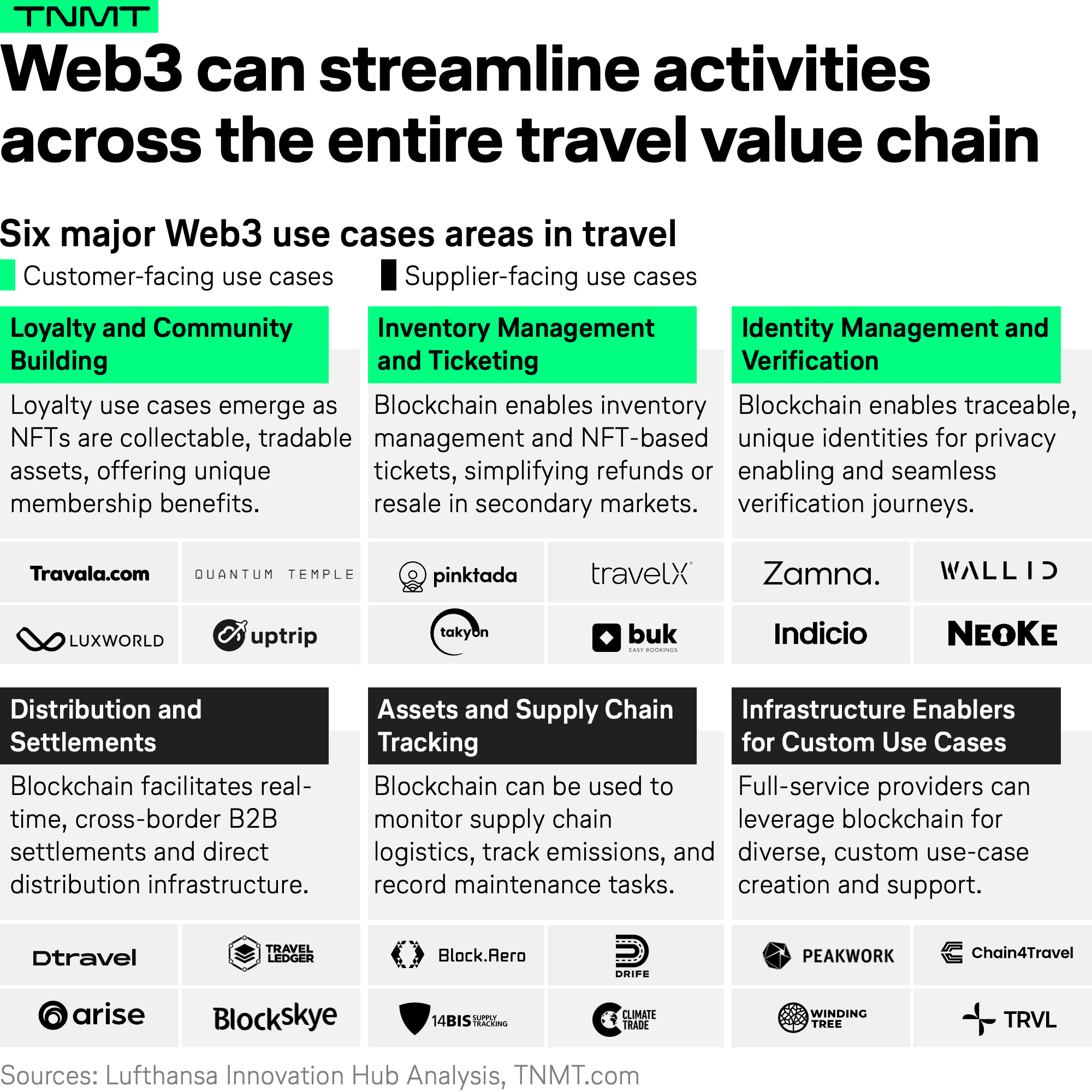 This shift toward Trip3 signifies a bold new frontier for the travel industry, filled with exciting opportunities.
As the nexus of technology and travel continues to evolve, the landscape of Advanced Means is set to be a thrilling journey of transformation, promising a future where boundaries blur, experiences are augmented, and trips are seamlessly connected through the web.