During the COVID-19 pandemic, most office workers experienced an abrupt shift to working from home. COVID acted like a time machine, fast-forwarding an entire decade in the future of remote work.
At the same time, air passenger traffic reached its lowest levels of the millennium. Business travel came to a near standstill as most companies kept corporate trips to a bare minimum.
This rapid shift to a virtual way of working will prevail even when the pandemic eventually recedes. Only three months after the initial lockdowns in March, 72% of office workers interviewed by PwC expressed a preference for working remotely at least two days a week post-pandemic. Bill Gates predicted that over 50% of business travel and 30% of office days will ultimately disappear.
Hold on, not so fast
Still, today's home office routine is characterized by a lot of friction beyond the typical video conferencing hiccups ("You're on mute"; "Can you see my screen?"). These include physical isolation and the resulting lack of motivation, an inability to sense the vibrant office setup, and what's probably the biggest pain point—the general lack of community and social engagement. For all the Zoom meetings and Webex events so far, none have come close to emulating real face-to-face interactions.
For tech, it's only a matter of time
But this is likely to change. Technology related to video communication is rapidly evolving from fragile video conferencing to a frictionless (holographic 3D) technology that emulates face-to-face interactions without the need for physical presence. This dramatic development will allow individuals to interact, brainstorm, and collaborate to deliver collective results without traveling.
These solutions will not only connect but also bring the joys of physical business life into your home. Travel companies need to understand this shift to adapt and survive. Without a doubt, the effective use of technology during the pandemic—and the economic constraints that many companies will face for years after it— already augurs the beginning of a long-term structural change in business travel as McKinsey concluded.
Even Jeffrey Goh, chief executive of Star Alliance, the world's largest airline group, predicts there will be a "structural change in terms of the business travel segment" that could leave the sector up to 30% smaller" in the long term.
Naturally, this work-life balance revolution presents tremendous opportunities for new products, services, and companies. Many startups have already grasped the challenge and developed solutions to ease the pain of today's virtual work environment and to connect people virtually, proving that business travel is not the necessity it was pre-pandemic.
Mapping the most promising virtual work startups
To help you get started, we mapped the 100 most promising startups offering virtual solutions that disrupt both physical interactions and business travel into one infographic.
All startups are categorized by type of business meeting/travel need, ranked by VC funding raised, and ordered (right to left) by their expected impact on business travel in the next years to come.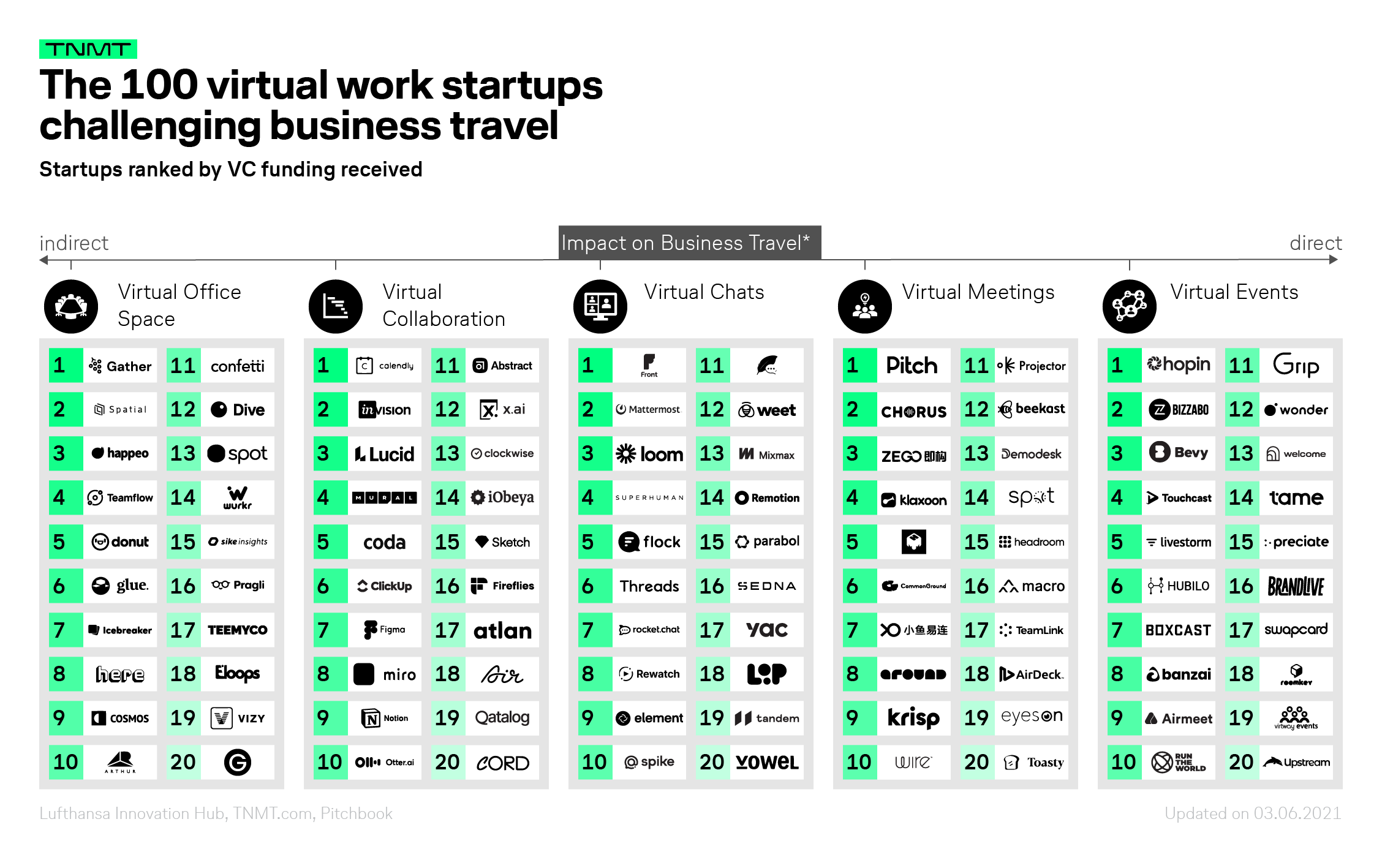 For a detailed view of all startups listed, we included a comprehensive table at the bottom of this article.
More context on the categorization
Quantifying the long-term substitution effect of virtual work solutions on business travel is beyond the scope and goal of this infographic. However, to get an initial understanding of the potential threat of the virtual world taking over, we ordered the major virtual-work categories based on their direct vs. indirect impact on business travel based on our best educated guess.
Virtual Events
This category includes startups that offer hosting platforms or products for virtual events including conferences, exhibitions, trade fairs, and conventions. We believe the startups in this category have the most direct impact on business travel replacement because of three key reasons.
Firstly, virtual event platforms have proven to be successful substitutes to the large-scale gatherings that have now been canceled because of their potential as superspreading events. A survey by IDC revealed that the majority of event organizers consider their virtual events a success in terms of attendance, downloads, and audience engagement. Likewise, only one-third of the attendants were not satisfied with the virtual experience. Thus, we assume a portion of offline events and business trips will be lost to virtual tools long-term because of the positive experience.
Having said that, the power of events really lies in networking and sharing an experience—something that people are eager to return to. For this reason, it's undeniable that in-person events will recover, but in a hybrid fashion. The startups listed in this category are already developing new features to tackle the issue of networking in virtual breakout rooms (e.g. Hopin, Wonder) and adding "physical" proximity functionalities that can trigger a call when you near an event participant (e.g. Welcome, Teeoh, Slingshow). About 70% of event organizers also want to keep offering remote attendance options next to live tickets which will be directly reflected in travel activity.
Lastly, speaker and content events are usually not considered essential travel with the exception of sales events. As a result, the availability, success, and lower costs of virtual events will further reduce the need to travel, endorsing our hypothesis of the startups' direct impact on travel activity.
Virtual Workshops & Presentations
These startups target critical business meetings like workshops, presentations, sales pitches, and client meetings by enhancing virtual interaction and collaboration. The products in the lineup include virtual whiteboards with sticky notes, sketching, and voting functions, noise-canceling AI that helps sharpen audience focus (e.g. Krisp), and software to seamlessly "share the stage" (e.g. mmhmm).
We expect their impact on business travel to be relatively direct because they are doing a good job of replicating the in-person experience. Their solutions close the gap between the stiffness of remote online work and real-life interactions by enabling a synchronous, seamless working environment. The so-called whiteboard startups such as Miro, Mural, and Lucid all offer a virtual canvas alongside an option to "summon" participants to the presenter or to vote by clicking on objects on the whiteboard. For non-essential business meetings such as brainstorming sessions and workshops, these solutions will diminish the need for business travel.
We wouldn't go so far as to state that these startups can recreate the in-person interactions that create connections. In fact, recent research by IdeaWorksCompany projects that travel for sales pitches and client meetings will quickly return to 80-100% of pre-pandemic levels once it's safe to do so. And we fully agree that this will be the case for occasions where physical presence and personal connection play a crucial role in closing a deal. But as with events, startups are further advancing their technologies to emulate genuine exchange. Thus, travel for client interactions—especially at a later stage in the relationship-building process—will also face the threat of substitution by online tools due to their convenience and lower costs.
However, because of the higher intimacy, smaller group size, and more specific goals, we expect the impact on business travel activity to be less direct than for events.
Virtual Chats
At the core, these startups offer chat platforms—text-, audio-, or video-based— that usually cover daily business communication, impromptu questions, and unplanned interactions. Remotion, for example, offers an always-on, real-life status panel that shows the availability of your colleagues, what they are working on, and enabling the user to quickly start a video call with one click. Other examples are Flock and Threads which centralize all messaging channels and working apps in one platform to enable frictionless exchange across tools and channels.
We placed the category of virtual chats in the middle of the direct and indirect scale. On the one hand, there is no denying that the transformation in virtual communication will have an impact on business travel activity. This was proven back in March during the initial lockdown when App Annie reported 62 million downloads of video conferencing apps in a single week while travel halted.
On the other hand, it is much harder to pinpoint the scope of this impact because chat communication spans many other topics such as collaboration dynamics, productivity, and office culture—all of which are comparatively indirect forces that will influence business travel activity.
Virtual Collaboration
Startups that fall into this category facilitate team meetings for project planning, workflow progress, task alignment, and collaboration formalities. Coda, ClickUp, and Hive, for instance, offer working app consolidation for teams to exchange feedback naturally, while Notion stores knowledge and notes in one consolidated platform. Synchronous collaboration platforms like Figma, Air also belong to this category.
Thanks to video conferencing and collaboration tools, the accelerated transition to WFH was effective and rather painless for many. McKinsey reported that 41% of surveyed office workers find themselves more productive working remotely. While this may come as a surprise, it is the result of a larger structural change in remote work and collaboration culture that had already been underway pre-COVID.
Therefore, these startups' impact on business travel is rather indirect and peripheral. Nevertheless, their availability will help propel the trend towards virtual working arrangements.
Virtual Office Space
Although the initial transition to remote work focused on productivity and efficiency, many started missing the social and casual aspect of office spaces. And that is the need that the startups in this category are aiming to solve through solutions that emulate in-person encounters and interactions.
They are rebuilding the physical office online with features like virtual water coolers (e.g. here.fm, Pragli) or virtual rooms where physical proximity launches a video call (e.g. Teamflow, Cosmos Video).
This may sound like an enticing option during a lockdown, but in the long-term, many of us will return to the office. One might argue these startups will become obsolete at that point. However, a considerable number of people say they want to keep working from home, and studies for both perspectives exist (here, here, and here).
What this really tells us is that the role of an office has changed to become more individual. With virtual tools that can recreate office buildings, companies can now afford to have a flexible, dispersed workforce.
Therefore, as we've seen with Virtual Collaboration, the impact on business travel will be indirect through the structural change of office and working culture. Furthermore, the Virtual Office Space category will have the most indirect impact because air travel for commuting purposes has only accounted for 5% of business air travel activity prior to COVID-19.
— Disclaimer —
With this startup mapping, we aimed to identify future winners that challenge the pre-pandemic state of business travel. Therefore, we highlighted startups whose solutions extend beyond the first wave of telecommunication and remote work that was spearheaded by players such as Zoom, Microsoft Teams, Slack, and Cisco, and we decided to exclude those incumbents.
We acknowledge that the extent of travel substitution will depend on more than convenience and availability of tools, and include, among other factors, service quality, productivity, travel distance, the extent of travel restrictions, etc. However, for the purpose of this infographic, we focused on creating an initial overview based on the most funded startups.
Furthermore, this is not an exhaustive list of all providers offering virtual work products, nor should this mapping serve as a fully objective, quantitative ranking. The impact on business travel specifically, was based on our best-educated guess which we derived from reports, company reports, expert opinions, and other data sources.