In the evolving landscape of travel and mobility, a transformative trend is gaining momentum: the rise of community-driven demand.
Traveler preferences and attitudes, particularly in the post-pandemic era, have undergone a significant shift.
The demand for travel is no longer solely steered by price.
Instead, it is increasingly molded by evolving consumer needs, values, norms, and beliefs, steering towards more value and community-focused experiences.
This shift was underlined in a recent McKinsey analysis, stating, "customers no longer buy airline tickets solely based on price and schedule." With access to a wealth of information beyond price—covering factors like seating arrangements, on-time performance, Wi-Fi availability, customer reviews, and environmental impact—consumers are making more informed decisions that align with their personal and community values.
And this shift isn't confined to the airline industry.
The entire travel ecosystem is witnessing an evolution in purchasing behavior.
According to a 2023 Booking.com survey, a staggering 80% of respondents indicated a preference for "Community-minded vacations." This clearly points to the fact that travel demand is increasingly being (re)defined by communities, each with its unique needs and values.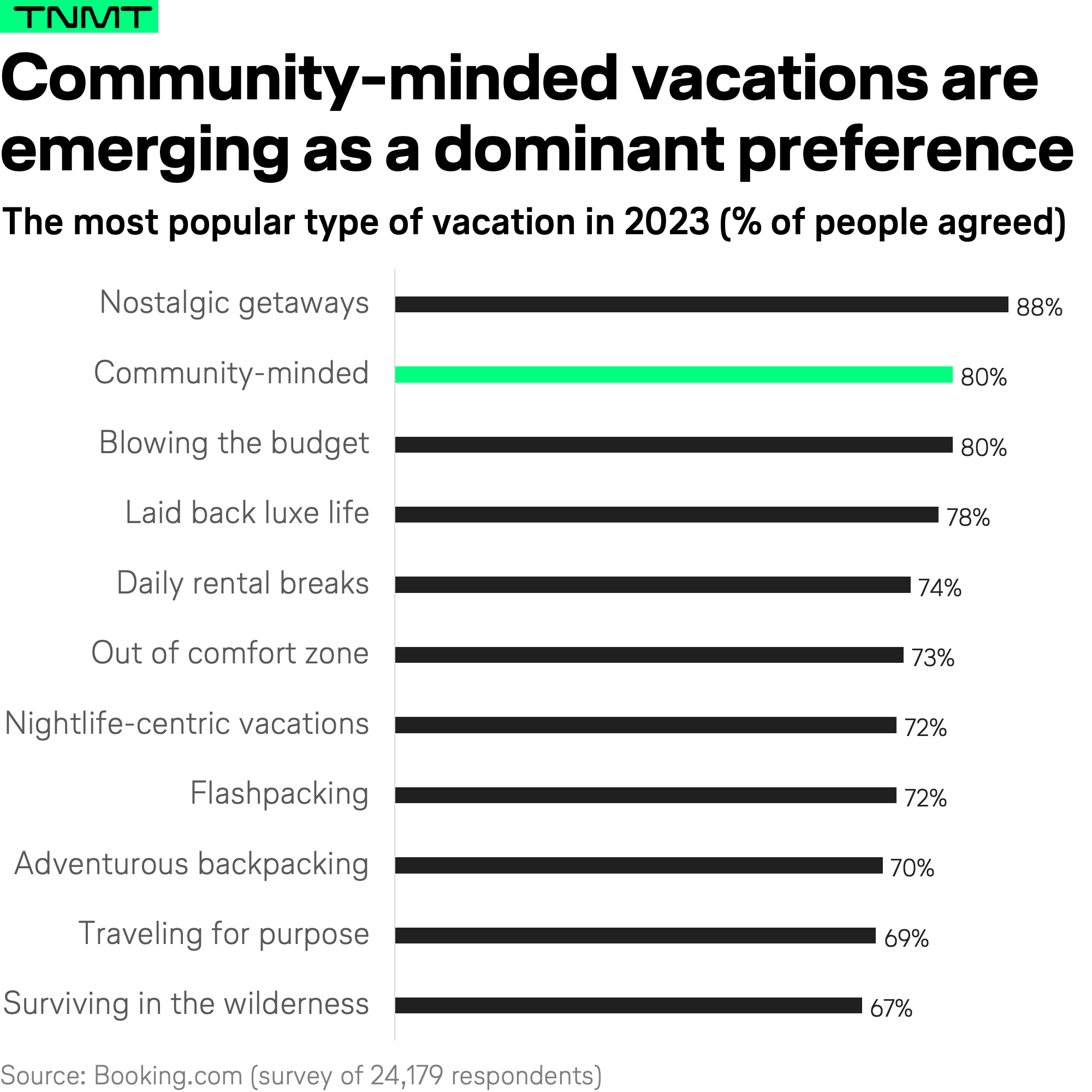 This shift has ushered in the era of a new kind of traveler.
To stay competitive and attract these modern consumers, the travel industry must be prepared to address their unique needs and rethink traditional products and offerings.
In our exploration of this trend, we have identified four key sub-trends that have emerged as part of this behavioral shift. Each of these sub-trends represents a facet of this new community-focused traveler behavior.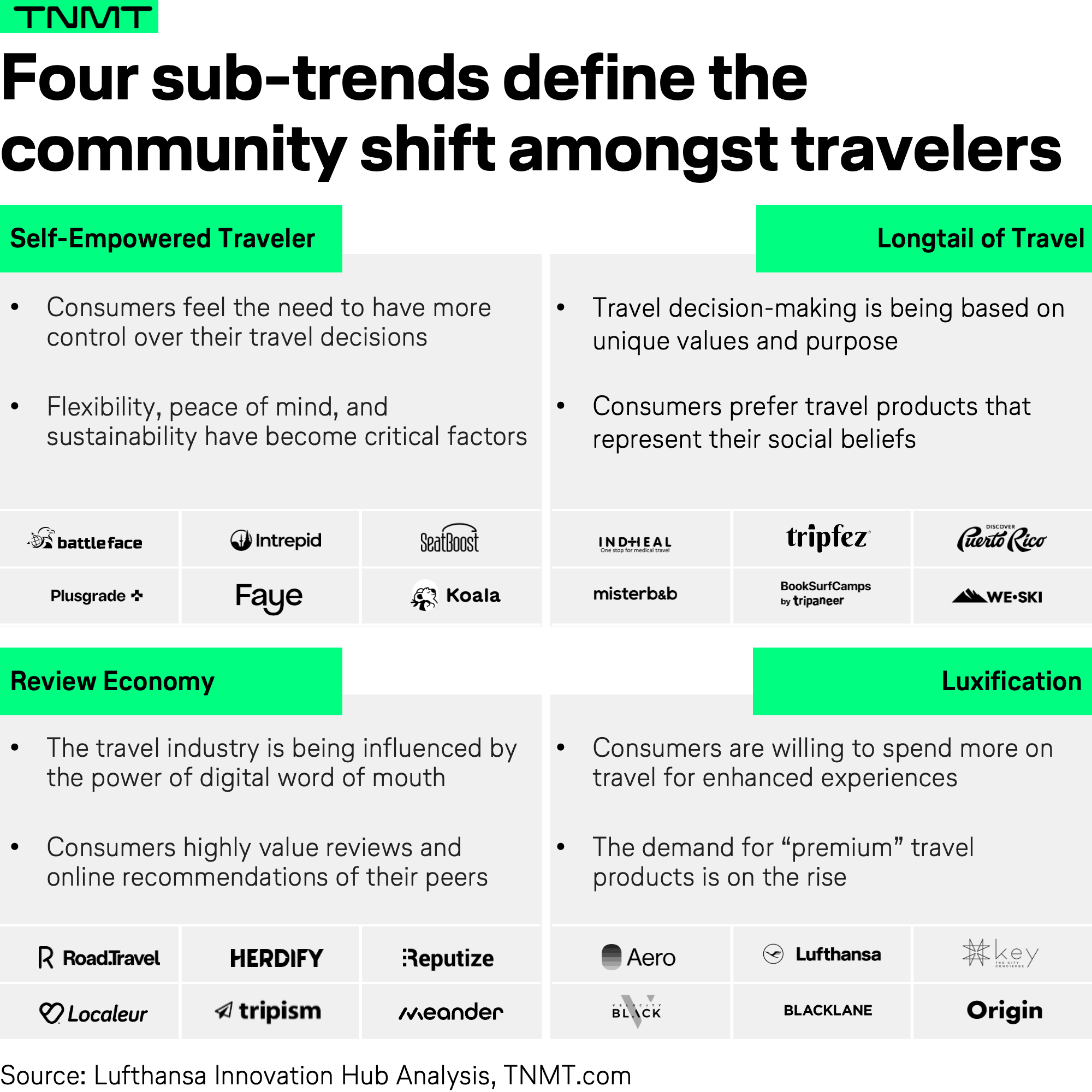 In this article, we will dive deep into each of these sub-trends, exploring their characteristics, impacts, and the opportunities they present for industry innovation.
1. The Rise of the Self-Empowered Traveler
The modern traveler is self-empowered, marking a significant shift that has been accelerated by the pandemic. Travel bans and restrictions prompted deep introspection, challenging individuals to reassess their consumer behaviors and values. This period of global pause sparked a shift towards more conscious consumerism and became the catalyst for the emergence of the self-empowered traveler.
This transformation was primarily shaped by two key factors:
A) A Shift in Consumer Values: Trust, transparency, and consciousness have become the new currencies in influencing travel decisions. As the pandemic receded and travel demand rapidly rebounded, the decisive factors for travelers evolved considerably. According to a survey by Travelport quoted on Phocuswire, transparent pricing without hidden costs, along with fully flexible and refundable travel products, emerged as the top factors establishing trust in travel companies.
B) Accelerated Digital Adoption: The empowerment of travelers was further amplified by the rise of digital tools and platforms. Travelers are now more inclined than ever to leverage digital platforms throughout their journey. From searching and planning to booking, organizing, documenting, and sharing their experiences—smartphones have become an integral part of the travel experience. This was reflected in a May 2022 survey by Cisco AppDynamics, where 74% of travelers acknowledged that apps and digital solutions play a vital role in their vacation experiences. This acknowledgment has translated into a surge in the adoption of travel-related apps.
As a response to this increased digital reliance, major travel brands have prioritized their digital engagement strategies.
For example, Expedia launched a Price Tracking and Prediction feature in its mobile app, utilizing machine learning to anticipate price changes and suggest the best time to book.
Similarly, Airbnb redesigned its app in May 2022, introducing new features such as Airbnb Categories for improved search and Split Stays, which intelligently pairs two homes for longer trips based on location, property type, and amenities.
As we delve deeper into this transformation, two critical consequences have emerged that have redefined the travel landscape.
Firstly, there is the Self-Empowered Traveler's quest for more flexibility and peace of mind in their travel arrangements, brought on by this newfound appreciation for trust and transparency.
Secondly, there is an increasingly conscious mindset leading to a stronger desire for sustainable travel products. These changes are setting a new course for our industry, one that could present a wealth of opportunities and provoke exciting innovations for the future.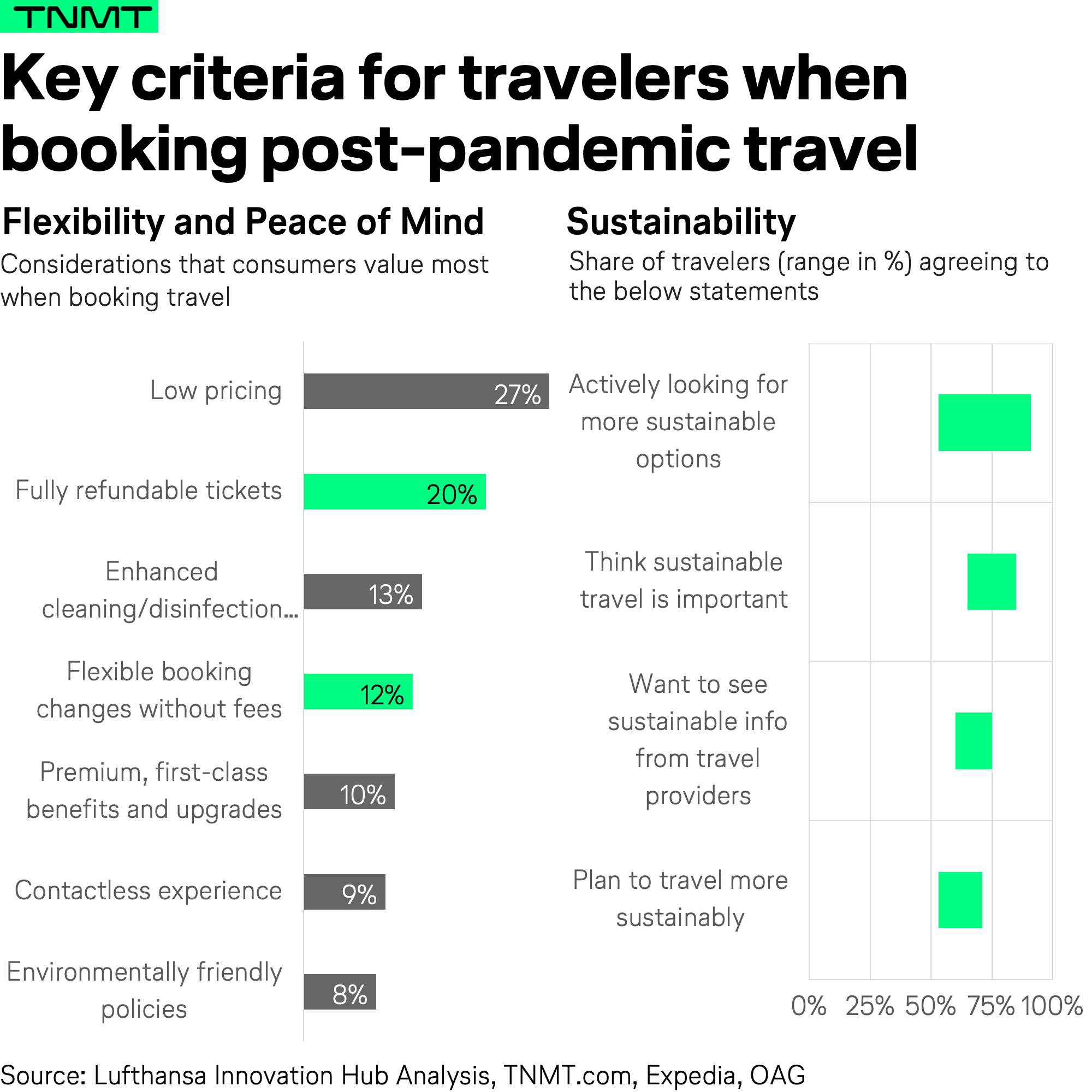 Flexibility and Peace of Mind: The New Currency in Travel
Consumers are now prioritizing flexibility and peace of mind in their travel booking options almost as high as price, according to Expedia's 2023 Traveler Value Index. This seismic shift is due to consumers' quest for increased transparency, flexible booking policies, and refund assurances. Such changes indicate that the paradigm of travel planning is being reshaped, with the self-empowered traveler at the helm.
In response to this demand, 77% of organizations have introduced flexible offerings, according to an Expedia survey.
Travel booking provider, Hopper, for instance, introduced Flexible Travel, offering refunds and booking modifications at a marginal cost.
Seatboost, enabling live bidding of seats at the airport for upgrades, has also brought a new level of flexibility for consumers.
Airlines, too, are evolving, with Fiji Airways introducing "FlyYourWay," an unbundled offering providing increased flexibility to economy class passengers.
However, the need for flexibility extends beyond booking parameters.
Amidst pandemic-induced uncertainties, travelers seek assurances that their travel plans are safe, reliable, and secure. They want "peace of mind," manifesting in a growing willingness to secure insurance products against unexpected disruptions, cancellations, or potential medical needs.
According to a survey by Allianz Partners, the intention to purchase travel insurance has more than doubled for both domestic and international destinations in several European countries.
In response, travel insurance companies are providing tailored offerings to meet these post-pandemic needs.
B2B2C firm, Koala, offers tailor-made travel insurance products that are delivered through airlines and travel agencies. These offerings enable travelers to plan their trips without worrying about unforeseen disruptions.
Covergenius, through its distribution platform, Xcover, partners with airlines and travel companies to co-create protection and insurance solutions.
Another startup, Faye, has developed an API to seamlessly integrate travel protection into travel distributor offerings.
In summary, this new paradigm of "Flexibility and Peace of Mind" is driving changes in travel providers' offerings and setting the stage for the travel industry's future.
Sustainability Takes Center Stage
The shift towards conscious consumerism is markedly evident among today's travelers.
With an amplified understanding (or at least concern) for their environmental impact, many are willing to adapt and make more responsible travel choices. According to Trip.com Group's 2022 Sustainable Travel Consumer Report, this trend is far from marginal—75% of consumers expressed a desire to book sustainable travel options in the future, with 69% claiming they already seek out such options, either always or occasionally.
In response to this evolving demand, the travel industry is increasingly integrating sustainability measures into offerings.
Other B2C travel companies are also emerging with sustainability at their core.
Consider Intrepid, a group tour travel company that not only focuses on sustainable travel packages but also directly carbon offsets all its trips.
Another example is Ecobnb, a platform dedicated to sustainable accommodation across Europe. To qualify for listing on Ecobnb, accommodations must meet at least five of ten stringent sustainability criteria, ensuring their commitment to green practices.
These industry responses represent not just an adaptation to evolving consumer preferences, but also an exciting shift toward sustainable travel.
The growing emphasis on sustainability is creating a new landscape for demand, redefining the concept of value in travel and mobility. The self-empowered, conscious traveler is the new face of demand, paving the way for a more responsible, sustainable future in travel.
2. The Rise of the Longtail of Travel
Travel in today's age is not merely about reaching a destination; it's about indulging in experiences that resonate with our unique identities, values, and passions. This shift towards ultra-personalization has given rise to the "Longtail of Travel," a burgeoning landscape of niche interests, activities, and destinations, each catering to specific groups or communities with distinct preferences.
Though these niches may initially appear to hold small market value, their relevance in the commercial travel sector is rapidly escalating. As the world grows more interconnected, pockets of niche interests and communities are converging and amplifying across borders, transforming into global phenomena. In the post-pandemic world, these micro-ecosystems are transforming into potent verticals, offering personalized experiences that are not just relatable and inclusive, but are also symbolic of specific traveler categories.
The uniqueness of these offerings resonates with consumers' desire for representation. According to a research study conducted by Expedia in 2022, an overwhelming 78% of respondents asserted that their travel decisions were influenced by advertisements that they felt truly mirrored their identity and preferences. This insight underscores the undeniable significance of the "Longtail of Travel" trend, as the industry pivots towards delivering highly personalized and authentic travel experiences.
As we delve deeper into the rise of the Longtail of Travel, it becomes apparent that three primary types of ultra-niches are emerging, which we can categorize as interest-driven, segment-driven, and destination-driven.
Each of these categories speaks to a different dimension of what motivates and characterizes these unique travel communities.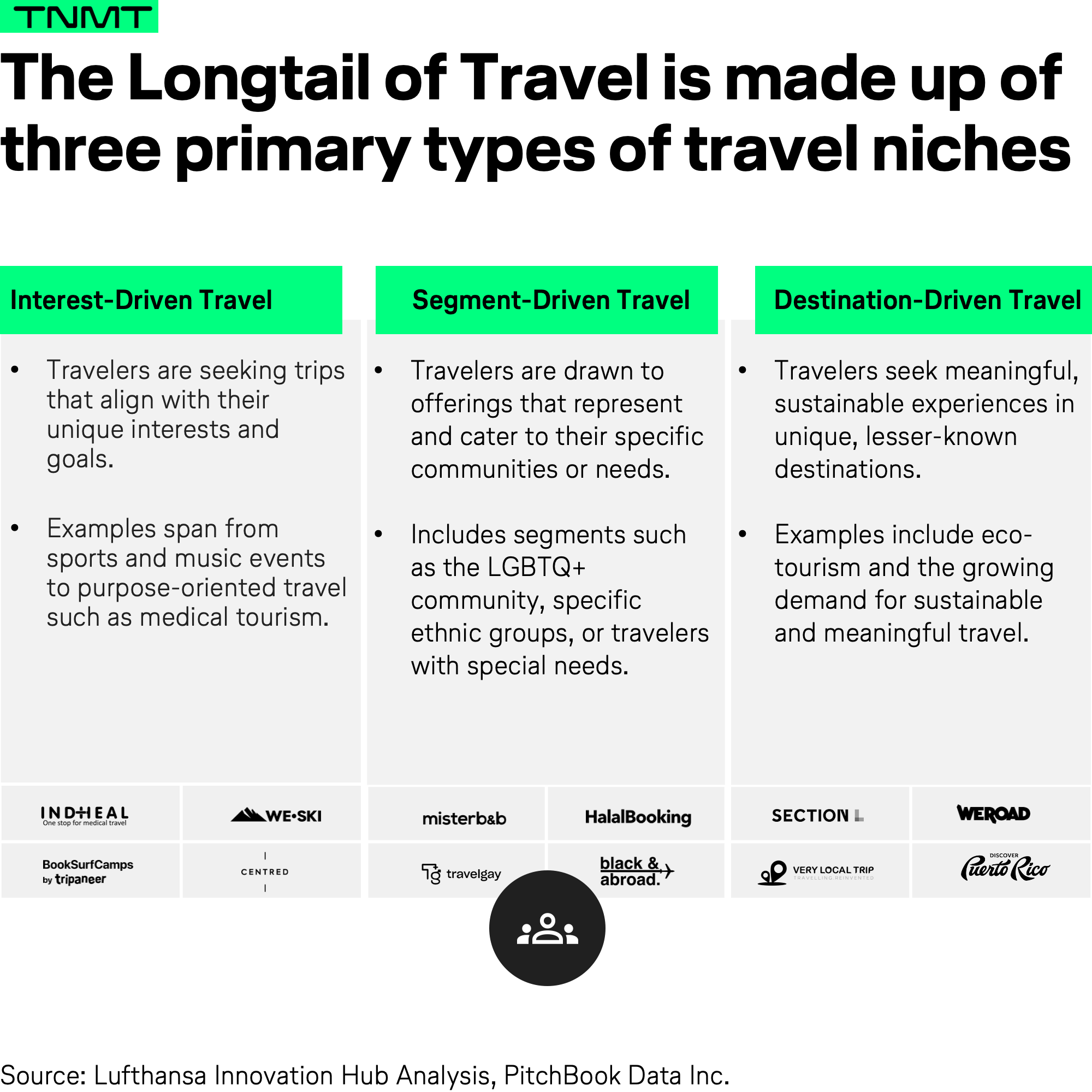 Interest-driven travel is, as the name suggests, primarily motivated by travelers seeking experiences specifically catered to their personal interests and preferences, moving away from a traditional, one-size-fits-all approach. As more travelers pursue journeys enriched with experiences that cater to their hobbies, passions, or pursuits, the market for interest-driven travel is experiencing significant growth. Travel experiences centered around specific interests like sports events, music concerts, adventure, wildlife, or medical needs have seen an upswing. A striking example is the Eurovision 2023 contest, which brought half a million visitors to Liverpool, leading to an estimated influx of at least £40 million in local spending.
Segment-driven travel caters to travelers belonging to specific communities, ethnicities, or having unique needs who prefer travel offerings specifically tailored to their group. This market segment is anything but small; it includes a wide array of communities with diverse needs, ranging from travelers with specific religious beliefs or ethnicities to solo travelers, family travelers, and women travelers. What's more, inclusive policies and practices by travel providers are increasingly important to these groups, who often find more comfort and freedom when traveling with like-minded people. For instance, Out Now's 2018 estimate published on Skift valued the annual spending by the global LGBTQ+ travel community alone at north of $218 billion USD.
Destination-driven travel caters to travelers seeking a deeper connection to the cultures and experiences offered by their chosen destinations. These travelers are typically driven by a desire for unique experiences that are also sustainable, aligning with their values. Often, they seek out lesser-known destinations that prioritize the protection and preservation of the environment and local culture. These travelers aim not just to experience but to engage with local communities, support the local economy, and mitigate the adverse effects of mass tourism. One notable segment here is ecotourism, defined by The International Ecotourism Society as responsible travel that sustains local wellbeing and prioritizes environmental conservation and education. The ecotourism market is projected to reach a staggering $374 billion USD globally by 2028, illustrating the potential economic impact of these emerging travel trends.
In navigating the uncharted waters of the Longtail of Travel, several innovative startups and travel companies have recognized the potential and profitability of these niche markets. Through the development of highly personalized and custom-tailored offerings, they've successfully tapped into these unique communities.
HalalBooking is a prime example. As an online travel agency specializing in halal-friendly travel, the platform allows travelers to filter hotels based on criteria like halal food availability, alcohol-free arrangements, and facilities like secluded pools and spas. In 2022, HalalBooking crossed the impressive mark of $50 million USD in sales, marking a growth of 45% year-on-year. With a current valuation of $100 million USD, the company has set its sights on achieving a $1 billion USD valuation by 2025.
Similarly, Wheel the World, which provides inclusive experiences and accessible travel for people with disabilities, raised a $6 million USD pre-Series A investment round in March 2023. By focusing on a highly underserved travel community, the company has built a profitable business model around inclusion and accessibility.
Finally, Intrepid allows travelers to explore potential travel destinations by theme, thereby catering to those seeking unique, off-grid experiences. They work closely with local communities and partners to develop new experiences in lesser-known destinations. In this way, they enable travelers to connect authentically with local people, immerse themselves in the culture, and contribute positively to the communities they visit.
These examples are a testament to the immense commercial potential of the Longtail of Travel, and the value in addressing the unique needs and preferences of these emerging travel communities.
3. The Review Economy: Accelerating Community Formation
As the digital landscape expands and the power of word-of-mouth strengthens, reviews have become the cornerstone of decision-making for travelers. This phenomenon, often referred to as the "Review Economy," is not only informing individual choices but also fostering a strong sense of community in the travel industry. How so? Travelers around the globe are finding common ground in shared experiences and opinions, leading to the formation of tight-knit communities where people trust and rely on each other's reviews.
The value of reviews cannot be emphasized enough.
Travelers today heavily lean on reviews to scrutinize everything from accommodations and attractions to restaurants and entire destinations. According to TripAdvisor's Power of Reviews study, a significant 82% of travelers assert that reviews are instrumental in influencing their decision to book a place to stay. A nearly comparable reliance is noted in choosing attractions and restaurants, highlighting the substantial role of reviews in shaping travel itineraries.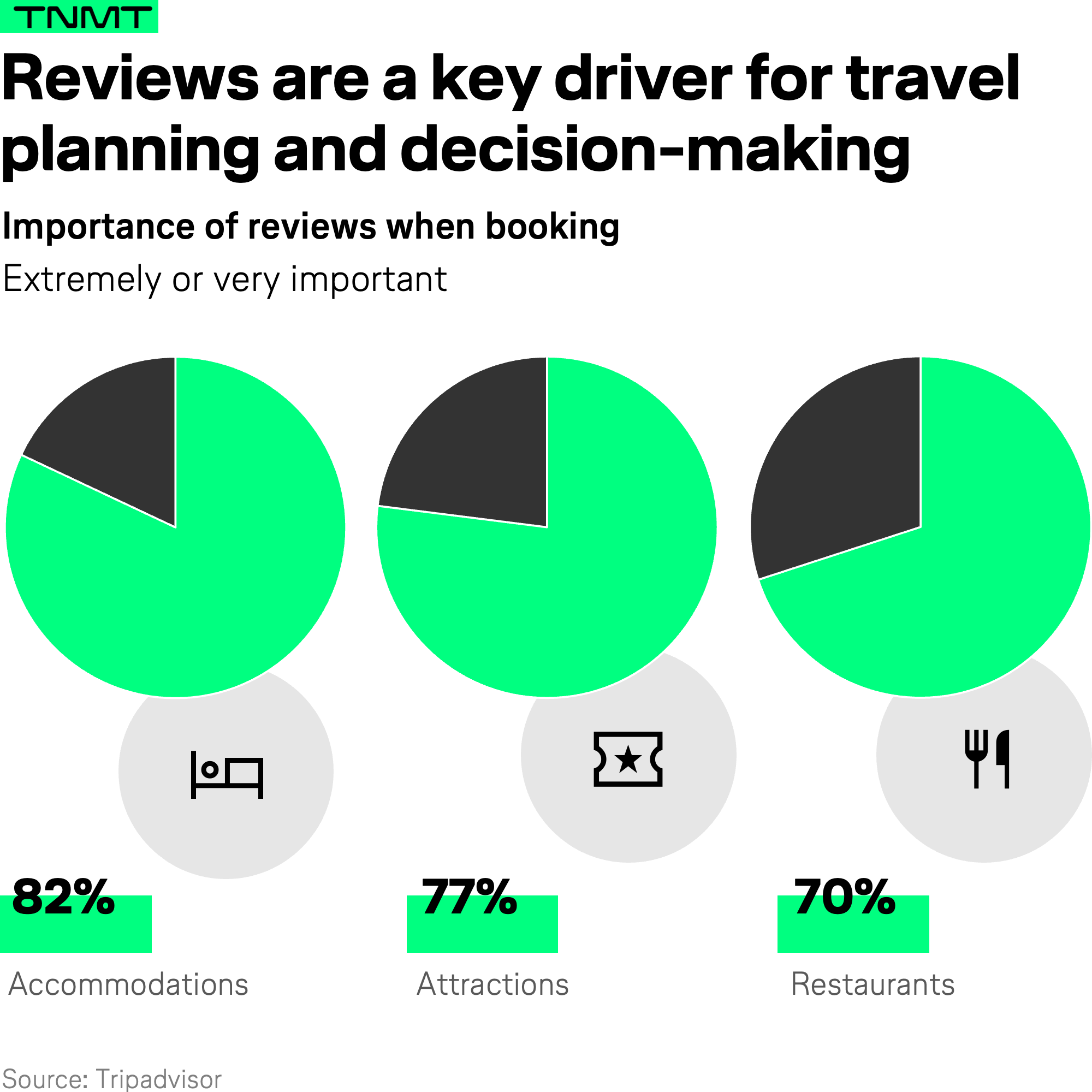 This level of dependence on reviews is not only a trend among travelers, but is also becoming increasingly pivotal for businesses. In the age of the Review Economy, reviews can make or break reputations, influence bookings, and significantly impact a company's bottom line. As such, businesses are focusing more than ever on customer feedback, both to improve their offerings and to manage their online reputation effectively.
The reach of the Review Economy extends beyond individual businesses, carving out a unique landscape within the travel industry. By creating interconnected communities of travelers and businesses, it is transforming the dynamics of travel planning and decision-making.
So, let's further delve into how the Review Economy brings value to both consumers and businesses, and its potential to shape the future of the travel industry.
Value for Travelers: In the age of the Review Economy, consumer reviews hold immense value for travelers, particularly during the trip planning phase. These reviews offer reliable, transparent, and first-hand feedback that can often outweigh information available from other sources. While leading platforms like TripAdvisor, Booking.com, and Expedia continue to capture and curate consumer opinions, emerging startups are also making their mark.
However, the Review Economy isn't without its challenges.
Fake reviews pose a significant problem, but platforms are increasingly employing rigorous measures to filter them out. For instance, TripAdvisor was able to identify and remove 72% of about 1.3 million fake reviews in 2022 before they were even posted.
Several startups are stepping into the space with innovative solutions:
Deets, a restaurant recommendation platform, aims to incorporate lodging and event reviews across 15 American markets by 2023 and expand internationally by 2024.
Triend, a UK-based startup, offers verified travel reviews using Chain4Travel's Camino blockchain, aiming to increase trust and transparency by eliminating fake reviews.
Localeur, catering to travelers interested in local cultures, provides authentic insights from local communities across 200+ cities, offering tips, guides, and recommendations.
Value for Businesses: For businesses, the Review Economy's growth means greater focus on online reputation management and customer feedback. Reviews and feedback not only offer critical insights for improving products and offerings but also need to be integral to marketing and customer service strategies to maintain relevance.
Startups are also offering support to businesses in navigating the Review Economy:
Herdify, an audience targeting platform, uses data science to identify patterns in word-of-mouth sales, enabling travel brands to build more effective marketing strategies.
Reputize, a SaaS platform, provides online review analytics and reputation marketing for the hospitality industry, helping businesses monitor, collect, and act on guest feedback and reviews.
Feefo, by collecting invite-only reviews, offers travel brands a reliable way to manage their online reputation and access valuable customer feedback data for decision-making.
In summary, the Review Economy is fostering a new level of interconnectedness between travelers and businesses, creating a vibrant community built on trust, transparency, and shared experiences. It is redefining decision-making processes in the travel industry, making way for a more inclusive, responsive, and customer-focused landscape.
4. The Luxification of Travel: Premium Demand and its Consequences
The "Communities Define Demand" trend is continuing to evolve, also due to an added dimension of luxury travel. In this sub-trend, the communities are increasingly defined not just by their shared interests, but by their shared desires for more premium, exclusive, and personalized travel experiences.
Since the pandemic, the demand for premium travel offerings has surged. Despite global inflationary pressures, consumers are demonstrating a willingness to invest more in travel experiences.
According to a survey by the WTTC, Trip.com, and Deloitte, more than 30% of consumers plan to increase spending on international travel in 2023 compared to 2022.
Similarly, a study by Expedia Group indicates that 43% of travelers intend to expand their budgets in 2023.
This trend is particularly pronounced in the airline industry, where premium class air travel is recovering at a faster rate than total traffic. As reported by IATA, premium class air travel in February 2023 was at 86% of February 2019 levels, compared to total air traffic at 81%.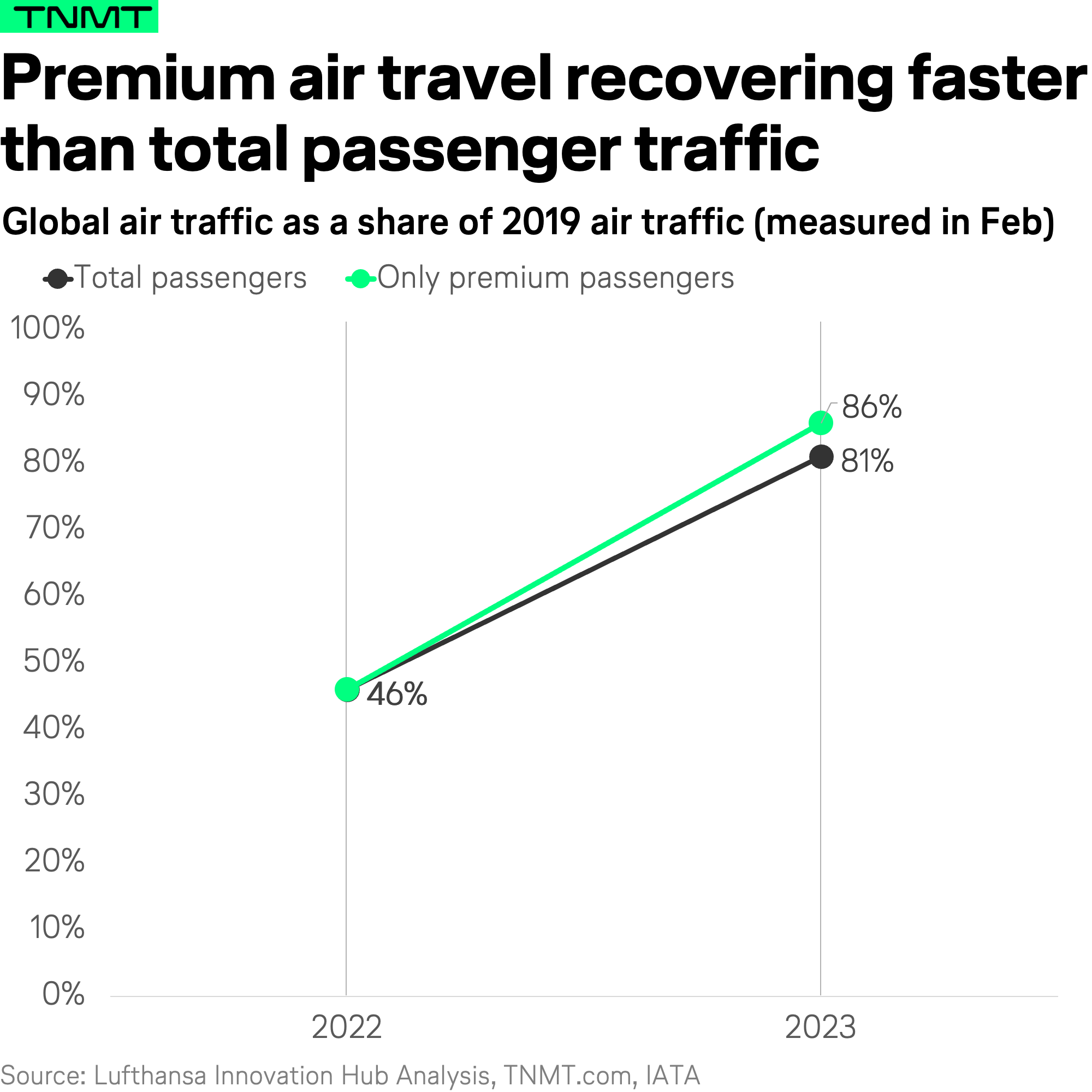 This accelerating luxification has two significant consequences: the democratization of premium and the redefinition of luxury.
Democratization of Premium: To meet growing demand, travel industry players, especially airlines, are investing in premium products.
For instance, American Airlines plans to increase the number of premium seats on intercontinental flights by up to 60% by 2026.
Similarly, Air India announced plans to introduce premium economy to its long-haul flights and upgrade its existing offerings.
This trend is leading to the democratization of premium travel, making these experiences more accessible to a broader audience.
Redefinition of Luxury: As premium offerings become more widely accessible, the notion of exclusivity becomes diluted. To cater to travelers seeking unique experiences, the industry is redefining luxury by elevating offerings further. From crafting personalized experiences to partnering with luxury brands, travel businesses are innovating to appeal to luxury travelers. This redefinition speaks to the importance of serving these emerging communities defined by a shared desire for unique, luxurious travel experiences.
Airlines are investing heavily to differentiate themselves and offer more luxurious travel experiences:
Lufthansa is investing €2.5 billion in its "Allegris" product generation, aiming to provide a hotel-like privacy in its First Class and a suite-like experience in its Business Class.
Emirates is investing over $2 billion USD to enhance its in-flight customer experience, including retrofitting aircraft with upgraded cabin interiors and introducing new menus and entertainment options.
Etihad Airways partnered with Armani/Casa to redesign its business class, offering luxury seats, furnishings, cutlery, and serving ware.
Startups are also stepping up to provide unique, personalized, and luxury offerings:
Origin, a travel-tech startup, offers a subscription-based personal travel assistant app that uses local expertise and machine learning to curate customized trips for luxury travelers.
Aero, a semi-private air travel startup, provides personalized and luxury travel experiences through shared charters, owning and operating its own fleet.
Brevity, a travel app, offers personalized itineraries and locally curated recommendations to affluent professionals and digital nomads, featuring an annual $2,500 USD membership that provides access to a personal concierge.
In conclusion, as communities increasingly define demand, the travel industry is undergoing a profound transformation characterized by the growing demand for premium experiences and the democratization and redefinition of luxury.
This presents both challenges and opportunities for companies to innovate and redefine what luxury means in the context of travel, catering to the unique needs and aspirations of these emerging communities.