There have been numerous predictions about how the travel industry might recover. These have focused on the separate categories of business and leisure travel and their respective circumstances in the post-pandemic era.
Many experts have bet on visiting friends and relatives (VFRs) in the leisure travel category to drive recovery. Additionally, "revenge travel" is expected to further push travel bookings.
Sadly, things on the business travel side haven't fared so well.
Major discussions are underway regarding whether or not business travel will ever recover to pre-pandemic levels.
Most industry analysts predict a slow business travel return, ranging from recovery scenarios until 2024, all the way to the gloomiest outlooks, not anticipating a full recovery of business travel before 2030.
The reasons behind these cynical attitudes are obvious.
For starters, there are growing sustainability concerns over the environmental impacts of business travel, not to mention economic uncertainty due to rising inflation and interest rates.
On top of this, given virtual meetings can substitute most business interactions, companies are tightening their travel budgets.
With all this in mind, the predictions suggesting that business travel will never recover are increasingly realistic in scope.
In any case, the substance of business travel will undoubtedly change.
In fact, it has already.
The CEO of American Express believes there will be "a lot more internal travel where colleagues and employees will come into the headquarters to be with their team for a few days. And they may do that multiple times a year."
Additionally, these business trips are more closely intertwined with leisure travel than ever before. Many accommodations and vacation rental companies share this perspective, including Selina and MCR Hotels.
In fact, Hyatt has launched a new product called Work From Hyatt catering to offsites for corporate groups of all sizes.
These observations bring us to the actual point of analysis. The travel category can no longer be separated into the categories of business and leisure travel.
These categories do not exist independently of each other. Rather, the two are inextricably linked as new use cases emerge at their intersection.
We will take a closer look at how these lines are being blurred below.
The leisure vs. business travel categorization is outdated
We don't believe business and leisure travel will ever return as we once knew them.
Instead, an entirely new travel category is emerging, one that will impact post-pandemic travel behaviors, such as we have never seen before.
We coin this new category "Blurred Travel," a term describing the increasingly blurred lines between leisure vacations and professional work trips.
We believe that Blurred Travel will shape the post-pandemic travel recovery in the years to come.
As a result, we think the travel industry should exit conversations about the return of business and leisure travel moving forward. These categories are no longer separate entities and it is increasingly difficult to differentiate between them.
But don't just take our word for it. We aren't the only ones to chime in on the changing face of travel:
Marriott CEO Tony Capuano spoke of an extended form of corporate travel, which he called "blended travel."
Skift CEO Rafat Ali has discussed The Great Merging.
American Airlines CEO recently claimed that more than half of the company's trips have been "blended."
Finally, workations, work-from-anywhere trips, digital nomadism, and other forms of bleisure have been cited as reasons for the changing face of travel.
While these insights are not wrong, they do not illustrate the entire picture.
Terms such as "workation" and "digital nomadism" are specific use cases. Beyond these terms, there is a broader trend in the works, one that will better encapsulate this new era of travel in the decades to come.
We think of Blurred Travel as an entirely new travel categorization, one that exists alongside business and leisure. This category should exist independently as an option for customers to choose when asked, "For which purpose are you traveling?"
Essentially, Blurred Travel is a new dimension that travel providers should consider when segmenting their customer base.
What exactly is Blurred Travel?
Blurred Travel describes the increasingly blurred lines between leisure vacations and business trips. On Blurred Travel trips, travelers seek out leisure, whether through the exploration of a new place, language or culture. Simultaneously, they want spaces with reliable work and communications infrastructure and services.
By our definition, Blurred Travel does not exclude previous mergers of leisure and business, such as bleisure or digital nomadism. Instead, we see these as quintessential components of the larger Blurred Travel trend. These existing travel types will gain in popularity. However, there are also new travel types emerging.
These new Blurred Travel use cases, which we will later discuss in greater detail, are defined by extended stays, preferred types of destinations, and a specific set of requirements.
What has caused this trend to emerge?
At its core, Blurred Travel is driven by two generation-defining trends:
Blurred Travel has emerged as a result of the widespread implementation of work-from-home and flexible working policies that came with the COVID-19 pandemic.
Digital freelancers, solo creators, and distributed teams are no longer the only ones free to live and work from anywhere. Now, a significant share of corporate office employees can work remotely, whether from a beach city or a rental desk at a coworking space.
Secondly, people's thirst for travel has been on the rise, after a long period of lockdowns and travel restrictions. Now, travelers want to make up for lost time and explore the world.
Together, these forces ushered in various forms of Blurred Travel.
We have three significant pieces of data to evidence that Blurred Travel is quickly becoming a travel norm. Let's run through the data.
1. Work-from-anywhere interest is higher than ever
The interest to work remotely for an extended period is stronger than ever before.
Google search combinations for digital nomad (ie. "digital nomad + country") have increased by +69% in the past two years.
Despite a few fluctuations, these searches have seen a steady increase since the beginning of 2021.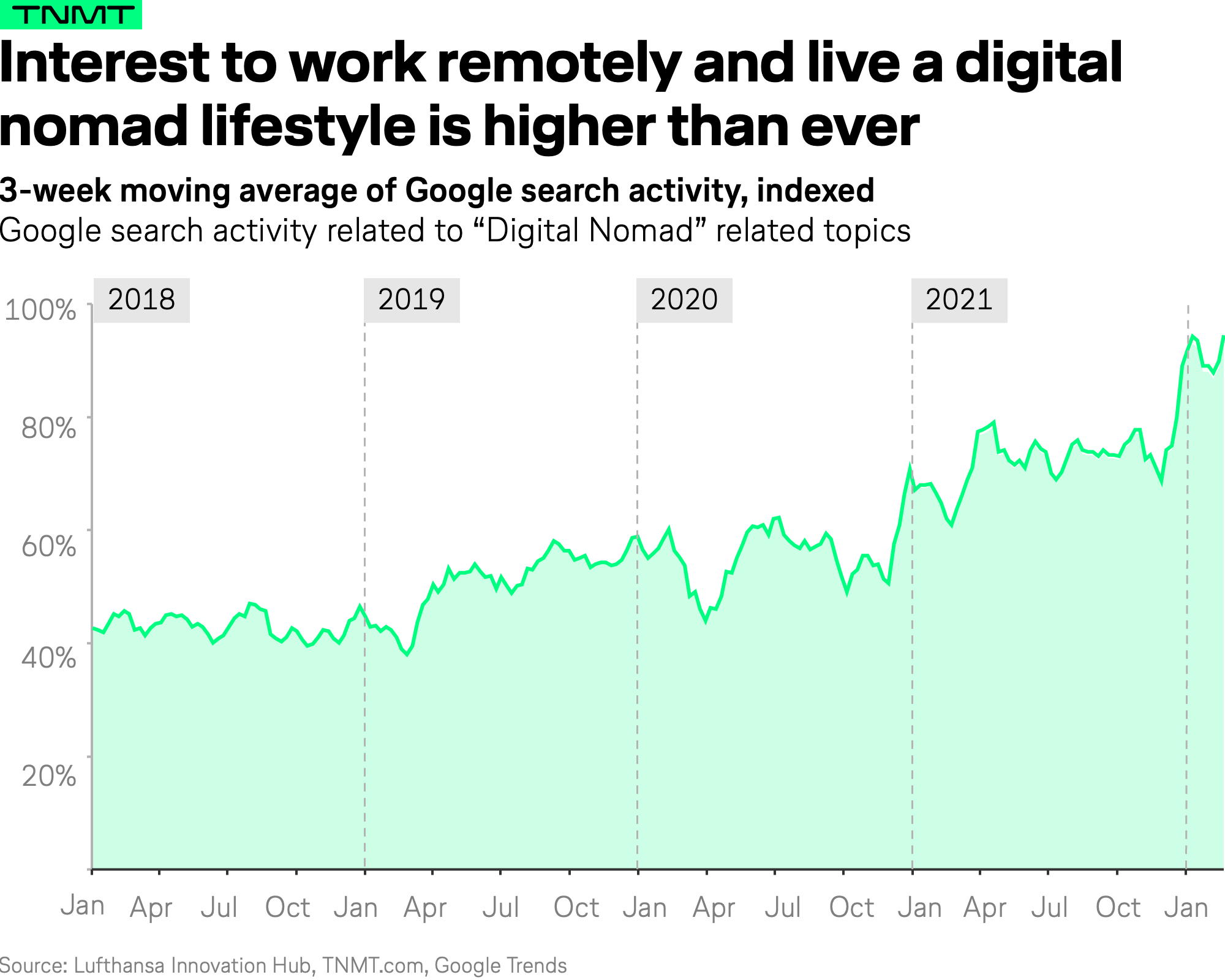 The first major increase in remote work-related searches happened in May 2020. It was driven by the forced move to work-from-home with people looking for the best equipment (think cameras and microphones), alongside tips to be as productive as possible.
This is when the Blurred Travel concept began to form.
Conversely, the second major climb in January 2021 was closely tied to searches regarding the best "remote work" travel destinations for people to escape to, such as Portugal, Spain, Croatia, and Costa Rica, which saw a +1000% increase in Google searches at the time.
From this point, the Blurred Travel trend started to exponentiate.
In January 2022, the digital nomad travel interest peaked a third time, with search volume reaching a new record high.
With all this in mind, it is evident that working-from-anywhere is here to stay with the desire for consumers to combine their working and traveling needs as they are eager to travel and make up for the lost time after a two-year period of lockdowns.
2. Extended stays are the fastest-growing travel booking segment
On Airbnb, long-term stays (defined as trips for longer than 28 nights) are at an all-time high.
The vacation rental company reported that extended-stay bookings have nearly doubled from 14% of all nights booked in 2019 to 25% in the summer of 2021.
Certain countries, such as Germany, Canada, and Spain, have even higher rates at 39%, 36%, and 30%, respectively. In these countries extended stays make up roughly a third of all Airbnb bookings.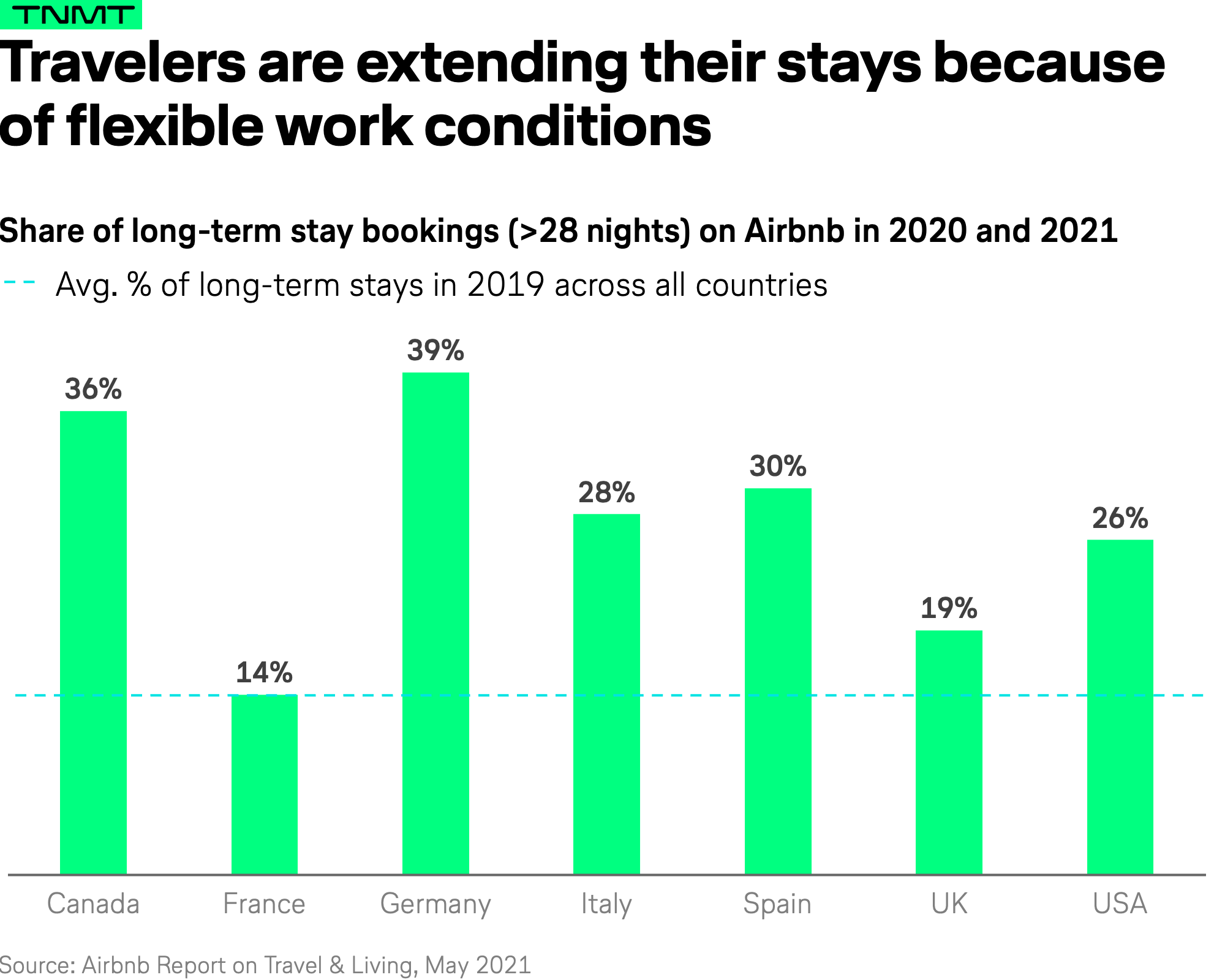 In 2022, this travel trend has continued to intensify.
According to another Airbnb announcement, more than 100,000 guests have booked stays of 90 days or longer on Airbnb in the past year.
After the firm announced a "Live Anywhere on Airbnb for a year" pilot program for product development, more than 300,000 people applied for the 12 test openings, a figure that signals the huge interest in remote work for extended periods of time.
With our data partner Skyscanner, we have registered a similar trend for flight bookings.
Skyscanner examined flight search and booking data, establishing that, as an example, in Thailand, extended trips have exceeded the number of bookings for short trips and vacation trips.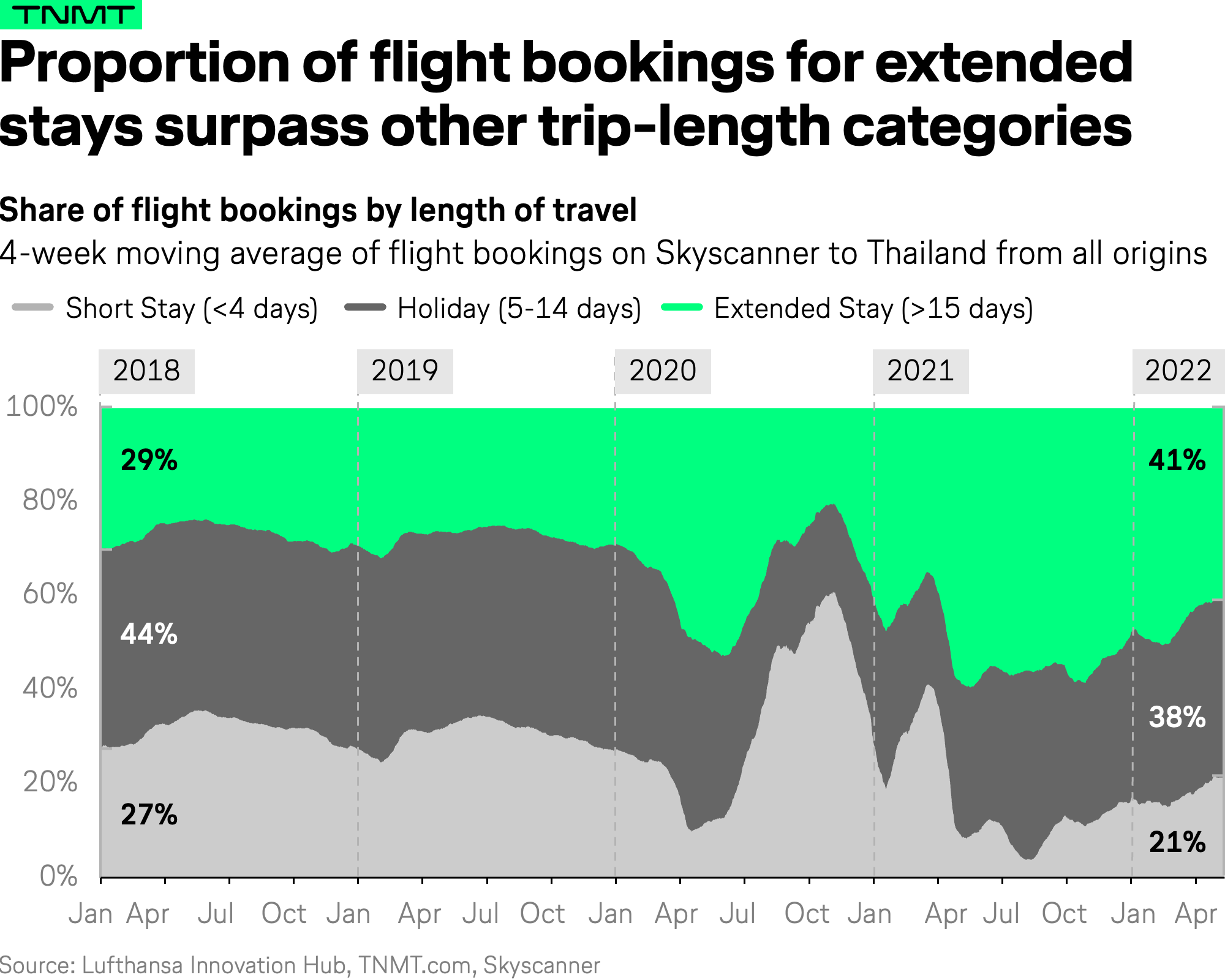 This is significant, given that, historically, traditional vacations of less than 14 days dominated travel bookings.
3. Employers support the new work revolution
Many employers, especially in the technology context, are embracing the work-from-anywhere movement and using it as a work perk to attract top talent.
Confirming this statement, Hacker News disclosed that the share of tech jobs with a remote work setup on its platform increased by more than 150% from 2019 to 2021.
Furthermore, we, the Lufthansa Innovation Hub, conducted interviews with several Lufthansa corporate customers and some employers are going one step further. They offer to partially fund their employees' paid time off as an employee benefit.
For instance, Naturaily, an e-commerce company, offers its employees about €200 additional funding per year for the costs of travel or stay in a destination of their choice.
TUI has also launched a workation package for its customers to offer as an all-inclusive package to their employees after receiving interest from staff and a few of their large UK customers.
Alongside the growing rate of remote jobs, companies are fueling the Blurred Travel movement by redefining face-to-face company events.
Here is an example: 73% of employers plan to place a higher emphasis on face-to-face team meetings, team bonding events, and trips, such as team workations.
All these initiatives will further encourage Blurred Travel trips, especially in cases where employers would start (partially) sharing the costs for remote work travel.
Visualizing the Blurred Travel movement
Now that we understand the impacts of Blurred Travel on consumer behavior, we must grasp how travel providers can cater to the emerging trend.
We have put together a proposed framework for the Blurred Travel movement, one that highlights its different use cases.
As you will see below, the framework has two dimensions.
The first dimension represents the state of movement, which denotes being at home or traveling and is shown on the vertical axis.
The second represents travel purposes, which are either work-related or leisure-related, as evidenced in the horizontal axis.
These two dimensions compose four core quadrants.
Prior to the pandemic, these quadrants were separated and, mostly, distinguishable.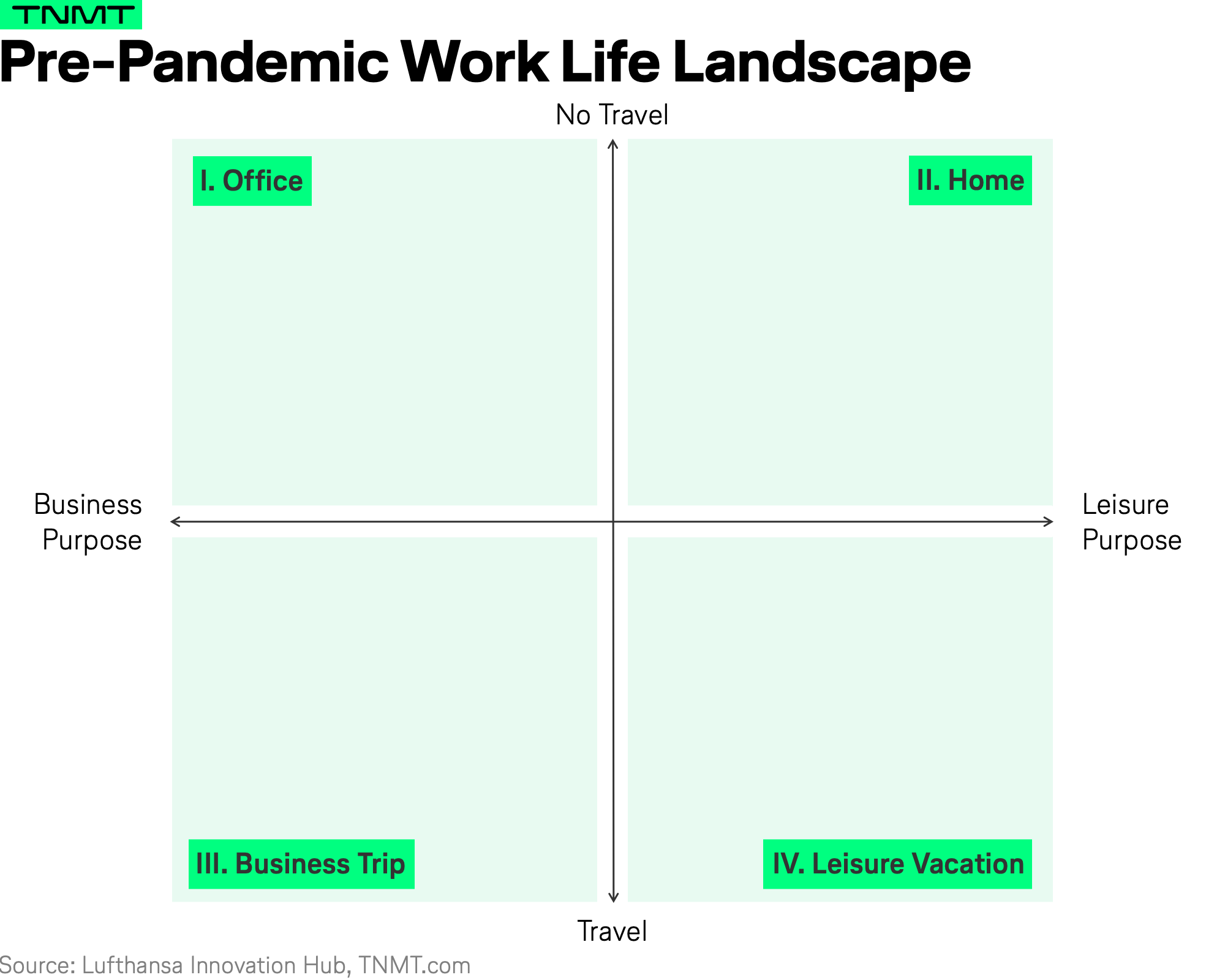 As you can see above, pre-pandemic, we could distinguish between the home and office as well as business and leisure travel.
It was easy to draw lines between work life in the office (Quadrant I) and private life at home (Quadrant II).
Similarly, people would travel for business purposes, which included conferences and client meetings as a top priority (Quadrant III) or for leisure to relax and explore (Quadrant IV).
However, as previously discussed, the lines between these categories started to blur amid the pandemic.
In fact, these quadrants started to blur within each other.
In Quadrant II, the category of the home has expanded and is a place where work can take place, rather than just be used for personal reasons.
As well, new Blurred Travel use cases have emerged at the intersections of these four quadrants.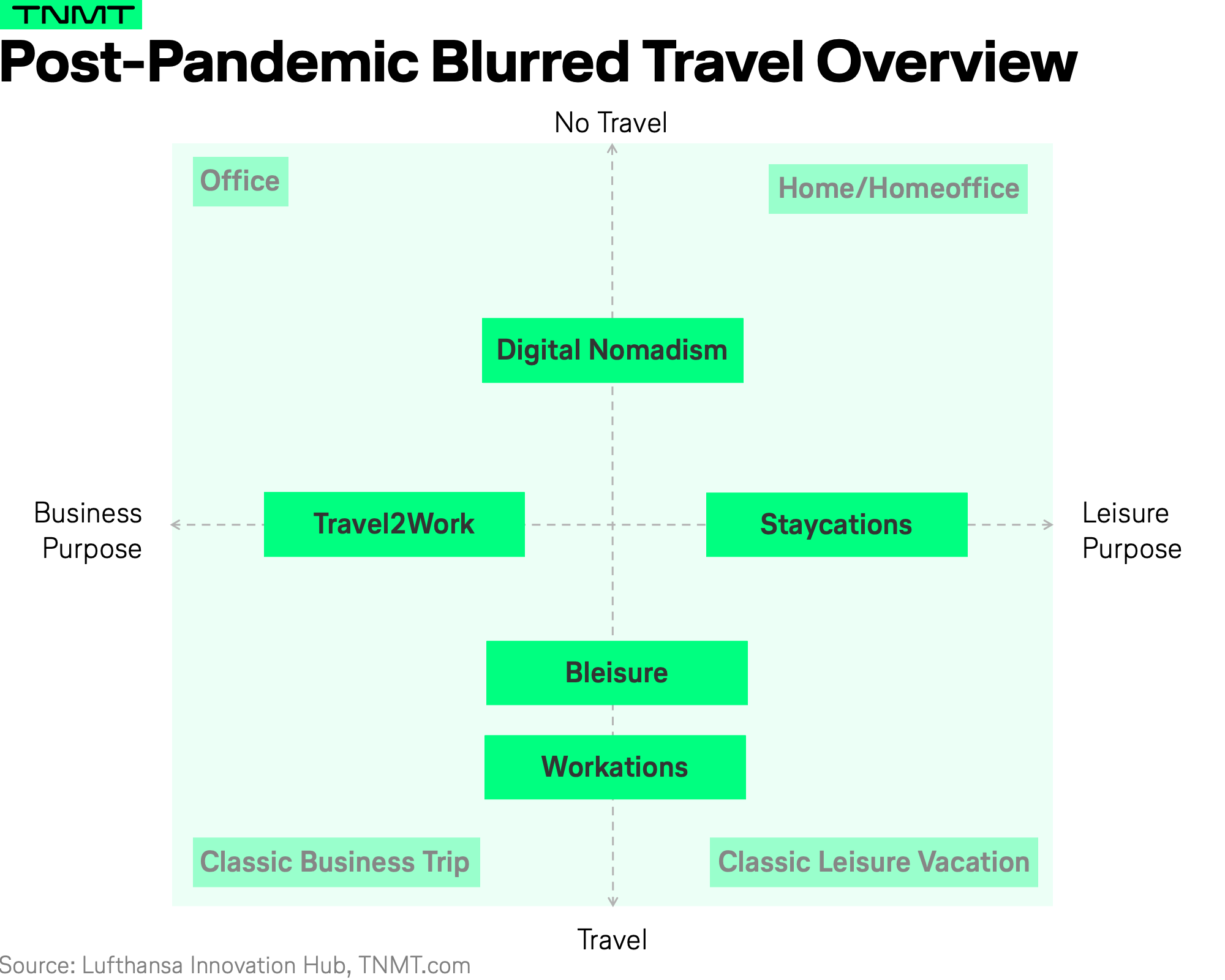 Let's dive deeper into each of the individual Blurred Travel categories.
The Five Blurred Travel Categories
Staycations involve the exploration of one's own city or region as opposed to travel abroad. This could include booking local rental or hotel accommodation and/or indulging in nearby spas, bars, and restaurants. Likewise, staycations can include day trips to local attractions without overnight stays. But staycations can also happen solely for leisure purposes and people don't have to travel anywhere. Instead, they can enjoy tourist activities in their own area.
Travel2Work happens when people move out of proximity to their office to a remote location or one near to their social circles. As a result, people must commute to the office, which might be for one or several days, and include overnight stays during the work week.
Digital Nomadism is a lifestyle that describes how people temporarily move to another country for a duration longer than most leisure trips, usually for several months. The destination becomes an individual's second home and is a place where they live, explore, socialize and work. Since they completely relocate, this places digital nomads on the "No Travel" end of the framework.
Bleisure is a business trip where travelers extend their stay at the business destination for a couple of days for leisure purposes. This phenomenon was quite present prior to the pandemic. For example, if a person travels to a conference, after the event, they can add a few additional days to their itinerary and explore local attractions.
Workcations are trips involving temporary moves to different locations from which people can work and engage in vacation activities. Many of these destinations are often leisure destinations. During the day, people work but during evenings and on weekends, they can still enjoy new cultures, languages, foods, climates, and experiences, ones they would usually take standalone trips for.
In summary, Blurred Travel includes several travel use cases in which travelers have both business and leisure needs, given their private and professional lives blurring together in a single trip.
Furthermore, Blurred Travel trips are often longer in length and take place in warm, exotic destinations.
The post-covid travel era will be characterized by these blurred types of travel as the pandemic has made working from anywhere more widely accepted by employers and adopted by workers. With this shift in ways of working, we expect that travel behavior and needs will also be redefined.
Opportunities for travel providers
Let's look at some of the ways travel providers can exploit the Blurred Travel movement.
We collected a few initial ideas.
#1: Blurred Travel use cases, such as bleisure and workations, require thorough planning to account for diverse needs. For example, travelers looking to stay somewhere for longer than a month will require more luggage allowance than usual.
#2: Blurred Travel will likely lead to greater personalization, which can result in opportunities for travel providers to upsell and promote new product packages. For instance, as more people travel for extended periods, they will want more options to bring their pets along for the ride.
#3: Travelers might be in need of a coworking space near to their rental, one which offers a stable and rapid internet connection. Together with Meetingsbooker, Lufthansa recently launched Lufthansa Global Spaces, a coworking marketplace that caters to this growing consumer need.
Furthermore, we also expect Blurred Travel to have a major influence on destination demand, in turn affecting the network planning of airlines.
The Skyscanner data we previously presented evidences an increase in bookings for extended stays with Thailand having been identified as one of the popular destinations.
According to our Google Trends search analysis, Portugal, Spain, Mexico, and Costa Rica are hot spots too. Together, these destinations saw a roughly +1000% increase in searches over the past year.
Given all these emerging opportunities, we truly believe travel providers need to adjust their offerings and services and think about how they can cater to these new needs if they want to stay relevant. Some have already started.
Airbnb, for instance, is aggressively moving into the Blurred Travel space. In recent months, the travel-tech giant announced new features to its platform which include "Split Stays". They allow guests to split their long-term stays across various rentals.
We also anticipate an announcement from Airbnb soon that it will extend its product offering in the near future and allow customers to book coworking spaces together with extended stay bookings.
Similarly, Skyscanner is committed to the Blurred Travel trend.
As per statements of its VP of Flights, Hugh Aitken, Skyscanner believes that "… the long-held economic fundamentals for both airlines and tourist boards are being rearchitected as we see remote workers are already spending differently on accommodation and in-destination activities than leisure travelers. Many travel providers are moving to capitalize on the blurring of travel and, ultimately, those innovating and understanding these new consumer needs will come out on top."
As a result, Skyscanner has launched new features on its platform including a service that enables users to compare flight and hotel prices across monthly time periods, thereby, catering to extended stays.
With all this being said, we expect that the Blurred Travel trend will result in many more travel providers diversifying their products and services in the near future.
We will certainly keep monitoring these initiatives closely.