The hopes for a post-Covid spending craze begin to turn real.

While consumer spending declined massively during the pandemic, household incomes have largely been protected by unprecedented government stimulus schemes in most advanced economies.

The result: households around the world have stockpiled an extra $5.4 trillion USD of savings according to the Financial Times.

This represents an excess savings amount of more than 6% of global GDP.

As consumers are now becoming increasingly confident about the economic outlook, the way is paved for a strong rebound in spending as businesses reopen.
People crave to travel again
This brings us to today's data chart(s) of the week, which shall give the travel industry a lot of confidence!
According to a recent consumer survey by McKinsey, 44% of respondents plan to treat themselves and splurge on travel, lodging, and vacation this summer.
Even better, travel was the 2nd most popular category among all leisure activities people want to "revenge spend on", only behind dining out in restaurants and bars (oh yeah, we miss that, too).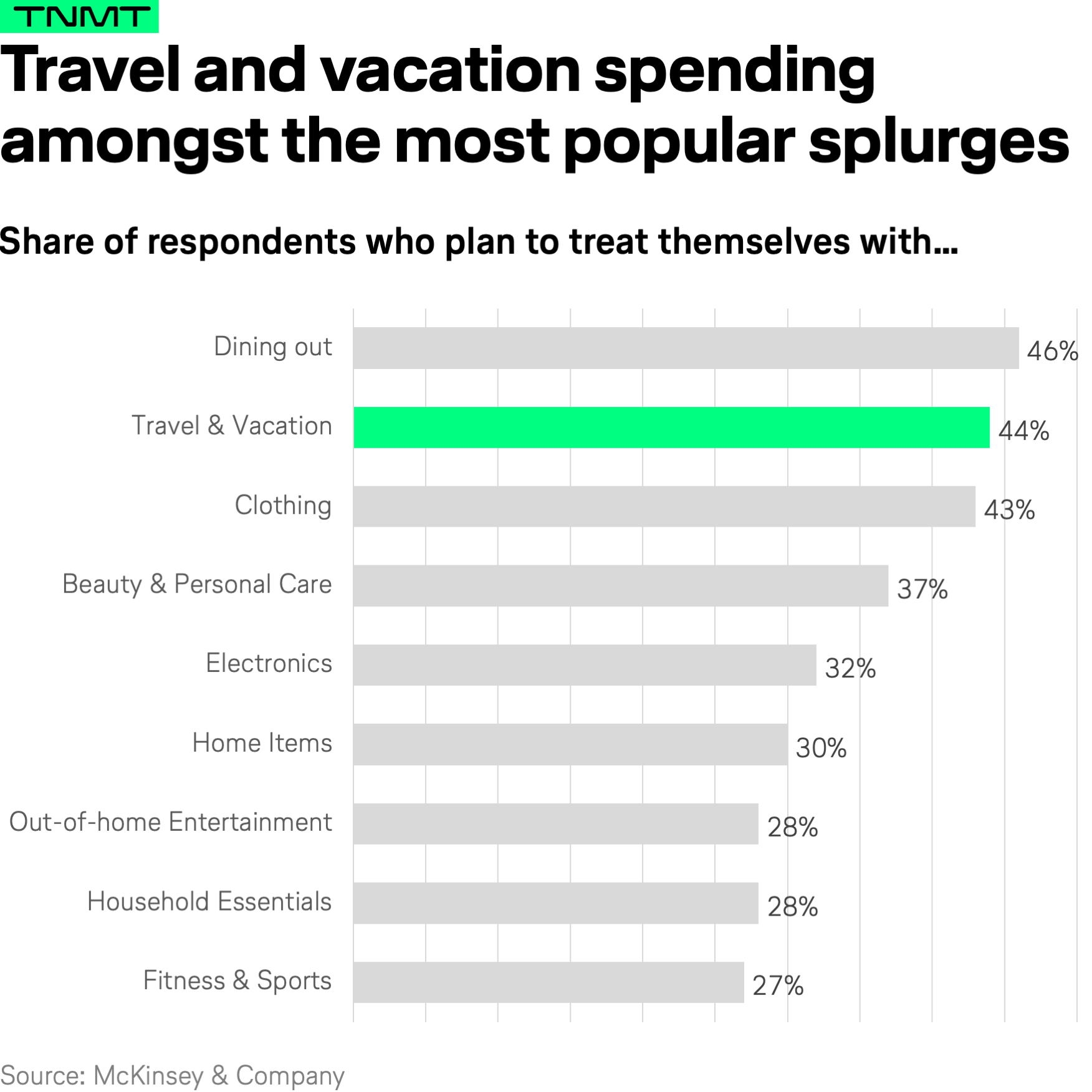 What's also noteworthy is that the most commonly stated trigger for going on a vacation again is not getting a vaccine shot but government restrictions being lifted.
That's important to keep in mind, because it shows that the pandemic has not led to a structural shift of traveler confidence being shattered.
It's not like people have formed habits of "giving up travel" that will extend beyond the pandemic.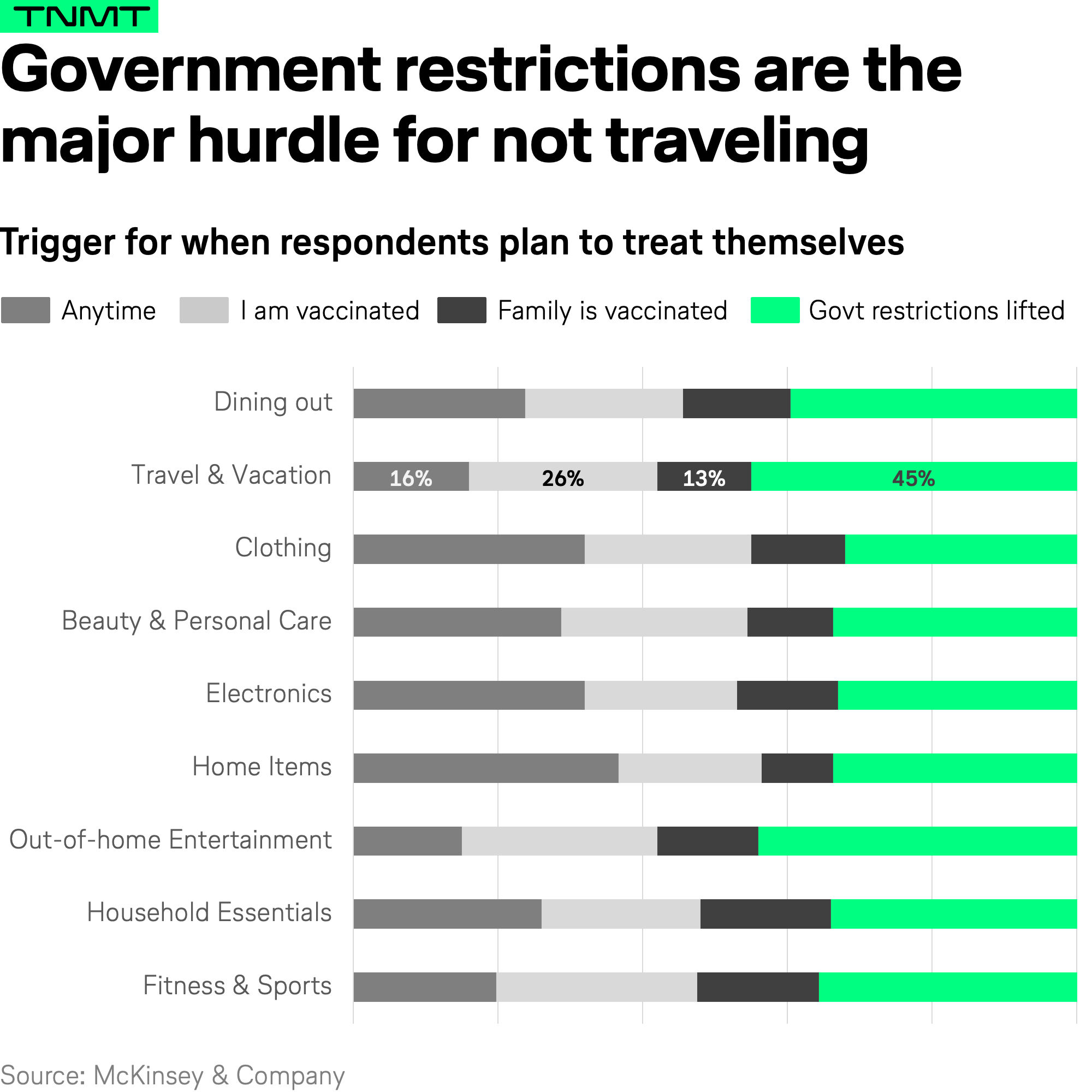 It's pretty obvious: people's thirst for travel is universal and unshakeable.

At least when it comes to leisure travel.

This is also confirmed in a recent Booking.com survey where 77% of travelers went so far as stating that they would rather go on a vacation in 2021 than find true love.
Bookings are already up
These observations appear in line with current flight demand recovery, at least outside of Europe.

In the US and China, where domestic travel bans are almost fully suspended, flight capacity is already back to 75% and 93% of pre-Covid levels respectively—see our Flight Demand Tracker.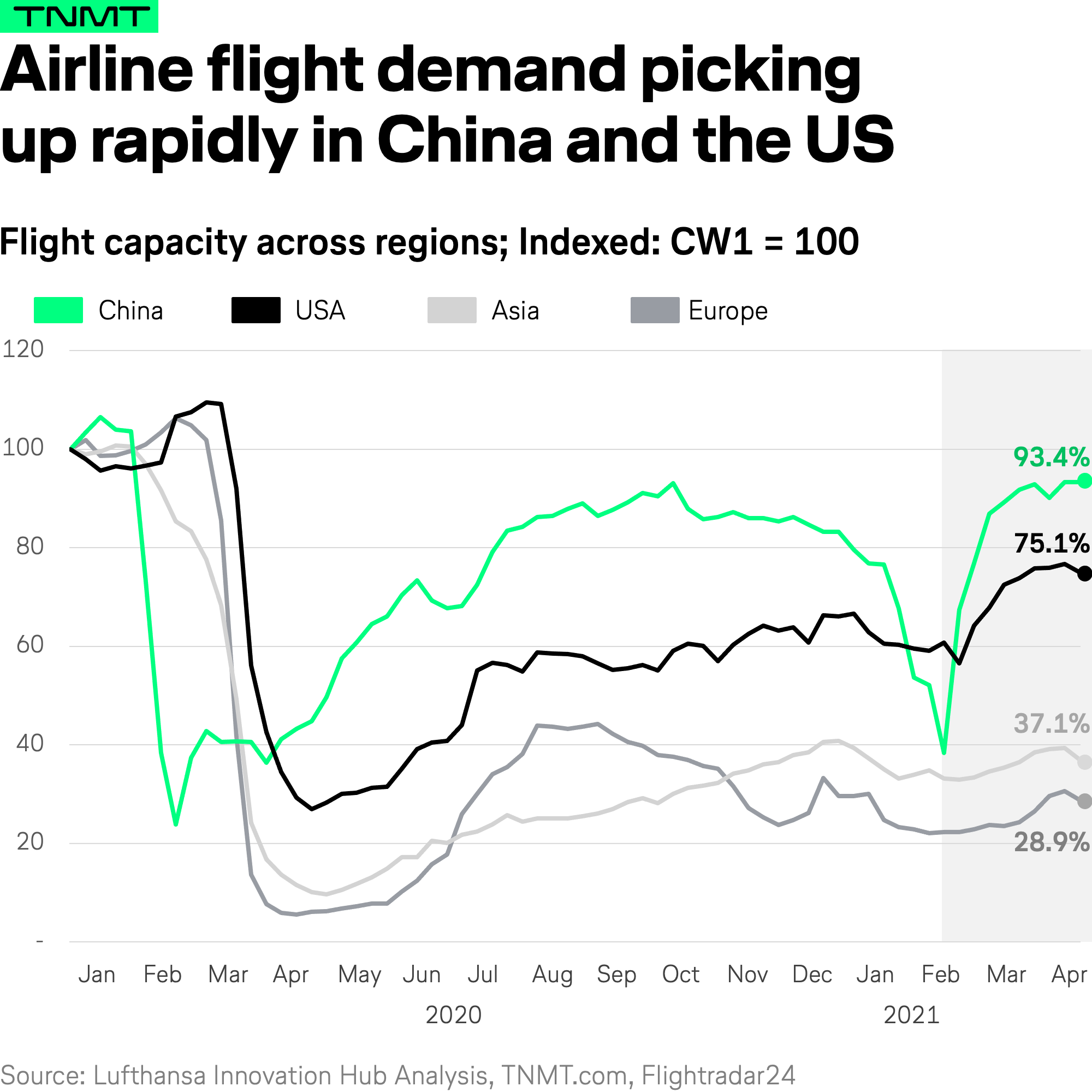 By the way, in the US where vaccines are flowing rapidly, not only flights but also campsites, Airbnbs, and rental cars are booking up for the summer as Axios reports.
So, all rosy, right?
Well, it's too early to pop bottles.
The eagerness to splurge on travel does not refer to all demographic groups, the McKinsey doc shows. 
While higher-income groups, as well as Millennials, are eagerly waiting to travel again, lower-income groups appear less inclined due to lower savings rates. 
The biggest spending comes from international visitors, not domestic trips, so the full-blown comeback of the (leisure) travel industry will take many more months as most international travel restrictions are likely to remain in place for the foreseeable future.
Long story short, the recovery will vary across segments.
Therefore, we expect the following factors to likely determine the winners and losers among travel providers for the rest of the year:
Those that focus on international travel will continue to suffer
Same as those that skew away from upscale and luxury 
By the way, if you want to closely follow the travel industry's move to reopen, we recommend visiting Skift's live blog called the Great Reopening.
It's a great resource.