It's not the first time we argue that 2020 was the year when the corporate travel sector finally realized that software is eating the world.
As most office workers experienced an abrupt shift to working from home, online meetings became mission-critical for every business on the planet.
And it turned out that business travel is not the necessity it was pre-pandemic.
A quick reminder to prove this point: As of October 2020, the market cap of video conferencing company Zoom reached $150 billion which was more than the 15 largest airlines in the world combined.
How much business travel will stay on Zoom?
The big question is whether this virtual trend will prevail when the pandemic eventually recedes.
People who travel for pleasure will want to get back to doing so. It's our human desire to explore and to enjoy, and that has not changed.
It's different for the business context.
We think that the effective use of technology during the pandemic – and the economic constraints that many companies will face for years after it – have already changed how we think about the need to travel for business
Essential travel will stay off Zoom
Ultimately, it boils down to one question:
Exactly when is a trip really necessary to do in person?
The answer to that question arguably depends on two variables:
the scope of the trip
the purpose of the trip
In terms of scope, about half of all business trips before the pandemic lasted for two nights max., meaning they were relatively short according to Ben Evans and Expedia.
This chunk is arguably in higher danger of being virtualized compared to longer trips where more business can get done in one go.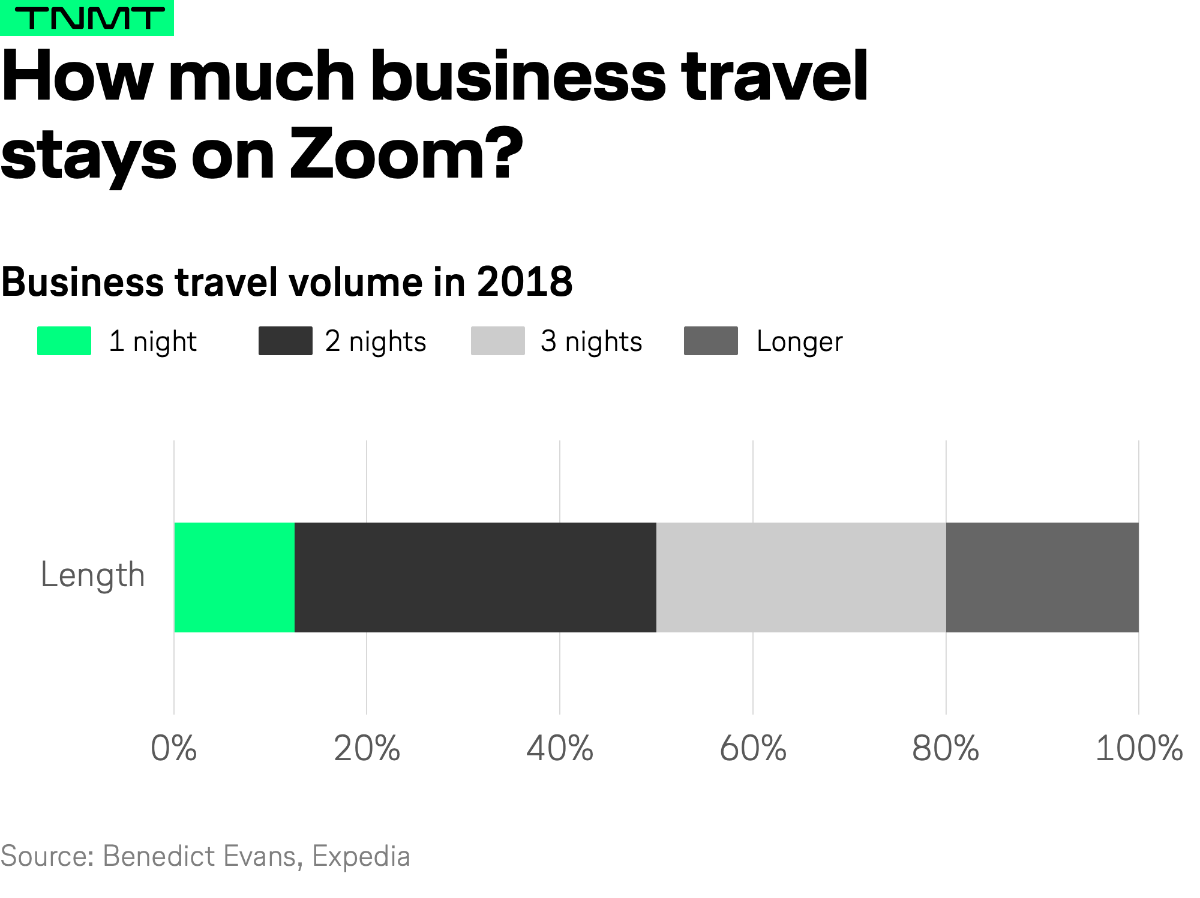 As for the purpose of a business trip, it's a bit more complex.
IdeaWorks calculated that one-quarter of business travel demand by plane appears to be for selling and securing clients – an activity that is still a lot better to do in person than over video.
Hence, business travel for these kinds of business-critical meetings is highly likely to come back quickly.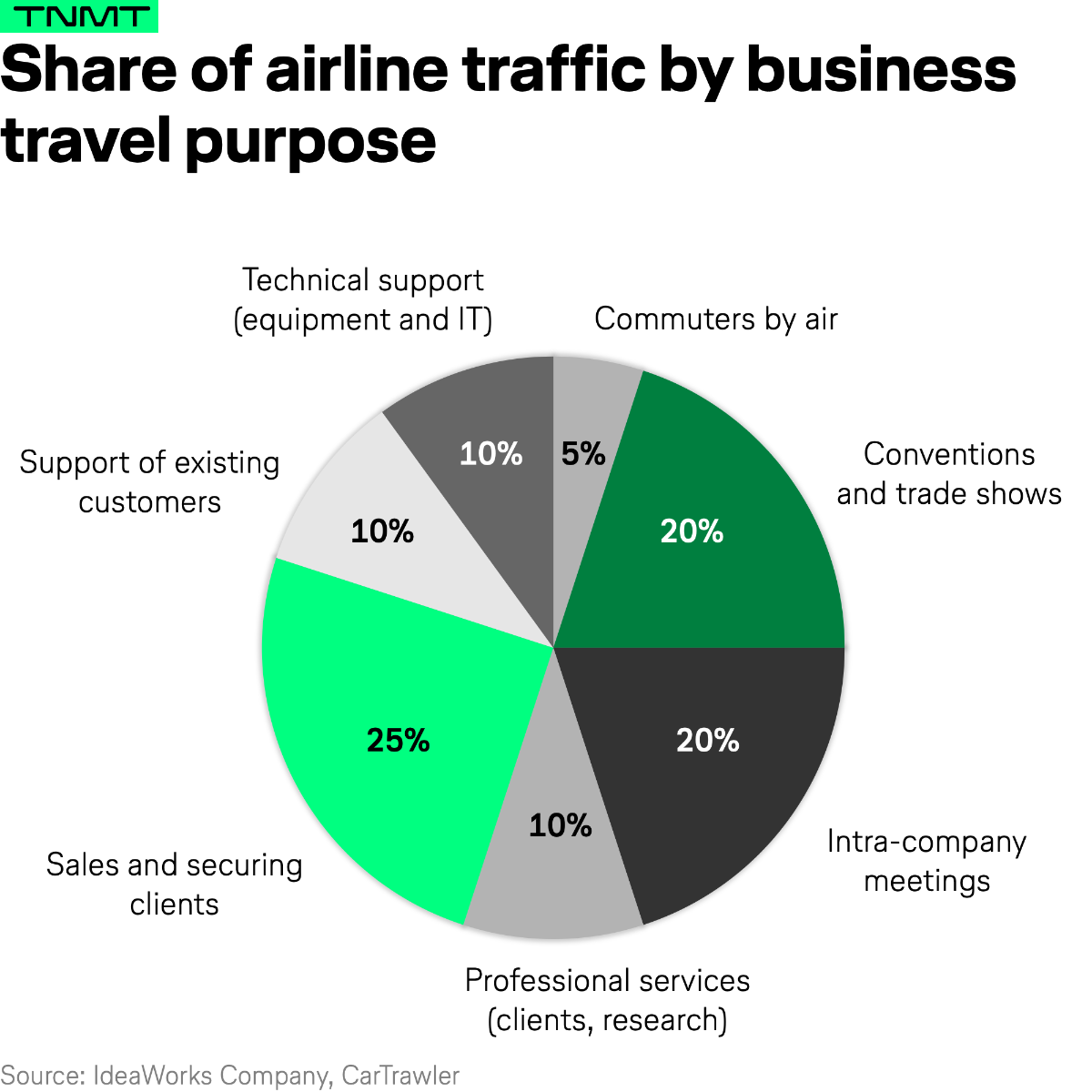 On the contrary, another 20% of pre-pandemic air travel business activity was done for intra-company meetings.
This use case is probably not coming back to pre-pandemic levels. A video call will work out just fine most of the time – same for travel activity for the "support of long-term customers" (another 10%).
The major point: the return of business travel will be tough.
And it's going to be multifaceted, depending on the underlying travel purpose.
No wonder, that even Jeffrey Goh, chief executive of Star Alliance, the world's largest airline group, predicts there will be a "structural change in terms of the business travel segment" that could leave the overall sector up to 30% smaller in the long term
Mapping the most promising virtual startups
What's further moderating the recovery of business travel is an extremely vibrant ecosystem of virtual software companies that is recreating the physical meetings experience virtually through forward-looking tech.
To help you get an overview and gauge the potential substitution effect, we mapped the 100 most promising startups offering virtual solutions that disrupt both physical interactions and business travel into one infographic.
All startups are categorized by type of business meeting, ranked by VC funding raised, and ordered (right to left) by their expected impact on business travel in the years to come.