In 2022, the "metaverse" was undoubtedly the most hyped technology buzzword.
The trend has had far-reaching implications across some of the biggest company names in the world.
The most obvious example is Facebook. The company not only rebranded to Meta as part of its metaverse strategy pivot but the firm also announced investments of $10 billion to $15 billion USD per year. This money has been funneled into its various Metaverse projects, including AR and VR tech, alongside Horizon World, the company's own VR app.
Facebook was not the only one riding the metaverse wave. Tech giants like Microsoft and Nvidia have begun working on enterprise-level metaverse platforms. As well, several metaverse platforms have already auctioned off virtual land. This happened rapidly, spurring the rise of the term "metaverse land grab."
The travel industry has not ignored the metaverse hype.
In fact, travel companies quickly jumped on the metaverse bandwagon.
Qatar Airways, for instance, launched its QVerse in April 2022, a virtual tour of the carrier's premium check-in area at Hamad International Airport. As well, this product includes the cabin interior of the airline's aircraft, including its business and first-class suites.
However, over the past few months, the metaverse movement has lost momentum due to two reasons:
Firstly, metaverse experiments have, thus far, not resulted in any meaningful payoff. Meta's metaverse bet turned out to be "an empty, sad, and unpopular flop," costing the company's Reality Labs division $10 billion USD in losses and resulting in mass layoffs. Other metaverse debacles include the European Union hosting a 24-hour party in its $407,000 USD metaverse, which saw just a handful of people turn up.
Secondly, the "tech hype du jour" has moved on, with ChatGPT and Generative AI having eclipsed the metaverse as the hottest trends in technology.
These recent developments raise a number of essential questions:
Was the metaverse future just a fantasy by overconfident tech executives like Mark Zuckerberg, who got lost in their own echo chambers hyping the future of immersive virtual realities?
Or has the excited metaverse talk of the past two years simply slowed down as part of a natural hype-cycle trajectory that focused on a few promising real-world applications?
If it is the latter, what are these use cases, especially in the travel context, and what might this mean for the future of the travel industry?
To answer these questions, we engaged in extensive research, which we will present as part of a two-article analysis over the next few weeks.
In this first article, we want to present you with some of the most interesting metaverse use cases launched by travel brands over the past 18 months.
In a second follow-up analysis, we will look at the bigger picture while keeping all of these examples in mind. We will discuss what exactly the (travel) metaverse is and how it got so much attention.
The second article, in particular, will be a must-read for industry professionals in the travel context.
If there is one thing our research has shown, it's that nobody really understands what the hell the metaverse actually is.
Given that the average person still doesn't know what the metaverse is, it's no wonder that footage of shabby, lifeless digital universes that look worse than Roblox (a virtual-reality game played by more than half of all U.S. kids during the pandemic) was promoted as cutting-edge technology.
However, despite all of this shallow metaverse talk, the underlying technology is still intriguing. As well, with each passing day, the technology is advancing, even though this isn't happening as quickly as we'd like it to.
We are convinced: While the travel industry's adoption of the metaverse is still in its early stages, the technology's potential impact on the industry remains significant.
Not only can metaverse technology revitalize an oftentimes unengaging customer experience, but it can also function as an efficient channel for upselling ("try before you buy"). As well, this technology can help create accurate and efficient training platforms that use scenario simulations or provide the backdrop for a new and improved travel retail experience.
With this being said, we want to shed light on what the future of the metaverse might mean for the travel industry.
And most importantly, we want to better define what the metaverse actually is.
For starters, let's take a closer look at a detailed overview of the most recent metaverse product launches, both in the broader tech context as well as in the travel industry.
Viable metaverse applications in 2023
The potential applications for the metaverse are vast and varied. One of the most interesting (and useful) metaverse applications is retail. Fashion, in particular, is a viable area.
In fact, metaverse applications have emerged as a growing marketing channel for a number of Tier 1 fashion and lifestyle brands, coining the term "virtual commerce" or "v-commerce."
For instance, Italian fashion brand Gucci released a series of NFTs and even launched "Gucci Garden," a virtual space in the metaverse on the gaming platform Roblox.
Within this space, users can try on and purchase NFTs of Gucci designs to wear in the game. While Gucci was reportedly the first fashion house to launch a metaverse strategy, other luxury brands, such as Burberry, Balenciaga, and Prada, have since followed suit.
Interestingly, this metaverse fashion trend shows little sign of slowing down in 2023 as virtual commerce continues to gain traction with retailers. For instance, Dubai recently announced the launch of the "Mall of Metaverse," a virtual world dedicated primarily to e-commerce.
Travel applications in the metaverse
As previously mentioned, players in the travel industry have jumped on the metaverse bandwagon and are experimenting with a diverse set of innovative use cases.
We believe these experiments demonstrate that the beginnings of an evolution are currently underway. This will mark the transition from our current Web2 internet infrastructure to future Web3 infrastructure that will be decentralized and characterized by new levels of immersion (aka metaverse), tokenization, and digital assets (NFTs).
As we look at how startups and innovative incumbents are adapting to these changes, we are simultaneously charting the travel industry's path towards Web3, aka Trip3-world.
So, what exactly has been happening in Trip3?
Let's find out.
Here are the most significant events in the travel context that propelled metaverse interest to new heights in 2022.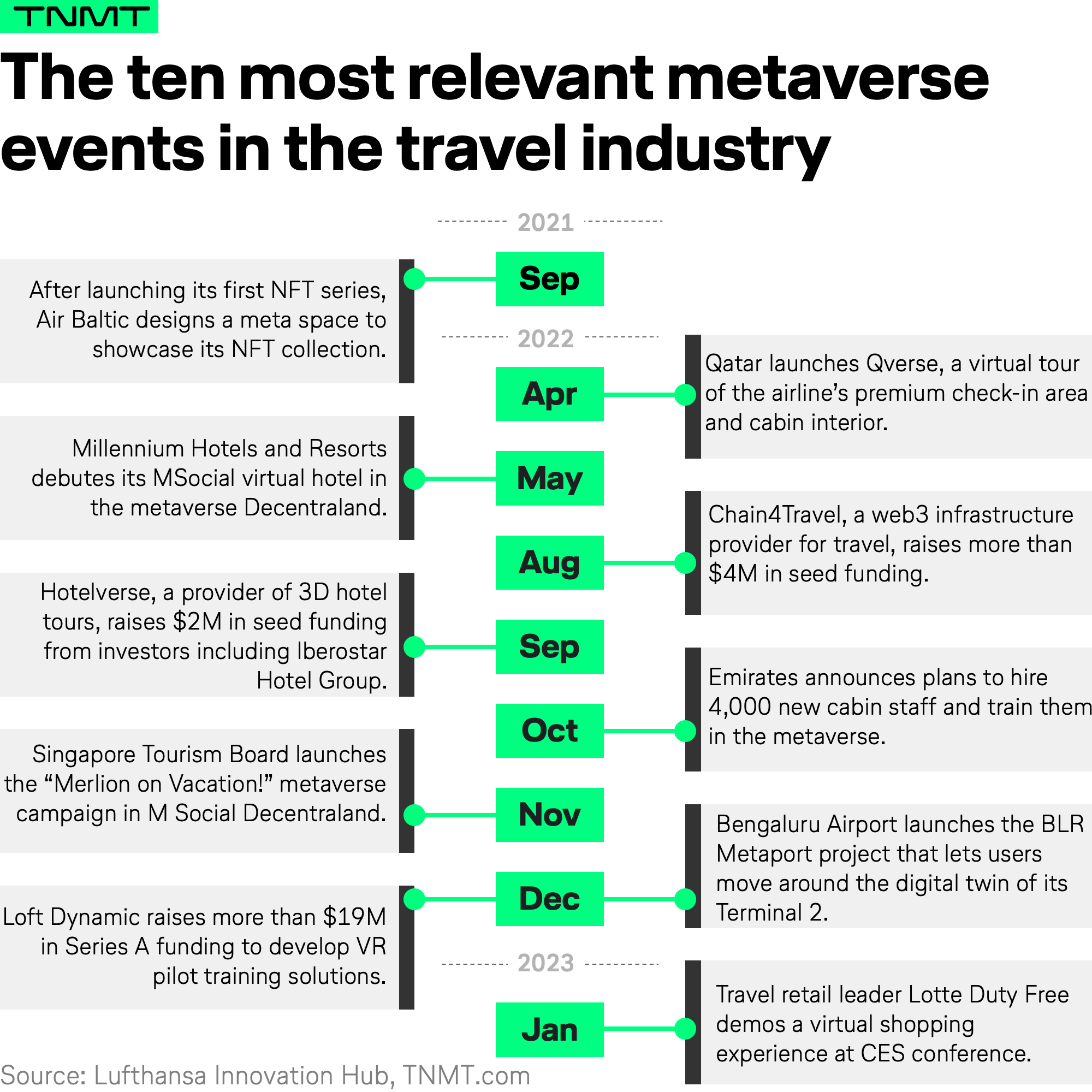 In 2021, NFTs emerged as one of the biggest enablers of the metaverse
Undoubtedly, 2021 was the year of NFTs, a technology that has become one of the key drivers for metaverse development. Non-fungible tokens enable the growth of societies within immersive virtual worlds, such as through the authentication of property and identity.
For more information on NFTs in the travel context, check out our article on the topic of NFT travel use cases to look out for.
Aside from NFTs, other technologies have advanced that enable the metaverse and its popularity:
For instance, 5G is a crucial technology that provides the underlying network infrastructure required to supply users with high-definition and real-time access to immersive virtual worlds.
Similarly, augmented and virtual reality headsets provide the hardware to bridge the gap between the physical and virtual worlds. In turn, these technologies are mission-critical enablers too.
The NFT hype quickly reached the travel industry. Travel players have already released a variety of NFTs, such as:
Early 2022 delivered the first metaverse-like experiences
After these initial NFT experiments, 2022 started off with a number of "flashy" experiments in more immersive metaverse-like spaces, with airline players at the forefront of this phenomenon:
The U.A.E.'s premium carrier Emirates was one of the first travel brands to announce its plans to release NFTs as part of a metaverse experience following the launch of its airline virtual reality app in 2021. The app, which is available for Oculus headsets, allows users to explore the world-renowned Emirates first-class suite.
Shortly after, Qatar Airways followed suit with the release of the QVerse metaverse platform, where users can experience a virtual tour of the airline's premium check-in area and cabin interior for economy and premium cabin classes. The airline reportedly plans to expand the QVerse by integrating NFTs, ticket purchases, and more places to explore.
And while both Qatar's and Emirates' platforms are arguably more experimentation than concrete revenue opportunities, they fulfill one important purpose: they provide consumers with access to a luxury cabin experience that is typically unattainable to the regular traveler.
In doing so, it allows airlines to promote this premium experience in a fashion that is more immersive and engaging than images on a website. This scenario could potentially get customers interested in the premium experience that wouldn't have otherwise considered upgrading from economy class.
Interestingly, airlines weren't the only travel players to experiment with immersion.
In May 2022, Millennium Hotels and Resorts debuted as the first hotel to operate in the metaverse. The hotel, called M Social Decentraland, was created in the metaverse Decentraland. It was modeled after various M Social hotels around the world. Currently, the space is integrated into Decentraland's gameplay. In the future, the hotel chain plans to use it for special virtual events. In an interview following the launch, Kwek Leng Beng, Executive Chairman of Millennium and Copthorne Hotels Limited, stated: "We hope to redefine hospitality through M Social Decentraland by creating online adventures that integrate with real-life events."
Q3/2022: Web3 infrastructure startups manage to raise significant funds
The excitement that accompanied these first experiments gave rise to a number of successful funding events for Web3 infrastructure providers. This has further accelerated the metaverse movement.
For instance, Chain4Travel, a specialized provider of Web3 infrastructure for the travel industry, raised more than $4 million USD in seed funding in August 2022. Founded only a few months prior, this was the company's first funding round.
Then, in October 2022, the startup raised another $5 million USD in its Camino token sale. This was reportedly supported by more than 300 international companies and private investors across Europe, Asia, North America, South America, and Australia.
Similarly, Arise, a U.S.-based startup providing blockchain-based distribution infrastructure for travel companies, raised close to $3 million USD in seed funding in August 2022. This deal put the company's pre-money valuation at $4.5 million USD.
Infrastructure providers weren't the only ones to profit.
For instance, Hotelverse, a startup creating digital 3D tours of hotel properties, raised $2 million USD in seed funding from hotel group Iberostar, Plug and Play Tech Center, and other investors. The provider claims that more than 1,500 hotels will be on Hotelverse by the end of 2023.
Currently, the startup works with a number of hotels and hotel chains, chief among them Iberostar Hotels and Resorts. Zafiro Hotels and Hard Rock Hotel are also included.
Alongside hospitality incumbent Iberostar, those from other verticals are also looking to invest in their own metaverse visions. One such example is Airbus.
In September, the aircraft manufacturer concluded its 2022 HeroX/Airbus Metaverse Challenge. Capgemini won the challenge with the submission of its "virtual town square," an environment in which travelers can access personalized information related to the flight destination and services related to the journey, such as in-flight shopping, meal ordering, rental car booking, and other amenities.
Q4/2022: Asian municipalities are quick to jump on the metaverse bandwagon
The metaverse advent has not only taken place in Europe and the U.S. but also in Asia, where companies have been quick to adapt to the promise of immersion.
Interestingly, in Europe and the U.S., metaverse innovation was typically driven by private players. Meanwhile, in Asia, specifically South Korea and Singapore, local municipalities were vocal in their support of metaverse projects.
In October 2022, the Smart City Policy Bureau of Seoul, South Korea, announced its vision to create a metaverse ecosystem for all areas of municipal administration. This includes using digital twins and VR to improve services related to municipal planning and administration, as well as supporting virtual tourism. By leveraging the metaverse, Seoul aims to create an immersive and interactive environment that can offer visitors a unique and engaging experience. Virtual tourism services could allow visitors to explore local attractions and their respective histories, experience festivals, and visit museum exhibits.
Singapore's Tourism Board is another example of a local government that has embraced the metaverse. In November 2022, the tourism authority launched a campaign celebrating a national icon called the Merlion in the metaverse. Working closely with Millennium Hotels, the tourism board created a virtual adventure set in M Social, which is the virtual hotel in Decentraland. According to a recent interview with Saurabh Prakash, Group Senior Vice President at Millennium Hotels, this campaign succeeded in increasing the visitation of M Social's website by 129% over pre-pandemic levels – a testament to the power of creating immersive and engaging experiences for consumers.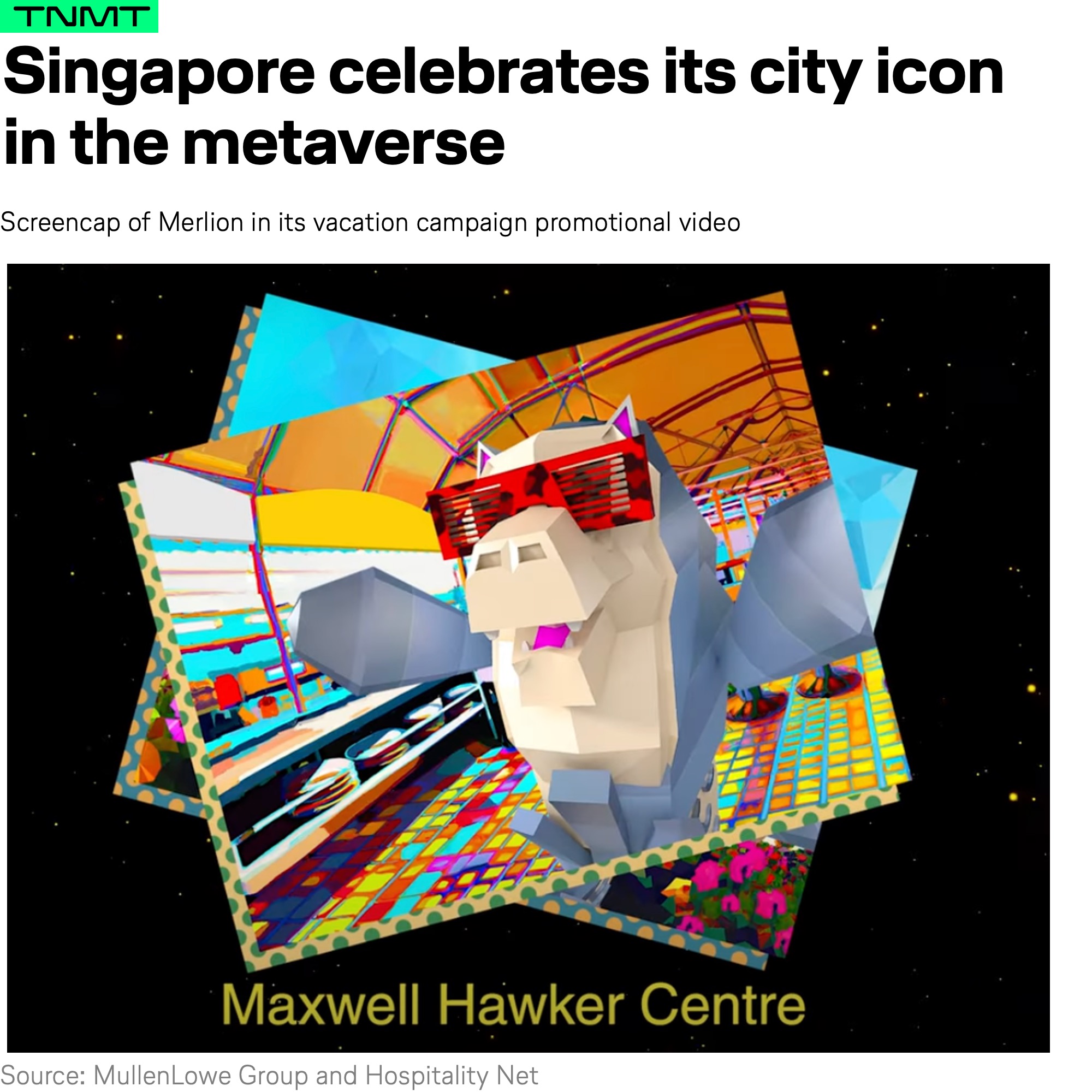 As 2022 came to a close, metaverse use cases continued to evolve from customer engagement experiments, as witnessed in the cases of the QVerse and Emirates' VR app, towards solving real travel pain points.
As well, airlines presented themselves as innovation leaders in the space.
Emirates, for instance, announced in October 2022 that it will train cabin crew in the metaverse. This move is expected to expedite training for 4,000 new hires planned for the upcoming year. Using virtual scenarios and digital twins of the cabin interior, Emirates' training platform will provide efficient and accurate educational formats.
And while simulations are by no means a novelty in the context of aviation, the demand for training formats using immersive technology was also reflected in the funding dynamics in the vendor landscape. One example is Loft Dynamics' most recent funding round. The Swiss provider of VR pilot training solutions raised more than $19 million USD in Series A venture funding. This is the startup's highest funding round to date and pushed the company's pre-money valuation to more than $30 million USD.
In addition to airlines, airports and their partners are looking to solve existing pain points related to airport experiences and revenues.
One such example is Bengaluru Airport. The Indian airport launched the first phase of its BLR Metaport project in December 2022. This immersive 3D experience lets travelers move around Terminal 2 of Bengaluru Airport in the metaverse and better manage their airport activities, like navigating the terminal and checking in for flights. It even provides a platform for social interactions with other travelers, allowing users to communicate with one another.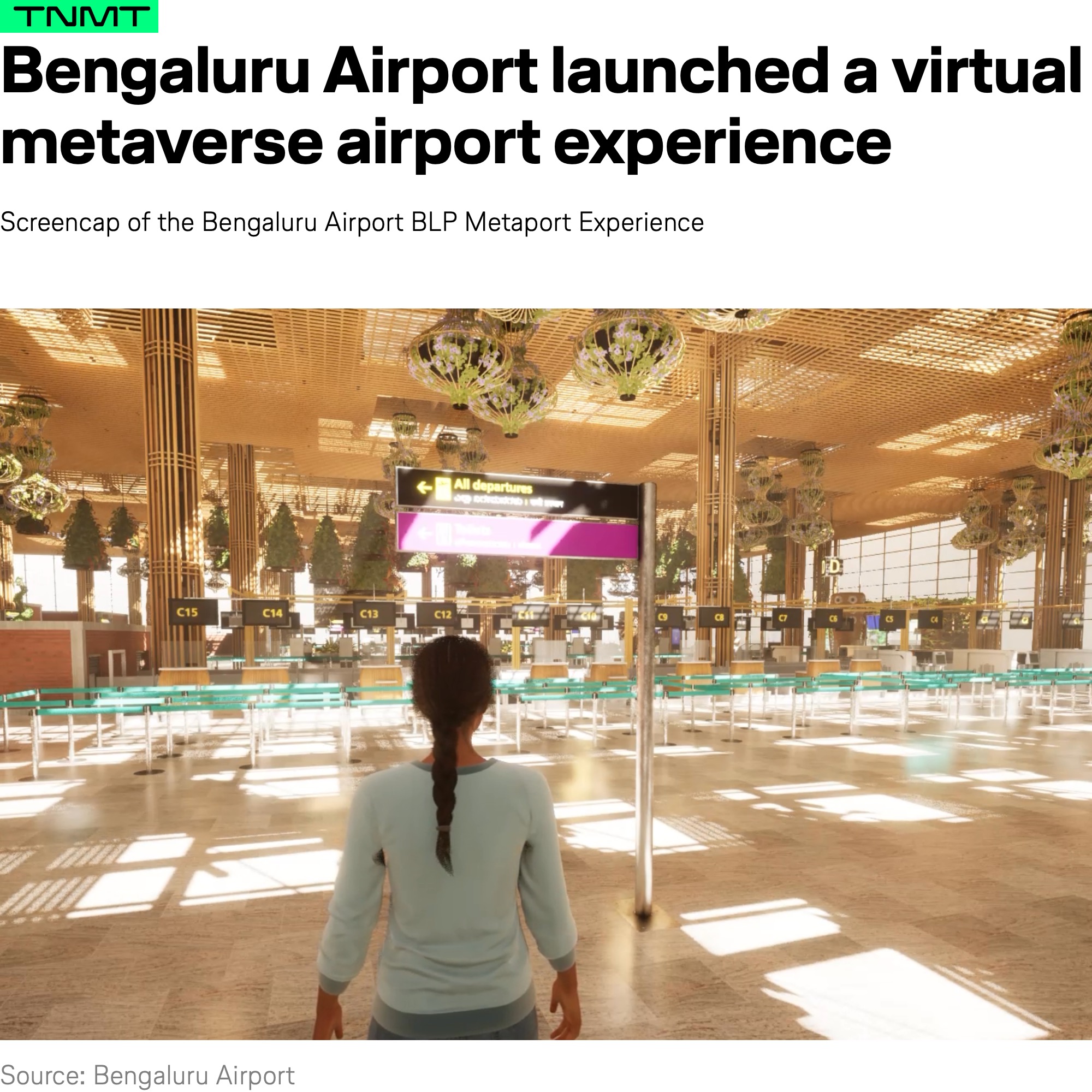 Importantly, a critical source of airport revenue comes from its retail partners, i.e., the shops that sell products in the airport. The metaverse presents an opportunity here as well. In January 2023, Korean Retailer Lotte Duty-Free presented a virtual shopping space dubbed the Virtual Lotte Duty-Free Tower at CES in Las Vegas. Lotte, a leading global travel retailer in the duty-free space, aims to use the space to allow shoppers to access and purchase goods from fashion, perfumes, and cosmetics. These types of products aim to revitalize the duty-free commerce sector, which was hit hard by the pandemic.
New year, new story – Metaverse use cases continue to advance but complexities remain
As you can see from the aforementioned examples, despite the fading media hype, travel players are continuing to create virtual products and services as part of an accelerating metaverse emphasis.
These examples demonstrate that the types of metaverse applications vary significantly. In fact, the term metaverse describes more of an expansive concept than a specific definition. This is one of the reasons why the metaverse movement has slowly faded over the past few months. The general public is still confused about what "the metaverse" is and how it will benefit society.
Therefore, we want to shed more light on the concept and improve the discussion surrounding the topic. Stay tuned for the next part of this series, in which we introduce our metaverse framework – a cheat sheet that explains the metaverse in an intuitive way and takes into account current and future use cases that are being adopted in the travel context.
We'll take a deeper dive into different metaverse use cases and market opportunities that will define the future of Trip3.