NFT—short for non-fungible token—was the tech buzzword of 2021.
The hype was born when Beeple, a U.S.-based digital artist and graphic designer, sold the first NFT-based work of art for a shocking $69 million in March 2021. Since then, the NFT industry has grown exponentially. And we're not just talking "NFT art" here, but a range of startups with NFT-based value propositions.
According to our analysis, VC funding into NFT startups multiplied by close to 40 times from 2020 to 2021, topping off at a whopping $4.5 billion. The momentum shows no signs of slowing down, with the first two months of 2022 already surpassing the annual funding value for 2017 through 2020.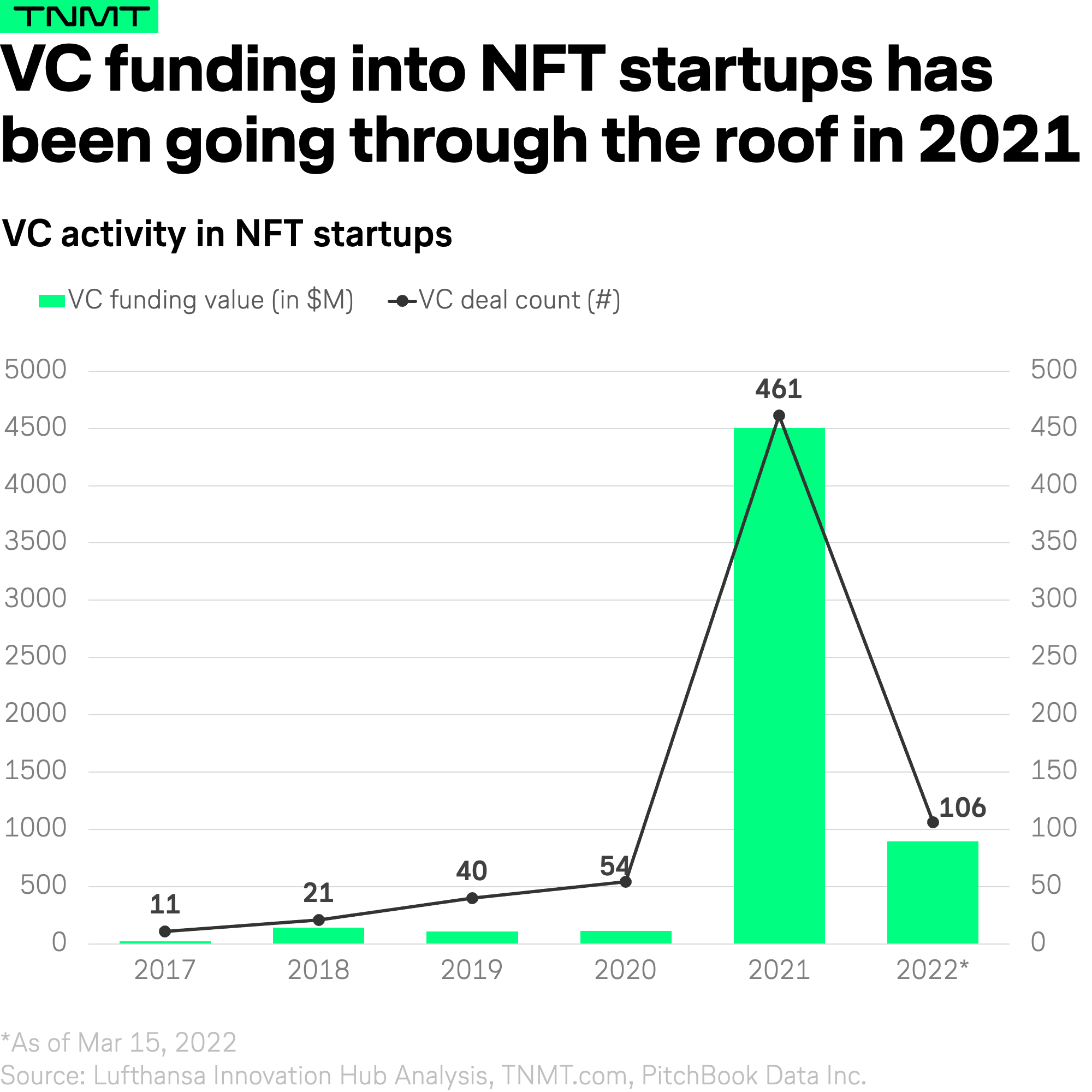 Importantly, NFTs are not only discussed in VC boardrooms. The technology is also a focal part of public interest. As reported by the New York Times, NFTs were one of the hottest topics on social media platforms like Twitter in 2021.
Last year, users published 220 million tweets about NFTs. By contrast, the topic of movies was "only" mentioned in 207 million tweets.
At the peak of the hype in December 2021, conversations about NFTs made up 1.2% of the entire conversation on Twitter.
Notably, the hype (and associated investing prospects) around NFTs marked the beginning of a vivid discussion about other blockchain applications, as well as the virtualization of formerly physical interactions, ultimately culminating in the "year of the metaverse" being a catchphrase for 2022.
This term links to a number of "showy" developments—for instance, Facebook's rebrand as Meta. The tech giant's name change has even resulted in employees now being called "metamates," triggering widespread mockery both in and outside of the company.
NFTs—reality or hype? Let's find out.
Despite the hype surrounding NFTs, non-fungible tokens do not have the best rep.
As is the case with many emerging technologies, NFT tech has hit a few stumbling blocks on its way to (potential) mass adoption. These stumbling blocks involve two key issues:
The question of ownership. While buying an NFT is an extremely transparent process, owning one is not. First off, buying an NFT does not transfer the intellectual property rights to the piece, meaning there are certain limitations around how buyers can actually use their newly-acquired digital artwork. Furthermore, NFTs may or may not be subject to copyright protection laws, for which violations can have widespread consequences (read about the weird whale debacle), although the discussion on this—as stated by WIPO—is dominated by "widespread confusion."
Environmental concerns. Mining cryptocurrency is a process that requires tremendous amounts of electricity. This is especially relevant for proof-of-work networks like Ethereum and Bitcoin. Unfortunately, NFTs are typically built on the Ethereum blockchain. And to set the stage here, as reported by the Verge, the carbon footprint of the Space Cat NFT is equivalent to an EU resident's electricity consumption for two months. That said, the issue around CO2 emissions is not a new one. It has been widely discussed in the crypto-community and prompted the rise of proof-of-stake networks. Reportedly, Ethereum is also planning on moving to a proof-of-stake protocol later this year.
Digital collectibles with questionable ownership rights and a CO2 footprint to match—are they worth the trouble?
Judging by the current debate around NFTs, the 2021 hype will likely cool off. And indeed, an analysis of the search term "NFT" on Google Trends seems to underline this theory.
The latest reports from the Financial Times also confirm this slowdown:
According to the publication, the average selling price of NFTs has dropped by over 48% since November 2021.
The go-to marketplace for NFTs, OpenSea, has seen daily trading plunge this March, with analysts citing "saturation in certain parts of the market."
However, as we all know, taste in art varies grossly, and people still have an appetite for juicy crypto investments. That said, the chatter around NFTs has spurred the development of a number of innovative solutions and use cases outside the realm of "classic" digital collectibles.
This includes exciting use cases in the travel context.
Let's take a closer look.
NFTs have reached the travel industry
The latest NFT hype cycle has accelerated experiments and initial commercial applications across industries. The travel sector is no exception. Unsurprisingly, the most common example of NFTs we're seeing in the travel landscape is the NFT "giveaway" or "collectible."
To name two examples:
Travelmyth offers free NFTs in the form of stamp-like images to showcase "proof of travel."
Rimowa launched a series of NFTs based on iconic Rimowa design artifacts.
A handful of players, however, have moved beyond this "classic" use case and developed sophisticated products with NFTs as a key part of their value proposition.
After all, NFTs may not be as present in the realm of travel and mobility as they are in, say, industries like gaming, fashion, and the arts—but that doesn't mean there are no innovative use cases out there.
In fact, the explosive popularity of NFTs has found its way into the travel industry as well.
Here's how that happened:
1. The crypto-based travel community
Throughout the pandemic-induced uncertainty and heated competition, one player has managed to stay on course and validate their business proposition time and again: online travel booking platform Travala.
Travala provides a booking page for hotels and properties, flights, and activities. At first glance, the platform looks pretty much the same as any other online booking site—listing prices while allowing users to search for locations, connections, and events around the world.
However, unlike its conventional peers, the platform features blockchain technology. Not only can users pay using several cryptocurrencies, but the platform employs its proprietary cryptocurrency, AVA, for payments, and for receiving and redeeming loyalty rewards and refunds.
To start collecting loyalty rewards, users can sign up for the "Smart Program"—a multi-tier membership program that allows users to access discounts, receive loyalty rewards, leverage proof-of-travel stamps and badges, and earn the right to vote on platform upgrade proposals. The highest membership tiers even provide access to concierge services, TRVL airdrops, and "exclusive, once-in-a-lifetime random travel experience drops."
Importantly, members of the highest "diamond" tier also receive a unique Travel Tiger NFT as a membership bonus. These NFT collectibles are currently available for purchase on OpenSea for the price of approximately 3 Ether (or about $10,000 at the time we're writing this).
Similarly, Travel Toucans—a project established in late 2021—started minting limited-edition Toucan NFTs that allow buyers to gain membership to "the world's first travel NFT: a global community of enthusiasts and experts to reimagine the new era of exploring."
This membership includes a number of perks involving special access to boutique hotels, "secret" international community meetups, local guides and experts, golf tournaments and other sporting events, art and music festivals, and even community voting rights.
Overall, this is a good example of how NFTs merge the virtual with physical products and services.
Lastly, some smaller-scale projects are also issuing NFTs for a cause connected to travel, and more importantly, sustainable travel.
Nature Seychelles, the IUCN, and the Porini Foundation have launched NFT-based "Digital Nature Collectibles" to collect funds and draw attention to wildlife conservation.
Similarly, Project Ark and World Wildlife Fund Panda Labs seek to fund animal and environmental conservation efforts via their proprietary NFT marketplace.
2. Next-generation airline loyalty
Thus far, cases of airlines issuing NFTs are quite rare and typically fall in the realm of the "digital collectible."
Aside from the occasional rumor around NFTs as VIP loyalty rewards—see "The Cool Gift American Airlines Sent to Its 'Concierge Key' Members" in April 2021—airBaltic branded itself as "the first airline to issue NFTs" by releasing its first digital collectible: a postcard-like image depicting an individual Airbus aircraft flying above the skies of a town in Latvia, namely, Kuldiga.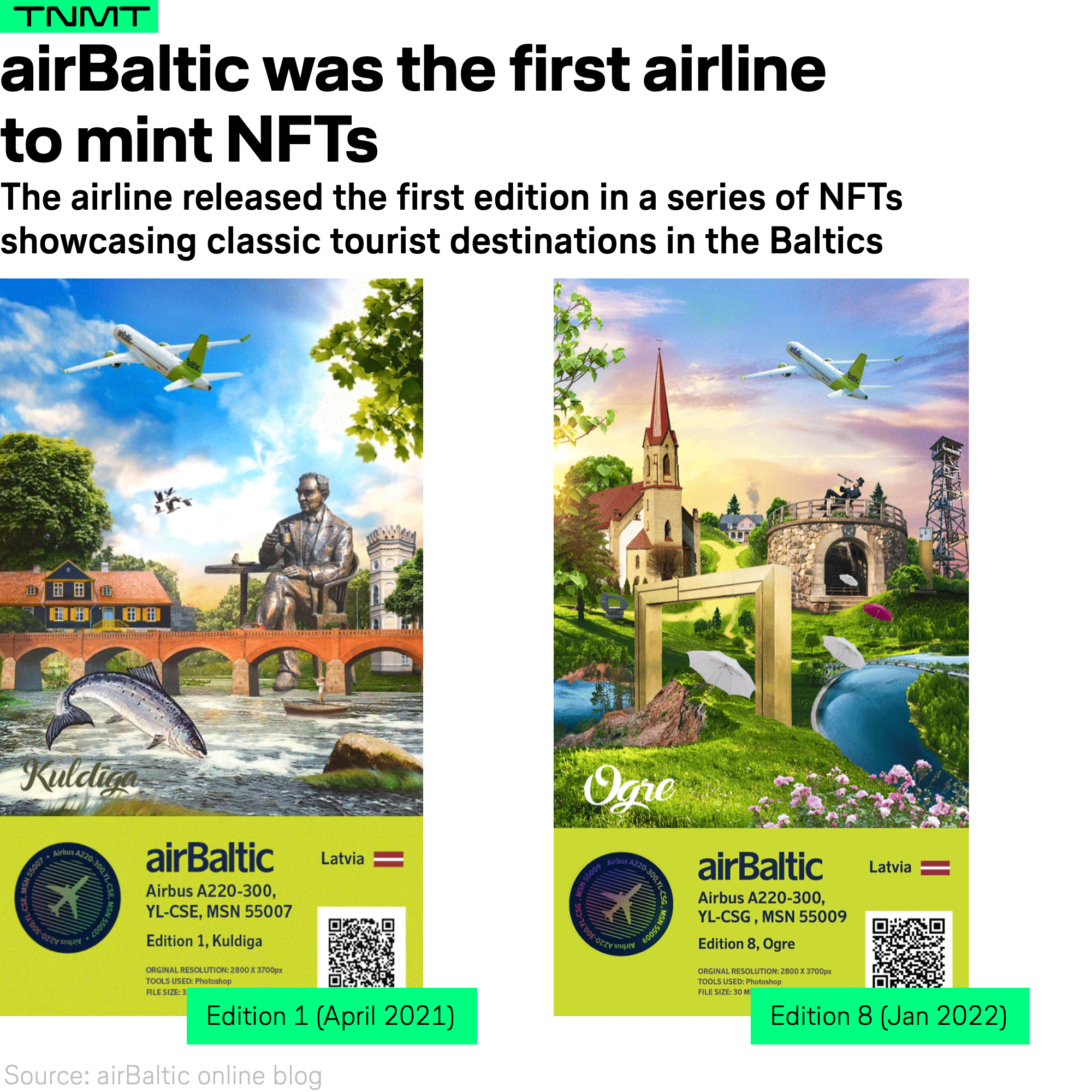 The NFT, or "a total of 100 unique collectibles," was released on OpenSea.
Built on the Ethereum blockchain, the NFT was merely the first edition of a series of NFTs designed to promote tourism to classic destinations in the Baltics. However, the reception was mixed, with some outlets criticizing the airline for neglecting the environmental issues connected to minting NFTs.
Fortunately, digital collectibles for promoting tourist destinations are not airlines' only use case. Moving away from NFTs, and honing in on blockchain again, some players have proposed interesting concepts for membership and loyalty programs specific to airlines.
One such player is FlyCoin, the self-proclaimed "world's first crypto frequent flyer program," which offers a loyalty program based on the FlyCoin (FLY) crypto tokens minted on the Ethereum blockchain.
In addition to the typical rewards customers receive from a loyalty program, FlyCoin allows users to benefit from owning cryptocurrency with little risk to their actual assets. Furthermore, it allows users to accept, spend, and trade FLY transparently; the platform is even planning on launching a FlyCoin Debit Card in Q4 2022. Plus, the startup recently nabbed $33 million in seed funding and has already partnered with Ravn Alaska, a regional airline in Alaska, all while planning to roll out its product with Northern Pacific Airways later this year.
3. The NFT passport for authentication throughout the travel journey
Perhaps the most interesting use case for NFTs in the travel industry is their innate ability to collect and store information.
The NFT—being the digital "deed" to the artwork—contains all the relevant information around who issued it, when it was issued, when it was sold and for how much, when it was transferred, the accounts involved, where it is stored, etc.
All this information is located at a unique token address; it is permanently recorded and can be accessed by everyone. The ability to collect this information and create an immutable record of events can be useful throughout the travel journey.
One example of this is San Marino, which issued NFT-based vaccine passports. In June 2021, the microstate of San Marino approved its digital green pass for COVID vaccinations. This may not seem particularly surprising or interesting—after all, digital COVID certificates have been adopted by many countries worldwide.
However, unlike other countries, San Marino decided to link the validity of the certificate to an NFT registered on the VeChainThor public blockchain, thereby reducing the risk of counterfeiting while maintaining a streamlined and digital approach to authenticating COVID certificates.
On a similar note, IATA is currently trialing its Travel Pass, a mobile solution utilizing blockchain to provide secure proof of a traveler's health credentials and information on travel restrictions and requirements across regions. The Travel Pass mobile app is available to customers of airlines that are taking part in the trial, among them a number of Tier 1 airlines like Air France, British Airways, and Emirates. Reportedly, the Travel Pass is in the midst of a major rollout involving airlines such as Etihad Airways, Jazeera Airways, Jetstar, Qantas, Qatar Airways, and Royal Jordanian.
Validating COVID certificates may only be one step in the travel lifecycle; however, the ability to store confidential information in a way that is easy to access and authenticate can, in theory, be used for many different purposes.
One such example is "Pebble"—a blockchain-powered device developed by IoTeX, a blockchain and IoT platform, that captures data from the physical world and inscribes it in the blockchain.
Reportedly, IoTeX and Travala are testing Pebble for recording travelers' journeys and developing features such as decentralized travel logs, travel competitions, and location-based NFTs that determine "proof of presence."
Key takeaways
In summary, NFTs are an emerging technology—and while use cases are limited today, there's great potential in this space when it comes to elevating the traveler lifecycle.
In the short term, we expect more travel brands to explore NFTs in the context of marketing and publicity, in the form of the "digital collectible" use case. Looking at VC funding, the market trajectory shows no signs of slowing down. After all, we've only just begun the "year of the metaverse."
By all accounts, 2022 will likely be a good year for NFT startups, and certainly a promising one for companies looking to increase their brand equity by way of NFT collectibles. Importantly, companies should carefully consider the challenges relating to copyright protection and CO2 emissions, as these topics will likely dictate the reception of NFTs by the general public.
At the same time, the long-term contribution of NFTs to the travel industry remains to be seen.
Driven by explosive market momentum, NFT startups have yet to prove their proposition is viable beyond the hype of public interest and the one-dimensional use case of being a digital collectible.
On the bright side, there are sophisticated value propositions with real potential to innovate in the traveler experience. For instance, crypto-based travel communities are a very real offering on the market today—and looking at Travala, we can see how this type of platform can provide a definitive (and importantly, easy-to-monetize) value-add for consumers.
Another example is the NFT-based travel certificate. For some readers, trackers like "Pebble" and passports based on decentralized ID may still sound like Sci-Fi; however, they have the potential to solve many of the challenges we face while traveling today.
After all, an NFT is nothing but a "digital deed," or a permanently-recorded certificate of proof that can link to any number of events—entering or leaving a country; receiving a vaccination; attending a conference or event; or completing a trip, expedition, or tour of some kind.
In this way, consumers can record any significant certifications, locations, or moments from their trip as part of a centralized digital log. And examples of centralized digital ID are not as uncommon as one might think: Both Singapore and Hong Kong are pioneering national digital ID platforms—"Singpass" and "iAM Smart," respectively—providing residents with a single digital identity and authentication tool for government and private sector services alike.
Importantly, in times of pandemic-induced complexities surrounding health certificates, entry requirements, and travel restrictions, the need for a traceable "all-in-one" approach to identity management is certainly significant.
Hence, the need is there, real-life examples are emerging, and the increased adoption of NFTs has paved the way for the development of innovative solutions with vast potential for mass adoption.