As another month has passed, it's time for our next TNMT Market Index Update.
Here's a quick reminder for all the newbies in our email list:
In our TNMT Market Index, we track the progress of the 40 most iconic Travel and Mobility Tech companies that have transitioned from being privately-held tech startups to becoming publicly-traded travel and mobility corporations over the past two years.
Given this, the index represents a fantastic proxy for the health of tech companies shaping the future of travel and mobility.
We added a new element to our TNMT Index
As part of our ongoing index development, we introduced a new sub-index to the dashboard.
It's called the TNMT SPAC Index.
In this index version, we're charting the development of SPAC-merged companies from within the basket of our Travel and Mobility stocks to see how they perform against the companies that entered stock markets via classic IPOs.
Examples of these companies include Vacasa, Sonder, Lilium, Joby Aviation, Helbiz, and Grab.
As you can see below, it's an interesting comparison to make.
And it turns out that SPAC-based companies have underperformed when compared to their regular TNMT counterparts.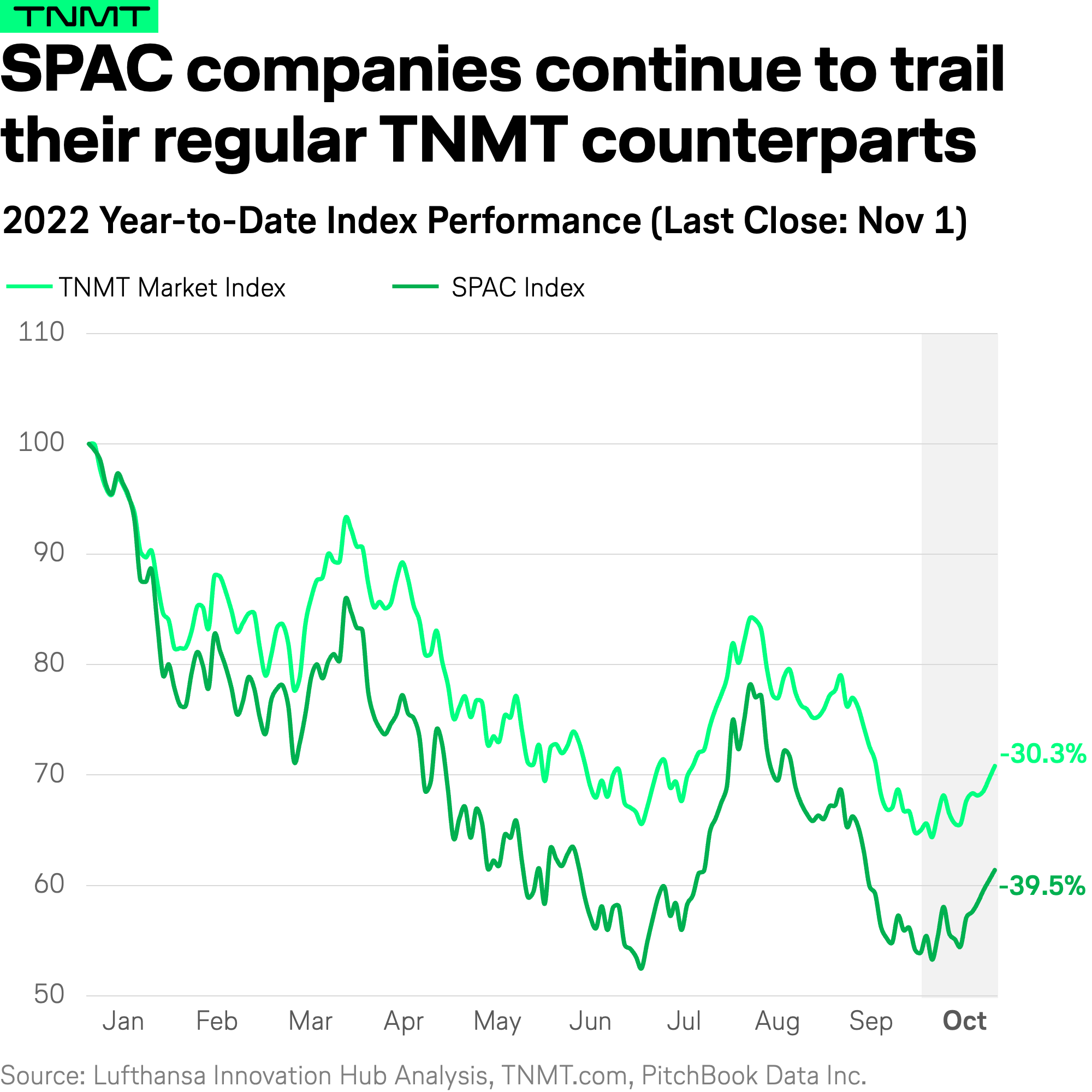 If you're curious as to why this is the case, feel free to revisit our SPAC Mania Report from earlier this year.
But back to the October update
Let's look at how the TNMT Market Index performed across October.
In our most recent September commentary, we noted that the TNMT sector was testing this year's price bottoms — in line with the overall stock market.
Unfortunately, this behaviour continued throughout the past month.
However, hope is on the horizon.
We have been witnessing a slight uptick starting from last week on, driven by news, such as Airbnb posting its best quarter on relentless travel demand.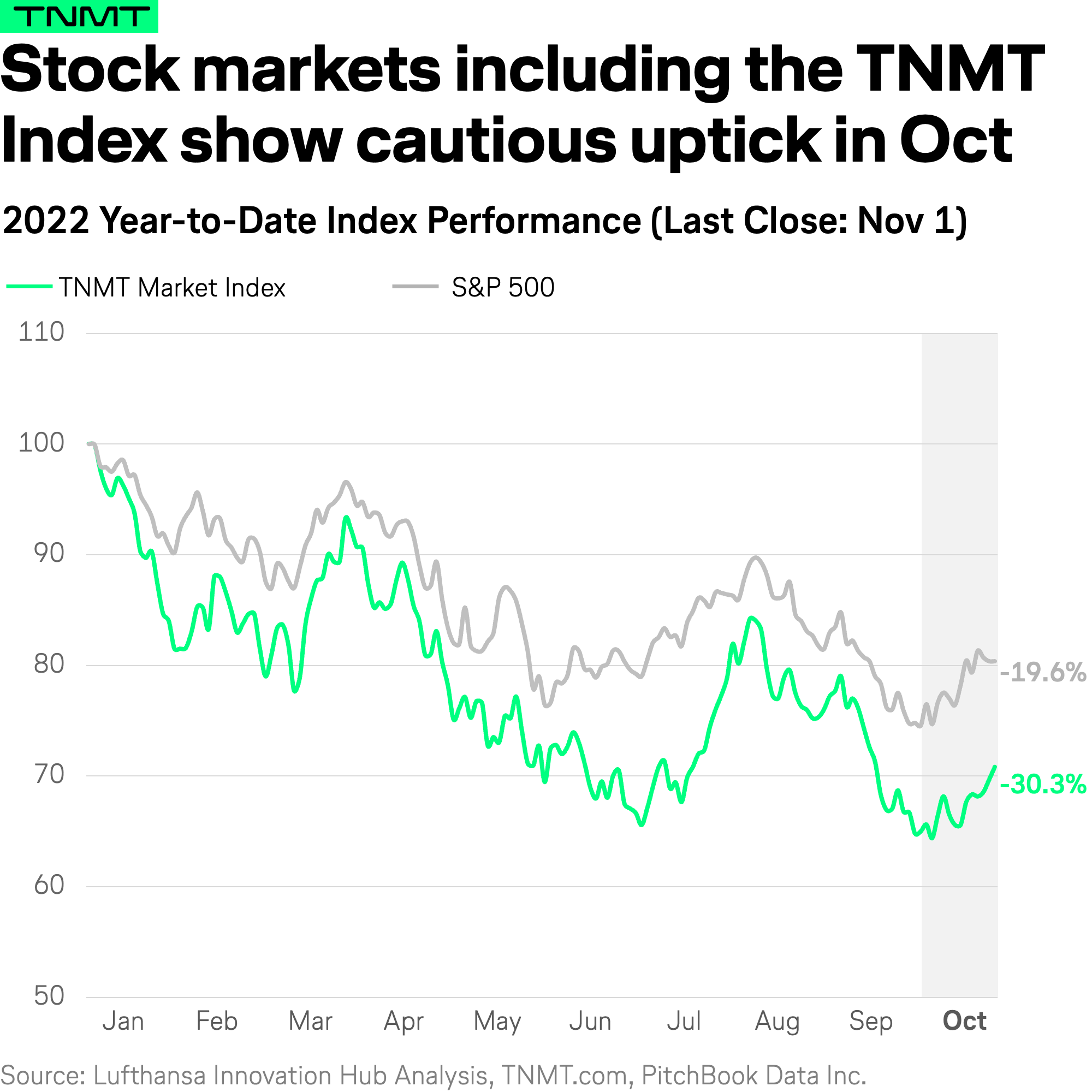 Travel beats Mobility
On another level of continuity, which has taken place since September, the TNMT Index lows we've been seeing in October were driven primarily by the Mobility-Tech stocks in our sector more so than their travel peers.
While our Travel-Tech index is down about 23% year-to-date, which is less than four percentage points lower than the S&P 500 as of November 1st, the Mobility-Tech Index is trending almost 40% below where it started at the beginning of the year.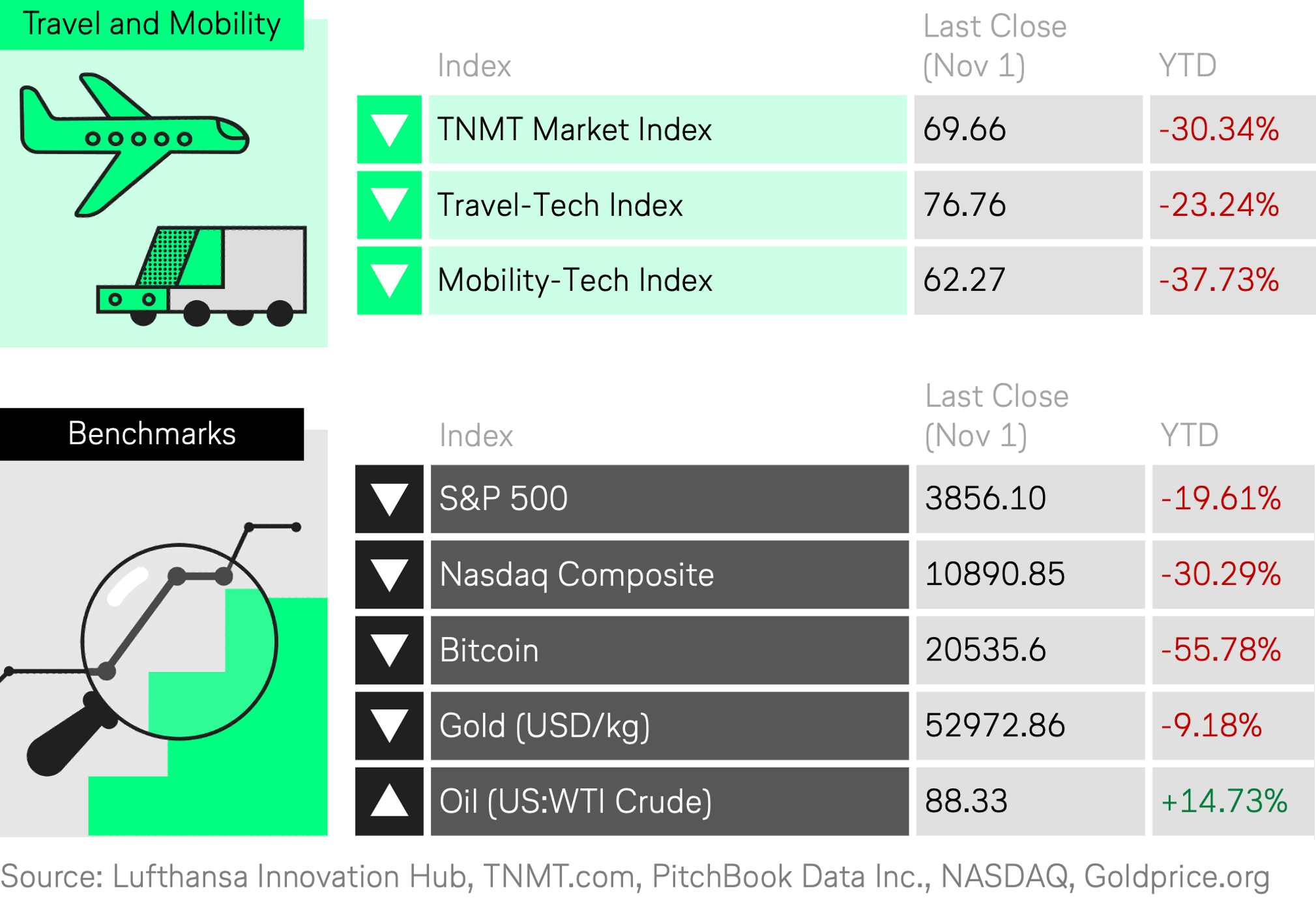 Why is this the case?
The macro concerns over high inflation and a looming recession are impacting mobility companies more than travel firms.
How exactly?
Travel stays strong.
Thus far, people haven't slowed down their travel activities and respective spending.
Skift reports that the normal fall slump after the summer months did not occur this year. This highlights how the vacation season has stretched into the fall by the ongoing phenomenon of Revenge Travel.
In fact, a record high 57% of the U.S. population, for example, traveled in September. This is an even higher share than during the summer months (at least in the U.S.).
Additionally, an ongoing driver of the Travel-Tech Index is, similar to last month, Asian OTAs, such as Yatra and EaseMyTrip, which are both up by more than 25% year-to-date.
Mobility is struggling
On the mobility front, things are more dire.
This is hardly surprising considering Mobility Tech companies continue to face ongoing challenges.
A few recent examples from the realm of micro-mobility include:
E-scooter pioneer Bird announced, two weeks ago, that it is exiting several markets across the globe, among them Germany, Sweden, and Norway. This comes after the NYSE-listed company laid off more than 20% of its staff in June. Consequently, investor confidence is declining and in our dashboard, the stock price is down more than 80% year-to-date.
Helbiz, another micro-mobility player listed in the United States, is facing a similar lack of confidence from the side of investors. The company has received warnings from the Nasdaq exchange for trading below the $1 per share minimum. Even the recent acquisition of another leading micro-mobility company, Wheels, along with Helbiz' promise to double its annual revenue, failed to push up the company's stock price.
A singular exception to this momentum is Donkey Republic.
In early October, the bike-sharing provider from Denmark announced its record-high quarterly revenue, which followed a strong summer season and subsidized operations.
This continued to push the company's stock price above the $1+ benchmark, a positive development that started in late August and continued through October. In our dashboard, the company's stock price is trading at +4.6% year-to-date.
For more information and detailed looks at all the companies in our TNMT Market Index, check out our full Dashboard.