In early 2021, we referred to the accelerating rate of special-purpose acquisition companies (SPACs) flooding stock exchanges in the U.S. and Europe as the hottest thing in startup land.
How come? In Q1 2021, SPACs were pulling in more than 90% of all money raised through initial public offerings in the U.S., up from 55% in 2020 and just under 30% in 2019.
Ultimately, 2021 in its entirety recorded more than 600 SPACs—a new record-high beyond anything financial markets had seen before.
A quick reminder: SPACs are essentially big pools of cash listed on a stock exchange. 
Their purpose is to find a private company, buy it, and take it public quickly. Wall Street calls SPACs "blank-check companies'' because investors backing a SPAC invest their money up to two years before an acquisition target is identified, hoping the so-called SPAC sponsors find a good deal.
The opportunity cost of capital notwithstanding, an investment in a SPAC at or below trust value is relatively riskless:
If investors do not like the chosen target (or if the sponsor simply fails to close a deal) investors can redeem their investment in the SPAC.
If the sponsor does identify a target, the SPAC can then merge with it in a sort of accelerated IPO process—a so-called "reverse merger"—all while bypassing the normal scrutiny of an IPO.
Travel and Mobility Tech in the eye of the SPAC storm
The SPAC hype in 2021 was particularly relevant for the Travel and Mobility Tech vertical. Thanks to many highly speculative startups in "sexy" categories like Advanced Air Mobility (e.g., air taxis) and electric vehicles, our sector experienced more SPAC formations than most of the other industry sectors. Consider this:
And the impact on Travel and Mobility Tech didn't stop with these "exotic" players. Over the course of the pandemic, more "classic" travel-tech categories like ride-hailing, accommodations, and booking platforms were slowly but surely dragged into the SPAC swamp.
Examples include:
SPAC Mania is cooling off
In 2022, however, the SPAC hype is coming to an end.
The rapid pace at which SPACs gained popularity over the past two years seems to only be matched by the velocity at which they now seem to be drifting into a toxic area of the market—a murky region that is increasingly shunned by investors.
Average SPAC redemption rates in February—meaning the share of announced SPACs where investors redeem their investment pre-deal closure—stood at 88%, revealing that the vast majority of investors lose trust in their respective SPAC sponsors and/or in the overall market environment, and so they pull out their money instead of converting it into shares of the respective SPAC target.
The same resistance can be witnessed with overall SPAC announcements. Compared to the last two years, only a few noteworthy pieces of SPAC news have made headlines in Q1 2022.
Even worse, most of the SPACs that have turned into publicly-listed companies since 2020 have significantly lost value over the past two years, including all of the most prominent Travel and Mobility Tech companies.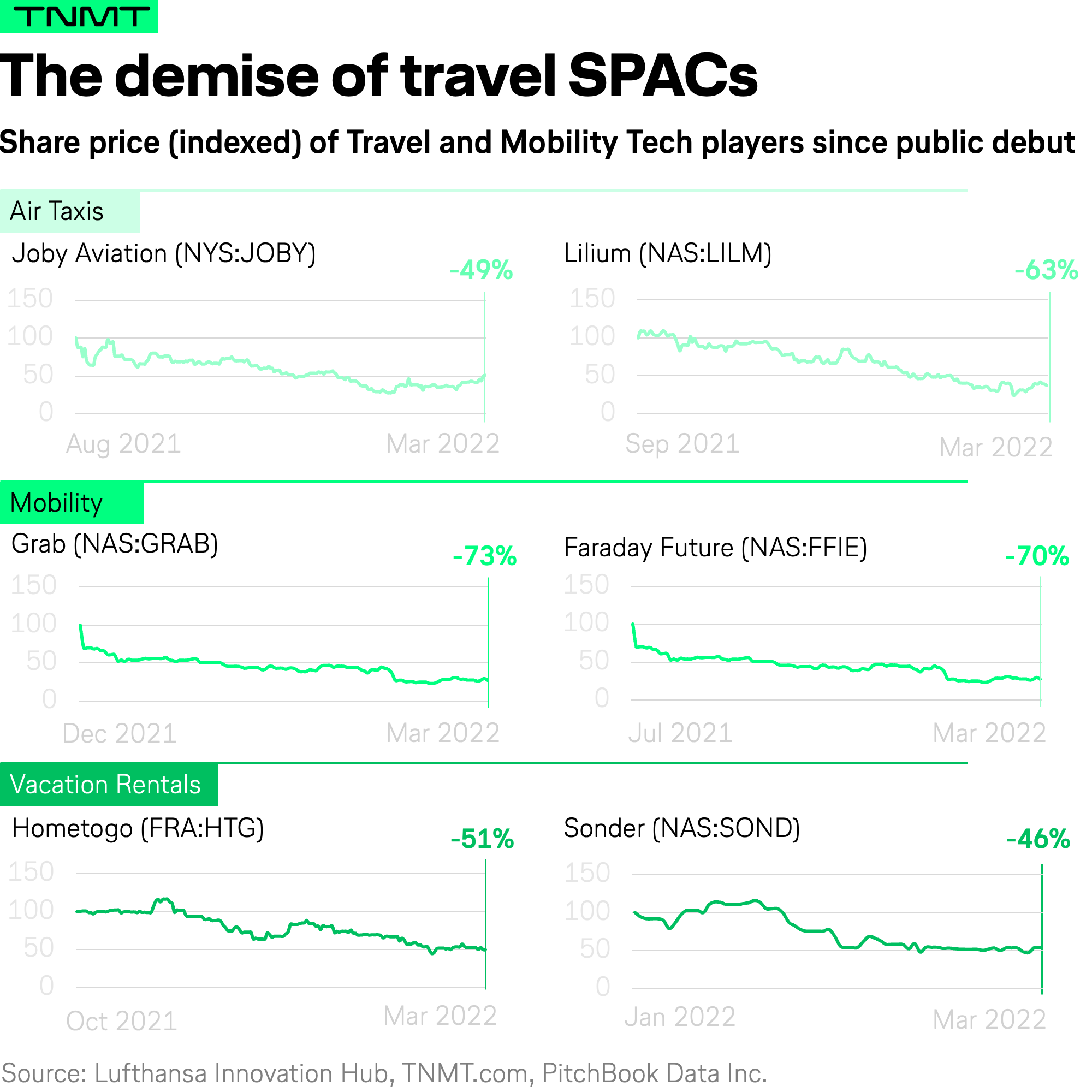 What's causing this reversal?
So what has caused SPACs to lose momentum in recent weeks and months?
We want to explore the reasons in this analysis. Please note that this is not a quick story to tell, because there are several causes at play.
We'll explain this in more detail in a minute. First, it's important to recap what caused SPACs' popularity from the get-go.
To continue reading for free, leave your email right here.