Another month has passed, which means Q3 is in the books.
We're now approaching winter. How fast did summer fly by?!
Anyway, as we do every month, it's time for the monthly update on the health of Travel and Mobility Tech.
For this, we created the TNMT Market Index earlier this year.
A quick reminder
In our TNMT Market Index, we track the progression of the 40 most relevant Travel and Mobility Tech companies.
These companies have recently transitioned from being privately-held tech startups to publicly-traded travel and mobility corporations.
Therefore, the group represents a fantastic proxy for the health of tech companies shaping the future of travel and mobility.
Our list includes startup pioneers, such as Uber and Airbnb, niche travel providers, including eVTOL players Joby Aviation, Lilium, and Archer, as well as emerging hospitality providers like Sonder, Vacasa, and HomeToGo.
News on the methodology
For those who have previously accessed our TNMT Market Index, we have some news to share
We simplified the methodology to make it even easier and more straightforward for you to assess the state of our industry.
To achieve this end, we did two things:
First, we got rid of the market-cap-weighted version of the TNMT Index (it was too heavily impacted by the largest companies in our index, such as Airbnb).
Second, we optimized the equal-weighted version so that we can now continue tracking it as the one and only TNMT Market Index.
Here is the monthly update
So, how did the TNMT Market perform across September?
Here is a quick overview.
So, how did the TNMT Market perform across September?
Here is a quick overview.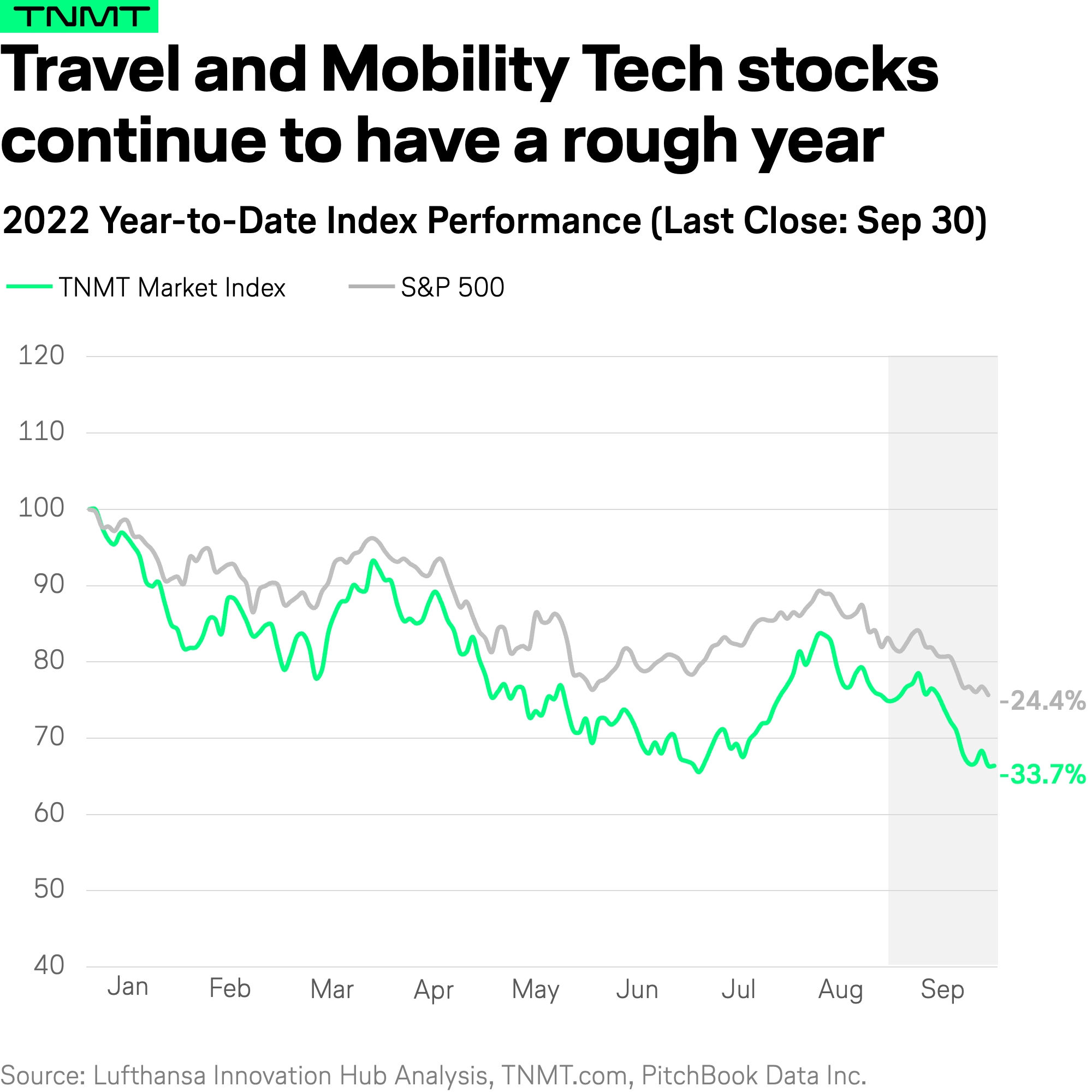 As you can see above, when compared to August, things are not looking any better.
In line with the S&P 500, Travel and Mobility Tech stocks tested bottoms in September again.
Notably, the downfall we're seeing is driven by the Mobility-Tech stocks in our index more so than their travel peers.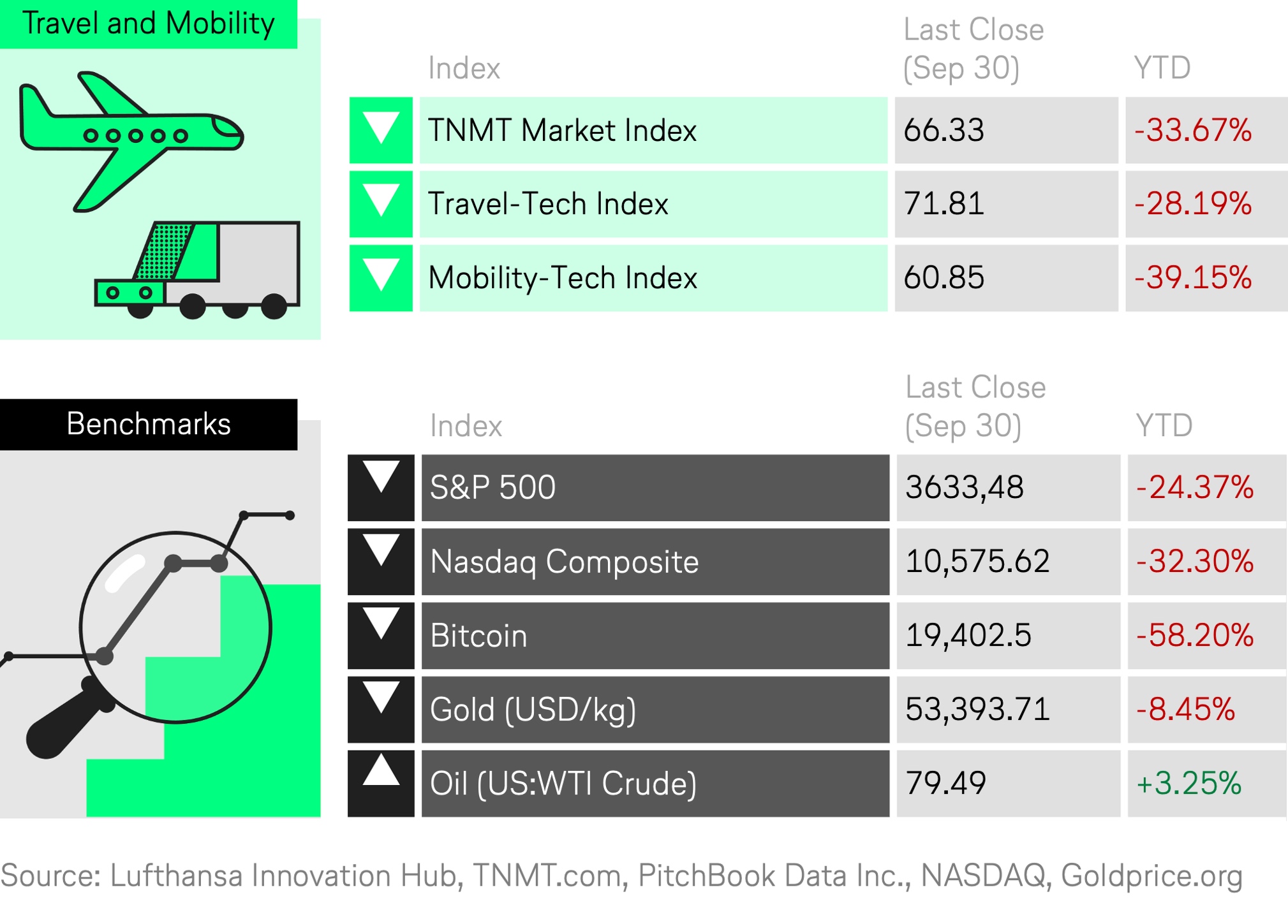 So, what's happening?
The Tavel-Tech subindex held up better in September, thanks to the many online-booking platforms.
For instance, Adventure, Yatra, EaseMyTrip, MakeMyTrip, and Trip.com are all up between 7 and 34% in the YTD comparison.
Clearly, the opening up of Asian countries to tourism has spurred investor confidence in local travel providers again.
The biggest winners
Looking at the full table of TNMT constituents, there are two major winners that stand out.
Adventure Inc – The Japan-based OTA has definitely managed to capitalize on the reopening of its homeland. Since mid-July, the company's stock price has increased from $50 to more than $88 on September 29. This represents a +78% increase in a matter of weeks. In June, Japan opened up for guided tours. Then last month, the country eased restrictions, allowing tourists to enter the country via non-guided tour packages. Last week, Japan announced it will fully open to individual tourists as of October 11, 2022.
Vertical Aerospace – Alongside other air taxi startups we're tracking, the eVTOL contender backed by American Airlines has not had the best year stock-performance-wise. However, this downward trend ended in mid-July, which was noticeable from the time when American announced it had pre-ordered 50 eVTOL aircraft. Additionally, the price increased from less than $6 USD to more than $9 USD in a matter of days at the end of September, (so up 50%) after the successful conclusion of a test flight.
For more detailed information on all TNMT companies in our index, please refer to our full TNMT Market Index Dashboard.