We're rapidly approaching the end of the year.
2022 has been turbulent, especially for public companies in the Travel and Mobility Tech arena.
At the beginning of the year, everything seemed rosy, more or less.
Remember SPAC Mania?
This phenomenon catapulted more startups from the travel and mobility context onto the public market stage than ever before.
A quick throwback: Thanks to highly speculative startups in "sexy" categories, such as Advanced Air Mobility (e.g., air taxis) and electric/autonomous vehicles, the Travel and Mobility Tech sector has experienced more SPAC formations than the majority of other industry sectors.
However, the macro environment changed.
And this happened quickly.
The tech market selloff caught most companies off guard.
This includes nearly all of the public Travel and Mobility Tech prodigies, such as Lilium, Joby Aviation, Aurora, Grab, Hometogo, Vacasa, and Sonder.
Say hello to the TNMT Market Index
To monitor how the 40 most iconic Travel and Mobility Tech companies are handling this more hostile economic climate, we built the TNMT Market Index.
This is our contribution to assessing the health of the public Travel and Mobility Tech ecosystem.
Who is this for?
First and foremost, it's relevant for travel and mobility-focused investors. This is for you if you're an investment manager at a VC, PE, or Investment Bank.
The TNMT Market Index is helpful for startup founders to evaluate their future exit opportunities too.
As well, innovation managers can make smarter decisions, for instance, when it comes to timing the launch of new venture activities.
So, if you haven't already done so, bookmark the TNMT Market Index Dashboard right here.
With this out of the way, what's the current state of the public TNMT sector?
Here is our final 2022 checkup
Throughout November, the TNMT Index, once again, tested this year's stock market bottoms.
Despite a cautious uptick in the general market—see our S&P500 benchmark below—the TNMT Index displayed a distinctive downward trend in November.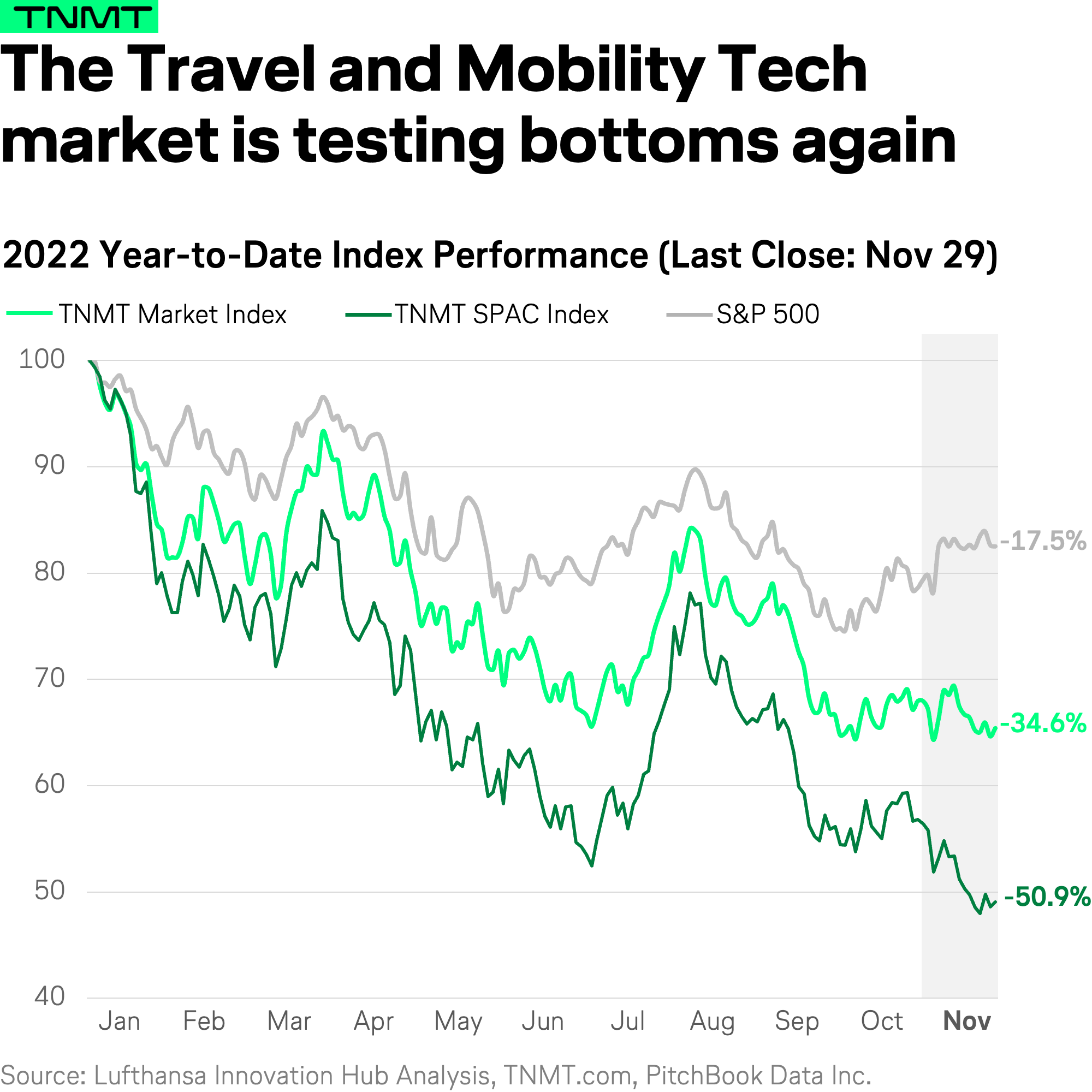 What's happening?
In a continuation of last month's memo, the ongoing downfall has been primarily driven by Mobility-Tech companies struggling more than their travel counterparts.
Similarly, our TNMT SPAC index indicates that SPAC-based public players are solidifying this downward momentum.
It is important to note that most of the SPAC-based companies we track come from the realm of mobility. As a result, it's no surprise where the underperformance lies.
Travel is facing strong headwinds, too
Ultimately, it's not like Travel-Tech companies are doing much better.
After the revenge travel season extended well into September and October, supporting Travel-Tech firms more than most people expected, the travel recovery is now slowing down.
Instead, growing concerns of a looming recession and rising energy costs, alongside inflation, are making the outlook for Travel-Tech firms appear bleak.
The share prices of European travel firms, such as eDreams, lastminute.com, Trivago, and alternative accommodation meta-search engine HomeToGo, are all down more than 40% year-to-date.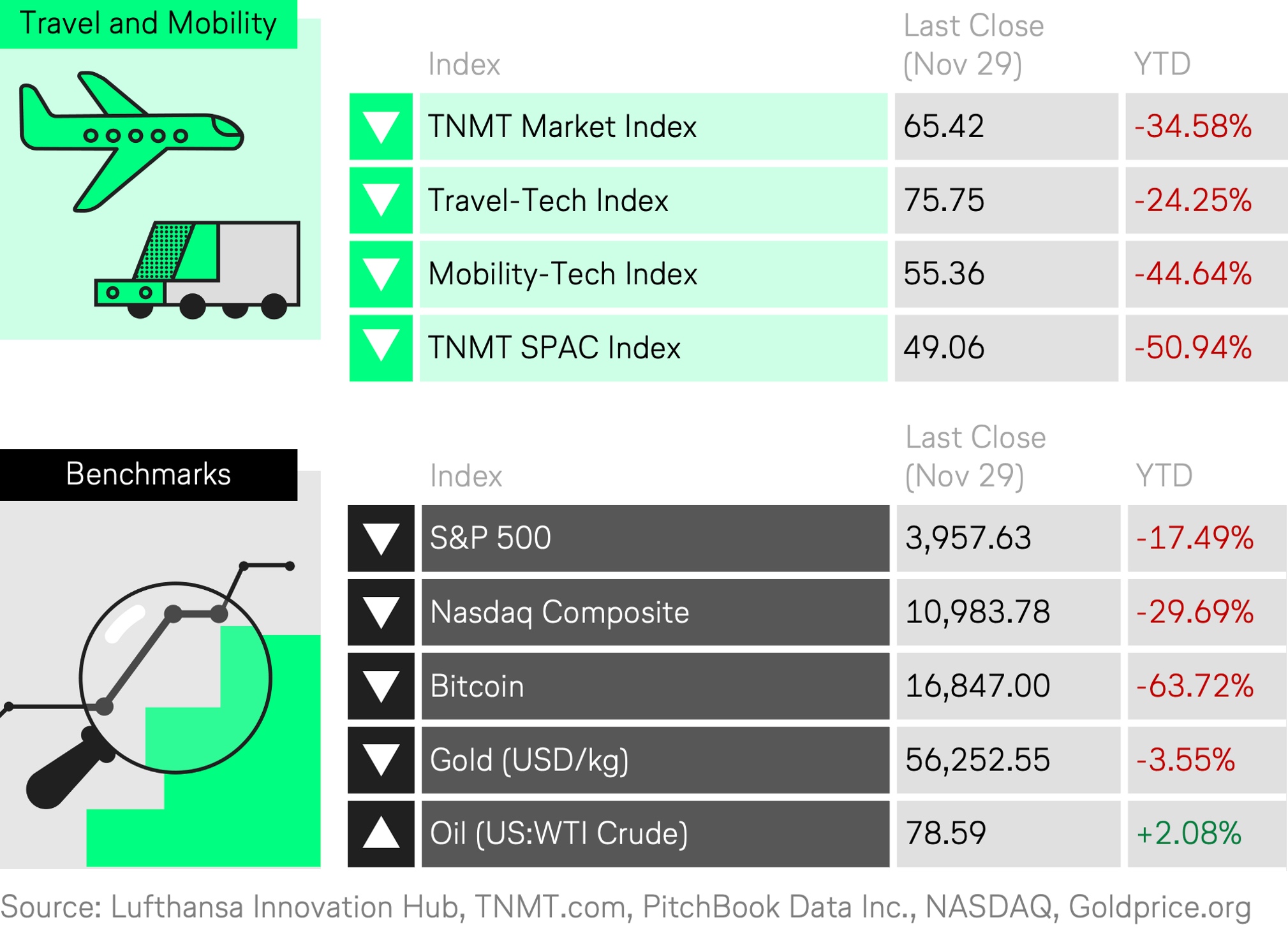 The biggest winners are Asian OTAs
Despite the overall downward trend across Travel and Mobility Tech, some companies are performing well.
As discussed in our September commentary, Asian OTAs are capitalizing on the re-opening of travel across various geographic regions:
Indian OTAs EaseMyTrip and Yatra are leading our year-to-date performance table with a stock price that is up 78% and 48%, respectively.
Japanese OTA Adventure is also up +45%
China's OTA Trip.com is showing a distinct uptick of 16.8%, likely due to the country's slight easing of COVID restrictions. These began earlier this month and could be further accelerated through mounting protests.
Goldman Sachs supports the latter, believing China may end Covid Zero mandates earlier than expected, perhaps as soon as Q1 in 2023.
The biggest losers: Micromobility players
When there are winners, there are losers.
As mentioned previously, Mobility as a whole is struggling.
Within the Mobility segment, micro-mobility contenders, in particular, are on the chopping block (and rightfully so):
E-scooter pioneer Bird recently admitted that it over-reported scooter revenue for more than two years. The news made its stock nosedive in November.
And the share price of micro-mobility leader Helbiz, which recently acquired Wheels, is down more than 90% year-to-date. This outcome led the company's own CEO to purchase four million shares himself to raise confidence among investors (a move that seems to have worked out initially, as the stock price jumped by 25% following the announcement).
As usual, there are some exceptions to the rule: Donkey Republic continues to see positive stock performance (up 22.9% year-to-date), a phenomenon we reported on in our October commentary.
The same is true for Indonesia's Blue Bird, a ride-hailing and taxi service company that is trending at +1.6% in the year-to-date comparison.
The latter is likely a result of the region's opening up that has propelled Indonesia's stock market to the top of performers across Asia.