It's time for the September briefing of our TNMT Market Health Index.
And while we're on it, let's check out the New Air Travel Leaderboard for another moment.
In our recent update of the ranking, a shared pattern became evident that we haven't discussed yet.
Several New Air Travel companies in our leaderboard had once ridden the SPAC wave of 2021. If you recall, 2021 emerged as the golden year of SPACs, and its impact was profoundly felt within the tech ecosystem, including Travel and Mobility Tech.
For those needing a quick refresher:
Special Purpose Acquisition Companies (SPACs) are essentially blank-check firms.
These entities, devoid of actual business operations, are traded publicly with the objective of merging with a company desiring public status.
This process bypasses the more rigorous scrutiny associated with a traditional Initial Public Offering (IPO).
This mechanism, while beloved by VCs for allowing exit scenarios for highly speculative firms without a proven product-market fit, raised eyebrows due to its perceived opacity.
A noteworthy segment of companies from our domain jumped on the SPAC express to make their debut as publicly listed entities.
This list is as diverse as it is intriguing:
AAM: Nearly all air taxi companies we monitor in our TNMT Market Health Index, such as Lilium, Joby, Vertical Aerospace, and Eve Air Mobility, took the SPAC route.
Autonomous Driving: Aspiring autonomous driving startups, with Aurora leading the charge, also jumped on the SPAC bandwagon.
Micromobility: Category leaders like Bird, Helbiz (recently rebranded to Micromobility.com), and Steer Technologies (previously known as Facedrive) joined the movement.
Ride- and Car-Sharing: Heavyweights like Singapore's Grab, Getaround, and SWVL also opted for this somewhat controversial IPO pathway.
Dominating the SPAC news headlines was none other than Virgin Galactic, the avant-garde space flight venture helmed by business magnate Richard Branson, which we will discuss in a second.
The fact that SPAC mergers were as shady as many critics pointed out back then becomes evident when looking at the stock price performance of our industry's SPAC members over the past year.
In fact, most companies that went the SPAC route have found it challenging to match, let alone surpass, market benchmarks.
Their market performance, to put it mildly, has been underwhelming.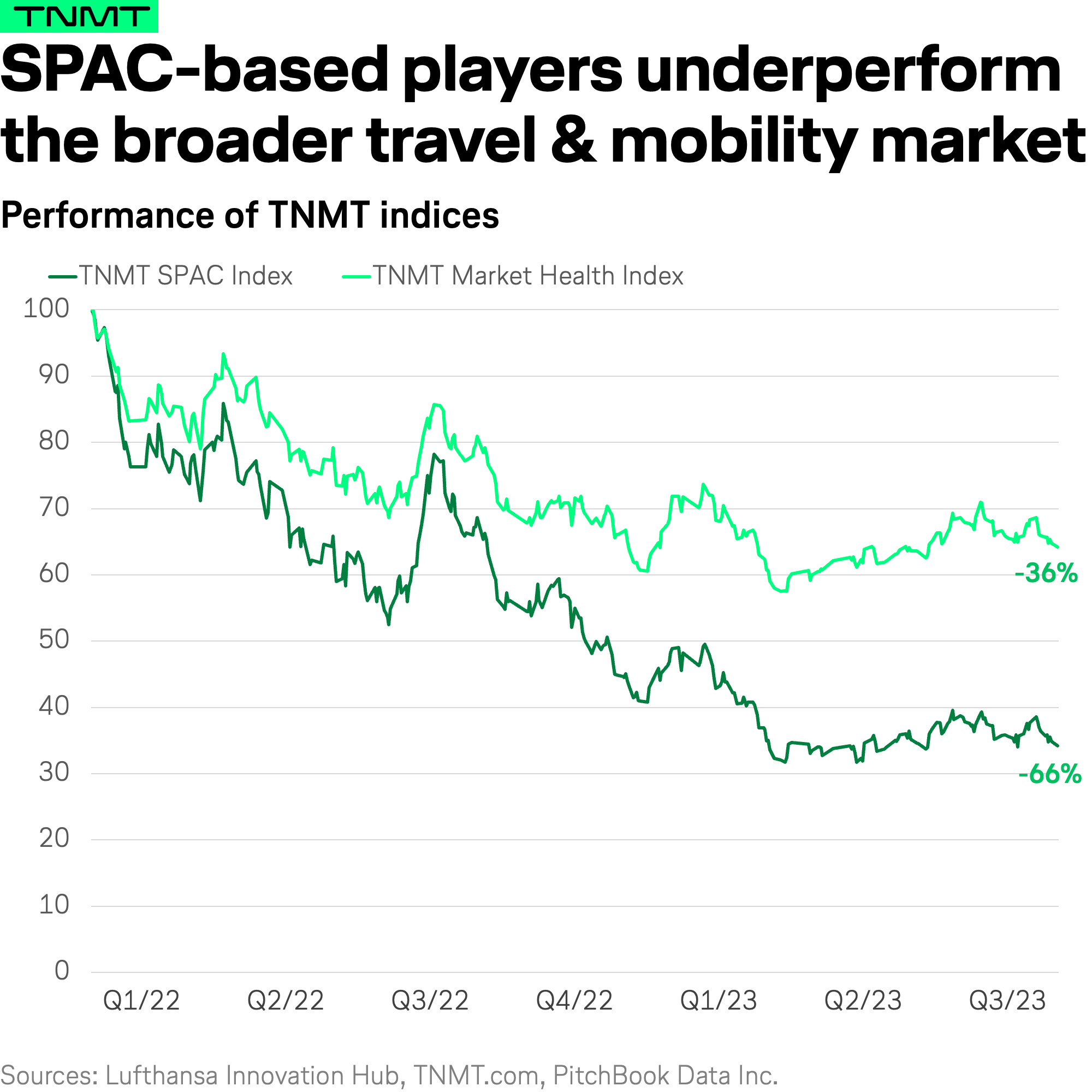 The Virgin Galactic Saga: Fraud and Falling Stocks
This week, a top index member, Virgin Galactic, grabbed headlines and not for reasons any company would desire.
Let's dive into the series of events that spiraled out of control:
The Tweet that Lit the Fire
Chamath Palihapitiya, the ex-chairman of Virgin Galactic and a renowned serial founder often referred to as the "SPAC King," posted on Twitter (sorry, "X") about a supposed fraud case involving a company named Byju.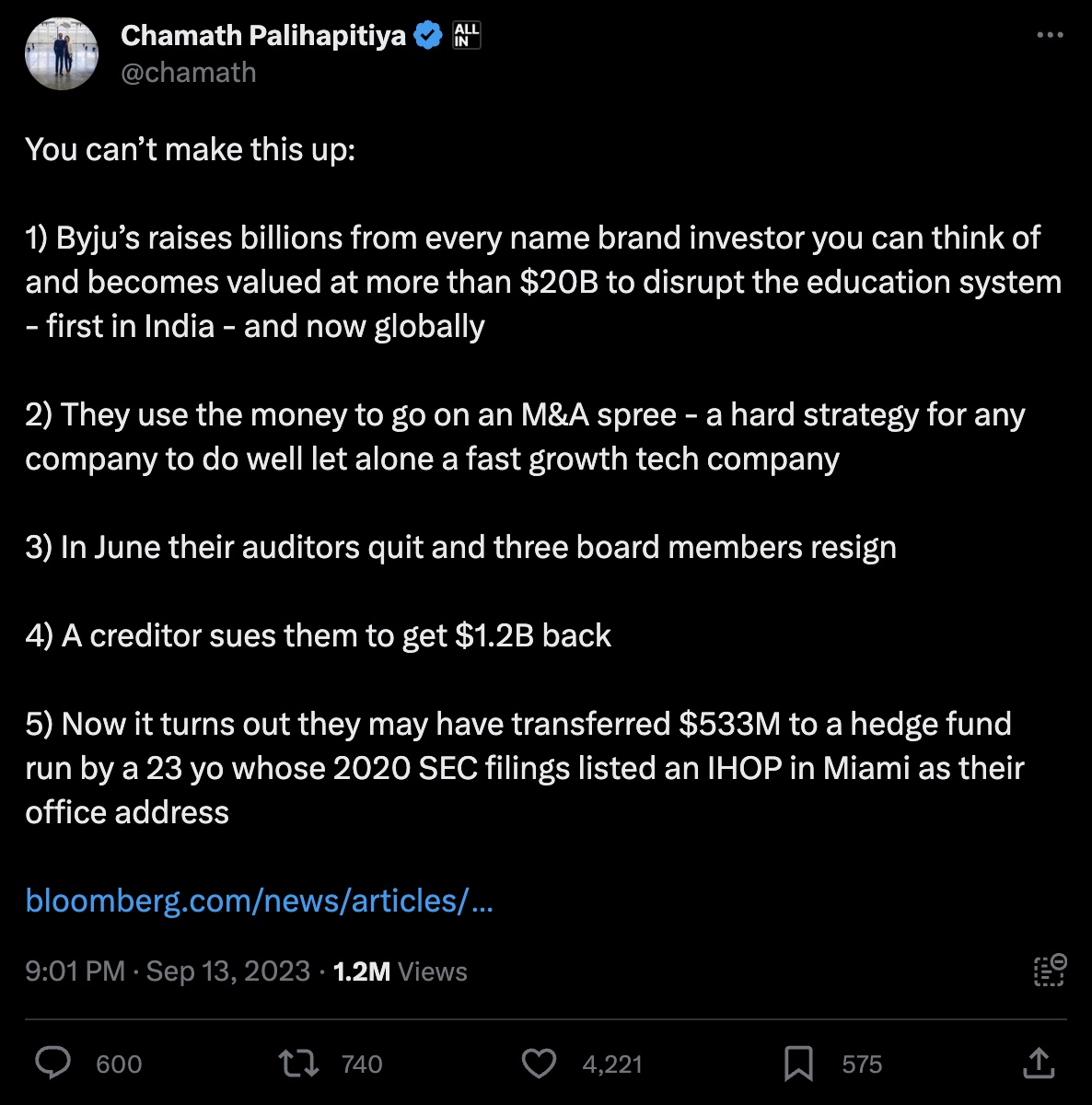 The tweet backfired spectacularly.
Several influencers highlighted the irony, pointing out that Palihapitiya himself was involved in a somewhat analogous fraud scenario.
Chris Bakke, the serial founder behind big names like Laskie, Interviewed, and 42Floors, was quick to respond.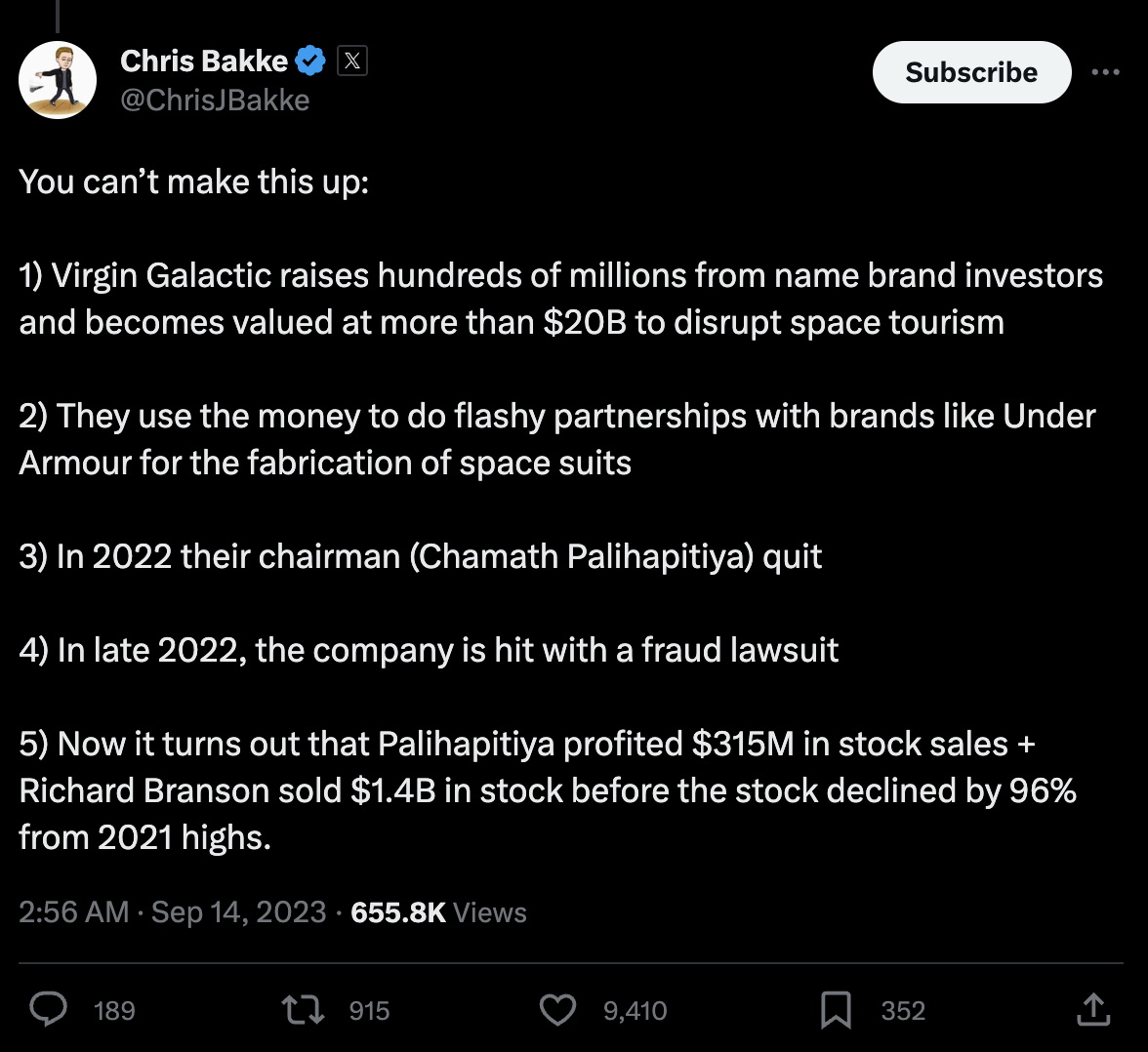 While the personal tiff between Chamath and Sacca might be best left for them to resolve, the Virgin saga unfolds layers of insights for those of us passionate about innovation in Travel and Mobility Tech.
Let's quickly recap what went down at Virgin.
Virgin Galactic's Rocky Journey
In hindsight, it's fair to say that Virgin Galactic's venture into the SPAC domain is possibly the least eyebrow-raising strategic move from the company in recent years. 
After going public via an SPAC merger in 2019, Virgin Galactic's stock trajectory has been anything but stable.
This year alone, the stock plummeted by over 44% YTD, a mere blip when compared to the 96% nosedive from its 2021 highs.
Many attribute this decline to the firm's questionable business ethics.
Here's a chronological breakdown: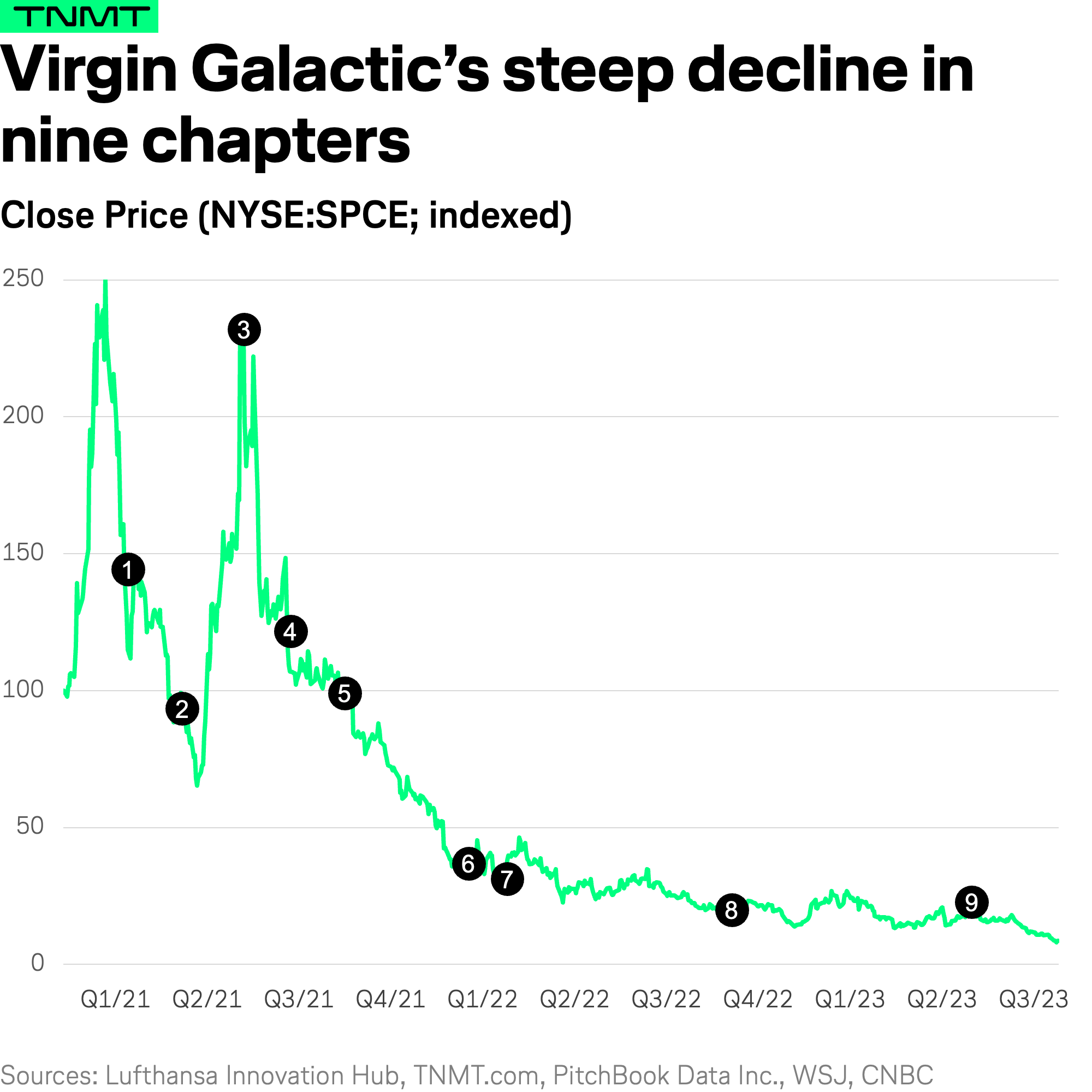 March 2021: Chamath Palihapitiya, the chairman then, offloaded 6.2 million shares, cashing in approximately $213 million USD, as revealed by SEC filings. He, however, retained an indirect ownership of nearly 15.8 million shares.
May 2021: The company announced yet another quarterly loss, further delaying its spaceflight test for the month due to unforeseen maintenance issues, leading to a sharp stock decline.
July 2021: Richard Branson, the maverick entrepreneur, embarked on a journey aboard the VSS Unity spacecraft, giving the stock a much-needed boost.
August 2021: As per an SEC disclosure, Branson (through Virgin Investments Ltd.) sold over 10 million shares within days, raking in about $300 million USD.
September 2021: Delays continued to plague the firm, with the FAA launching an inquiry into the company's aircraft. That year also saw further postponements of commercial operations.
February 18, 2022: In a move that left the industry abuzz, Chamath Palihapitiya stepped down from the board of directors.
February 21, 2022: Investors slapped a lawsuit on both Palihapitiya and Branson, accusing them of capitalizing on insider intel and deceiving shareholders about the company's spacecrafts' defects. According to the lawsuit, Palihapitiya took advantage of his role as company chairman to sell 10 million shares for $315 million USD and Branson sold 16 million shares for about $458 million USD.
November 2022: A U.S. District Judge deemed Branson liable to face charges from Virgin Galactic's shareholders. The lawsuit challenges the company's overly positive claims and Branson's own statement after his Unity flight, as well as his subsequent stock sales.
2023: Despite finally achieving a commercial flight in June, nearly two decades afterits inception, Virgin Galactic's stock languishes at a paltry $2 USD. The continuous downtrend this year underscores the immense, lasting damage wrought by high-level deceit on investor trust.
Takeaways for Travel and Mobility Tech
Why are we digging into the Virgin Galactic story?
Beyond the obvious interest in a little bit of corporate drama, there are key lessons here for anyone involved in the Travel and Mobility Tech world.
At the Lufthansa Innovation Hub, we believe strongly in the power of disruptive innovations reshaping the aviation landscape. The idea of democratizing space travel, as Virgin has tried to do, is a perfect example.
Yet, it's imperative for us, as stakeholders in this industry, to tread carefully. 
The fine line separating grand visions from sheer fantasy is delicate.
We must guard against getting seduced by high-flying narratives, especially when VCs are throwing money at them like they're in a strip club and the founders behind these major visions seem more centered on personal fame (and profits) than genuine innovation.
With all this being said, highlighting Virgin Galactic is a good reminder to approach things like our New Air Travel Leaderboard with a critical mind.
Virgin is at the top of our list in the supersonic category because they're leading in this space. No other firm has successfully executed more test flights to lower Orbit.
But does that mean they'll be the first to offer commercial space flights for non-millionaires? Maybe.
Will it be a business that actually makes money? Again, maybe.
The point is: the future is uncertain. As industry analysts, our duty is to embrace innovation, but with discernment and responsibility.