The world of Travel and Mobility Tech continues to evolve.
While global crises such as the COVID-19 pandemic could have been disruptive stumbling blocks, they instead proved to be catalysts for growth and innovation, at least for some categories within the overall industry.
In our thorough 2021 analysis of the Travel and Mobility Tech sector, we identified a winner in this time of turbulence – "New Air Travel."
This segment, teeming with startups on a mission to revolutionize the future of aviation, had seen a huge surge of interest, with a whopping 359% growth in annual venture capital funding during the pandemic versus the pre-pandemic era.
These startups are hard at work building the next generation of digital and physical air travel infrastructure. They are developing innovative on-demand transportation including air-taxi services, pioneering disruptive propulsion technologies, and even dreaming up supersonic and space-travel jets.
To help you keep track of this dynamic field, we put together the New Air Travel Leaderboard in late 2021, which identified up to ten category leaders for each major subset of New Air Travel based on their respective venture capital funding sums.
The 2021 New Air Travel Leaderboard
To remind you of the vibrant landscape in 2021, take a look at the New Air Travel Startup Leaderboard we compiled back then: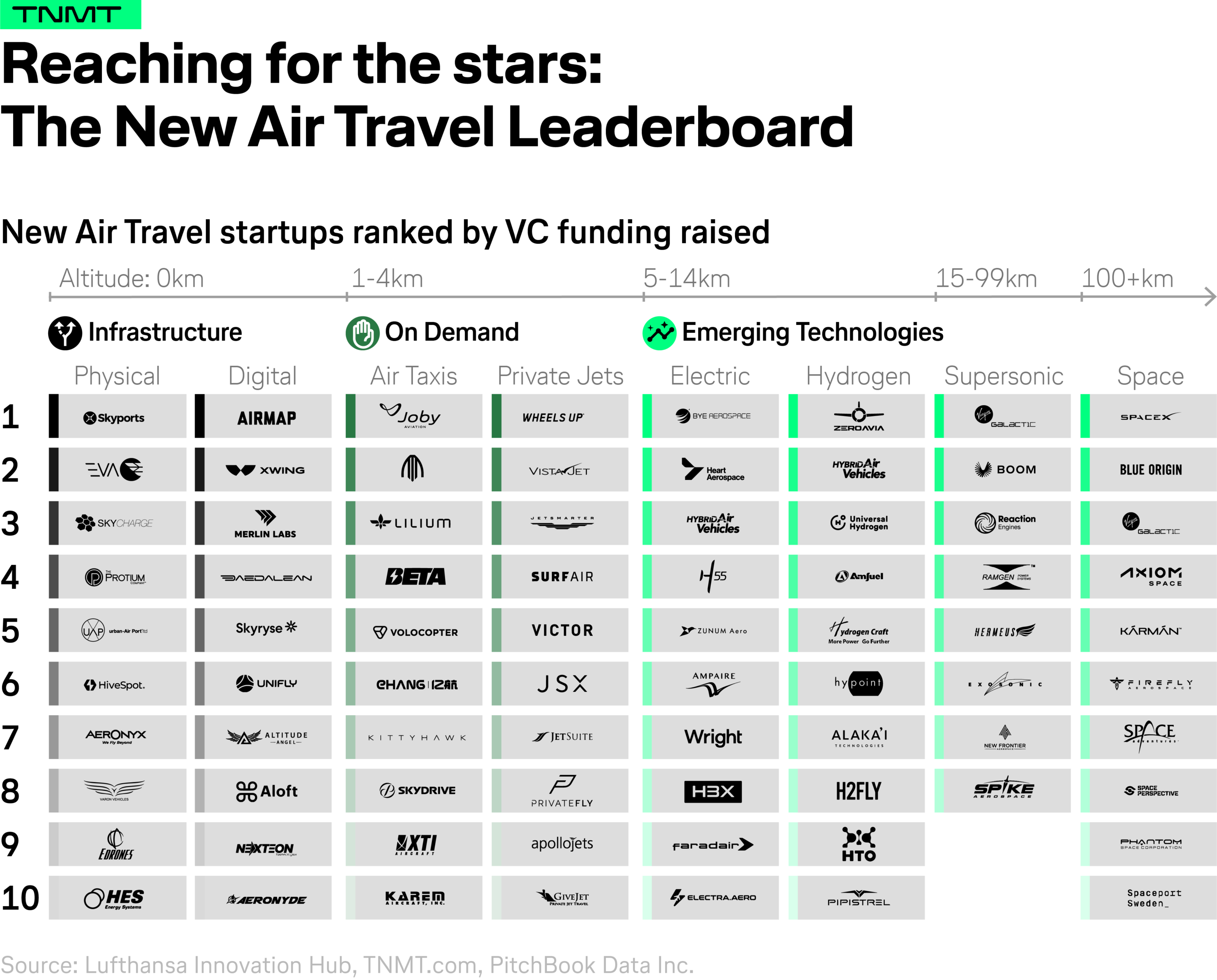 As we find ourselves in the second half of 2023, more than two years after the initial launch of the leaderboard, it has been high time for an urgent update.
The landscape of New Air Travel has further evolved, with some startups making considerable strides, others emerging onto the scene, and a few losing ground.
The 2023 New Air Travel Leaderboard
As a result, we have now refreshed our New Air Travel Leaderboard for 2023 to offer a current, in-depth look at the frontrunners that are not just surviving, but thriving and shaping the future of aviation.
Here is the brand-new 2023 New Air Travel Startup Leaderboard.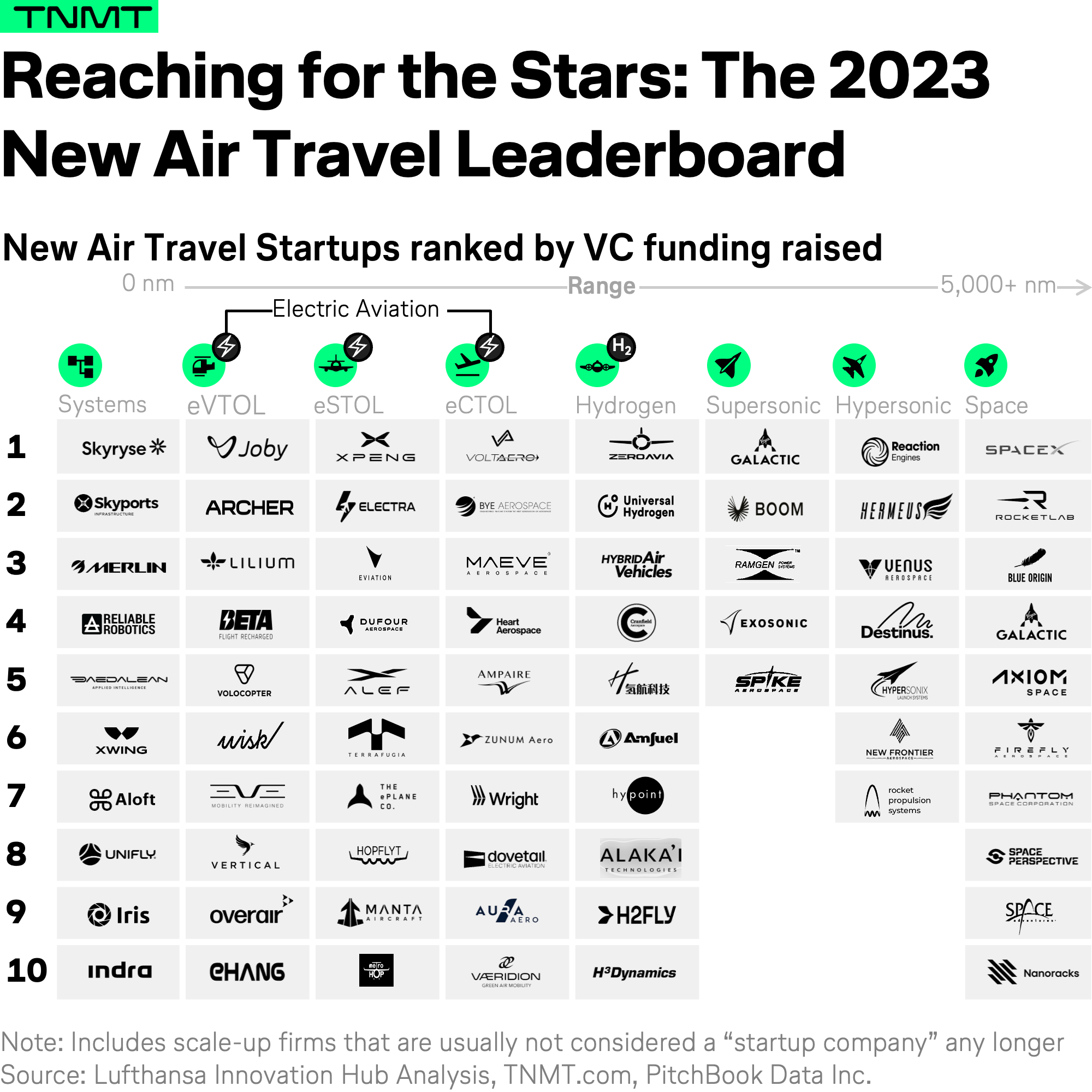 As you delve into the new Leaderboard, you might notice that it paints a slightly different picture compared to the 2021 edition.
The shifts in position, new entrants, and changes in categories reflect some pivotal trends that have emerged over the past two years.
Let's briefly delve into these trends and provide some context for the transformations shaping the New Air Travel landscape.
For more in-depth updates, sign up for our TNMT Newsletter, in which we regularly look at the different categories in much more detail.
Restructuring of categories
The most noticeable change in the updated Leaderboard is the restructuring of categories. The previous overarching segments of Infrastructure, On Demand, and Emerging Technologies have been replaced. In their stead, eight specific categories, including the expansion of electric aviation, have been introduced that better fit the evolving future air travel segment.
Furthermore, our new leaderboard now includes a "Systems" segment, which is a summation of infrastructure, autonomous, and other foundational technologies that are necessary for the other categories to actually take off.
You will also see that there are now separate categories for eVTOL (electric vertical take-off and landing), eSTOL (electric short take-off and landing), and eCTOL (electric conventional take-off and landing). These were not distinctly represented in the 2021 leaderboard given the nascent stages of the industry back then.
By now, the overall electric aviation segment has evolved and matured in just under two years, catering for various potential future use cases, which are represented by the three different subcategories of Electric Aviation.
In general, the categorization of companies has become more granular and specialized. This trend indicates a maturing industry where different technological solutions have their own merit and (potential) use cases.
Elimination of categories
In order to better represent the current state of the industry, we deleted the Private Jet Segment.
It has been removed due to its a) similarities with adjacent segments, such as eVTOLs, which will become a product for the wealthy at first, aiming to replace private jet shuttles, and b) lack of market dynamics and innovative power.
In general, the emergence of new segments, like eSTOL and eCTOL, as well as the disappearance of other segments like on-demand PrIvate Jets, demonstrate the evolution and expansion of the New Air Travel ecosystem.
New category leaders in each sector
More interesting than the logic of our categorization is the actual ranking of companies within each category.
Based on market traction, captured by total VC funding amounts raised, new category frontrunners have emerged.
Let us briefly introduce the (funding) leaders in each category.
Systems: Skyryse
Skyryse is leading in the newly combined Systems category, which suggests that it has excelled in expanding its platform solution for air travel. For example, the startup has successfully conducted flight tests, achieved 100% means of compliance with the FAA, and achieved certification for all three of its LA-area locations. This proves that the startup seems able to potentially produce high-quality grade products for the aerospace industry with consistent standards in the years to come.
eVTOL: Joby
Joby was already leading in the Air Taxis category in 2021, and the company continues to be at the forefront of the new eVTOL segment—a significant milestone given its number of competitors for funding dollars. This indicates that it has secured ongoing investor confidence, despite (still) not having a market-ready product on the market thus far (same as all other eVTOL contenders). Yes, the signals look promising as its commercial launch of operations is on the horizon. Joby is leading the pack as the startup has received the permit to fly its first aircraft built on the production line. As well, it is the furthest in the certification process with the FAA, and has welcomed another $100 million USD investment, which means it now has the highest capital available of all eVTOL players in the industry.
eSTOL: Xpeng
As mentioned before, eSTOL is one of the new categories in the updated version of our leaderboard, and Xpeng tops the list. This new category includes PAVs as well as more conventional aircraft like Electra.Aero. Though Xpeng has attracted most funding from a single investor, Electra.Aero has a greater track record of progress, partnerships and smaller, follow-on funding rounds. Hence, we might have to expect that Electra.Aero might overrun Xpeng in the future. It's certainly a close race between the two firms.
eCTOL: VoltAero
This second, entirely new category in the updated version is led by VoltAero. Its funding track beat well-known players like Heart Aerospace. VoltAero really kicked off in 2022 with the first funding in its Series B round from well known-investors (e.g., Tesi Aeronautics or Kawasaki Motors), which was followed by a commitment from Air New Zealand that has decided to select VoltAero as its "Mission Next Gen Aircraft" partner for the airline's sustainable fleet ambitions.
H2 Flight: ZeroAvia
ZeroAvia was already leading in the (theoretical) Hydrogen segment in 2021 and continues to hold that position in the H2 Flight category. Its continued leadership indicates its consistent efforts in making R&D progress towards hydrogen-based aviation technology, enjoying ongoing investor support. The startup has successfully completed multiple test flights and secured important partnerships including more than 400 orders for its hydrogen-electric power trains thus far.
Supersonic: Virgin Galactic
In 2021, Virgin Galactic was among the top startups in the combined Supersonic and Space segments. It now leads in the Supersonic category, showing its strong foothold in high-speed aviation. However, the company seems mostly focused on space voyages by now; the last announcement on the supersonic jet age dates back to 2020. Since then, it has become very quiet around this topic, which could signal that the overall segment of pursuing supersonic passenger flights might come to an end in the near future. This is also supported by a recent development where Rolls-Royce decided to quit Boom Supersonic's airline engine ambition, and Exosonic recently shifted its focus towards the defense sector.
Hypersonic: Reaction Engines
Reaction Engines is leading in the newly formed Hypersonic category. This reflects Reaction Engine's focus in the even higher speed class of hypersonic travel by developing the required hypersonic engine. The company has established a dedicated HVX program, dedicated to unlocking innovative hypersonic technologies for the defense and commercial sectors. Whether we are truly approaching a hypersonic travel future is highly speculative, but Reaction Engines appears to be one of the most promising contenders at this point.
Space: SpaceX
SpaceX was leading the Space category in 2021 and continues to do the same in 2023. Its category leadership is undeniable. Its successful track record of rocket launches, learnings generated through its reusable rocket program, and hence, cost advantage, underscores the company's continuous innovations and breakthroughs in the field of space travel.
With all this being said, the key takeaway is that the leaderboard has shifted, showcasing that the spirit of innovation and the drive to revolutionize air travel remain strong.
Therefore, stay tuned to follow this fascinating journey as we continue to track these pioneers in New Air Travel going forward on a more regular basis.