Throughout this year's TNMT Market Index reports, we have consistently observed that the Travel-Tech vertical was outperforming the Mobility-Tech sector. 
This performance was primarily driven by the anticipation of robust summer travel demand, leading to a buoyant Travel-Tech Index.
However, as the summer season draws to a close, the landscape is shifting.
The tables have turned, and now it's the Mobility-Tech index taking the lead.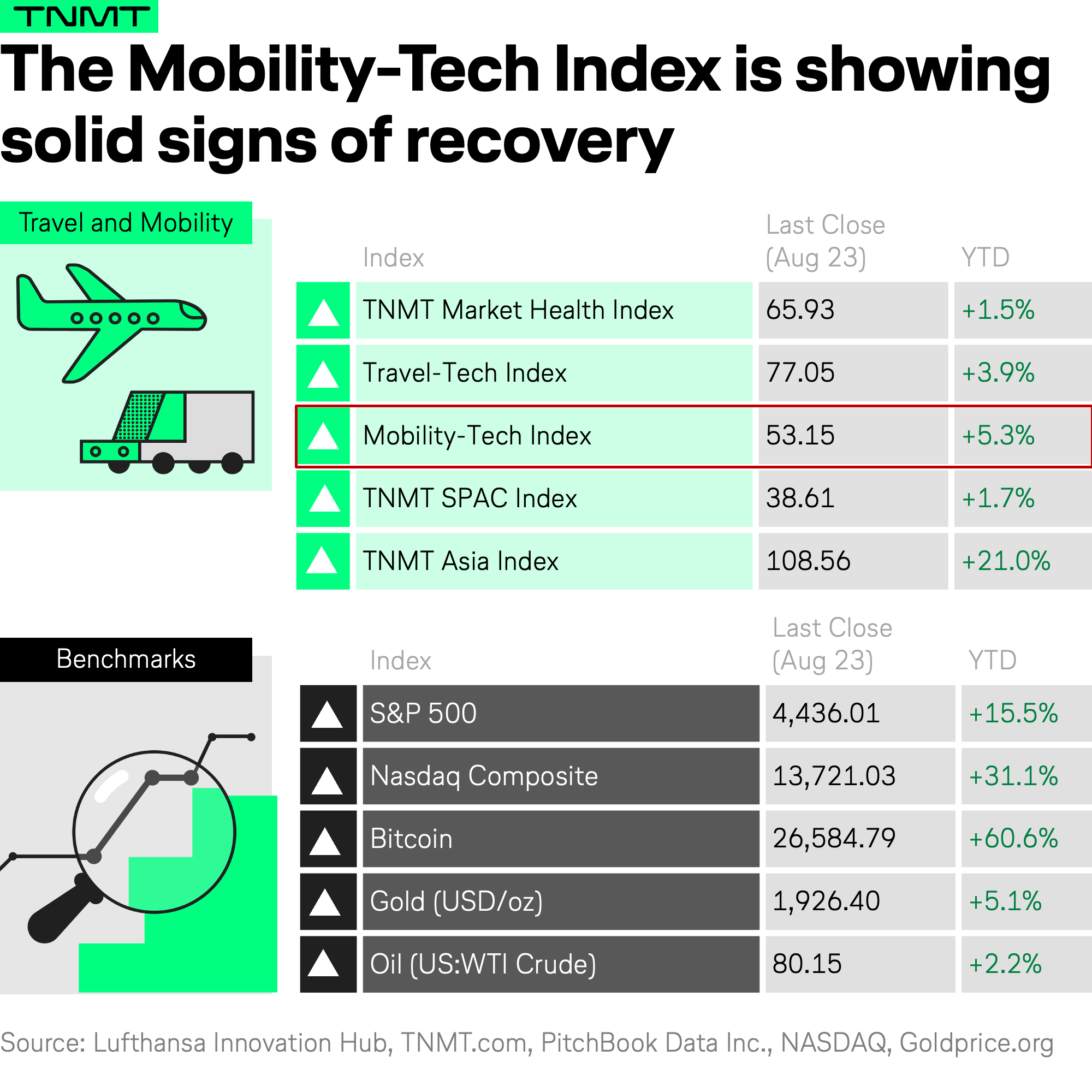 What are the drivers behind this movement?
Three Key Drivers Pushing Mobility
The underlying drivers for mobility's uptake are a blend of continued growth in already trending areas and unexpected leaps in innovative domains.
Let's delve into these key drivers to understand what's propelling Mobility-Tech's market performance, breaking down the influence into three major categories:
1. The Usual Suspects Continue to Soar
As discussed in my commentary from late June, the market remains bullish on air taxis. 
Most EVTOL contenders continue to perform above expectations, with a few defining examples showcasing this trend:
Archer's stock price is up 242% year-to-date (YTD)
Joby's share price has risen by more than 111% YTD
Ehang shows a convincing surge of 69% YTD
These are strong indicators of the reignited confidence investors have in the air taxi sector in 2023 and its potential for market disruption in the (long-term) future.
2. The Dawn of Autonomous Driving For Ride-Hailing
As I noted in my commentary from mid-July, innovations related to autonomous driving and ride-hailing (potentially cutting the costs for human drivers) are also pushing our Mobility Index performance. 
The rise in these areas has been particularly marked in the following candidates:
Aurora's stock is up 147% YTD in line with several promising developments in the realm of autonomous driving, such as test routes for autonomous trucks in Texas.
Uber's shares are up 74% YTD following strong Q1 earnings and a strategic partnership with Alphabet's autonomous driving division, Waymo, to launch self-driving taxis in Phoenix.
3. Few Micromobility Providers Gaining Momentum 
A few selected micromobility providers, driven by innovative and disruptive product ideas, are also gaining traction. The most interesting example in this space is a Chinese player called Youon Bike, which announced the launch of a hydrogen-powered bike-sharing model in early February. 
To be specific, the company rolled out 4,000 hydrogen-powered bikes in Shanghai and Changzhou, with plans for a foldable bike series set to go into production in March. 
These announcements pushed Youon Bike's stock price up more than 40% in less than a month following the news.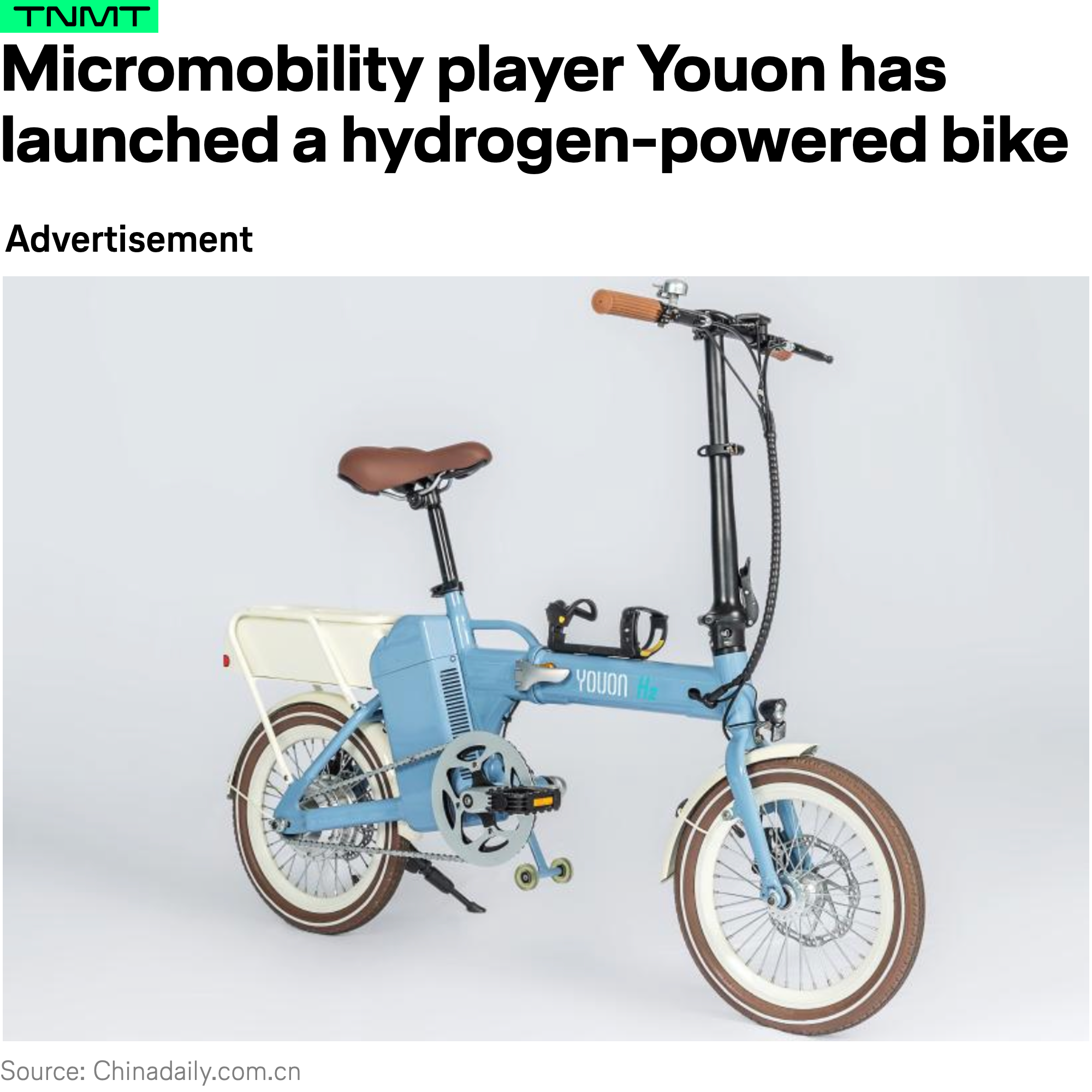 Micromobility's Rocky Road Ahead
While the aforementioned success of Youon Bike is indeed impressive, it's crucial to recognize it as more of an exception rather than the rule within the micromobility landscape.
The broader micromobility segment has found itself in a challenging position, particularly among the long-heralded category leaders who are grappling with dwindling investor confidence.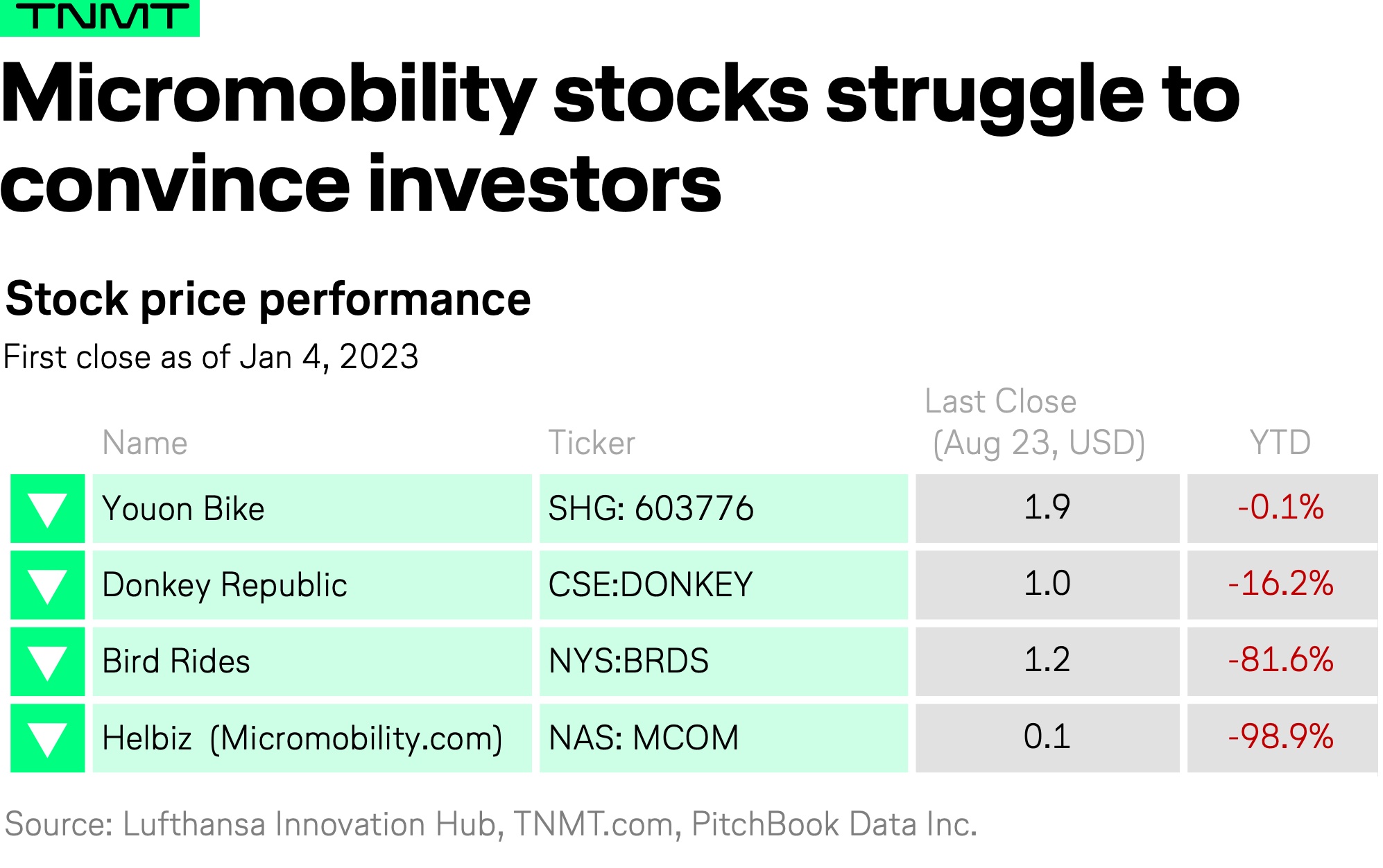 The struggle to find a viable path towards profitability despite massive amounts of Venture Capital raised in the past is evident.
Here are three examples that underline this struggle:
Donkey Republic is down 16% YTD, although it has seen a bit of positive momentum following its Q2 results, where the company managed to achieve positive EBITDA and double its revenues year on year.
Bird Global is down almost 82% YTD. Despite a strong start with a significant cash infusion and a stock rally, its Q1 results failed to convince investors, casting shadows on the company's future.
Helbiz (Micromobility.com) is down more than 98% YTD. Despite an initial surge in stock price after announcing its withdrawal from unprofitable markets, the company has faltered dramatically, standing as one of the most notable startup failure stories in Mobility Techland in 2023 thus far.
A number of underlying reasons contribute to the generally low levels of investor confidence in micromobility companies, painting a complex and challenging picture for the sector. 
These include:
High levels of competition and oversupply of vehicles in urban "hot markets", lead to a saturated marketplace where differentiation becomes increasingly difficult.
Overcrowded streets and inconsistent regulation of micromobility across regions, create operational hurdles and compliance challenges that can stifle growth and innovation.
Low unit economics due to the short life-cycle of vehicles and low usage, with the average rides per vehicle per day oftentimes falling below 1, as detailed in this analysis for more insight.
These systemic issues underscore the nuanced landscape of the micromobility sector, where rapid growth is tempered by market realities and structural constraints.
While Mobility's current surge over Travel is a notable trend in the TNMT Market Health Index, this lead may be temporary, reflecting the complex dynamics and rapidly evolving landscape of both sectors.
I will keep you posted!