Let's delve into the heart of the matter—this week's state of the Travel and Mobility Tech sector.
For this, our TNMT Market Index is our trusty compass.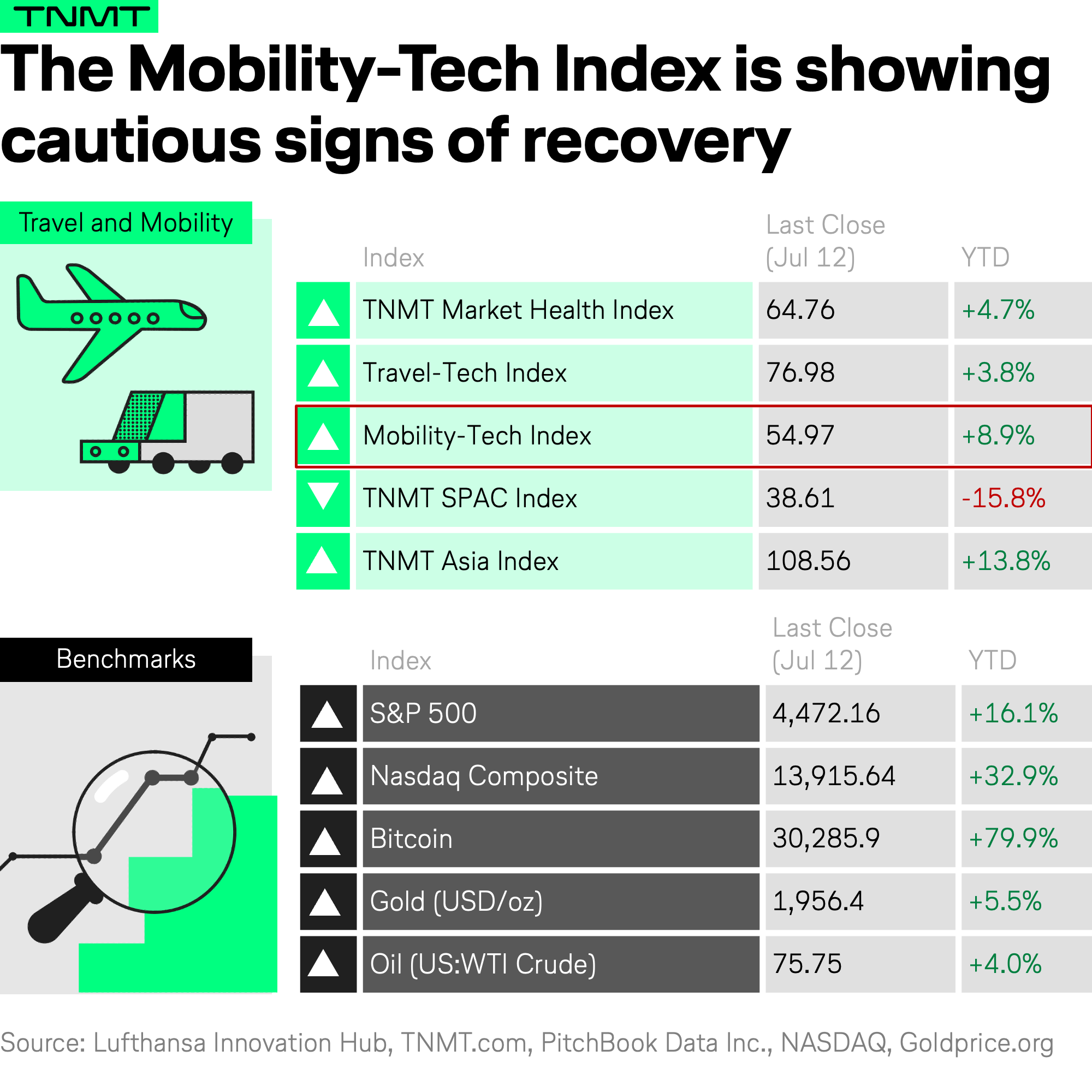 Here is the Latest Pulse Check
As we approach the summer (travel) season, the Travel and Mobility Tech market health is showing subtle yet promising signs of recovery after a challenging Q1.
Our TNMT Market Health Index has witnessed an encouraging surge of almost 15% between the close of Q1 and today.
Importantly, this upward trend isn't just riding the coattails of the general stock market performance (the S&P 500 is up by 8% since the end of Q1 too).
It's propelled by factors specific to our industry. In a surprising twist, our "problem child," the Mobility-Tech Index, which tracks 20 tech players from the mobility landscape, is driving this positive momentum.
As the mobility sector bounces back from its 2022 lows, it begs the question—what's driving this recovery?
In my last note, I spotlighted the resurgence of air taxi stocks such as Joby Aviation, Archer Aviation, Ehang, and Lilium.
Over the past two weeks, these high flyers have continued their upward trajectory:
Joby has soared by an impressive 200% year-to-date.
Archer is flying high with a 133% increase year-to-date.
Ehang and Lilium are also posting strong gains: Ehang is up almost 70% and Lilium is up 31% year-to-date.
Joby's surge, in particular, was spurred by the FAA certification for testing its new aircraft model—a critical milestone for the company and a strong vote of confidence for the air-taxi sector given the stringent safety requirements in aviation.
But the story doesn't end with air taxis. Several other promising narratives are emerging in the mobility sector.
Let's take a closer look at these.
Ground Mobility's Shift to Autonomy
The outlook for the next evolutionary stage of ride-hailing services is making waves, with several key players taking pole position in recent weeks.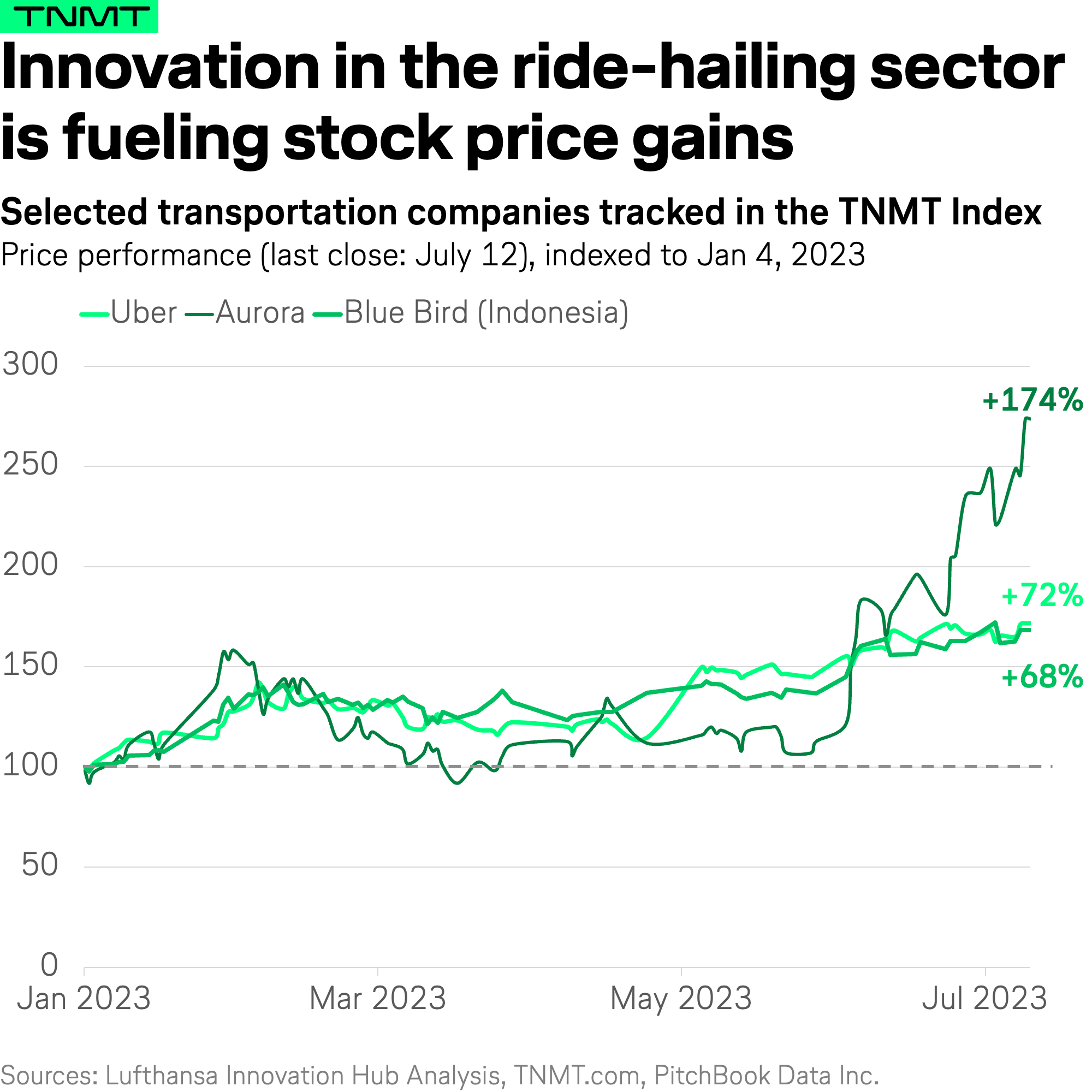 Uber's (NYS:UBER) stock price is on the upswing (up 72% year-to-date). Strong Q1 earnings and a strategic partnership with Alphabet's autonomous driving division, Waymo, to launch self-driving taxis in Phoenix, have boosted investor confidence. This development marks a pivotal moment for the autonomous ride-hailing movement.
Aurora (NAS:AUR), the autonomous driving startup that bought Uber's autonomous driving unit in 2020, is also seeing a surge in its stock price (up an astounding +174% year-to-date). With promising developments, such as test routes for autonomous trucks in Texas, Aurora is exploring the vast potential of autonomous vehicles in reshaping global supply chains. Its stock price soared by +80% following the announcement of Uber's partnership with Waymo.
Blue Bird Tbk PT (IDX:BIRD), Indonesia's leading ride-hailing provider, is flying high (up 68% year-to-date). The company has been making headlines with its commitment to reduce carbon emissions, setting a precedent for taxi companies in Indonesia. Its plan to expand its EV fleet from 100 to 500 vehicles in 2023, partnering with Chinese automaker BYD over Tesla, has further bolstered its green credentials and market performance.
To sum it all up, the surge in ride-hailing stocks is primarily driven by optimistic sentiment around autonomous driving. As the costliest component—the driver—potentially gets replaced, the commercial viability of ride-hailing stands to skyrocket.
However, not everyone's thrilled about this march towards autonomy.
US taxi drivers and concerned citizens have been staging protests.
Some have even devised a simple yet effective way to disable robo-taxis—by placing traffic cones on the hood, as this viral Twitter video demonstrates.
This is a reminder, perhaps, that the road to autonomy still has its bumps.
Stay tuned as we continue to navigate the evolving landscape of next-gen ground mobility.