As we close Q2/2023, let's peek at our TNMT Market Health Index—the pulse-check of innovation dynamics in Travel and Mobility Tech.
Well, the pulse, it's an interesting one this time around.
Particularly, it's the Mobility sub-sector (which bundles shared, micro, autonomous, and air mobility) that's making waves, though not in a good way; see the chart below.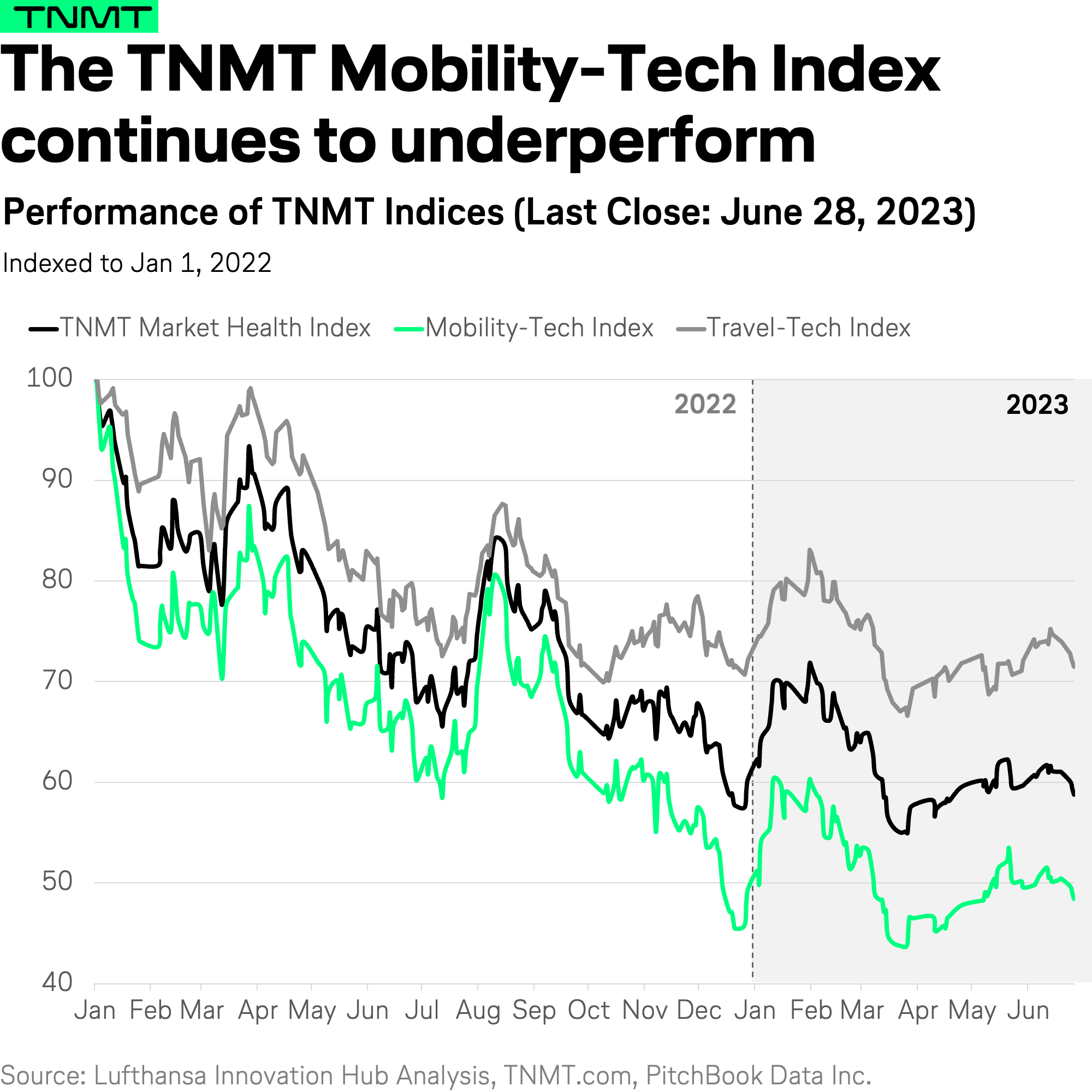 The Mobility sub-index has, in a rather unflattering repeat performance from last quarter, underperformed significantly compared to our overall TNMT Market Health Index.
To our regulars who follow our TNMT Market Index dashboard, this downtrend might not be that surprising.
A combination of factors is to blame.
The prevalence of SPAC deals among mobility startups and the harsh realities of their financials—clashing with high-flying growth plans (or rather, survival strategies)—in a challenging economic environment, stand out as the main culprits.
But wait, it's not all rain clouds in the mobility sky.
We see some silver linings—and they're riding air taxis.
A handful of stocks are defying the overall slump and picking up speed:
US-based eVTOL startup Joby Aviation is up by a substantial 159% YTD
Its fellow American contender, Archer Aviation, is climbing at 82% YTD
And from the East, Chinese rival Ehang shows a solid uptick of 33% YTD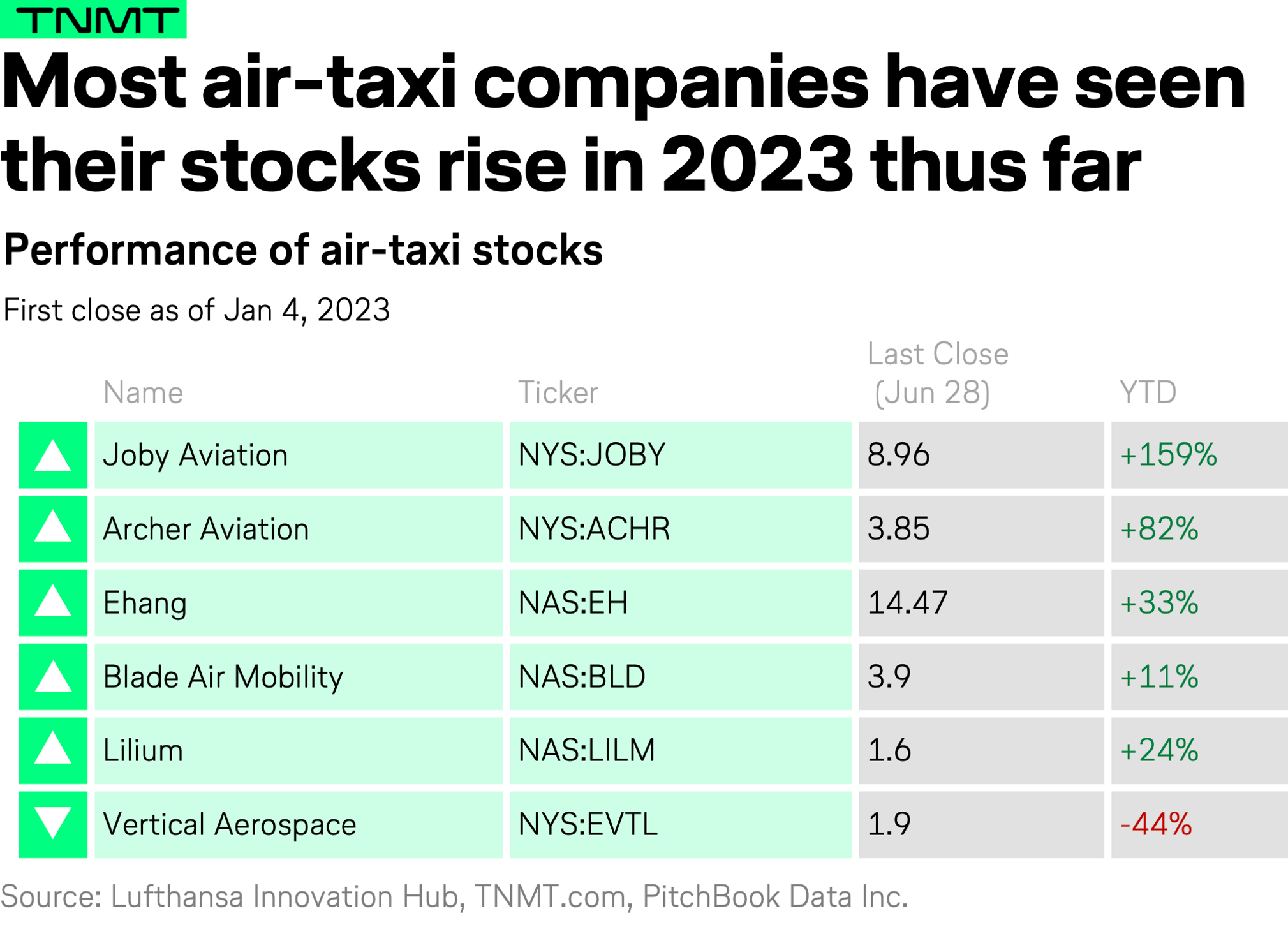 Now, why is this happening?
Let's dive into the specifics of what's fueling this current air-taxi momentum.
Conference Buzz Excites Investors
Over the past few months, air taxi startups have seen some positive developments, which have reignited investor interest in Advanced Air Mobility (AAM).
Buzzworthy industry conferences and upcoming Q2 results, in particular, have investors on edge.
This year's Paris Air Show was a hotbed of excitement for aerospace and air taxi enthusiasts, as the event dedicated a whole area to air taxis for the first time.
In April, Amsterdam Drone Week already set the stage for what's to come in the AAM sphere.
And the pledge by Solène Le Bris of Paris airports operator Groupe ADP to launch the world's first eVTOL pre-commercial service in time for the 2024 Paris Olympics added further fuel to the fire.
This anticipation builds as we approach the release of Q2 results, a critical time when investors keenly watch their portfolio companies.
Noteworthy Q2 Milestones
Additionally, air taxi startups like Joby, Archer, and Ehang have had significant achievements fuel their Q2 performance.
For example, Joby Aviation has built an impressive cash cushion for future growth, recently securing another $180 million USD investment from Baillie Gifford. This funding, plus a sizable $55 million USD contract extension with the U.S. Air Force, leaves Joby with nearly $1 billion USD in cash and equity cushion entering Q2 2023.
Archer debuted its new aircraft model "Midnight," backed by a manufacturing partnership with automotive powerhouse Stellantis.
And China's Ehang completed a fully autonomous test flight with two passengers and no pilot in Q1. It has also entered the final certification stage with China's regulators—a process the company first began in 2021.
Roller Coaster Ride for Air Taxi Stocks
Despite all these achievements, investor sentiment in the air taxi sector can often mirror a roller coaster ride, with sharp ascents followed by quick descents.
In fact, in the aftermath of the Paris Air Show, air taxi stock prices experienced noticeable downward pressure.
Even industry pioneers like Joby and Archer saw their share prices descend by approximately 20% last week.
This cooling of investor enthusiasm might be attributed to the stark contrast between the ambitious timelines set by startups and the actual state of eVTOL technology displayed at the show. For example, a single eVTOL taking flight (kudos to Volocopter) amidst a sea of static models and mock-ups might not have been enough to sustain investor confidence.
However, as is characteristic of this exciting and unpredictable sector, sentiment shifted yet again this week.
The winds changed favorably this past Wednesday as Joby Aviation secured regulatory approval from the US FAA to commence flight testing of its air taxi, marking a significant milestone in the company's journey towards commercial operations.
This announcement sent Joby's shares soaring, with the company's share price climbing +40% the past few days.
This favorable development seems to have provided a tailwind to other air taxi stocks as well, with Archer, Lilium, Ehang, and Blade shares all rising by +10% this week.
At TNMT, we continue to watch these developments with keen interest.
The Advanced Air Mobility space is evolving rapidly, and we believe it's high time to revisit our Air Taxi Mega Report.
Over the coming weeks and months, we plan to delve deeper into this sector again, dissecting the growth opportunities and challenges associated with air taxis and other forms of advanced air mobility.
Stay with us on this thrilling ride.
More updates are on the horizon!