What would a summer TNMT Newsletter be without a pulse check on the movers and shakers of our industry?
For this insider's perspective, our TNMT Market Health Index serves as the compass.
A quick refresher for those new around here: Our TNMT Market Health Index keeps tabs on the stock price performances of the 50 public tech challengers who aren't afraid to ruffle some feathers in the travel and mobility landscape.
End-of-July TNMT Market Index Update
Over the past couple of months, our index has been riding high on the wings of air-taxi companies and ride-hailing providers, both reaching new 2023 zeniths.
This positive trend has only grown stronger over the past fortnight.
As of Wednesday EOD, our TNMT Market Health Index is looking healthy, showing a 4% uptick YTD and an impressive 12% increase since the end of Q1.
What's the wind beneath these sails?
Online booking platforms.
Let's roll out some numbers:
The global travel booking pioneers: Booking.com and Expedia have witnessed YTD increases of 40% and 31%, respectively.
Lastminute.com, the mega UK-based holiday package platform, is up by 37% YTD
Latin American OTA Despegar.com is up 36% YTD
What's fuelling these OTAs?
They seem to be basking in the glory of the robust summer travel demand, which also showed up in their strong Q1 results (which capture most of the summer bookings by travelers).
Interestingly, there is one specific type of OTA making even bigger waves.
In fact, those with membership models are riding the wave particularly well.
Membership Models Driving Performance
Among our YTD top performers, two membership-based travel OTAs stand out:
eDreams, with a YTD increase of 57%
Travelzoo, soaring with a YTD increase of 56%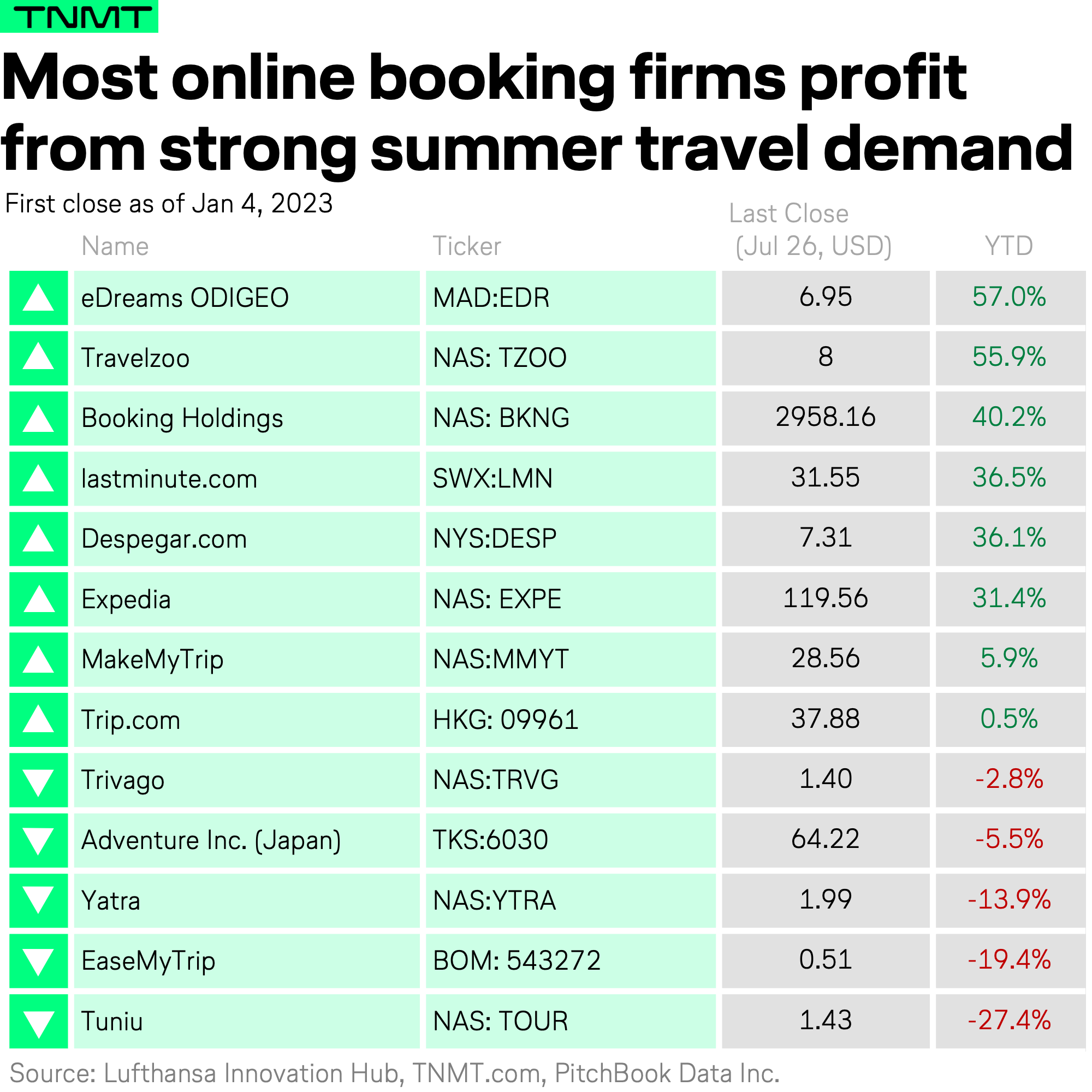 Let's take a closer look at both of them.
Let's start with eDreams ODIGEO, our YTD chart-topper.
This travel booking platform based in Spain is no stranger to our spotlight.
I've previously discussed how its innovative subscription model, eDreams Prime, positively impacts the company's quarterly results.
In its latest annual report—covering the fiscal year from March 2022 to March 2023—eDreams declared it a record-breaking year in its "20-plus year history."
Bookings soared 29% YoY and an astounding 42% above pre-COVID levels.
This news sent the company's stock price rocketing over 30% from late May to mid-June.
The company credited the maturing Prime member base as a key profitability driver.
The excitement doesn't stop there—eDreams announced a partnership with Google in May to integrate generative AI capabilities into its online platform.
Shifting our attention to Travelzoo, this UK-based NASDAQ-listed company operates as a search and recommendation platform for travel deals.
Much like eDreams ODIGEO, Travelzoo was early to adopt a membership model and offers deals exclusively to its platform subscribers.
The company's stock has witnessed the steepest hike among our selection of online booking platforms.
Its stock price soared more than 60% between the release of its Q1 results in late April and early June (from $6.2 USD on April 26th to $10.4 USD on June 6th).
This was catalyzed by its robust Q1 performance, announcing revenues of $22.1 million USD, up 17% YoY.
A chunk of this revenue was attributed to its Jack's Flight Club premium membership, which boosted revenues by 15% YoY.
But wait, there's more!
In May, Travelzoo launched Travelzoo META—a membership-based metaverse platform offering access to digital travel experiences.
As we look at the travel industry's movers and shakers, eDreams ODIGEO and Travelzoo underline the value of innovative business models in driving growth.
Not all OTAs perform on par
At the same time, not all OTAs can boast about positive performance.
Asian OTAs, in particular, seem to be lagging behind their Western counterparts with:
Chinese OTATuniu down more than 27% YTD
Its competitor, Trip.com, is up a mere 0.5% YTD
Japanese OTA Adventure is down more than 5% YTD
And Indian OTAs Yatra and Easemytrip are both down more than 10% YTD
What's causing this underperformance?
For one, the slower rebound of outbound tourism and the later lifting of travel-related restrictions are likely at fault, especially in key markets like China.
Chinese tourism is a key source market for inbound tourism across APAC, and while domestic airline capacity in China has recovered in full, international flight capacity reportedly remains at less than half of pre-pandemic levels.
This has a major impact on destinations in the region—according to Reuters, in Thailand, Singapore, Indonesia, and the Philippines, visitors from China are down more than 60% compared to pre-pandemic levels.
Watch this space as we continue to follow their journey.