Space is grand and mysterious. But does the space industry also offer a financial opportunity? Starting with the legendary movie "2001 A Space Odyssey", film culture has led people to believe that space is a field which only the government, or government collaborations, have the resources and incentives to explore. The reality looks different today: government spending only makes up 1/4 of all spending on space exploration.
Private investment activity in the space industry  —  both in terms of capital raised and deal count  —  has been skyrocketing in recent years, especially in 2017.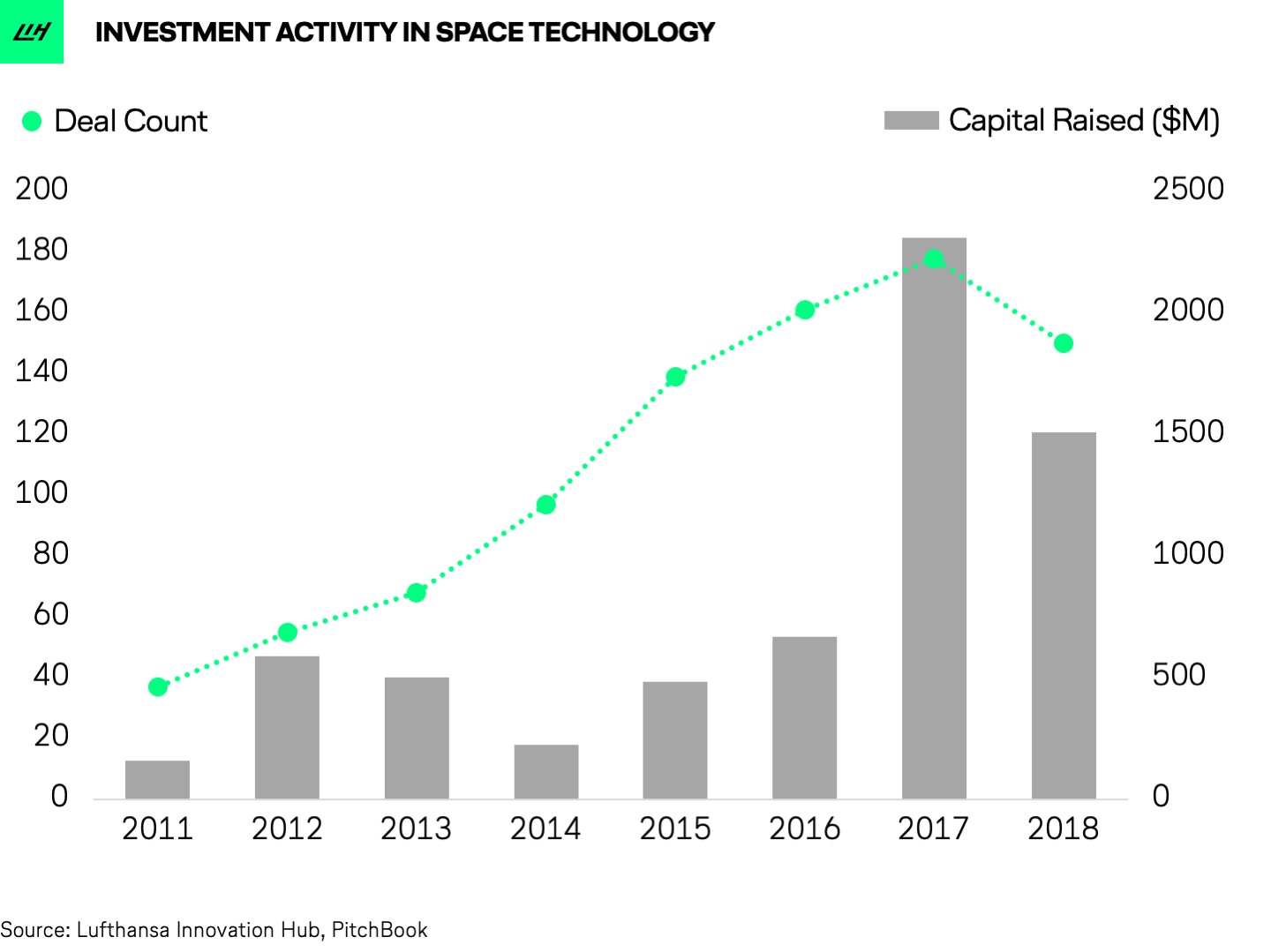 Rising private investment in the space-technology vertical might sound lunatic, but according to a UBS report from late 2018, the space economy is expected to grow from $340 billion today to $1 trillion in the next few decades.
The primary drivers of this development are two-fold, UBS argues:
1) Advancements in rocket and satellite technology
Space technology is becoming more efficient and affordable. R&D advances have lowered the cost of launching rockets to Low Earth Orbit (LEO) by a factor of four in the past three decades.
These lower costs reduce the barriers of entry for space-enthusiastic investors.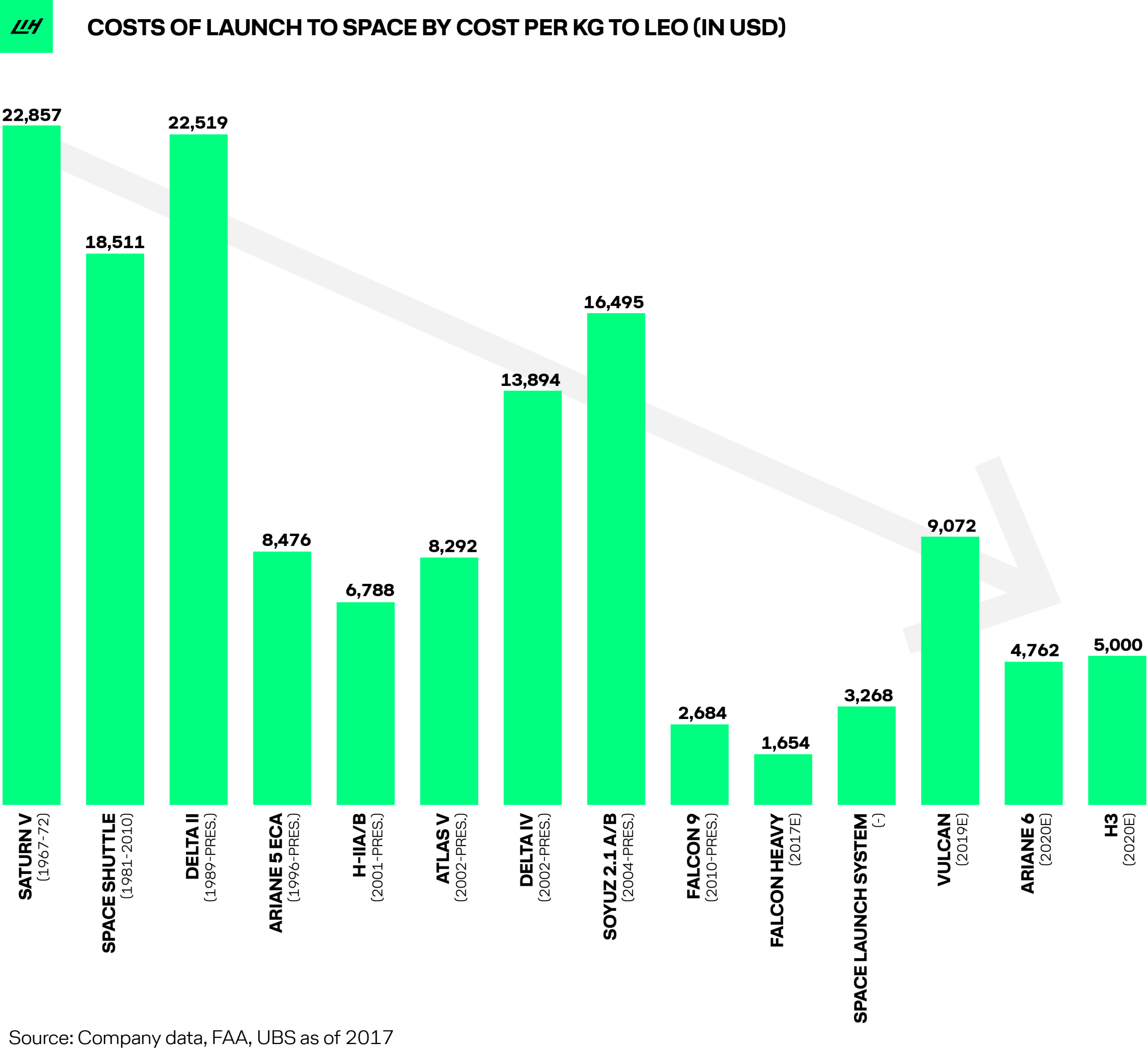 2) Tech billionaires fancy exploring space
Here is where the eagerness to explore space by tech "billionerds" with deep pockets comes in. Technology entrepreneur Jeff Bezos — the world's richest person in 2019 — founded Blue Origin to promote human access to space and already employs more than 2,000 people.
Richard Branson (Virgin Galactic) recently accomplished his company's first manned space flight and Elon Musk (SpaceX) eagerly invests in reusable rocket technology, which seems to be bearing fruits. SpaceX has rapidly increased the number of launches per year to reach a record 21 in 2018. All of this is great news for the space industry.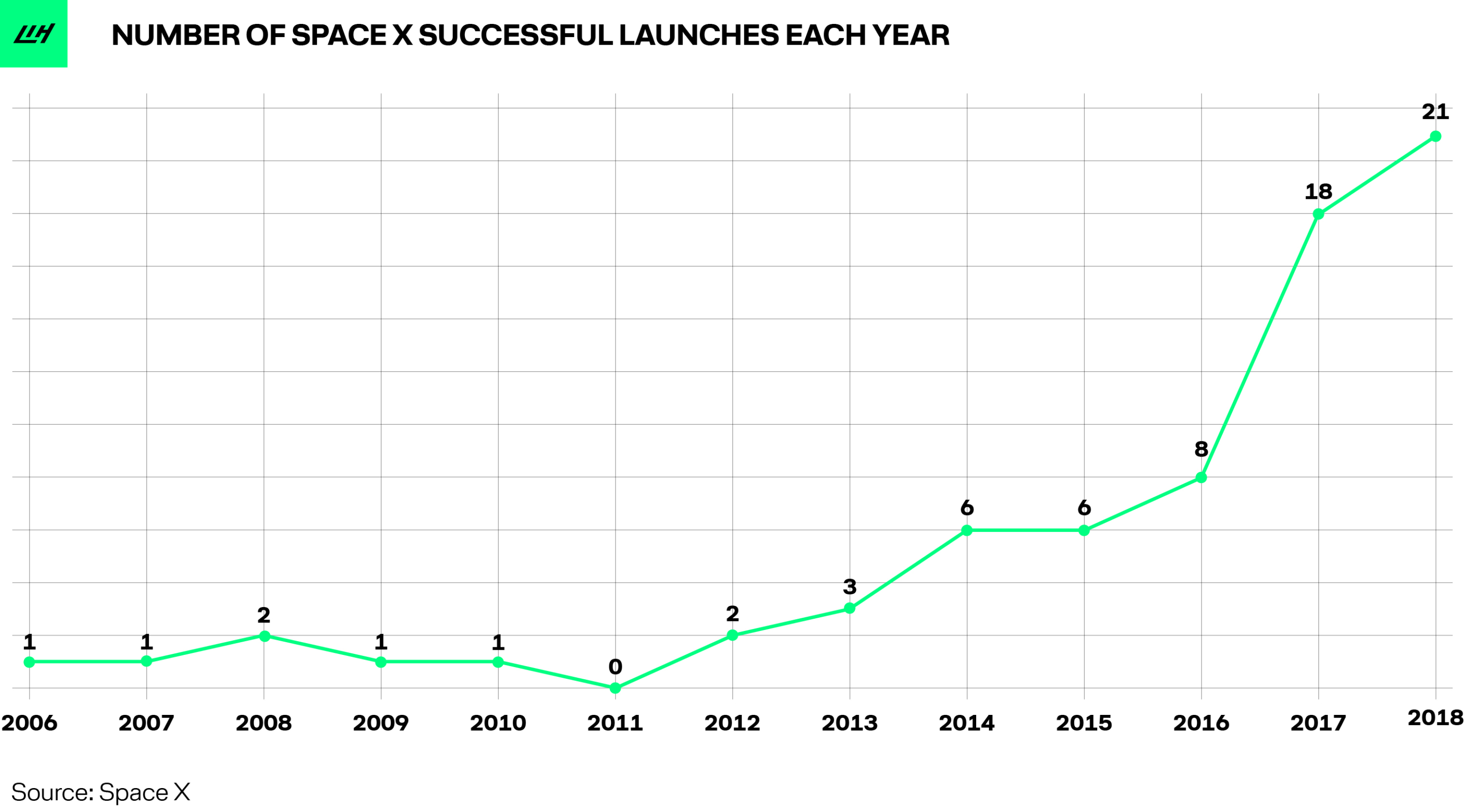 But what is the investment rationale?
Despite lower unit costs, whether private investments can deliver returns in the near future remains unclear. What powers rising investment amounts is the potentially huge scale of returns. Various startups are trying their best to identify viable business models around space exploration, both in the short and in the long term. Here are a few outlined:
Connectivity
The nearest business model around space exploration is connectivity via satellite constellations, which experience falling prices and can increase orbit bandwidth by 10x. Softbank recently financed OneWeb, for instance, which aims to offer fast internet through 720 satellites that closely orbit the earth.
As the Internet of Things proliferates, there will also be an increased demand for transferring data from devices everywhere at high speed. Autonomous driving is one of the many use cases that could rely heavily on improved satellite connectivity.
Space Tourism
Visiting space is not your typical holiday. In fact, very few have been able to afford it. Even though Neil Armstrong called seeing the moon up close "a view worth the price of the trip" (he was actually being paid to be there), only 550 people have visited space to date.
This type of holiday will likely continue to be exclusive. Nevertheless, the price of visiting space has fallen from $20 million in 2001 to $250,000 in 2018. That is a dramatic drop.
Asteroid mining
NASA says that each year, a car-sized asteroid reaches the atmosphere and burns before reaching the earth. A popular consulting case study asks candidates to estimate how many footballs fit in a car: a common response is around 1,700. If we assume that the typical asteroid reaching earth each year has the platinum density estimated by Goldman Sachs, we can calculate 1,700 x $25 billion: a value of $43 trillion. Not bad.
Space-based manufacturing
This is still far away. Yet might be the only way to sustain long-term space missions. It involves applying 3D printers and robotics to manufacture in space, which might be cheaper than producing on earth and shipping through space.
Space marketing
A unique business model is that of iSpace, which has raised >$90 million from various Japanese corporations. It targets space marketing, by putting up company logos in space. One of its aims is to erect a billboard on the moon.
Stars on demand
Another Japanese startup, ALE, has raised $7.3 million to offer "Shooting Stars. On-Demand". Its product would involve shooting man-made meteorites in space for celebratory purposes.
In summary: while uncertainty is large, opportunity is huge. And in today's investment-friendly VC environment, no wonder investors are looking at the stars.
Who are the new pioneers of the space industry?
As part of our constant effort to scout promising startups in the different fields of Travel & Mobility Tech, we also looked at space exploration.
See below our own take on the 10 most promising space startups in 2019.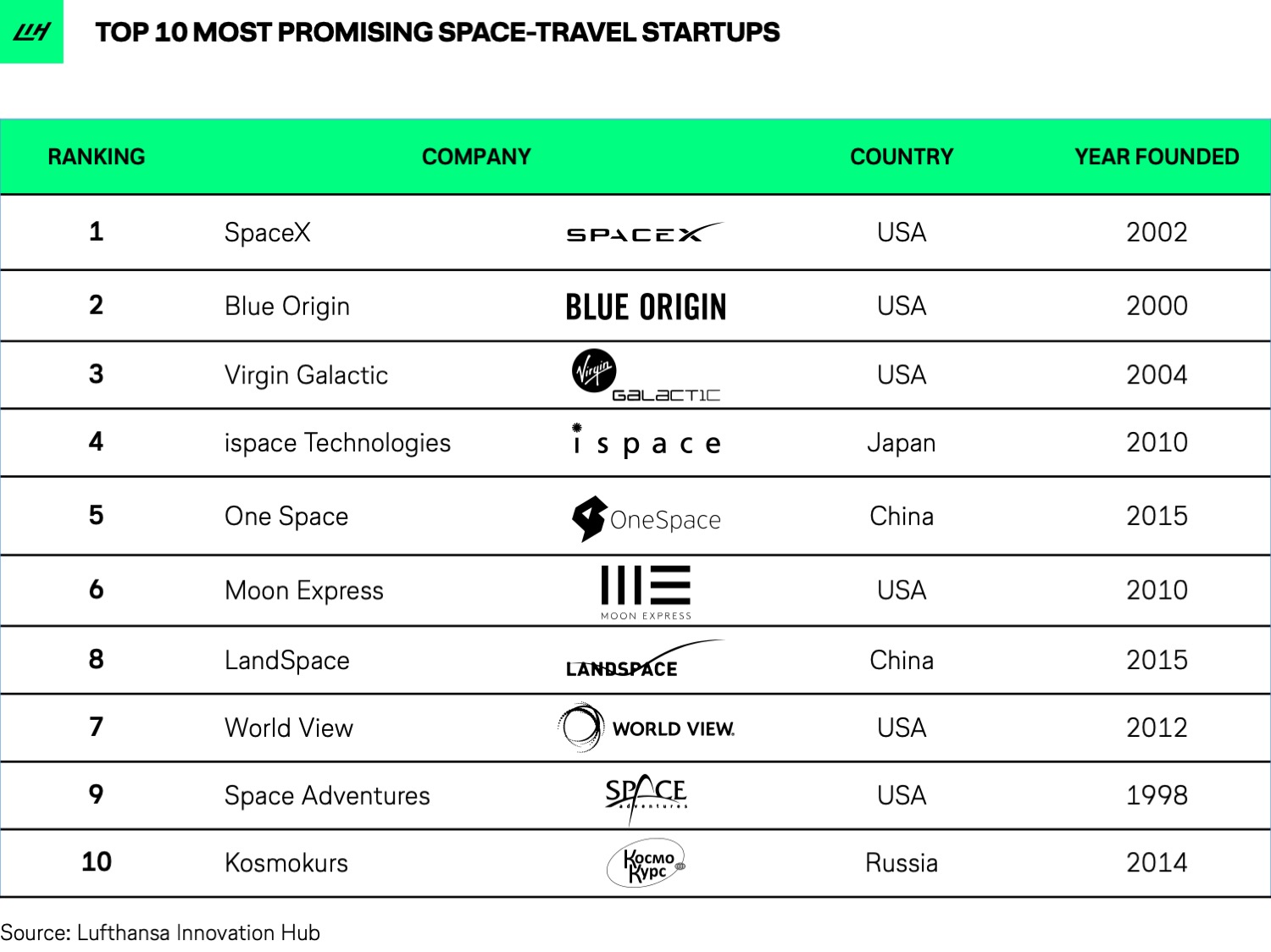 Warning: This is a purely subjective ranking, based on factors such as test-flight track record, R&D investments, technological readiness, and more. We're very much aware that this leaderboard could be set up differently, depending on the criteria one finds most relevant.