Thousands of startups around the globe are working on innovative solutions that make travel more efficient, frictionless and interconnected. In order to shed light on the accelerating innovation dynamics in the Travel & Mobility Tech landscape, we rigorously tracked and analyzed venture capital investments in startups that offer products and services along the travel journey.
Let's take a quick look at how and why we do this before outlining the key insights on Travel & Mobility Tech around the globe in our infographic.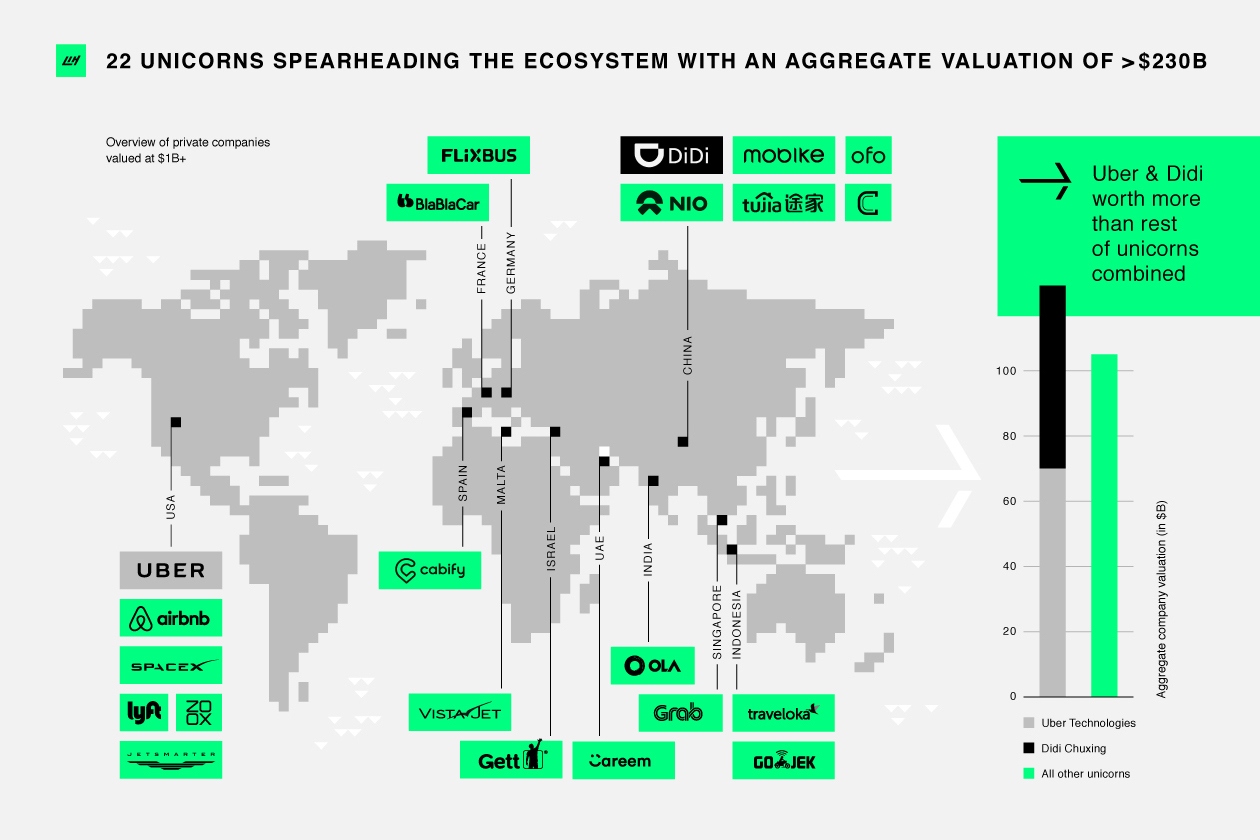 How we gather startups along the travel journey
We have built our own comprehensive database of tech-enabled startups around the globe that operate in the field of travel and mobility and are located somewhere along the travel journey from inspiration (where to travel) over booking (where to book flights, hotels, rental cars) to sharing (where to share experiences with friends and family and gain inspiration for the next trip). This includes various categories from classic online search, booking and content platforms to transportation providers, hospitality offerings and very specific niche segments, such as travel support (e.g. virtual assistants), enterprise travel or travel-related data analytics.
We consider both B2C and B2B startups with an initial proof of concept (usually indicated via a disclosed VC-backing) – ventures at the idea stage do not qualify. With this approach, we identified close to 2,500 active startups in 2018 with around 200 new players having joined the group annually over the past eight years. Supported by our data partner PitchBook, we systematically track venture capital raised by all these 2,500 Travel & Mobility Tech startups on a regular basis.
Why we follow the money
Tracking venture capital investments into startups is a powerful indicator to better understand where the smartest, most innovative investors and future-oriented corporations are placing their bets. VC has become a dominant and critical force in the financing of young and innovative technology startups since personal computing reached consumer markets in the 1980s and the internet initiated the digital economy a decade later. Three out of today's five largest and arguably most innovative companies in the world – Apple, Google and Amazon – received most of their early external financing from venture capitalists.
Furthermore, Stanford Business school studies estimate that VC-backed companies accounted for a massive 42% of the R&D spending by U.S. public companies in 2013. Current VC-backed high-fliers, such as Uber, Lyft, and Airbnb are the latest examples of innovative disruptors who are changing the world and thereby proving the pivotal role of VC financing in driving forward innovation.
Infographic: Travel & Mobility Tech around the globe
Our research provides a detailed look at Travel & Mobility Tech around the globe. Innovation within the space has accelerated dramatically over the past few years, resulting in record amounts of venture capital invested. We delve into the highest-funded startups, interesting geographic trends and provide an outlook where the space might be headed in the future.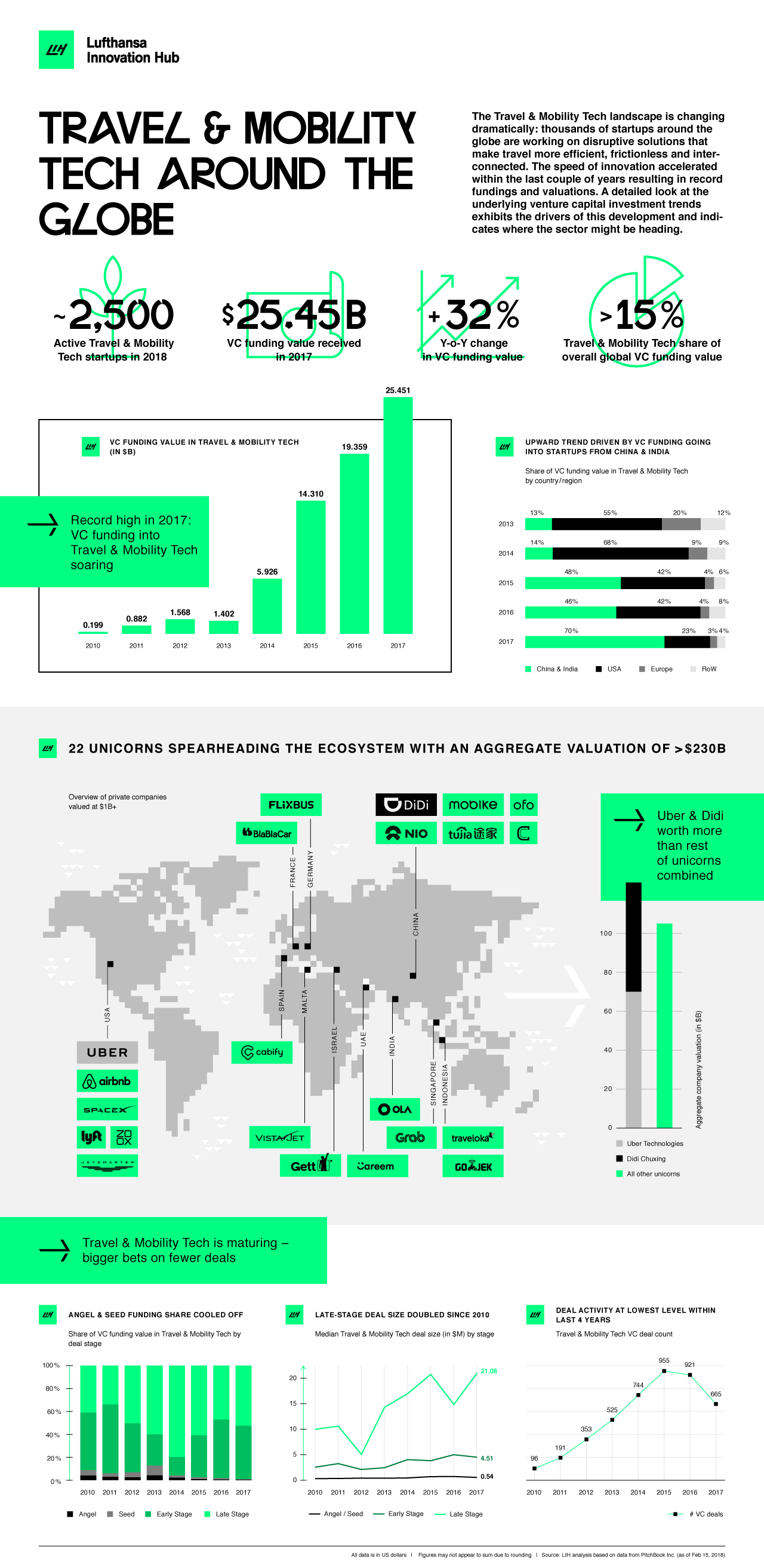 What to expect in 2018
1. VC funding amounts in Travel & Mobility Tech further on the rise
The first few weeks of 2018 have already caused quite a stir as total investments into Travel & Mobility Tech stand at well over $6.5B across 76 deals as of February 28, 2018. Eight companies and their respective mega rounds (deals =>$100M) have taken the major slice of the cake so far:
VCs will continue to pour a lot of money into the Travel & Mobility Tech landscape in 2018. Given the substantial rounds in the first two months, chances are high that this year will lead to a new record high for the sector.
2. A competitive race for regional dominance
Looking back at 2017, one of the major aha moments was presumably the funding dominance (in $) of Asian Travel & Mobility Tech startups. China- and India-based companies claimed 70% of global VC funding value and 12 out of the world's 22 most valuable Travel & Mobility startups are currently from the East. Whether Asia will be able to defend its funding dominance in 2018 remains to be seen.
The future of local ride-hailing players looks certainly bright as scaling potential seems almost unlimited thanks to the continent's total population of around 4.5 billion. For example, Didi Chuxing, the Chinese ride-hailing app currently valued at $56B, delivers 25 million rides a day, roughly twice as many as Uber and all the other global ride-sharing apps combined.
Additionally, several highly promising electric vehicle startups are making headlines, especially in China (e.g. unicorn Nio), driven forward by the country's pole position in electric-battery manufacturing.
Looking at the Travel & Mobility Tech ecosystem in the US, the composition of promising startups looks more diverse with many players from various fields and categories, also outside the ground ride-hailing space, aiming to disrupt existing industries.
Furthermore, other highly successful startup stories might be written in currently underrepresented regions within Travel & Mobility Tech around the world. Several locations are working hard to create their own technology and startup hubs. In some cases these initiatives are strategically planned and supported by public initiatives (as in Israel), in other cases rather unconsciously driven forward, for instance in Germany where the country's renowned "engineering DNA" might have played a pivotal role in building two of the most promising air-taxi startups (Volocopter and Lilium).
As the European share of global funding value has been declining over the years from over 20% in 2013 to a mere 3% in 2017, more of such break-through success stories are desperately needed for Europe to gain back some ground.
3. Even bigger bets on even fewer deals
The year-over-year growth of +32% in global VC funding amounts invested in Travel & Mobility Tech startups is impressive and outperforms growth rates of the overall global VC market, as a look at the 2017 VC Summary by PitchBook exhibits.
Deal count, however, for both Travel & Mobility Tech as well as the overall VC market has fallen significantly from the record-high figures three years ago. In 2015, VC investors participated in 955 Travel & Mobility Tech deals, a number that has dropped by a third since. The ongoing upward trend in capital invested in combination with a decline in deal count aligns with one of the biggest overall VC trends of the past year: mega rounds.
For Travel & Mobility Tech, this trend is as true as it can get. Looking at median deal size by stage, late-stage deals in Travel & Mobility Tech came in at a massive $21M in 2017. That is almost double the price tag of a median late-stage deal in the overall VC industry in the US ($11.4M) and three times higher than in Europe (ca. $7M). At the same time, the share of angel and seed-funding deals (in $) shrank to a bare minimum in 2017.
What does this mean? As VC Fred Wilson from Union Square Ventures concluded: "For entrepreneurs just starting out, it will be tougher to raise first rounds." For Travel & Mobility Tech, this likely means that the average number of 200 new startups, which we have seen raising their initial funding on an annual basis since 2010, will likely slow down significantly in 2018 while more established and hyped startups will continue to close deals at unprecedented amounts.