Travel and Mobility Tech startups are facing strong headwinds since the pandemic broke out at the beginning of the year. Travel demand has dropped to historic lows and the volatility of new rising COVID-19 cases, coupled with the uncertainty of the travel outlook overall, has made investors worldwide shy away from the travel sector as our Q2 VC funding update has shown.
Asia, long considered the major driver behind record-high funding in Travel and Mobility Tech, has also suffered dramatically in recent months.
Quarterly deal counts in the Travel and Mobility Tech sector dropped significantly to a record-low in Q2. It is an especially challenging time for startups raising capital for the first time, as only two deals were first-time investments.
"Limited partners such as family offices or corporate VCs are dealing with uncertainty in the [travel] market. In those situations, they tend to be more conservative with their investment strategy," says Michael Lints, partner of Golden Gate Ventures (or GGV), a venture capital firm based in Singapore.
How travel-related startups have coped with the COVID-19 pandemic
As one of the hardest hit industries, we wanted to shed light on how travel startups have coped with the immediate impact of COVID-19 and how they have been pivoting their business and products to prepare for a volatile future.To learn more about their experiences during this transformative crisis, we partnered with global venture capital firm Golden Gate Ventures and interviewed seven leading Southeast Asia-based travel startups along the travel chain, from technology infrastructure to customer-facing service providers.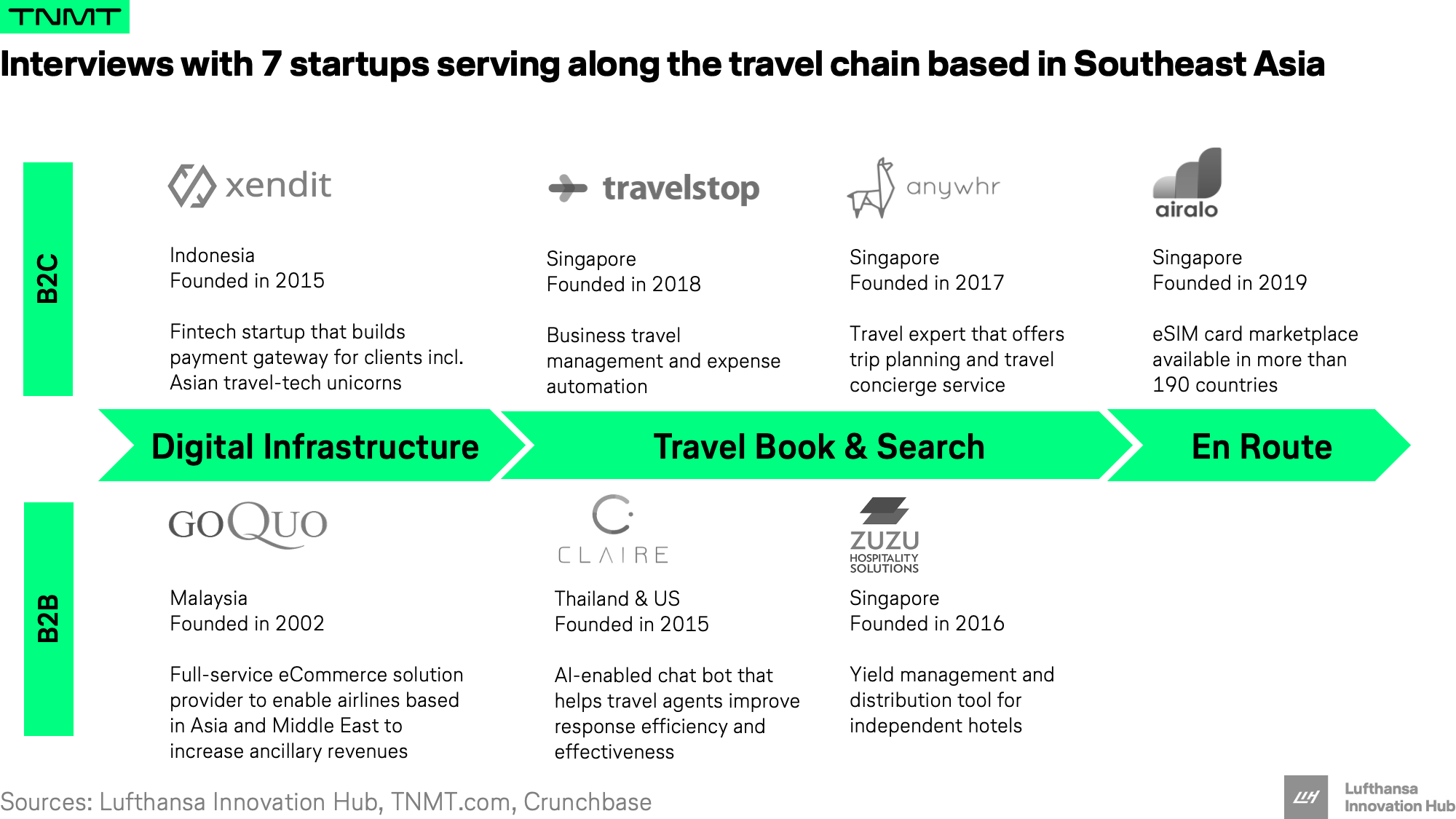 Key learnings from the interviews
The pandemic has been an unprecedented shock for everyone we interviewed. As Ron Ramanan, CEO of Goquo, a Malaysian ancillary revenue platform describes:
"People were still flying during the financial crisis, but COVID-19 almost killed us, as there was not a single flight booking."
While the uncertainty of a travel comeback has been the biggest challenge for all the startups we interviewed, we were pleasantly surprised to hear about the optimistic trends founders saw coming out of the crisis, such as increased time to focus on long-term product roadmaps or learning how to build a more resilient organization for the future.
We present five key learnings from the interviews:
1) Remote setups pre-Covid allowed travel startups to adapt quickly to WFH (Work From Home)
Before COVID-19, most startups in Southeast Asia had already been working in remote team setups due to talent sourcing or operating in various markets. As a result, WFH only had a minimal operational impact on existing team efficiency or communication.
"We are a small but distributed team across different countries. So, we are quite fortunate that we have been working on the go, so working from home was easier and smoother for us," explained Dan Lynn, co-founder of Zuzu Hospitality, a Singapore-based hotel revenue management startup.
However, remote work does become challenging when it comes to establishing trust with new team members, building culture or even evaluating the "vibe" of a potential startup for VCs. "Seeing the team (physically) and understanding the company dynamics is important during due diligence, which is hard to do completely virtually," said Lints at GGV.
2) Lockdown posed an opportunity to double down on product improvement and long-term strategy planning
While the lockdown limited the startups' capacity to conduct business efficiently in SEA, it also presented itself as an opportunity for founders to double down on product improvement and take a step back to challenge current strategies.
"Now is the opportunity for startups to think about how travel will look like in the future without the investor's pressure to grow, grow, grow. It is the time to think, not about the immediate solutions, but long-term solutions," said Riccardo Vittoria, co-founder of AI-enabled chatbot Claire.
"Lockdown was also associated with being able to spend more time with family while being a busy entrepreneur," said Moses Lo, co-founder of Xendit, an Indonesian startup building payment infrastructure. "Having time to be with family or to exercise really feels great. Now, I don't have to do things like flying around crazy and talking to clients that I would be doing in a normal setting."
3) Travel startups will have to start rethinking productivity and robustness of future team setups
As COVID-19 required many startups to let go of employees, it also made co-founders really sit down and think hard about how to build a more sustainable business for the future and what capabilities they needed in the short and long-term.
"We retained half of our tech guys, and had to shut down marketing teams that are not that core, as we continue to invest in data products," said Ramanan at Goquo. Despite the shrinking team, productivity has seen an increase thanks to better-aligned team goals and a "wartime" mentality.
"Now with the limited staff, we still can function but we really need to look at optimization and how we can improve output. I see more productivity now than before and that's really eye-opening."
4) As investors shy away from the travel sector in the short-term, travel startups will need to rethink their stories
With respect to funding, there were startups that raised enough money to weather through the crisis, but others will have to reluctantly raise money with potential down rounds.
"People told us to raise more money, but we didn't do that from a valuation standpoint. We thought this would last us and we were bullish about the market, but now looking back we should have just taken the money," said Prashant Kirtane, founder and CEO at Travelstop, a Singapore-based travel management startup.
As the world continues to grapple with Covid-19, it's becoming more necessary to rethink the strategy and story that travel startups can tell investors.
5) As Covid-19 continues to spread, the travel ecosystem will need to support each other even more
The systemic damage to the travel industry has encouraged financial support from governments and investors. As much as the financial injection, startups also value the sharing of intelligence, including travel-related data dashboards and perspectives on the roadmap for recovery.
"People have been open and sharing information with each other and it has been quite helpful as we can see from the figures to see when we can expect a rebound and comeback in the industry," said Dan Lynn at Zuzu.
The pandemic also accelerated positive synergies between corporates and startups, as siloed effort is not enough to win back traveler confidence.
"We have signed deals with the biggest OTAs who offered us access to their customers. Before Covid-19, they didn't make time for us, but now we were able to close the deals within only two weeks," said Bahadir Ozdemir, co-founder of Airalo, a Singapore-headquartered eSIM card startup.
Startups have built up resilience to ride out COVID-19
Having summarized the pandemic-led impact on startups, we now look into concrete strategic moves by startups to take on COVID-19. Startups have demonstrated adamant resilience by quickly reprioritizing their resources to survive. We identified four key strategies with which startups have positioned themselves for the future.
1) Covid-19 based product feature adds
Covid-19 is demanding refreshed protocols from travel providers to instill confidence in traveling again, pushing them to modify product offerings to meet new consumer needs.
Claire upgraded their chat product by integrating up-to-date information that concerns travelers, including travel advisories issued by governments, changing visa restrictions, and surprisingly, blood type. "We would like to show travelers how much risk it entails to travel by countries and persons. Blood-type information has become relevant, as some blood types could be more susceptible to contracting Covid-19." This extra piece of intelligence helps build trust between travelers and travel providers.
Anywhr, the Singapore-based trip curator, is preparing for the "new normal" of physical travel instead of pivoting to virtual experiences now, as it believes that virtual travel experiences will not take over physical ones in the long run.
"We are now making physical experiences safer instead of focusing on virtual experiences. Hence, we are adjusting to the new normal by checking health declaration requirements across geographies, ensuring that accommodations adhere to sanitization standards, helping with complicated trip bookings, and offering travelers with 24/7 on-trip support, including help with cancellations."
2) Business stream pivots based on current assets
The global travel outage resulted in evaporated revenues in solely travel-focused businesses. To extend the runway, startups in travel have to make shifts for cash-generating business streams by re-mapping their assets.
Travelstop felt the punch to the corporate travel market. "We might see only up to 50% of business travel come back within the next 12 months with less intensity, as companies may allow much fewer business trips due to safety concerns," predicted the co-founder.
Having realized the threat to their core playing field, Travelstop is now all-in on its expense management tool, in hopes of catering to SMEs that need to digitize expense management for remote work. "We have pivoted our travel booking to expense management since May and will cross-sell our travel tool when the virus cools down."
Coupled with the opportune funding in mid-2019, the transition will help Travelstop to sustain its operation at least until early 2022, a runway of greater than 20 months.
3) Ecosystem support initiatives
Governments, corporations, and VCs have channeled support into the travel community, but startups themselves have also contributed to benefiting the ecosystem through their own expertise.
Xendit set up a Covid-19 resource hub to share handy tips ranging from understanding macroeconomic outlooks to advising businesses on digitization. As an expert on payment, they launched Donation Link, a new feature that enables charities to collect donations with a click. To support businesses severely impacted by Covid-19, they provided a scheme to ease the financial burden.
4) Targeting new customer segments with the same product
Although Covid-19 has hit the brakes on mass travel, there are still some who need to travel despite its complexity. Startups who can smartly reach them with existing products could even end up acquiring new users with stronger emotional bonding in such special times.
Airalo saw a universal plunge in demand for roaming eSIMs as overseas travel came to a screeching halt. "We have to look for personas who still need connectivity. One group would be seamen who would continue to travel afloat despite travel restrictions. Another group would be travelers stranded in destinations due to sudden cancellations in flights," said Ozdemir.
The startup adopted growth hacking strategies by reaching out to these travelers on social media and offering them free eSIMs.
More strategically, Airalo has also been in talks with Telcos to target local residents instead of only vacationers by selling postpaid eSIM cards in local markets. Airalo truly believes in the consumer's urge for contact-free services in the future even beyond Covid-19, be it in hotels or aircraft.
Conclusion
Agility and adaptiveness are the biggest strengths for startups, which is why it's important for us to closely observe how they behave in such a crisis. The ones that manage to survive and navigate through this period will no doubt give future investors more confidence on the road to recovery in a post-Covid world. These talks provided us with insights that may serve as inspiration for legacy players on how to quickly react to changing environments. Times of crisis have always been a chance for transformation.
---
Special thanks to Golden Gate Ventures and the seven startups – Airalo, Anywhr, Claire, Goquo, Travelstop, Xendit, Zuzu Hospitality – for opening up and agreeing to in-depth interviews with us.