Hello to all you travel providers out here. You might want to pay close attention to what's coming next.
As part of our ongoing research into the Blurred Travel trend, we set out to identify the most attractive travel destinations for remote workers.
These locations are likely to become even more popular in the future given the rapidly blurring lines between the home and office and business and leisure travel.
Blurred Travel's favorite places
With our data partner Skyscanner, we analyzed search and booking behaviors of online travelers to identify the top countries for extended stays of more than 14 days.
Extended stays of at least 14 days are one of the key characteristics of typical Blurred Travel trips.
As a result, this insight provides a good proxy of where people like to "work and play" the most.
Here is an excerpt from our analysis: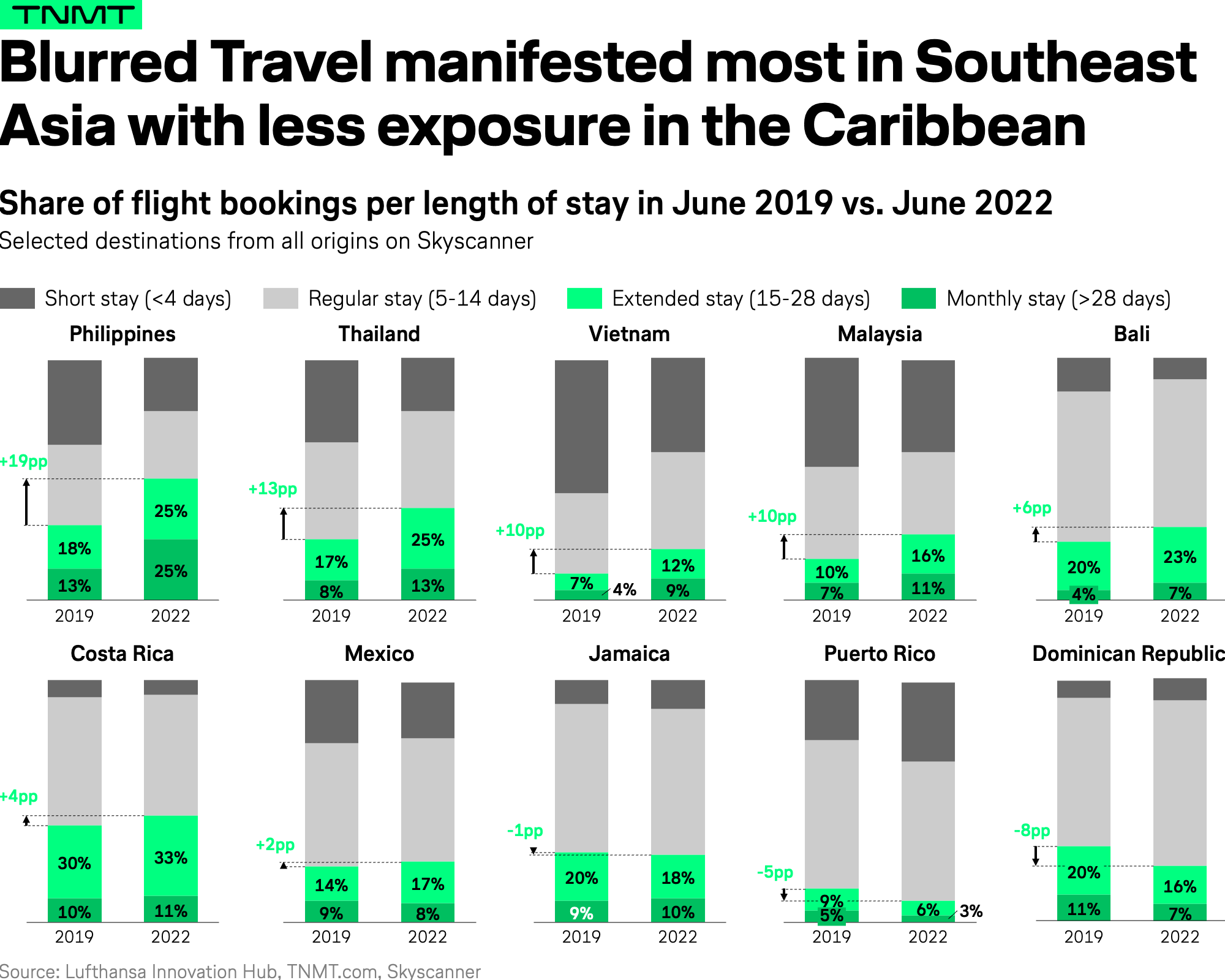 The chart above illustrates three key findings that travel providers, such as airlines, hotel chains, and other travel brands, want to keep top of mind:
1 – Southeast Asia is the place to go
Tropical Southeast Asian countries, such as the Philippines, Vietnam, Thailand, and Malaysia, were the most popular for Blurred Travel trips this past summer.
These destinations showed the strongest uptake in Blurred Travel demand, characterized by trips longer than 14 days, which are colored in green.
Why are these places particularly appealing to digital nomads and remote-office workers?
Well, the destinations in question are welcoming to tourists and expats alike.
These countries have friendly remote-work policies in place, such as flexible visa requirements.
As well, they offer tech infrastructure necessary for productive remote work, such as fast and reliable internet connections as well as tons of available coworking spaces.
With all this in mind, it's no wonder that these countries score among the top destinations for workations on popular travel community-powered websites, such as Nomad List, Holidu, and Kayak.
2 – Costa Rica and Mexico show signs of growth
While not growing as rapidly as their Southeast Asian peers, Mexico and Costa Rica are attractive destinations for digital workers too.
In particular, Costa Rica has established itself as a dream destination for beach-side knowledge workers.
One-third of all trips booked to Costa Rica this past summer lasted for time periods of 28 days or more.
This is unsurprising, given the fact that Costa Rica is widely considered one of the top destinations for work-from-anywhere workers, which is largely thanks to the introduction of its digital nomad visa. 
3 – Caribbean countries are not so popular
Interestingly, most Caribbean countries, despite their tropical warm weather, which is the main feature of destinations popular among digital nomads, and having some of the most beautiful beaches in the world, lack demand for Blurred Travel compared to the other regions.
In places like Jamaica, Puerto Rico, and the Dominican Republic, the share of extended trips actually declined this summer when compared to pre-pandemic times in 2019.
Why is this the case?
Remote workers frequently complain about the lack of important features that enable them to work in a productive manner while enjoying leisure time. For example, with energy and electricity outages commonplace, an event that can negatively impact internet stability, people worry about being unable to work effectively.
Furthermore, many Caribbean countries are considered less safe, which might play a role in their general unpopularity for longer remote-work stays.
Why keep track of Blurred Travel destinations
With all this in mind, travel brands should closely follow the aforementioned trend to ensure that their portfolios are aligned with Blurred Travel destinations.
This is a rapidly growing travel segment offering up new business opportunities. 
Of course, we will keep you in the loop with future analyses like the one above. For this, sign up for our bi-weekly TNMT Newsletter.
In the event that you have not read our full Blurred Travel analysis yet, this is a friendly reminder to do so. Read the full analysis here.