Many companies in Travel and Mobility Tech, ranging from automotive businesses to even airlines, recently announced plans to aggressively reduce their carbon emissions, pledging for a net-zero transportation future in the next 20 to 30 years.
For airlines, reaching this green future will certainly be more challenging, as aviation has no technology solution available to replace fossil fuels in the foreseeable future, especially for long-haul routes. Most experts agree that aviation is one of the most difficult sectors to decarbonize.
In contrast, automotive and other ground-based vehicles can more easily be converted to run on electricity or hydrogen.
Fortunately, the Covid-19 pandemic has acted as a powerful catalyst for sustainable change in the travel and aviation context, as the crisis intensified travelers' sustainability concerns and increased pressure on travel providers and other stakeholders to more radically innovate and go beyond what was long considered impossible.
Startups as the true catalyst for change
What's also promising is that we are witnessing a growing breed of newly-founded and innovative startups focusing on solving the sustainability challenge in the aviation and travel context.
In fact, we are currently seeing two main trends in the startup ecosystem:
New sustainability-focused startups emerging across verticals including in travel and aviation. Many of them have so far focused on CO2 offsetting schemes by planting trees, but more and more are exploring the B2B context with more sophisticated product offerings that have the potential to move the needle even further—by addressing entire corporations for collective change simultaneously instead of reaching out to the individual consumer.
Venture capital investments in CleanTech startups have been skyrocketing, with investors rushing to place bets on green technology providers. Silicon Valley and Wall Street have even established so-called Green Funds, dedicated to supporting startups seeking to decarbonize entire industries—including the travel and transport sectors.
The Sustainability Impact Pyramid
Who are the most promising sustainability startups aiming for a net-zero emissions future?
We took a closer look at this year's sustainability startup landscape after decoding the startup ecosystem for the first time in 2019—see our comprehensive analysis from back then right here.
Based on a conceptual framework, which we dubbed "The Sustainability Impact Pyramid," we scouted and mapped the 30 most promising sustainability-impact startups and structured them along three pillars: (1) Offset, (2) Reduce, and (3) Remove.
Each pillar describes a different level of technical complexity and leverage to combat climate change. The higher up the pyramid, the greater the potential impact on mitigating climate change. The 10 startups on each pillar are individually ranked by venture capital funding raised so far, with the goal of identifying the most promising players based on investor interest.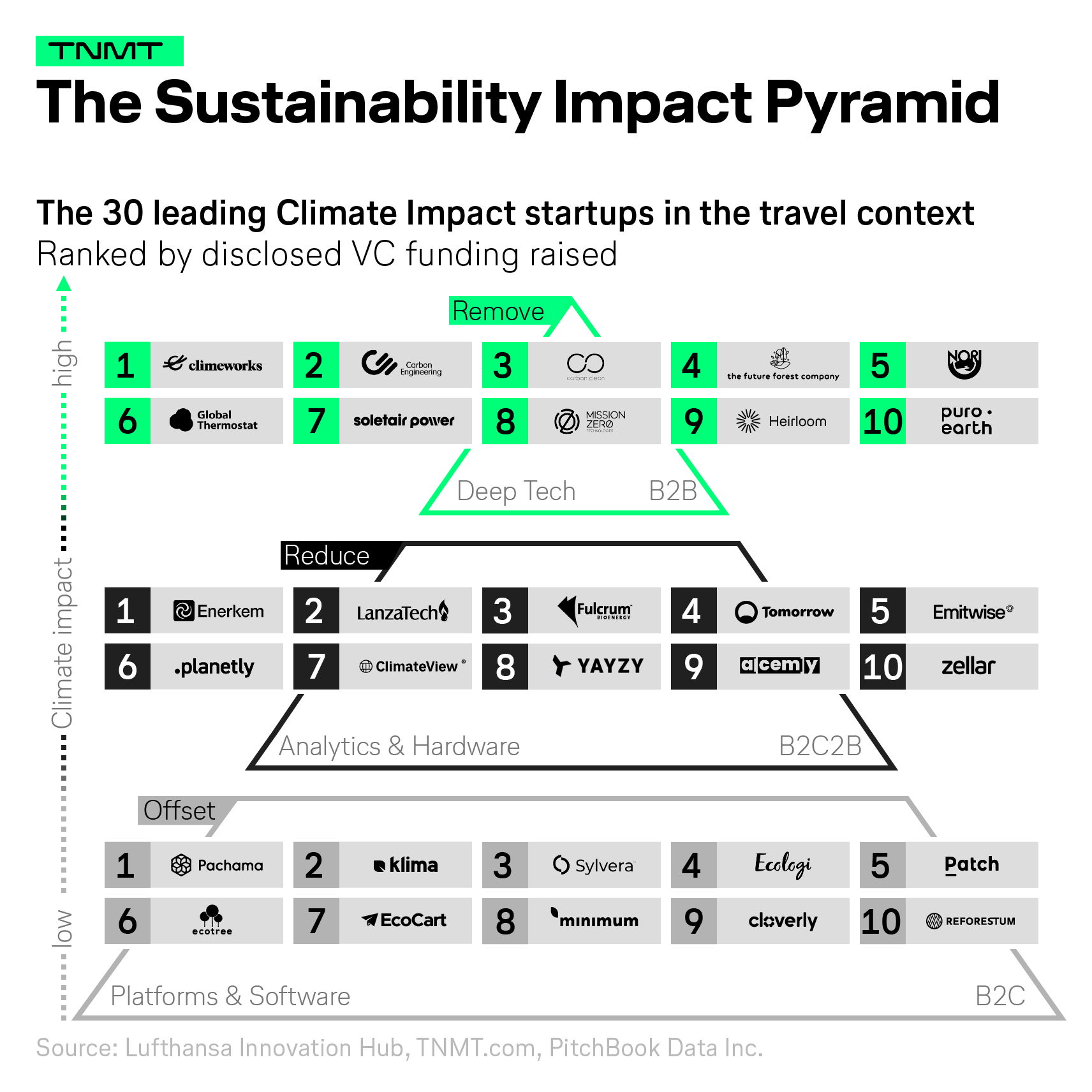 In case, you want to look up some of those companies, this Airtable should be helpful:
To give more context and feature some exemplary startups, here are a couple of additional thoughts for each impact cluster:
Offset
As the category name suggests, startups in this bucket focus on offsetting carbon emissions rather than eliminating them altogether. These companies usually have a very strong B2C focus, targeting the everyday consumer. One interesting example is the startup Klima, which helps customers offset their carbon emissions by calculating their carbon footprint and encouraging them to support science-backed projects, such as contributing to the planting or preservation of carbon dioxide-absorbing trees.
These kinds of carbon offsets do yield environmental benefits, but they are not enough to get us to a net-zero future. Additionally, they do not substantially shift customer behavior toward more sustainable modes of transport choices, since an offsets arrangement is more of a financial transaction to pay off one's guilty conscience.
Nonetheless, the offsetting market has attracted great investor interest, mainly due to the digital product approach, which is generally easily scalable and involves minimal upfront costs and risk to test out—the perfect formula to appeal to many investors' get-rich-quick mindset.
But as we said before, getting to net-zero will require more than offsetting existing carbon emissions. We need new technology alternatives, as well as hardware-driven solutions to reduce and remove CO2 from the atmosphere. And that's where the next two pillars come into play.
Reduce
Startups in this cluster focus on either providing analytical tools to identify and subsequently reduce carbon emissions, or offering hardware products (i.e., biofuel technologies) to immediately reduce carbon emissions within existing systems like engines or turbines.
One example that provides an analytical solution is Planetly. The Berlin-based startup offers businesses a transparent take on their carbon footprint based on all their corporate activities, and then provides solutions on how to reduce emissions (i.e., by recommending more sustainable packaging for product shipments in the case of e-commerce companies).
Another company worth mentioning is Enerkem, which produces clean fuels from waste, and then supplies airlines with biofuels. The use of biofuels, also referenced as SAF, can help lower commercial flights' carbon emissions by up to 80%, compared to conventional fossil-based jet fuel. But ramping up SAF production to enable widespread usage will take years for a slow-moving and expensive process that has only a few producers at this time.
Hence, we also need to look at another alternative, which brings us to the final, most impactful, cluster.
Remove
Players in the remove dimension would be considered by many as deep-tech startups. Operating mostly in classic B2B settings, the goal of these startups is to remove carbon emissions from the air through the use of carbon removal or capturing technology.
All these technology advancements are still in their infancy, but many of them have already attracted the interest of airlines and other Travel and Mobility Tech providers.
For example, United Airlines made a multi-million dollar investment in a company that is licensing direct air capture tech from Carbon Engineering, one of the startups pioneering this field. Their technology is seemingly able to capture more than 1 million tons of carbon dioxide from the air annually, or the equivalent of what 40 million existing trees would be able to capture.
A couple of final thoughts
Players in the Travel and Mobility Tech ecosystem, especially airlines, face huge barriers to becoming net-zero, even in the distant future.
Our startup mapping provides more clarity on which measures and startups might help in mitigating aviation's climate impact. Partnering or investing in these players could be a valuable strategy in driving forward their technologies and offering their services to existing airline customers.
In general, we believe a mix of measures across offsetting, reduction, and removal solutions are necessary to bring us closer to a carbon-free transport future. Hence, even though offsetting yields fewer environmental benefits, we should not abandon it altogether, as it can serve as a good transition option until more effective solutions are developed and widely implemented.
Ultimately, the current development gives us cause for optimism, as seen with the growing number of startups tackling climate change, Venture Capitalists' ambition to provide the necessary financial support, and the rapidly growing tech ecosystem (i.e., universities, governments, VCs, startups, and corporates) addressing climate change.