When Greta Thunberg sailed across the Atlantic on a zero-carbon emissions boat to attend the UN Climate Action Summit this summer, she made a splash in global headlines from Sweden to Japan. Flight shaming. Overtourism. Greener travel. These are just some of the buzzwords that have been circulating the media over the last few months. And for good reason.
At no point in our history have humans traveled so frequently and extensively and in such large numbers. But we're only now becoming aware of the effect we're producing on the environment due to our daily movements. As more and more activists like Thunberg bring attention to the detrimental effect of human-caused climate change, discussions about sustainable travel are becoming an everyday conversation in the tourism and airline industries.
The sustainable-travel hype in numbers
In fact, the number of monthly press stories in international mainstream media outlets discussing airlines in this context has more than doubled in 2019 compared to the historical average over the past four years.
The development is even more dramatic when taking a look at Google Trends. Interest in search terms such as "CO2 compensation" and "Atmosfair" or "MyClimate" (the names of the two major flight-compensation providers) more than quadrupled between August 2018 and August 2019.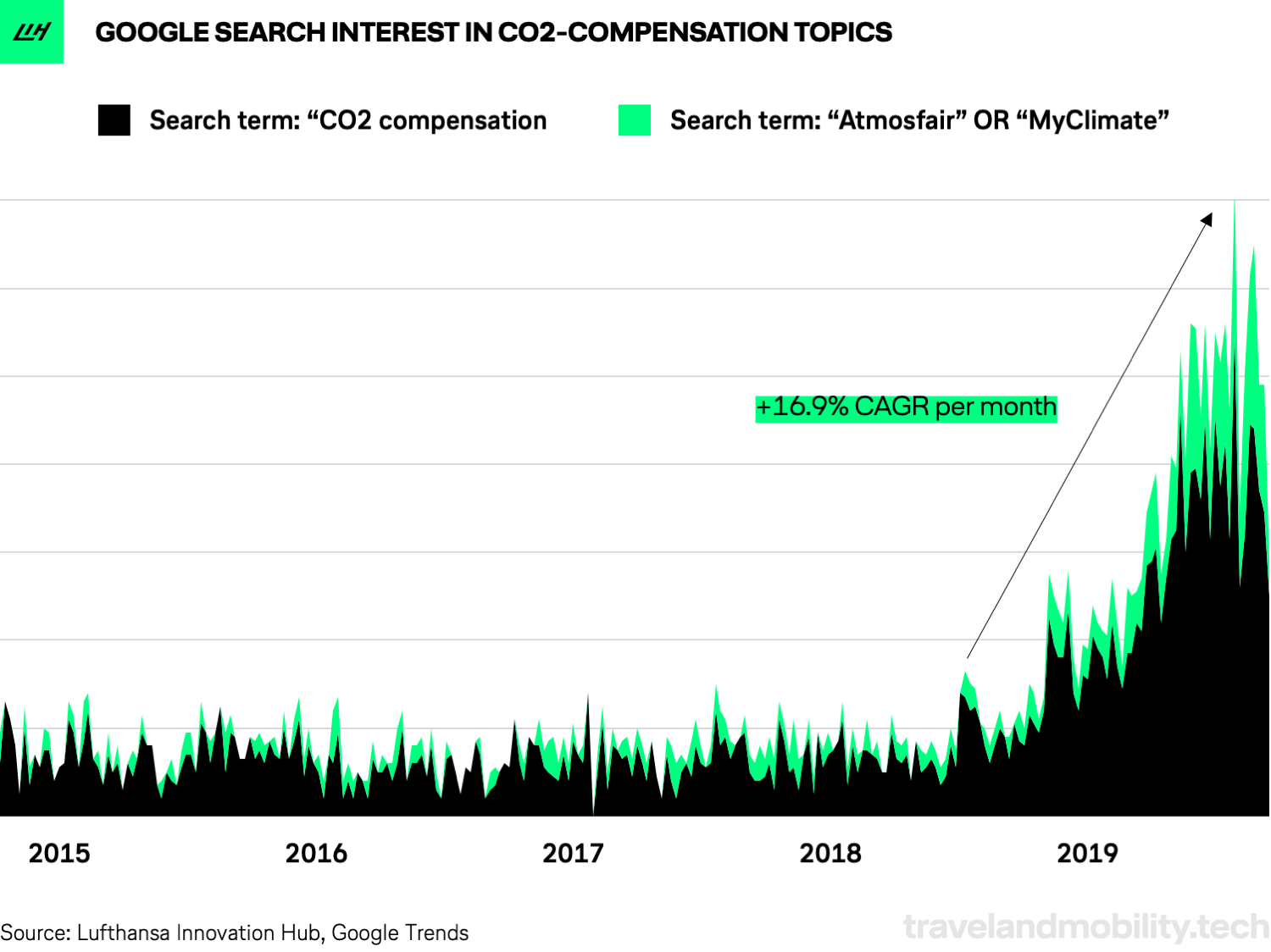 The data reflects an increasing pressure on the travel industry to become more sustainable and environmentally-friendly. Most airlines have sharpened their zero-net emissions targets by now and strengthened research efforts in driving forward biofuel development – one of the most promising ways of curbing CO2 emission.
But who in the startup world is putting in the work?
To answer this question, we went out and cut through the noise. Below is a comprehensive overview of how the startup world is addressing these issues and what kinds of innovations we can expect to see in the future.
In our quest to find startups pioneering the sustainability of Travel & Mobility Tech, we drew inspiration from the Triple Bottom Line concept. The Triple Bottom Line is a framwork used in accounting. But rather than placing emphasis solely on the "bottom line," or profit and loss, it gives equal weight to the environmental and social impact of the company. This concept and its broader definition can be best described with the phrase, "people, planet, and profit."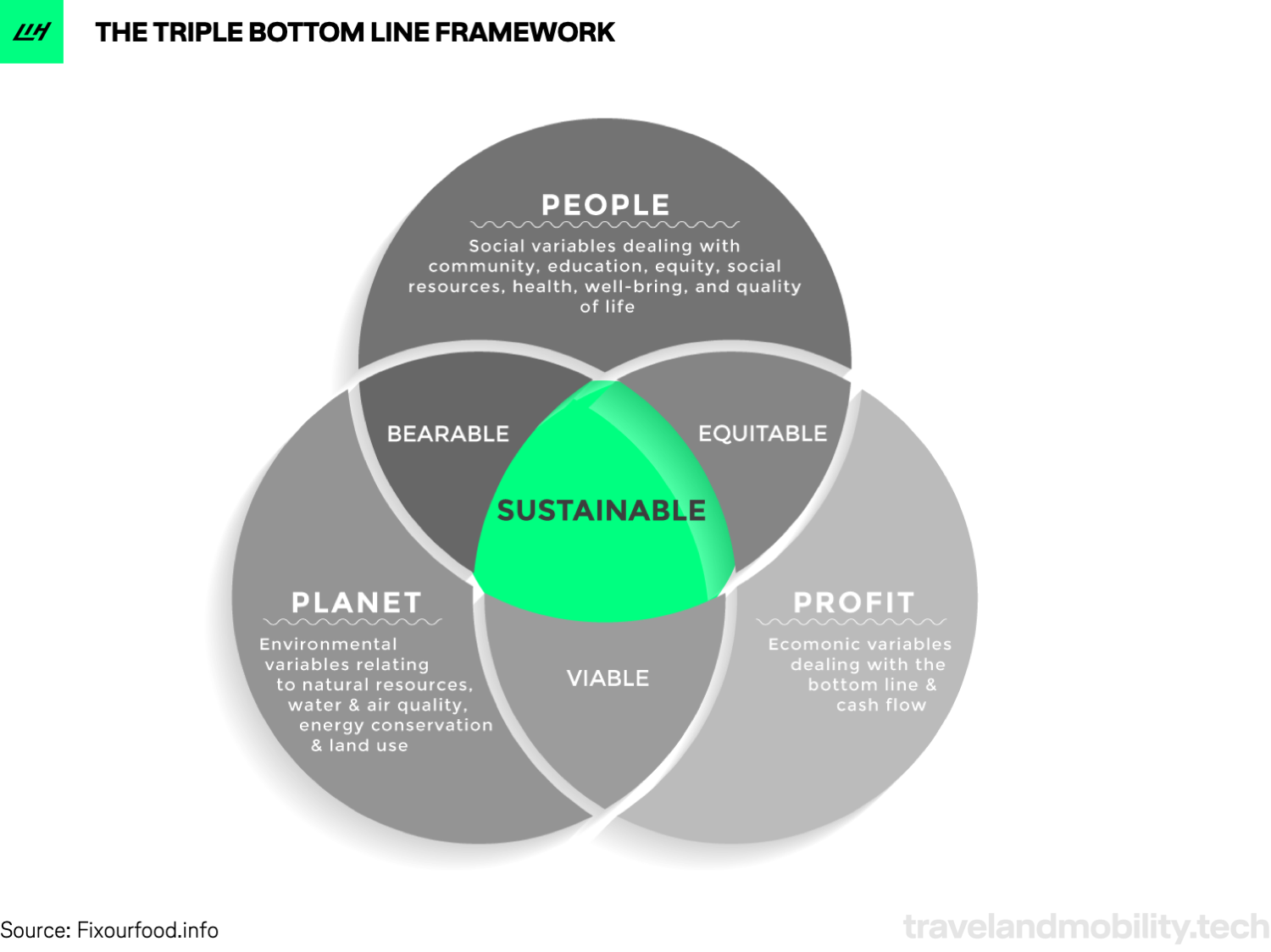 As it's difficult to get insight into how startups – early-stage ones in particular – live up to this ideal via desk research only, we've reached out to many of them and, ultimately, defined a "sustainability startup": any for-profit startup that's focused on either human sustainability or planet sustainability (ideally both).
Based on this definition, here's our map of the 50+ startups transforming the Travel & Mobility Tech ecosystem towards a more sustainable future.


Check out this Airtable for more details on all the startups listed in our mapping.
The category winners
To showcase some of the work these startups are doing in more detail, we have selected one startup from each category and crowned them Sustainability Category Champions in their respective fields. Here are our winners:
Sono Motors (Urban Mobility)
The German electric-car manufacturer founded in 2016 has released its first solar electric car, which features solar panels discreetly built into the car reaching up to 34 km of additional range that can be generated from solar energy each day.
Openairlines (Long-Distance Travel)
Since 2006, Toulouse-based OpenAirlines has been working on reducing fuel consumption for airlines. By using big data from flight recorders to optimize flight paths, they are able to reduce fuel consumption in planes by 2-5%.
Bookdifferent (Accommodation)
Founded in 2012 and headquartered in the Netherlands, Bookdifferent offers a wide range of certified sustainable accommodations all over the world. Through strict partnerships with ecolabels and the calculation of each accommodation's ecological footprint, they have standardised and simplified the booking of sustainable housing.

Much Better Adventures (Experiences)
Since being founded in 2012, London-based Much Better Adventures has focused on quality over quantity for their adventures. With regard to sustainability, they use a three-pronged approach: putting 5% of revenues towards conservation efforts, supporting local communities and offsetting 4x the carbon footprint emitted by their customers.
On top of scouting the most relevant players in the sustainability arena of Travel & Mobility Tech, we looked at the major underlying trends and patterns characterizing the startups on our mapping. Several takeaways stand out:
Funding is scarce and a major challenge
While it's not obvious on the map, the clearest trend we observed is a general lack of VC funding for ventures in the sustainability-focused Travel & Mobility Tech sector. Half of the startups featured on our map are unfunded. Those that are funded have raised less than $1 million in Venture Capital on average. These numbers are negligible in comparison to the size of deals we currently see in Travel & Mobility Tech (see our trend report on the State of Travel & Mobility Tech).
However, we expect funding dynamics to increase significantly in the future, as sustainable travel is still very much a nascent industry. With both travelers and regulations pushing companies ever further towards a greener business approach, funding will soon follow to meet the demand.
Blitzscaling is not an option
By all measures, the travel sustainability sector is expected to undergo huge growth over the next few years. Over half of global travelers (55%) report being more determined to make sustainable travel choices than they were a year ago, according to Booking's latest annual sustainable travel report. Travel media house Skift projects that green business practices "will be the next major competitive advantage for brands selling to consumers and business travelers alike."
This means the startups on our map are in a unique position to leverage their first-mover advantages. Why? Because blitzscaling – the set of techniques used to scale companies at a dizzying pace with the goal of blowing competitors out of the water – isn't an option. Growing sustainably at scale while avoiding greenwashing is incredibly difficult, which means that the growth required to reach scale will have to be at a much slower pace.
A prominent example of this is Patagonia's controlled growth strategy, which commits the clothing and gear company to growing sustainably at 3-4% each year rather than pushing for higher expansion. By growing their company with the mindset of still being around in a hundred years and focusing on making sustainable products rather than solely looking at profits, Patagonia can take more time to properly evaluate the environmental impact of their products and actions. This also helps them avoid the common pitfalls that often lead to greenwashing, such as putting more resources into green marketing than green products.
The shift from B2C to B2B
A large share of the startups on our sustainability map focuses on the B2C booking realm (especially in long-distance travel and accomodation). This makes sense. At a time when there isn't much funding available for such ventures, startups are much more likely to succeed when they are asset-light and don't require significant and expensive sales efforts (in comparison to B2B).
However, in conversations with startups and stakeholders, we often hear about the difficulty in addressing the huge value-action gap surrounding sustainability. Nowadays, everyone demands sustainability in some form or another. But people are overwhelmingly unwilling to pay a premium on sustainable products and services. For instance, it's assumed that less than 1% of air travelers use the CO2-offsetting mechanism offered by airlines and third-party providers even though the costs rarely exceed 10 USD for most short-haul travel routes.
In theory, businesses have a responsibility to act sustainably, but there's just very little incentive to do so if customers don't put their money where their mouths are. Because of this, we're seeing a second wave of sustainability startups that focus on catering to businesses rather than customers. Many who have previously sold directly to customers have also pivoted to a B2B business model.
This makes sense for several reasons. One is that businesses have a higher incentive to "walk the talk" on sustainability, as they're much more accountable for their actions than an individual consumer. Additionally, they're facing increasing pressure from regulators and the public to present themselves more sustainably. As a result, they have a higher willingness to pay this premium in comparison to individual consumers.
This isn't inherently a bad thing. Rather than trying to convince everyone to travel more sustainably and fight the uphill battle of addressing the value-action gap, B2B ventures can focus on the 12% of airline travelers that generate 60% of revenues: business travelers. In a world where the global aviation industry produces around 2-3% of all human generated CO2 emissions, this is a more effective way to mitigate emissions.
The sustainability trend is targeting urban mobility
Overall, urban mobility is the segment with the most VC funding on our map with 63% of total funding. Most of the money goes to startups aiming to reinvent the car.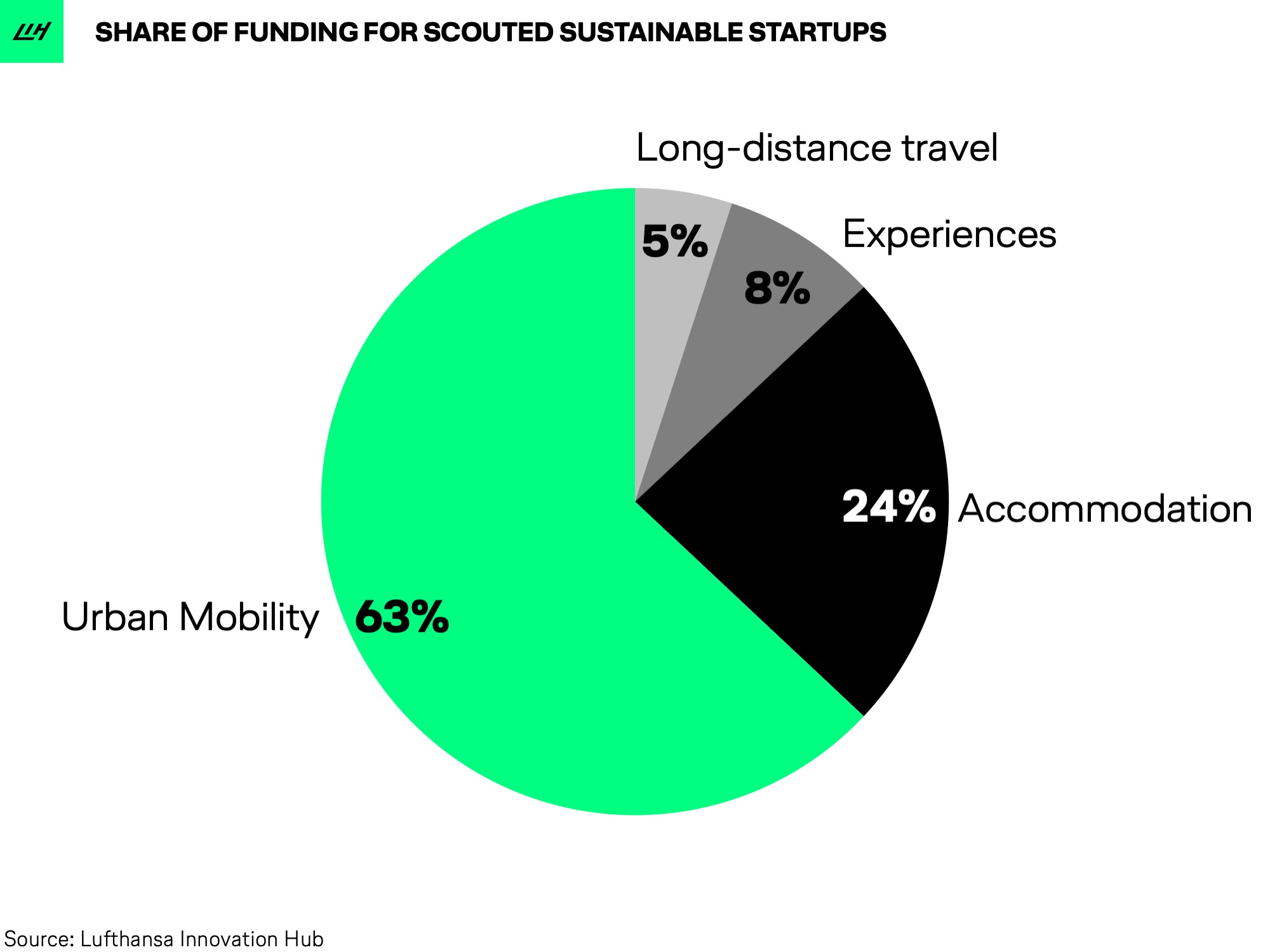 This shows quite clearly how significant the car still is in today's day and age, not only in terms of utility and as a status symbol, but also when looking at emissions generated from its use. The European Parliament estimates that passenger cars are responsible for roughly 13% of the EU's total CO2 emissions.
In this context, it's very encouraging to see the progress that electric vehicles (EV) have made in the last few years. But electric vehicles aren't the holy grail, at least not in their current form. Their sustainability still faces critique regarding the manufacturing process of lithium ion batteries, as well as the fact that an EV running on electricity generated from fossil fuels isn't exactly green.
This is why we're excited to see the beginning of the second iteration of the EV, with startups working on ensuring that the energy powering their vehicles is generated sustainably. While this can technically be achieved by charging a current EV with energy from a sustainable power source, we continue to see innovation in this area, such as Lightyear and Sono Motor's approach of fitting the car with solar panels, or Riversimple working on developing their hydrogen-powered car.
Final thoughts
At this point, you might be wondering why you don't see any pure EV or e-scooter startups on our map. During our research, we looked for startups that break from the mold of their industry and focus on making sustainability a key component of their product offering. While scooters and EVs often talk about the sustainability of their products and certain aspects are definitely true, we decided not to include them as there's also a lot of valid criticism regarding their actual environmental impact.
In any case, we are truly inspired by these ongoing innovations and excited to see what's still to come. If you're working on a startup that focuses on sustainability in the Travel & Mobility Tech sector, or know someone who is, let us know below!