All signs point to ecological renovation being integral to the 2020s. The next decade is poised for unprecedented sustainability initiatives—including in the context of travel.
The reasons for this are fairly straightforward: For one, travelers were already questioning conventional travel practices before the COVID-19 pandemic. Many believe that what began as "flightshaming" in 2019—the notion of shaming people for their carbon footprint when they engage in air travel—will regain traction as soon as international flights pick up again.
In the wake of the public health crisis, the resurgence of transportation and air travel will remain the center of attention where environmental pressures are concerned.
Is sustainability a relevant hype in the travel sector?
The answer is a resounding yes, given the fact that the global transport sector accounts for 25% of all CO2 emissions—with aviation alone contributing to approximately 2.5% of the total CO2 output.
This is indicative of the fact that sustainability is more than just a superficial trend. Rather, it is changing travelers' attitudes altogether, encouraging them to make more eco-conscious decisions in general. This has already made a significant impact on factors such as trip distance, duration, and the value perception of the participants in the marketplace. For example, many online travel agencies and meta-searchers have developed "environmental friendliness" filters to emphasize their commitment to sustainability, and accommodate the needs of consumers who rely on their services.
More generally speaking, the growing emphasis on sustainability has become abundantly clear. In recent years, political and regulatory programs, competitors' activities, and investor interest have put more pressure on holistic sustainability narratives—across all industries, it stands to be said.
As such, it is now high time for travel providers such as airlines to place sustainability at the top of their strategic agendas. Looking past the pandemic, it is paramount that they push for radical innovation over incremental improvements, slashing their carbon emissions by going beyond conventional means of reducing emissions. Alternative fuels like hydrogen, and electrification, can make a real impact—but those digital aspects that remain largely untouched in the travel sector are arguably even more important, because they are easier to fix. For example, industry leaders ought to consider the immediate benefits of initiatives such as CO2 calculation and compensation across the entire travel chain.
Stakeholders must consider sustainability beyond greenwashing
When it comes to driving sustainability, one must examine the best way forward from a commercial standpoint. To come to an appropriate conclusion, decision-makers need to accept the commercial impact of prioritizing sustainability—a process that begins by looking beyond the alleged appeal of greenwashing or PR and marketing, and instead examining the true impact of long-term sustainability initiatives in the travel sector.
In short, airlines and other travel providers must make well-researched decisions outside of marketing in order to boost their overall top-line business impact. Those who neglect to do this will almost certainly be penalized by both consumers and investors in the years that follow.
And so, for industry professionals and decision-makers who are not yet convinced of the commercial relevance of sustainable travel, let's examine some data.
5 pieces of data supporting the commercial relevance of prioritizing sustainable travel
We will start by exploring consumers' needs, experiences, and expectations (facts 1 to 3), before moving on to investors (facts 4 and 5).
Fact #1: The pandemic intensified travelers' sustainability concerns.
Since COVID-19 took the world by storm in 2020, one thing has become increasingly clear: The pandemic brought to light travelers' sustainability concerns, which have since intensified.
A recent BCG survey of more than 3,000 people across eight countries has found that as the pandemic comes to an end, people are now more (rather than less) concerned about addressing the environmental challenges they face. To summarize, people are revealing they are more committed to changing their behavior in the name of advancing sustainability.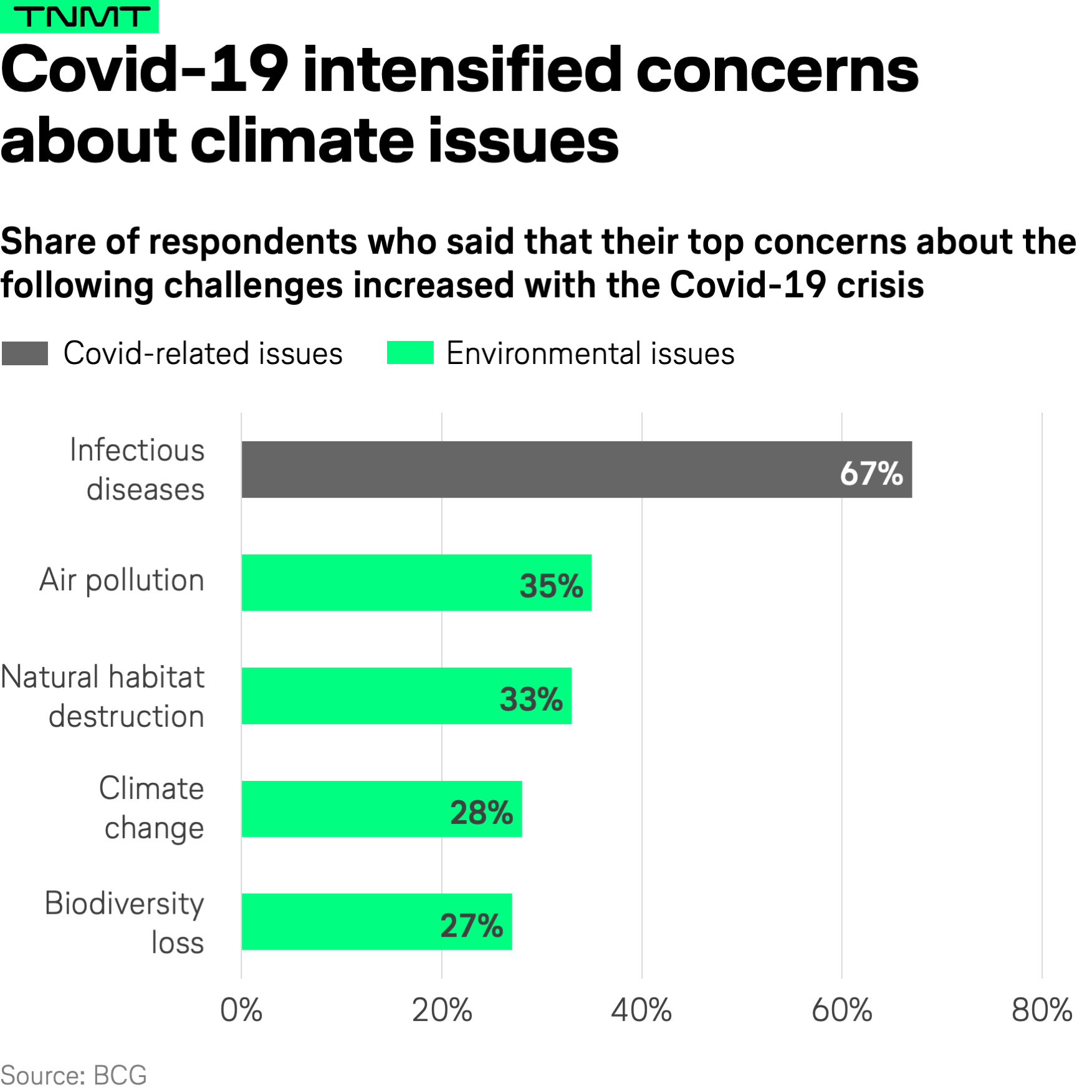 The data is nothing short of remarkable. 70% of survey participants said they became more aware than they were before COVID-19 of the fact that human activity threatens the climate—and that conversely, environmental degradation threatens humans. Simultaneously, 87% of respondents claimed to believe private companies should integrate "a lot or somewhat more" environmental considerations into their products and services.
At the same time, respondents expressed a willingness to change their own travel behaviors to reduce their environmental impact. The BCG survey revealed that more than 26% of people would choose to travel locally more frequently now than they would have before the public health crisis, while over 27% of participants stated they actively want to change their transportation habits to more sustainable modes compared to those they relied on pre-pandemic.
If the above sustainability concerns weren't enough to convince travel executives, additional research further confirms consumers' commitment to long-term sustainability in the travel sector.
Booking.com's Future of Travel Report found that 28,000 travelers across 28 countries experienced an "impact awakening" during COVID-19, and that these individuals hope to lessen their environmental impact in the future. Specifically, travelers plan to achieve this by turning to online travel booking sites, where they can depend on clear signposting to determine whether an option or feature is sustainable. 69% of these respondents expect the travel industry to offer more sustainable travel options in the near future. ABTA's Travel Trends Report, meanwhile, reveals that 35% of consumers would choose a more sustainable company over another provider.
The data shows that consumers are prioritizing sustainability in their travel planning and overall decision-making. Research from 2020 into early 2021 has found that the COVID-19 pandemic has only increased people's focus on green travel.
Fact #2: Travelers are willing to pay more for sustainable travel options.
Historically, most travelers have been unwilling to pay a premium in order to reduce their carbon footprint while traveling. In a 2019 research experiment, we found that only 1% of travelers actually offset their flights' carbon emissions when given the chance to do so. Accordingly, it's no wonder that so many airline managers have turned to this exact argument in order to avoid introducing more sustainable, cleaner air travel options to consumers (i.e., via carbon offsetting or SAF-infused flights).
These leaders argue that price and price alone determines customers' travel provider decisions. As a result, these providers believe that raising the price to include a carbon footprint-offsetting contribution would lead to a competitive disadvantage. And while this may have been true in the past, recent research conducted by McKinsey shows that a paradigm shift has taken place. Today, travelers are increasingly willing to actually pay more to reduce their flights' carbon footprint, especially since the onset of the pandemic.
Specifically, the researchers have found that 80% of travelers are willing to pay more than an additional 2 USD per flight for environmental reasons, and that about 50% of travelers are willing to pay upwards of 20 USD on a given flight route to offset their carbon footprint. Younger airline customers, in turn, are even more concerned about climate change, with McKinsey researchers revealing that these individuals have expressed an even greater willingness to lower the carbon impact of their travels.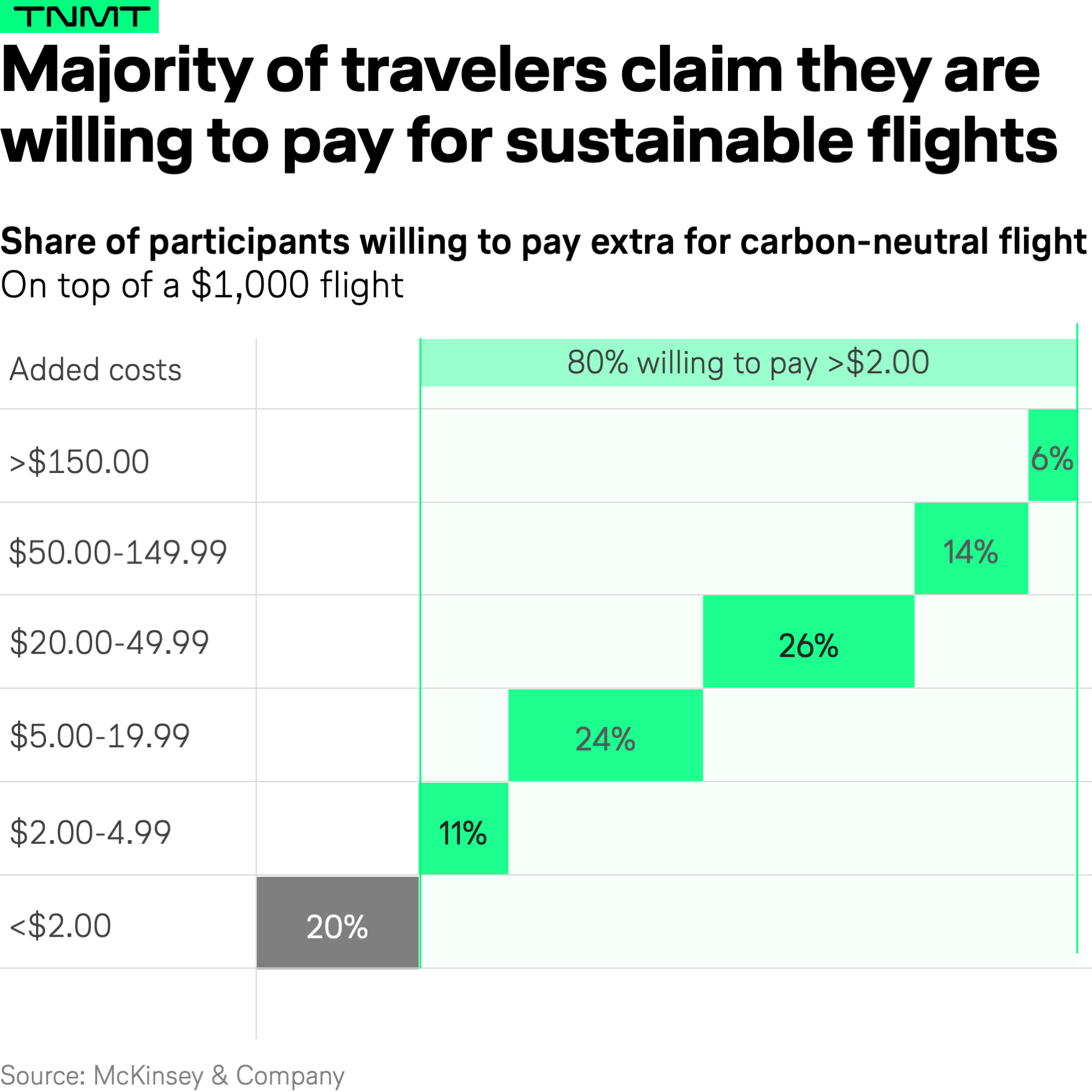 Consumers are, based on the above findings, willing to pay more for a greater emphasis on sustainability. In the corporate travel context, their willingness to pay is even higher—as found in research conducted by SAP Concur. Our own research supports these findings as well, revealing that on average, corporate users will pay an extra 42 USD on top of an average ticket price to prioritize sustainability—which translates to about a 16-20% premium on the average plane ticket. Similarly, in our very own Lufthansa Innovation Hub offsetting platform Compensaid, users flying with premium airlines spent an average of 45€ more to offset their carbon emissions.
Third-party surveys carried out by various credible institutions support this. Research from Technology in Society, for instance, found that air travelers are willing to spend up to 15% more on flights with the guarantee of significant carbon emission offsets. This too displays a small but growing flexibility in the way consumers approach sustainable travel.
For providers who are curious about what this means for the future of sustainable travel, it might be worth exploring what is taking place in other sectors. To this end, the retail, food and beverage, and manufacturing industries also prove how sustainable products are being rewarded by consumers.
Harvard Business Review, for example, found that U.S. retail products authentically marketed as "sustainable" grow 5.6 times faster than their conventional, not-necessarily-sustainable counterparts. And in more than 90% of consumer packaged goods categories specifically, sustainability-marketed products experienced faster growth.
Furthermore, the same research found that products with a sustainability claim on their packaging accounted for 16.6% of the entire U.S. consumer packaged goods market in 2018 (up from 14.3% in 2013), delivering nearly $114 billion in sales (up 29% from 2013).
Fact #3: Sustainable travel products drive loyalty.
Consumer loyalty programs have long proliferated in the travel industry as a powerful hook to compete for new customers and seek to retain existing audiences in an increasingly-competitive global environment. The airline industry in particular has the most experience developing these programs.
But what the majority of airlines have not yet realized is that offering more sustainable travel options not only impacts travelers' preferred provider decisions, but also plays a substantially longer-term role.
Overall travel brand loyalty will increase as a result of the provider in question offering sustainable travel products to consumers.
And now, the research to back these findings up: According to Capgemini, green offerings have all but taken over across industries, with 77% of organizations claiming their approach to sustainability has increased customer loyalty—and 63% of companies experiencing an uptick in revenue. The same report found that while only 36% of organizations believe consumers are willing to change their preferences and purchasing behavior based on social or environmental impact, 72% of consumers make this claim. As a result, it is imperative for brands to reevaluate their focus on sustainability, with the goal of determining whether it is truly adequate.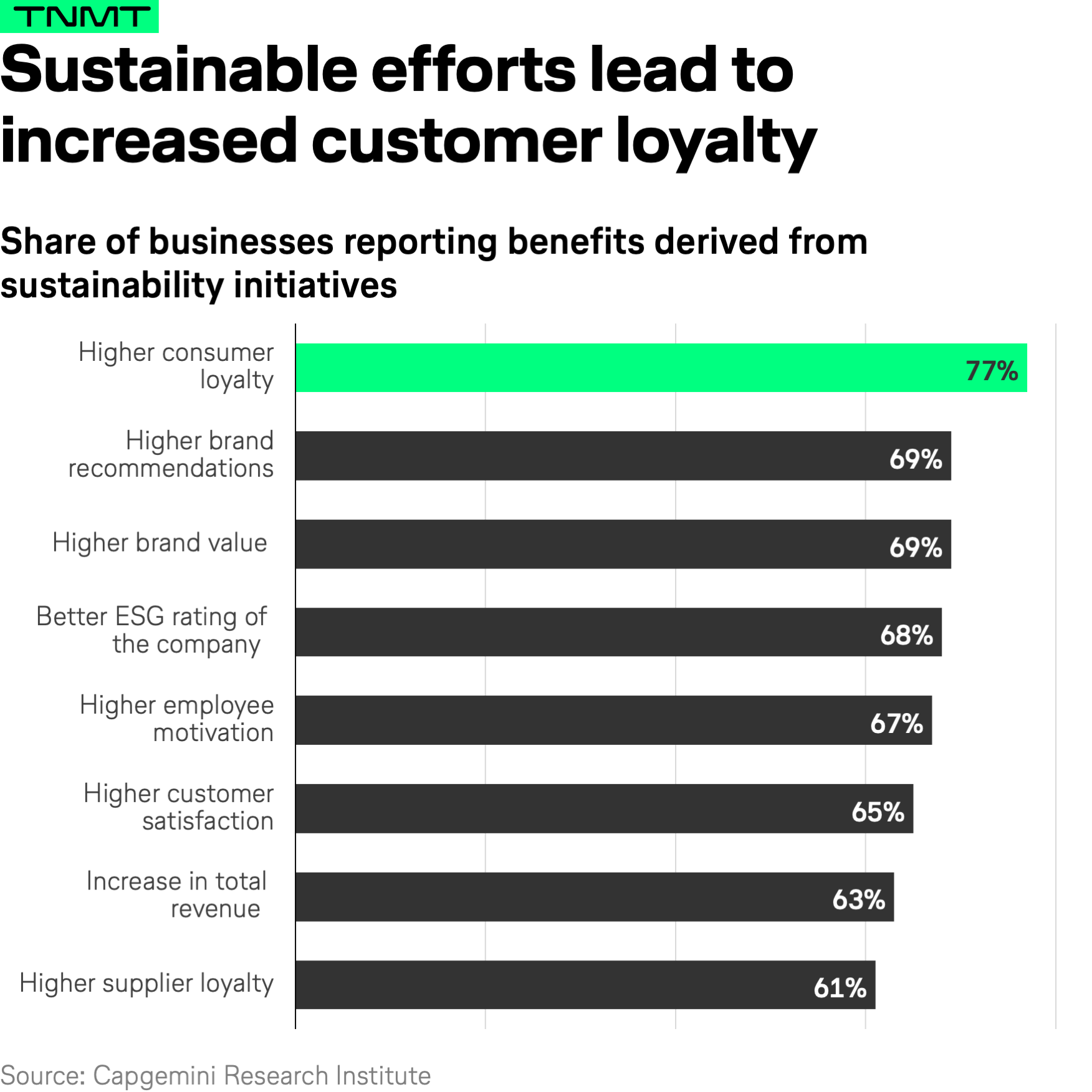 If this is indicative of anything, it's that the stakes are high for travel providers. According to a 2020 CustomerThink survey, consumers are most likely to return to a brand due to the quality of the product in question—but sustainable business practices come in at a close second. In fact, 68% of consumers say they're more motivated to remain loyal to a brand when they know that they share the same values.
Consequently, those who neglect to prioritize sustainability in their offerings will quickly lose valuable customers. People have proven themselves willing to switch brands or providers in response to sustainability shortcomings, making authentic green practices now more important than ever.
So much for growing sustainability concerns on the consumer front. But how about the capital markets? It turns out that also investors will reward the most sustainable actors in the travel space.
Fact #4: Sustainability practices positively correlate with financial performance.
While most travel providers only consider higher costs related to sustainability initiatives when evaluating their financial performance, some have realized how capital markets have begun to reward those companies that drive forward environmental, social, and corporate governance (ESG) initiatives. It's worth noting, in this way, that the investor dimension is equally willing to punish climate laggards—while praising those who go above and beyond in their sustainability practices.
And now, the data: According to IATA, the prevalence of climate issues during European airline earnings calls has increased by 400% since 2017.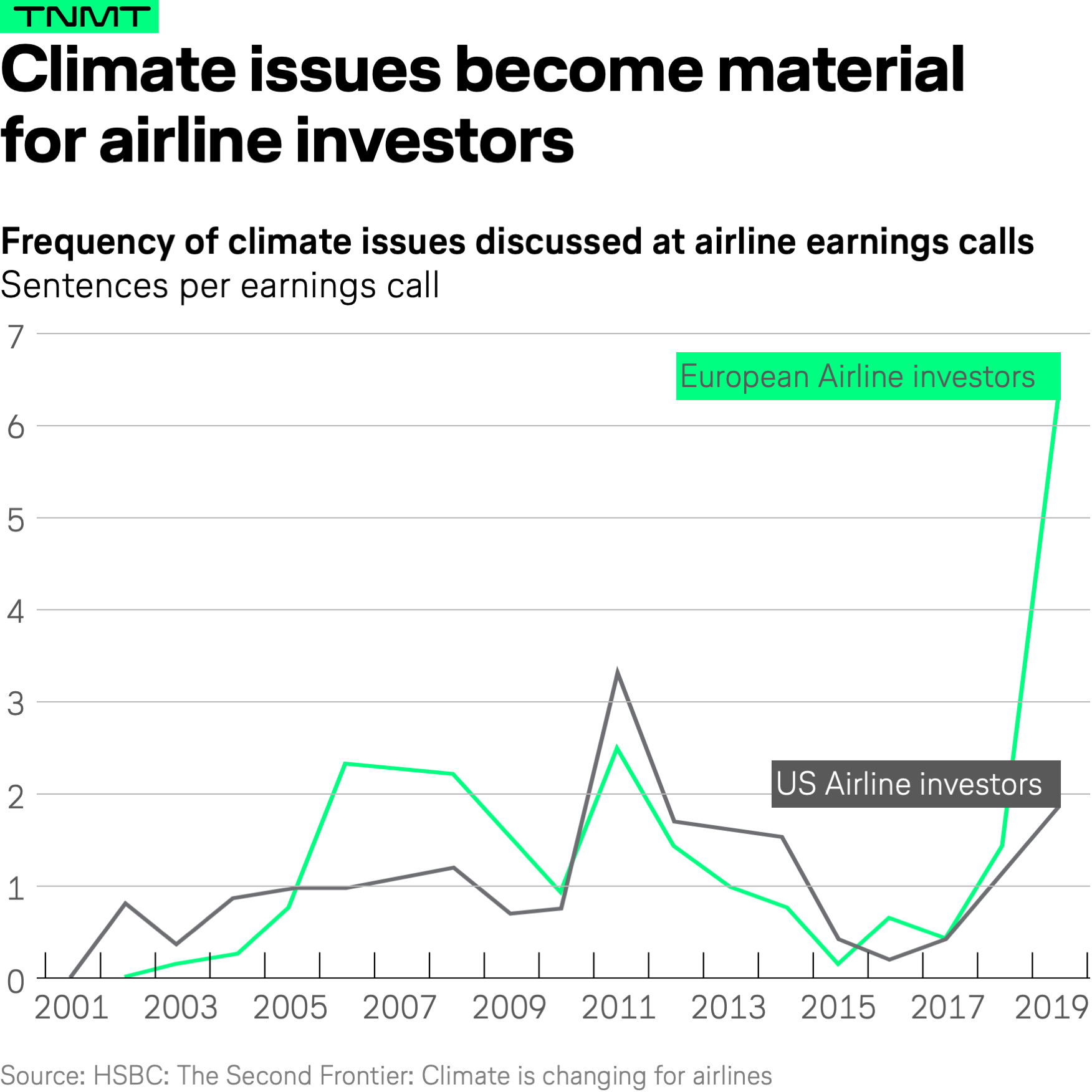 ESG has long been debated, with many arguing that companies and investors should stick to managing stock prices—stating that ESG is, at best, a distraction from the real business of making money. But recent research from New York Stern demonstrates consistent positive correlations between ESG and corporate financial performance in the last five years. Experts found a positive relationship between ESG and financial performance for 58% of the "corporate" studies focused on operational metrics such as ROE, ROA, and stock price—with 13% showing neutral impact, 21% displaying mixed results (or a combination of positive, neutral, and negative results), and only 8% showing a negative relationship.
Here are some of the highlights from the study:
First, it's important to note that improved financial performance due to ESG becomes more noticeable over longer periods of time.
ESG investing seems to provide downside protection—especially during social or economic crises.
Corporate sustainability initiatives appear to drive better financial performance due to mediating factors such as greater risk management and innovation.
While ESG disclosure does not on its own drive financial performance, experts believe managing for a low-carbon future can improve economic outcomes.
There is no reason to believe that this correlation will not hold true for travel providers and airlines as well.
In fact, a recent McKinsey report identifies the travel and transport sector as the vertical with the second-highest expectation in terms of generating business value from sustainability programs in the next five years.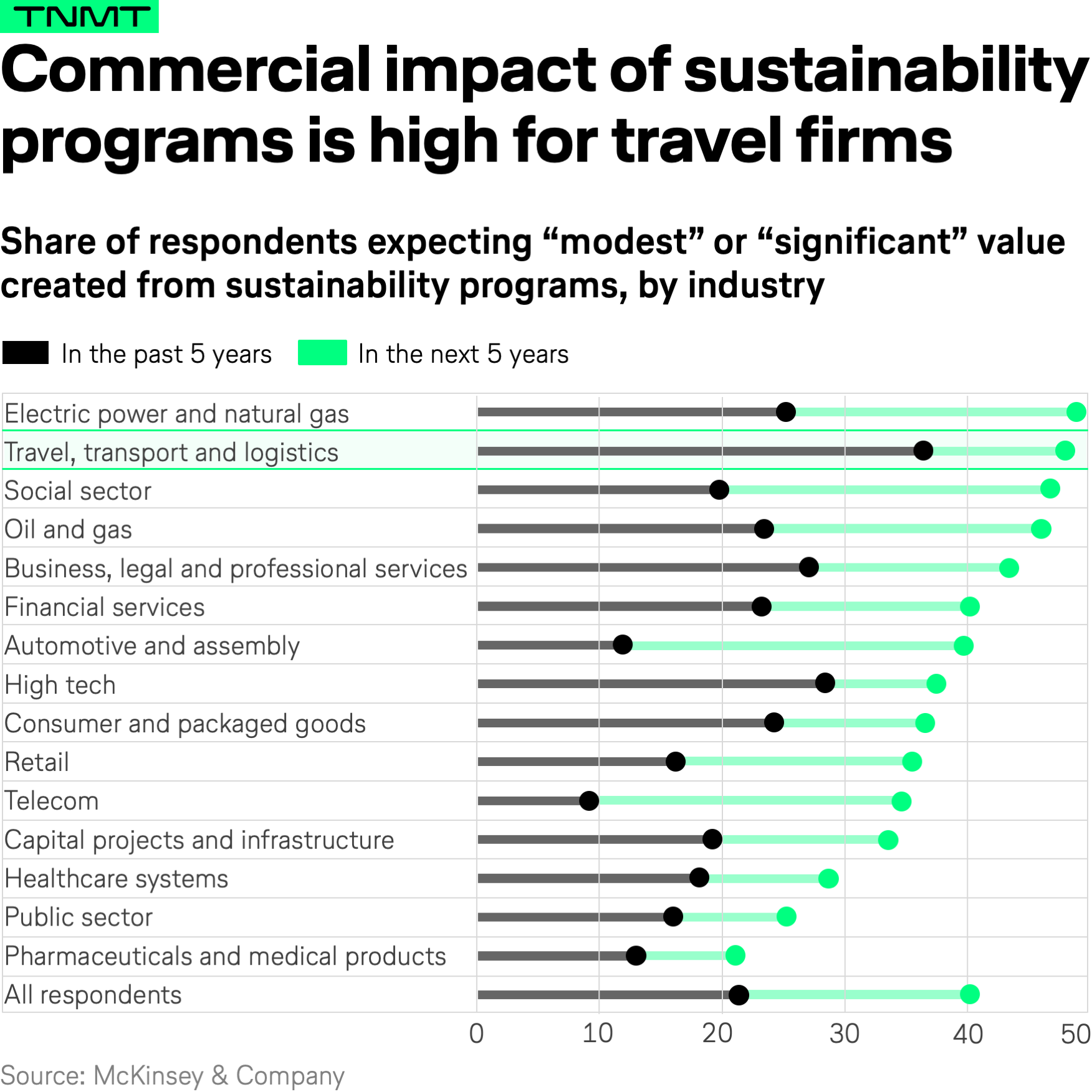 Therefore, decision-makers should have an intrinsic financial motivation to innovate for sustainability and more general ESG practices, with the goal of satisfying shareholders and capital markets. With the correct approach, both parties can benefit from this increased emphasis on sustainability.
Fact #5: Sustainability practices are crucial where future fundraising is concerned.
Closely related to the correlation between ESG practices and financial performance, investors are increasingly rewarding companies' ESG investments when raising capital—both in the public sector and in private markets.
This means that where travel provider fundraising is concerned, sustainability practices are critical, as providers must truly captivate investor interest in order to secure funding. This makes understanding investor needs essential, with Blackrock insights into the public stock market revealing that:
Investors representing 25 trillion USD in assets plan to double their ESG assets in five years.
Climate-related risks are the top sustainability portfolio concern for 88% of investor respondents.
Concerns involving the quality of sustainable data are the biggest barrier to ESG adoption.
Data from private Venture Capital markets reveals similar trends.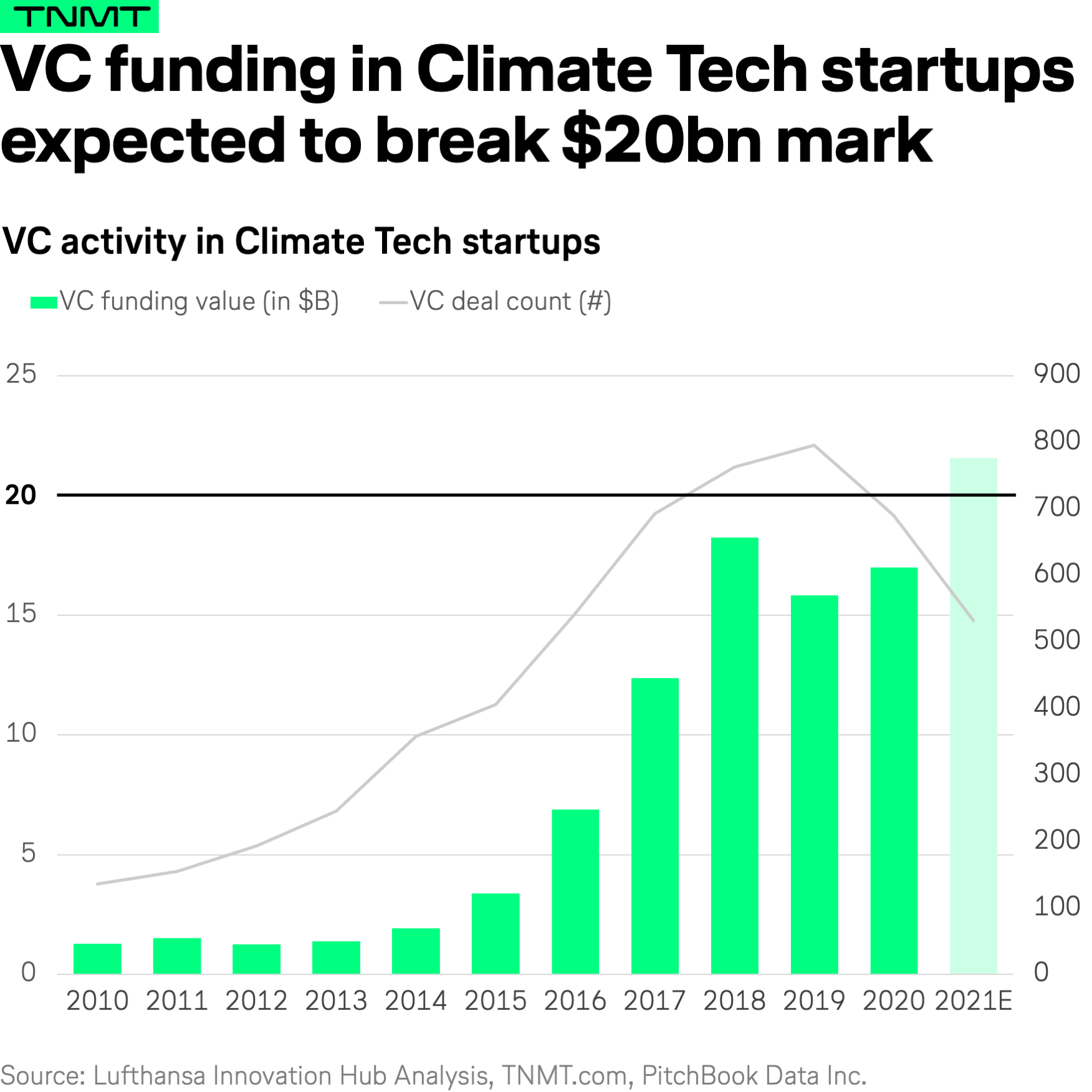 Investment in climate tech startups has grown at almost five times the rate of the overall global venture capital market, with similar growth seen in numbers of deals. There was more than ten-fold growth in investment between just 2013 and 2018—though 2019 experienced a small drop-off, concomitant with wider VC investment trends. Further growth is slated to follow as PwC writes that "even as the COVID-19 pandemic holds society's attention, the pressing challenge of climate change remains."
To this end, both investors and consumers remain highly-focused on the future of sustainable travel innovation. The general public is watching, and travel providers must do their due diligence to remain competitive and authentic in their commitment to environmental sustainability.
The commercial impact of sustainable travel—what is the way forward?
Across all industries, the commercial impact of sustainability runs deep. When it comes to travel, however, there's an inherent problem: Most providers only consider the cost of sustainability in direct reference to their immediate financial performance, without acknowledging that consumers and investors reward green-minded carriers. Yet ESG initiatives are arguably more critical now than ever (not to mention associated with higher long-term financial performance), cementing the notions that airlines would be remiss not to focus on cutting-edge sustainability measures when developing their strategic agendas.
In conclusion, as the COVID-19 pandemic enters what seems to be its final stage, consumers are focusing extensively on the future of travel—making decisions based on what's best for the planet more than ever before.
To address this, travel, mobility, and aviation industry leaders must closely examine the commercial impact of prioritizing sustainability, while assessing the benefits of long-term green initiatives and overall emission reduction. One thing remains certain during this time: As we await the return of widespread transportation and air travel, we must work to build a better future in terms of relieving environmental pressures and offsetting our collective carbon footprint.