The rise of the city is unavoidable: by 2050, 68% of the world's population will be living in cities according to UN projections. As people around the globe increasingly reside in urban areas, transportation becomes all about how to travel within a city and, as importantly, how to travel between cities.
This article is a short glimpse at the current intercity transport landscape in Germany, focusing on the rise of an unconventional bus monopoly. By analyzing website traffic flows, we assess the extent to which intercity transport incumbents are being disrupted by new tech-savvy mobility players such as FlixBus (long-distance bus company) and BlaBlaCar (carpooling).
Driving on the bus lane
Since 2013 the number of long-distance bus travelers in Germany has soared by more than 20 million — a 720% increase.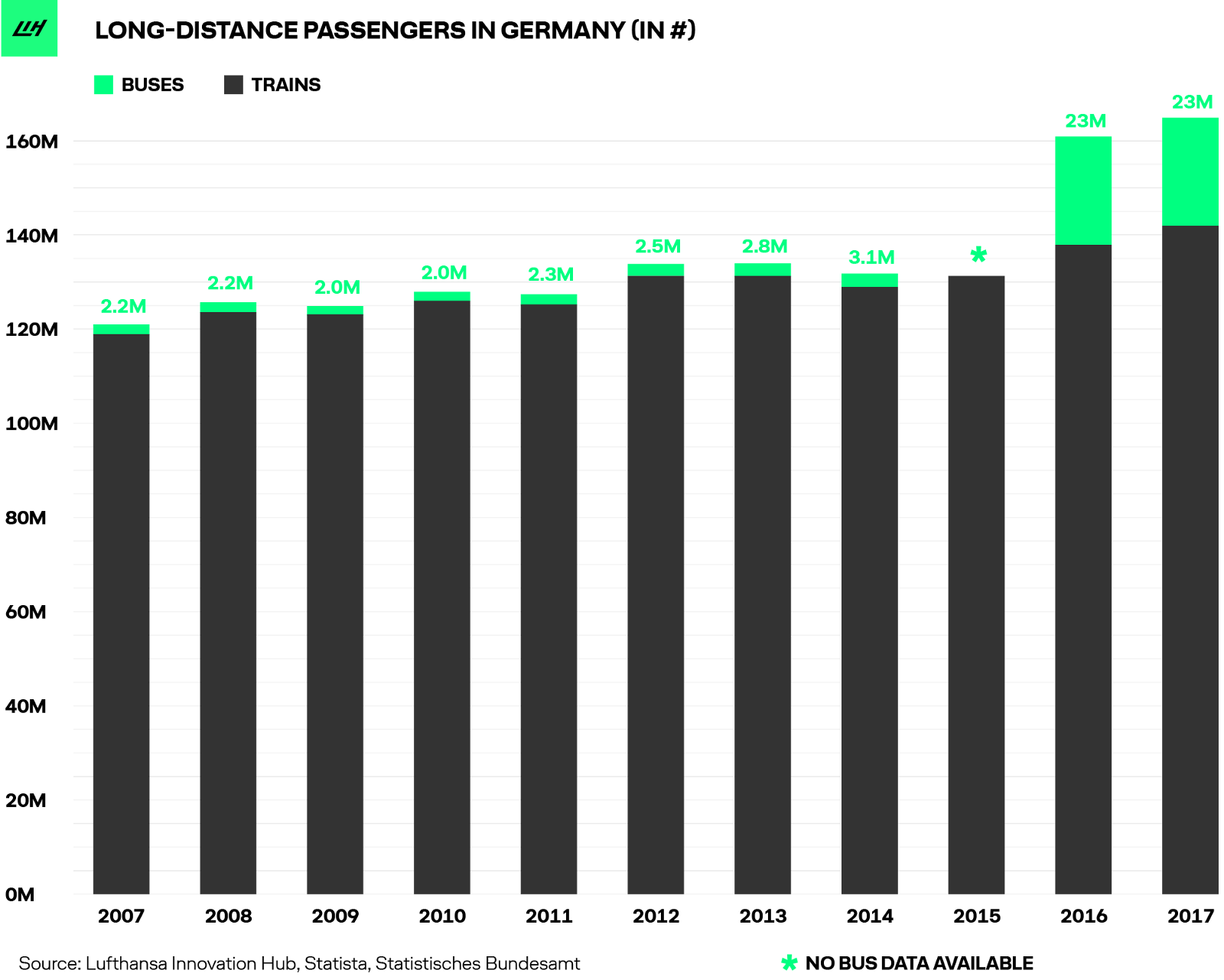 This dramatic rise was driven by the liberalization of the German bus market in 2013, resulting in the emergence of the intercity bus segment largely popularized by FlixBus (the company is officially called FlixMobility), which offers a lower-cost alternative to domestic rail and short-haul flight connections.
In only five years, Munich-based company FlixBus has disrupted the mobility landscape in Central Europe, capturing an incredible 92% share of the long-distance bus market in Germany and boasting more than 110,000 daily passengers to 2,000 different destinations in 28 European countries.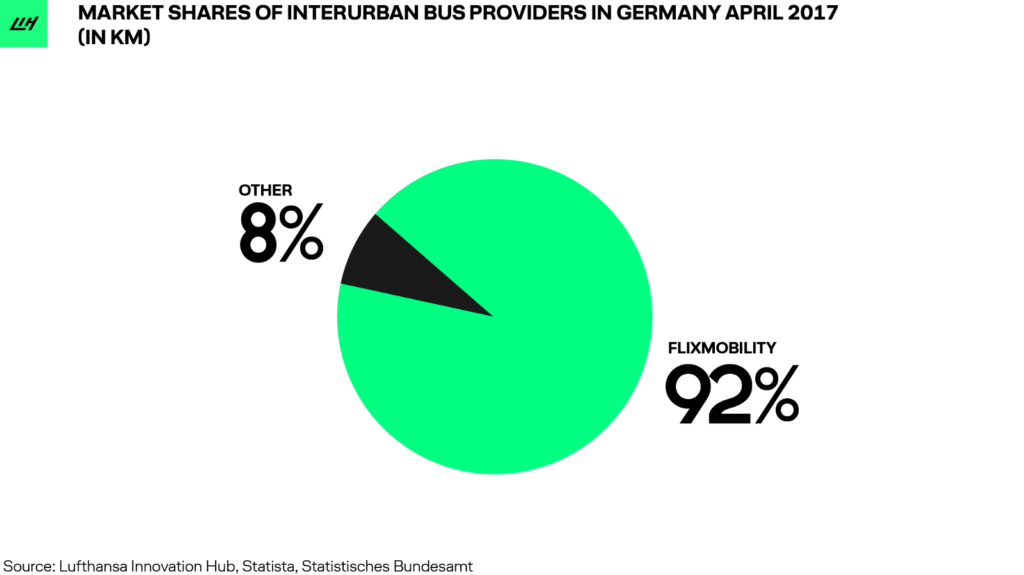 According to our estimates, FlixBus has already joined the prestigious club of Travel & Mobility Tech unicorns — the exclusive group of startups with a company valuation of over 1 billion US dollars.
Flixbus, an asset-light bus company
At its core, FlixBus is more of a digital pioneer than a traditional bus operator. Technically, it is a digital platform that handles marketing, ticket distribution, network planning, revenue management and customer service for small, traditional bus operators in exchange for a share of the generated revenues.
Its operational involvements go as far as the standardization of the whole customer experience. For instance, FlixBus ensures free WiFi connection on every bus — a huge selling point for digital natives. FlixBus does that without owning any buses. Instead, the company partners with small, regional bus operators which bear the asset weight. This highly scalable approach resembles the models of the UK-based bus company National Express and, obviously, Uber.
From FlixBus to FlixMobility
But FlixBus' recipe is not a one-course meal. Under the name FlixMobility, it is increasing its scope and moving towards incorporating other modes of intercity transportation. The signature green of FlixBus has become a common sight throughout the country. Since 2017, it is also visible on a growing fleet of trains. Moreover, FlixBus' management has even hinted at offering flights. Unsurprisingly, the domain flixair.de has been registered by the company for a long time.
However, selling multi-modal tickets that combine FlixBus and FlixTrain connections with third-party-airlines seems to be a more likely scenario in the mid-term future. FlixMobility hence seems to envision a future where it incorporates different, and to some extent complementary, modes of intercity transportation on its digital platform.
Highways and carpool lanes over runways and railway tracks?
Other modes of intercity travel have experienced much less disruption than the long-distance bus segment. Intercity travel services in Germany have traditionally been dominated by domestic railway (mostly Deutsche Bahn) as well as short-haul airlines such as Air Berlin and Eurowings (Lufthansa Group).
Yet the impressive rise of FlixBus and to some extent also BlaBlaCar shows how new business models are significantly impacting the long-distance travel space.
We don't know yet if bus and carpooling really compete with the more traditional modes of intercity travel: planes and trains. Current competition research focuses heavily on how companies compete within their own transportation mode, i.e. FlixBus with the remaining long-distance bus companies in Europe.
Dynamics of the intercity travel market must be re-evaluated
We, therefore, took it upon ourselves to paint a more holistic picture of the intercity travel market in Germany, namely one that includes these emerging mobility platforms.
By using web traffic data, we benchmarked the current FlixBus dominance in the long-distance bus market against other modes of intercity transport and for travelers who are looking at similar journeys.
For the purpose of this analysis, intercity travel is defined as getting from city A to city B (700 km distance max.) with any mobility mode other than driving one's own car.
In our research, we compared FlixBus to Eurowings, Deutsche Bahn and BlaBlaCar — different, yet popular modes of travel between cities.
Germany's new intercity travel contender
From the monthly website traffic that the four travel providers received over the past year, we see an unsurprising dominance of Deutsche Bahn with around 35 million visits a month.
With 12.7m daily passengers (7m of which are train passengers) Deutsche Bahn is clearly the most common intercity travel provider in Germany.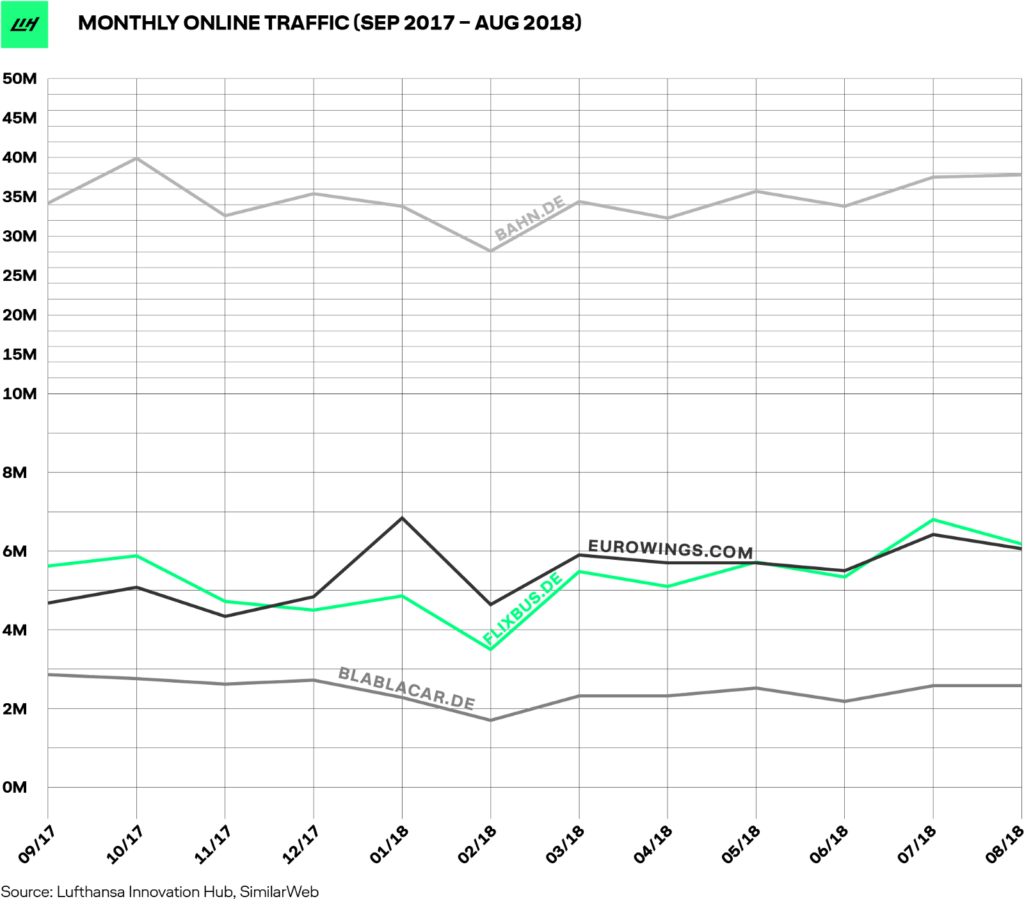 More surprising is the race for second place behind Deutsche Bahn. Flixbus.de has consistently achieved 5.3 million monthly visits since 2017, which closely rival the 5.4 million users that visit the Eurowings website on a monthly average.
Both operators were able to grow their traffic during the past 12 months with FlixBus overtaking Eurowings again during the summer of 2018.
The data also reveals a slight downward trend in monthly visits to BlaBlaCar, which has been struggling to grow its footprint in Germany after a promising start in 2015.
BlaBlaCar's European expansion has been marked by some successes (France, Spain) and also failures (UK). Its strategic focus on the Russian market, its biggest in terms of passenger numbers, might help explain why it hasn't taken off in Germany. The rise of FlixBus probably did not help either.
Competition or coexistence?
Whether providers of different intercity transport modalities are in a direct competition cannot be fully determined without actual usage numbers. However, online traffic reveals that the same traveler often visits provider websites of different transport modalities within 24 hours. This implies that travelers compare the various transportation options when planning their intercity trips.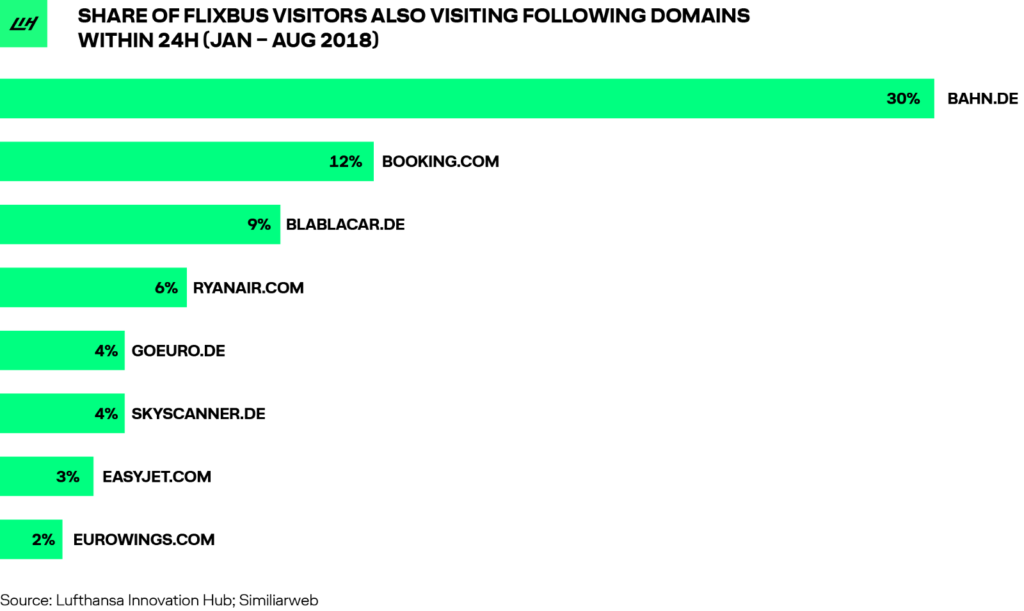 A staggering finding is that 30% of flixbus.de visitors also visited the Deutsche Bahn website, bahn.de, within 24 hours. This supports the hypothesis that FlixBus competes with other modes of transportation, in particular, the train.
The data also reveals that the third most popular travel page amongst visitors to flixbus.de is blablacar.de, with 9% of the visits to one domain also doing some research on the other within 24 hours. This means that of the 43 million visits to flixbus.de from Jan to Aug 2018, nearly 4 million also visited blablacar.de, a clear indication that carpooling and intercity bus compete for similar users.
We also find that the competition between trains and buses is intensifying, as seen in the upward trend of bahn.de visits that end up going to flixbus.de. This share has grown from 29% to 33% during the first 8 months of 2018.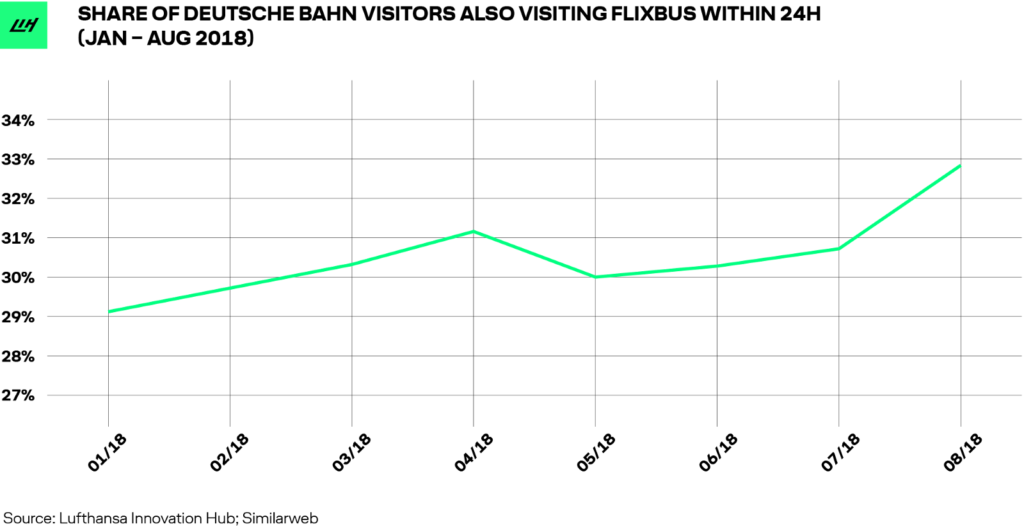 The conclusion that FlixBus competes with short-haul flight operators is partly supported as well, as 6% of flixbus.de visitors also look at flights on ryanair.com, 3% visit easyjet.com, and 2% research alternatives on eurowings.com, again, all within 24 hours.
While the indication of competition is considerably lower with flights than with Deutsche Bahn, the European aviation market is fragmented, making a comparison based on selected companies less comprehensive.
Different mobility modes for different user groups
As website traffic data provides estimates of demographics, we can shed some light on the online audiences of the various mobility providers. It reveals that FlixBus and BlaBlaCar users are markedly younger than those of Eurowings and Deutsche Bahn.
Both FlixBus and BlaBlaCar offer intercity mobility at a lower price point than Deutsche Bahn and Eurowings, which would make them the preferred choice of those who value wallet over comfort.
So what does this all mean?
The Flix-Buzz is real. And with it, we have another instance of a disruptive digital mobility platform that controls the consumer interface but outsources capital-intensive operations, similar to BlaBlaCar with its carpooling and Uber with its ride-hailing.
FlixBus has managed to completely transform a transportation vertical by leveraging the digital toolbox in their favor, taking over and even growing the market it operates in. It poses an increasing challenge to the traditional monopoly of Deutsche Bahn and promises a new way of traveling that is especially attractive to younger (digital-oriented) audiences.
Our analysis of website traffic in the German intercity travel market shows that FlixBus, which essentially makes up the entire long-distance bus segment, has become a popular alternative to other modes of transportation. In particular, the data reveals that it increasingly competes for online attention with trains.
Looking into the future, FlixMobility seems to envision a path where it combines inter-modal tickets on its digital platform. The vision has a real disruptive potential for intercity travel, as seamlessly interlining (combining) all transport modalities and making them smarter (so that the combination becomes one journey) has real value-add for travelers. This scenario seems likelier for ground transportation by the day, yet only the future can tell how it will play out in the skies.