The move by fintech startups to enter travel and vice versa is arguably part of the larger and heavily discussed "super app ambition" that has also infected airlines and other travel providers like Expedia and Booking.
Here are some examples:
Europe's fintech mega startup Revolut, for instance, started selling hotels and other accommodation features this summer as reported by Skift.
Grab, Southeast Asia's giant mobility app, has intensified offering a range of financing services like seamless point-of-sale (POS) systems and investment solutions.
AirAsia has added e-commerce and financial services to its mobile-app offering over the past year including insurance and currency exchange options.
And, corporate travel management company TripActions just raised $275 million in Series F funding at a $7.25 billion valuation after transitioning into a spend management company during the pandemic.
The trend intensified during the pandemic
The relevance of financial services in the travel context can also be confirmed when looking at global news coverage related to the keywords "financing" and "travel booking".
One concrete use case is the "buy now, pay later" payment scheme that is increasingly being offered by travel booking providers, particularly addressing millennials and gen-Zs in the US who are jumping on this trend to purchase high-ticket items via installment plans.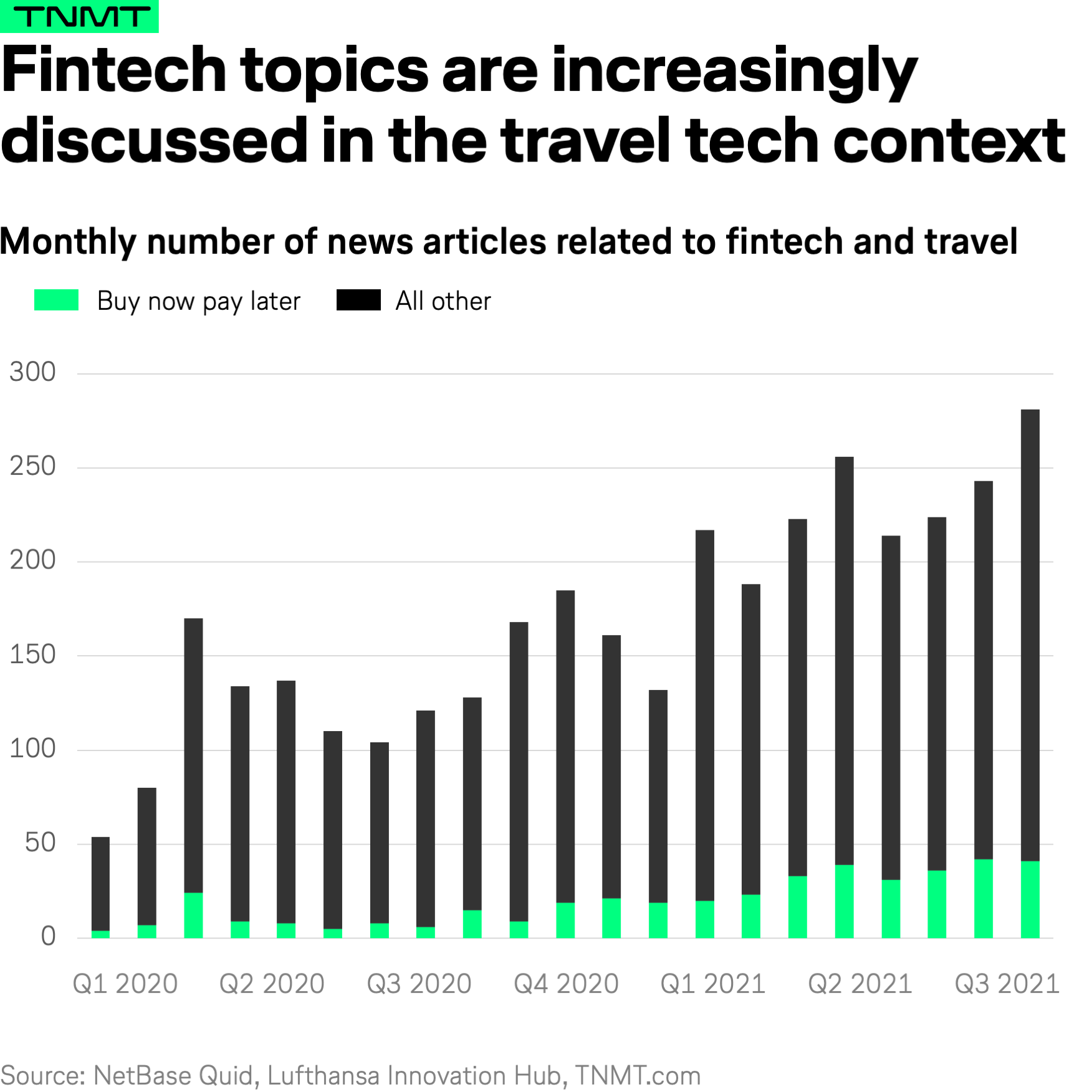 Online travel-tech frontrunner Hopper (who Lufthansa Group is a proud investor in) is another prime example of a company that has capitalized on this new appetite in travel for fintech.
By offering travel ancillary services like price protection for flights and accommodations—meaning travelers can hold a price for up to two weeks before booking—the unicorn startup has successfully completed its metamorphosis from flight selling to fintech as Skift recently concluded.
Hopper is now even selling its financial and insurance products as whitelabel travel portals to other travel providers.
That this strategy is paying off for Hopper is confirmed by a look at the most downloaded travel apps in the US. Hopper is leading travel download rankings in 2021, ahead of travel giants like Expedia, Booking, and Airbnb.