With signs of revenge travel continuing to accelerate, most Travel and Mobility Tech startups have long prepared to return to full-blown operations.
Because in startup land, if you take your foot off the gas pedal, the default mode is reverse, not neutral.
And the pandemic has kept founders in our sector in reverse mode for way too long, compared to other booming startup sectors that have raced to never-seen-before heights during the pandemic.
So it's no wonder that first reports of Travel and Mobility Tech startups hiring again already broke in Mid-March—at a time when travel demand only tentatively picked up in very few regions of this world. But travel and mobility startups wanted to be prepared. And they are now ready to attack again.
This brings us to a topic we want to explore in more detail over the coming weeks.
The state of Travel and Mobility Tech in 2021
About a month ago, we briefly talked about how the pandemic has shaken up the Travel and Mobility Tech startup ecosystem.
Strong startups have been separated from the weak. New players tapped into opportunities that didn't exist before.
Over the upcoming weeks, we want to take some time and reflect on the dramatic impact the coronavirus has had on our ecosystem and particularly elaborate on new potential growth bets that might become "the next big thing".
Let's start in our hometown
Today, we want to kick things off with a quick glimpse into our hometown of Berlin.
If you remember our city startup ranking, see below, there have been two new players joining the club of the 20 most-funded Travel and Mobility Tech startups from Berlin during Covid.
Both of them leveraged exciting market trends that got accelerated by the pandemic.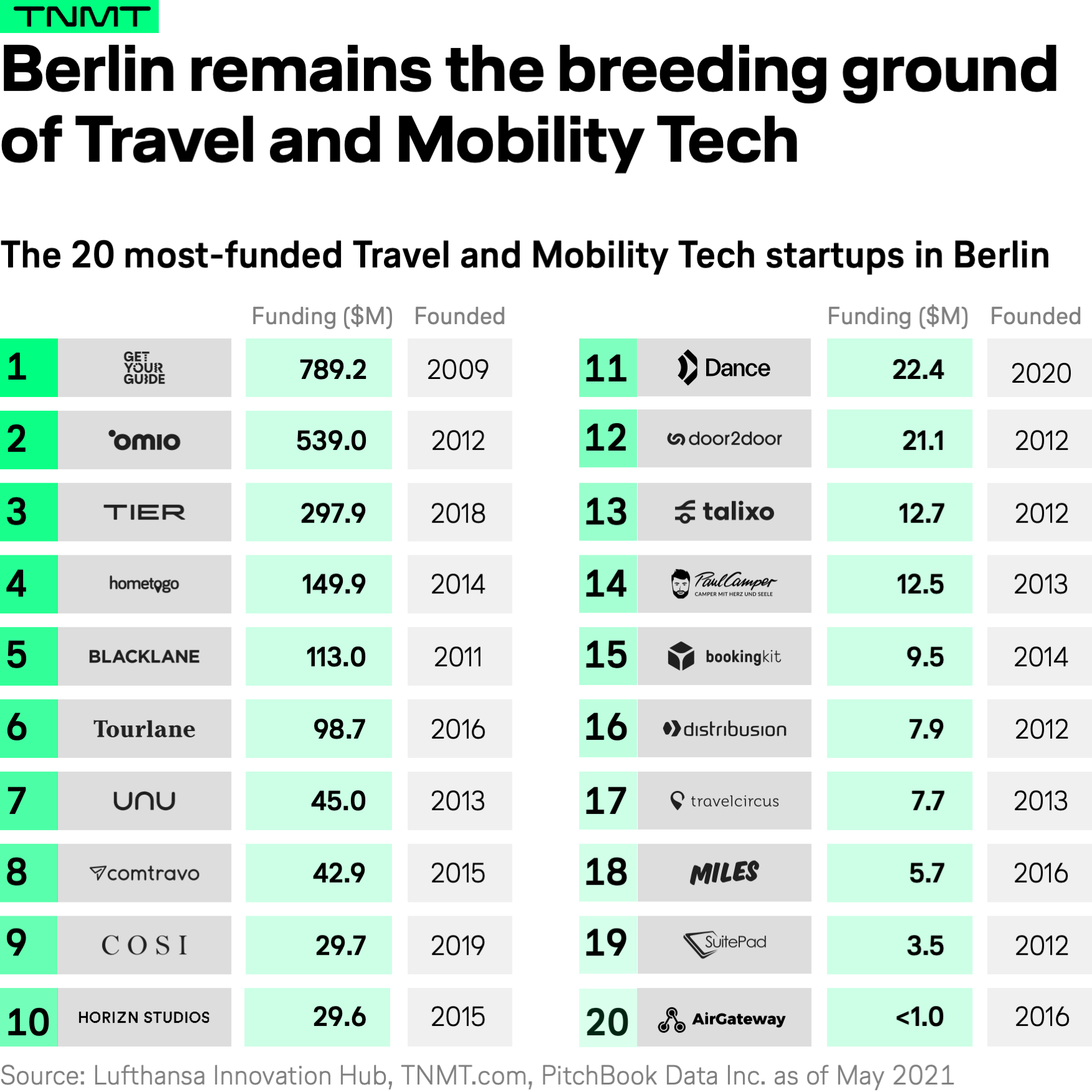 Urban hospitality startup COSI Group (#9) offers travel accommodations at the intersection of serviced apartments and traditional hotel rooms in appealing downtown locations. The startup was founded right before the pandemic in late 2019 but despite travel bans and lockdown periods, was able to rapidly expand to more than a dozen European locations throughout 2020. How? Thanks to a smart strategy that 1) focuses on long-term staying guests, for instance, working professionals who relocated their home office to attractive city locations during the pandemic, and 2) by fully digitizing the travel experience and, thereby, enabling a contact-free customer journey catering to rising hygiene standards—something most hotels and alternative accommodation providers struggled to provide.
E-bike subscription startup Dance (#11) was able to raise a chunky €20M Series A round only a few months after the company was founded in early 2020. The winning formula: Dance benefitted from growing infection concerns that made people avoid most forms of shared transportation, particularly ride-hailing and public transport—see our Category Heatmap. But instead of launching "just another" on-demand e-bike service with low-quality hardware that often ends up littering our streets, Dance offers a comprehensive month-long rental package combining the benefits of renting (no maintenance for the user) with the positive side effects that usually only come with owning the hardware, namely a high-quality bike.
More changes to come
These two examples are just the most obvious changes to the Berlin Travel and Mobility Tech startup landscape. But there is a lot more happening, much of it not yet reflected in changing VC funding figures.
Hometogo, for instance, one of the world's leading vacation rental platforms is rumored to become the first German SPAC candidate ever in a deal currently put together with Travel-tech focused Venture Capitalist Klaus Hommels from Lakestar. The deal is expected to value Hometogo beyond the 1 billion € threshold, despite the company not having turned profitable in year seven of existence.
Another startup gem aiming to leverage the shared accommodation trend has silently formed in Berlin's founder's scene in the past few months. The company called Myne Homes is aiming to democratize second-home ownership by copy-catting the Pacaso model that succeeded so well in the US by giving people the ability to purchase shares in, and become co-owners of, a second home. It wouldn't be a surprise if investors jumped on this venture rather sooner than later.
For more insights on the winners of the pandemic, stay tuned for our 2021 startup report which we will launch next month.
Until then, here is the current map of Berlin's 20 most funded startups in Travel and Mobility as of June 2021.