In our last newsletter, we addressed the future-of-work topic and how offices in NYC remain largely empty despite ​​widespread vaccine availability and plummeting Covid-19 cases. 
As we've been tracking the WFH shift for quite some time, for instance, in our Virtual Work Startup Report, we took a deeper look at return-to-office ratios in different cities of this world by analyzing Google Mobility data.
Here is what we found out: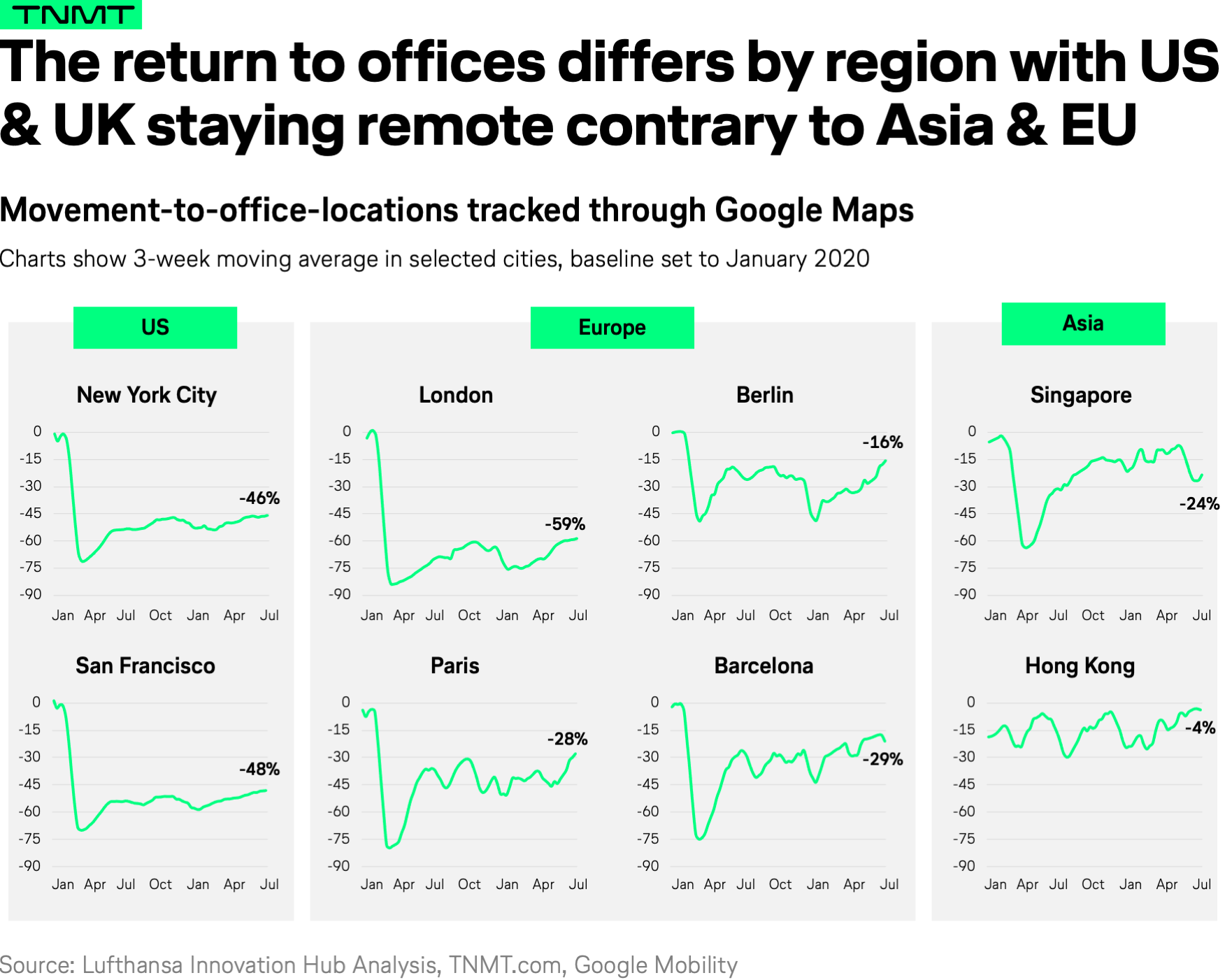 The chart provides a couple of interesting takeaways.
Tech cities in the US are staying mostly remote
Despite high vaccination rates (e.g. 59% in NYC and 75% in San Francisco as of July 2021) as well as stay-at-home orders being lifted, figures from Google Maps show that movement to office locations in the two American tech hubs has not recovered beyond 55% vs. pre-Covid levels—or in other words, only every second employee is currently returning to the office.
The remote-work shift appears to be more structural and long-term than what most experts originally anticipated. This is supported by the latest survey data from the US, where about 40% of US workers would consider quitting their job if they had to return to the office five days a week, emphasizing the remote-work preference. 
Europe bets on a hybrid model 
Meanwhile, major European cities show a higher mobility-to-office recovery. In fact, office occupancy picked up right after Europe ramped up its vaccination campaigns.
However, even with large parts of the adult population being vaccinated by now, European workers gravitate towards a hybrid work mode. While European workers enjoy working from home and the flexibility it comes with, a lot of them appear to miss socializing and meeting with colleagues, which is why they are keener on spending more days a week at the office. 
The only exception in Europe is London, which shows a similar trend to the US cities, NYC and San Francisco. This could be because UK workers are still advised by the government to work from home, but also because London's large expat community may not have returned from their foreign locations yet.
Asia prioritizes the office return
Interestingly, Asia appears to have fully returned to pre-Covid physical office presence.
This can be seen by, overall, quicker recovery of movement-to-office rates after the initial lockdown in February 2020, most likely driven by shorter but more stringent lockdowns that were applied in most countries throughout the continent 
Having said that, Asia's movement-to-office behavior appears more volatile compared to the rest of the world.
In summary, it seems that remote work has not picked up in Asian countries as much as it did in the Western world.
There are naturally more factors at play behind the remote work trend.
For more details on the dynamics behind hybrid and remote work and its geographical differences, read our recently published report: Trends in the Virtual Work Ecosystem.