We've just updated one of our most popular TNMT analyses – the Airline Startup Investment Leaderboard.
Since the very inception of TNMT in 2017, we've meticulously tracked every airline's investment in startups.
Our motivation?
We firmly believe that active engagement with the startup ecosystem is critical for any industry player aiming to lead innovation and embrace transformative changes.
This is particularly pressing in the travel and aviation sectors, where a decline in pioneering efforts has been evident over the past decades.
Assessing startup investments offers a clear insight into the commitment of incumbent airlines to change the way we travel.
A glimpse of recovery
With this being said, let's dive into airline startup investment trends, incorporating fresh 2023 data.
As you can see, the chart paints a tale of resilience in the face of adversity.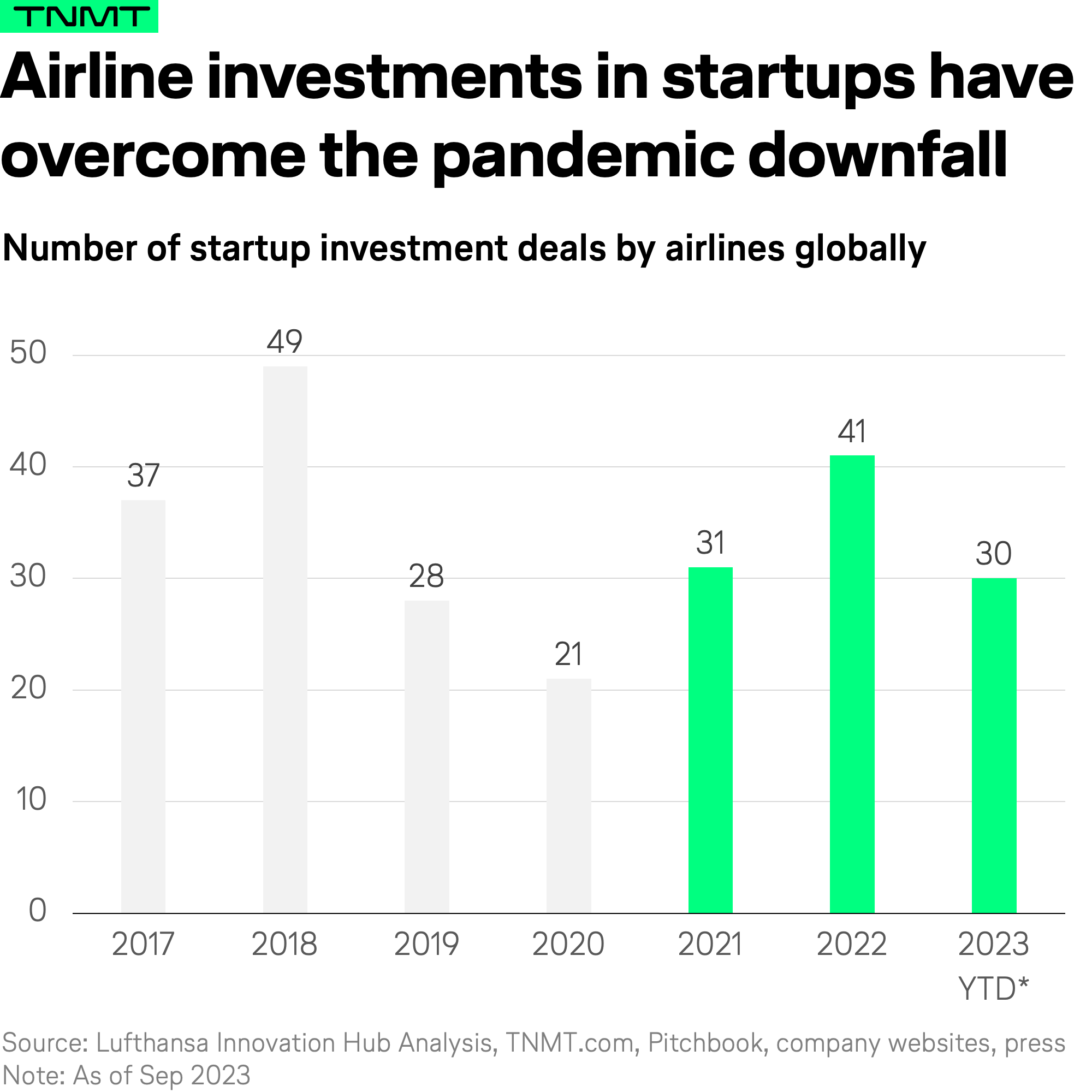 The chart clearly shows the airline industry's bounce-back from the challenges of 2020.
That year, the pandemic had a massive impact on the industry, leading to fewer investments as innovation initiatives were, understandably, essentially put on hold.
Fast forward to 2023, and we've witnessed 30 startup deals this year so far.
This trajectory suggests that by year-end, we might be on par with last year's deal count.
This is a notable achievement, especially when you consider the overall decline in the VC industry, which has seen a 30% drop in deals this year due to the conclusion of the "free money" era.
The big picture of airline investments
Though the recovery in airline startup investments is noteworthy, it's essential to temper our enthusiasm by viewing the broader landscape.
When you consider that there are over 300 registered IATA airlines globally, 30 deals per year appear less impressive.
In fact, a mere 8% of all airlines (25, to be exact) have ever invested in a startup. 
This reveals a striking truth: the realm of startup engagement remains largely uncharted territory for most airlines.
Most have yet to understand or leverage the vast potential that startups offer in terms of disruptive innovation.
Now, some might argue – and we know many of our readers belong to this camp – that airlines prefer to innovate in-house.
However, another telling statistic challenges this notion.
Our recent analysis of patent filings underscores the stagnation in airline innovation efforts, with patent activity plummeting to unprecedented lows this year.
Spotlight on the startup champions
Despite the limited overall airline engagement with startups, three carriers stand out for their ambitious commitment to investing in disruptive innovation: KLM, JetBlue, and United Airlines.
Notably, these airlines have been the most active startup investors over the past 12 months, willing to embrace risk as part of a long-term strategy to build a portfolio of future growth bets.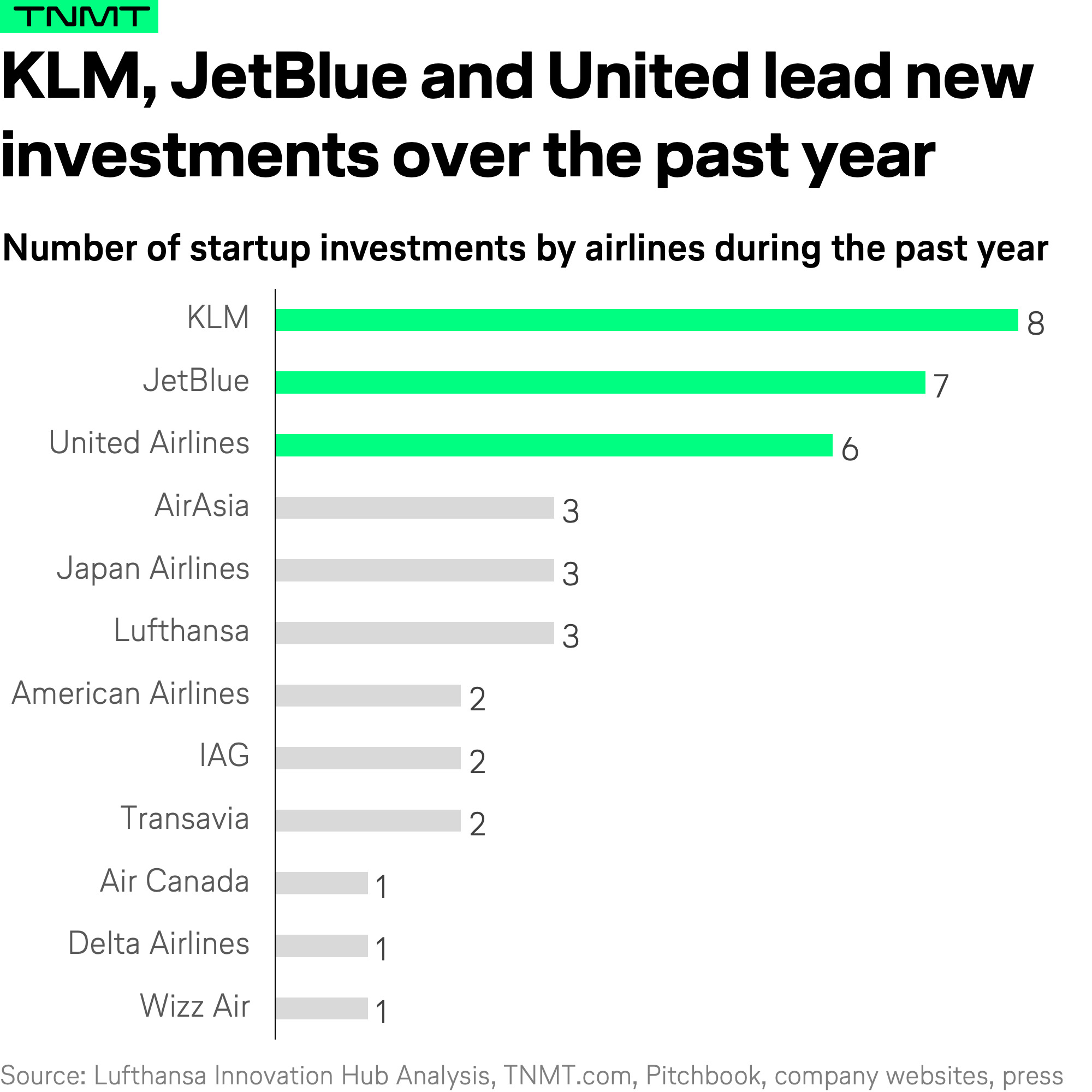 Interestingly, these airlines are not newcomers to our leaderboard — all three have consistently been among the top five in terms of all-time startup investments.
In other words, these airline leaders are clearly pulling further ahead, solidifying their positions as the industry's startup innovation trailblazers.
Let's quickly delve into the specific startup investments these three carriers championed over the last year:
KLM executes its venture investments mostly through its SHIFT Invest III fund. Here, KLM exhibited a diverse investment portfolio. It dabbled in areas like autonomous rail, battery and charging technology, 3D printing, and even textile manufacturing. One noteworthy investment that directly impacts aviation is MuTech, powered by the Delft University of Technology, which is pioneering blade noise reduction.
JetBlue focused its most recent investments on cutting-edge technologies such as AI and Web3. Its focus on sustainability is evident, with investments in carbon capture and enterprise sustainability management.
United Airlines clearly prioritized sustainability, which was the central theme for all of its investment decisions over the past year. Its portfolio boasts startups involved in carbon capture, biofuels, and electric propulsion technologies.
It's clear that while the airline industry at large has been slow to invest in startups, these three carriers are leading the charge, placing their bets on the future of Travel and Mobility Tech.
Sustainability is a growing priority
Picking up from where United left an impression, it seems sustainability has carved itself as an indispensable theme for almost all startup investments by airlines in recent times.
Some of you might remember, last year's deep-dive into airline investments already revealed this accelerating trend.
Green Aero Tech ventures, with its promising solutions to mitigate the environmental repercussions of flying, saw an impressive influx of airline funds.
Fast forward to 2023, and this commitment to sustainability hasn't disappeared.
In fact, over half of all airline investments in the past year by the ten most active carriers have been channeled into startups keen on championing sustainability initiatives.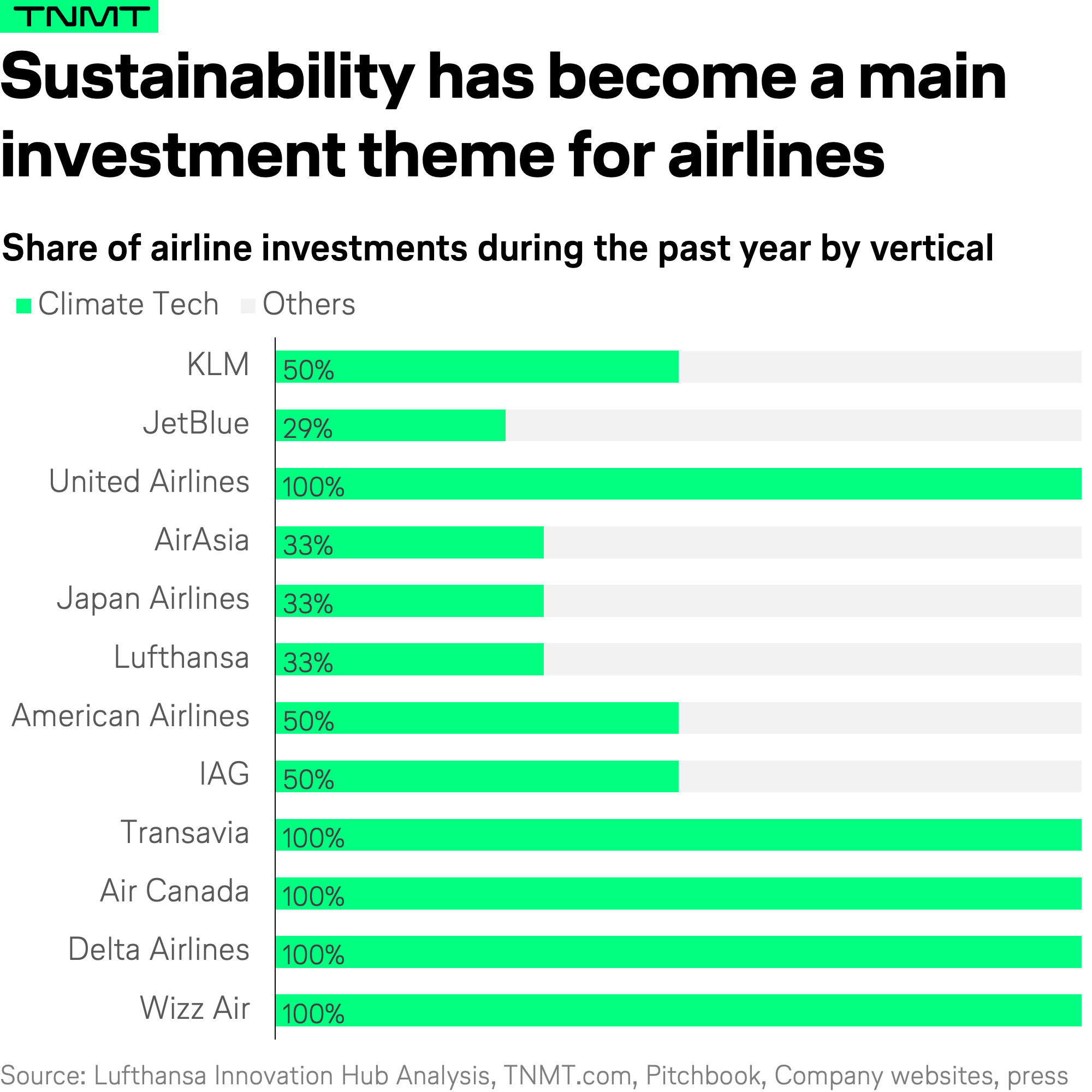 Taking a closer look, a few airline investments have emerged as particularly promising in their innovative approaches:
Avnos is redefining the carbon capture game. It has developed a hybrid direct air capture technology that doesn't just zero in on CO2 but also water, extracting both from the atmosphere through a unified system.
Regent is making waves in the realm of electric transportation. The startup is behind the development of an all-electric seaglider. With current battery technology, it boasts a range of up to 180 miles, but with the advent of next-gen batteries, it could be looking at a whopping 500-mile range.
Universal Hydrogen isn't just any aircraft retrofitter. Its at the forefront of hydrogen storage with its unique capsule modules. These modules not only store hydrogen during transit but also double up as modular fuel tanks that can be loaded directly onto aircraft.
A promising outlook
Venturing into the details of airline investments provides another intriguing perspective.
When we set out to categorize the nature of investments — differentiating between follow-up investments into existing ventures and first-time explorations of airlines into new startups — the results were particularly eye-catching.
Over the past three years, culminating in 2023, there's been a promising uptrend in "first-time investments."
In fact, this year alone has witnessed over 80% of startup deals made by airlines being initial engagements into new startups that had never seen an airline investment before.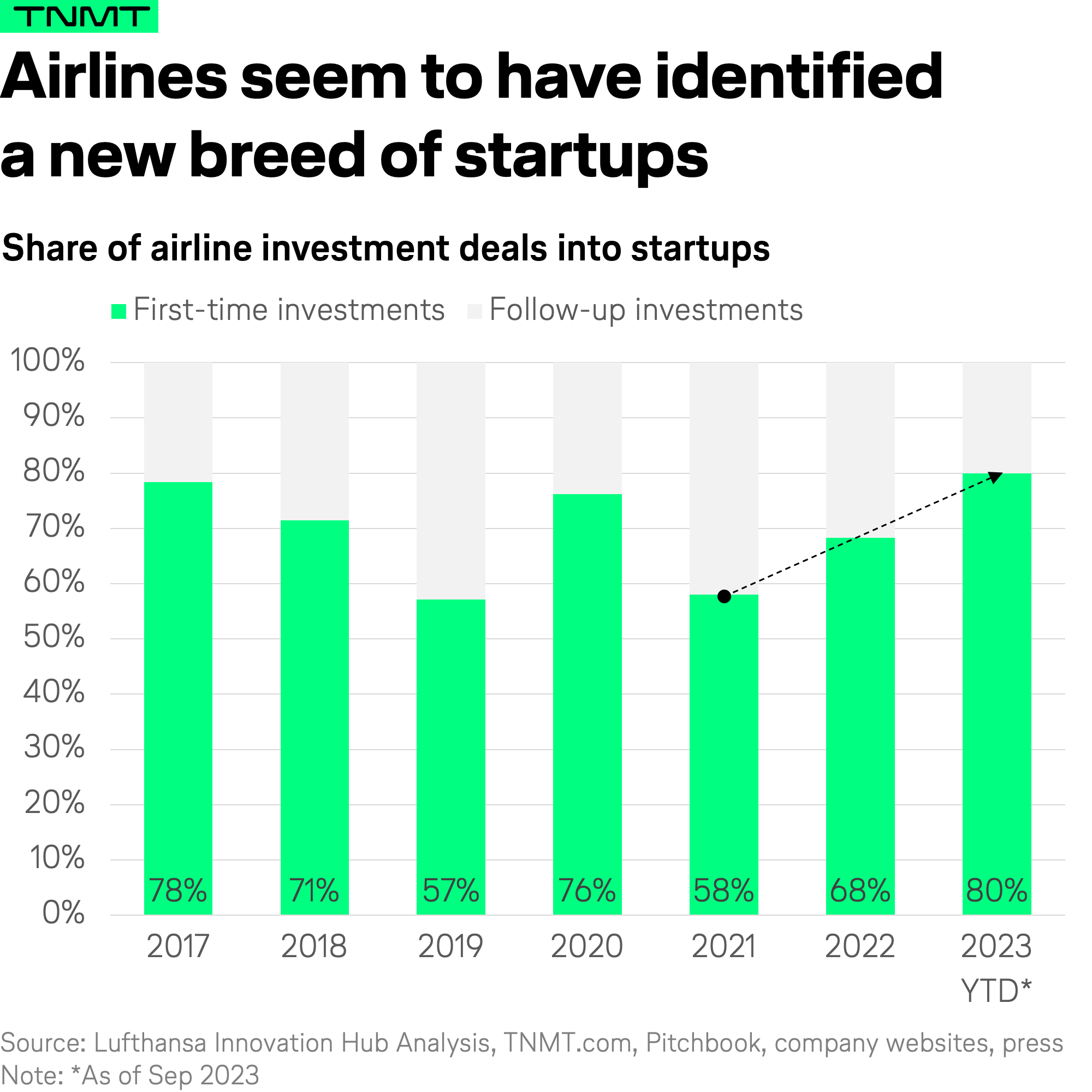 Why is this noteworthy?
Well, even though the sample size is modest and the usual cautionary approach is warranted, this shift might be pointing towards something profound.
It potentially hints at airlines broadening their horizons and actively seeking out novel and innovative startups.
It seems airlines are displaying a newfound openness to higher-risk, higher-reward ventures, a sentiment not often associated with an industry that's historically been risk-averse.
We're eagerly watching this space to assess if this inclination towards first-time investments is a fleeting moment or a lasting shift.
So much for the insights we've gleaned from our latest investment analysis.
The 2023 Airline Investment Leaderboard
For those who've journeyed with us this far, you're probably eager to see the full 2023 Airline Investment Leaderboard.
We'd love to unveil it here, but for the complete rundown, we ask you to follow this link.
Over there, we present the top 10 trailblazing airlines in terms of their historic startup investment activity.
All it takes is a click on the visual below.