Airlines have long been called upon to answer for their role in CO2 emissions.
As of early 2022, nearly every airline on Earth has adopted a sustainability agenda of some sort, whether through the introduction of CO2 offsetting schemes, the frequent renewal of aircraft fleets, or the onboarding of other incremental innovations.
Despite this, it is rare for airlines to take a more radical approach and bet on new technologies and hardware solutions.
Startup investments empower airlines to take a more disruptive stance and lead the industry towards a more sustainable future, especially by backing ventures that explore new climate technologies.
Overall, such startup investment activity includes the following essential benefits:
The development and delivery of novel propulsion from up-and-coming tech startups who tackle problems from an unconventional angle is driven forth.
Airlines can access new technology fields rather than spending years on in-house development programs or waiting for OEMs to deliver new equipment and tech.
Airlines can bet on more than one technology area at the same time, in turn diversifying their innovation strategies.
We wanted to discover which airlines have chosen this startup-investment approach to aggressively combat climate impacts. So, we scouted and analyzed airline investments into startups at the forefront of "Green Aero Tech."
We define Green Aero Tech as startups working and experimenting with technologies that:
Have the potential to significantly reduce fuel use and pollution from commercial planes.
Explore new propulsion technologies for aircraft, including electric, hydrogen, and hybrid aircraft.
Enable aircraft operations, in general, to become more sustainable, such as through the retrofitting of conventional aircraft in unconventional ways, e.g. shark-skin-like riblet film.
Based on our proprietary TNMT startup database, we identified a number of interesting insights into how airlines are pushing the aviation industry towards a more sustainable future with the help of startups.
Here's what we have learned.
#1 Airline investments into Green Aero Tech startups have recently intensified
According to our data, airline investments into Green Aero Tech startups have been rare.
However, investment activity has increased over the past 10 years.
In 2010, KLM became one of the first carriers to explore the Green Aero Tech startup ecosystem through its investment into sustainable aviation fuel (SAF) provider SkyNRG.
In the following eight years, a few more airlines committed to notable startup investments, the most relevant of which include:
In 2014, Cathay Pacific Airways backed Fulcrum BioEnergy, a startup that is also developing SAF production capacity.
In 2017 and 2018, JetBlue invested in Zunum Aero and its hybrid-electric aircraft prototype in an effort to "seek new technologies that look to change the game" as Bonny Simi, former President of JetBlue Technology Ventures, put it.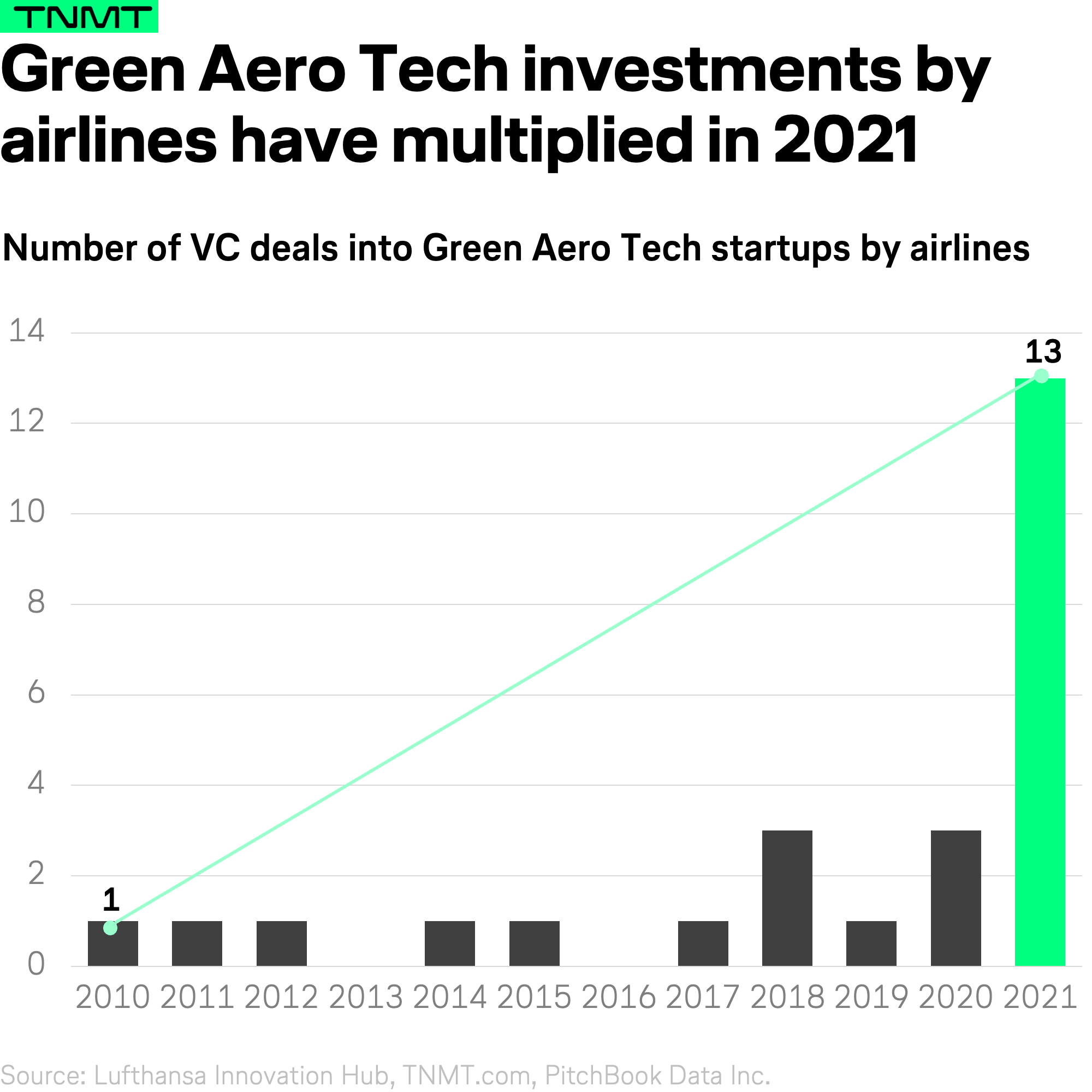 The hesitancy of airlines to invest in more of these Green Aero Tech players shifted in 2021 when 13 new deals were made. Compared to previous years, this amount signified a tipping point for the airline industry.
Here are a few of the most discussed startup events that took place over the last year:
American Airlines invested in Vertical Aerospace, a leading UK-headquartered engineering and aeronautical business developing electric vertical takeoff and landing (eVTOL) aircraft technology.
JetBlue bet on Universal Hydrogen, a company aiming to develop a hydrogen fuel cell powertrain to decarbonize aircraft operations.
British Airways set its sights on zero-emissions aircraft, announcing an investment in ZeroAvia to speed up the development of hydrogen-powered aircraft.
American regional airline operator Republic Airways announced to participate in an estimated $305 million funding round into Eve Air Mobility, an Embraer company.
Overall, there is a promising trend of airline investment into startups in the field of Green Aero Tech, although startup engagement, as a whole, remains cautious.
#2 The pandemic accelerated the pressure to decarbonize aviation
There are several reasons for the initially slow but recently explosive number of airline investments into Green Aero Tech in 2021, which include both political and social drivers.
On the political front, there have been several high-stakes industry initiatives in the aviation sector to slash CO2 emissions that raised awareness and pushed aviation stakeholders towards more sustainable strategic agendas.
One of the most significant campaigns, driven forward by the IATA, aims to cut the industry's net emissions in half by 2050 (compared to 2005 levels).
In 2016, the CORSIA initiative increased pressure on the aviation industry when member states of the International Civil Aviation Organization made the historic decision to adopt a global market-based measure for CO2 emissions. As the name suggests, CORSIA is a global offsetting scheme, that tasks airlines and other aircraft operators with offsetting any growth of CO2 emissions above 2020 levels. You can find out more here.
On the social dimension, global climate activism is gaining momentum, spearheaded by influential figures such as Greta Thunberg. Look no further than the 2019 "flight shaming" movement, which has put further pressure on airlines and the aviation sector to more drastically cut emissions.
Together, these political and social components make up the rapidly intensifying climate concerns that continue to garner media coverage and place airlines in the spotlight. Suddenly, airline executives have been called upon to justify their business activities. This is best articulated in the 2021 statement by Tony Douglas, Etihad Airways' CEO, who said:
"Increasingly, travelers will make choices that do include carbon emissions and therefore, the environmental performance [of their airline.] […]The people that don't respond in the sort of ways that we've been doing may well be history."
Based on these developments, airlines have significantly stepped up their sustainability agendas. in 2022, carriers no longer have the option to ignore this growing need. The significant increase of airline investments into Green Aero Tech supports this notion.
Additionally, the COVID-19 pandemic may have provided airlines and the aviation industry as a whole with the opportunity to "reinvent themselves and change."
Many old and inefficient airplanes have been retired sooner than originally planned to introduce newer series with lower output levels.
As well, due to the severe economic impacts of the COVID-19 pandemic on airline balance sheets, many had to borrow money from their respective governments that tied aggressive environmental and sustainability clauses into the repayment schemes. For instance, Air France had to commit to decreasing emissions and domestic flights as part of receiving financial help.
With this in mind, the COVID-19 pandemic has had a positive impact on the airline industry in terms of sustainability, despite the economic consequences associated with plummeting flight demand due to travel bans and restrictions.
This shift towards alternative ways of fueling the aviation industry is also demonstrated by Google Trends data.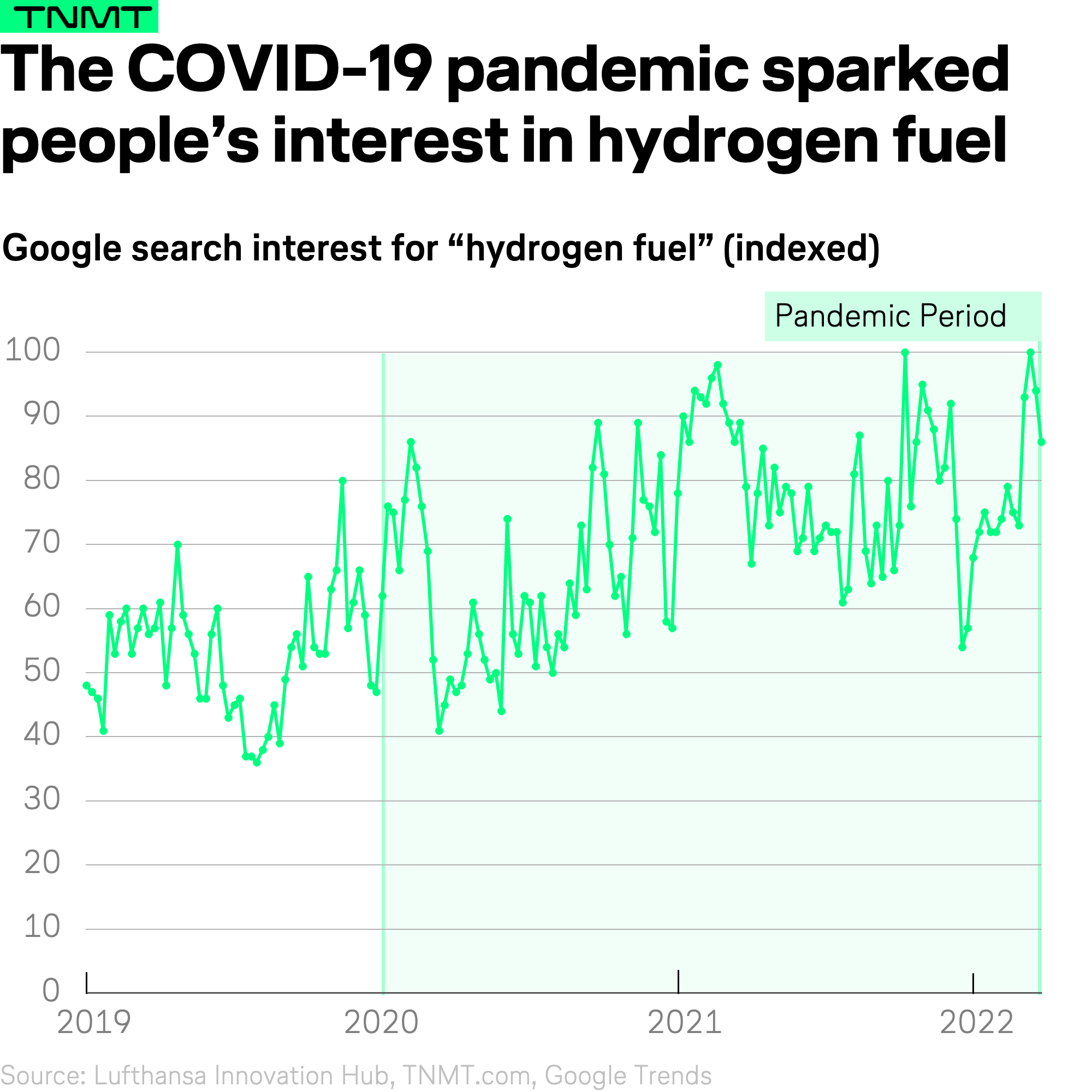 #3 U.S.-based airlines and startups are leading the aviation industry toward Green Aero Tech
To better understand the types of airlines and Green Aero Tech startups driving the industry towards disruptive innovations in the field of sustainable aviation, we broke down airline investments in the Green Aero Tech startup ecosystem by region.
Contrary to common belief, American carriers have placed the most bets on Green Aero Tech innovation. Of all VC deals made into Green Aero Tech ventures since 2010, half were made by U.S.-based airlines, in particular JetBlue, American, United Airlines, Alaska, Connect Airlines, and Republic Airways.
On the startup front, American dominance is even stronger with more than two-thirds of all Green Aero Tech startups being headquartered in the United States.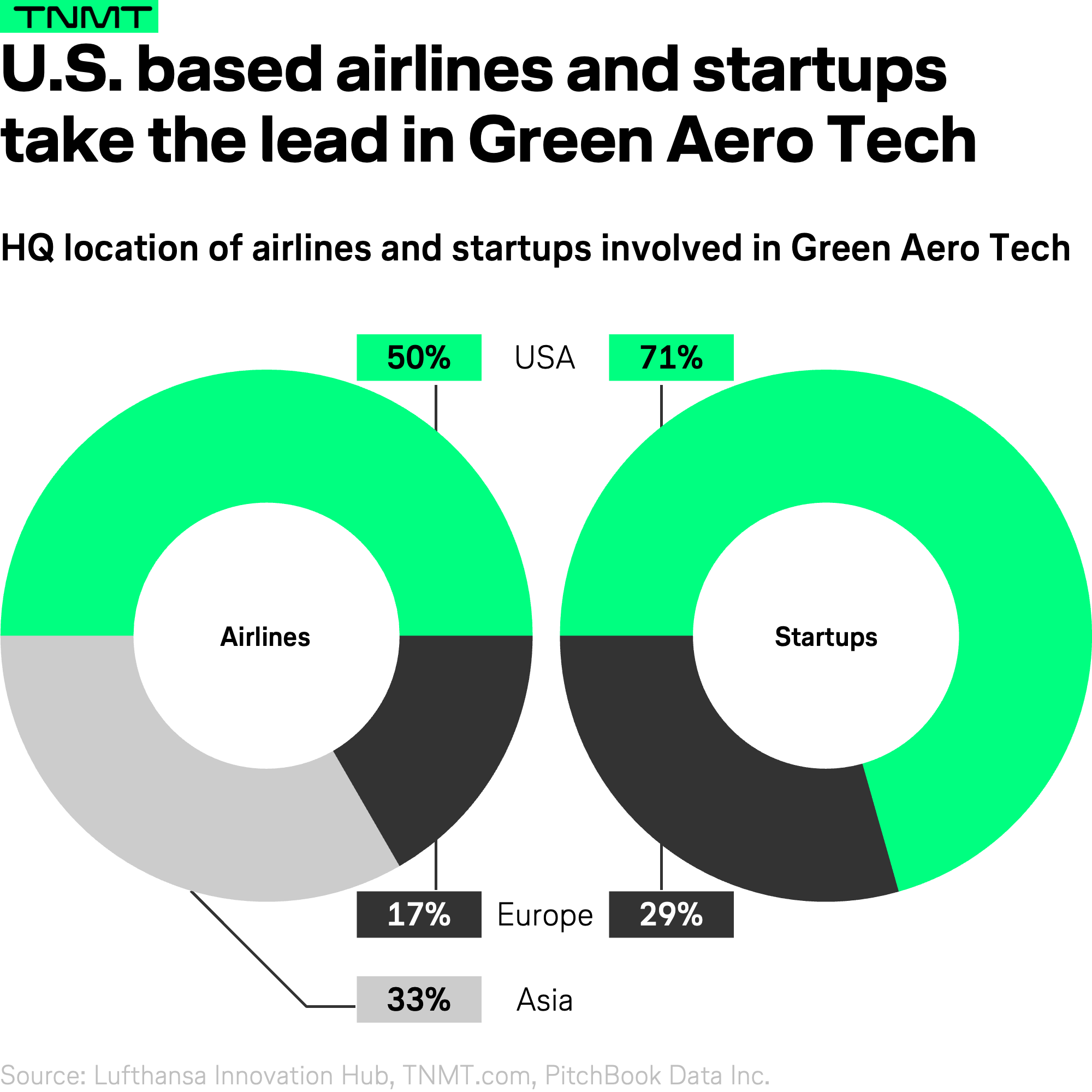 How can this U.S. leadership be explained?
We believe it has to do with the more advanced funding landscape in the U.S. —something not unique to the aviation industry.
At its core, the more advanced a startup ecosystem and its respective funding environment, the more VC activity can be expected. With respect to innovation culture, U.S. companies tend to be more comfortable taking risks, which is evidenced through the dominance of American airline investments into Green Aero Tech and in line with general startup financing trends.
#4 JetBlue and United lead the airline pack
On the individual airline level, the "usual suspects" lead investment activity in Green Aero Tech startups. JetBlue—widely considered the most active startup investor across all airlines (also outside of Green Aero Tech)—has had the most Green Aero Tech startup investments in the past decade.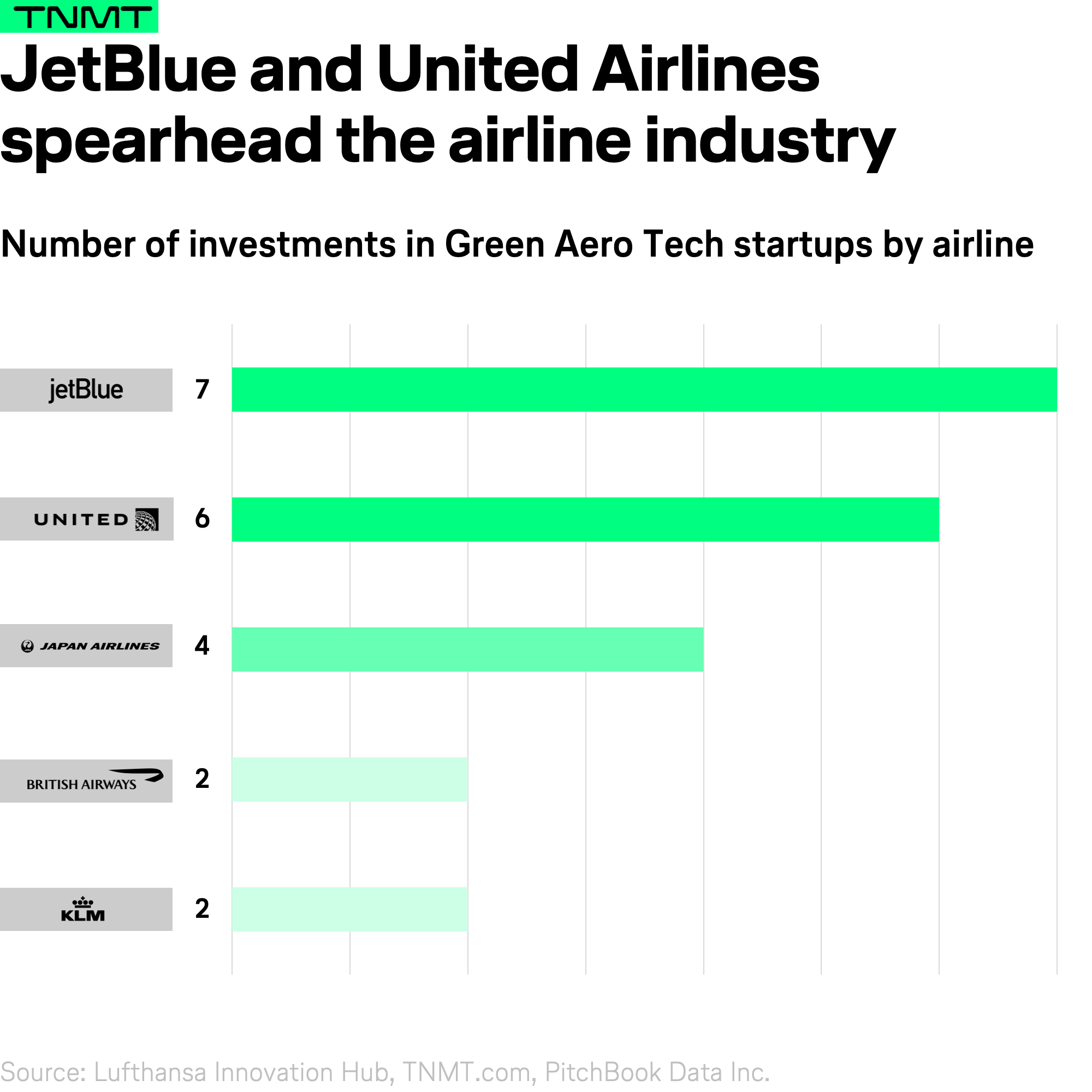 In fact, JetBlue's recent focus on Green Aero Tech shows that six of its seven investments in Green Aero Tech were made in the last five years.
After JetBlue, United Airlines ranks second with its impressive 2021 track record. The carrier made four of its six Green Aero Tech investments in the last year alone.
Interestingly, Japan Airlines ranks third, an airline that has historically been shy when it comes to backing technology startups, having not even ranked among the ten most active airline investors in the world. It seems that Japan Airlines is concentrating the majority of its investment activity on Green Aero Tech. This gives the impression that the airline is focused on sustainability as part of its long-term innovation strategy.
#5 SAF is the favorite startup investment field of airlines
It's one thing to identify the most active airlines in Green Aero Tech and another to determine which "focus fields" are sparking the most interest among them.
We broke down all Green Aero Tech startup investments since 2010 based on the technology field each startup plays in.
Turns out, SAF initiatives had the most funding activity. More than one-third of all Green Aero Tech startups are involved in SAF development.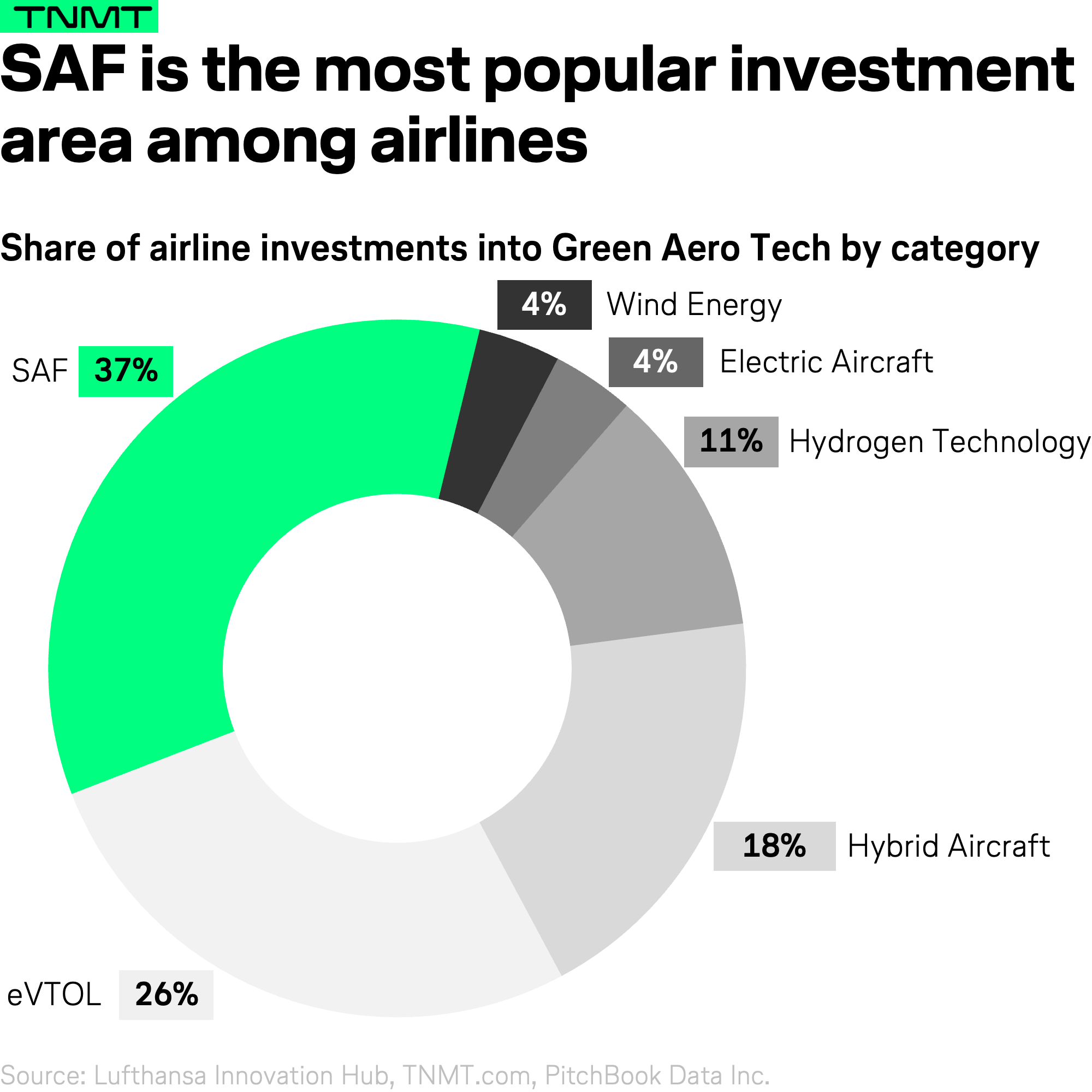 The SAF focus is not surprising, given that SAF is a ready-to-use solution for airlines to substitute conventional jet fuel. This means SAF can be put straight into modern jet engines without modification.
Based on current research, SAF can cut life-cycle emissions by up to 80%. Therefore, SAF remains an intriguing "technology" that airlines can use to lower their CO2 emissions. Sadly, there's a downside to this promising innovation. At present, SAF is around three to five times more expensive than fossil jet fuels. Additionally, SAF supply is limited, given its dependency on waste and residues, including animal fat, used cooking oil, crop and plant-based oils, and other lipids-based renewable materials. In 2019, SAF contributed a mere 0.05% to total EU jet fuel consumption.
As SAF remains the only feasible way to address sustainable flying in the short-term, it makes sense that airlines are predominantly investing in SAF startup manufacturers that might be able to boost SAF supply (and give respective airlines preferential access to these limited amounts).
Next to SAF, startups developing electric vertical take-off and landing vehicles, also known as air taxis, received significant investor interest. Of all Green Aero Tech startups, roughly a quarter of them are focused on this technology. Air taxi companies have long been hyped in the aviation industry as they present a new potential feeder option for airlines to carry passengers across the globe.
Skeptics argue that air taxis won't become a relevant transport means for mass tourism and that their impact on sustainability could be limited.
Despite this, some airlines, especially Japan Airlines, are interested in further exploring this New Air Travel option. The rationale: a transport system around UAM and eVTOL could change how people commute within cities and create a new business market. 
Finally, there is a growing interest in emerging green technologies, including hydrogen and electric-powered flight startups. However, these startups are more likely to be long-term investments, given that electric and hydrogen planes are not expected to become market-ready until the 2030s at the earliest.
As a result, it's no surprise that airline engagement with these "exotic" companies has proven restrained thus far.
The outlook for the Green Aero Tech industry is bright
While Green Aero Tech startup investment by airlines is on the rise, the overall willingness to bet on disruptive technologies in the sustainability context is still relatively low.
Thus far, just 16 airlines have made any investments. With a total of 13 startups deals in 2021, interest in Green Aero Tech by airlines remains low—considering several hundreds of startup deals in Travel and Mobility Tech outside Green Aero Tech took place last year.
However, time is on our side. If investment activity in Green Aero Tech continues to grow at the same rate as in 2021, deal activity might soon reach levels that are hard to ignore, driving significant changes toward sustainability in the aviation industry.