In Q2 of 2022, for the first time since the pandemic began, numerous airlines reported positive financial results.
Amid this promising news, many airline industry managers are now arguing that the travel industry has returned to normal.
However, we believe that, once the dust settles, a new era of travel will arrive.
Here is why:
In response to changing consumer needs, new travel trends like Blurred Travel will gain even more importance.
Furthermore, there will be calls for more flexible aircraft fleets and flight plans which cater to rapidly changing external macro factors. These factors might include recurring Covid-19 virus variants and respective travel restrictions.
As well, there will be a requirement for more robust flight operations in the face of this summer's travel chaos. Regulators won't accept another summer of customer service indifference. And customers are already preparing with strong demand for cancellation protections to minimize the risk of more flight disruptions in the future.
Finally, there needs to be a viable path taken towards a net-zero aviation future, given that sustainability concerns can no longer be ignored.
With all this in mind, we wanted to better understand how airline executives perceive the current state of the aviation industry. What plans, priorities, and directions might they take to steer their companies towards the future?
To get a better sense of these viewpoints, we scraped and analyzed the earnings calls of several major airlines over the past year. This provided us with less polished and more candid insights into the minds of airline decision-makers as typical PR releases and interviews are usually so heavily sanitized.
Airline earnings calls were our preferred source of information because they include more or less spontaneous Q&A sessions with banking analysts and investors. In these sessions, airline executives face tough questions and are more likely to give honest or, at least, candid responses.
While decision-makers undoubtedly prepare ahead of time for earnings calls as well, we believe they provide a more transparent and trustworthy executive perspective on the commercial performance of their companies.
For context: We embarked on a similar project three years ago, which yielded a number of intriguing insights into the state of airlines. Based on this proven approach, we renewed our analysis of airlines' earnings calls in the face of today's particular industry challenges.
Here is our methodology
You might be curious as to how exactly we analyzed the earnings calls of airlines. We applied Natural Language Processing (NLP) and clustering algorithms — with the help of our data intelligence partner Netbase Quid.
For the analysis, we looked at all earnings call transcripts published between Q2 of 2021 and Q2 of 2022 on Seeking Alpha for Lufthansa, IAG, Ryanair, Southwest, JetBlue, and KLM Air France. Please note that, given said airline selection, this analysis focuses on the state of Western airlines.
Next, the unstructured text of earnings call transcripts was analyzed using Quid's machine learning algorithms to identify keywords and phrases in paragraphs.
Words used in different paragraphs were compared and links are drawn between similar uses of language. Quid replicates this process at a significant scale, producing a visual network that evidences how close many of the paragraphs are to one another. In turn, clusters are formed that illustrate overarching themes and topics.
You can check out the resulting network below.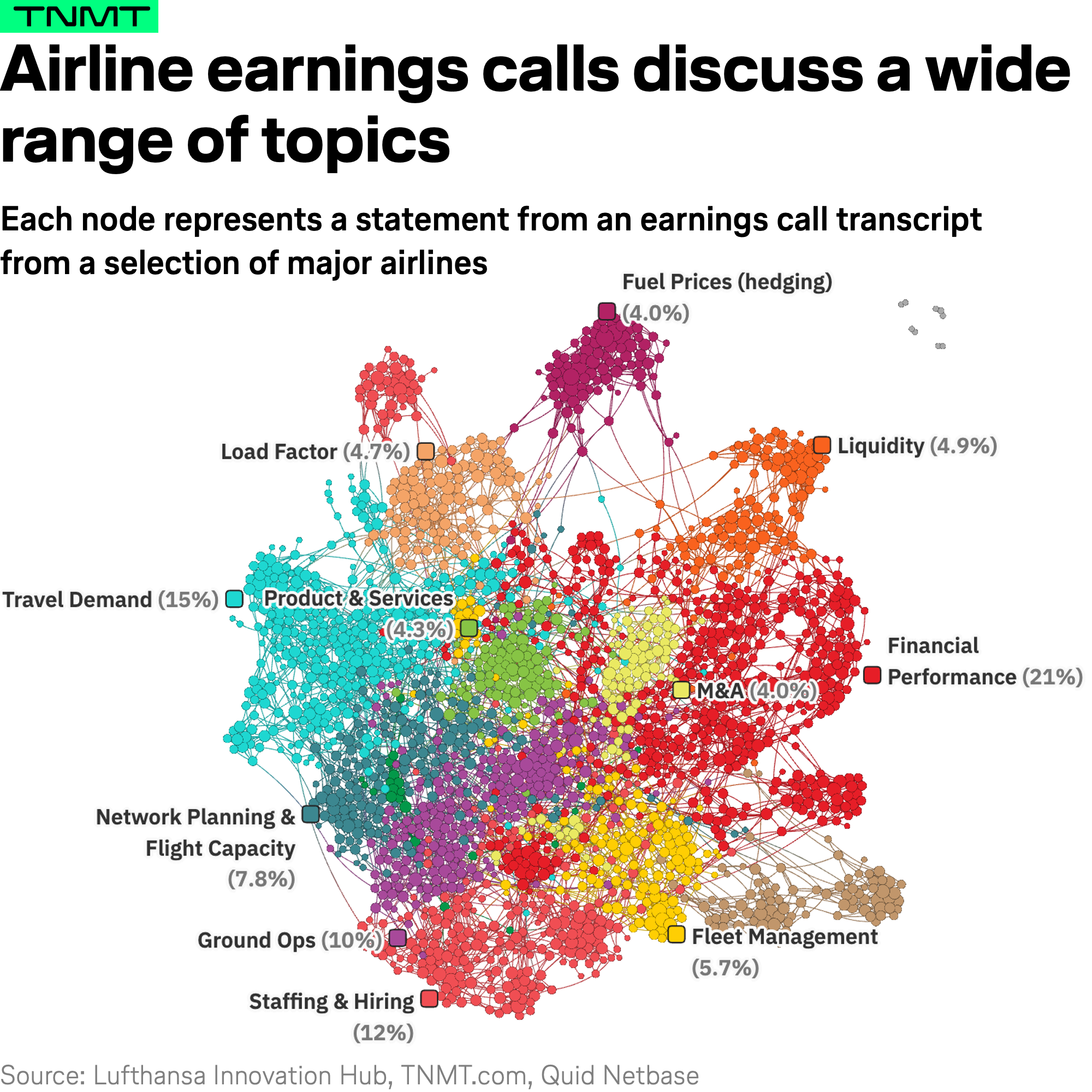 Let's look at some of the insights
Based on the data extracted from the earnings calls network, we could derive five main insights into what airline executives are currently focused on and what this means for the future of the airline industry.
1. Staffing and labor shortages have dominated earnings call discussions during the past year
The majority of discussion topics in airline earnings calls during the past year revolved around the financial performance of airlines. Think revenue, profit, and cash flow. This is expected, given that earnings calls are fundamentally about money and how much a company is currently making.
In conjunction with this, demand figures, such as the number of bookings and passengers, are also heavily discussed, given that they are directly tied to revenue, alongside other major financial factors.
Beyond the money, late-pandemic discussions taking place during airlines' earnings calls over the past 12 months have focused significantly on staffing and hiring challenges.
As well, there has been conversation swirling around ground operation bottlenecks in response to this summer's returning travel demand. Most airlines were not prepared for the frenzy, given their smaller team sizes, which came with aggressive restructuring and operational optimization during the pandemic.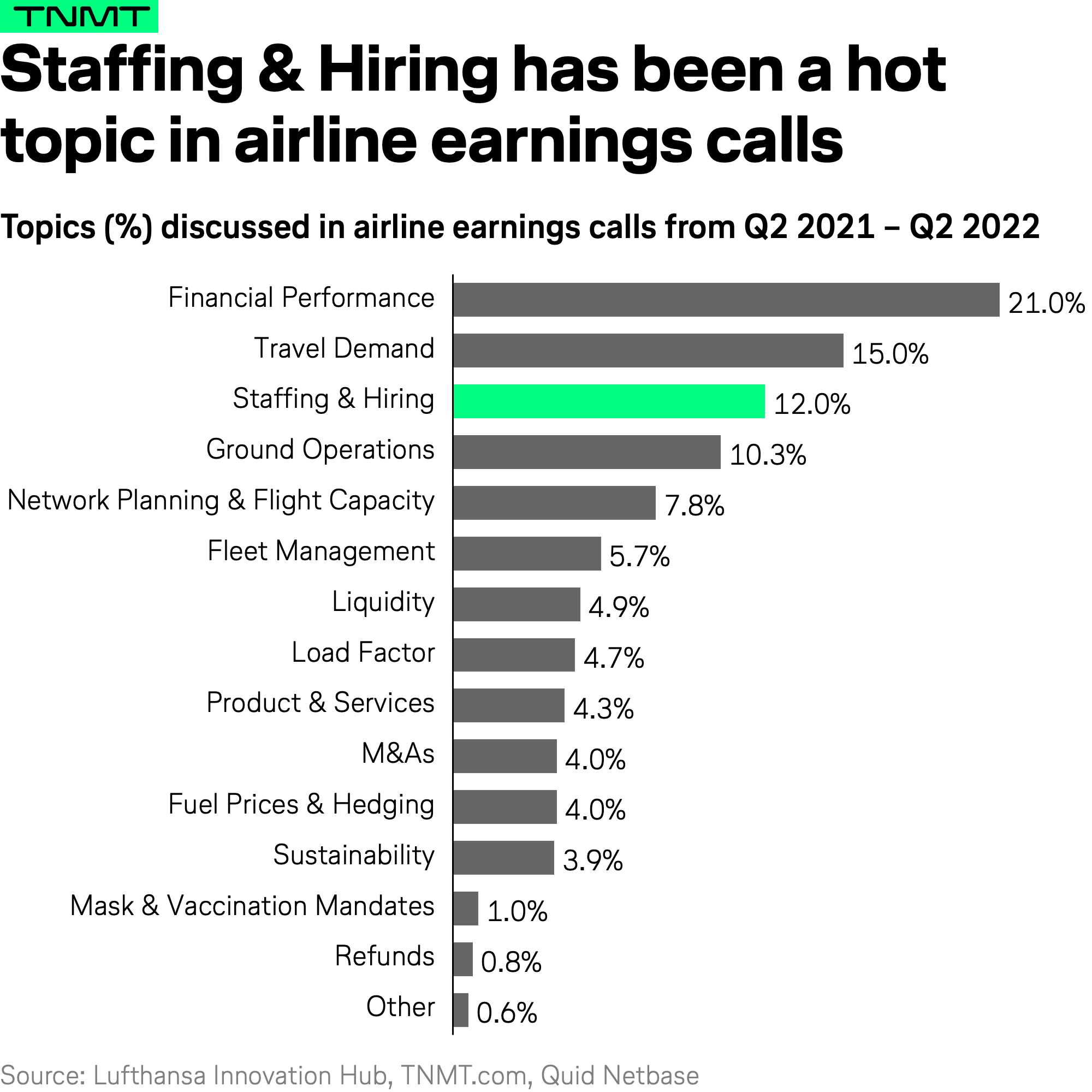 Let's take a closer look and elaborate on the labor discussions.
Most of the commentary surrounding staffing came down to worker shortages as a result of layoffs during the height of the pandemic. More recently, especially over the last two quarters, this conversation has shifted towards rehiring crews and (re)training pilots.
Additionally, in anticipation of strong projected summer demand, analysts started steering conversations towards training and rehiring especially from Q4/2021 on.
To be exact, hiring talk was 18% more extensive in Q4 of 2021 than in the previous quarter.
The topic generated even more traction in Q1 of 2022, up another 31% from Q4/2021.
The reasons for so much labor talk on earnings calls are quite obvious. This was largely due to the massive layoffs that took place in 2020. At this time, the aviation industry was estimated to have lost about 2.3 million jobs, according to an analysis by Oxford Economics. The loss, which represented a 21% reduction in the total workforce of the industry, is now a major issue for airlines.
Moving forward, this topic is likely to remain top of mind for airline executives. As well, it will be a concern for the foreseeable future. The widespread issue of staff shortages (going beyond the airline industry) won't be solved anytime soon. Instead, the aviation and travel industries will be left reeling.
So, how exactly does this compare to our analysis from 2015 to 2018?
Comparatively, the pre-pandemic state of airline earnings calls focused on neither staffing nor operations whatsoever. Rather, earnings discussions from 2015 to 2018 were strongly focused on growth topics, such as the network expansions of airlines.
This is most likely because the four years prior to the pandemic have been considered the best commercial years for the airline industry. During this time, reported net profits peaked, as shown on charts like this one from Statista or reports from IATA.
2. While operational bottlenecks are far from being solved, they are overshadowed by airlines' first profits since the onset of the pandemic
As you can see in the chart above, the fourth most-discussed topic during airlines' earnings calls surrounded operations, such as ground ops equipment and supplies, technical operations teams, slots allocation, and airport capacity.
Earnings calls during Q1/2022, in particular, included a lot of conversations about the operational preparedness of airlines (and airports). This was a frequently asked-about topic, in anticipation of summer 2022, which made up 12.6% of all discussed topics, an 85% increase from the previous quarter.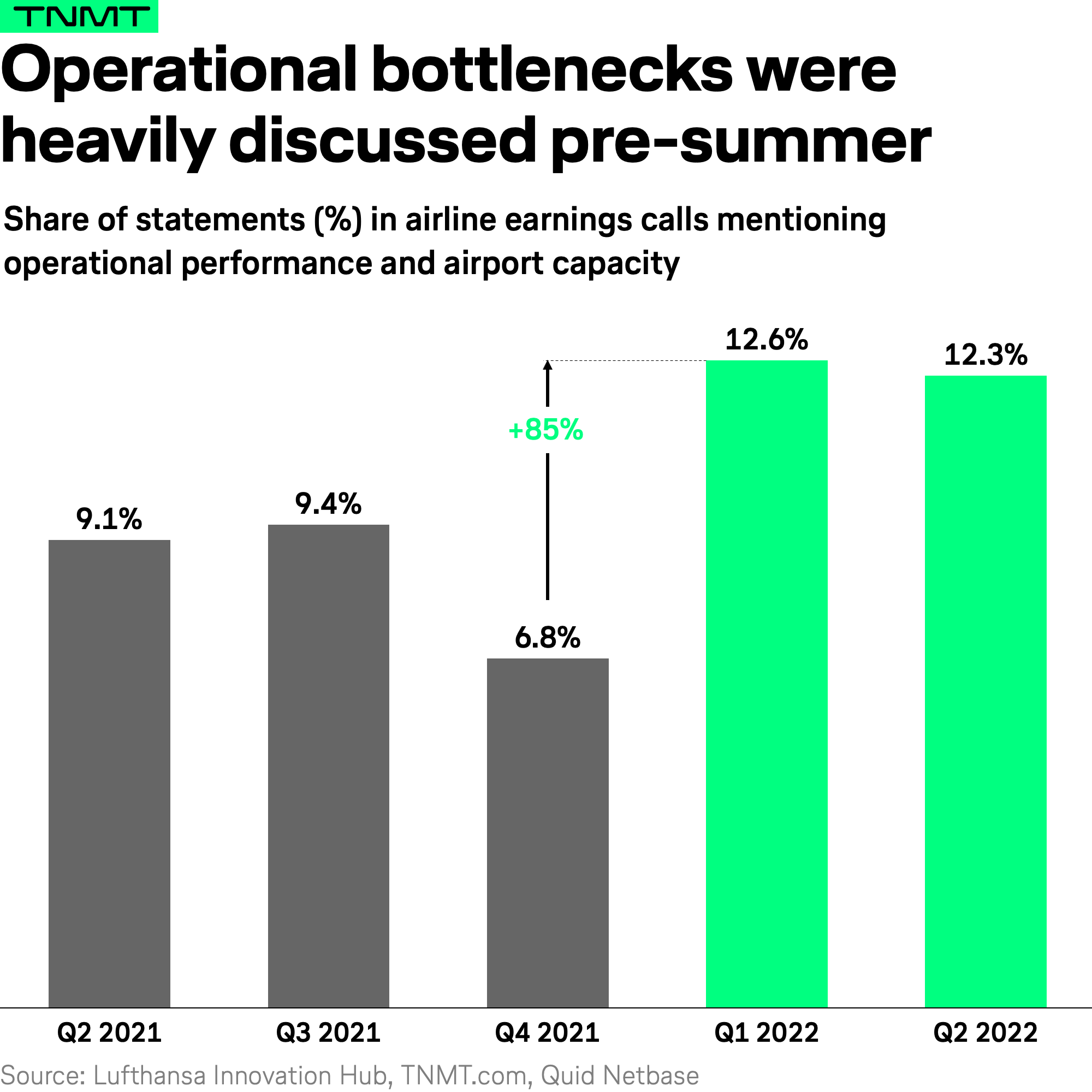 In order to better understand the sentiment related to these operational topics, we also looked at the tonality in the questions of analysts and answers of airline executives.
It turns out that the negative sentiment surrounding these operations topics saw a clear spike in Q1/2022. As the reality of summer demand approached, negatively connotated statements went from 19% in the previous quarter to 35% in March 2022. This change in sentiment was driven by growing concerns about how to solve these operational bottlenecks.
Critics might argue that the growing negativity surrounding Ground Operations is justified. This summer's airport chaos certainly evidenced that the aviation industry simply wasn't prepared to mitigate the ensuing pent-up summer demand.
While this is the case, our analysis of airline earnings calls proves that the majority of airline executives were bullish when it came to operational capacity and preparedness. This is demonstrated by the 81% positively connotated statements in Q1 of 2021 and the remaining 65% in Q2 of 2022.
What does that mean?
Airline executives seem to have been confident that their companies were prepared with claims they were "ready to handle the situation in summer 2022 better than in summer 2021."
Just a few airlines have acknowledged and been forthright about the operational challenges that have come with the coordination of various stakeholders prior to summer. An example of this can be found in an extract from Lufthansa's earnings call from Q1/2022. This took place when the airline industry was approaching the summer months:
"Despite all the joy of our fully booked airplanes and people's desire to travel, the upcoming summer will, undoubtedly, be a major operational challenge for the whole industry. We, of course, think and plan ahead as good as we can, and we will add to our resources where necessary. … But we're also fully aware that many partners, such as airports, air traffic control, and caterers, are currently struggling with significant staff shortages. Some problems will surely not be solved by this summer. And together with our partners, we are obviously looking for solutions. I'm sure we're not going to find all the solutions we need by the summer. "
In Q2/2022, the topic of operational performance and bottlenecks remained a highly discussed topic. At the time, airlines were criticized by analysts over the chaos at airports and hundreds of canceled flights. US airlines reportedly canceled more than 600 US flights a day in August and more than 12,000 flights were delayed in June 2022. That's a lot of angry and disappointed customers.
Nonetheless, the sentiment of airline executives was actually less negative in Q2 of 2022 compared to the previous quarter. The higher rate of positive sentiments in the latest quarter has been driven by airline executives who have forward-looking outlooks on new airport agreements to extend capacity. For example, Iberia has started sharing Terminal 8 with American Airlines at JFK Airport, BA now has Terminal 5 at Heathrow to itself, Heathrow has also reopened Terminal 4, and KLM has acquired more ground and technical staff at Schiphol.
As all these partnerships and capacity expansions were recently established and will only come into effect in the near future, the high share of positive tonality seems to be out of place. Nobody can deny that thousands of travelers had terrible travel experiences over the summer.
This has left a negative impression on many as they embarked on their first trips since the pandemic began. The tonality of airline executives in earnings call doesn't mirror this reality on the ground.
3. Sustainability has finally made it into the strategic agendas of airlines
Interestingly, when we look beyond the top five list of topics discussed during earnings calls, we find that long-term strategic challenges are part of the conversation too. For instance, there was an ongoing dialogue surrounding how airlines can become more sustainable and pollute less.

Three years ago, sustainability concerns were not mentioned once in our analysis. The topic currently accounts for up to 5% of the time spent in earnings calls discussions.
This indicates a shift towards sustainability as a matter of concern, which is likely due to scrutiny. Said criticism has come from consumers, governments, and environmental institutions, all of which have called upon the aviation industry to reduce its carbon footprint.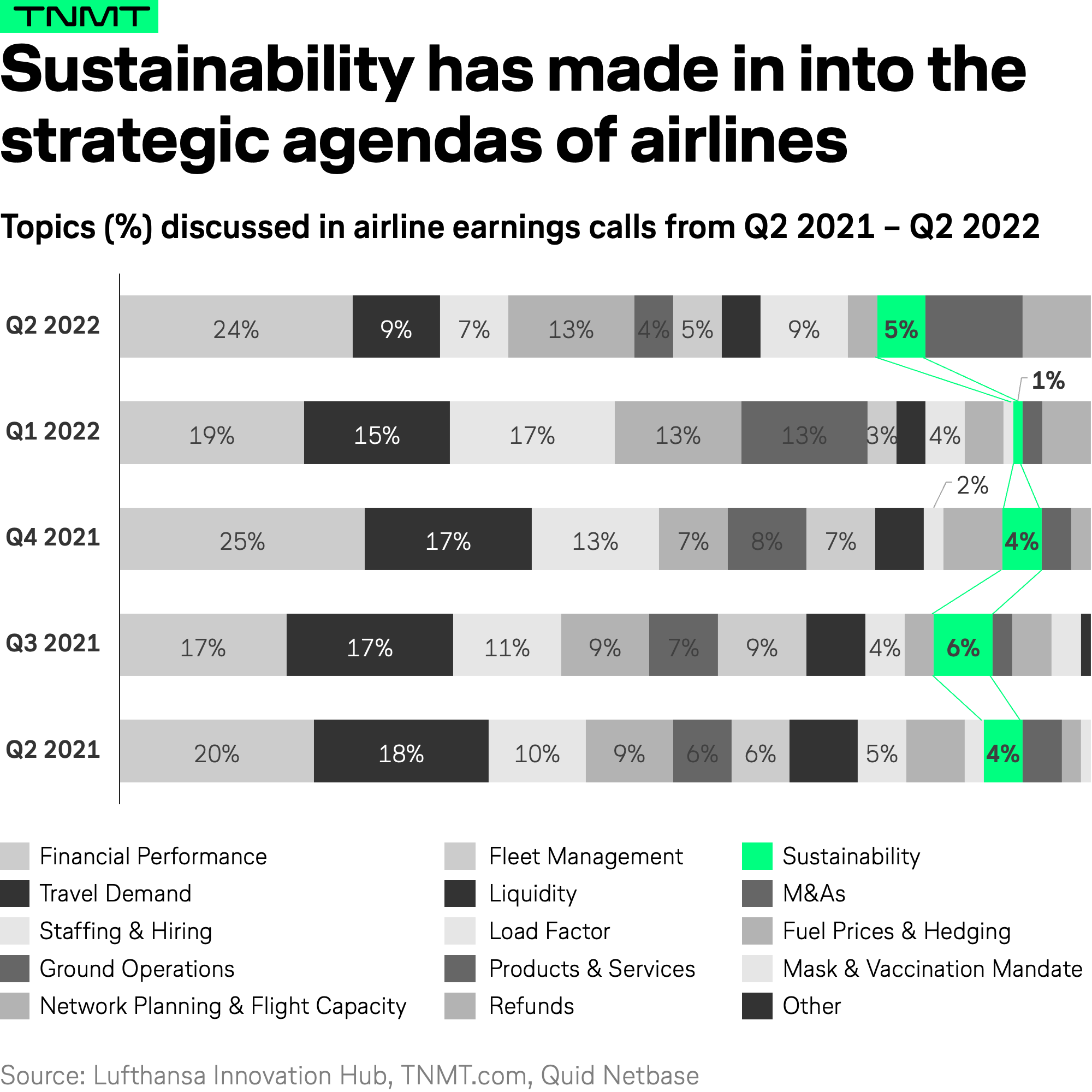 Sustainability has been consistently discussed over the years, peaking at 6% in Q3/2021.
This is mostly due to the COP26 UN Conference, which took place in Glasgow in Fall 2021.
The trend indicates that sustainability is a matter of concern for investors to evaluate the performance and attractiveness of airlines. As time progressed, sustainability has moved up the ladder on the strategic agendas of airlines, slowly becoming a must-have across the board.
This is also manifested in the statements of airline executives during earnings calls. In the past, they only mentioned sustainability when asked about carbon emissions targets. Now, airline executives are proactively discussing concrete climate projects and actions.
How exactly?
The majority of airlines are looking to Sustainable Aviation Fuel (SAF) as a means through which to tackle sustainability concerns. However, some trailblazers are talking about exploring new solutions, such as hydrogen- and electric-fueled planes via startup investments.
For example, IAG and JetBlue are frontrunners in this area, which might not come as a surprise. These airlines have the highest number of startup investments among all those making investments. Here are two examples:
Interestingly, the airlines with the highest share of sustainability-related discussions in their earning calls include our parent company Lufthansa, which had 7.6% of its earning calls spent on sustainability topics, and Ryanair at 7.2%.
What does this tell us?
Airlines are taking different approaches and have different strategies for addressing sustainability. While some are focused on investments into higher-risk technologies, such as electric and hydrogen planes, others are buckling down on SAF coupled with a strong communication strategy.
4. M&A is an emerging topic that has gained the most traction in the last quarter
Another interesting observation from our analysis is that Mergers & Acquisitions (M&A) have become an emerging topic worthy of discussion, jumping from 2.2% of conversations in Q1/2022 to nearly 10% of all discussions in Q2/2022. This was mainly driven by dialogue surrounding the merger between Jetblue and Spirit Airlines as well as the potential acquisition of ITA Airways, the successor of Alitalia, by Lufthansa.
While not all of these M&A transactions have gone through nor been closed yet, the discussions have been booming. Within the aviation industry, rising M&A talk could be an early indicator of more fierce consolidation in the next months to come. This often comes in the aftermath of a crisis.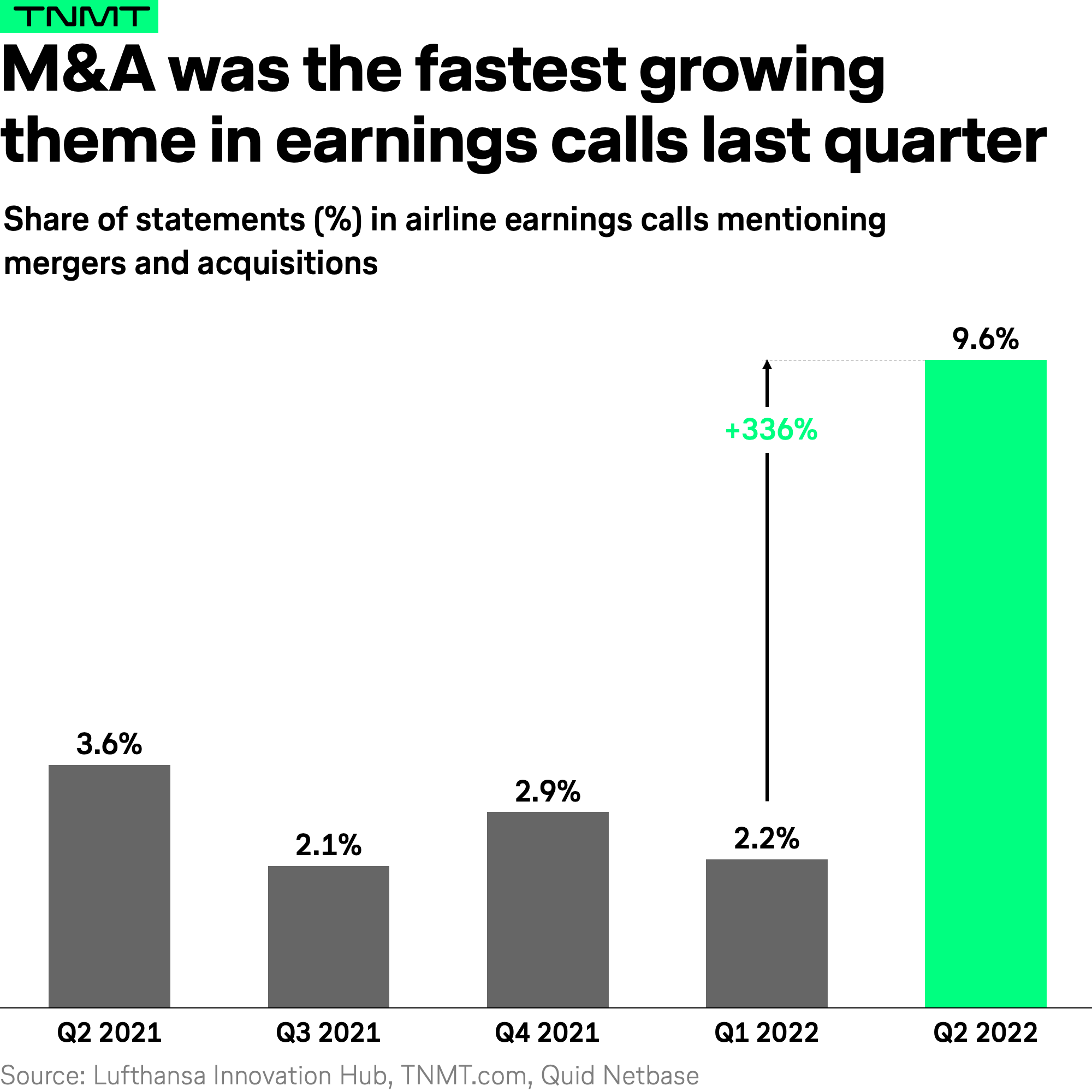 5. Unfortunately, disruptive innovation is still irrelevant
While the aforementioned topics are important, it appears that earnings calls still largely revolve around operational and financial matters. These topics of discussion do little for the aims of digital airline innovation.
Innovation itself was mentioned just eight times and innovation-related trends such as eVTOLs were mentioned only once across thousands of statements in all 30 different earnings calls from the past year that we analyzed.
The same holds true even for the topic of digitalization, which undoubtedly plays a relevant role in the post-pandemic world for both customer satisfaction (think better airline apps) but also optimization reasons (e.g. analytics to better project customer demand).
All these innovation-related keywords make up such a tiny fraction of time spent in earnings calls that it's almost not worth mentioning.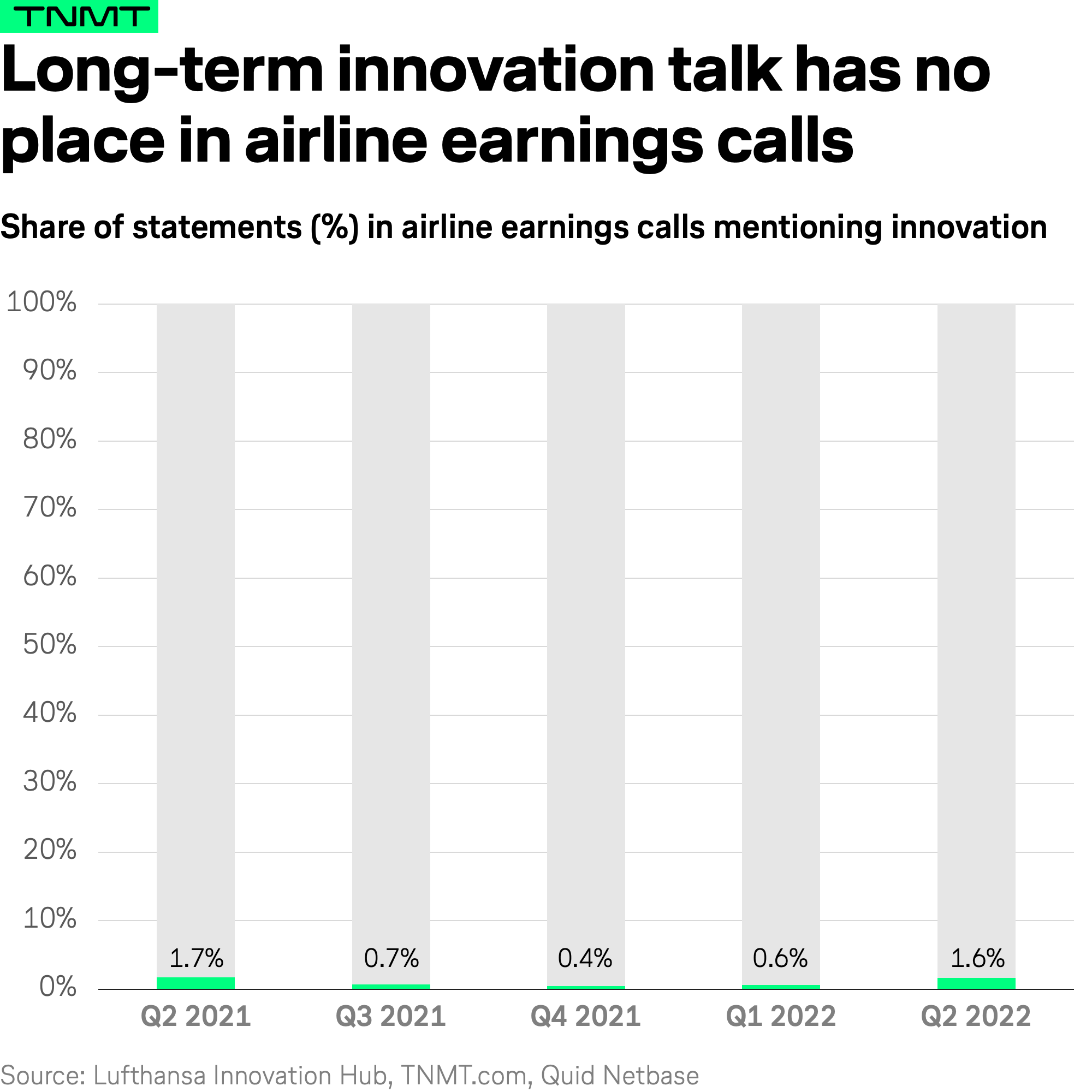 These initiatives are simply not a priority right now. In some distant future, they might be but that remains to be seen.
On top of this, it seems like airline earnings calls are still not the place to discuss long-term innovation. It's unfortunate that Wall Street analysts, in particular, don't probe the question. In other industries, such as automotive, innovation is a lot more prominent of a topic. In these sectors, innovation can account for up to 10% of time spent in earnings calls.
Here is what to take away
We are now more than two years into the pandemic and topics of conversation have shifted from expansion and growth to operational optimization. Airline executives are focused on rebuilding their companies through the rehiring of staff lost over the past two years. As well, airlines wish to optimize their ground operations and airport capacities and agreements (together with their partners).
Over the past two quarters, there has been a great deal of attention paid to operation performance, especially amid the summer travel chaos.
While this is the case, airline executives have insisted they were mostly prepared for the disarray.
For example, in Q1/2022, during earnings calls that took place ahead of summer, the majority of executives claimed they were prepared. These decision-makers argued that their staffing was sound enough and that the rehiring and retraining of team members was no issue in the face of the pent-up travel demand. Airports, undoubtedly, played a big role in capacity shortages as well but lack of pilot capacity, for example, lies on the airlines' side of the court.
Despite these well wishes, travel in the summer of 2022 was an absolute mess with countless flight cancellations and delays. Consumers were quick to share photos and videos of the incredible queues at airports on social media.
Despite this travel horror, airlines have reported their first positive earnings quarter. Therefore, a lot of attention has been redirected by airline executives away from staff shortages and hiring problems towards these fiscal gains.
However, not everything is in dire straits. We have identified the existence of an increasing variety of topics, which are being discussed during earnings calls. This indicates that airlines now have a more diversified range of topics on their strategic agendas. For example, two of the biggest emerging topics include sustainability and M&As.
For now, we are disappointed that there hasn't been more attention paid to the matters of innovation and digitalization in earnings calls. However, with sustainability having been discussed consistently over the past year, there's hope on the horizon for a time in the near future when these emerging topics become part of the strategic agendas of airlines too.