If there is one thing the pandemic has made clear, it is that environmental awareness is higher than ever, and that prioritizing sustainability will be a key differentiator on businesses' post-pandemic strategic agendas.
In a BCG survey of over 3,000 people, 70% of respondents said that over the past 18 months, they have become more (rather than less) concerned about addressing the environmental challenges they face. And it's not just the climate people have become more concerned about—it's also socioeconomic topics.
But climate change has clearly established itself as the number-one force in people's minds impacting humanity in the decades to come. And rightfully so.
Why do we bring this up?
Because the travel and tourism industry is at the center of this megatrend. In 2018, global tourism had already contributed to approximately 8% of global greenhouse gas emissions, accounting for three times as much as aviation alone, and serving as a bigger polluter than the construction industry.
The pandemic accelerated the need for sustainable travel
Unsurprisingly, the sustainability movement also rapidly penetrated the travel context during the pandemic, after already reaching record highs leading up to the COVID-19 crisis in 2019. Travelers are now more aware of the different choices they can make to avoid impacting ecosystems and communities.
As a result, many new industry players, particularly startups, are increasingly trying to mitigate the negative effects of the travel industry, including by offering alternatives to mass tourism, or solutions to offset, reduce, or remove carbon emissions.
The key question that remains to be fully answered is whether consumers' heightened commitment to sustainable travel really translates into action, and into more conscious long-term purchasing behavior.
As our previous research shows, there has long been great awareness and interest in sustainable travel options—even before the COVID-19 pandemic hit—but sustainable product purchases continue to be poorly driven by an unwillingness to pay more, even when it only comes down to a few bucks.
Asia is a special case
This challenge is especially relevant to the Southeast Asian region, where sustainability, in general, is still a novelty for consumers. At the same time, the domestic travel markets in selected Southeast Asian countries have recovered pre-COVID levels relatively quickly, thereby providing the West with a glimpse into what people's post-pandemic travel consciousness might look like.
With all this being said, we joined forces with Singapore's Blackbox, a leading global research and advisory firm focusing on the Asian market, to understand what really matters to travelers in Southeast Asia—particularly when it comes to making sustainable travel choices. 
We asked questions such as:
What keeps travelers from making sustainable travel choices?
And what drives their behavior to do so?
To find out, we surveyed over 4,600 travelers above the age of 18 across six ASEAN countries: Indonesia, Malaysia, the Philippines, Singapore, Thailand, and Vietnam.
We believe the results can help travel providers across the globe make better decisions on how to introduce new travel products and services to consumers, as well as on how to incentivize customers to make more sustainable travel choices.
Here are three of the main takeaways from the survey. For more data and insights from this survey, please reach out to Blackbox.
As the first step in our attempt to better understand travelers' decision-making where sustainable travel choices are concerned, we wanted to find out what Asian travelers actually view as "sustainable travel" in the first place, as this can potentially mean a lot of different things.
Specifically, we were interested in identifying those sustainability measures that would instantly appeal to travelers, regardless of whether these initiatives really make a difference in mitigating climate impact.
Interestingly, and in what amounts to great news for travel providers, the option of traveling less frequently, or to closer destinations, is not considered as relevant as a range of other options. The truth is that people are not willing to give up travel. Exploring the world is a human desire, and this is directly reflected in the data. No wonder we have seen revenge travel picking up so quickly across the globe, having started as soon as lockdown measures and travel bans were lifted over the course of the previous year.
Instead of traveling less, ASEAN travelers state that they are eager to travel more consciously (e.g., by treating local natural environments better, and by doing more research upfront to select the right travel destinations, travel providers, and transport options to travel greener).
This also reflects other credible research findings, which conclude that people continue to express a high desire to travel but are approaching their decisions by looking at alternative, more sustainable ways of doing so (i.e., over 27% of travelers want to adopt more sustainable transportation habits compared to pre-COVID times).
After understanding what sustainability initiatives and actions travelers see as generally more important, we wanted to find out what potential barriers might be hindering their decision to take these sustainable actions in today's travel landscape.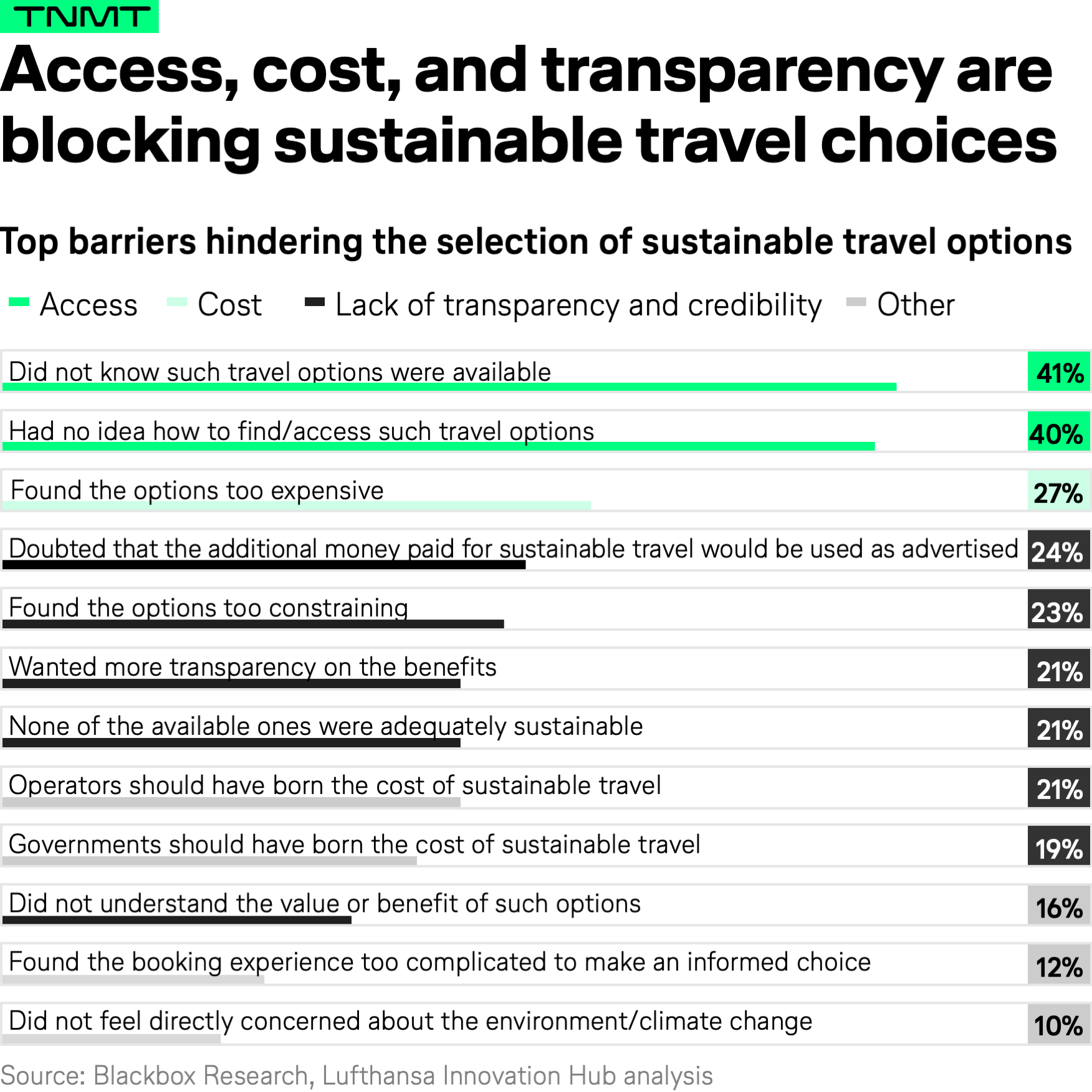 Our survey results reveal that access to potential green travel options is seen as the biggest hurdle for travelers to make better decisions. In other words, travelers often simply do not know which travel options are more sustainable, nor do they always know how they might access these more sustainable solutions.
Therefore, it's unjust to only blame travelers for not traveling more sustainably, as it seems the travel industry is currently failing at offering more sustainable travel options. This is in line with other survey findings—for instance, those reported by BCG, who found that 87% of travelers expect travel companies to proactively integrate more environmentally-friendly elements into their products and services.
This is an extremely important takeaway for travel providers like booking platforms and OTAs. These entities need to present booking options for "greener" travel choices more effectively—for instance, by highlighting the most sustainable hotel choices or flight routes. A couple of these measures have recently been implemented; Google, for example, now provides this information in its search results, where hotels certified for meeting high sustainability standards from certain independent organizations feature an eco-certified badge next to their name.
Access to sustainable travel options isn't the only barrier to entry here. Additionally, the high costs associated with sustainable travel options come in as the next major hurdle for travelers, followed by a lack of transparency and credibility for some of the more sustainable travel options.
This combination of cost and lack of transparency/credibility is important to keep in mind.
It shows that sustainable travel is not a purely financial decision travelers make when deciding NOT to book a potentially more sustainable travel package. Instead, travelers might hesitate to proceed (and pay a premium) because they do not trust or understand what exactly is being labeled "sustainable."
Travelers may feel like they do not have enough information on what will happen with their hard-earned money when they are offered more expensive, but so-called "greener" travel products.
This is something we hear over and over again. The benefits of green travel products are not clear to travelers. Take this example: In previous research, we presented travelers with the choice to offset their flights' CO2 emissions with reforestation OR to pay a premium for a more fuel-efficient aircraft. The results showed that travelers were more likely to choose reforestation, but only because the option is more tangible and comprehensible, while a more fuel-efficient aircraft is a rather abstract concept.
Going forward, it seems the travel industry needs an objective way to measure what sustainability really is—and this standard needs to be applied consistently across travel products (for instance, in the form of a universal CO2 tax). Until we get there (if ever), we urge travel providers to better educate their customers on the impact of green alternatives, so travelers feel more informed and knowledgeable when making purchasing decisions.
Third, we wanted to understand what levers the travel industry might be able to use to encourage more sustainable consumer behavior.
What motivates travelers to choose sustainability over convenience and price?
Here are the results: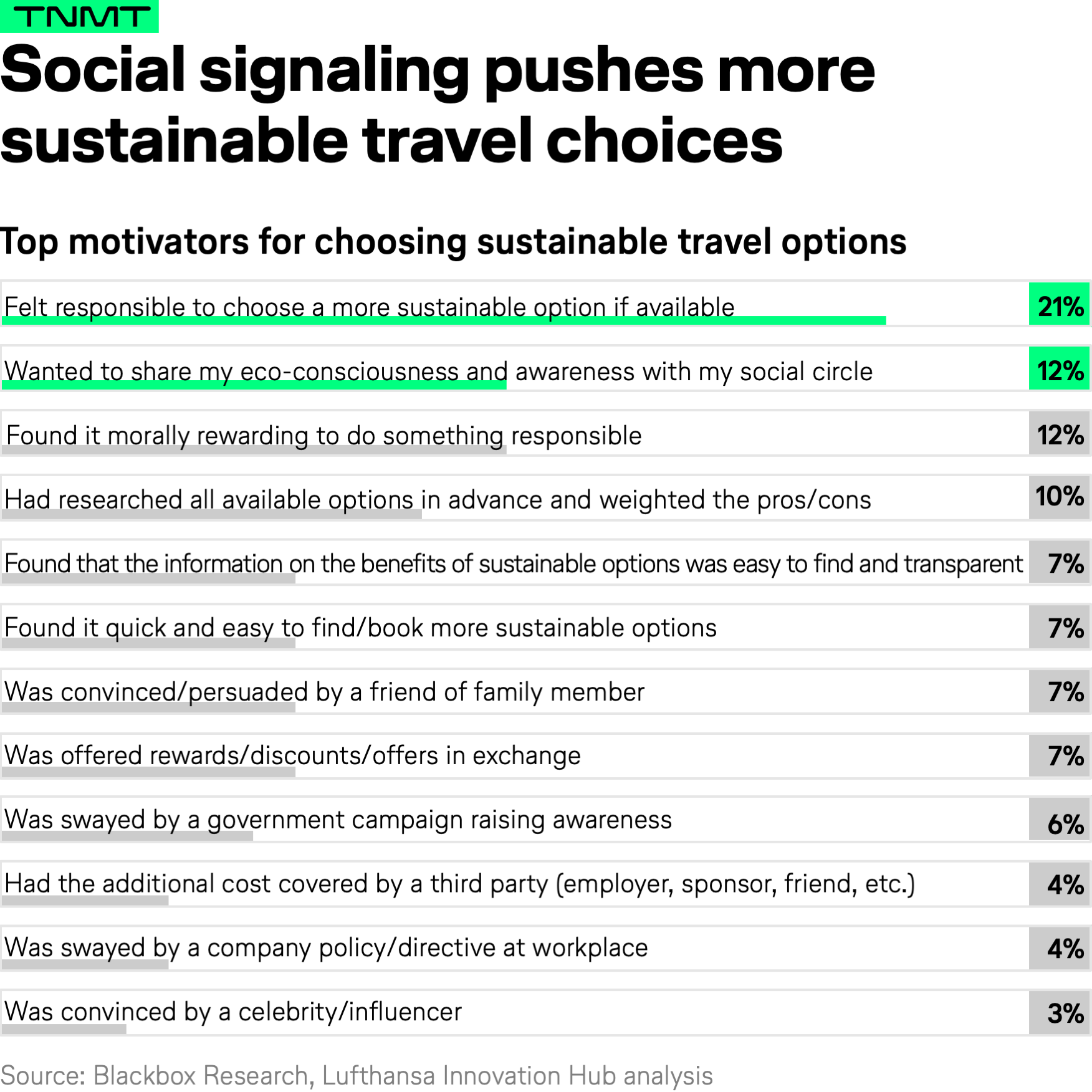 According to our survey results, social pressure and social signaling (meaning the feeling of doing the right thing, and of being able to share this with friends and family) appear to be powerful motivators for travelers who choose sustainable travel products. In other words, acknowledgment and respect from close social circles can be key drivers of Southeast Asian travelers' sustainable travel practices; it's worth noting, though, that this mechanism of "peer pressure" to act on eco-awareness is a relatively untapped force, and not only in the Southeast Asian travel context.
Ultimately, more rational and nuanced influences, such as "weighing the pros and cons," only came in ranking at number four, with just 10% of travelers agreeing with this option.
Thus, travel providers should bear in mind that the social reward aspect of product design can be very powerful, even though we have to admit that this could be more relevant to Asian cultures, which usually score higher on the collectivistic front. These cultures tend to value making decisions for the greater good, so with increased awareness of sustainable travel options, ASEAN countries may well collectively make more informed sustainable travel decisions.
With that being said, there seems to be a fine line in how much social pressure can really help in driving more sustainable travel behavior. According to the survey ranking, travelers do not necessarily appreciate their friends and family pushing them toward more sustainable purchase decisions. Instead, they prefer to be driven to make these choices independently. As such, it's essential that people feel compelled to make their own travel choices, even if those choices are influenced at the societal level.
Where do we go from here?
Looking at the data, we learned that ASEAN travelers are unlikely to limit their travel frequency and destination choices, as they don't see these factors as sustainability priorities. We believe this universal learning will also apply to travelers in other regions of the world.
Having said that, travelers appear to be more aware and more conscious of their environmental impact when traveling, and they are thus more open to trying new sustainable alternatives. In particular, they have a high willingness to educate themselves, if given the right material before booking their trips.
We believe this presents a great opportunity for travel providers to build out their content game with helpful, factual information portals, as well as by creating new travel products and services addressing the higher need for conscious travel choices. It will be crucial for travel providers to step in to help travelers understand what impacts their purchasing choices. To accomplish this, providers must establish credible ways to measure the carbon footprint of people's travel activities. Plug and Play provides a helpful overview of how to measure the CO2 output of all types of travel activity, including flights, hotels, car rentals, and more.
From a regional perspective, Southeast Asia is slated to become a highly interesting market for sustainable travel and eco-tourism. With its rising, cosmopolitan middle class; its young, hyperconnected population (and their appetite for travel); its growing network of modern travel infrastructure; and its vast, unparalleled trove of natural sites, historical landmarks, and rich cultures, the region is poised to drive the global growth of the sustainable travel sector.
For more insights, including country-specific breakdowns of results, please reach out to Blackbox.