2020 is the year of the new normal. COVID-19 has completely disrupted our lives as most countries placed its citizens in various forms of lockdown in order to curb the spread of the virus through human-to-human transmission. As a result, an ecosystem that revolves around the home has emerged — teleconferencing, round-the-clock delivery services, online courses, and even virtual parties have taken center stage these past few months.
But even as we marvel at our technological capabilities that allow us to hunker down at home, we're craving to go out and breathe fresh air. As restrictions ease across the globe, people are venturing out again, traveling locally to see friends and family, or to experience nature.
In order to quantify the extent to which people in different countries are actively venturing outside or staying at home, we built the "Stay Home" and "Go Out" indexes.
How did we do this?
The "Go Out Index" comprises select navigation and urban-mobility booking apps for the metro, bus, shared bikes, and other modes of transportation. The "Stay Home Index" consists of mobile apps people usually use at home, such as e-learning, exercise, and major grocery delivery apps. We aggregated the total app downloads to construct both indexes and compared the data across countries.
Disclaimer: The featured mobile apps vary across different geographies (e.g. the ride-hailing app DiDi is available in China but not in Germany). We picked the most downloaded apps in each country for both indexes. Therefore, country comparisons should be taken with a grain of salt, as they don't compare the same app data.
Here are the indices for the four markets: Germany, Belgium, South Korea, and China. We deliberately picked two countries from Europe and Asia each to compare potential regional influences.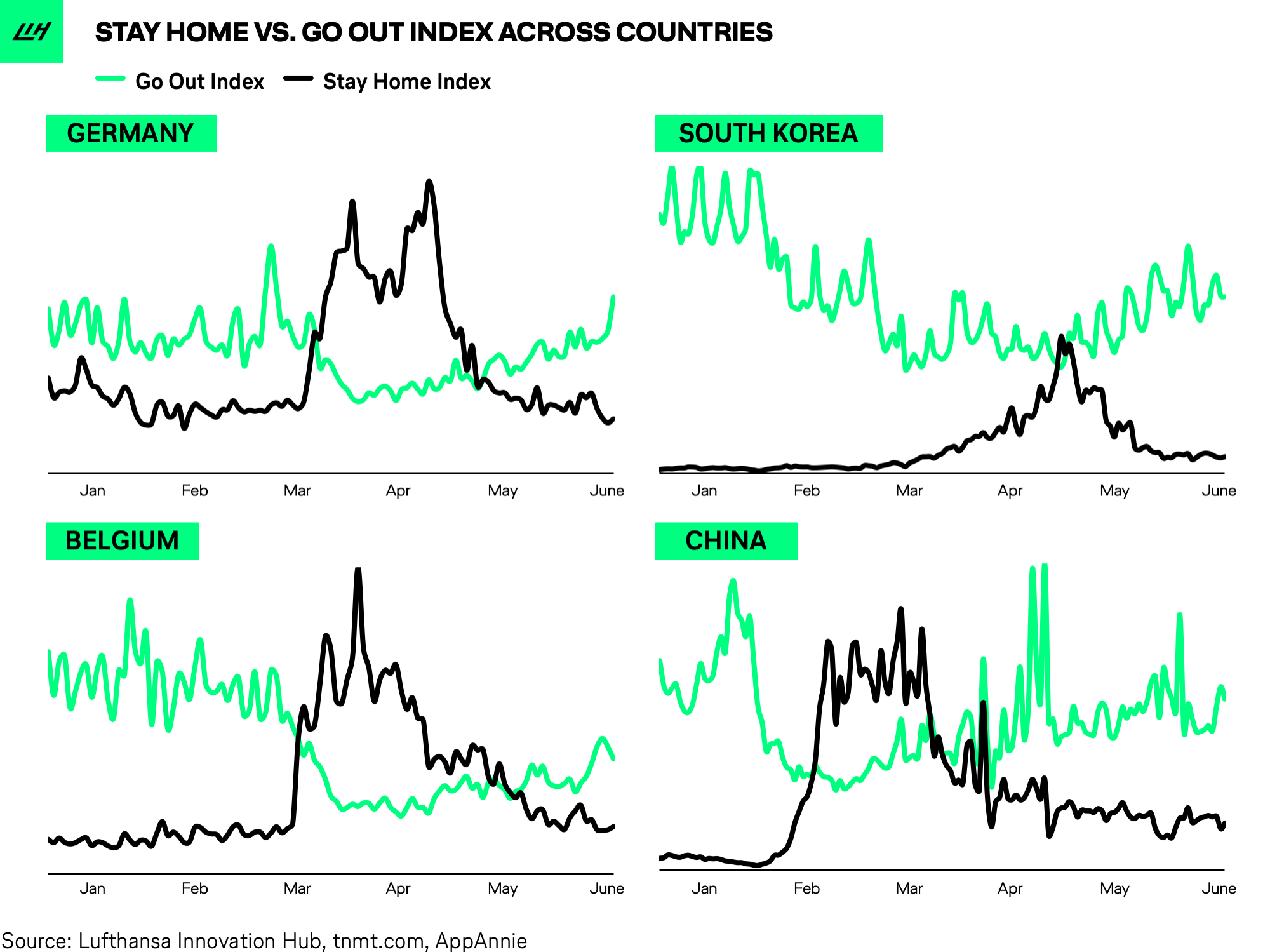 What did we discover?
1. People's thirst to venture out again is universal
Across all four geographies, we're seeing an upward trend in the number of downloads for all "Go Out" apps. This indicates that people are venturing out again and that the lockdown mentality has eased from its worst. On the other hand, the number of new downloads for "Stay Home" apps slid to pre-COVID levels, again showing that people are leaving their homes.
2. China resumes its domestic travel in spurts
After the Chinese government placed draconian restrictions on its people's movement, there was a dramatic drop in "Go Out" app usage (CW4). At the same time, "Stay Home" apps saw a surge in new downloads, driven by the mandatory lockdown and the push of digital offerings in an already digitally-savvy population. But as the outbreak subsides, restrictions have eased. The "Go Out" index shows two peaks in the Qingming Festival (CW14) and on Labor Day (CW19) – both national holidays.
We also see the "Stay Home" index hitting its lows. We have yet to see these heavy spikes in other markets, perhaps because consumer confidence in China is already quite high – as evidenced by extensive movement during both holiday weekends as people traveled for weekend getaways and domestic holiday trips. In fact, our Flight Demand Tracker shows that domestic flight capacity in China is back at ~80% compared to pre-COVID times.
3. South Koreans withstand the second wave
South Korea has gained universal applause for managing the situation well through aggressive testing and technology-based contact tracing. But unlike China, South Korea did not impose a strict lockdown, which might have led to a second wave of new cases. However, this second wave is not visible in the progression of the "Go Out" and "Stay Home" indexes. While the "Go Out" index shows quite a steady uptick until its peak in the Golden Week (Week 18/19) – the first long holiday of the year – the interest in "Stay Home" apps continues to plummet, indicating a return to normal. Consumer confidence was not affected by the second wave of infections.
4. Europeans jump on all the stay-home apps
In a pattern similar to the two Asian countries, the "Go Out" activity in Germany is rising once more, following a comparatively less dramatic drop due to relatively softer lockdown measures and the focus on "social distancing" only. Belgium appears to be taking a bit longer to recover due to its more cautious preventive approaches.
On the other hand, "Stay Home" app usage in Germany and Belgium is significantly steeper than in China and South Korea. Our hypothesis is that because China and South Korea both have more established "mobile cultures" – for instance, digital learning is a lot more common in the two countries than in Germany, where e-learning is still in its infancy — the change in consumer behavior was less drastic than in Europe.
Conclusion: Positive trends expected to continue
The virus will not disappear anytime soon, and countries may very well experience second waves as in South Korea. But that won't stop people from resuming their activity. Driven by cabin fever and an acceptance of life during a pandemic, consumers will continue to travel – first locally, and as global travel restrictions ease, internationally. We believe that it's only a matter of time.