COVID-19 has had far-reaching consequences on the travel industry, changing fundamental behaviors of travelers. Businesses, especially those led by millennials like Facebook and Twitter, have rapidly switched to embrace remote work. Video conferencing adoption has accelerated, with its efficacy proven to be able to substitute in-person meetings to a large extent. Despite initiatives like green lanes, governmental restrictions and duty of care considerations are strongly constraining business travel today.
To what degree will these Covid-induced developments be reversed after the pandemic, and what is here to stay? How does the current crisis affect the trajectory of previous developments around employee well-being and sustainability?
Bad news first: We can't predict the future. Infinite developments are possible and intertwined.
Good news: We can assess the degree of (un-)certainty for potential future scenarios. Scenarios with low uncertainty allow us to assess the impact on the future of business travel. Scenarios with high uncertainty, in contrast, are highly volatile and cannot be predicted credibly.
Asking the Delphi Oracle
To get such a grasp of the future, we turned to travel experts in our network, asked for their predictions, and identified discrepancies and areas of consensus.
Our expert group consisted of 25 high-level professionals that were carefully balanced to represent the Travel and Mobility Tech ecosystem. They include representatives from Amadeus, BCD Travel, Skift, Plug & Play, FTE Innovation & Startup Hub, DigginTravel, GeoSure, and other leading companies or organizations from the wider travel ecosystem.
In two survey rounds inspired by the Delphi study methodology, we asked the experts to rate the likelihood of 35 statements quantitatively and comment on their choices. Quantitative answers were made on a 5-point-Likert scale from "Highly likely" to "Highly unlikely", allowing us to calculate expert consensus as a measure for (un-)certainty. More on our methodology to be found at the bottom of this article.
The given statements were derived from initial interviews and related to four overarching themes:
The virtualization of work
Employee well-being
Sustainability concerns
The empowerment of travelers
We believe those four themes to be the defining elements shaping the future of business travel.
Here are the ten overarching hypotheses we explored and their respective certainty scores based on whether the group of travel experts found consensus or not.
Each of those statements we explore in more detail throughout this article.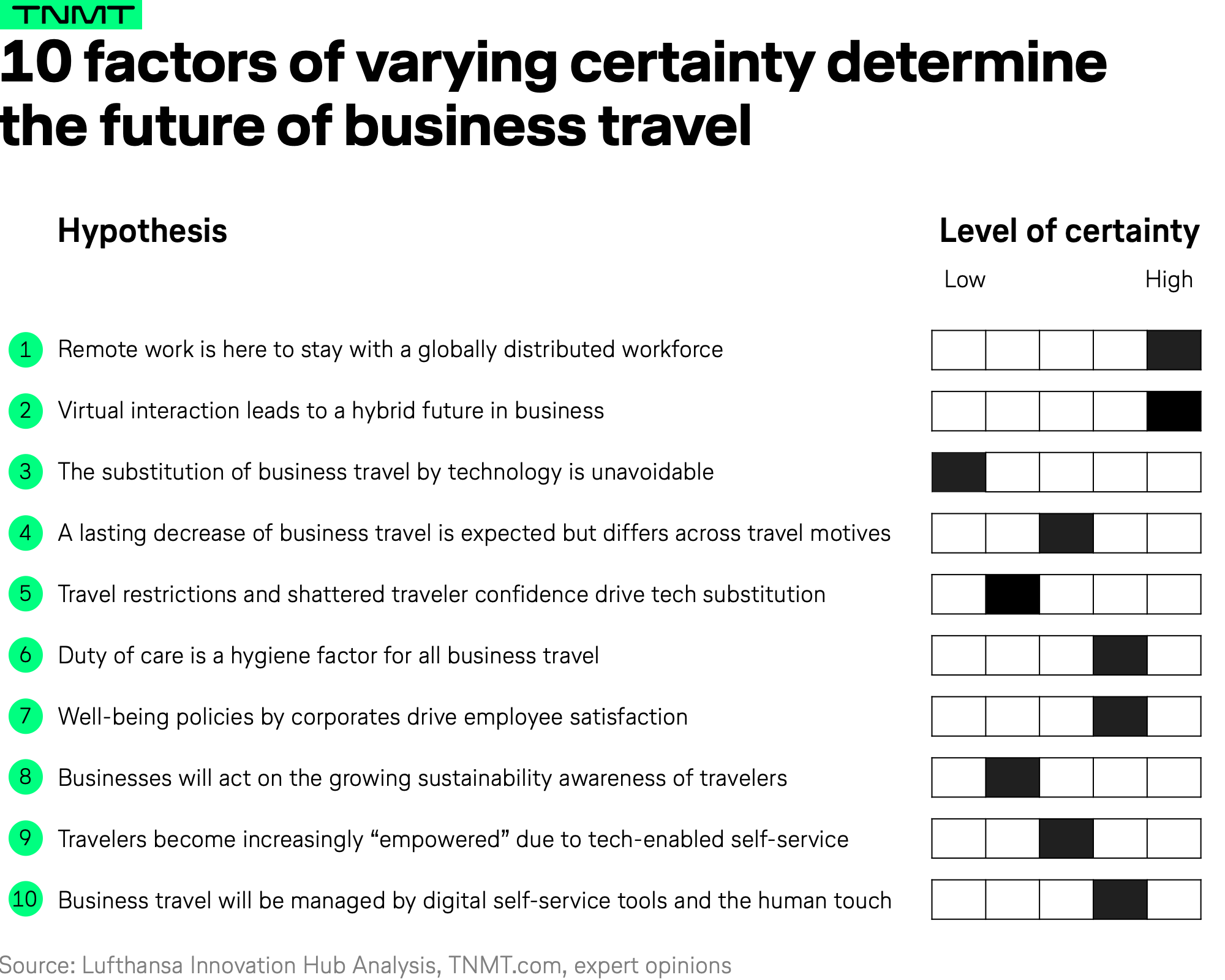 The virtualization of work
As COVID-19 spread globally, companies started to embrace remote work and video conferencing tools, which were traditionally a privilege more than a necessity. The world's largest work-from-home experiment has had varying degrees of success, with 35% of companies planning to offer remote work options post-pandemic and another 35% of companies considering flexible work according to Nemertes Research. We explored the implications of this shift to virtualization for the future of business travel.
1/10: Remote work is here to stay with a globally distributed workforce.
Responses from our expert group strongly suggest that the global workforce will be more distributed and that the share of remote work from home or non-office locations will increase, compared to pre-covid times.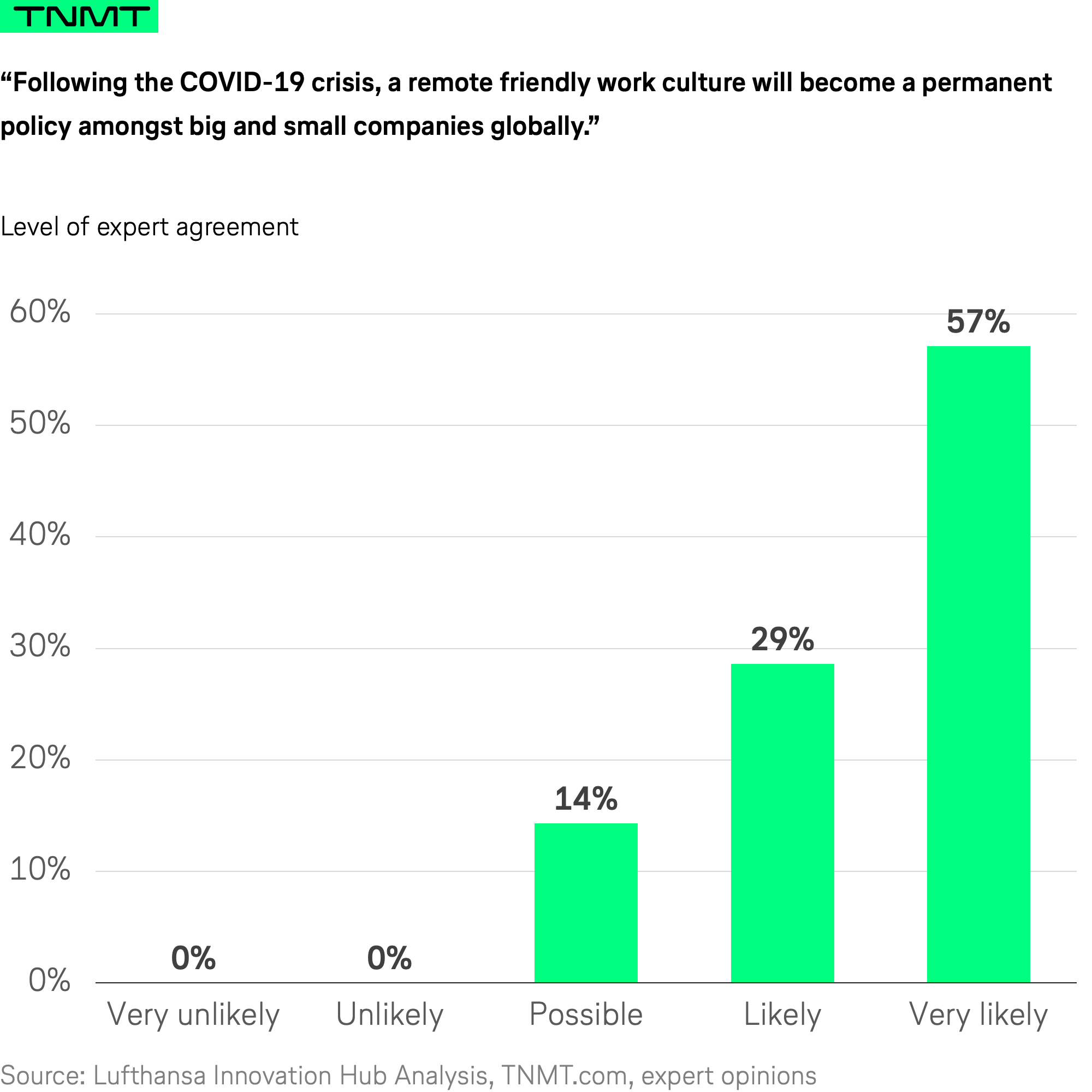 According to our experts, this development is fueled by:
A more remote-friendly work culture
The active self-marketing of destinations as remote work-friendly to attract digital nomads
The potential for employees to move away from major cities to cheaper, less crowded locations.
Many experts anticipate an increase in flexibility regarding working times and places, allowing each employee to choose the best option individually. Traditional headquarters may decrease in importance. Ironically, a more distributed workforce could stimulate the demand for business travel for face-to-face meetings that require travel.

"I see a model where periodic team meetings are encouraged to be held face-to-face to promote some social engagement around them (lunch or drinks) and keep a sense of belonging, as well as specific one-on-one sessions like talent development or performance assessment discussions to increase intimacy and engagement. For customer meetings, periodic in-person meetings should also be favored to cement relationships." — Renaud Nicolle · Senior Vice President, Business Travel APAC at Amadeus.
2/10: Virtual interaction increasingly complements traditional business travel, leading to a hybrid future.
More advanced communication technologies in the years to come can both be seen as enablers for new opportunities that complement traditional business travel, as well as potential substitutes that pose a threat to the industry. While both perspectives hold some truth, our expert data suggests that complementing opportunities are rather certain, while the threat of substitution remains uncertain and requires more differentiated insights.
Experts shared emerging motives for business travel that may arise post-pandemic:
"Innovation and strategy workshops within an organization and with outside partners; rapid expert teams to firefight situations in subsidiaries; unannounced auditing visits; hybrid meetings that bring people together physically in one location and are connected with a similar central set-up in another region through virtual meetings; traveling domestically to production firms specialized in live virtual events." — Torsten Kriedt · Senior Vice President, Solutions & Products Europe at BCD Travel.
Experts also foresee a rise of hybrid forms of human interaction that combine virtual interaction with traditional physical meetings. Conferences are expected to decrease in physical size but grow in virtual channels that are seen as a complement rather than a full substitute.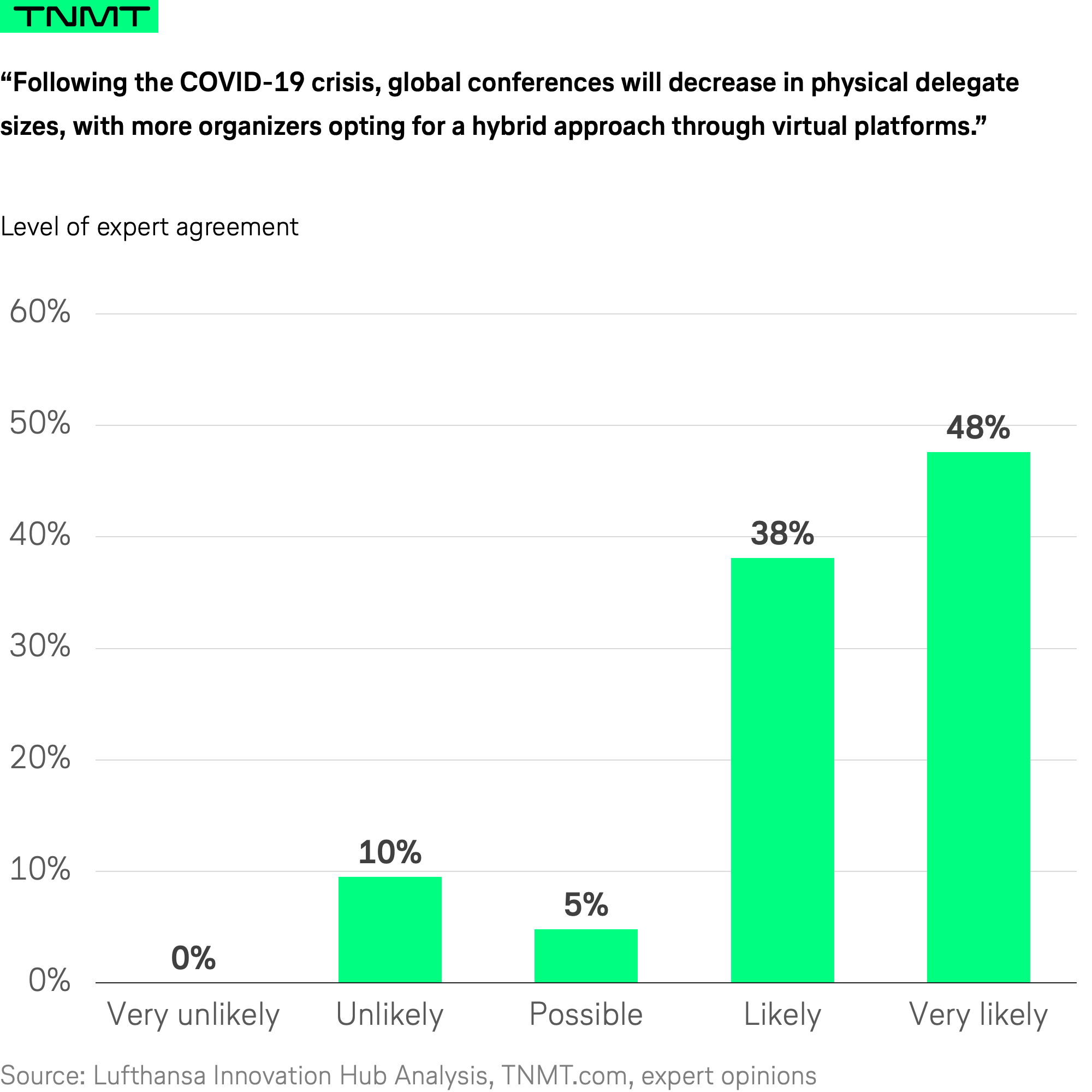 "While companies and employees see the limitations of current virtual events, the models and execution are getting better and open up attendance from people that wouldn't have been able to travel (due to cost, time, etc.). Meeting in person with key partners is still important for specific use cases. As long as the right network effect can be achieved, at least key personnel will still attend those events in person." — Torsten Kriedt · Senior Vice President, Solutions & Products Europe at BCD Travel.
3/10: Both degree and pace of substitution of business travel by technology remain uncertain.
The estimated likelihood of the substitution of business travel by communication technologies differs across our experts with poor consensus. While some experts point to the wide adoption of video conferencing and virtual meetings during the Covid-crisis, others claim that the technological maturity is insufficient for substituting many types of business travel post-pandemic. Close to half of the panel said it is unlikely for business travel to be substituted for most purposes at technology's current stage.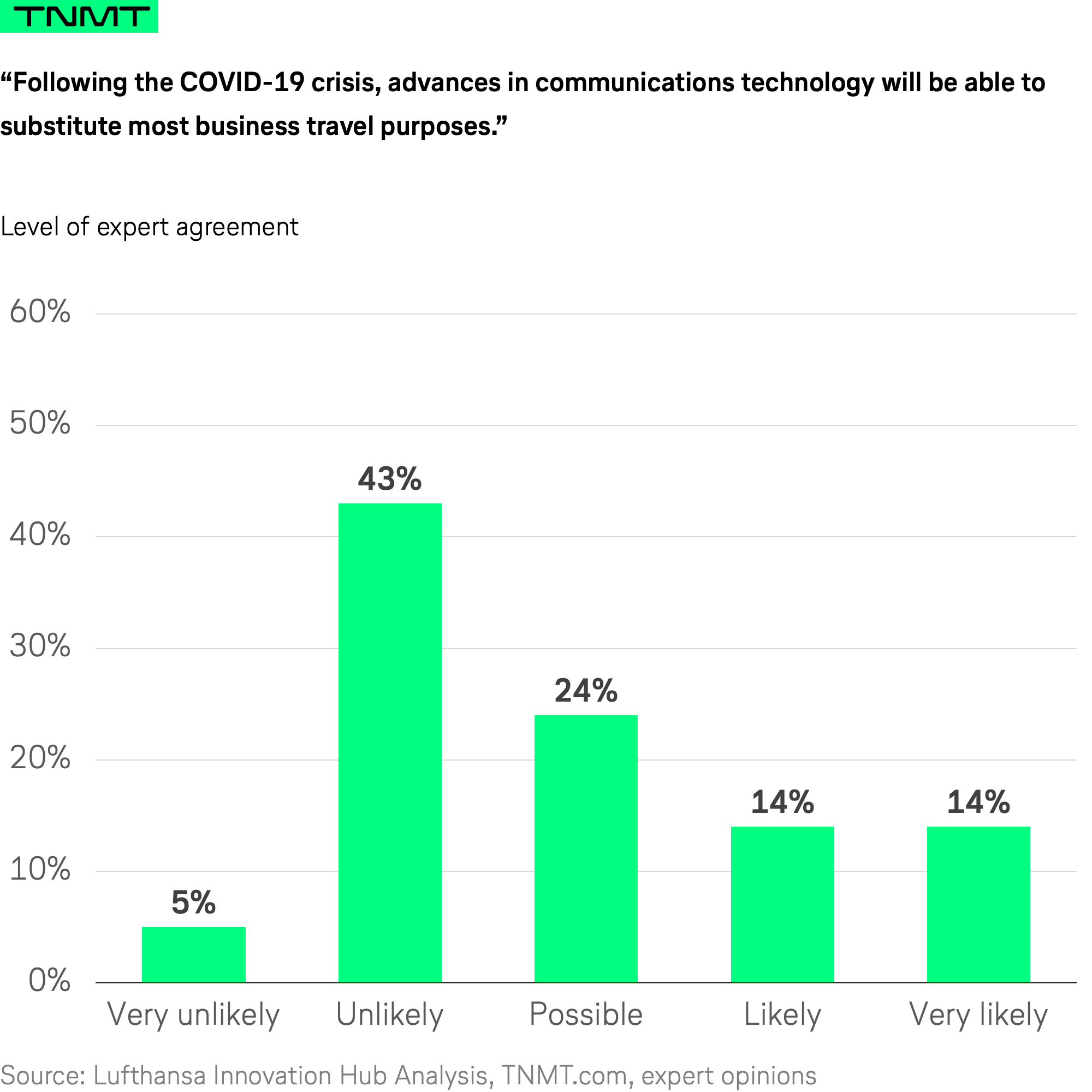 "It's not just about being in the same room, it's also about showing commitment. What if you are working on a multimillion-dollar contract, and propose a zoom call, while your competitors fly out to see the potential client in person. Who do you think looks more committed?" — Dr. Wouter Geerts · Senior Research Analyst at Skift.
The degree of substitution of business travel by digital tools remains unclear and differs across travel motives. With the arrival of 5G networks, issues associated with latency can be solved quickly, but the ability to build stronger relationships and bridge human connections via online tools remains a key opportunity area for travel and tech industries.

Motives that require more collaboration and trust-building between stakeholders may likely be harder to substitute with digital tools in the long-term, as the intimate, in-person experience is harder to replicate.
4/10: A lasting decrease of all business travel is expected but differs in magnitude across travel motives.
Experts predict a loss in all trip categories following the crisis. Large-scale meetings, incentives, conferences and exhibitions (MICE), corporate training, and team building events are likely to see the strongest decreases. Scenarios where physical presence is critical for evaluation—like in-person sales meetings, location scouting, condition monitoring, and the search of new products and suppliers—saw a smaller decrease, with more than half of experts rating a "no-change".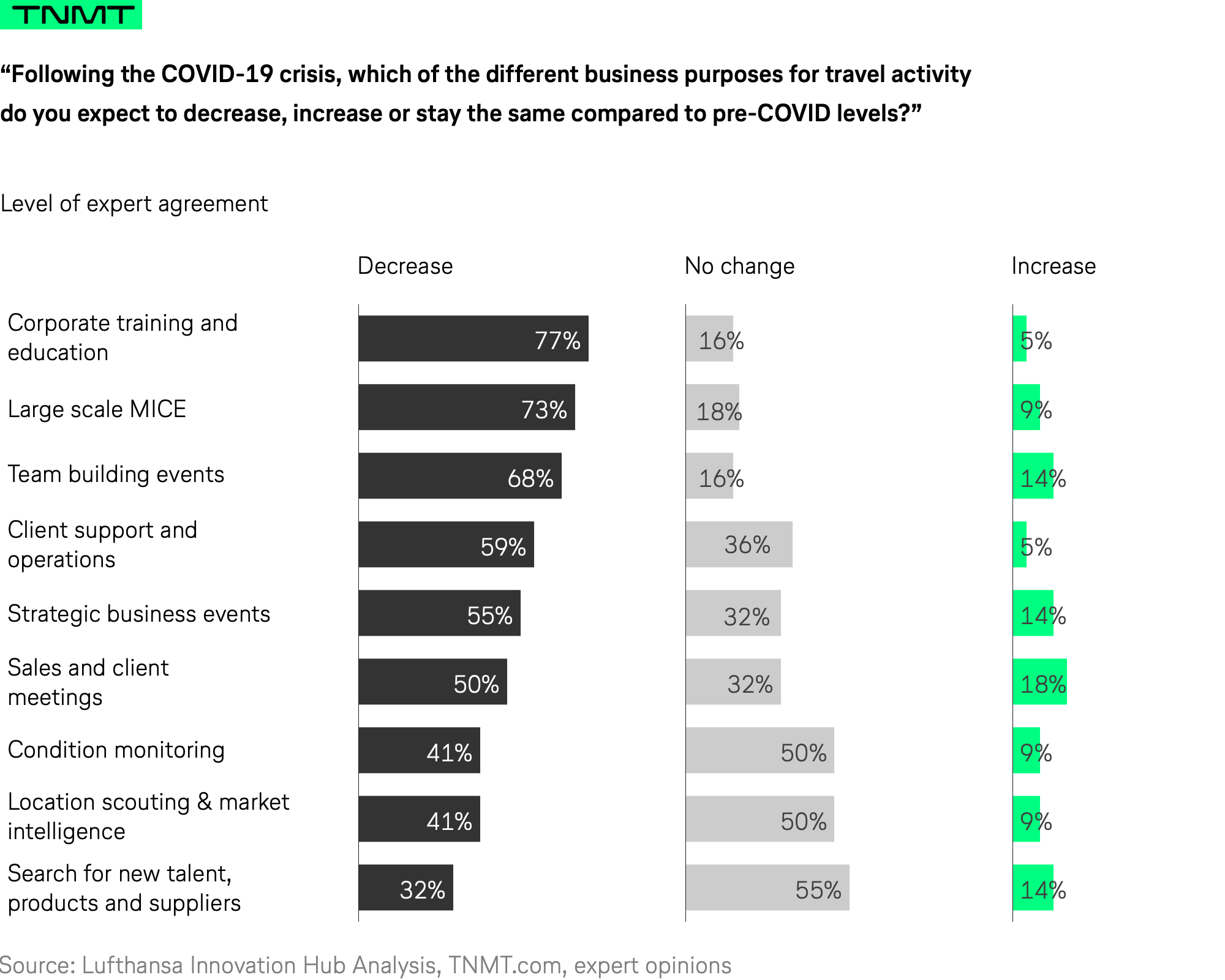 "Instead of flying everyone to global HQ for a special event (i.e. training), it is more likely for HQ to send some specialist to regional offices to deliver training. In other words, corporates will focus on making the least number of people travel to achieve the same objectives. That 1-2 people who end up taking the trip define a new category of travel that did not exist pre-COVID." — Lio Chen · Managing Director, Travel and Hospitality Center of Innovation at Plug & Play.
5/10: Travel restrictions and shattered traveler confidence are strongly driving the decrease and technological substitution of business travel.
Experts' comments suggest that the degree of substitution of business travel by technology was strongly accelerated by the Covid pandemic, driven by travel bans, growing fear of infection, and overall shattered traveler confidence. Assessing these effects of the pandemic and making predictions on whether these effects are lasting or temporary is difficult, as disagreement among the experts indicates a high degree of uncertainty.
Particularly, a poor consensus was found on whether these long-lasting travel restrictions, quarantine requirements, and testing measures will result in lower willingness for international business travel trips in the long-term.

Without a doubt, such changes in our working lives would affect the market for business travel. The experts predict a reduced frequency in business travel across all elicited travel motives, strongly indicating a lasting decrease in the number of business travelers.
"As long as there will be quarantines and other restrictions, this will significantly impact the "desire" for travel. Restrictions are by far the most "influential" when it comes to making decisions to travel." — Iztok Franko · Founder at DigginTravel.
"Some potential travelers will be put off because of fear, but companies will aim to instill confidence through communication and policies. Others will be very keen to travel again as they long for the experience and collaboration, provided it is proven to be as safe as going to the office." — Torsten Kriedt · Senior Vice President, Solutions & Products Europe at BCD Travel.
Our TNMT view on the virtualization of work:
Remote work is here to stay, and an increasingly distributed workforce is going to affect the business travel world. The resulting rise of new travel purposes, such as trips to the company headquarters or physical gatherings for team-building, can fuel business travel, while an increasing familiarity with remote work can make traditional travel purposes obsolete.

A striking result of this study is the clear need to differentiate between hybrid forms of interactions: (1) where virtualization complements physical business travel, and (2) full-blown travel substitution, where virtualization substitutes business travel.

The hybridization of virtual and physical interaction in the business context is well on its way. When we think of hybrid events with virtual live-streams, sales processes combining virtual live-demos and physical negotiations, or remote tech teams that work virtually but gather physically once a year for team building, hybrid modes of working are highly likely to shape the near future in many industries. 

The expert consensus on hybridization is supported by the market dynamics, which show an impressive cohort of upcoming startups. For an overview of the most promising virtual work startups challenging the need for business travel, take a look at our 100 virtual work startup leaderboard.

However, the question of whether business travel will be eventually fully substituted by virtual interaction is prone to high uncertainty and requires a far more differentiated view. 

According to our experts' disjunct view on substitution, we differentiate between the near future, mid to long future, and by business travel motive.

In the near future, travel restrictions and shattered traveler confidence will continue to strongly moderate the degree of substitution when it comes to business travel. While the travel industry has no means to prevent virtual substitution by necessity, it can pull levers to help enable renewed interest in business travel with innovative products and services that ensure compliance and help to build up traveler confidence (e.g. integrated Covid testing processes, traveler information platforms, or self-services that empower travelers).

In the mid to long future, technological maturity is a key determinant for travel substitution through virtualization. Covid has fueled the explosion of video-conferencing and virtual collaboration tools, but last year's experiences also revealed shortcomings: Building personal relationships and trust is still easier in physical meetings, and technical difficulties can cost meeting efficiency and nerves. Meanwhile, we're witnessing technology advance rapidly in related fields such as NLP, AR/VR, avatars, and the likes. In the long run, technology should become sufficiently mature to serve many of the needs that currently require business travel. 

We expect a gradual change towards substitution, but the speed is hard to predict—it may take decades.

Last but not least, virtual substitution does not affect all travel purposes alike. Travel for social interactions (e.g. for team-building, building trust, or showing commitment to a client) is less likely to be substituted than travel for a mere exchange of information. This variation in substitution impact by travel purpose is supported by reports from Cartrawler and others. We expect an ongoing shift in the respective shares of underlying motives for business travel. Eventually, some travel motives will be obsolete due to substitution while new ones may have appeared (e.g. related to remote work), ultimately changing the customer needs regardless of changes in the total market size.
Employee well-being
Before the pandemic, employers' measures to ensure the health and safety of employees were manifested in duty of care regulations and some voluntary wellness policies that addressed employee satisfaction. As the COVID-19 pandemic spread, most companies globally imposed international travel bans on their employees with health and safety becoming the number one priority. In a survey of 4,850 business travelers in 23 markets by Concur, 96% of travelers reported wanting safety measures to be in place before they return to the road, such as mandatory health screenings and limiting travel to critical trips only. Our experts' views on employee well-being in the context of business travel yield two conclusions.
6/10: Duty of care is now a hygiene factor that may open up new opportunities for new services.
Experts predict a likely increase of the importance of duty of care for business travelers even after the pandemic, making it a major factor that must be fulfilled to enable future business travel for all employees. The corresponding willingness to pay opens opportunities for new products and services that help employees comply with duty of care.
Some experts point out that duty of care will see a particular increase of importance for small and medium-sized businesses (SME), who previously may have put less focus on the topic.
"The market standard of care has shifted and is now more visible also to smaller and midsized companies. No matter the size, no employer can ignore their duty of care because their employees are more aware of rights and confident to ask for it." — Torsten Kriedt · Senior Vice President, Solutions & Products Europe at BCD Travel.
Based on our expert assessment, we conclude that duty of care has now become a hygiene factor and no longer just a good-to-have. Companies will need to put additional emphasis on their moral and legal obligation to protect employees. Business travelers will need to stay informed and made aware of duty of care processes.
7/10: The shift to include well-being policies for employee satisfaction and talent retention continues.
Going beyond the duty of care topic, policies addressing employee well-being both in the office or on a business trip were on the rise pre-pandemic. Some companies used them as a strategy to retain top talent, facing the changing demographic of the millennial workforce. Features such as getting more flexibility in trip itineraries, allowing bleisure inclusions, health food subsidies, international gym memberships, or the ability to select unique stays rather than the same old business hotels are a few examples of travel wellness initiatives. Experts agree that well-being measures will be decisive for employee satisfaction.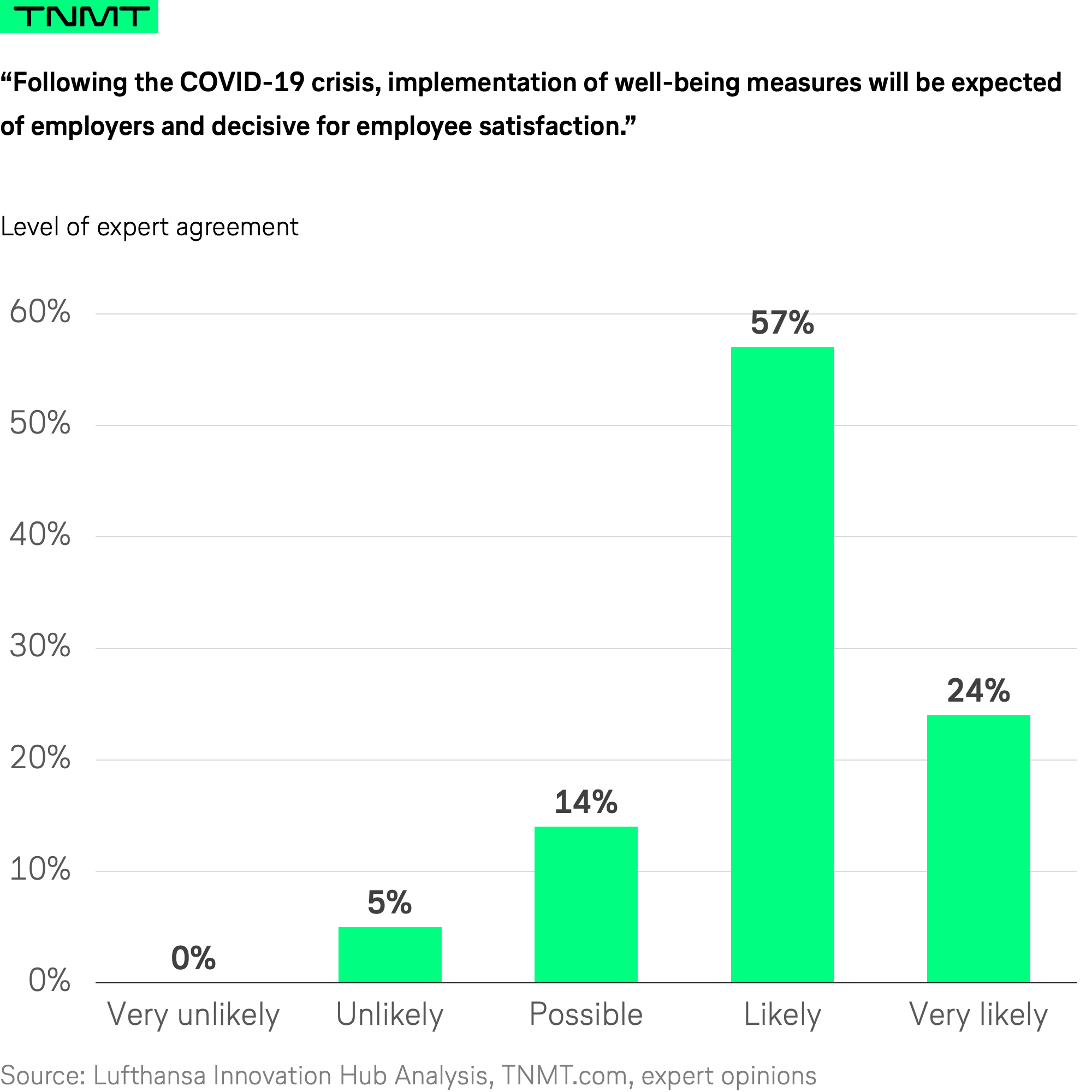 Some experts point out that the calls for the implementation of more well-being programs to counter the stressors of traveling are related to the expectations of millennials, indicating that changing demographics are causing the trend.
"I see that as a continuation of a shift that started before Covid where millennials place culture and experience high on their list to join or stay with a company and that organizations must take into account in their talent acquisition and retention strategies." — Renaud Nicolle · Senior Vice President, Business Travel APAC at Amadeus.
While all experts acknowledge the increasing attention on well-being, some do not consider it decisive in the aftermath of the pandemic. Economic rationals are seen as dominant and driving revenue may still be the key priority for companies who were hit hard by the pandemic. Moreover, empowering employees with more flexibility on travel choices is regarded as a possible means to address well-being.
"While wellbeing will receive more attention than before, I believe the ultimate driver for the majority of companies will be revenue generation and recovering economically from the crisis. That said, employees may have more choice as to whether or not they participate in an international business trip." — Ryan Ghee · Head of Strategy & Development at FTE Innovation & Startup Hub.
We can conclude that a clear differentiation between duty of care and well-being policies that target employee satisfaction is needed. Duty of care is becoming a hygiene factor for business travel. Well-being policies should be seen as a motivating factor that helps retain a specific pool of talent but is optional in the context of business travel. Expert consensus on both factors indicates rather certain future developments can be anticipated.
Our TNMT view on the well-being trend
According to our experts, an increasing importance for duty of care as a hygiene factor is fairly certain. Strongly enforced by the current pandemic, business travel requires duty of care measures for all companies. These include up-to-date safety information and "hard" enablers for travel such as Covid-testing and the likes. While dedicated duty of care resources and activities were already present in larger organizations before the pandemic, SMEs may find it challenging to meet all new requirements. The business travel industry should address the increased need for duty of care and introduce products and services that enable particularly SMEs to conduct business travel without having to build large duty-of-care organizations in-house. While duty of care must be addressed by all employers, addressing employee well-being beyond legal obligations can be a differentiating factor. Talent acquisition and retention are key motivators for employers to address well-being, but not all talent pools have the same expectations and needs. We believe that well-being is of particular importance for younger, highly educated employees who make up only a (growing) fraction of the overall workforce. Accordingly, the importance of well-being is likely to differ strongly between industries and individual companies, making the focus an opportunity for the travel industry, but no necessity. Specific opportunities may arise around services that address mental and social issues, going beyond the traditional fields of well-being policies that combat the stressors of business travel such as disrupted sleep patterns, delayed flights and trains, hectic meeting schedules, and being in unfamiliar environments. Travel itself (e.g. company retreats, offsites) is a tool for teams to reduce stress and build stronger relationships, ensuring well-being across a distributed workforce in the long term.
Sustainability concerns
Sustainability has been a key trend for travel before the pandemic.
However, our experts show differentiated and divergent views on the impact of sustainability on business travel, indicating a high degree of uncertainty for future developments.
8/10: Travelers may have a broader understanding and awareness of sustainability, but it remains unclear if businesses will act on it.
The #travelshaming movement was driven by the climate agenda and inspired by Greta Thunberg's sail across the Atlantic Ocean. There is little consensus among our experts on COVID's impact on corporate travel policy from a sustainability perspective showing that the climate and health agendas have different implications for business travel.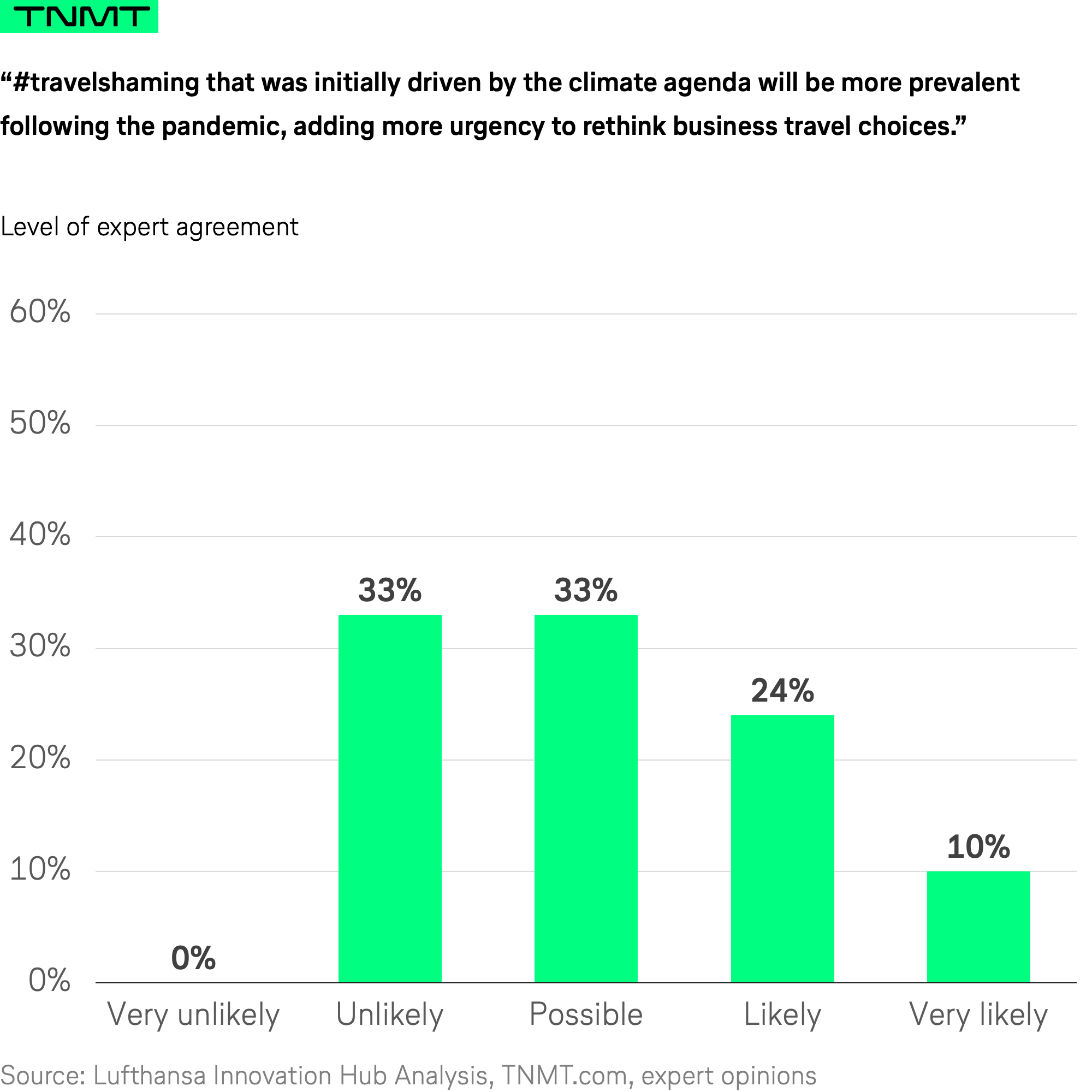 "#travelshaming has had a strong root in Europe. COVID-19 makes people less inclined to travel, but there is not much interplay between the two as the latter causes a public health crisis, which has a much more profound impact on individuals." — Lio Chen · Managing Director, Travel and Hospitality Center of Innovation at Plug & Play.
"The travel shaming movement was real, but I'm not sure how much effect it was having on actual travel behavior (particularly outside Scandinavia, and particularly for business travel). The same will apply after the crisis. There will be questions asked, but not sure how much actual on-the-ground effects we will see." — Dr. Wouter Geerts · Senior Research Analyst at Skift Research.
While consumer preferences are shifting with more awareness on the topic of sustainability, experts believe that most of the changes in user behavior or corporate travel policy will be driven by regulatory pressures from governments.
"The Covid-19 crisis, being a societal health-related crisis, has increased the perception with regard to sustainability and has increased the focus on responsibility. However, responsibility will be pushed towards the industry, the airlines and the OEMs to improve the environmental footprint. It will not be corporate travel's responsibility only to drive this." — Anonymous.
Our TNMT view on sustainability
Increasing sustainability concerns have been one of the key trends impacting the travel industry before the crisis. In fact, worldwide search interest in travel-related CO2 compensation more than quadrupled in 2019 as we previously analyzed. While the corresponding public debate has somewhat cooled off during the crises, the industry has not fundamentally changed with regards to energy consumption or CO2 emission. We believe that societal pressure for more sustainable travel is likely to increase further and drive change. The intensity of sustainability concerns differs across the globe, however, and Europe is most likely to spearhead these dynamics. The exact mechanisms for how societal pressure will manifest in changes in business travel remain to be seen, but recent developments and data suggest that the most likely path is through regulation, rather than individual consumption decisions or company travel policy. 
Our recent study, Travelers don't walk the green talk, reveals that consumers tend to not put their money where their mouth is when it comes to paying for more sustainable traveling—at least, not yet. Cost appears to remain the key factor for travel decisions on the individual level. On a company level, the expert data draws a similar picture. While sustainability awareness is on the rise, economic rationales are likely to outweigh sustainability concerns when it comes to corporate travel. On a political and regulatory level, decision-makers are incentivized differently and seem to act on societal pressure. France's initiative to ban short-distance flights and Germany's CO2 and aviation taxes are strong indicators for increasing regulation around sustainability—new initiatives like these are inevitable, and will continue to reshuffle the cards and change the rules of the travel industry's game. We believe that actively reducing the CO2 footprint of business travel products is not only an ethical imperative but a strategic necessity.
The empowerment of travelers
We identified traveler empowerment, i.e. giving travelers the means to manage their travel choices and trips themselves, as a key trend previously, for instance, in our analysis, The biggest pain points in air travel and how to fix them. The experts' views on traveler empowerment are in line with this observation and provide two major insights.
9/10: While travel as a whole will continue to be strictly regulated in the near future, individual travelers become increasingly empowered due to duty of care and tech-enabled self-services.
The global Covid outbreak caused a sudden halt in business travel with closed borders and strict movement restrictions. However, the pandemic is not uniform across the globe. We are observing strong regional differences in infection magnitude, the timing of waves, and the effectiveness of countermeasures. Our experts reach a consensus that in the near future, travel rules and regulations will become increasingly volatile and restrictive due to unequal recovery paths and a lack of international coordination.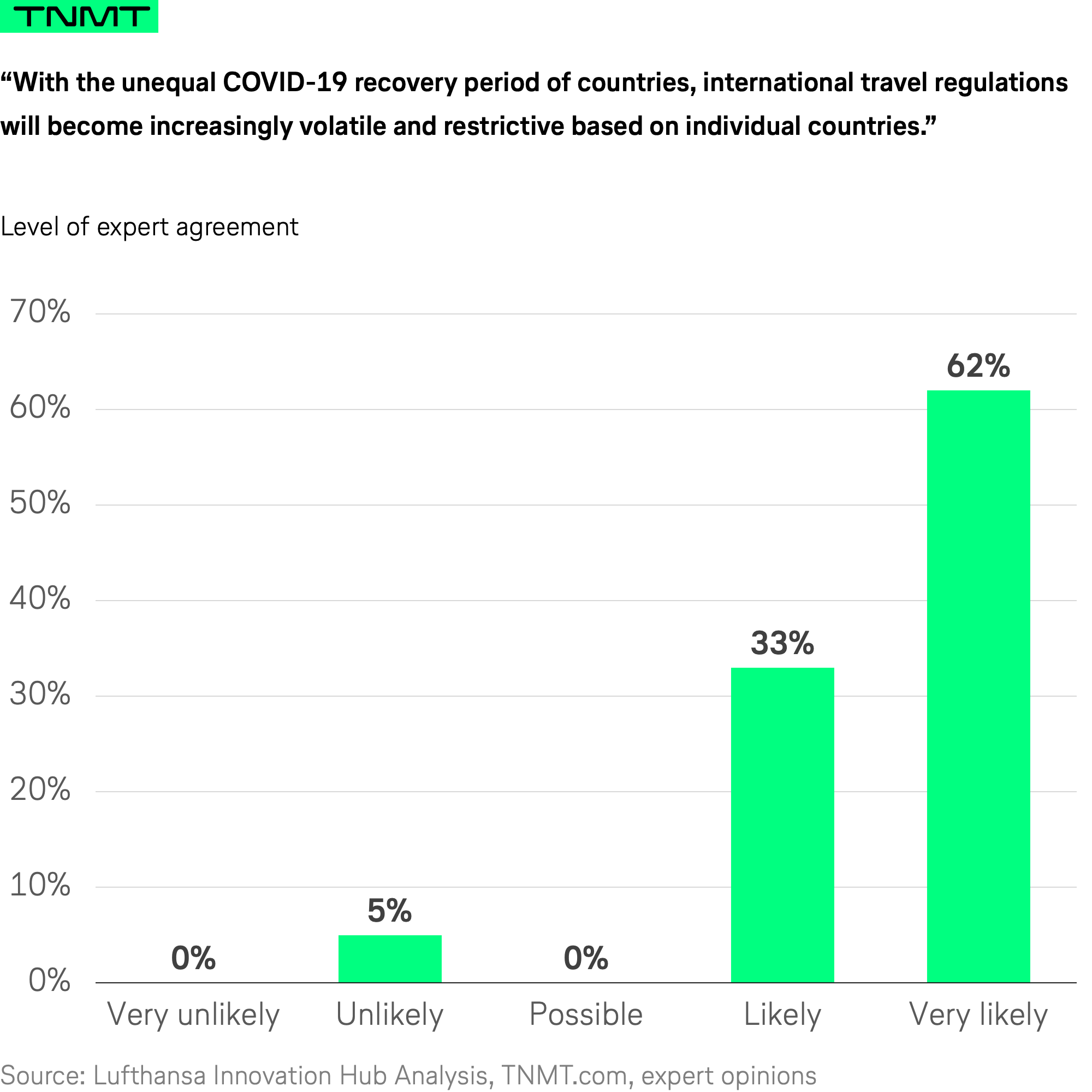 "Travel policies will likely be linked much closer to the country's foreign office travel advice. Things can change last minute." — Dr. Wouter Geerts · Senior Research Analyst at Skift Research.
"There has been very little international coordination throughout the crisis and this is likely to continue, at least in the short-term." — Ryan Ghee · Head of Strategy & Development at FTE Innovation & Startup Hub.
While travel as a whole is likely subject to increasing restrictions, the opposite may be true for individual travelers when it comes to travel decisions. Experts see a shift towards empowering employees to make travel decisions voluntary in the short-term.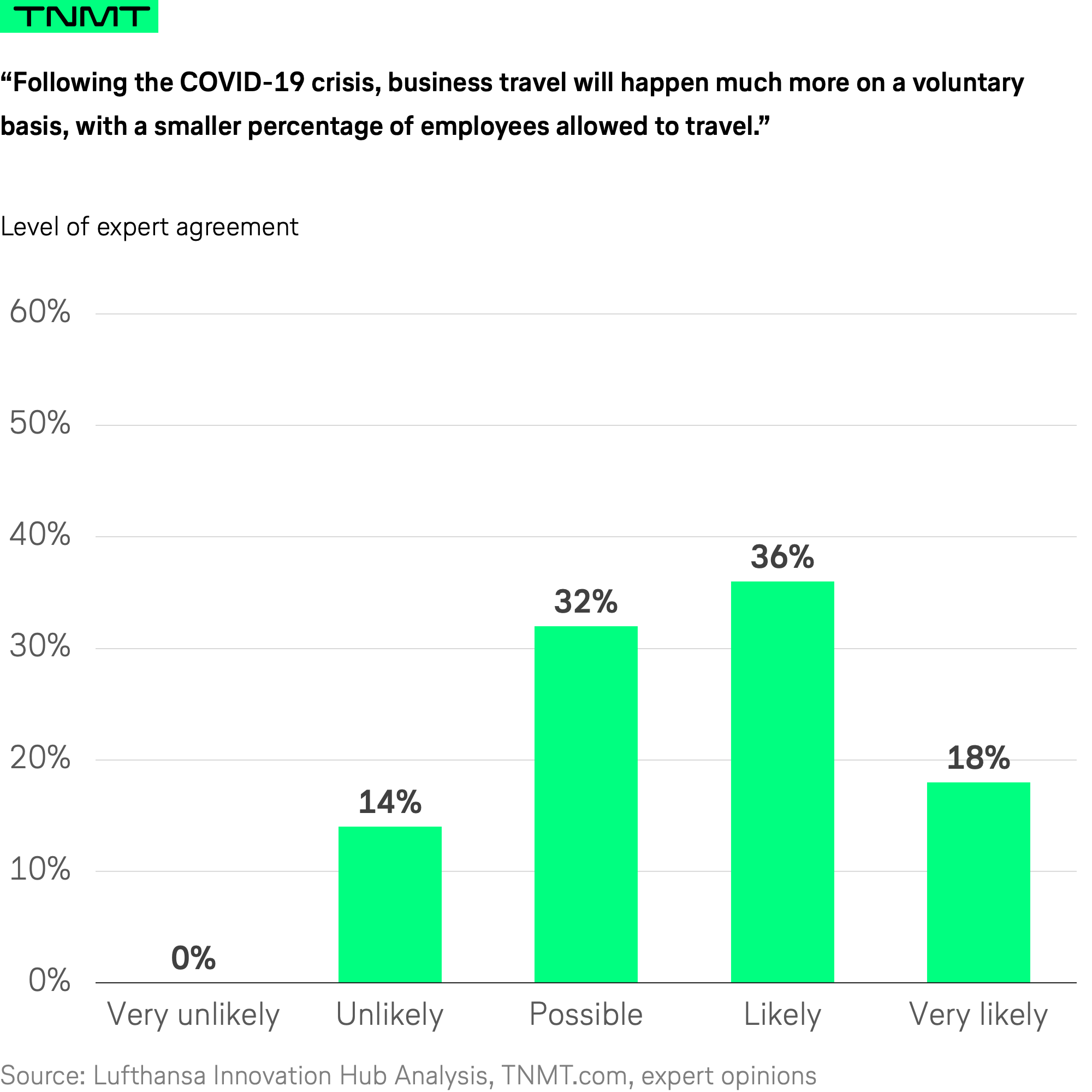 "I think there will be more latitude given to employees on the decision to travel." — Michael Becker · CEO at GeoSure.
For the long term, however, some experts predict that business needs will again become the key determinant for employee travel, potentially reversing the temporary traveler empowerment.
"In the short term, travel will be limited to essential travel but once the crisis is resolved then travel will pick-up again as technology cannot replace the value of face-to-face meetings to make business happen and build relationships. We see pent-up demand already in domestic markets where travel restrictions were lifted." — Renaud Nicolle · Senior Vice President, Business Travel APAC at Amadeus.
Another key factor to consider when it comes to travel decisions and traveler empowerment is tech-enabled self-services. Beyond the widespread online-services to manage bookings, some airports and airlines have recently introduced a new generation of self-services that focus on touchless interactions. Our experts' views on contactless payment solutions and digital servicing indicate that the pandemic has accelerated a general shift towards contactless and touchless servicing, pointing towards a future of digital self-servicing that enables safe travel.
Hence, the advent of digital self-services appears rather certain, and one could imagine a future in which business travelers manage their trips entirely by themselves with digital tools. However, many experts point out some limitations of self-servicing and stress the need of human touchpoints in complex servicing requirements.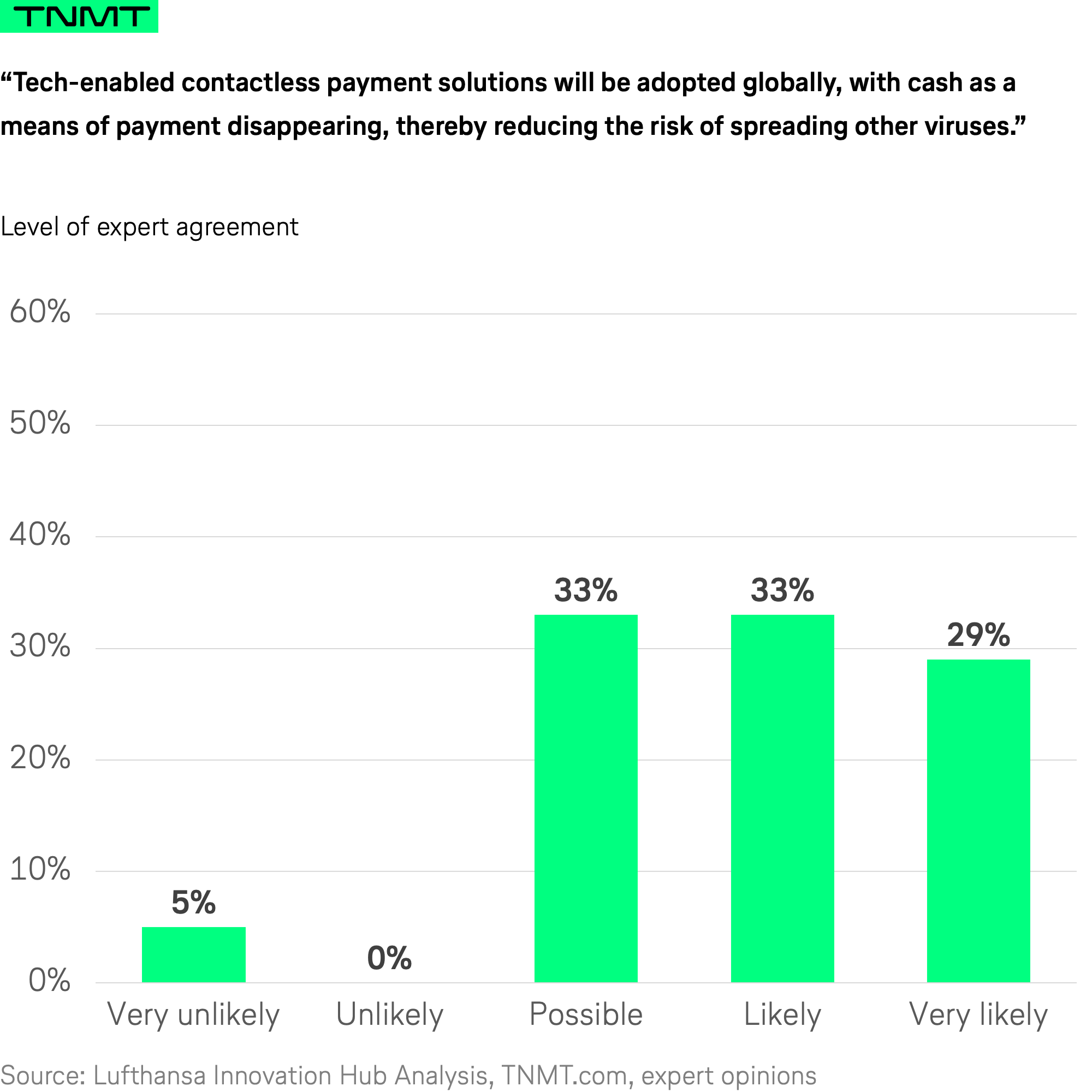 "I believe the pandemic will (or is already) expedite digital, contactless scenarios; and other countries adopting some of already wide-spread scenarios from China or Asia." — Iztok Franko · Founder at DigginTravel.
10/10: A hybrid model integrating both digital self-service tools and the human touch is likely to continue for managing business travel.
As the pandemic spread globally and caused flight cancellations and delays, corporates turned to expert help to navigate disruptions.
"Largely due to duty of care (…), digital-first options were much less useful during irregular operations. Until they are proven otherwise, the human touch that is 24/7, with little wait time and concierge service would be a strong value prop of large TMCs." — Lio Chen · Managing Director, Travel and Hospitality Center of Innovation at Plug & Play.
Moreover, our findings suggest that many corporate travelers will still prefer human contact when it comes to servicing, despite increasingly powerful tools for self-servicing.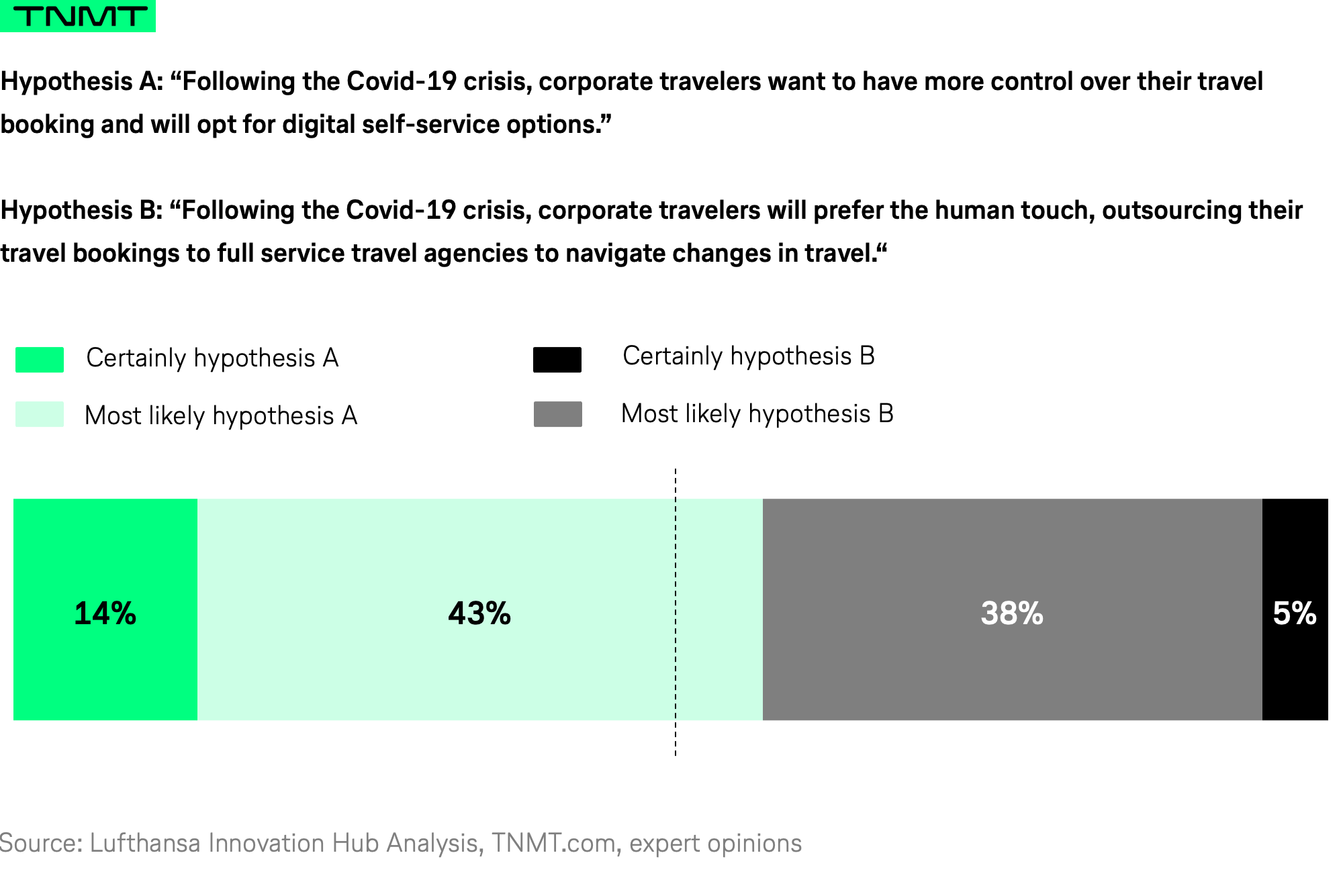 "This was the trend before Covid-19 and it will continue after, where the traveler wants to be able to do as much as they can on their own, when and where they want, being given access to personalized and relevant information. But they also want to be able to access travel experts through the same channels should they feel like doing so." — Renaud Nicolle · Senior Vice President, Business Travel APAC at Amadeus.
When jointly considering the growth of digital self-services with its limitations and business traveler preferences, the expert panel points towards a rather certain future of an ongoing hybrid model integrating both self-service digital tools and human servicing for managing business travel.
Our TNMT view on the "Empowered Traveler"
When travelers were subjected to far-reaching travel irregularities, including travel bans and flight restrictions at the start of the pandemic, we saw many corporations turning to travel management companies (TMCs) for help with bringing their employees back to their respective countries safely. Travel managers proved highly valuable in the extraordinary circumstances that brought travel management systems to their limit. The "human touch" in servicing allows for highly-personalized solutions to individual problems. Yet, the age of mass customization is upon us. We see tech-enabled scalable personalization of products and services happening across industries in education, fitness, and e-commerce. In the travel industry, startups like Tourlane  apply the principle of mass customization to the trip planning and travel agent business. Analogously in business travel, we expect an advent of digital self-services that empower the traveler to customize the travel experience to her need. Rather than fully substituting human servicing, we initially expect a further increase in hybrid models that combine scalable digital solutions with human servicing intelligently and enable more personalized offers (think of chatbots that seamlessly integrate human agents when the AI comes to its limit). In the mid- and long run, digital self-servicing solutions will mature and eventually replace the current tasks of travel managers.
Conclusion
Covid-19 is not the first global pandemic, and it will not be the last. Business travel will return, as it has before, but possibly quite different from how we knew it to be. With this study, we hoped to gather the best minds in our industry to represent diverse views and give guidance for the future of business travel. The identified likely future developments, characterized by low uncertainty, allow industry players to plan ahead and adjust their portfolio of products and services.
This planning ahead is not possible for fields of high uncertainty that were also mapped out in this article. Adaptiveness and the capability to identify and monitor changes in the environment are factors that help industry players to cope with high uncertainty. Last but not least, the future is not predetermined, but the consequence of all our actions. We can, and should, jointly shape it to make post-covid business travel better than it has ever been.
We would like to thank all participating industry experts for their valuable contributions.
Joyce Huang & Dr. Stefan Nothelfer (authors)
---
Methodology
When sketching possible futures, handling the implicit uncertainty is key. Unlike risk or observable trends that can directly be derived from past and present data, uncertainty is harder to grasp. In an approach that is inspired by the Delphi methodology, we rely on the internal agreement and disagreement of a carefully curated group of 25 industry experts to assess the certainty of some key trends, identify their underlying drivers, and map out areas of high uncertainty that are difficult to prepare for.
Three rounds for consensus alignment
We used a modified Delphi method comprising one round of expert interviews and two subsequent rounds of surveys for consensus assessment.
In round one, we conducted semi-structured interviews with a balanced subset of ten experts to understand and define the biggest drivers that would influence the future of business travel. The interview results were combined with previously identified trends and research to derive a list of 35 statements regarding the future of business travel.
The statements were then presented to all experts in round two. Each expert was asked to rate each statement's likelihood quantitatively and comment on their choices. Quantitative answers were made on a 5-point-Likert scale from "Highly likely" to "Highly unlikely". No interaction was possible between the experts.
Round three was another survey with the same experts as in round two. We introduced 15 new statements that were derived from the qualitative answers of round two, and presented group results of round two. Analogously to round two, each participant was asked to rate the new statements and re-appraise previous statements with a low group consensus score, allowing for consensus development among the group.
Throughout the process, experts were not familiar with the other experts and round two results were presented anonymized to prevent dominance by influential individuals or additional unwanted effects.

Example statement and answer
Following the COVID-19 crisis, domestic tourism that was fueled by the crisis will remain a boom for local industry players, with hot spots for bleisure activities spread out and away from overcrowded city centers.

How likely this will happen:
A Very likely
B Likely
C Possible
D Unlikely
E Very unlikely
Why did you decide on this option?
How we measure (un-)certainty
The degree of consensus between the experts is interpreted as a measurable indicator for the degree of (un-)certainty for the respective statements. We measure consensus as the degree of variation in answers using standard deviation. The Likert scale was coded in integers from 1 (very unlikely) to 5 (very likely). The lower the standard deviation, the higher the consensus. We classified consensus according to the following thresholds:
0 ≤ x ≤ 0.5 (high consensus)
0.5 < x ≤ 1 (reasonable consensus)
1 < x ≤ 2 (poor consensus)
2 < x (no consensus)
A high degree of expert consensus on hypotheses about a future development indicates fairly low uncertainty, which allows players in the travel industry to plan ahead, prepare, and adjust to likely developments.
Hypotheses that reach low degrees of expert agreement are particularly valuable for strategy and scenario planning, as their outcome cannot be predicted easily and may depend on the outcome and impact of other underlying factors. The expert's qualitative comments provide some valuable insights into the nature of such underlying factors.