Thousands of startups around the globe are working on disruptive solutions that make travel and mobility more efficient, frictionless, and interconnected. As our 2018 analysis of the state of Travel & Mobility Tech around the Globe has shown, the rate of innovation in this sector has grown exponentially over the past few years, resulting in record funding amounts and valuations.
It's time to start looking eastward: venture capital in Asia has gone through the roof
When it comes to producing disruptive startups changing the way we move from A to B and experience destinations, the U.S. has long been the powerhouse. Today, Asia — in particular Asia-Pacific and China, respectively — have taken over the lead in creating the most billion-dollar companies innovating the travel and mobility space.
Who are these startups raising such unprecedented amounts of venture capital out of Asia? We mapped the 20 most well-funded Travel & Mobility Tech players in the region (see map at bottom of the article) and took a closer look at the major categories they predominantly own.
Let's get started with some stats and figures on Travel & Mobility Tech (based on disclosed funding events tracked by Pitchbook), emphasizing the relevance of Asia and particularly China in the global context:
Asian billion-dollar unicorns outnumber their American counterparts 12 to 9
Chinese startups accounted for more than half of the invested venture capital in 2017 (55%), up from less than 10% in 2014 — this makes China the world's most funded country in Travel & Mobility Tech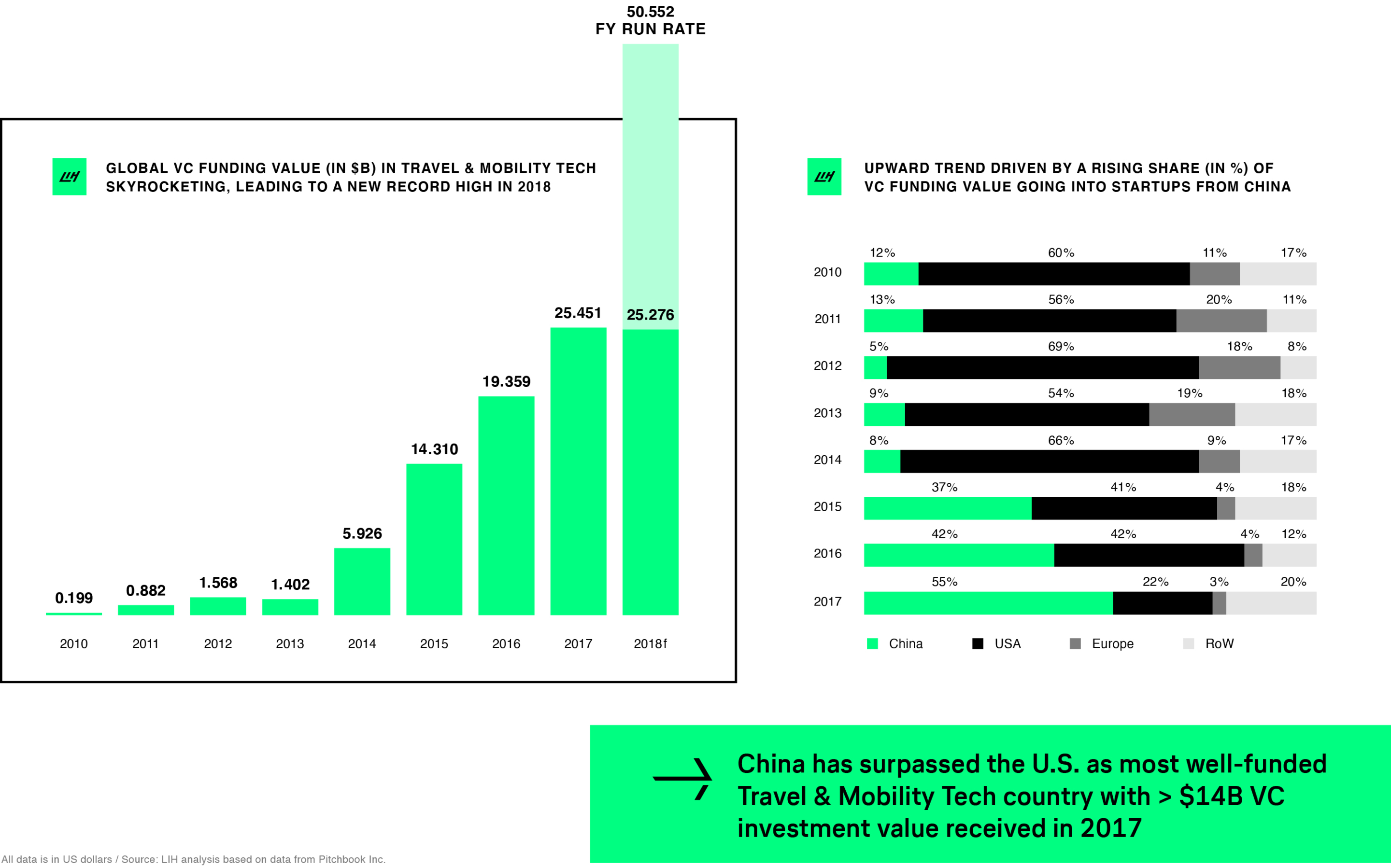 Startup platform AngelList observes, that this is no mistake: "American tech companies struggle to compete with China's protectionist business policies. Founders in China have developed homegrown copycats of pretty much every major Silicon Valley success across all sectors and industries."
Baidu instead of Google, Sina Weibo instead of Twitter, Didi instead of Uber, Tujia instead of Airbnb…
Simple copycatting was yesterday
Today, China is starting to leverage its home-grown advantages on top of innovative business models originally initiated in the western hemisphere. After opening up in the mid-1980s, China developed a well-earned reputation as a fast-follower and violator of western intellectual property. But things have started to change.
Looking at the country's leading Travel & Mobility Tech players (see map below), China is emerging as the global leader in specific segments. This is most obvious in the mobility sector where the country has produced a handful of the world's most impressive smart and electric vehicle ventures.
As TechCrunch's industry expert Jonathon Shieber notes: "a slew of well-funded new entrants backed by massive amounts of capital are chasing Tesla's lead in an effort to power the next generation of the electric-vehicle industry."
The gigantic size of the industry has been a great inducement. According to predictions from market intelligence firm Absolute Reports, the market for electric passenger vehicles is expected to reach $356.5 billion by 2023, with $205.9 billion in sales coming from the Asia-Pacific region alone.
There are even more powerful factors behind China's ambition to transform the future of urban mobility:
1. China masters two of Mobility Tech's core capabilities
On the one hand, local factories and deep manufacturing expertise are a big plus. As U.S. startups tend to steer away from hardware, Chinese startups have easier access to the largest manufacturing infrastructure in the world and can scale up quickly.
On the other hand, looking ahead the next 10 years, China has dramatically caught up in arguably one of the most critical technologies for advancing new forms of mobility: battery manufacturing. The battery-cell industry has been dominated by Japanese and South Korean companies for decades (e.g. Panasonic). According to Goldman Sachs, however, China outpaced Korea in 2013 as the world's largest supplier of lithium-ion batteries for all electronic devices.
2. Consumer acceptance of new forms of mobility is extremely high
Chinese consumers surpass most other countries in digital adoption. They are willing to try out new alternatives that are becoming available at a record rate and, in the process, upending the definition of mobility. Management consulting firm Bain & Company estimates that China's market for e-hailing (ordering car rides electronically from a mobile phone) totals about $23 billion — more than the rest of the world combined.
Moreover, consumers in the Asia-Pacific region are not expected to lose their fascination in the next phase of the mobility evolution. According to BCG and the World Economic Forum, customer readiness to adopt autonomous vehicles (AVs) is significantly higher in markets such as China and India than in countries with a strong established car culture (e.g. Germany). A long history with automobiles seems to be hard to relinquish.
Asia is so important in the Travel & Mobility Tech context because AVs will dramatically change the way consumers travel around in a car. As digital trends analyst Joshua Lasky reflects in his post on AVs and their impact on travel: "(…) once you remove the driver from the vehicle, longer-distance travel becomes a lot easier. (…) manufacturers will have more freedom to design for passenger comfort rather than for driver utility, reducing the barriers to making those long trips by car."
As a consequence, AVs have the potential to become another "living space", akin to a seat in a train or plane (or ultimately a room in your house), rather than simply a means of transportation.
The result: a surge of new vehicle startups
Given all these numbers, it's no wonder that investments in electric-vehicle companies and related technologies keep climbing.
Not only that, but most of the cash infusions are going to newly formed companies. TechCrunch reports that at least 34 new, early-stage startups were launched in 2017 alone to tackle the electric vehicle ecosystem.
Our data shows that seven of the twenty most-funded Travel & Mobility Tech startups in Asia are indeed smart and electric vehicle ventures, making this the most prominent category among the top-funded startups in the region.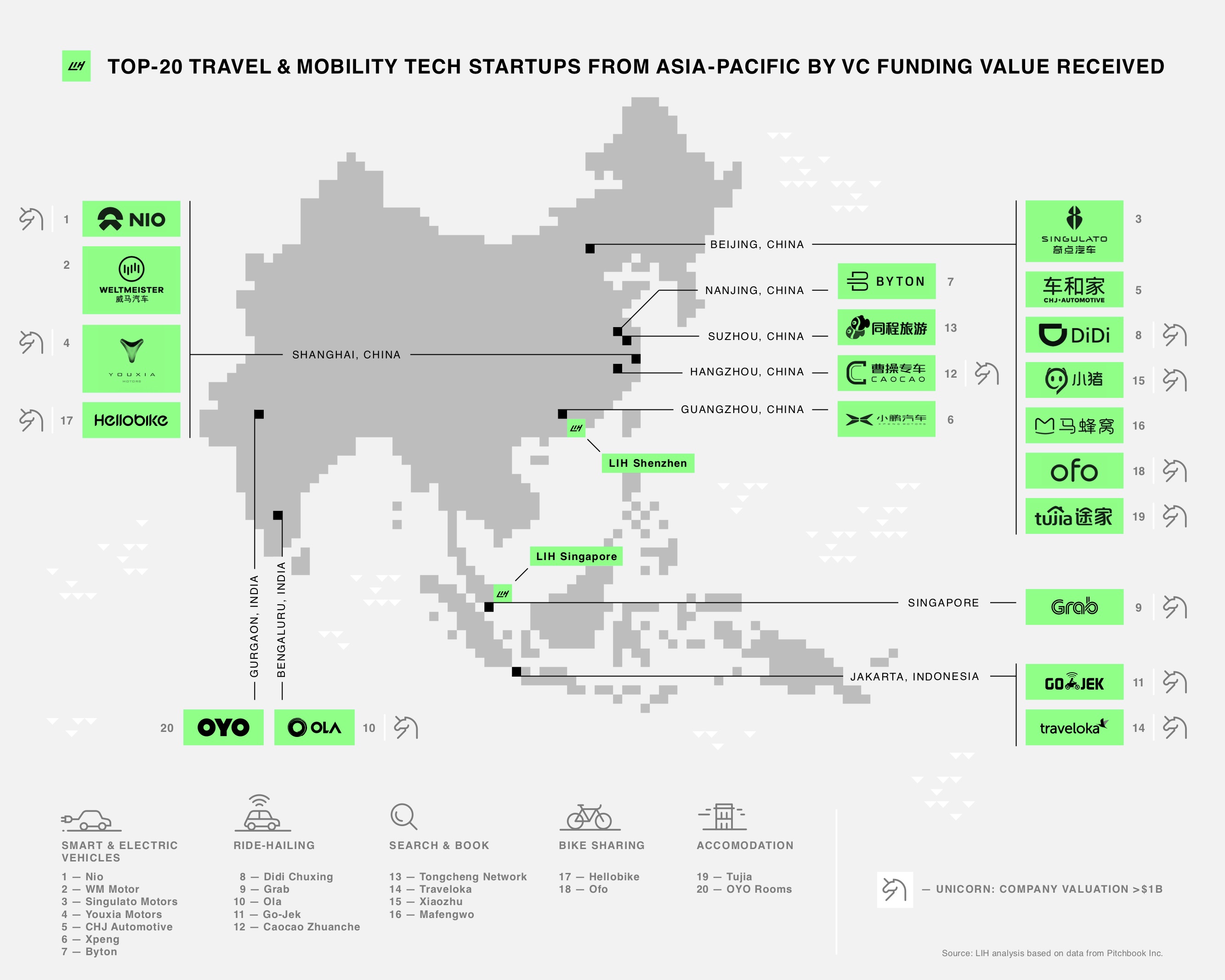 What else is hot besides smart and electric vehicles?
There are many more promising ventures emerging in Travel & Mobility Tech in Asia-Pacific, also outside the electric and autonomous vehicle segment. As our infographic exhibits, the 20 most relevant startups (based on received VC funding) cover ride-hailing, booking platforms, bike-sharing, and accommodation offerings.
The Tours & Activities category is not represented by any of the 20 most well-funded startups, yet it is certainly a compelling space when examining Travel & Mobility in Asia as well. Several pioneering Asian ventures have been massively innovative in this category, even though venture capital investments have tended to sidestep this segment (so far).
For a deeper dive into the Tours & Activities space, read our analysis Tours & Activities: the next wave of Asian travel startups. This exhilarating field is sure to create a lot of headlines in the near future.
---
DISCLAIMER: Please note that our overview of Travel & Mobility Tech is not meant to be fully exhaustive. Tracking and analyzing disclosed venture capital investments in startups offers only an indication of where the commercially most viable solutions within our space might be located. Many startups do not disclose their funding events.