The outbreak of the coronavirus has had a severe impact on global tourism. Flights to and from China have been canceled, the WHO has declared the virus a global health emergency, and governments around the world are on full alert, making drastic efforts to contain a global spread of the virus.
We are closely following the news related to the coronavirus outbreak. Not only is the virus a looming threat for the people living in affected regions, but it also impacts businesses and travel behavior in particular.
The structural impact on Travel and Mobility Tech
Clearly not the most important aspect of this story, but an interesting observation: the Travel and Mobility Tech startup scene has also felt the impact of the virus outbreak quite a lot, especially in Asia.
As millions of residents in China are advised to stay at home since the virus outbreak intensified during Chinese New Year, ride-hailing demand, for instance, has slowed down as we can see from Didi Chuxing's most recent mobile app usage numbers.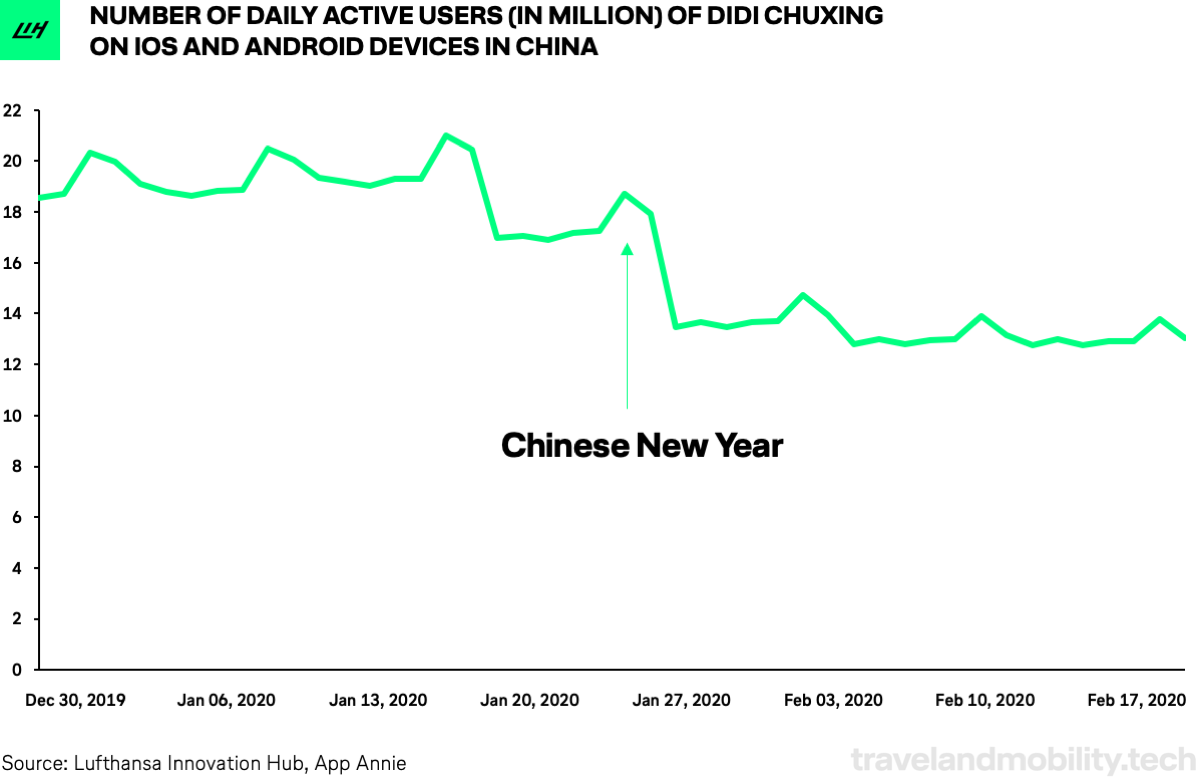 Despite the lockdown of many Chinese megacities, the business world needs to keep spinning. Isolated from the outside world, tech has become a lifeline for millions of people.
Many have been working remotely from home for the past couple of weeks. And technology has increasingly been used to substitute face-to-face business meetings. Take a look at the most recent surge in popularity for China's leading video conferencing and business messaging apps DingTalk and WeChat Work.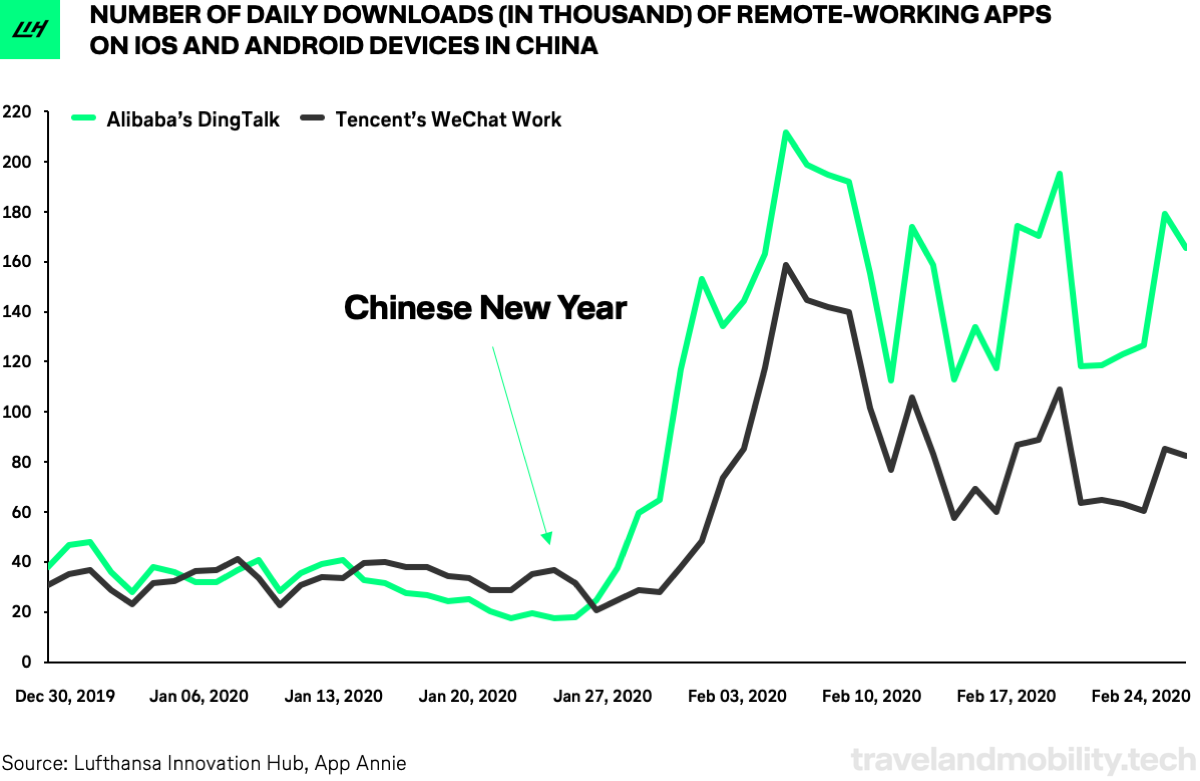 This recent surge in demand for videoconferencing will most likely also spread over to the Western world where the number of suspected and confirmed cases rises by the day. The stock market seems to have anticipated this trend already.
The share price of Zoom ­– one of the industry's leading remote conferencing services – grew by more than 50% since the beginning of the year, reaching an all-time high in mid-February, thereby indicating that the market sees a brighter future for the company (and probably videoconferencing in general) than ever before.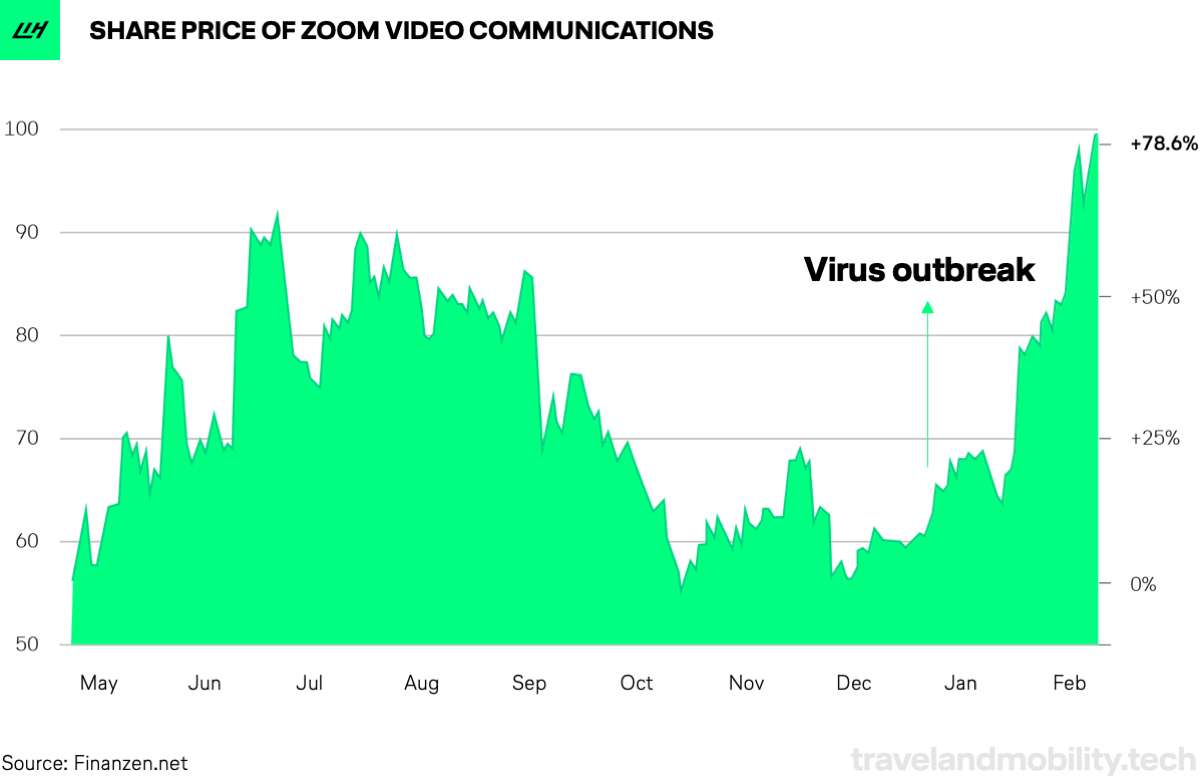 We are not the only ones who see a bigger trend here that goes beyond some short-term spikes in video-software usage.
The bigger picture: is business travel in danger?
VC guru Fred Wilson asked in his widely-read newsletter this week, whether videoconferencing's big moment has finally arrived. He argues that the combination of limiting travel due to Coronavirus fears and the desire to lower carbon footprints may have (finally) led to videoconferencing's big moment:
"Maybe attending a meeting in person is a thing of that past and video'ing in is our future. If so, we may look back at this winter of 2020 as the moment that happened."

Fred Wilson, co-founder of Union Square Ventures
It's an interesting perspective. While we believe it's way too early to call out any long-term impact on (business) travel, without a doubt, technological advances are increasingly impacting corporate culture, making remote work and flexible schedules the new norm. Technology related to video communication will continue to evolve from fragile video conferencing as we know it today ("Hey, can you hear me?") to frictionless holographic 3-D technology that will one day emulate face-to-face interactions without the need for physical presence.
This development will allow individuals to interact, brainstorm, and collaborate to deliver collective results without the actual need to travel. Furthermore, individual workspace pods equipped with high-end virtual-reality tools, potentially also set up at major travel hubs (e.g. airports), will imitate the real-time presence allowing all interactions to be highly productive.
The coronavirus certainly has the power to speed up consumer adoption in this field. If so, it could have a more lasting impact on the travel industry and the larger business world than what most people would think of right now.