Since the onset of the sustainable air-travel debate in 2018, airlines have often been deemed the scapegoats of climate change.
In particular, short-haul flights tend to trigger most people.
This is understandable, given that the majority of flights are shorter than 1500km, a length that generally represents the standard definition of short-haul.
Even worse, about one-third of all flights departing within Europe are even shorter than 500km.
Keeping in mind that many of these ultra-short flights could be replaced with (delayed) trains that pollute less, the criticism seems valid.
It's not that black and white
However, the story is a bit more nuanced.
The majority of critics don't take into account the fact that 31% of ultra-short flights only produce 4% of aviation's CO2 emissions.
This is important to consider when assessing flight lengths and the associated impacts on climate change.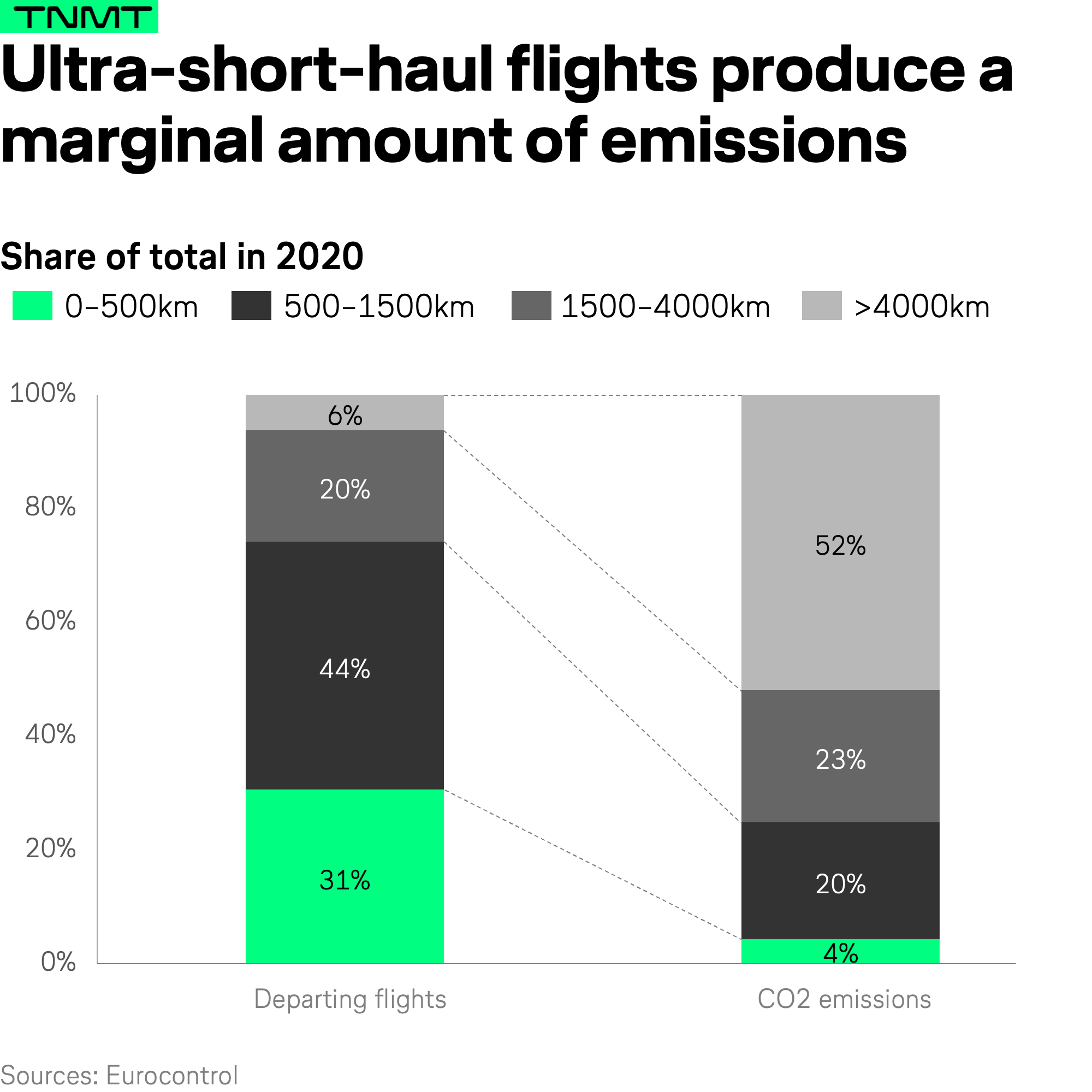 In other words, while it might seem logical to ban these short-haul flights outright, the truth is that doing so wouldn't move the needle.
Additionally, there is another reason why the criticism of short-haul flights is over-exaggerated.
Let's take a closer look at Germany to better understand why:
Domestic flights generate about 0.24% of total greenhouse gas emissions in Germany each year.
Meanwhile, road transport, including cars, trucks, and motorbikes, produces close to 20% of all GHG emissions.
However, when we open newspapers and press articles about sustainability in the context of transportation, air travel-related climate stories are more frequently published than any other mode of transportation.
Quite clearly, the public likes to bully airlines.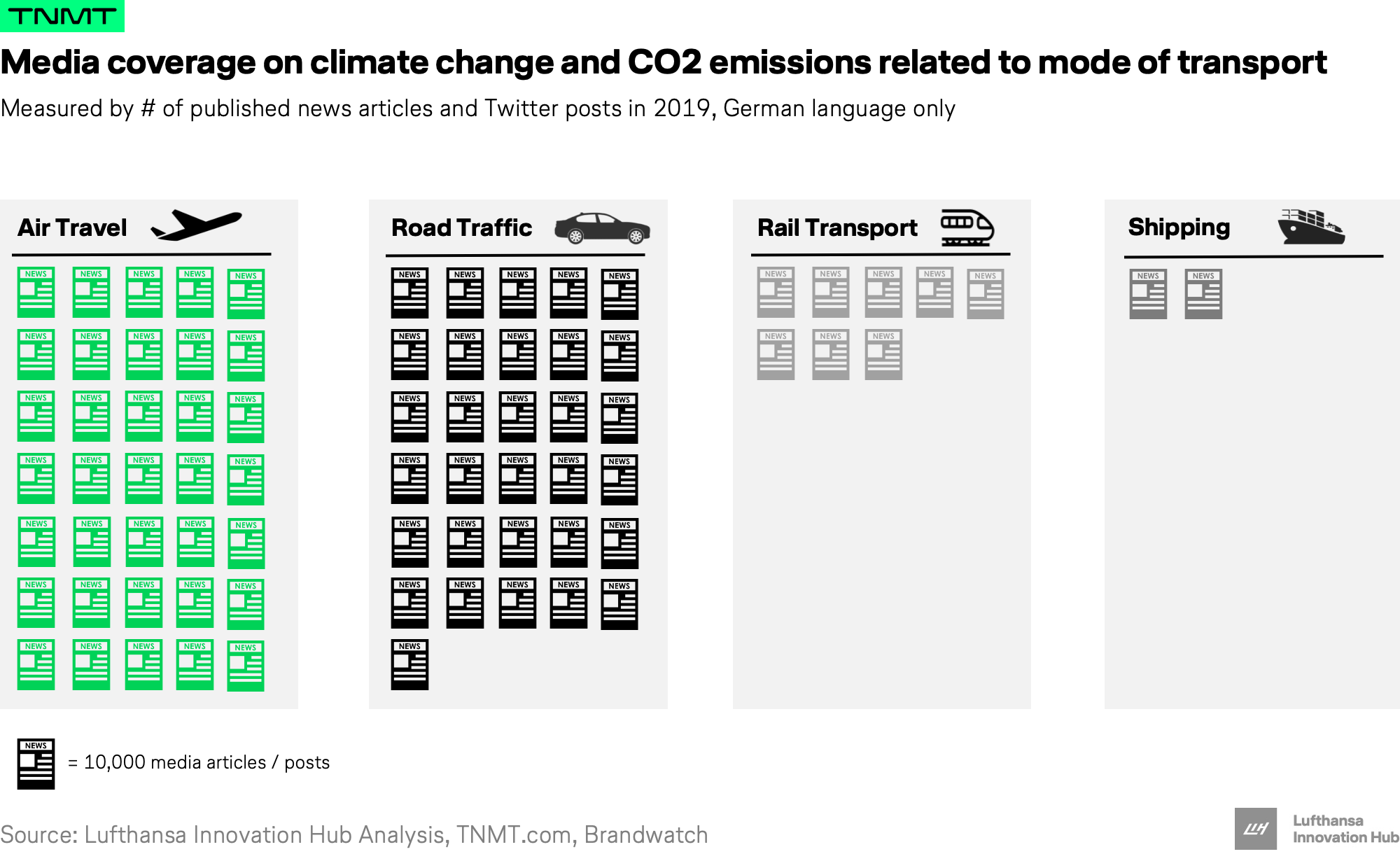 Let's expose the true climate sinners
In the larger air travel debate, there is another group of stakeholders worth talking about when discussing the future of sustainable aviation.
And this elite group of people is quite literally, for the most part, flying under the radar of public debate: Private business jets.
Did you know that more than three million private jets took off globally last year?
You read that right.
To be exact, 3.3 million, according to WingX. This was 7% more than in 2020 and led to an all-time high.
These 3.3 million flights represent about 15% of all commercial airline flights operated last year, which isn't marginal by any means.
Rather, the private jet business is bigger than most people think.
Wait until you see the carbon footprint
Given the size of the private jet segment, let's look at the CO2 emissions generated by these flights.
According to this report from Transport & Environment, the average CO2 output of private business jets is about 10 times higher than a regular Airbus or Boeing commercial aircraft.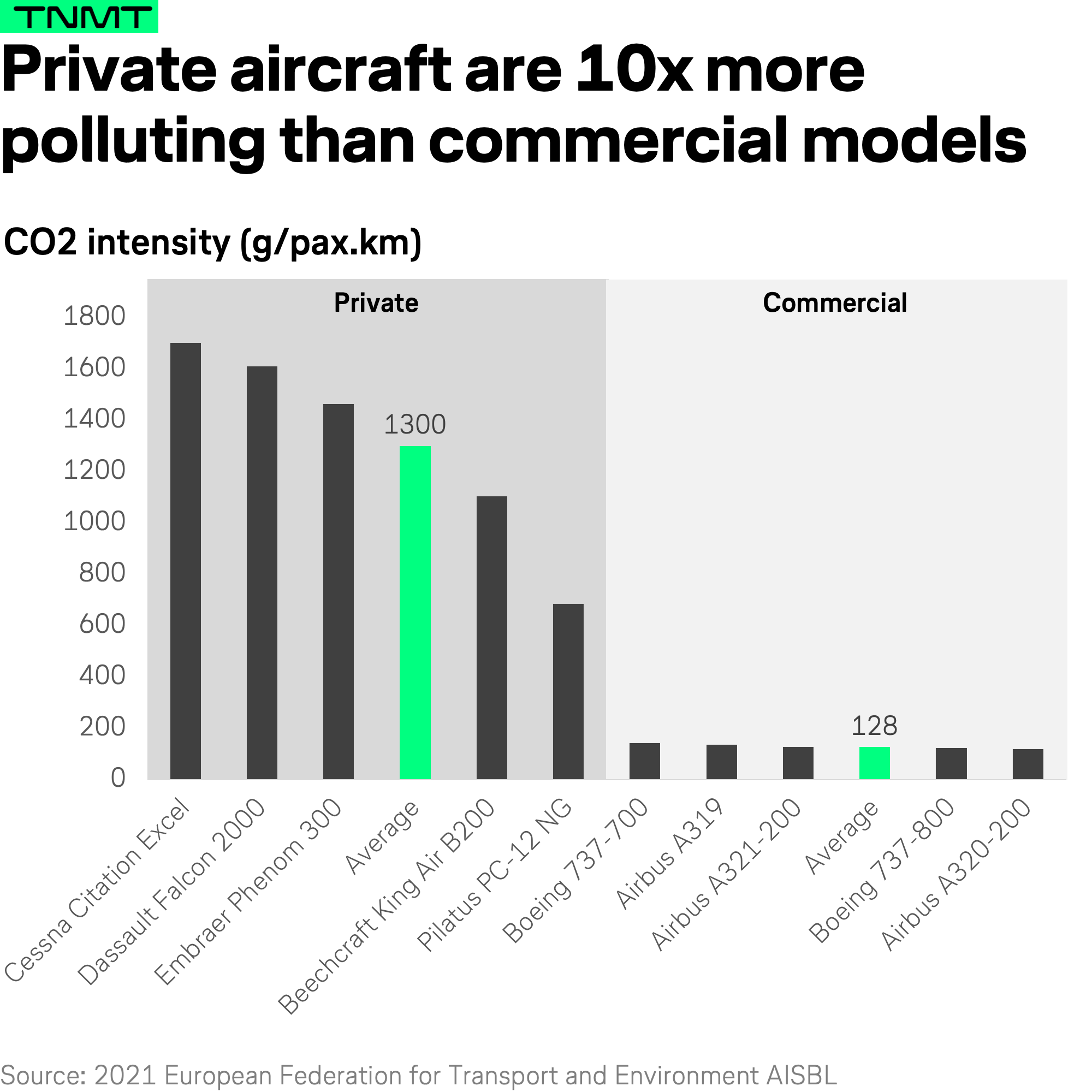 Do you know what's even worse?
If you like to complain about the number of short-haul flights operated by commercial airlines, wait for the split among private flights.
Within Europe, private jets are almost twice as likely to be used for ultra-short trips (<500 km) compared to flights in commercial aviation.
In other words, almost half of all private flights within Europe are extremely short.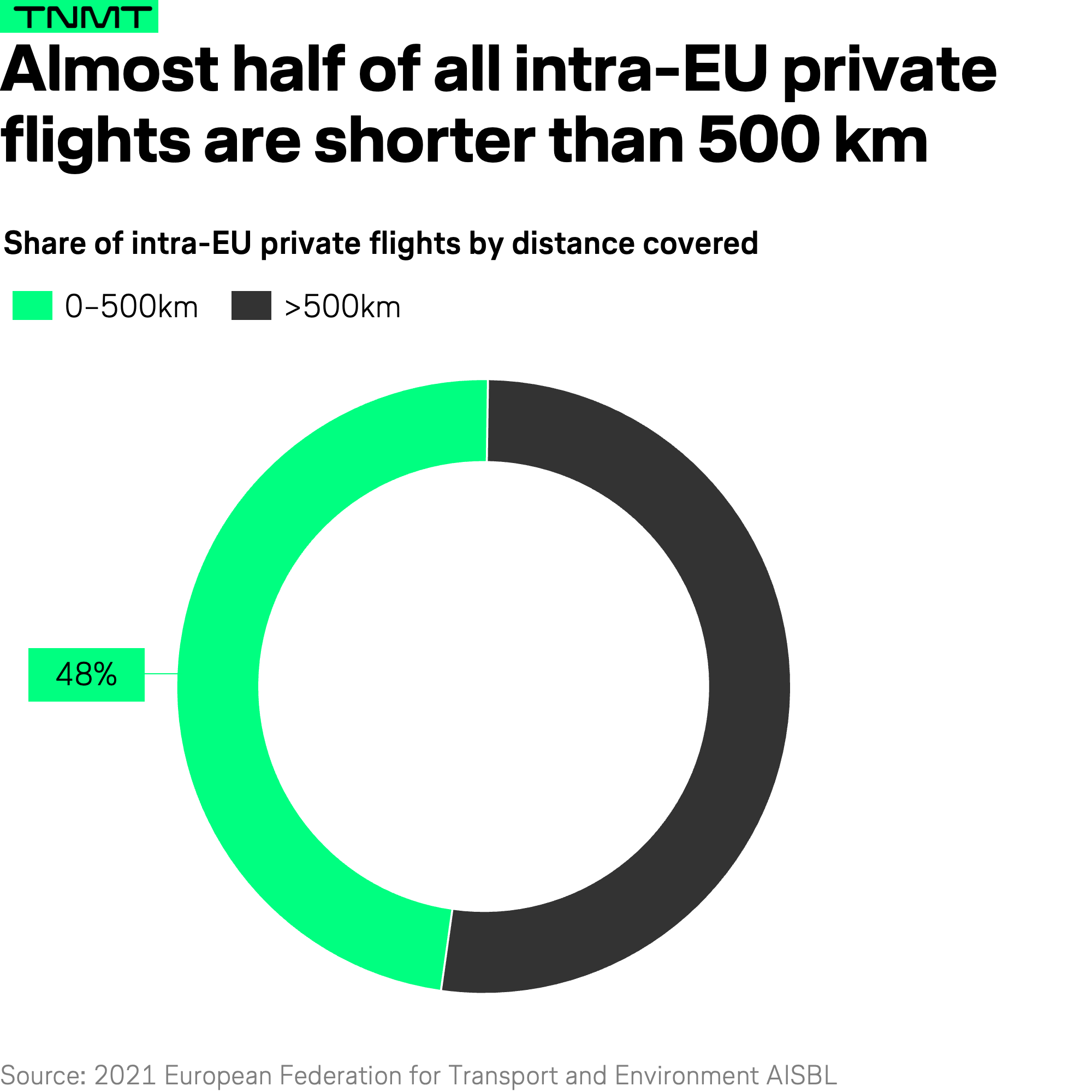 So, rather than discussing placing limitations on short-haul commercial flights or even banning them altogether, we should keep an eye on the private business sector first and foremost.
The outsized role played by the super-rich hopping on private jets for super short distances is unsustainable.
It is clear that private jet use creates a disproportionate impact on the climate. And all of this for questionable social and economic benefits.
By the way, did we mention the fact that private jets remain predominantly untaxed in most European nations?
They are mostly exempt from the EU ETS, which is Europe's carbon pricing scheme. As well, there is no tax on kerosene and this isn't even the case for domestic flights.
Who is taking the majority of these flights?
To wrap up today's rant (who doesn't like to hate on ignorant rich people), here is a ranking you might find both intriguing and entertaining.
Digital marketing agency Yard put together a list of the biggest celebrity carbon dioxide polluters of the past year, which you can see here.
The list is led by Taylor Swift and followed by Floyd Mayweather and Jay-Z.
The data was taken from the Twitter account Celebrity Jets, which chronicles the flight behaviors of the rich and famous.
Celebrity Jets, in turn, takes its data from the flight-tracking service ADS-B Exchange, run by aviation enthusiasts that pool flight data.
And here is our personal highlight from the past few months: In July, Celebrity Jets spotted a 17-minute flight taken on Kylie Jenner's private jet, which would have likely taken 40 minutes or less by car.