In 2020, the business travel industry experienced first-hand how software is eating the world.
To demonstrate this trend, in every other newsletter, we're featuring a promising startup that's challenging the need for business travel with innovative software solutions for effective virtual communication and collaboration. You can find other pioneering startups in our infographic, The 100 virtual work startups.
Today's pick: Berlin-based Wonder
This week, we want to highlight Wonder, an online platform for hosting virtual events. Unlike most virtual event providers where one person talks and everyone else passively listens, Wonder creates an engaging virtual event space where people can interact and "physically move"– almost like in the real world.
How it works
The event venue consists of a virtual space with "tables" and "rooms" where participants can independently move around with their virtual avatar.
Wonder uses spatial technology to mimic face-to-face networking moments. By virtually moving closer to another participant, you can start a video- or chat-conversation and likewise leave the conversation by moving your avatar further away.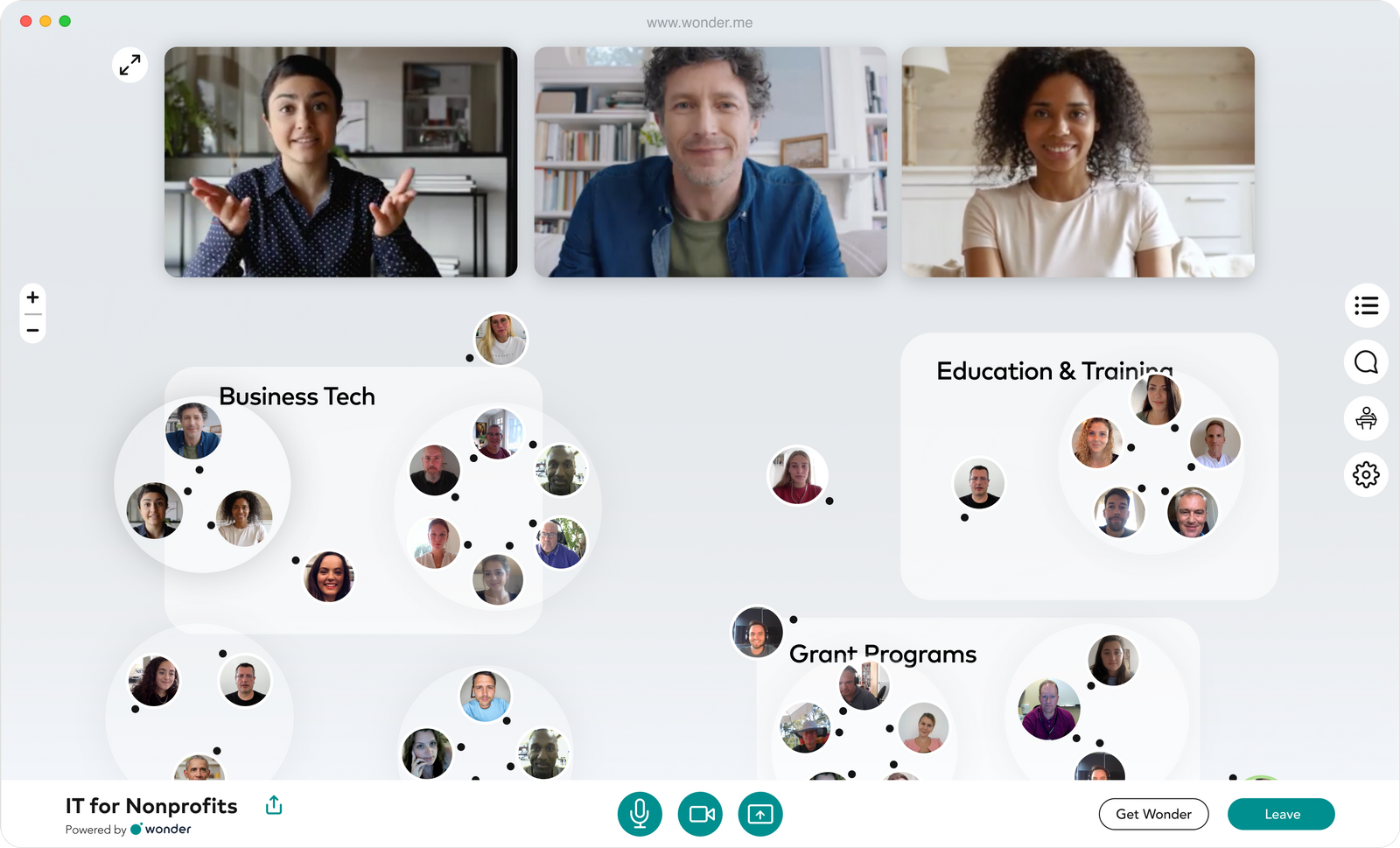 What investors say
Virtual events platforms have received a lot of hype since last year. Investors love the space! And for good reason: up to 20% of all pre-pandemic airline business travel activity was related to people traveling to conventions, trade shows, and conferences. During the pandemic, this chunk has been fully virtualized by virtual event providers.
Wonder raised $12.2 million USD in VC funding only a few months after its founding in early 2020, making it one of the top ten most-funded virtual events companies out there.
Other virtual events providers managed to score even bigger rounds, the most prominent being Hopin and Bizzabo who raised ~ $265M and $138M respectively last year.
Hopin in particular achieved hypergrowth, unlike anything we have ever seen before, growing its valuation from zero to about $2 billion in less than 9 months, backed up by year-one revenues coming in at about $20 million, according to TechCrunch.
What consumers think
In December, Wonder reported ~200,000 users including event planners of big organizations such as NASA, Harvard, and SAP.
Wonder has seen consistent ~80% month-over-month growth in website traffic according to SimilarWeb.
Given that the vast majority of virtual event participants indicate that they plan to continue attending virtual events post-covid, we expect Wonder to keep growing.
The bigger picture: what does this mean for business travel?
During times of lockdown and travel bans, most companies and their employees had no choice but to switch to virtual events. Will this trend prevail when travel is allowed again? Or will physical events quickly rebound in the post-covid era with virtual solutions like Wonder and Hopin disappearing as fast as they showed up?
Our take is that the future of events is going to be hybrid.
There is little doubt that a major benefit of physical events is in the opportunity to easily network with potential clients and business partners – a value proposition that is hard to replicate virtually, even though startups with spatial technology, like Wonder, have done a good job in closing the gap here.
Humans are social beings, and live interactions are unlikely to be fully replaced by virtual equivalents, especially for sales meetings and events where human connections play an even more important role. However, startups such as Wonder prove that virtual event technology should not be underestimated, as it has been demonstrated to be a powerful way to enhance or supplement physical experiences and offer a platform for event planners to reach and test wider audiences with new formats.
In summary, we expect travel activity to fairs and events post-covid to return to about 70% of pre-pandemic levels, but not significantly more, as we move towards a hybrid event future merging the physical and virtual worlds.