In our earlier analysis, Airport Apps Are Dying Out, we explored why airport apps have largely failed to engage a significant number of travelers. We found out that most airport apps are offering non-essential services instead of value propositions that service critical pain points.
Even when airport apps do provide meaningful convenience to passengers, like efficient baggage tracking, fast-track security reservations, and retail and food pre-orders, it is still challenging to convince travelers to use them.
As travelers are overwhelmed with the sheer abundance of potential apps to download, they mostly shy away from using individual airport apps.
With all this in mind, we researched the travel-tech ecosystem and came across some innovative startups that are addressing some of the limitations of today's airport apps.
Which startups are these?
We identified three airport startups that are working to effectively engage with passengers and improve their experiences at airports. In particular, these startups are working towards solving real problems in smart, innovative ways.
How exactly? Let's take a look.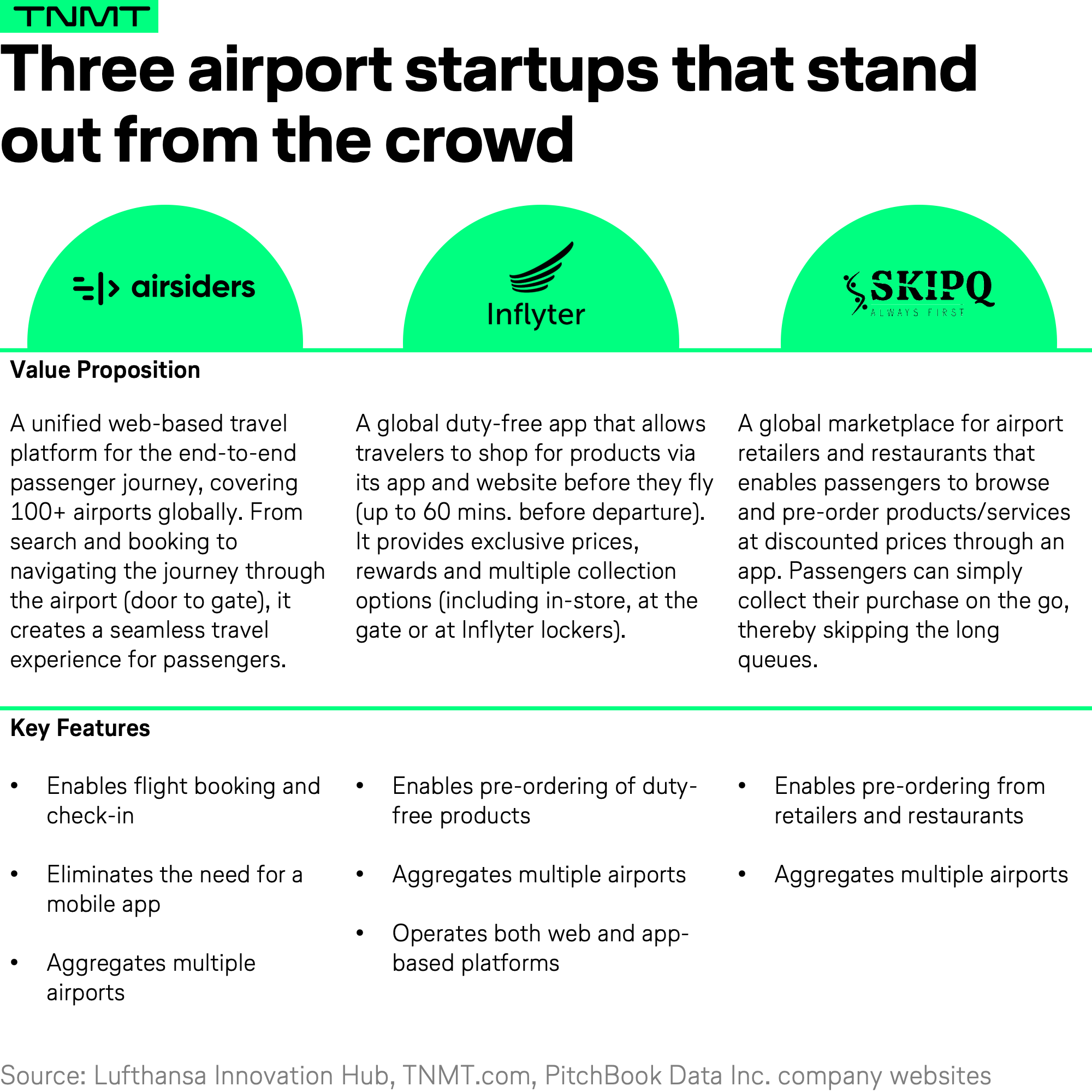 Airsiders
Through its Volario Flights platform, Airsiders allows passengers to search and book itineraries involving multiple carriers by enabling virtual interlining. As well, the platform provides travelers with layover time prediction, connection protection, and the management of baggage transfers for connecting flights.
Further into the journey, the company's Volario Go platform helps navigate passengers through the airport by providing them with personalized information. This includes the total trip time from door to gate and a visualization of their indoor route to the airport (with real-time guidance and wayfinding).
The most killer feature? The platform is entirely web-based, which eliminates the need to download an app altogether.
Interestingly, the business model of Airsiders extends beyond just B2C. The company also operates in the B2B space, developing customized solutions in travel connectivity for airports and airlines.
Whether this will enable Airsiders to build a lasting business in the airport context remains to be seen. The Berlin-based, 2020-founded startup is still experimenting with various monetization strategies.
Inflyter
Inflyter enables instant access for pre-ordering duty-free products across more than 20 airports via its app and website. Apart from in-store pick-up, Inflyter allows travelers to have products delivered directly to their boarding gates.
Inflyter is also integrating with SmartLockers at said airports, enabling passengers to simply scan a QR code and collect their order. Along with exclusive prices and promotions, the company has a loyalty program to reward frequent travelers.
So, what is particularly special about this startup?
Well, Inflyter is taking convenience to the next level. Recently, 3Sixty Duty-Free, a travel retail provider, partnered with Inflyter to enable domestic travelers to shop online and get their products delivered at home (currently limited to the United States), thereby blurring the lines between airport shopping and e-commerce.
By onboarding several airports in a single app, it saves travelers from the trouble of downloading multiple airport apps for duty-free shopping. In turn, this improves the overall airport shopping experience. According to our analysis, the pre-ordering of duty-free products through an airport app is something that only a few airports currently offer, despite this option having significant traveler interest. According to this m1nd-set survey, nearly 60% of shoppers have an interest in either pre-ordering their duty-free purchases or using a home delivery option. However, just over one-third of respondents shared that they are actually aware of the pre-order and airport pick-up service.
SkipQ
SkipQ, an early-stage startup from Delaware, aims to become a global marketplace for airport retail. The app allows customers to pre-order discounted products and services and collect or use them at the airport, including duty-free retail, restaurants, retail stores, parking, and taxi services.
The company will also help retailers connect with new customers that can be targeted prior to arrival at the airport.
In particular, customers can be provided with personalized suggestions. SkipQ aims to leverage AI technology and predictive analytics to provide real-time sales forecasts and dynamic pricing information to retailers.
What could make this marketplace a popular go-to amongst passengers?
The app aims to address an important customer pain point for customers who want to shop at airports but do not find it to be a pleasant experience. This is due to factors such as limited time and long queues. SkipQ is also planning to onboard multiple airports in its app.
At present, the startup is still in its infancy, living off a small $400,000 USD funding round.
Innovation enhances the airport experience
The airport environment can be a source of stress for many travelers. However, these startups are working to make the experience smoother and more convenient. By addressing specific pain points and aggregating multiple airports onto their platform, these startups are providing a unified solution for passengers.
With all this in mind, it's important to note that startups operating in the airport retail space will face significant challenges in monetizing their services—see our previous analysis on why airports usually don't like startups and vice versa. They will need to develop a solid strategy to generate revenue that doesn't solely rely on commissions or ad revenue from retailers.
Nevertheless, these startups are pushing the boundaries of what is possible in the airport environment, and their dedication to improving the travel experience is inspiring.
We look forward to seeing how they will continue to innovate and evolve in the years to come.