The adoption of mobile apps related to travel has grown rapidly. Consumers increasingly use their smartphones across the entire travel journey to search, plan, book, organize, document, and share their activities.
According to a survey conducted by Cisco AppDynamics in May 2022, 74% of travelers said that apps and digital solutions play a vital role in their vacation experiences.
A higher adoption rate for travel-related apps was seen post-pandemic when travelers became more inclined to embrace digital solutions. In fact, during the summer of 2022, travel app downloads surpassed pre-pandemic peak levels, as our analysis of app usage data from data.ai evidences.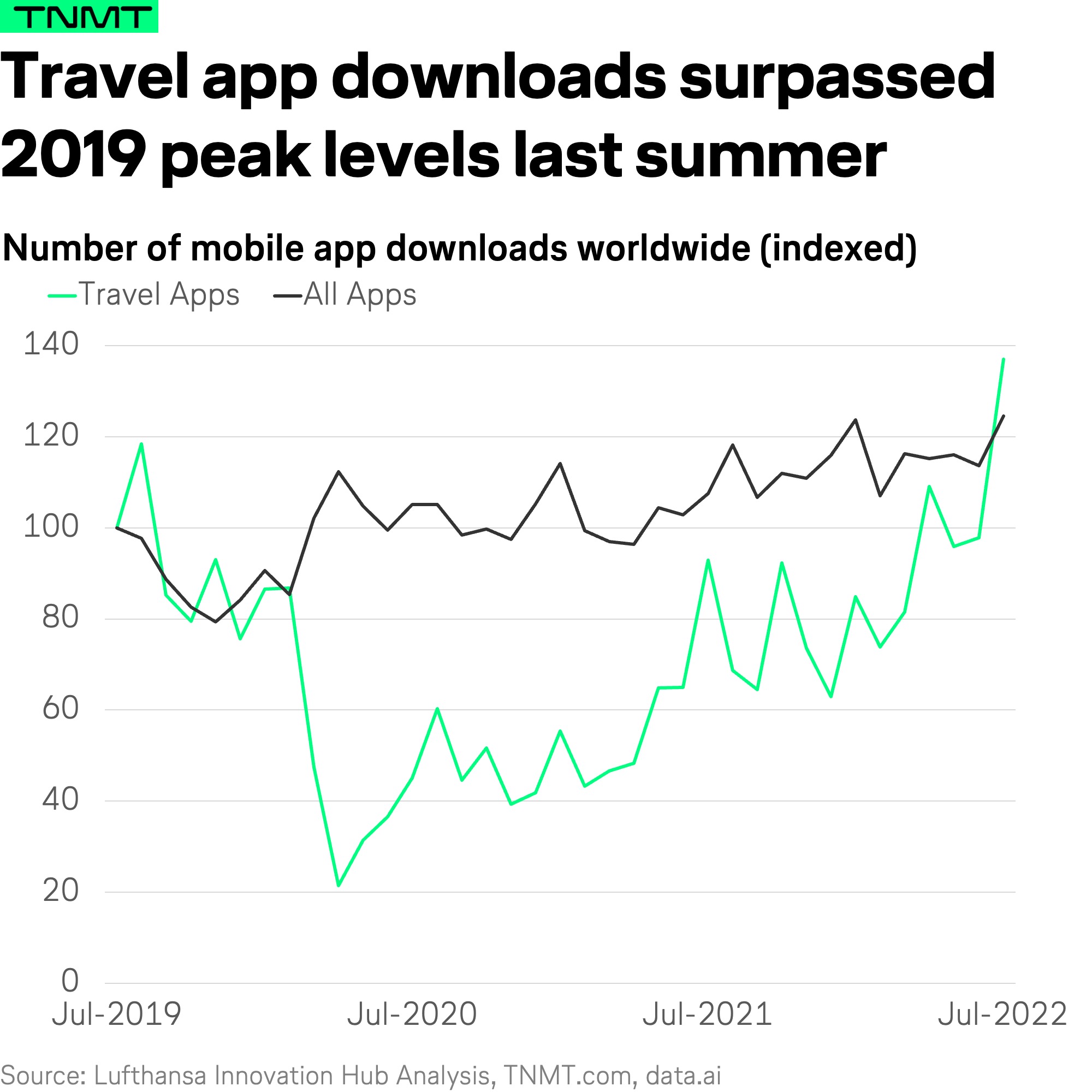 Given the steady rate of mobile app adoption, major travel brands prioritize building out apps to further accelerate engagement, as Phocuswire recently reported.
For instance, Expedia recently launched a Price Tracking and Prediction feature in its mobile app. The feature uses machine learning to identify patterns in historical data to forecast price changes and predicts the best time to book.
In May 2022, Airbnb announced redesigning its app to include a new way to search (by adding Airbnb Categories). It also introduced Split Stays, which uses intelligent matching to pair two homes for longer trips, based on location, property type, and amenities.
In November 2021, corporate travel brand CWT announced an investment of $100 million USD into its digital platforms, focusing on its mobile app.
Over the last decade, airports have similarly jumped on the mobile bandwagon to develop their own apps with the goal of providing better and more personalized airport passenger experiences. This has been a priority, given that many travelers find the airport experience troublesome.
However, for reasons we will explore in this analysis, airport apps haven't been able to engage a significant number of travelers.
In fact, we would argue that most travelers don't bother with airport mobile apps whatsoever.
Passengers barely use airport apps
Many airports have tried to offer mobile apps that enable better digital touchpoints and create a more pleasant experience for passengers. Despite this, these apps have largely failed to engage travelers.
To measure airport app engagement, we did the following:
We identified the top 20 airports in the world by 2019 passenger traffic (a more normative year for air travel).
Following this, we researched which of these airports had a mobile app.
Finally, we calculated the share of travelers passing through these airports with the respective airport apps downloaded on their smartphones.
Turns out, only 7% of airport passengers use the mobile app associated with their departure airport. In comparison, airline apps reach about 5x more passengers.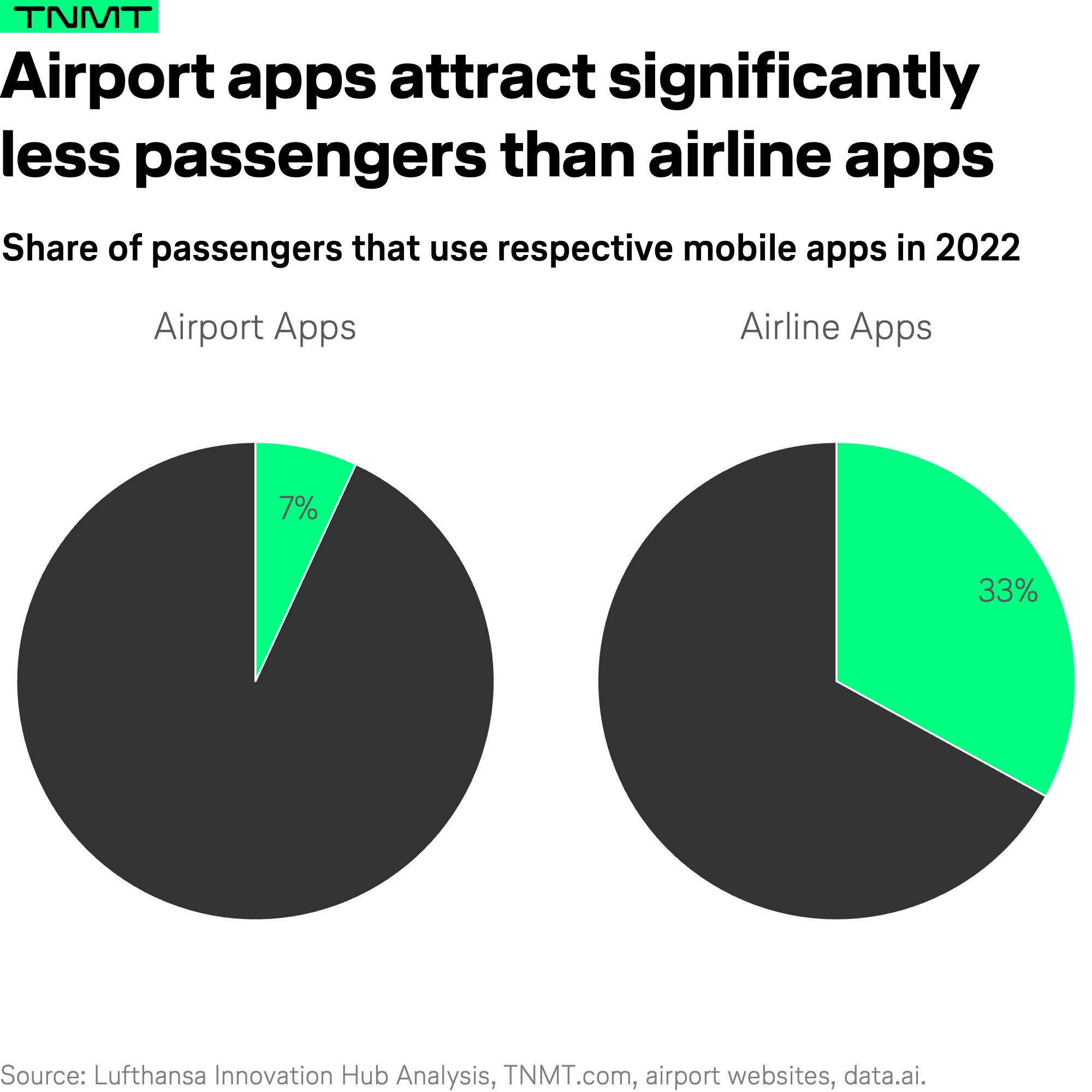 Many airports have given up on their mobile app ambitions
As a consequence of this limited usage, more and more airports have stopped offering mobile apps.
During the pandemic, this trend accelerated as the majority of airports focused on cost reduction and re-prioritization of investments.
While some airports publicly announced that apps would be discontinued, others quietly killed them. Here are a few prominent examples:
Tokyo's Haneda Airport's app was discontinued in February 2020.
The Frankfurt Airport app was shut down in December 2020.
Atlanta and Dubai Airport's apps are no longer available on mobile app stores.
The New Delhi Airport's app has not been updated in more than two years and remains broken.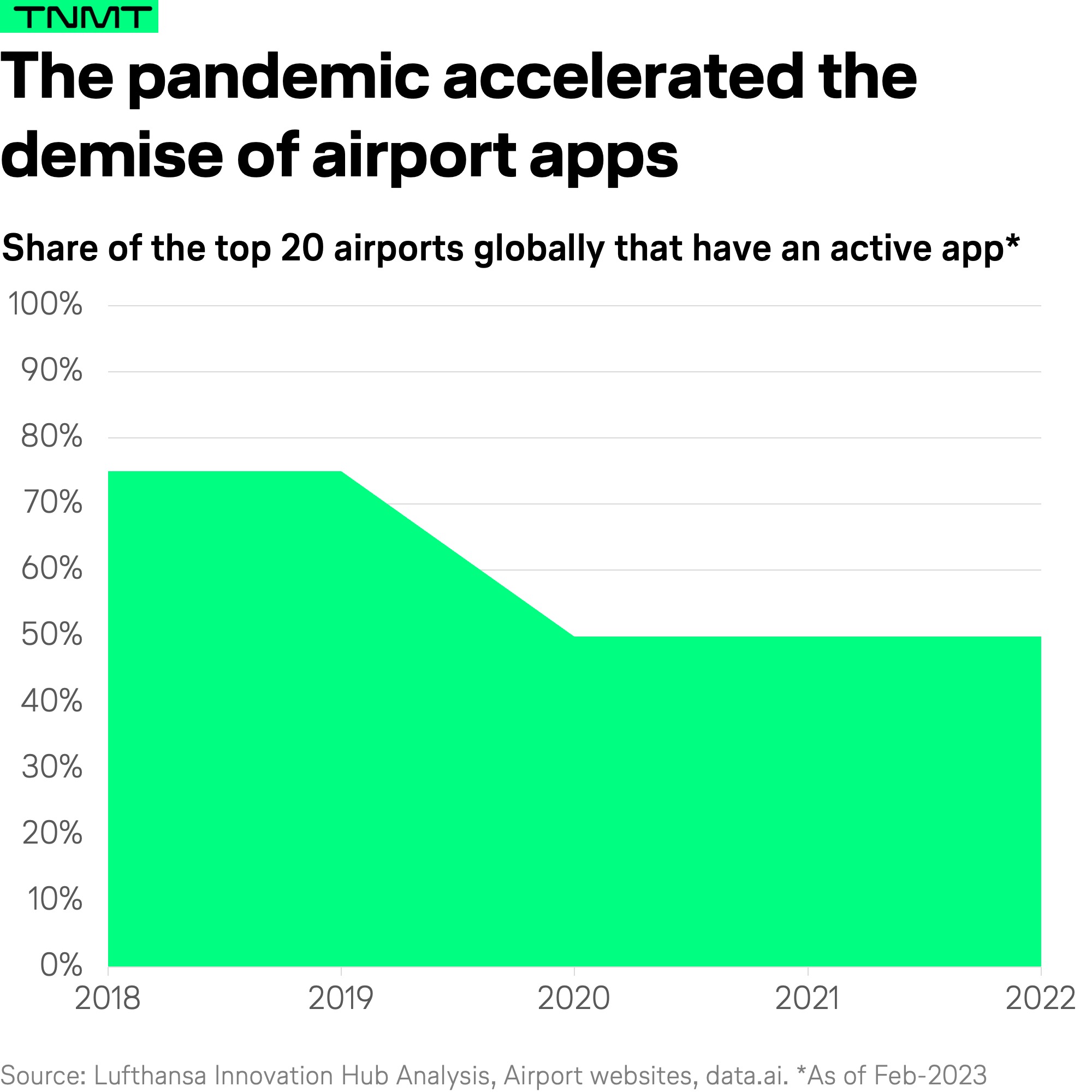 As of today, only half of the 20 largest airports in the world have an active mobile app. As time progresses, the remaining mobile apps continue to be updated less frequently. In the coming months, it's likely this share will further decrease.
So, why do travelers not care about airport apps?
Let's find out.
Airports have enough reasons to communicate with travelers
In theory, airports have plenty of potential touchpoints to engage with travelers during the standard airport traveler journey.
When people arrive at the airport, they need a parking spot for their car.
Passengers must pass through a security checkpoint, during which they regularly want to be informed about flight updates.
People need to navigate through the airport, find something to eat and may go duty-free shopping.
All of these specific airport steps could be supported through a mobile app, one that aids passengers with relevant information and digital self-service options.
However, for some reason, the majority of airports can't find a way to successfully resonate with travelers.
Well, not so fast.
A few airport apps show how to do it right
There are a few inspiring best practice examples out there. These airport apps fared much better than others and engaged a larger number of passengers.
Which apps are they?
Amsterdam's Schiphol Airport is one such example. As well, Hong Kong and Changi Airports have spearheaded the airport pack with higher app penetration than all other airports.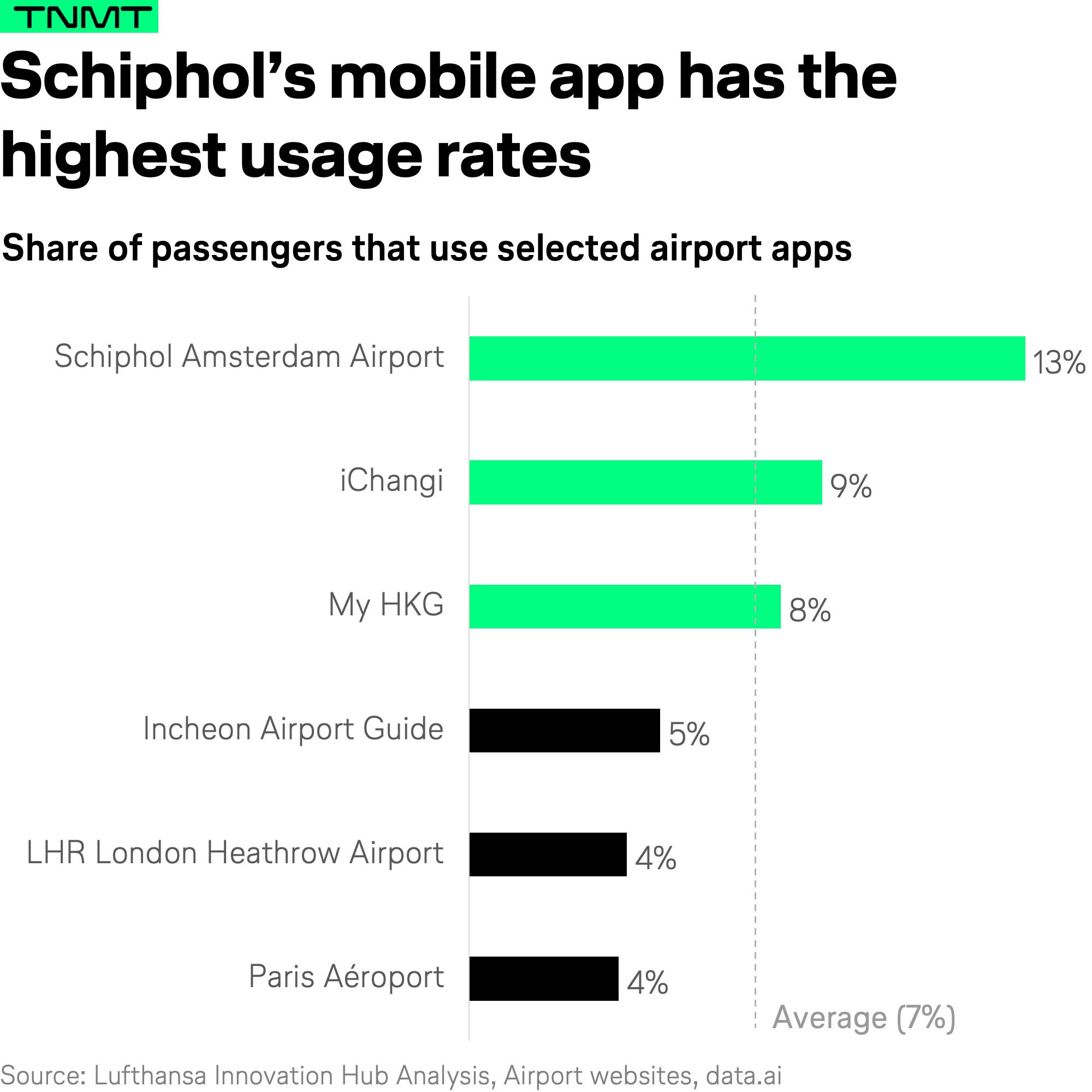 What are these three airports doing differently than others?
Well, it appears that they have integrated features that actually serve a purpose. These features have a real "job to get done," as the corporate innovation lingo goes.
Here are three examples:
Example #1: Schiphol Airport
In 2016, Schiphol completely overhauled its app with a better and faster interface, integrated AR-based maps, and an increased level of personalization (with a detailed itinerary till departure). The airport app offers travel advice based on each traveler's situation and preferences. For instance, it provides an estimated time for each passenger to arrive at the airport based on their flight itinerary. The app also keeps passengers informed about the expected time for luggage to arrive on the belt using push notifications.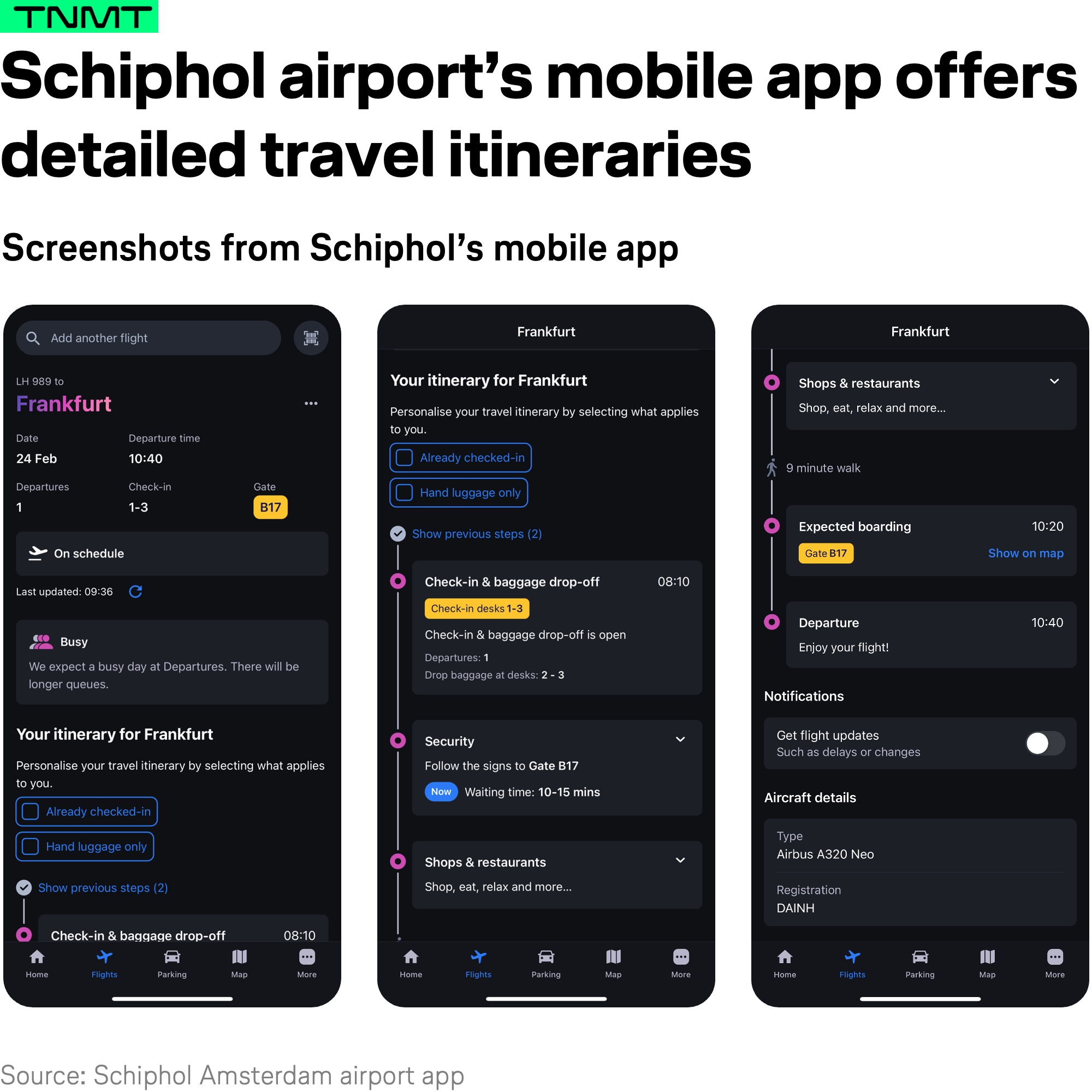 Example #2: Hong Kong Airport
Hong Kong airport relaunched its app in 2021 with a better interface and extended offerings to provide more convenience to travelers. These included baggage arrival notifications (with an additional purchase of MyTAG, a luggage tracking tag), AR-based wayfinding, and the push of information and promotions situated near the traveler.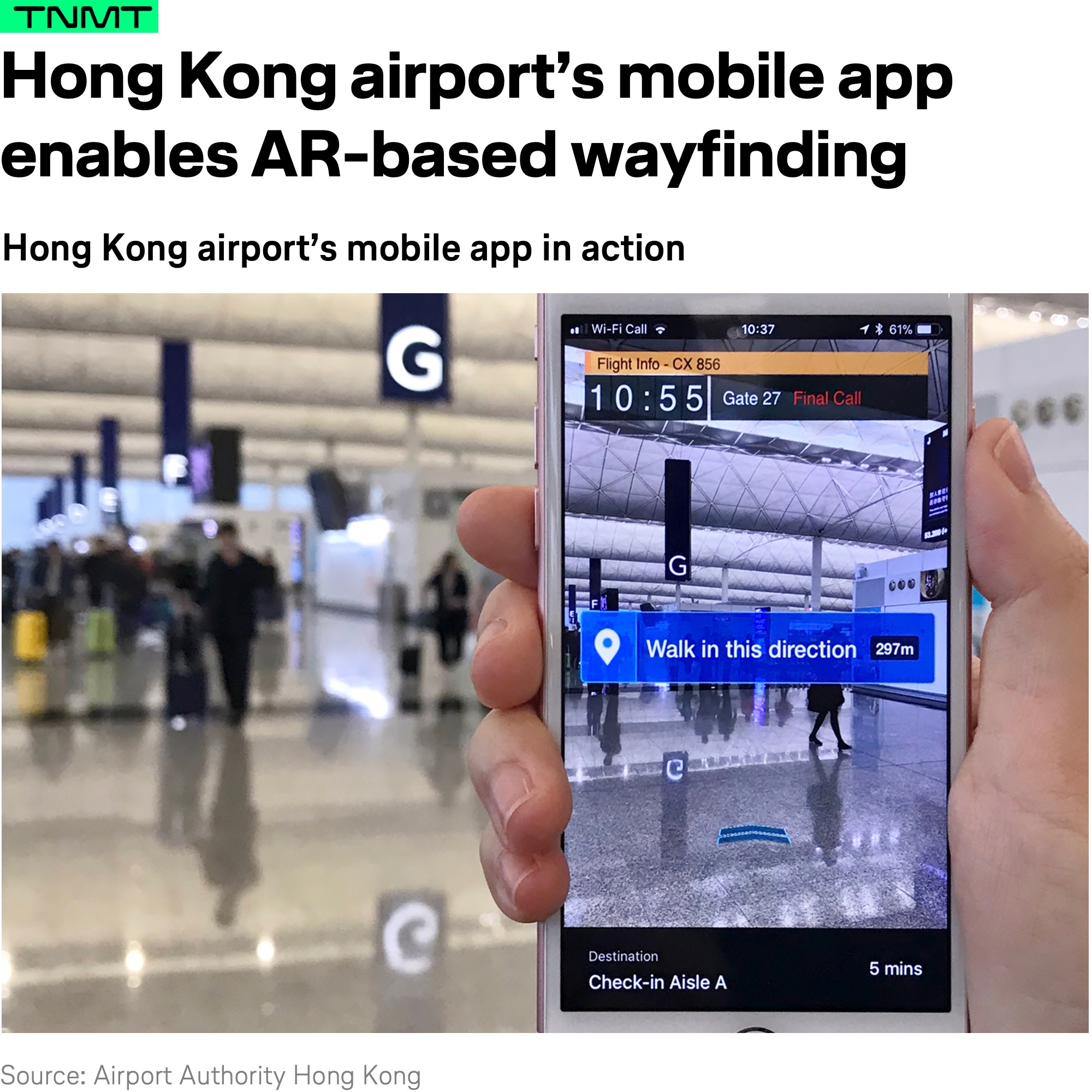 Example #3: Changi Airport
Similarly, the Changi airport app ranks high on utility as it also allows passengers to track baggage and offers additional value-added services, such as pre-booking/purchasing travel essentials (including eSIM and travel insurance) and fast-track security reservations. The app was redesigned in April 2019. At this time, new features were added, including the app's interoperability with other digital platforms. For example, travelers can import flight itineraries from their smartphone calendar into the app. Based on this, the app can create personalized itineraries. As well, it allows travelers to create a dynamic and customized airport itinerary based on their preferences and dwell time.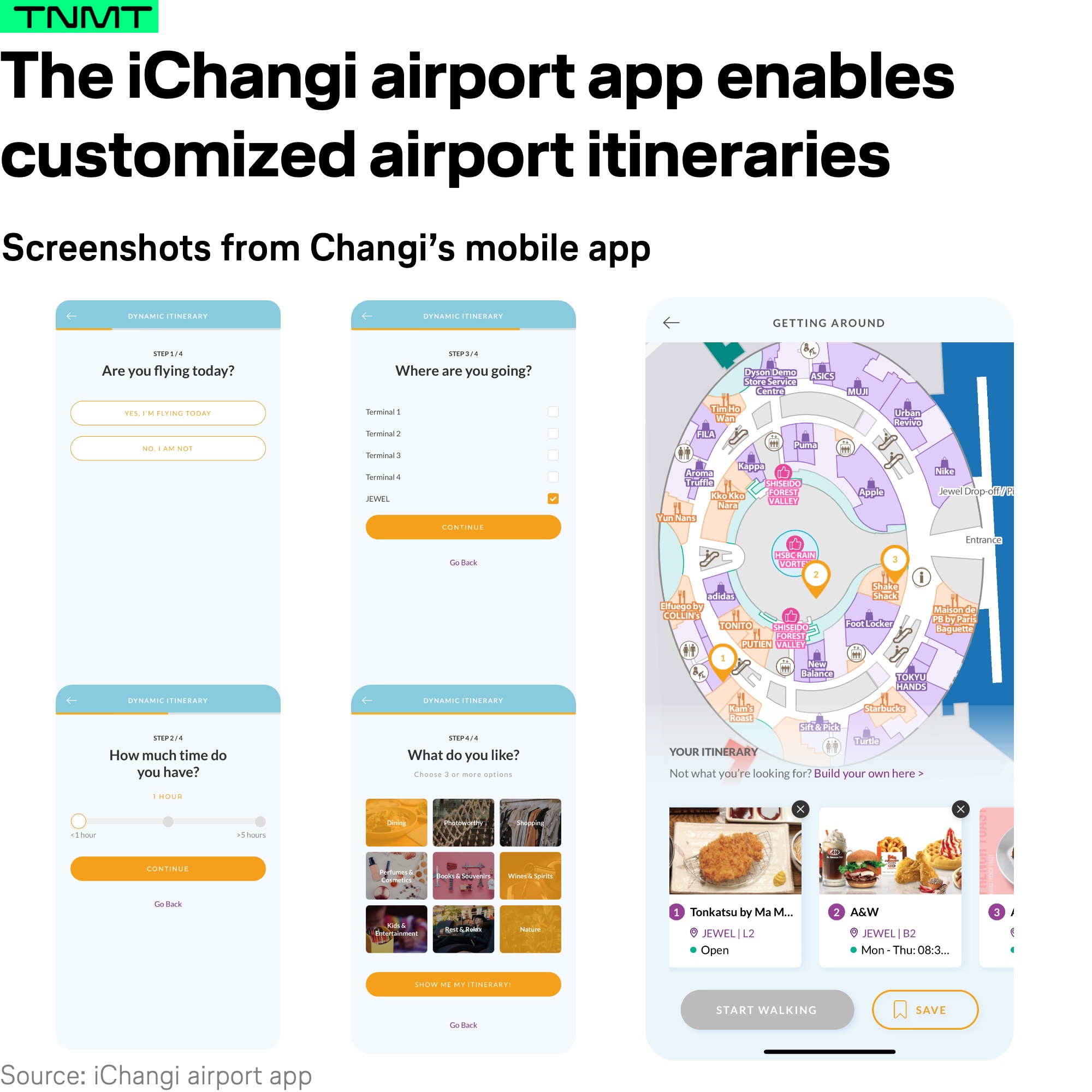 Luggage is a particularly promising use case
Interestingly, a common feature that is offered by all airport apps that fared better than others is related to luggage handling. This is one of the topics with the most negative sentiment, according to our analysis of the biggest pain points in air travel.
This is clear evidence that airport apps need to address actual pain points if they want to resonate with travelers.
Most of the below-average airport apps lack any type of feature that helps travelers have a truly easier and more convenient airport experience. In fact, most airport apps only share basic information, such as flight delays. This is something passengers can easily find via physical signs and timetables in the airport. As a result, there is no real need to use the respective airport app.
With all this in mind, it's clear that if airports want to operate mobile apps that are actively used, they need to offer value propositions that service critical pain points.
However, there is a second problem most airport apps face that is harder to overcome, even when having found a more advanced value proposition. Airport apps are competing with airline apps, which have one critical unfair advantage on their side.
Let's explain.
Airport apps compete with airline apps
A survey of more than 6,000 global passengers conducted by Airport Dimensions provides insight into why airport apps struggle so much with traveler interest.
The survey reveals that people prefer accessing airport websites over airport apps, especially for flight status updates and to gain relevant information prior to their travel from home.
More importantly, airline apps are people's preferred choice when seeking information about air travel plans.
Why is this the case?
When comparing today's airline apps to airport apps, it's clear that the killer feature of airline apps is the ability to book and check in for flights.
The latter, in particular, is a necessary component of the air travel experience, one that people can't avoid. As the check-in process is owned by airlines and there is no other alternative, many travelers are willing to download airline apps. In turn, travelers don't feel the need to also use apps associated with departure airports.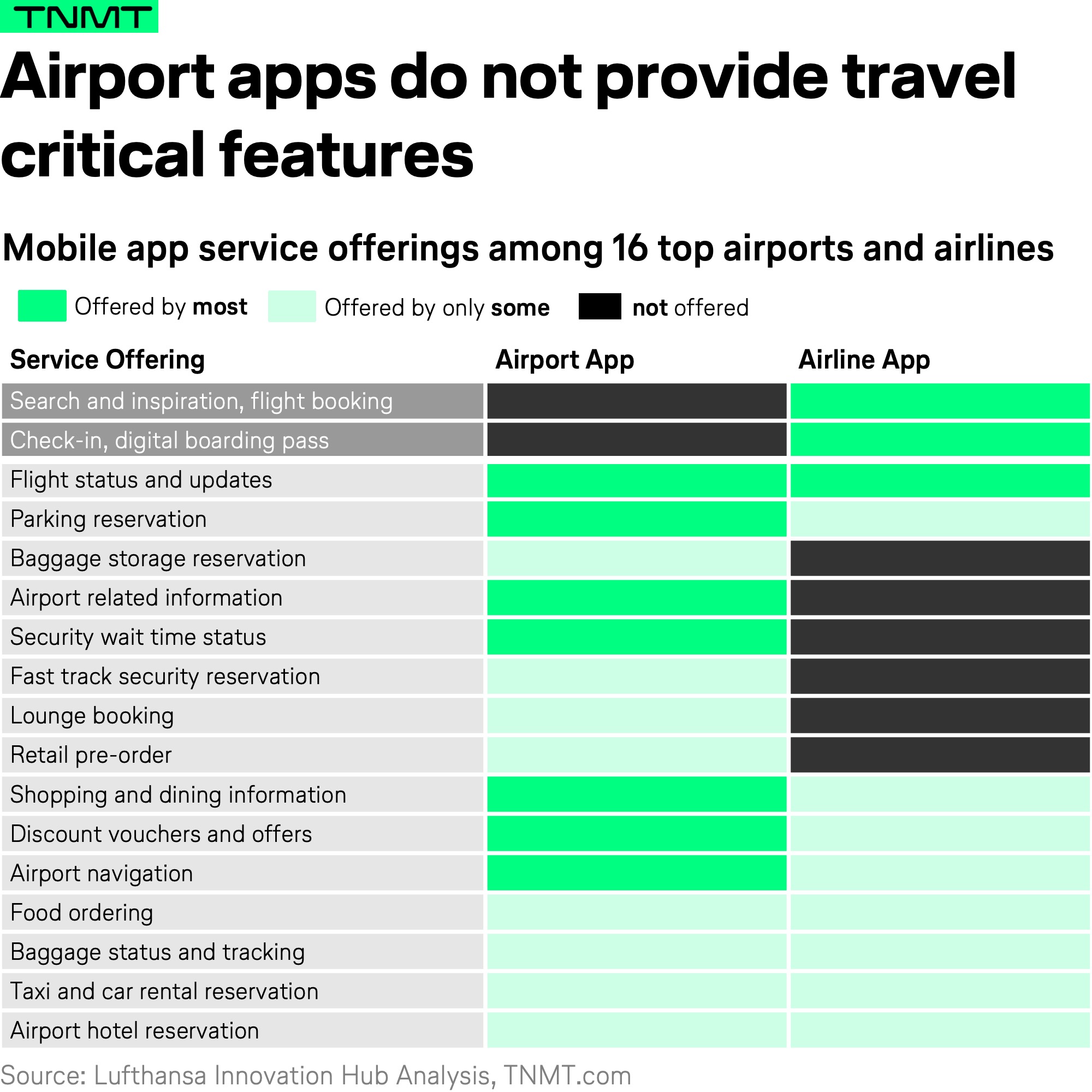 Airline apps > airport apps
With all of this being said, it seems like most airport apps struggle with one of the following two challenges:
They only offer non-essential services instead of features that are critical to the travel journey and travelers' pain points, like baggage handling. When we looked at the functionality of many airport apps, we found that airport apps largely offer purely informational services (and nothing more), such as flight status and updates, airport navigation and information, and shopping and dining information, which is available through more convenient channels, like physical signs within the airport.
Even with more advanced features, an airport app often has no unique value proposition when compared to an airport mobile website or an airline app. The offerings of airport apps often overlap with airline apps, which are better positioned to attract passengers as the primary touchpoint for travelers to book and check in for flights.
Due to these disadvantages, passengers may ask themselves—why download an airport app when the airport mobile website and airline app can take care of my needs?
This is confirmed when looking at surveys among travelers and their desire to communicate with the airport. According to another survey by Airport Dimensions, 26% of passengers responded that they do not interact with airports at all (before, during, or after their journey). And this is despite the numerous touchpoints airports could use to interact with customers.
So what should airports do?
Our analysis has uncovered that it might be hard for airports to justify pumping money into mobile apps that most travelers don't need.
Does this mean airports should simply ignore any type of digital innovation? Certainly not. However, the rationale behind a mobile app should be seriously questioned. Although examples like Schiphol show that it's possible to launch an engaging airport app, the question is whether or not the effort (and investment) is worth it.
In general, airports have a lot of room to improve the passenger experience using digital tools, whether it's through an app or other digitization initiatives.
We want to share five recommendations for airport managers to improve their mobile app plans and digital strategies in general:
1. Commit to innovation and spend money!
The rapid pace of digital advancement has influenced every aspect of our lives. And the aviation industry is no exception. Airports worldwide are facing an ever-growing demand for better passenger experiences, especially as the number of travelers skyrockets each year. Modern-age technologies offer airports countless possibilities to upgrade their operational processes, boost efficiency, and provide a seamless experience to travelers.
In 2022, airports' planned information technology and telecommunication (IT&T) spending increased year-over-year to $6.8 billion USD. However, this amount was still 23% lower than in 2019. Without future investment commitments, it's hard to improve the status quo, whether this relates to the airport app specifically or the airport experience in general.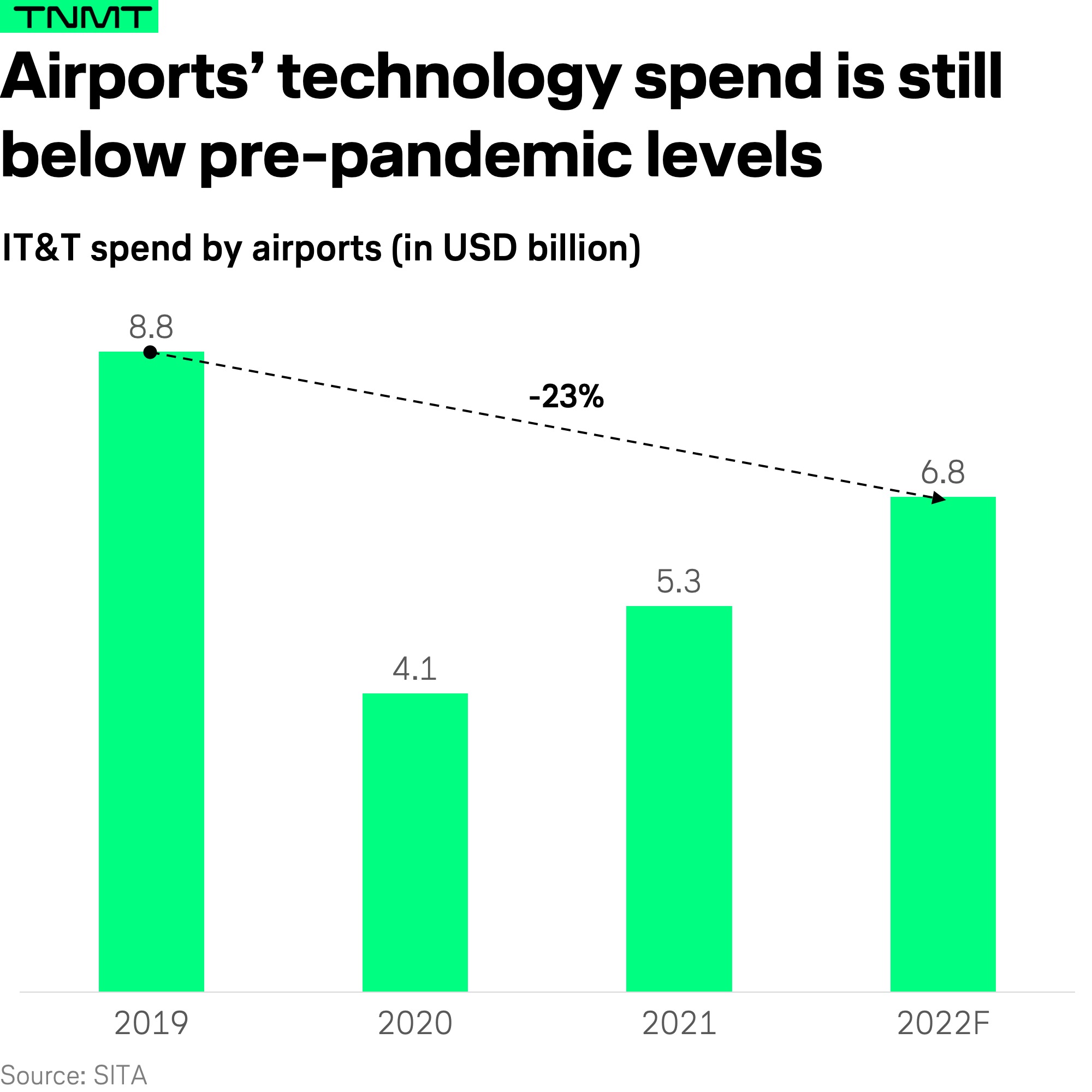 2. Build mobile apps that address real pain points
While mobile apps can be an effective way to improve digital customer experiences, they need to provide value-adding services and convenience to passengers.
We know the travel experience is anything but frictionless. Airport managers need to ask themselves how to leverage digital channels and touchpoints to ease these pain points. More concretely, how can things like baggage tracking, fast-track security reservation, lounge booking, and retail and food pre-orders be improved?
Airports need to engage with travelers and improve their experiences by providing them with more convenience. For example, this could mean allowing travelers to reserve a parking slot prior to arrival at the airport or checking the status of security waiting times in order to plan their trip ahead of time. The focus should be on technologies that not only save time but also reduce congestion during peak hours. By integrating travelers' biometric data and mobile applications, for example, digital self-service machines can enhance security and provide a personal touch to each interaction.
3. Invest in long-term technology solutions for a better airport future
Airports need to pivot towards more robust long-term strategies that can truly transform the passenger experience.
These include automation technologies at the airport premises and biometric identity management for a faster and contactless journey. As well, beacon technology can push location-relevant information for personalized passenger touchpoints, such as conveying duty-free promotions to travelers as they walk past stores.
Biometrics, in particular, have become an indispensable part of airport security measures. Fingerprint and facial recognition systems ensure that every traveler passes through airport security checkpoints in an accurate and efficient manner. In addition, the integration of advanced algorithms can detect suspicious activities and behavior, strengthening security without compromising passenger convenience. Biometric identity systems combined with digital boarding passes minimize the risk of fraud and create a more streamlined boarding process.
4. Explore collaborations with airlines
Airports and airlines are better together. The two need to collaborate more closely.
For example, airports can integrate their offerings with airline apps, which have a higher penetration rate, to engage with passengers. With better integration, airlines can enable airport involvement in their communications with passengers, which could be a win-win for both. There is the potential for increased non-aero revenue for airports and airlines alike that could together benefit from a positive customer experience across the entire travel journey.
5. Make data accessible
To improve collaboration, airports need to extend data to industry stakeholders by allowing them to access their Application Programming Interfaces (APIs) and open data. According to SITA, 83% of airports consider data exchange technology as an investment priority, but only 47% have planned major programs for the technology by 2025. For Artificial Intelligence and Machine Learning to reshape various aspects of airport operations, vast amounts of data must be shared between different parties. This will lead to more effective decision-making when it comes to security and operational planning.
The aviation industry must embrace the digital revolution and adapt to innovative technologies that promise to improve passenger experiences at airports. A balanced combination of self-service solutions, biometric security, real-time communication, IoT-enabled infrastructure, and AI-powered systems can dramatically enhance airport operations, delivering a smooth and stress-free experience to modern-day travelers.
Mobile apps are just one channel for airports to communicate with passengers, but there are many others out there. Therefore, we recommend airports look beyond mobile app strategies when envisioning the future.