Corporates have long had a tough time participating in the venture capital game. But things are changing, especially in Travel & Mobility Tech.
As an industry, Travel & Mobility Tech shows a rapidly growing share of corporate venture capital (CVC) investments
Investment activity is driven by corporates from Asia, especially tech giants
Corporates increasingly adopt standard VC practices and bring more to the table than just cash
In Travel & Mobility Tech and beyond, startups are constantly breaking ground in technology, business model innovation, and the fulfillment of (new) customer needs.
Venture capital (VC) plays an important role in fuelling innovation, as it supplies young ventures with the necessary funding to get off the ground and scale. Last year, we wrote a comprehensive article on venture capital in Travel & Mobility Tech, which reached a record-high funding volume of almost $44 billion in 2018.
Today, we look at how the practice of venture capital is increasingly being emulated by corporations, usually in the form of minority investments in startups. Our main discovery: VC is increasingly part of the corporate toolbox, especially in Travel & Mobility Tech. In this way, well-established companies can help shape the future of their markets as well as explore new, high-growth business opportunities. This trend challenges the cliché that corporates make unsuitable investors in startups.
Corporations increasingly invest in Travel & Mobility Tech
We examined deal-flow data (via our own database of startups in the Travel & Mobility Tech space) to better understand the state of corporate venture capital in Travel & Mobility Tech. Based on the number of deals with at least one CVC investor, the share of corporate participation in VC investment rounds of startups in Travel & Mobility Tech has soared since 2013. Corporate investment frequency in Travel & Mobility Tech has even surpassed the overall rate of CVC investment across all industries in 2017.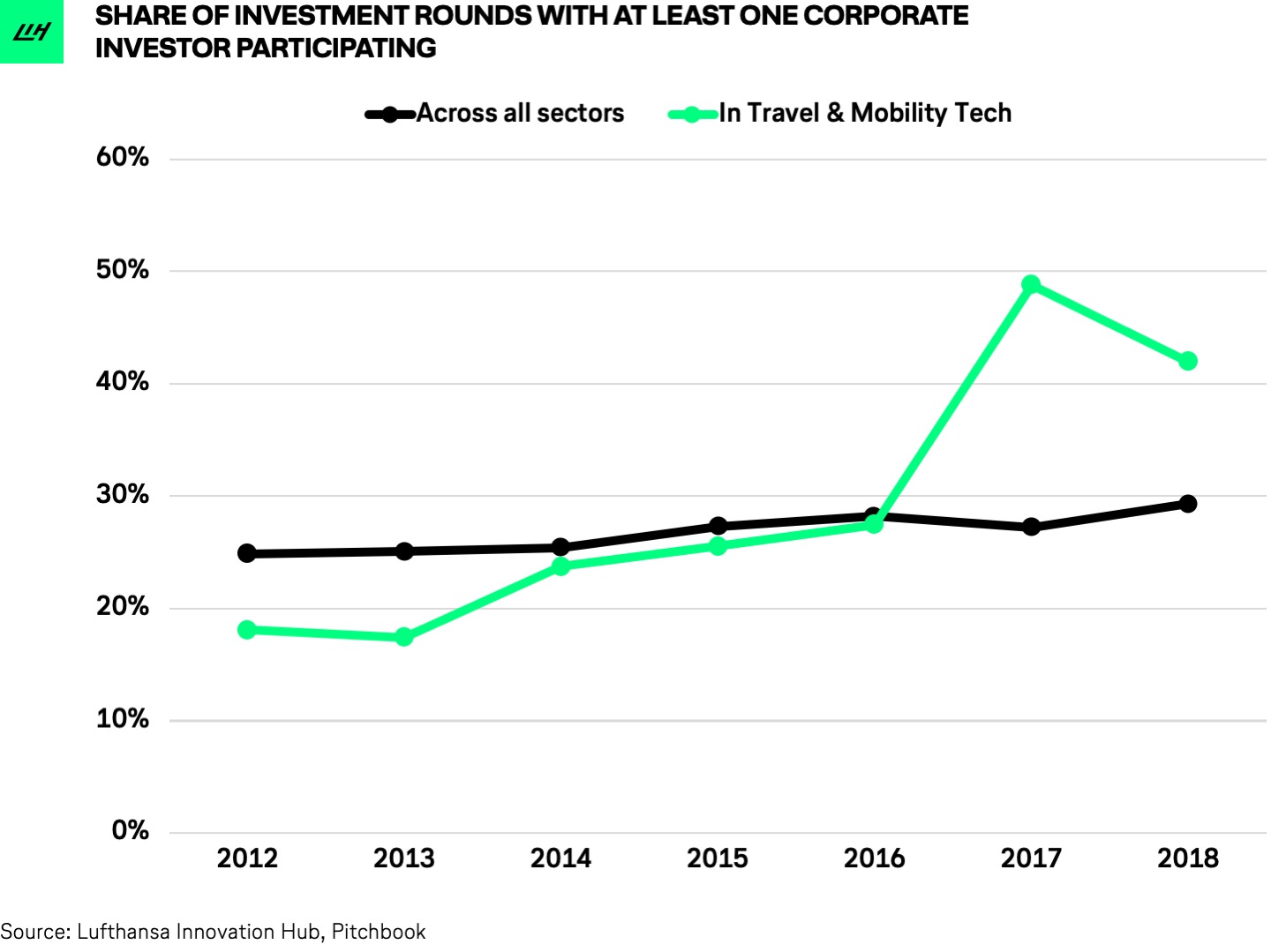 Since 2017, Travel & Mobility Tech has shown above-average corporate venture capital activity. It has even surpassed sectors such as fin-tech and health tech, which experienced a CVC share of 33% and 27% respectively in 2018.
Who are the most active CVCs in Travel & Mobility Tech?
Looking at the most active CVCs by investment frequency, we find that corporates from Asia seem to be at the forefront.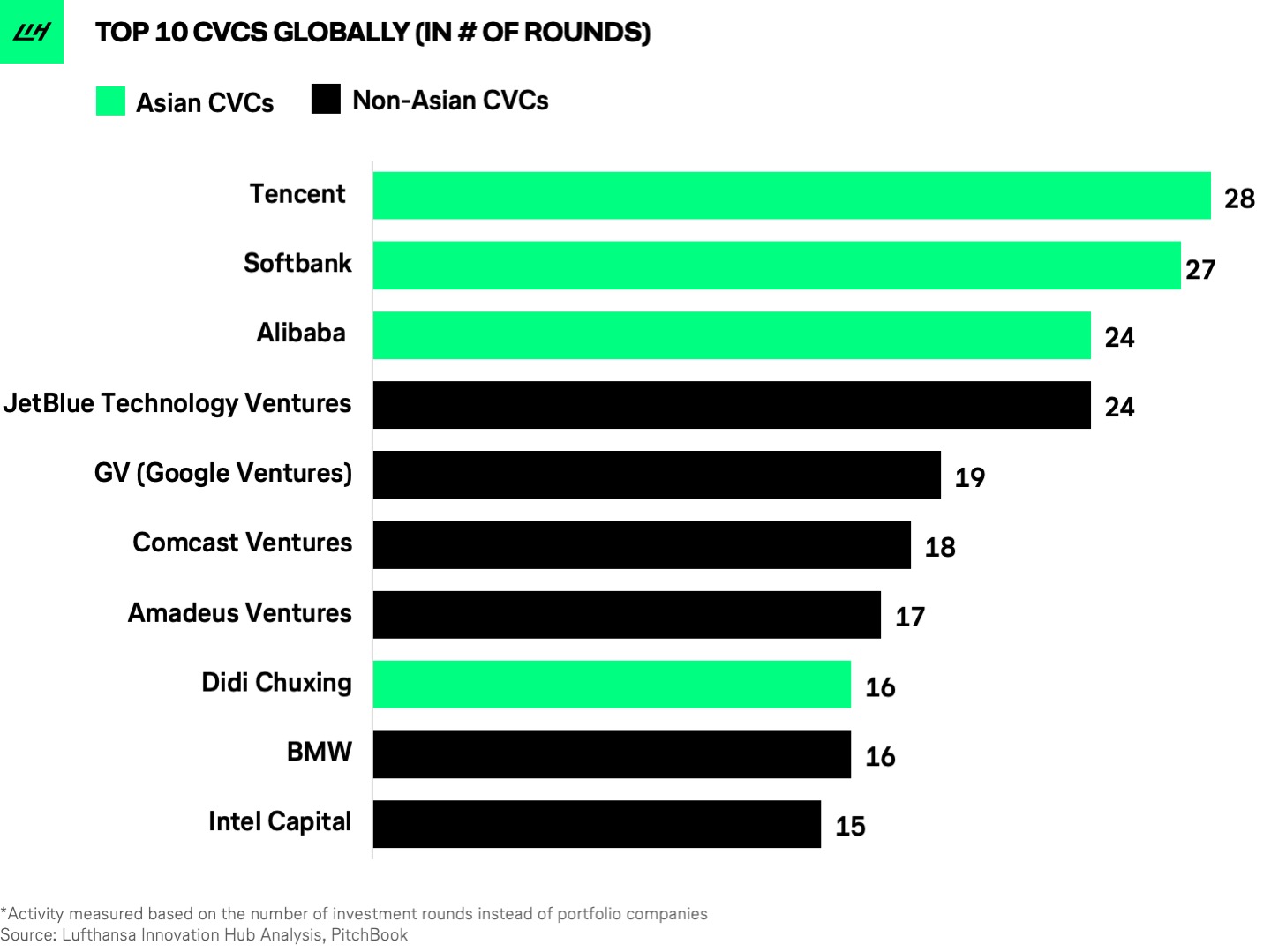 Our ranking looks at the number of investment rounds rather than the number of startups a corporate has invested in. This methodology might be slightly biased towards early-stage investors (who often invest multiple times in the same startup at various deal stages). On the other hand, a higher investment frequency, whether early- or late-stage, could also be interpreted as a sign of corporate agility. Corporations that seize investment opportunities in startups typically have set investment processes or vehicles that allow them to move at the speed of the market.
Let's take a closer look at the most active CVC investors in Travel & Mobility Tech from only Asia. As the top-10 ranking shows, Asia's internet giants are pioneering investment in the Travel & Mobility Tech landscape.
There is a good explanation for this: Chinese mega companies have emerged in almost all verticals. Take China's "big three" tech firms (Baidu, Alibaba, Tencent — called BAT): they are present across the entire internet ecosystem. Their interest in Travel & Mobility Tech is demonstrated by investments from Alibaba in Ofo, Baidu in Uber, and Tencent in Lyft.
The trend of bundling internet services can be seen in Asian travel apps that increasingly act as hubs for other digital services, ranging from payment processing to e-commerce. GrabPay, for instance, is a digital payment platform that can be used beyond Grab's own ride-hailing services. Indonesia's Go-Jek offers non-mobility-related services through its app, such as on-demand cleaning or wellness services.
What are corporates looking for in venture capital?
To quantify the investment preferences of corporates, we assessed the stages at which CVCs invest in startups. We see a growing trend towards larger, later-stage deals — mirroring the overall VC landscape in Travel & Mobility Tech.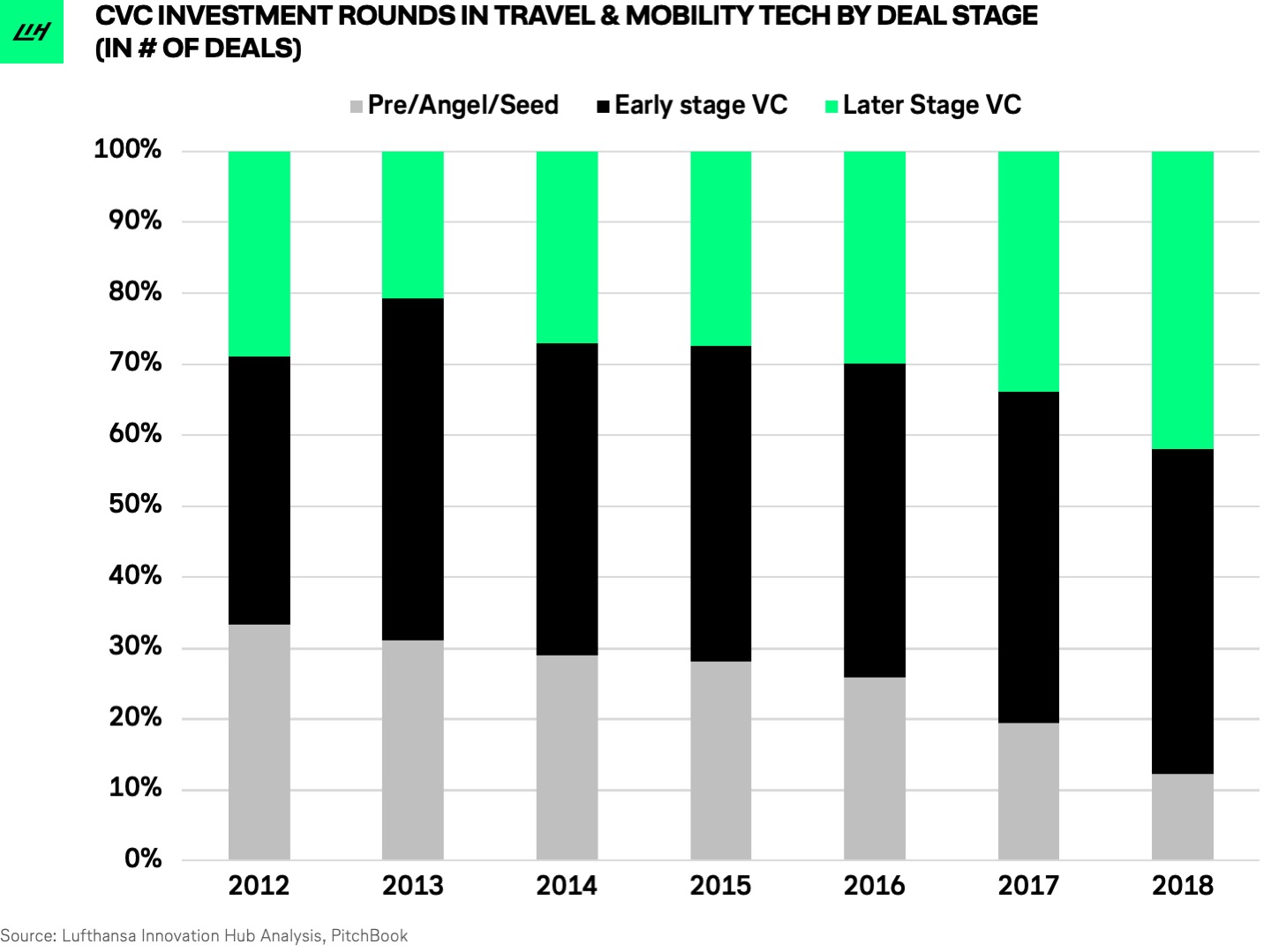 This preference for later-stage investments — when startups are more mature and product-market fit has been established to some extent — signals that corporations still want to limit their risk as much as possible when investing in startups.
VCs usually diversify their risk by investing in several startups. They hope to receive at least one double- or triple-digit return on their money to cover the losses from the investments that did not succeed. By contrast, some corporate investors put less emphasis on the financial return of their startup investments and concentrate instead on strategic fit.
Blurring the line between CVC and VC
It should be pointed out that several corporations have an investment arm that is virtually indistinguishable from a pure VC player. These units are staffed by former VC professionals and embrace standard VC practices. Sometimes they even set up standalone funds. Supporting this observation, BMW iVenture operates an independent fund based in San Francisco, far from its German headquarters. Softbank, which has raised the largest fund ever at $93 billion, exemplifies why corporations might be "better" or let's say "more aggressive" venture capitalists than the real venture capitalists themselves.
VCs and CVCs even seem to be teaming up with each other more and more. Instead of hiring VC professionals and emulating VC practices in-house, Japan Airlines has set up a $70M fund for investing in Travel & Mobility Tech ventures which will be directly managed by the US VC firm TransLink Capital. AirAsia also recently set up its own VC arm, RedBeat Ventures, in partnership with 500 Startups.
What distinguishes today's corporate investors?
Although CVCs increasingly behave like professional VCs, there are still some aspects that distinguish them as investors. Corporates bring more than liquidity, network, and counsel to the table. Raj Singh from JetBlue Technology Ventures, one of the most active corporate investment arms in Travel & Mobility Tech, highlights how corporate investors can actually become important clients to developing startups. For instance, with pilot projects startups benefit from a large testing platform that permits them to evolve and adapt in a controlled environment.
Furthermore, corporates can leverage additional market expertise through their business units. Ulrich Quay from BMW iVentures emphasizes the usefulness of this expertise, for instance during due diligence. Beyond the investment process itself, sharing industry and operational knowledge can be invaluable for both startups and business units, as the president of JetBlue Technology Ventures Bonny Simi points out. We (the Lufthansa Innovation Hub) couldn't agree more. We recently facilitated our parent company's AI research partnership with price-prediction startup Hopper, which will be closely coordinated with Lufthansa's revenue management.
A final thought
Are the benefits of corporate investors combined with best-in-class VC practices essentially not an unbeatable combination? It's hard to say, but the fact that we're asking the question is certainly telling.
While corporate venture capital is nothing new, it is nevertheless growing and evolving — especially in Travel & Mobility Tech. Corporates, both from Travel & Mobility and beyond, are increasingly operating like professional venture capital firms, which is bound to expand the practice even further.
Established corporations usually have more financial resources and seek to co-shape the future of their markets. Startups, on the other hand, have bold visions for the future but need funding. Hence, growing CVC signals corporates' desire to embrace and drive change, rather than to slow it down. The myth that corporations are not ideal investors for innovative startups could be reaching its expiration date.