For the better part of the past decade, Asia has been the powerhouse of the global Travel and Mobility Tech sector—see our Asia-specific trends report on Travel and Mobility Tech.
More than half of the global venture capital (VC) funding in Travel and Mobility Tech has flowed into startups in the region since 2010. This has given rise to some of the most valuable and iconic travel companies in the world, such as DiDi and Traveloka.
Over the past few years, a new social media phenomenon has emerged in Asia—TikTok. The app is now finding its way into the international travel scene.
TikTok, known as Douyin in China, is a video-based mobile social app owned by the Chinese company Bytedance. TikTok boasts user-generated videos with varying durations of 15 seconds to 10 minutes. As well, the app has a live-streaming feature. Following Douyin's debut in China in September 2016, TikTok was launched in international markets in 2017. By October 2022, Tiktok had amassed more than two billion mobile downloads across the globe.
The mobile app's growth trajectory in the past few years has been nothing short of remarkable.
Recently, the potential for travel brands to use TikTok as a valuable distribution channel has expanded significantly. This is due to TikTok's new e-commerce feature, which blurs the lines between travel inspiration and travel booking. Such a setup is unlike any other on a mobile app we have ever seen before.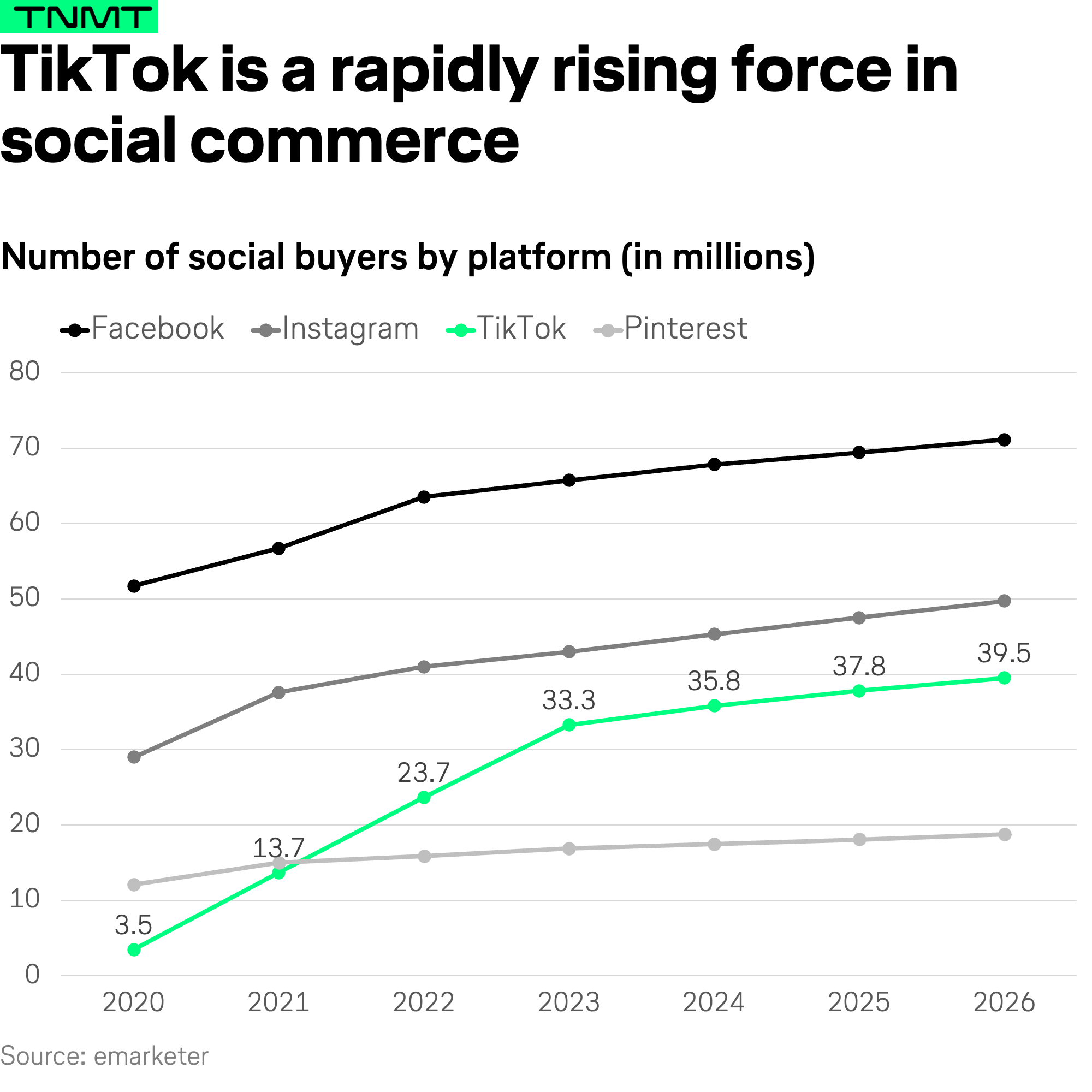 Therefore, we, Lufthansa Innovation Hub's Asia Team, which is located in Singapore, set out to briefly decode the TikTok phenomenon and its potential impacts for travel companies.
We also outline a couple of concrete recommendations on how travel brands, such as airlines, hotels, and tour and activities providers, can expand their distribution strategies and reach entirely new audiences.
Let's begin with a brief introduction to the TikTok Shop.
The introduction of TikTok Shop
In December 2021, TikTok launched the e-commerce feature TikTok Shop in Southeast Asia (SEA). The feature was first rolled out in Indonesia and has since expanded to all major markets in the region.
Within the first six months of the app launching, SEA contributed 2.8% of TikTok's $1.7 billion USD e-commerce revenue, which is around $50 million USD, according to a report by The Ken.
Even more impressive, one in four of all TikTok Users is based in SEA, which is currently the largest geographic coverage for TikTok's e-commerce activities.
With these statistics, it's quite clear that SEA is a major growth market for TikTok. In fact, the region is known to be native in "shoppertainment" through videos.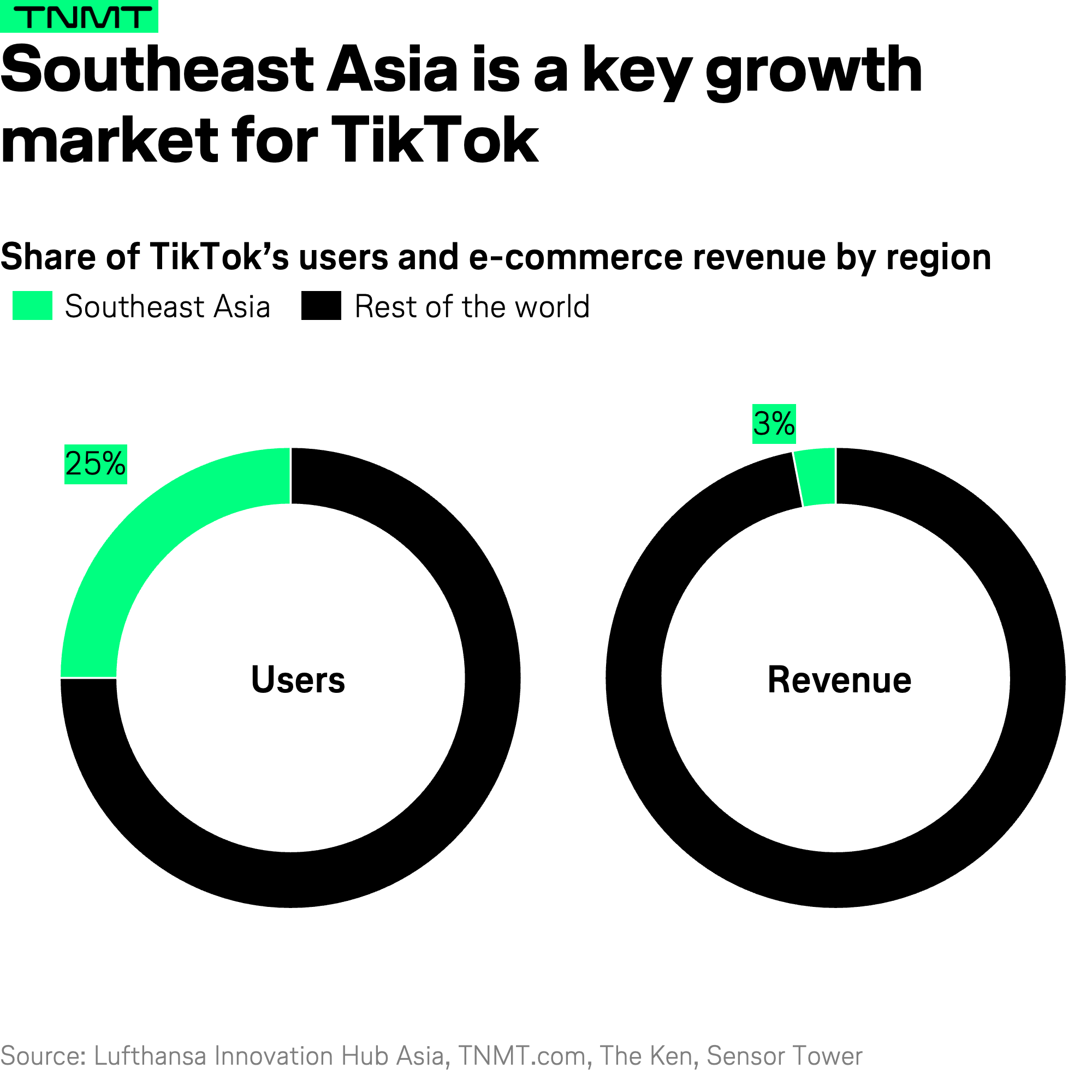 Tiktok has become a verb for search and discovery
Short-form videos are addictive in nature.
TikTok has proliferated user-generated content. As well, the app has a sharpened algorithmic ability to better match content to likely consumers. With all this in mind, Tiktok has been very successful in keeping users engaged.
On average, across all age categories, TikTok users spend a whopping 95 minutes per day on the app.
In comparison, Instagram users average 51 minutes per day, according to Sensor Tower.
Notably, studies have shown that nearly half of Gen Zers use TikTok as a search engine over Google. This platform has now become a mode of discovery for future generations, which will inspire their decision-making. This trend becomes further entrenched when the purchase of inspiration is just a tap away, made possible via TikTok Shop. And it isn't just Gen Z but Gen Alpha, too, both of whom might comprise your future customer base.
Brands should work to nurture this tremendously valuable customer segment and communicate effectively with them too.
A wealth of TikTok toolkits that travel brands could tap into
Travel brands should consider leveraging TikTok to target and keep younger generations in the loop. The conversion to sales will likely come through the inspiration of curated videos. TikTok can be an effective channel, one that bridges the gap between occasional travel and inspiring a constant desire to travel and discover.
On Douyin, TikTok's Chinese branding for the country's domestic market, travel brands have jumped on the bandwagon to drive sales. Here is how:
Disclaimer: the features showcased on Douyin may or may not be currently available on TikTok as the product design and feature rollouts vary across international markets. However, they provide an insight into what can be expected on the platform in the near future.
1. Location-based travel product recommendations
Short-form videos can help Douyin users discover hotels and purchase discount vouchers for hotel amenities or nearby attractions, such as amusement parks and landmarks. For example, Douyin users can click into a specific hotel's location and check out reviews and amenity offerings. Following this, users can buy a discount hotel voucher directly in the app or, in some cases, directly book a room on a fixed date via an established API with hotel OTA suppliers.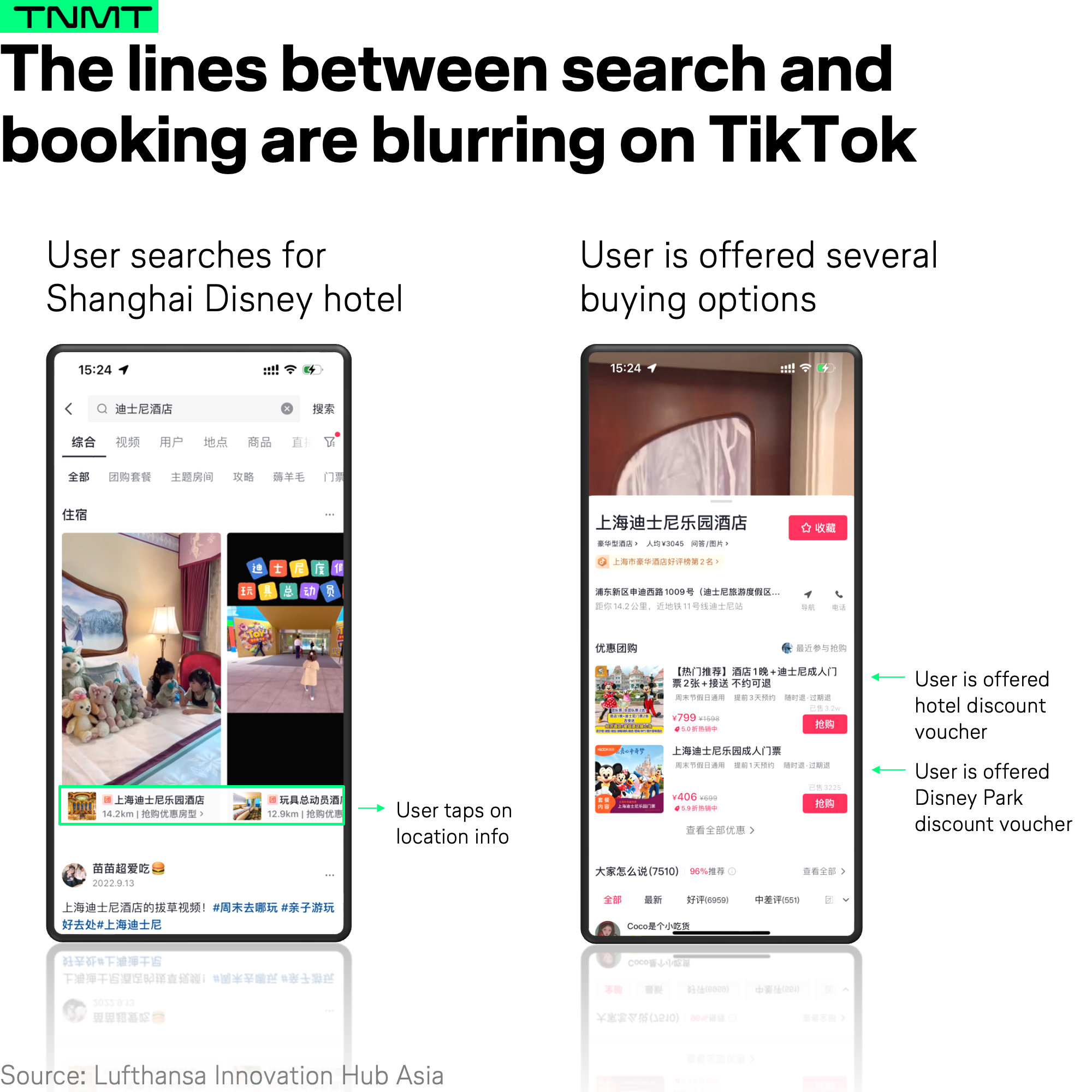 When it comes to sights and attractions, there's a "nearby" tab that features video clips of activities or tourist attractions situated in the immediate area. After users view inspirational videos, they can directly purchase discount vouchers in-app. This easy purchasing option ensures that search behaviors can begin spontaneously across the travel journey.
2. Live streaming impulse voucher sales
Live streaming for sales has proven to be successful on Douyin in China, which sold 10 billion products across all categories from May 2020 to April 2021, a year-over-year increase of 200% in GMV.
For airlines and hotels, it is technically viable to offer discount vouchers with relatively flexible terms to lure price-sensitive travelers into live streams. This showcases product features through live interactions. Time-pressure decision-making is created through host countdowns and helps effectively drive impulse sales. Attendees are subsequently invited by the live-stream host to follow the brand's Douyin account to receive notifications for future live-streaming events.
Overall, live streaming is a great way for travel brands to target the price-sensitive consumer cohort. As well, this is an effective way to communicate in real-time with a large group of retainable customers.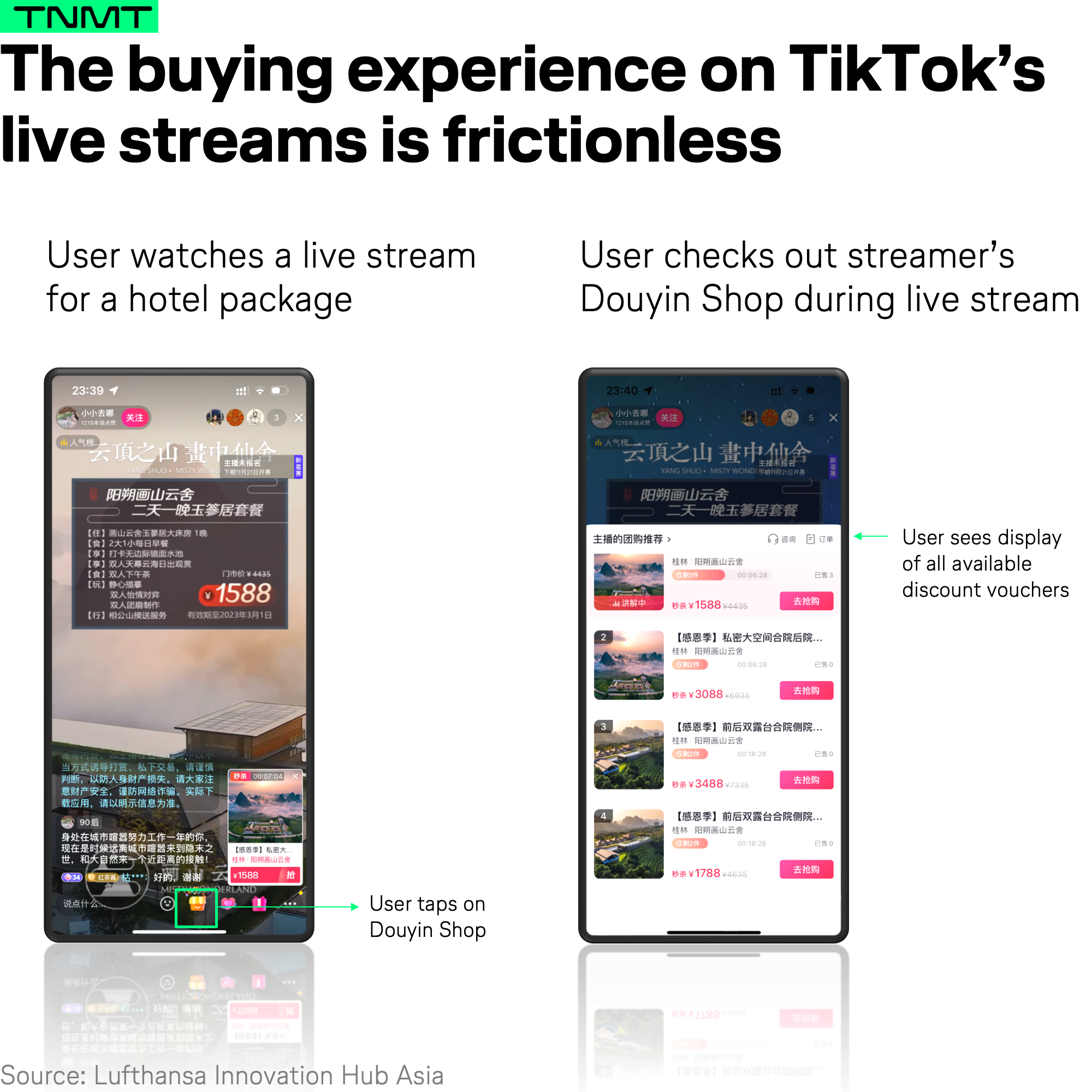 Go the extra mile to be creative on TikTok
There appears to be a greater ecosystem in which to explore how the desire for travel can be spontaneously triggered. This could happen through inspirational short-form videos or the ability to purchase travel-related products while consuming said content. For instance, it might be viable to identify music fans and suggest flights to the locations where the artists will hold live concerts.
We believe this type of event-based travel inspiration is untapped.
At present, the actions of video consumption and flight ticket booking are still seen as two separate activities.
Furthermore, the distribution of flight tickets could be improved by tapping into the wide network of influencers on TikTok, who are residing in foreign countries for work and studies.
These influencers appear authentic to their followers with whom they have close engagements.
Such relationships between content creators and follower bases could become PoS for airlines.
Live streaming events can be great avenues to showcase brand values or new product launches, creating stronger engagement with consumers than regular sales events.