In today's globalized world, it is crucial to stay informed about the travel industry's evolving landscape, especially in regions that are both influential and innovative.
One such region is China, a country that has undergone significant changes in the post-pandemic era. This article aims to shed light on five emerging trends reshaping China's travel industry, which are of vital importance to Asian and Western audiences alike.
Firstly, China is one of the largest travel markets globally, making it a key player for any travel company seeking growth and expansion.
Secondly, China's prowess in spearheading innovation is widely recognized; its advances in mobile adoption, next-gen social media, and artificial intelligence often place Chinese consumers years ahead of their counterparts in the West. By examining China-specific trends, we can better anticipate what may become relevant in our markets over the next few years.
Thirdly, the prolonged pandemic lockdown in China, due to the government's strict policies, has had a profound impact on user behavior, with a greater reliance on digital tools now even more deeply ingrained in the Chinese population. This shift in behavior has led to significant consequences for the travel industry.
Understanding these trends will provide valuable insights into how travel companies can adapt their strategies to cater to the rapidly changing expectations and preferences of Chinese travelers, who are increasingly venturing abroad and shaping global travel trends.
As the Lufthansa Innovation Hub Asia Team, we have been uniquely positioned to observe and analyze the evolving travel landscape in China over the past few months.
Our extensive research, combined with our on-the-ground presence, has allowed us to gain firsthand experience and insights into the shifts and transformations taking place in the travel industry. Through a combination of data analysis, market observations, and interviews with industry experts, we have been able to identify and understand the emerging trends reshaping China's post-pandemic travel landscape.
Without further ado, let's jump directly into our five major hypotheses.
Trend #1: The Rise of Flexible Search
The Chinese travel industry has seen a significant shift in consumer behavior, with an increasing emphasis on flexibility in travel search. This need for greater flexibility has been shaped by various travel restrictions and regulations during the lockdown, which made it nearly impossible for Chinese travelers to plan their holidays far in advance (if at all).
Consequently, travelers have been opting for open time windows and destinations, as opposed to fixed dates and pre-selected locations. As more travelers prioritize flexibility in their plans, Chinese travel platforms have adapted by introducing new features and search filters to better cater to this growing demand.
These improvements are especially beneficial for price-sensitive Chinese travelers who seek the best deals without being tied down to specific travel dates or destinations. One such example is Trip.com, which has implemented innovative search filters on its platform to provide users with a seamless, flexible search experience.
This trend reflects the evolving preferences of travelers and highlights the importance of providing adaptable options to cater to the ever-changing needs of consumers in the post-pandemic era.
The trend towards flexible booking behavior is not a temporary phenomenon; in fact, it is here to stay for several compelling reasons.
Firstly, flight prices to and from China remain highly volatile as airlines continue to ramp up their capacities following "The Great China Re-Opening." This volatility makes it challenging for travelers to obtain a clear overview of price ranges over time, as they must accumulate results from multiple searches on various fixed dates. However, the new flexibility features have significantly improved the search experience. For instance, travelers can now search for the cheapest travel dates within a specific time frame, allowing them to identify the most cost-effective weekends to fly with just one click.
Secondly, the flexible search feature for identifying better travel deals is poised to become increasingly important due to the rapid growth of upper-middle-income households in China, projected to continue until at least 2025. This expanding income group, which is gaining the financial means to travel internationally for the first time, is eager to explore the world and experience new cultures and destinations. As these Chinese consumers venture abroad, their desire for flexibility and cost-effective travel options will further entrench the demand for flexible search features. By catering to these evolving preferences, travel platforms can better serve the needs of this emerging market segment and capitalize on the growing travel opportunities in the post-pandemic era.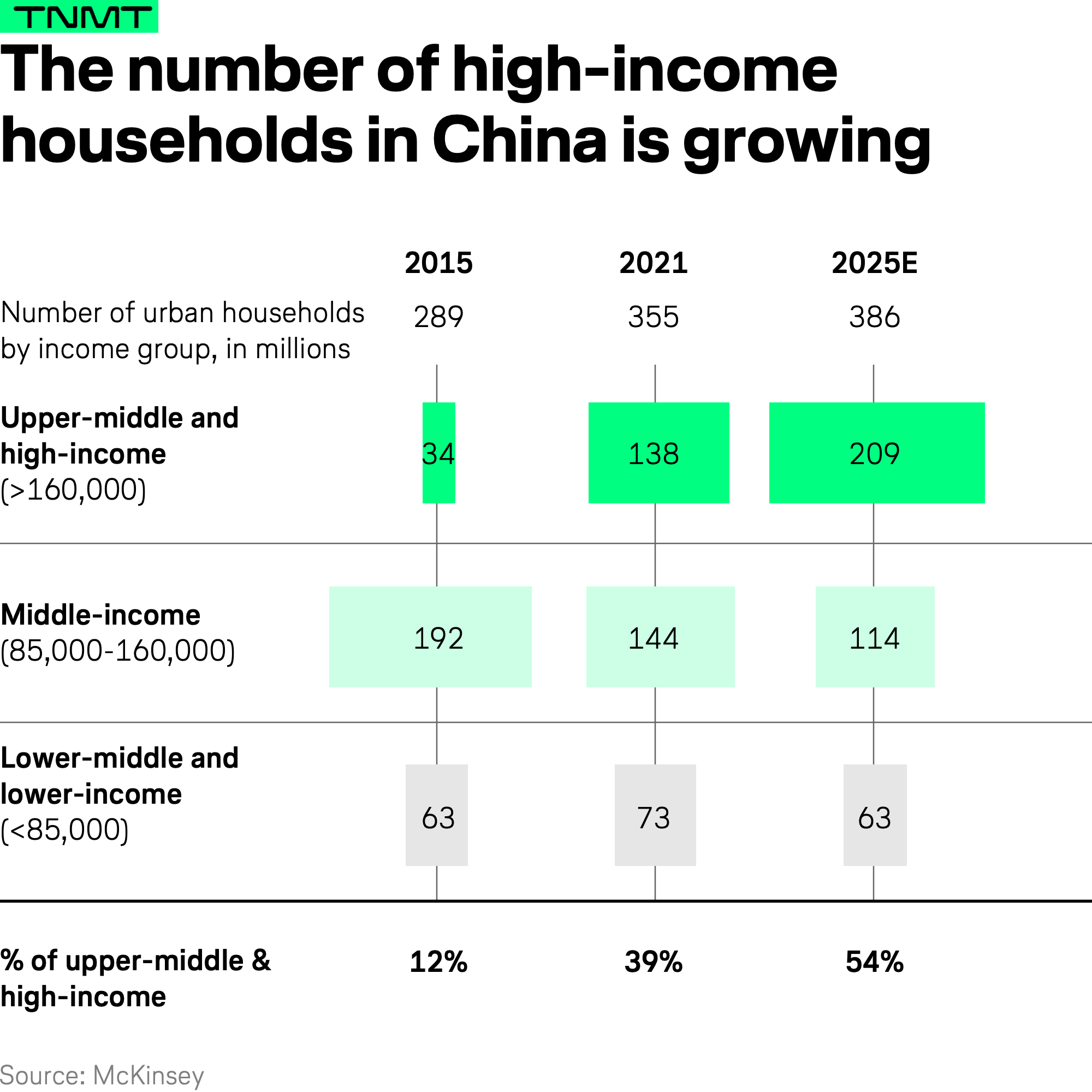 Trend #2: Douyin, The Next Big OTA
The rapidly evolving travel landscape in China is giving rise to new platforms that are reshaping the industry. One such example is Douyin, better known as the (original) Chinese version of TikTok.
Over the last three years, Douyin has demonstrated massive mobile engagement compared to other Chinese OTAs, positioning itself as a major contender in the travel booking sphere.
With the likely expansion of Douyin's e-commerce function (Douyin Shop) into more travel categories, the platform has the potential to become the leading comprehensive Chinese OTA, encompassing all aspects of travel booking. This expansion would include the possibility of incorporating ride-hailing and activity bookings into its offerings, thanks to its current ability to provide location-based suggestions and its open platform strategy.
By leveraging these capabilities, Douyin aims to create a seamless, all-in-one travel booking experience for its users. Travelers would be able to plan their entire itinerary within the app, covering everything from flight and lodging reservations to transportation and activity arrangements.
This transformation of Douyin into a comprehensive travel booking platform would further solidify its position as a significant player in the Chinese mobile industry and have a lasting impact on how Chinese travelers plan and book their trips in the post-pandemic era.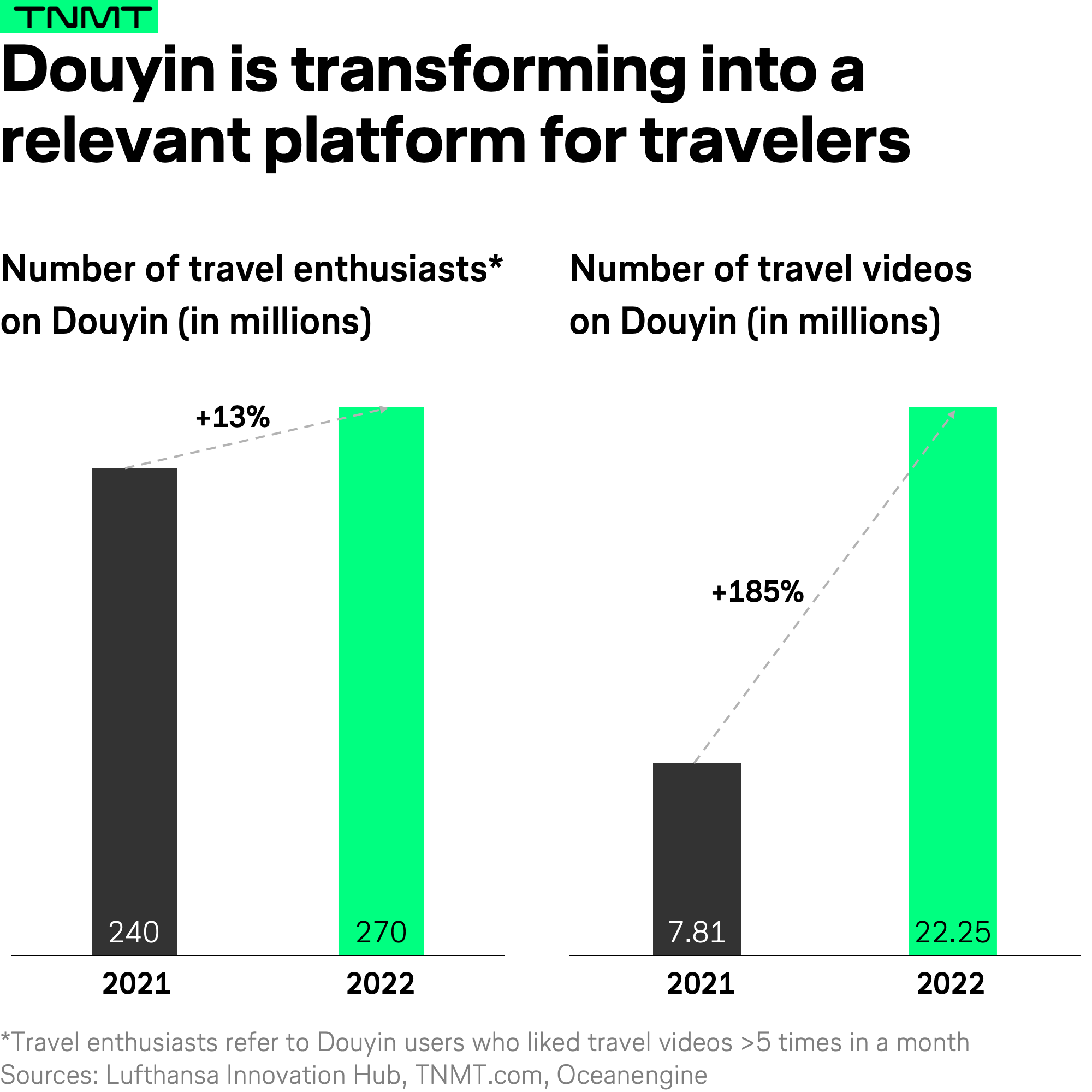 The rise of Douyin as a major travel booking platform coincides with recent advancements in Generative AI, such as ChatGPT integrations for travel booking sites. Douyin is not only well-equipped to defend itself against the competition posed by AI-powered travel booking platforms but also holds great potential for integrating Generative AI within its own platform.
On the defensibility front, Douyin boasts several advantages over AI-powered travel booking competitors:
Douyin offers genuine content through its videos, providing users with precise and unambiguous details. In contrast, the text-based recommendations generated by AI can be difficult to authenticate, as the information's accuracy might be questionable.
By analyzing users' browsing patterns on non-travel videos within the platform, Douyin can enhance travel video suggestions, offering personalized recommendations based on users' preferences and interests.
Douyin's social features set it apart from chatbot-powered platforms. In the near future, the platform could enable users to book an activity recommended by a friend, all within its app, creating a unique and engaging experience that a standalone chatbot cannot replicate.
Despite these advantages, Douyin could also benefit from integrating Generative AI chatbot features, which would elevate its customer service offerings. This integration would be particularly relevant for business travelers and those with complex booking requirements who value excellent customer service. Generative AI could offer real-time, multi-lingual trip assistance, significantly improving the overall travel experience for Douyin's users.
By combining its unique advantages with the potential to integrate cutting-edge AI technology, Douyin is well-positioned to become a dominant force in the travel booking landscape, catering to the diverse needs of Chinese travelers in the post-pandemic era.
Trend #3: The Hunt for Value
The pandemic has significantly influenced the Chinese economy and consumer views on spending.
A 2022 McKinsey study revealed that 62% of Chinese consumers are hesitant to increase their spending, compared to 47% in 2019. This shift towards a more price-sensitive mindset is expected to impact travel spending as well, and is slightly related to Trend #1 we discussed earlier.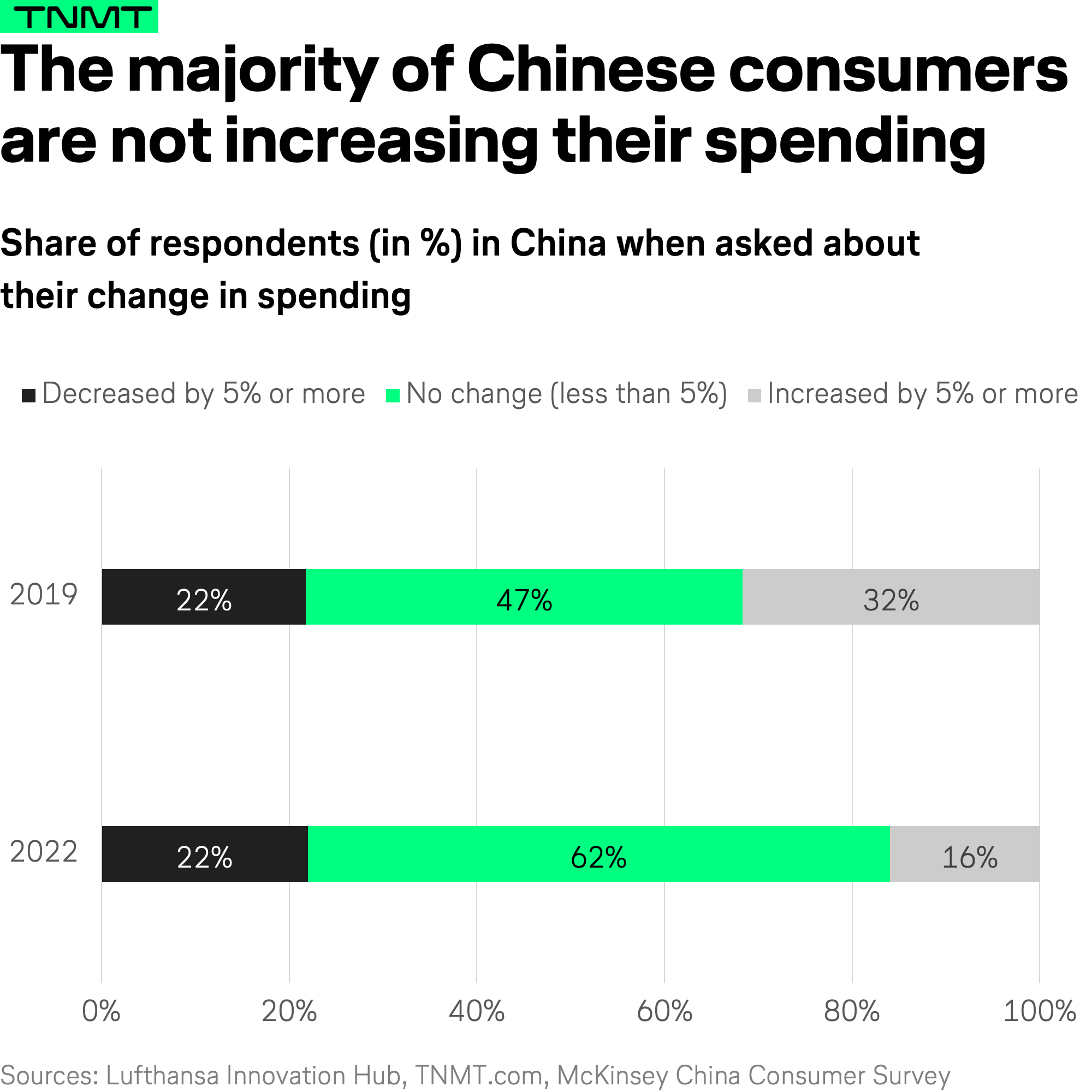 As a result, this will have a couple of relevant consequences.
While Chinese travelers will actively resume traveling, they are likely to be more cautious about overspending. As a result, the ultra-luxurious travel category may struggle to break free from its niche status in the foreseeable future. 
Instead, deal hunting will become even more prevalent, contrasting with the bullish predictions of a "revenge travel" wave emerging from China.
Due to the more cautious spending behavior and the typically higher costs of international travel, Chinese travelers seeking experiences abroad will be particularly attracted to deal platforms promising better prices.
Platforms like Douyin (Trend #2), WeChat, and Ctrip.com will play a critical role in this context, as they are known for offering deals and promotions, and facilitating the sharing of these deals with friends and family. Ctrip, in particular, has had great success leveraging deals and promotions. For instance, Ctrip's 25 live streams on multiple platforms in 2020 generated over 2 billion yuan ($294 million USD) for Trip.com Group, as reported by Ctrip.com. The majority of these sales were for presale deals, which allow customers to purchase travel packages or bookings in advance and redeem them at a later date. By taking advantage of these discounted travel deals through live streams, travelers can effectively reduce their expenses.
For travel companies targeting Chinese outbound travelers, it is crucial to heighten their presence on emerging platforms and offer appealing bargains to cater to price-conscious consumers. To bridge the gap, travel brands should bet more on offering travel deals through new channels, such as live streaming on platforms like Ctrip, Douyin, and WeChat, to capture the unshaken interest in international travel.
The success of this strategy is evident in the positive response from consumers, as seen with Singapore Airlines and Etihad Airways' use of Fliggy's voucher redemption tool to sell discounted vouchers for future flights even before China's reopening. These deals were snapped up within minutes, demonstrating the power of these platforms in engaging with their audiences.
By understanding and adapting to this emerging trend, businesses can successfully capture the attention of the growing Chinese travel market and meet their evolving preferences in the post-pandemic era. Embracing these platforms and strategies will enable travel companies to not only increase their visibility but also tap into the immense potential of the value-driven Chinese traveler.
Trend #4: "Home Away from Home" Experiences
​​Chinese tourists are set to experience more seamless and immersive travels overseas, thanks to a growing trend of using familiar home apps while abroad. These apps are increasingly incorporating local services through partnerships with local tech players, catering to Chinese tourists' desire for personalized and immersive travel experiences.
For instance, Alipay reported that the total transaction value made by Chinese tourists in Singapore via its app almost doubled in Q1/2023 compared to Q4/2022, with the average value per transaction also showing upward growth of more than 40%.
This trend is fueled by collaborations between Chinese technology companies and local players in popular tourist destinations. As a result, Chinese travelers can look forward to more convenient and engaging travel experiences in the future, with enhanced access to local services through the comfort of their preferred home apps.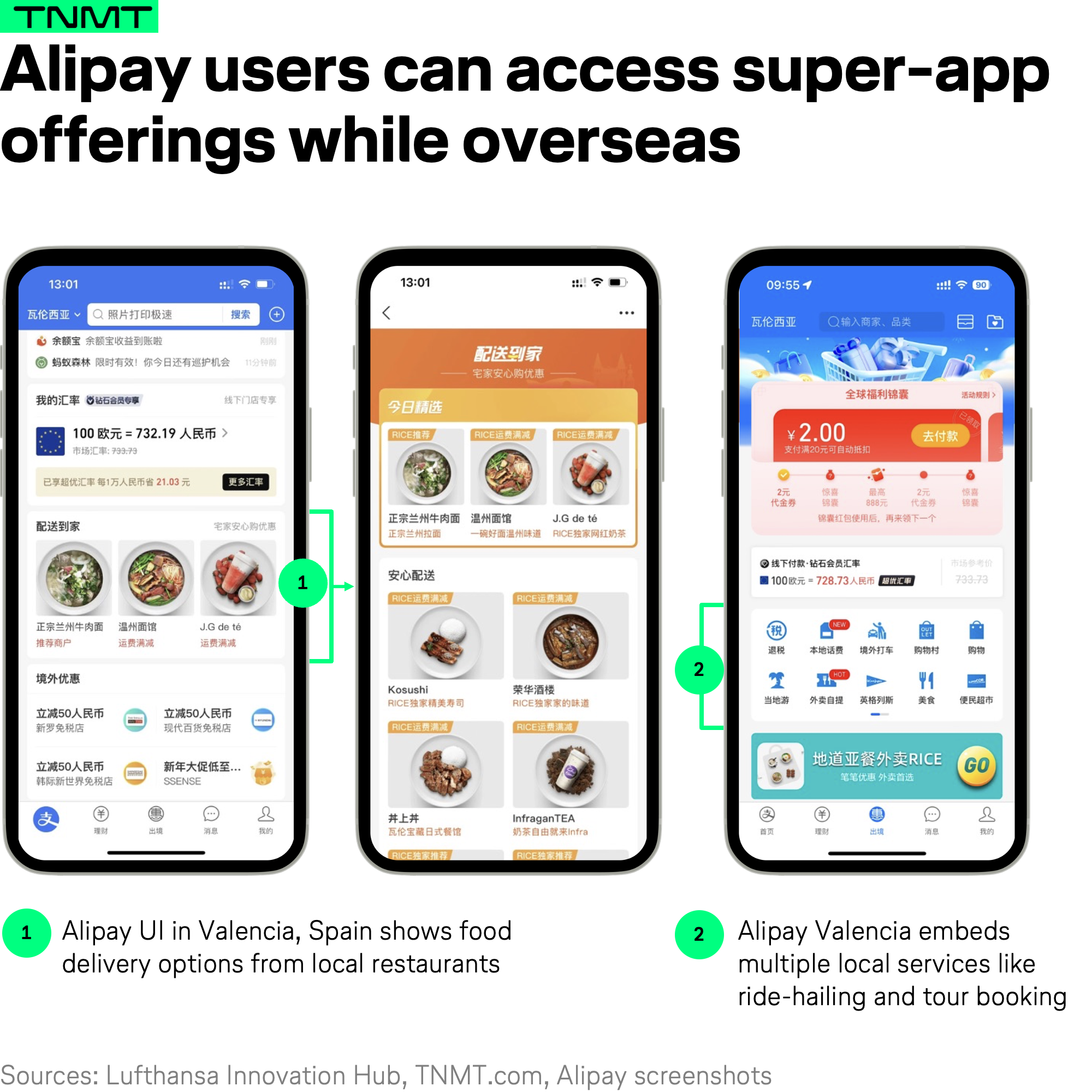 The trend also extends to Chinese review apps like Red (also known as Xiaohongshu), a video- and photo-based review-sharing social media platform. Xiaohongshu has an advantage in serving Chinese tourists overseas due to the wealth of reviews from local Chinese immigrants or expats.
Consequently, it has become a preferred source of information for Chinese travelers seeking recommendations on local cuisine and accommodations. It's no wonder that Xiaohongshu seems to be gaining significant momentum. Reports suggest that as many as 63.7% of Chinese travelers rely on Xiaohongshu when making travel-related decisions.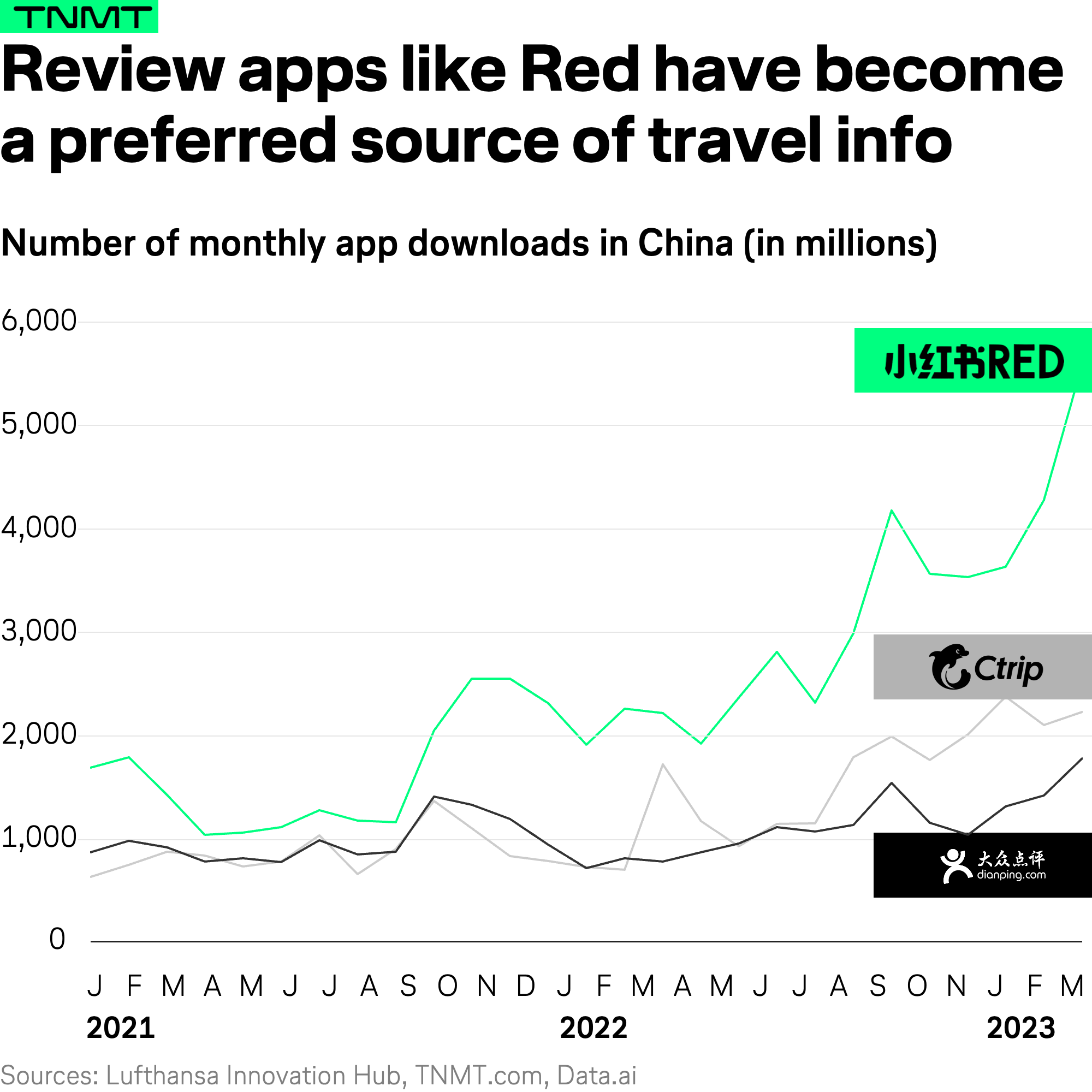 This growing trend of Chinese apps expanding overseas not only benefits Chinese travelers by making their experiences more familiar and practical. It also catalyzes the export of Chinese technologies to popular travel destinations.
Examples of this phenomenon include the adoption of tap-to-order digital menus in Hong Kong and Singapore, and the increasing presence of local Singaporean merchants on WeChat mini programs, leveraging the platform to reach Chinese consumers.
Investments in outbound Chinese tech, such as Ant Group's funding of Aigens, a Hong Kong-based startup providing online ordering and marketing tools for the food and beverage industry, and Tencent's expansion in Singapore, reflect the growing influence of Chinese technology in the travel industry.
Furthermore, Alipay has launched Alipay+, a B2B digital payment processing platform operating similarly to Visa and Mastercard, which aggregates 14 digital wallets from nine Asian regions, serving more than one billion consumers. With Alipay+, tourists traveling in Asia can make seamless QR code payments without needing to exchange foreign currency in advance or install local payment apps.
This development is poised to make cashless payments the future for Asian tourists traveling within Asia, and potentially the rest of the world.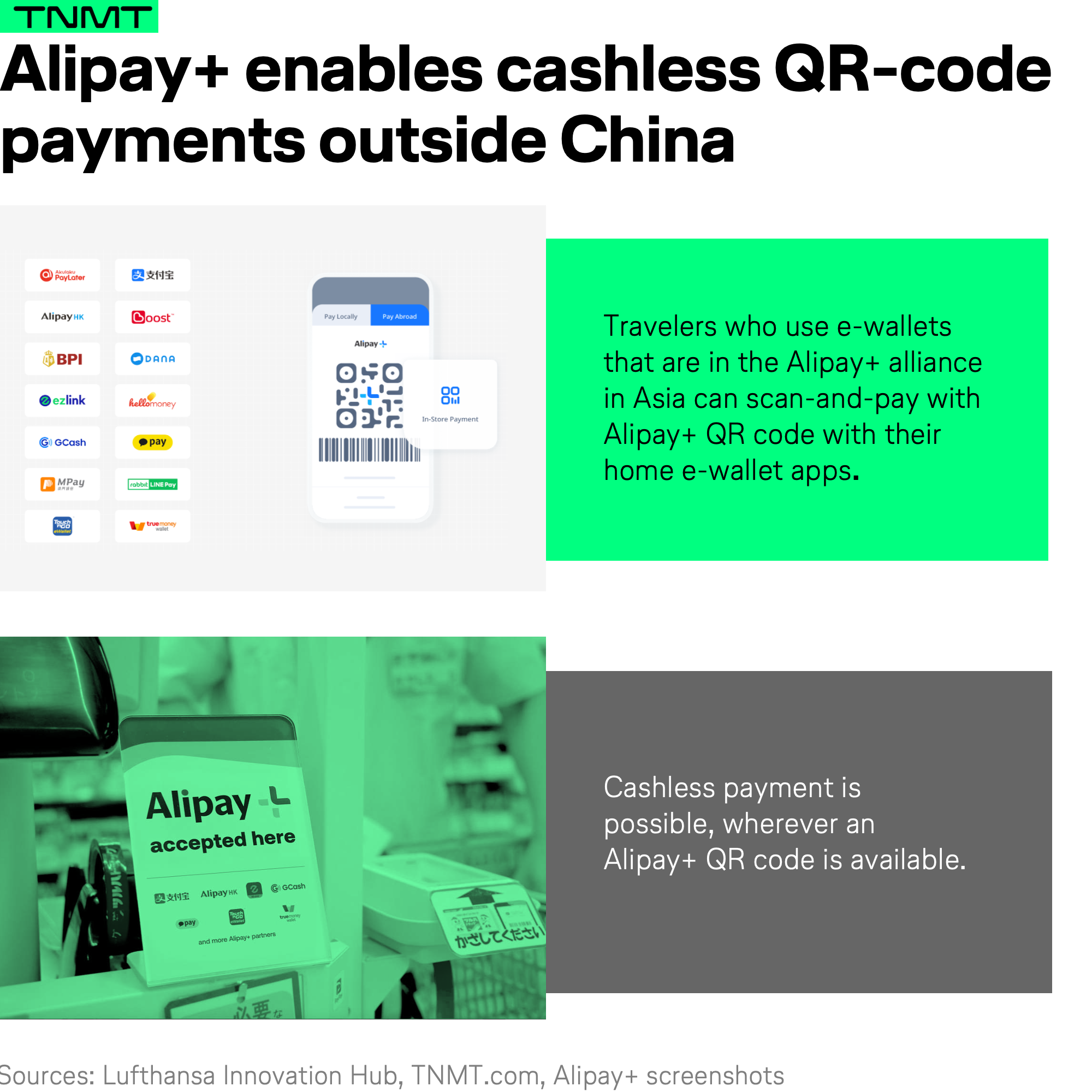 Chinese travelers are known for their heavy reliance on mobile devices and digital services such as mobile payments, social media, and online booking platforms.
The accessibility and usability of such Chinese technologies in various destinations, as well as the ease of travel, are expected to influence the destination choices of Chinese travelers, especially those embarking on their first overseas trip. Chinese travelers may feel more comfortable and confident traveling to destinations that are technologically advanced and offer similar services to those they are accustomed to using in China.
As Chinese apps like Alipay and Xiaohongshu continue to expand overseas, and Chinese tech giants invest in outbound technology, Chinese tourists will enjoy increasingly convenient and immersive travel experiences abroad. This trend underscores the importance of partnerships between Chinese technology companies and local players in popular tourist destinations, ultimately enhancing satisfaction and enjoyment for Chinese travelers.
Implications for travel brands: Given the increasing presence of Chinese apps in international markets, travel brands should leverage these platforms to target Chinese travelers and reach a broader customer base. By doing so, they can cater to the preferences of these travelers and help ensure they have familiar, convenient, and comfortable experiences while traveling abroad.
Trend #5: The Year-Round Travel Wave
Chinese travel patterns are set to become more distributed throughout the year, thanks to the rise in popularity of flexible work arrangements. The number of remote workers in China has trended upwards, with the pandemic acting as an underlying accelerator.
As of December 2022, more than half a billion Chinese citizens work remotely, up from 200 million mid-2020.
As flexible work arrangements gain popularity among Chinese employers and employees, off-peak travel periods are becoming more desirable, leading to a more even distribution of Chinese travel patterns throughout the year, instead of being concentrated around longer national holidays.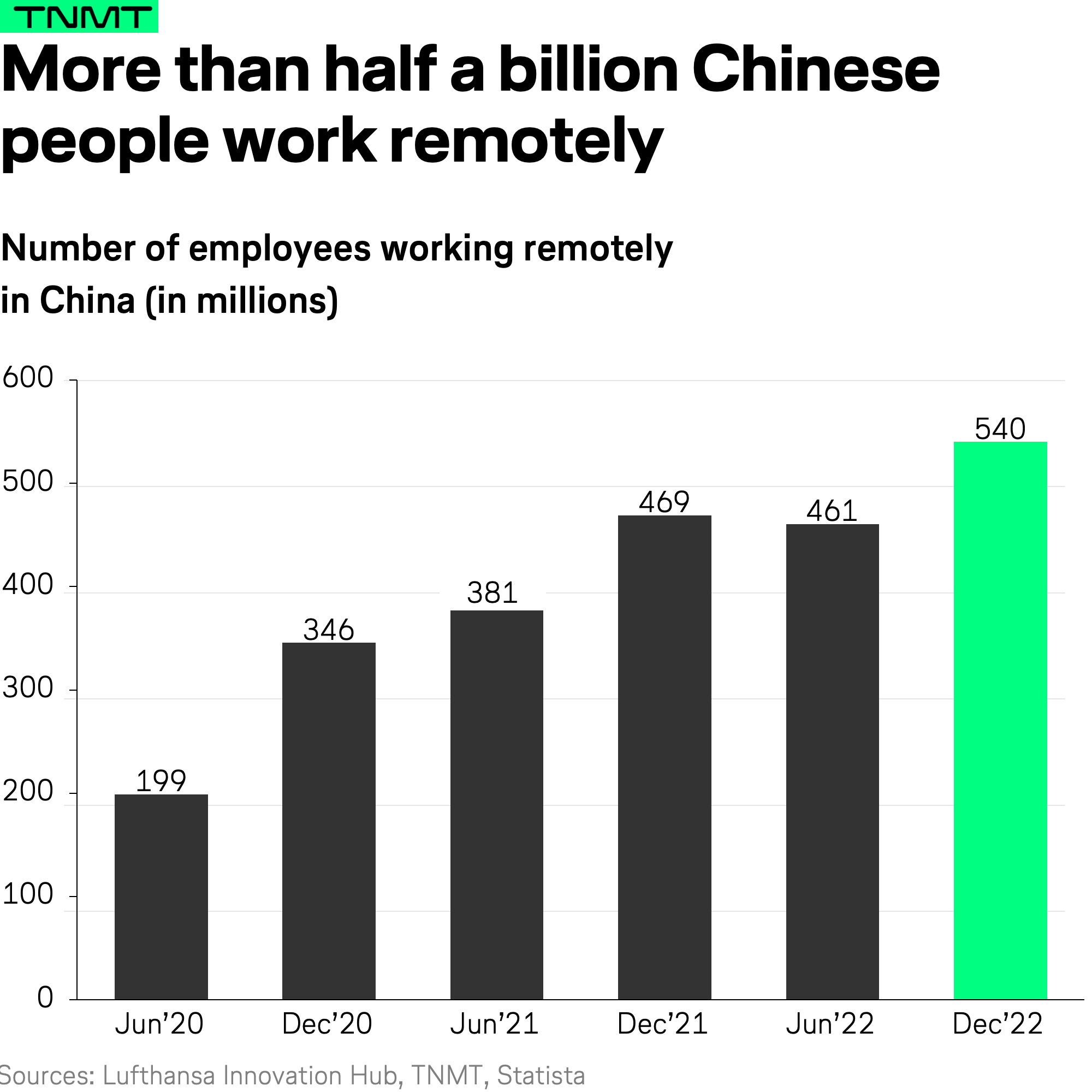 Numerous traditional Chinese firms still maintain strict company cultures with daily timekeeping requirements.
Despite this, there has been a growing trend among foreign businesses operating in China and technology knowledge workers to adopt flexible work arrangements. For instance, Trip.com has rolled out hybrid work arrangements to all employees following a successful trial.
"We can expect a shift from fixed, centralized work to mobile, multi-location mode."

DingTalk VP Fu Xujun
As these trends take hold, we can anticipate Chinese tourists traveling more frequently during longer weekends instead of being limited to longer national holidays, resulting in an increase in regional travel.
Digital nomadism has been growing in popularity, which has been evidenced by a 650% increase in searches related to digital nomads on Xiaohongshu. Given this, travel brands can capitalize on the rise of these nomads who integrate work with travel and may choose to stay in destinations for longer periods.
Innovation Unleashed: The Chinese Travel Revolution
In conclusion, the Chinese travel market, with its rapidly evolving trends and innovation, presents a wealth of opportunities for businesses and travelers alike.
As the market adapts to shifting consumer preferences, technological advancements, and societal changes, it continues to be a driving force in shaping the future of global travel.
By closely observing and learning from these emerging trends, industry players can gain valuable insights, capitalize on new opportunities, and offer tailored experiences that cater to the unique needs of Chinese travelers. In an increasingly interconnected world, understanding the dynamic Chinese travel market is crucial for success and growth in the broader travel industry.
Embracing this spirit of innovation and adaptability will help ensure a more enriching and fulfilling travel experience for all. Stay tuned for more regular updates from us as we continue to explore and share insights on the fascinating Chinese travel market.