The idea of an 'app to rule them all' sounds like straight out of Lord of the Rings. For those who don't know: Super Apps have a large and highly engaged user base, which is leveraged to make the app a gateway for countless other services.
Super Apps first solve a core need for users, which drives mass adoption and engagement. In the case of WeChat that would be messaging, or payments as Connie Chan from Andreessen Horowitz argues. Given payments and messages are needed very frequently, users return to the app constantly.
Due to this high engagement, it becomes easy to bundle other everyday services and apps that might also require payment, information or social interaction. For instance, WeChat users can now buy train tickets, pay for utilities or fines, review a restaurant, book a doctor's appointment and much more. All this without ever leaving the same app.
There is criticism that Super Apps, especially China's popular role models, rose solely to the top by expensively acquiring users. If this was the case, it's hard to imagine how such a supply-driven approach could be sustainable for investors and users in the long run. We see it differently because after all, Super Apps do create a lot of value by helping users avoid signing up and inputting payment data in various apps multiple times. There are clear synergies in combining certain services for consumers – integrate and conquer.
Possible Super Apps in Travel and Mobility Tech?
The Super-App phenomenon has not escaped the Travel and Mobility Tech industry. Moving from A to B is a regular need for humans. Skift recently hailed Google Maps as a potential super app. Grab and Go-Jek are also using the Super App concept in their pre-IPO narrative – just watch Go-Jek's company video.
Now, we did some data digging of our own.
We wanted to know which apps in Travel and Mobility Tech have the potential to become 'Super' in the future. For this purpose, we looked at apps with a certain minimum level of downloads (>80k downloads in 2018) and the highest usage frequency amongst their user base.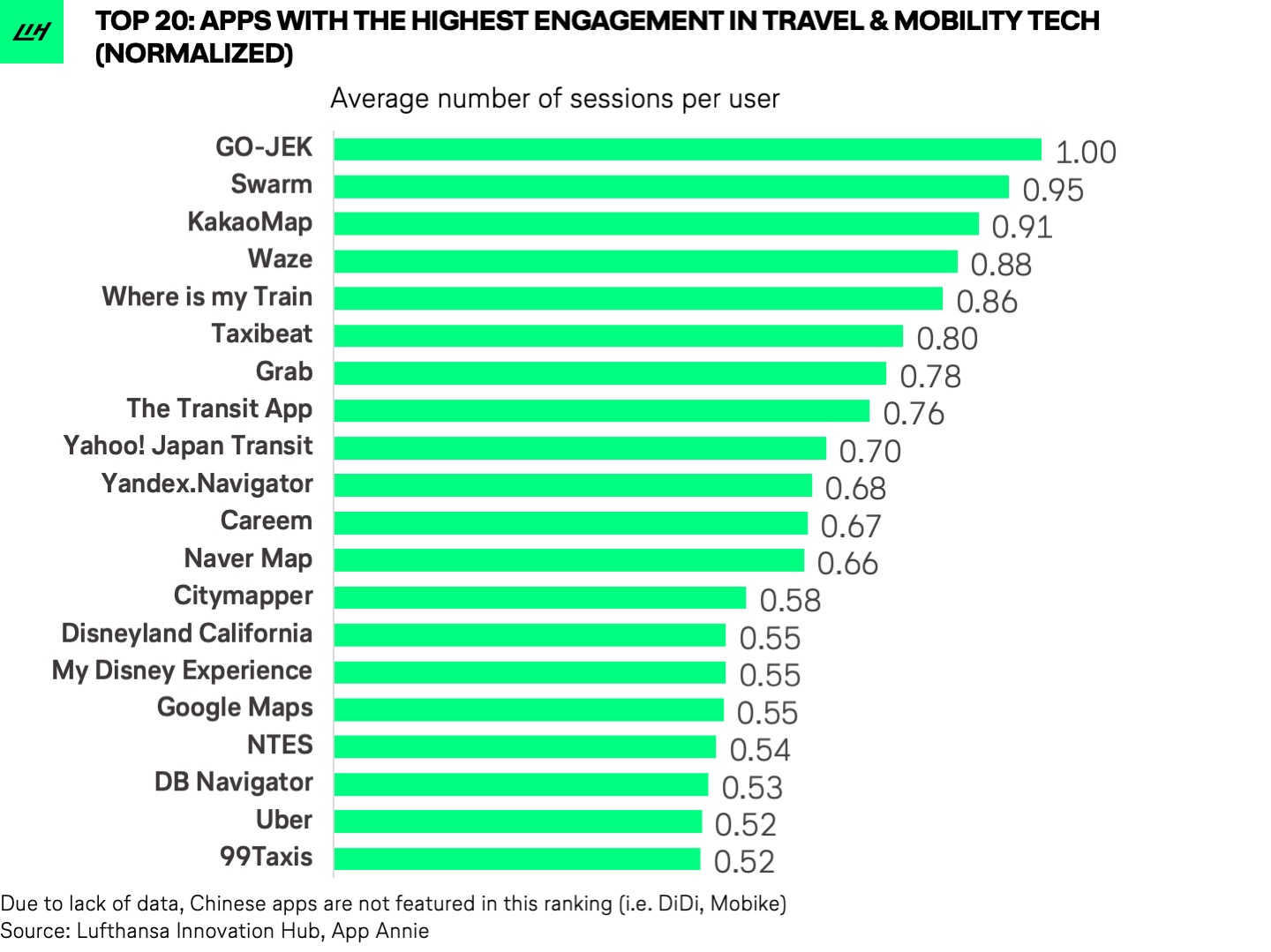 These apps have, on paper, two of the necessary ingredients for reaching Super App status: size and engagement.
We immediately see what almost all of these apps have in common: they solve daily needs. Go-Jek, Grab, Careem, and Uber provide urban mobility. Mapping and itinerary apps like "Where Is My Train" or Citymapper offer important information for commuters. Swarm lets users share their locations and experiences with friends. And then there is Disneyland… We haven't figured out the need to visit Mickey Mouse and friends on a daily business, but if you recently spent time in Disneyland and have an idea, please let us know.