Social media has become an ever-expanding and prominent channel in influencing people's purchasing behavior. It is currently proven for the e-commerce industry, particularly in China, where e-commerce sales reached a record high of $4.4 billion in 2018 through livestreaming on social platforms alone.
This trend of social media becoming a critical inspiration and distribution channel has also recently spilled over into the travel context.
Why is social media so powerful in influencing people's travel decisions and prompting travel bookings?
Social media content makes people dream about their next trip, as they can easily collect ideas for a future adventure. In fact, 87% of millennials said they use social media for travel inspiration. This inspiration is often collected on smartphones in idle moments, like during commuting (69%), or while eating (56%), as determined in a study from Google and Ipsos.
But social media acts as more than a source of inspiration. People are increasingly basing their actual travel booking decisions on social media content. 52% of consumers say they've made plans to visit a specific destination based on an image or video they saw from friends, family, or peers on social media—up from 43% in 2017.
More specifically, accommodation choices, in particular, are often made based on social media content. According to a Booking.com report, more than half of respondents are triggered, and to some extent even pressured, to find new, exotic accommodation options that none of their friends have experienced before.
How come this "peer pressure" is so important? Because most of us want to share our experiences with our loved ones after we return from vacation. And platforms like Instagram and Facebook are the go-to places to do this. A quarter of Gen Zers take over 50 pics a day on vacation, and 40% share their photos publicly on social media, according to Booking.com.
Travel providers remain hesitant
Despite the growing role of social media in influencing travel, many travel providers have yet to grasp social media's potential to drive bookings.
Until now, most travel companies have used social media as a pure marketing channel to direct users to their website or mobile app. However, with technology developments that allow for integrated payments without having to download an additional app or be redirected to a new page, social media is turning into a dedicated distribution channel for travel companies.
Displayed below is an illustrative example from Instagram on how products can be directly sold during livestreams. Instagram lets brands present video content where viewers can zoom in to view the presented product in more detail, adding them to their shopping cart directly through a check-out process integrated within the platform so that users do not have to leave the Instagram app. The overall purchasing experience is extremely smooth, as the inspiration and purchasing moments merge fluently.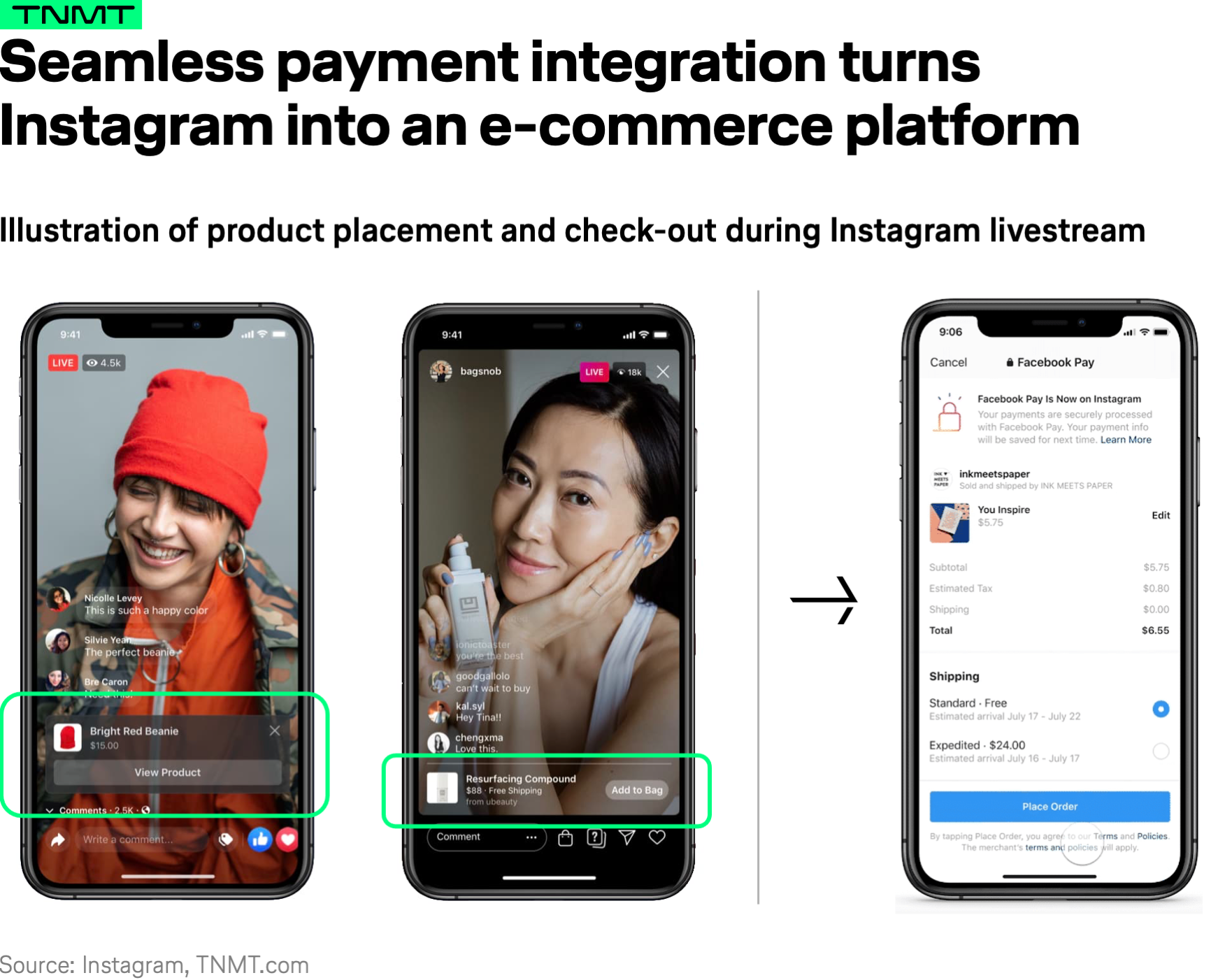 The above example is from the fashion and beauty industry, where retail companies have been a lot faster in applying these new possibilities than, for instance, travel companies.
However, we are seeing more and more travel and mobility companies exploring the social media space for the direct distribution of their products. As with so many other digital trends, Chinese travel companies are leading the way.
Before we look into more concrete examples and explain how this could translate to the Western travel context, let's understand what has been driving the social media relevance in the travel space.
1. Social media use accelerated rapidly during the pandemic.
During lockdown, people spent more of their time on social media as an outlet for their pent-up desire to interact with others, and to travel.
These are very powerful stats. They not only show our unbreakable human desire to explore the world, but they also reinforce that we expect social media adoption to increase further post-pandemic. Especially as digital adoption in the travel context is more established now. In fact, the travel sector shows the highest uptake in the expected frequency of digital usage post-Covid vs. pre-pandemic, as McKinsey data suggests.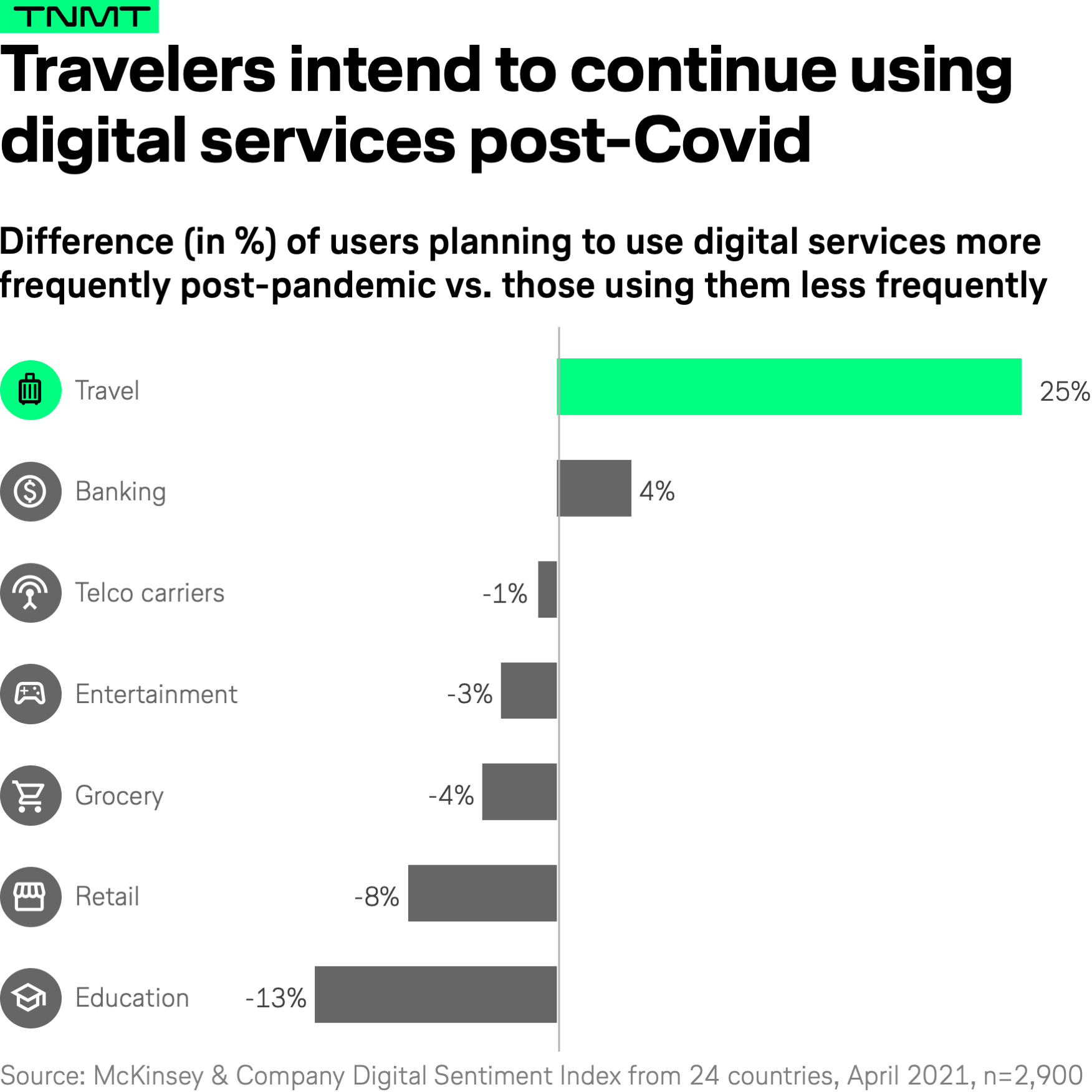 2. Younger generations with heavy social media use are most eager to splurge on travel.
After being locked down and facing travel restrictions to various extents for almost two years now, many consumers are more eager than ever to get out and splurge on travel experiences.
44% of U.S. consumers plan to treat themselves and splurge on travel, lodging, and vacations. This makes travel the second-most popular category for leisure expenses after dining out in restaurants.
The same study finds that especially affluent millennials show the highest intent to splurge on travel, with over 80% indicating they plan to splurge on leisure travel in the future.
Only travelers above the age of 57 indicate that they are somewhat hesitant to spend a big portion of their income on travel expenses post-pandemic, as shown in the McKinsey graphic below.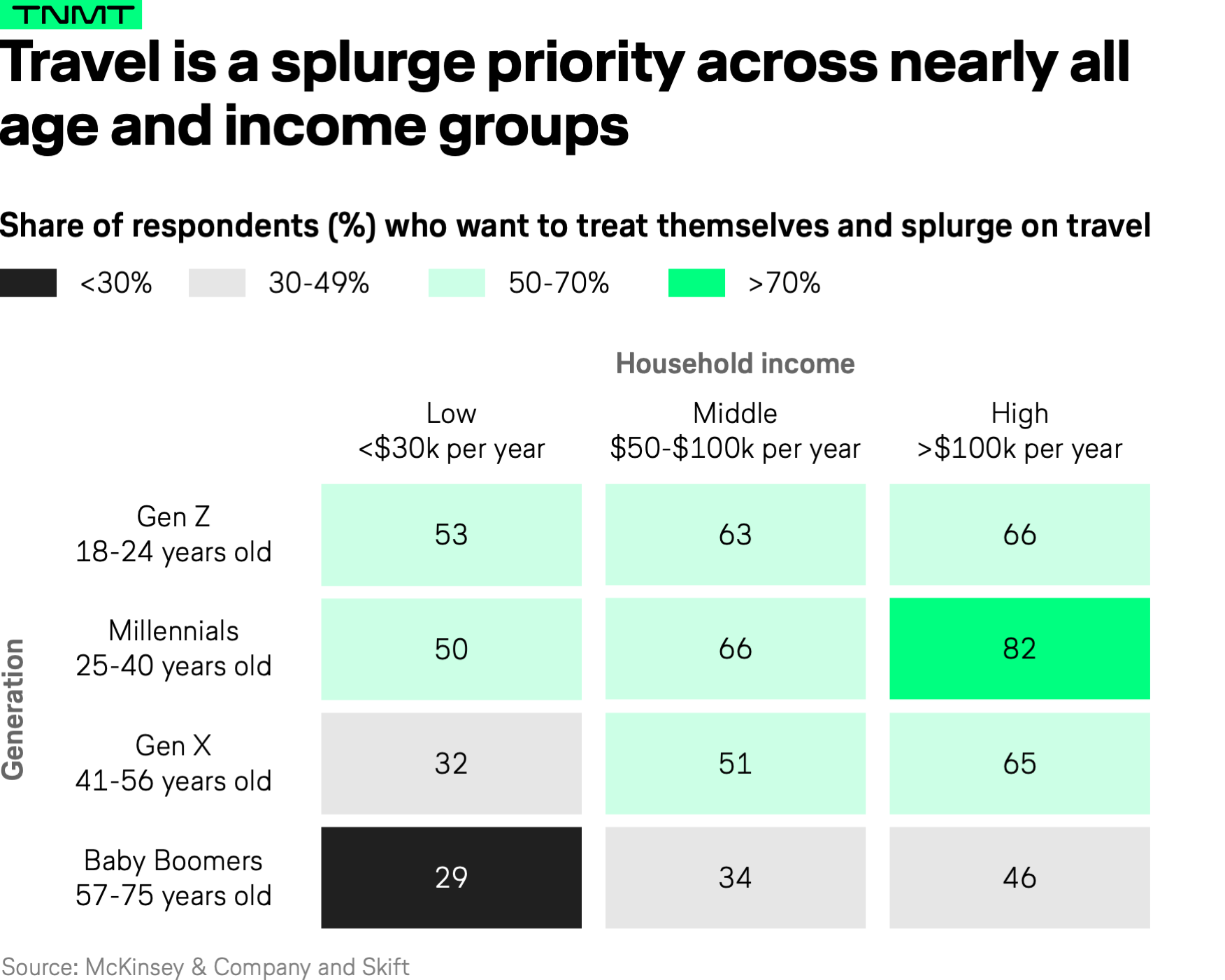 This underlines the importance of social media as a purchasing channel, as millennials and Gen Z travelers—the two generations with the highest travel spending intent—are increasingly reliant on mobile transactions and social media usage, as Pew Research clearly indicates.
3. Social media has expanded across platforms and content types.
When talking about social media, most people think of Facebook and Instagram. But many new platforms have emerged in recent years, and they all serve slightly different target audiences, with a range of content types and sales channels when it comes to travel products.
Mainstream social media platforms such as YouTube, Instagram, and TikTok are most often browsed by users who want to be inspired and share their travel experiences. This is usually in the form of pictures and short video content.
Livestreaming, on dedicated video streaming platforms as well as social media platforms like Instagram, has become a popular sales strategy adopted by major Asian OTAs such as Trip.com, as well as Chinese hotel chains that host livestreams with integrated purchase functions and check-out features.
Influencers, either specifically active in one app or across various platforms such as Instagram, Doyuin, or Little Red Book, have been working with selected OTAs and travel providers for more user-generated content.
These livestreams and influencer campaigns are often associated with discounts and special deals, and therefore attract a slightly different audience than, for example, YouTube and TikTok, which focus more on trip planning and inspiration.
After better understanding the growing social media relevance and opportunities for travel inspiration and bookings, let's take a closer look at the main content types and formats used on social media.
We will focus on formats that are engaging and significantly influence travel booking behavior.
Video content is the go-to format for travel FOMO
Immersive video content is extremely powerful in shaping how people dream about their next trip. Users interact with video on a regular basis in their free time. In fact, about two-thirds of travel videos are viewed on mobile devices, as travelers grab their phones up to a hundred times throughout the day. Therefore, video content on social media platforms can repeatedly trigger wanderlust and act as a constant push for consumers to start planning their next trip. This is supported by research:
This study concluded that while photography is essential for sharing experiences, video content is crucial for triggering travelers to recreate the featured activity.
In any given month, over 100 million of YouTube's unique visitors are travelers. No wonder that 20% of travelers cited YouTube as a source for discovering vacation destinations.
Three in five travelers who watch online videos use them to narrow down the travel brand, destination, or activities at the place of destination.
Livestreaming converts inspiration into bookings
Livestream viewers are usually more purpose-driven. What does this mean? Users watching travel livestreams have generally already made the decision to take a trip, and they are now looking for special deals and discounts.
While social media videos inspire travelers to plan a getaway before they're even thinking about traveling, livestreams are more likely to be a final inspiration source once a consumer has made the conscious decision to travel, having (at least mentally) already figured out a timeframe and budget, as these livestreams allow them to see what concrete travel packages could look like. Interacting with travelers at this stage has proven to be lucrative, as travel intent is very high, and travelers are on the lookout for deals. Interestingly, travel provider livestreams barely exist in the Western world, though they are standard practice in many Asian countries.
Trip.com's co-founder and Chairman of the Board, James Jianzhang Liang, launched a livestream series promoting domestic destinations in March 2021, in an effort to bolster travel recovery post-Covid. The livestream series was a huge success, and Liang has now co-hosted more than 25 weekly livestreams. Reportedly, Trip.com's webcasts have generated around $360 million in travel packages and hotel room reservations, with a total audience of 150 million globally and average transactions of $180 per booking, according to their own reporting.
Following Trip.com's success, other travel companies have jumped on the bandwagon, including the Chairman of Spring Airlines, who hosted a webcast in April that reportedly generated more than $1 million in booking value, with 8 million people watching the livestream.
With that being said, travel livestreams have grown increasingly popular since spring 2020, with Chinese OTAs and hotels in particular launching streaming campaign after streaming campaign. Initially, the content focused on domestic destinations to encourage Chinese travelers to start traveling again. This arguably drove the first stage of China's tourism recovery, as can be seen in our Flight Demand Tracker and in the increasing flight capacity in China between March and August 2020.
Since then, livestreaming promotions have also expanded to international trips, preparing travelers for the time international travel resumes.
The example below displays a collaboration between Chinese travel platform Mafengwo and the German National Tourism Board, with guides livestreaming from Rome.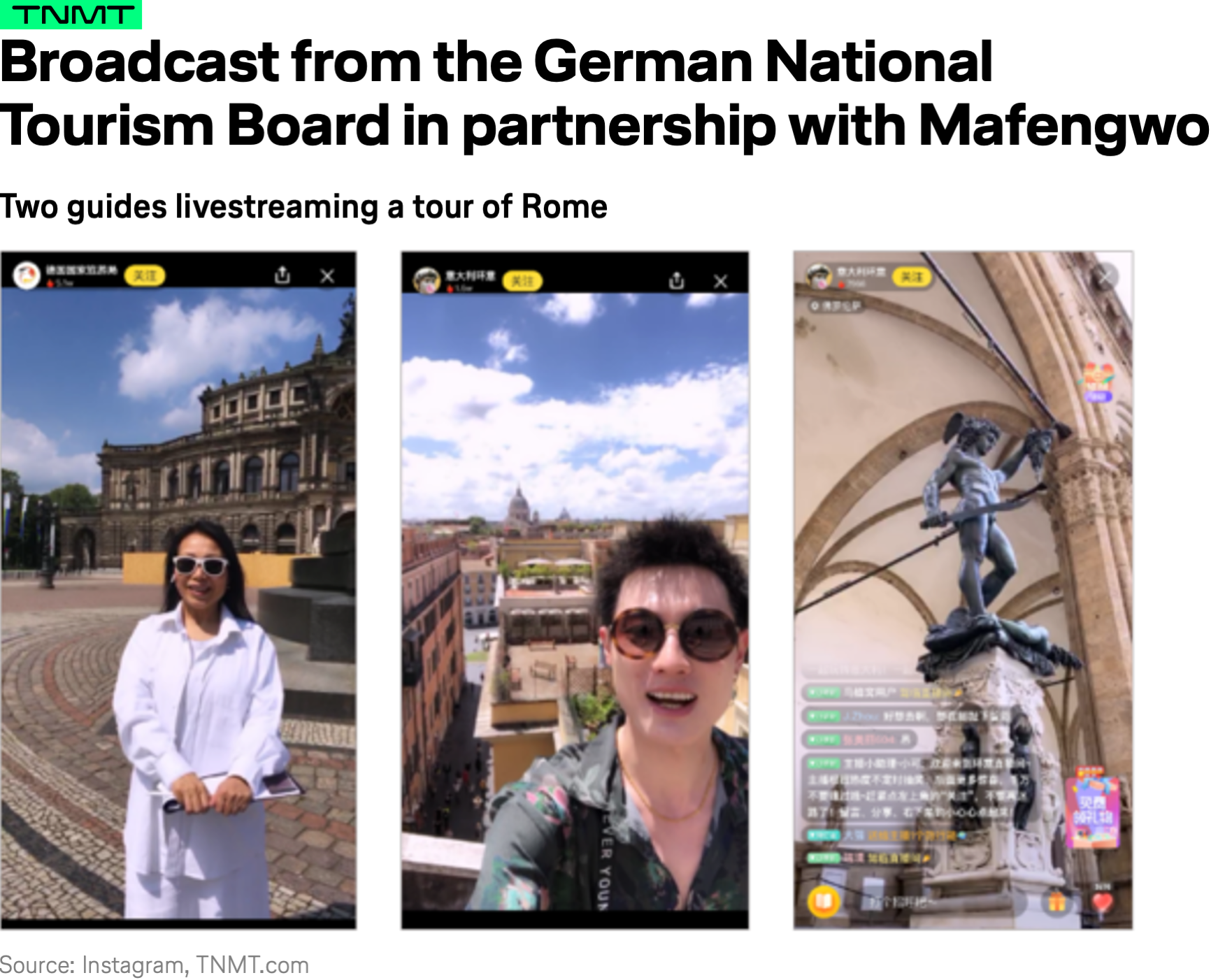 Influencer-generated travel content is more authentic than other product categories
Influencer content is a mix of both inspiration and deal discovery. Influencers' social media profiles are often used as a point of reference, and as a trustworthy recommendation source. Given that influencers are often provided with affiliate discounts, users might also discover the influencer content while browsing, feeling triggered or otherwise inspired to purchase or plan their trip using the discount code that is often marketed as a special gift to loyal followers.
The power of travel influencers can also be found in the data: According to GWI, travel content is the main reason people follow influencers on social media, with 62% of users citing travel as their main area of interest from influencer content—about 15 to 16 ppts higher than beauty and fashion content, which are far more prevalent in social e-commerce at this point. Therefore, the data shows the true potential of travel influencer content on social media.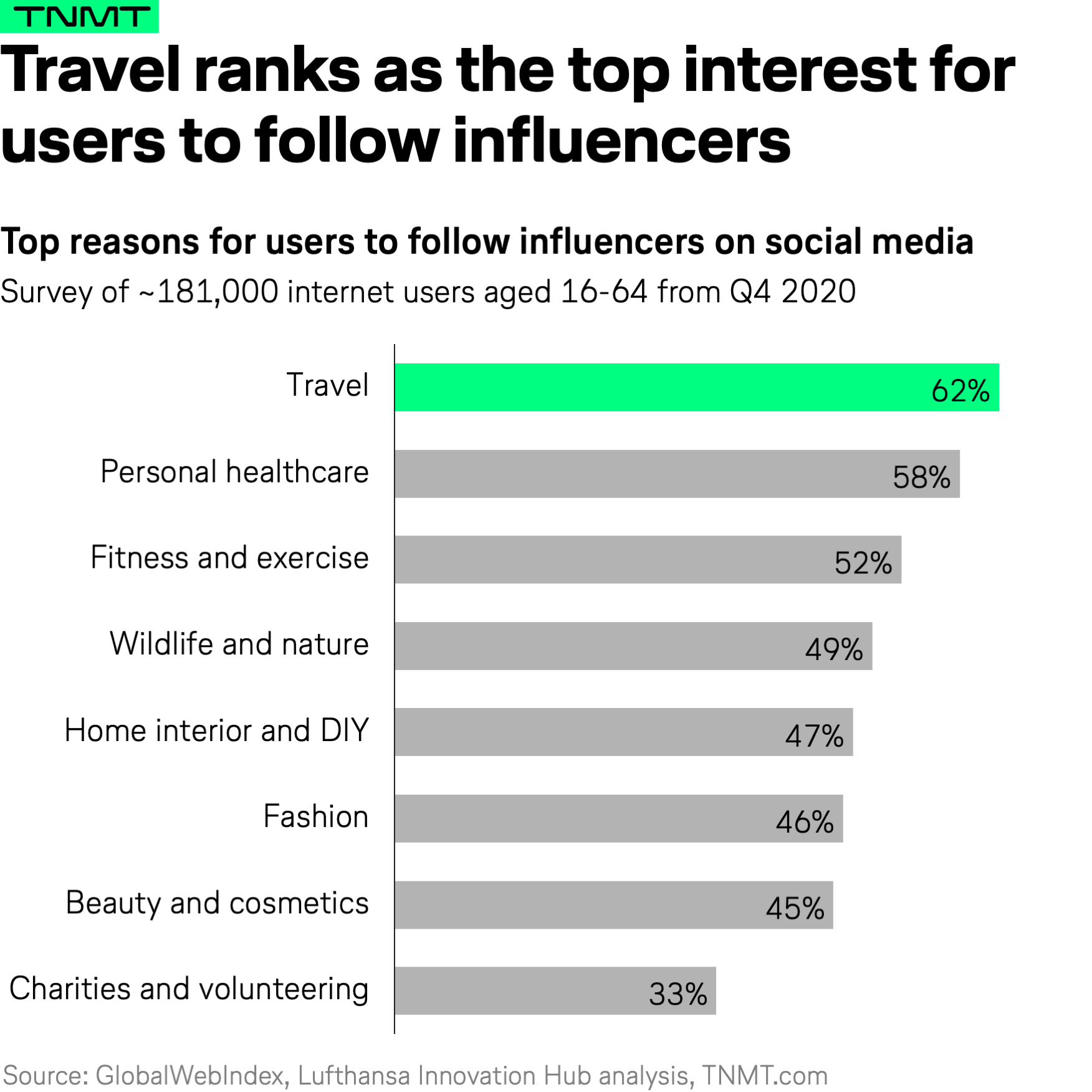 In fact, social media users are now relying on travel influencers' content more than they did pre-Covid, as 63% of respondents indicated in a survey from market intelligence company Morning Consult that they plan to engage with influencer content now more than ever.
The same study also found that followers not only engage with the content they get to see, but they trust what is being presented to them—in fact, 84% of respondents view travel influencer content as helpful recommendations.
An app in the travel context that rose to mainstream popularity through influencer content is Little Red Book, the Chinese version of Instagram. Little Red Book has a network of certified influencers. Travel brands on the platform work with influencers through their whole supply chain to create opportunities in China's digital travel retail spaces, enabling consumers to shop their travel routes online. Brands have reportedly recorded up to 271% growth in mentions following their Little Red Book campaigns.
According to a 2019 survey, businesses are making $5.20 for every $1 spent on influencer campaigns. The top 13% of businesses can even make $20 or more. It's no wonder that in 2018, $1.6 billion was funneled into sponsored influencer posts on Instagram alone.
What can travel providers learn and apply?
It goes without saying that social media is expanding from a place of just connecting and online mingling into a go-to channel for all types of e-commerce, even serving as a point-of-sale for travel bookings.
Travel providers must realize and exploit the opportunities of not only seeing social media as a marketing and customer service channel, but also as a critical distribution channel to drive sales. According to McKinsey, social media-related, livestream-initiated sales could make up to 20% of all e-commerce sales worldwide by 2026.
While Asian travel providers, especially those in China, have been proactively leveraging social media platforms to stimulate travel recovery, Western providers have yet to pick up on the trend. And we would urge them to get started soon, as Western consumers—similar to their Asian counterparts—are ready to embrace this trend. According to a February 2021 study by Forrester and AliExpress, 70% of 14,460 consumers surveyed in the UK, Spain, France, and Poland were interested in the new form of social livestream and e-commerce shopping​​.
This follows the larger shift of digital content being key in inspiring travelers. According to Think with Google, 65% of people are triggered by digital content to plan a vacation or trip. Digital content is a key element in driving next-generation travelers' booking decisions, giving them the tools they need to be spontaneous before, during, and after their journeys.
In Europe and North America, this awareness has mainly been picked up by retail companies so far—see successful examples from beauty companies such as L'Oreal, Clinique, and Estée Lauder in offering "live shopping" experiences.
Travel and mobility companies are only slowly starting to test these waters. We strongly encourage Western companies to further explore social media-enabled video commerce and attempt to stimulate travel demand in the coming months, similar to how Asian OTAs did in the first half of 2020. Market research companies predict the U.S. livestreaming market alone will grow to $11 billion by the end of 2021, and more than double by 2023.
As in the case of so many emerging yet relatively untapped opportunities in the digital space, a growing breed of upcoming travel startups is eagerly trying to exploit the trend. Established travel providers like airlines and booking platforms should pay close attention as they might find inspiration to expand their own offerings.
One example is Backdrop, a photo-sharing app that merges tech, social media, and travel. Luxury Travel Hackers collaborates with influencers to create instagrammable travel content that is not only sharable but also bookable via social media. Each trip can be curated based on the individual traveler's interests and budget, though travelers can also just book the exact same experience a travel influencer posted on their account.
Thatch and Trvl, on the other hand, democratize travel content with a meta platform that allows anybody to earn commissions on their travel knowledge regardless of their follower count. Meanwhile, less consumer-facing, and more focused on connecting influencers with travel providers, Matador Network claims to have created a "LinkedIn for travel creators and travel brands." Likewise, Trova Trip offers travel operators partnerships with their certified network of influencers. 
These startups are, in our opinion, only the beginning of a much bigger movement and growing ecosystem of digital challengers. Video will become ubiquitous, and we will see it penetrating all aspects of our lives (think video conferencing, telemedicine, and online education, which are all on the rise), and it would be foolish to think the travel industry will remain unaffected.
Starting with the observations we discussed in this article, such as livestreaming and influencer campaigns, we believe the trend will extend from one-way video content into bookable content where consumers can purchase entire trips, activities, and other items like clothing presented in user-generated content. In the future, we will see people watching an influencer video on YouTube, TikTok, or the next up-and-coming platform, and then being able to purchase the exact same itinerary in just a few clicks. The technology already exists and will slowly become available in all regions of the world, which will fuel the growth of e-commerce in the travel industry.

As Frederic Barou, Senior Vice President at Amadeus, recently concluded: "All this type of behavior they [customers] have in today's social life, they will want to see in travel as well and we are very far from this. A lot of innovation is needed to keep simplifying for users."