The travel and luxury industries are unquestionably interlinked.
Savvy travelers increasingly search for unique experiences and purchase quality products associated with specific destinations, from chic French fashion to hand-crafted artisanal jewelry from Japan.
Many luxury brands are expanding beyond their core sectors of fashion and jewelry, integrating with the culinary world. We believe this trend has meaningful learnings and implications for travel, specifically airlines.
How exactly?
We will explain this in this article.
First, we'll dive deeper into how and why luxury brands like Louis Vuitton have entered the world of fine dining. We'll look at concrete examples and speculate how this movement could be transferred to the airline context.
As a sneak peek, we're convinced that traveler needs intersect with those of luxury consumers. We believe there are significant opportunities available when bringing these two industries closer together as opposed to seeing them as separate markets. The luxury industry is poised to see tremendous growth in the years to come. According to Bain & Company, this is driven by the luxury market's consumer base, which is set to expand from some 400 million people in 2022 to 500 million by 2030.
Such a scenario presents an interesting opportunity for travel providers to focus on the luxury segment moving forward.
Luxury brands are entering the culinary world, especially in Asia
To get started, let's look at some concrete examples of luxury brands expanding into the restaurant space. One of the major frontrunners in this movement is Gucci.
As early as 2015, Gucci moved to open the 1921 Gucci Café in Shanghai, China. This was the company's first full-service restaurant other than the Gucci Café inside the Gucci Garden in Florence, Italy.
Later, the company opened Gucci Osteria, an exclusive chain of contemporary fine dining establishments first introduced in Florence, Italy, in 2018.
Gucci Osteria expanded to Beverly Hills, California, in 2020 and Tokyo, Japan, in 2021.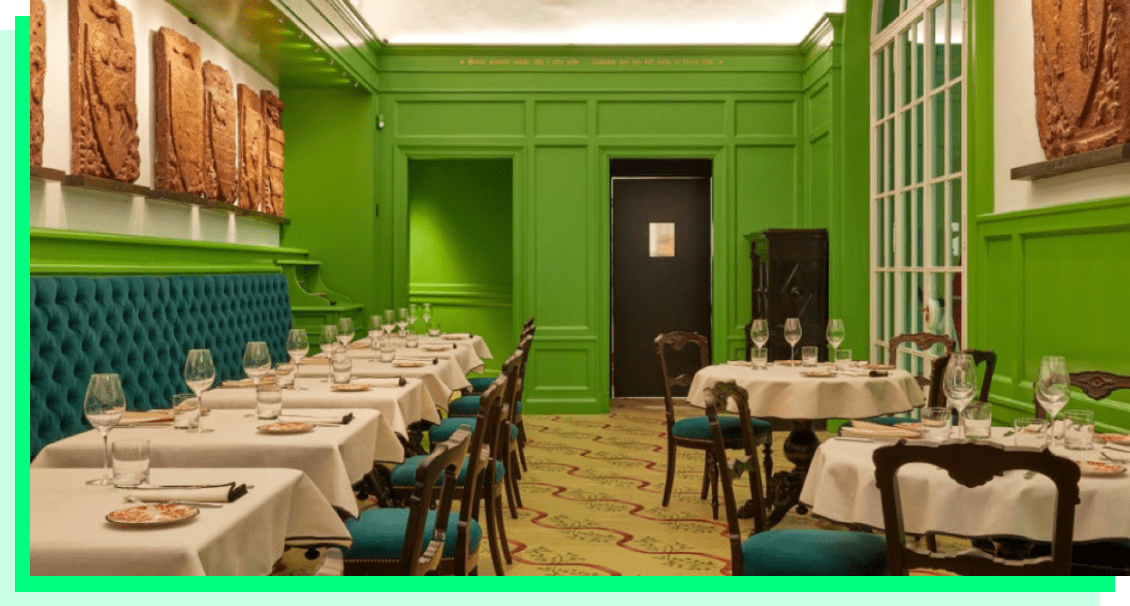 On the heels of Gucci, other luxury brands started to gain a foothold in the crossover between luxury and gastronomy, especially in Asia.
For instance, IWC Schaffhausen, a maker of luxury Swiss watches, opened a coffee shop called Big Pilot Bar in July of 2021. Located in central Seoul, South Korea, the café is the brand's second food and beverage space in the world. The first space opened in 2017, IWC's cocktail bar in Geneva, Switzerland.
Ralph Lauren chose Beijing, China, to open its first coffee shop in 2021 and its first restaurant bar in the Asia-Pacific area in Chengdu, China, in 2022.
Four of the five cafes and restaurants Louis Vuitton (LV) has launched worldwide since 2020 are located in the Asia-Pacific region. Most recently, LV opened a new restaurant called The Hall, also located in Chengdu, a cosmopolitan Chinese city with an avant-garde lifestyle, right across from the company's spacious luxury shophouse, Louis Vuitton Chengdu Maison.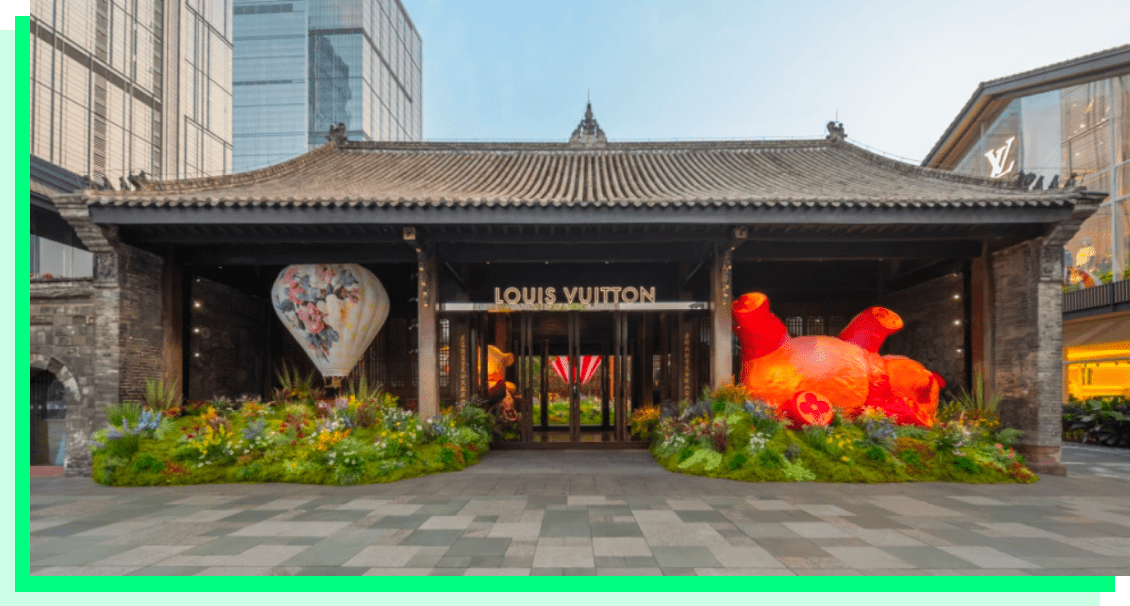 Asian consumers can't get enough of this luxury cuisine
The proliferating trend of luxury brands opening their own restaurants, especially in Asia, is supported by enthusiastic consumer responses.
For instance, restaurant reviews, posts, and live reports from the new LV Chengdu restaurant have taken Chinese social media platforms by storm. LV fans praised the fine blending of the LV brand culture with the local Chengdu culture. In particular, consumers heralded the cuisine flavor, the interior art selection, and the professional waiting service.
What makes this LV experience truly unique (and hard for non-luxury fans to wrap their heads around) is that the company doesn't shy away from taking its branded show-off to almost bizarre levels.
The dining area of its Chengdu location is bursting with LV logos. The space is about the brand, with the exquisite food menu seemingly only an ancillary add-on, a concept that succeeded. The waitlist for LV's Chengdu location is estimated to span up to six months.
Each latte served to customers who visit LV's Le Café V in Japan comes with an LV monogram-inspired print. This feature encourages customers to snap photos and subsequently share them on social media, further generating online buzz and media exposure for the brand.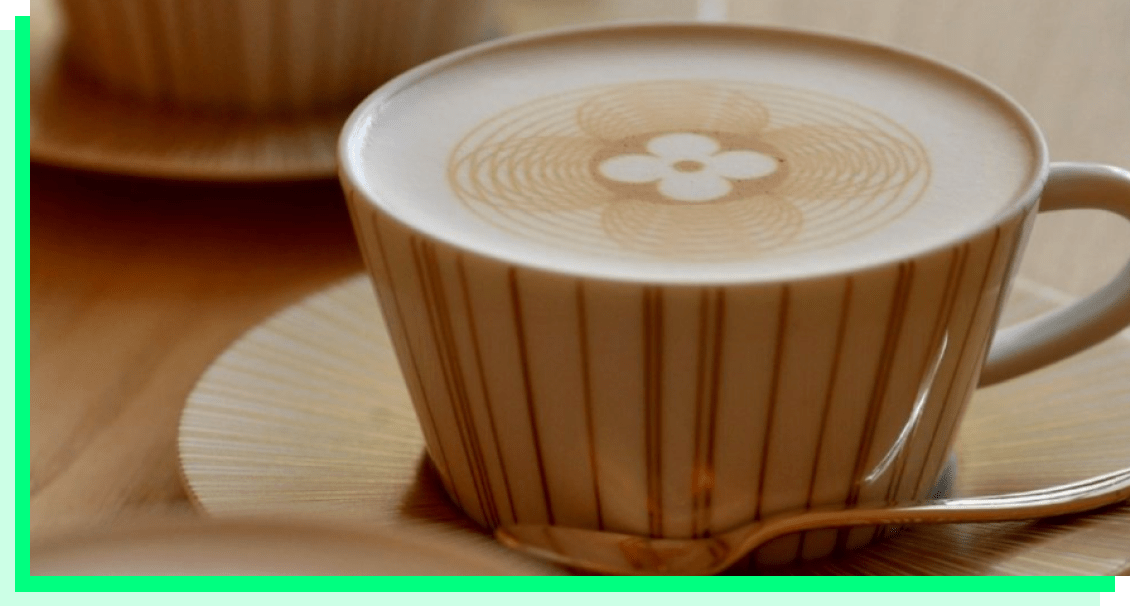 Luxury brands are nurturing their future customer bases
With all of these luxury pop-up restaurants getting off the ground, the question is what strategic rationale behind the trend is.
As previously mentioned, consumers appear to be satisfied with the results of these ventures. However, it's hard to imagine how a handful of Louis Vuitton restaurants can contribute meaningful revenue to the company's global turnover that spans beyond $50 billion USD annually.
Instead, it looks like a smart move by LV to further build the brand and attract younger generations, in particular, with the hopes of getting them hooked on the LV lifestyle.
In a recession-weary environment, it's becoming increasingly challenging for luxury brands to justify the cost of $1000 USD dollar handbags.
Simultaneously, it's hard for many luxury brands to remain relevant amid fierce competition and just a few customer touchpoints throughout the year.
Even the most loyal LV consumers won't buy a new handbag every week. 
Given this, it makes sense that branded restaurant setups would allow luxury companies to engage more frequently with consumers. These spaces also enable them to help build a community of brand advocates that ensures the companies stay top of mind.
In particular, younger consumers who haven't bought dozens of LV bags in the past might become more curious about the brand. This is the potential beginning of a life-long luxury loyalty. In addition, media attention surrounding these pop-up restaurants are valuable in building a brand's online presence, which can lead to offline hype, as has been seen with LV's Chengdu location.
What can travel brands take away from this?
Travel brands face some of the same challenges as luxury brands. In particular, airlines must deal with a limited number of consumer touch points they can build their brands around. Also, given the competitive nature of the travel industry, it's imperative for carriers to regularly reach travelers' minds through innovative marketing campaigns. This is necessary to differentiate themselves from their peers.
As a result, the idea of building non-core-business-related marketing channels like restaurant pop-ups around the brand experience is one that can be exported.
In fact, we've already seen some initial strides in this direction from airlines.
For instance, Asia saw two airlines open their own "pop-up restaurants" at the height of the pandemic in 2020 to help customers dream of travel and keep their branding top of mind.
Singapore Airlines was one of them. The company turned its grounded aircraft cabins into dining spaces to welcome guests for a special restaurant experience. Consumers couldn't resist. Singapore Airlines' first-class menu (starting at $474 USD per person) and economy offering (starting at $39 USD per person) sold out within 30 minutes.
Thai Airways transformed its Bangkok-based employee dining rooms into an aviation-themed restaurant with the same result. The restaurant reportedly served up to 2000 meals a day while it was open.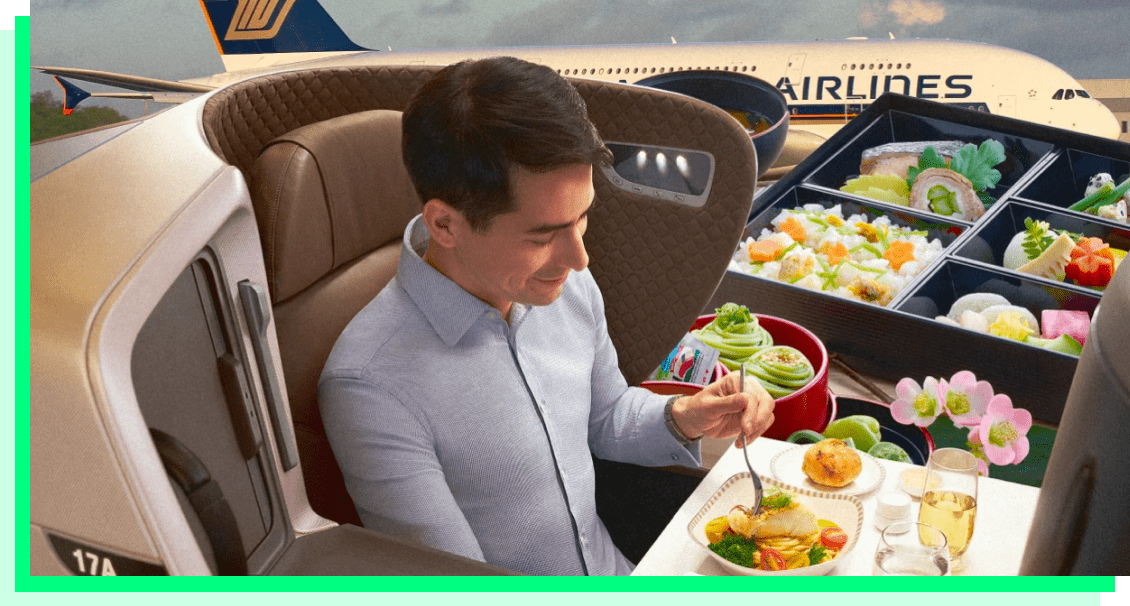 With all this in mind, the world has opened up again. People are traveling again, so airlines have shut down their gimmicky restaurants.
But what would happen if travel providers considered offering more unique brand experiences in the future?
Could similar followerships as those surrounding luxury companies be built around airline brands?
It's an interesting concept to ponder.
And in the spirit of innovation, we would love to see more experiments like the ones mentioned above.
If you have any insight, please let us know.