Over the holiday break, we stumbled upon this infographic illustrating the most discussed brands in 2021, featuring companies like TikTok, Facebook (Meta), Tesla, Pfizer, Robinhood, and Coinbase.
We wondered how this chart would play out in the Travel and Mobility Tech arena.
As such, we looked at the transportation space and identified the companies that generated most of the headlines in 2021—specifically in terms of driving innovation.
How did we do that?
We picked three unique transport categories from the Travel and Mobility Tech ecosystem, namely, airlines, air taxis, and urban mobility. For each one, we screened the global press coverage over the past 12 months via dedicated research monitoring tools. This allowed us to rank the top 10 most discussed transport brands in each category, measured by their respective number of articles in mainstream media outlets covering innovation efforts.
Here are the results.
U.S. carriers dominated the innovation narrative
In the airline industry, American Airlines and United Airlines led the pack in terms of press coverage surrounding innovation activities.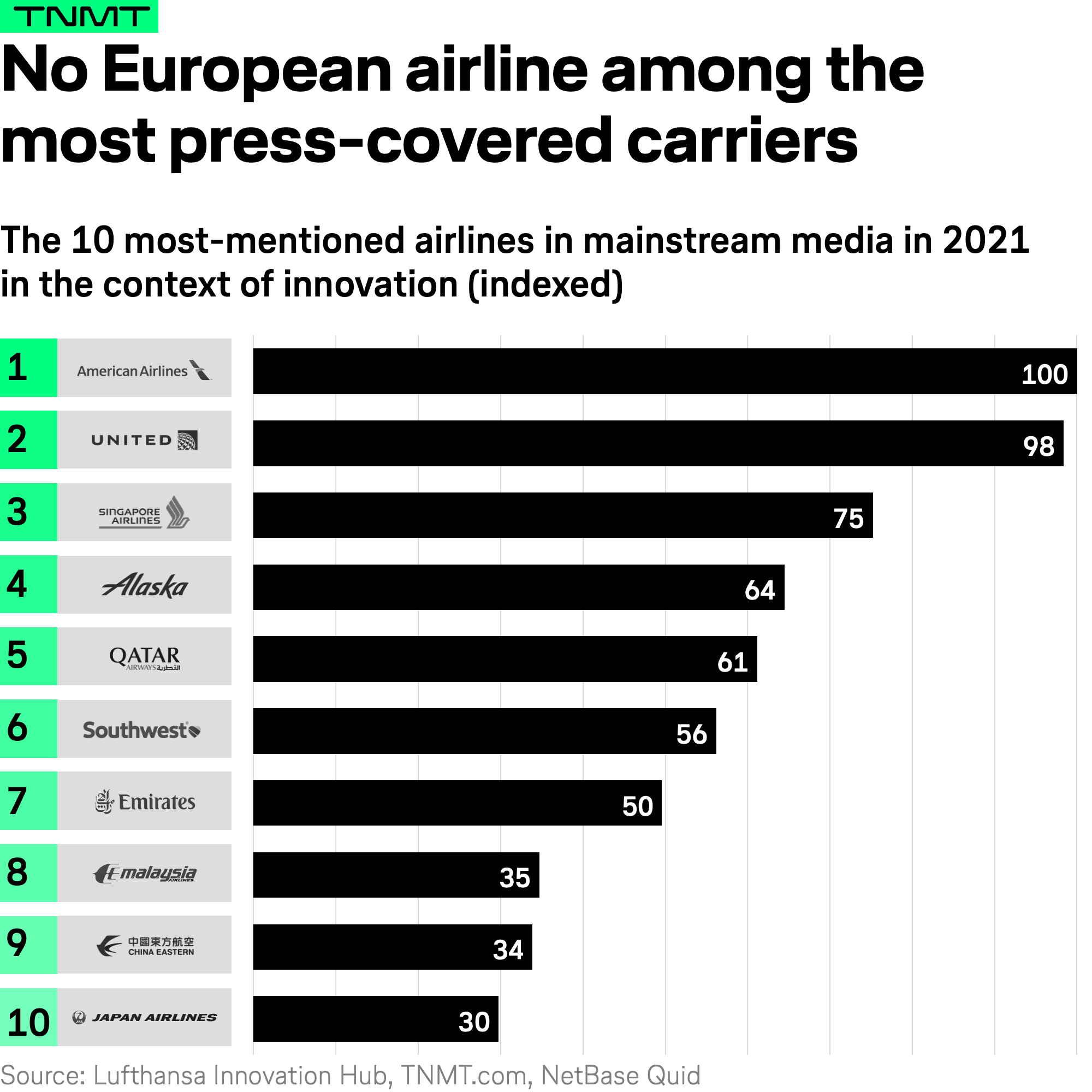 Both carriers announced several short- and long-term innovation bets to mitigate flight concerns driven by rising sustainability issues and the COVID pandemic.
It's worth questioning whether all these announcements really have much of a commercial impact, or whether they are more of a marketing ploy to butter up growth-seeking capital markets and/or distract the public from pandemic-related financial challenges.
In any case, these announcements filled the headlines.
We believe that public commitments regarding concrete innovation efforts are often followed by more tangible and radical actions that lead to new growth bets. So kudos to American and United.
What's certainly alarming from a European perspective is that no homegrown airline was among the 10 most discussed air travel providers in the innovation context last year.
This could be the case because U.S.-based companies are generally more aggressive in pushing their narratives and announcements into the world (not just in the aviation context).
However, the fact that we also see a number of Asian airlines making the list (see Singapore ranking at #3 and Qatar at #5) indicates that the absence of European carriers might have other root causes.
More likely, European airlines tend to be more hesitant when it comes to kickstarting innovation projects during crises. This is potentially driven by a more defensive innovation culture and a slightly more cautious business approach in turbulent times.
Air-taxi companies were extremely loud in 2021
Speaking of more radical innovation in the air travel context.
Air-taxi companies experienced their tipping point in terms of mainstream media attention last year, driven by a flood of mega fundings and SPAC announcements making headlines.
Which air-taxi companies dominated the public conversation?
The winner is Joby Aviation. No eVTOL company generated more media buzz throughout 2021.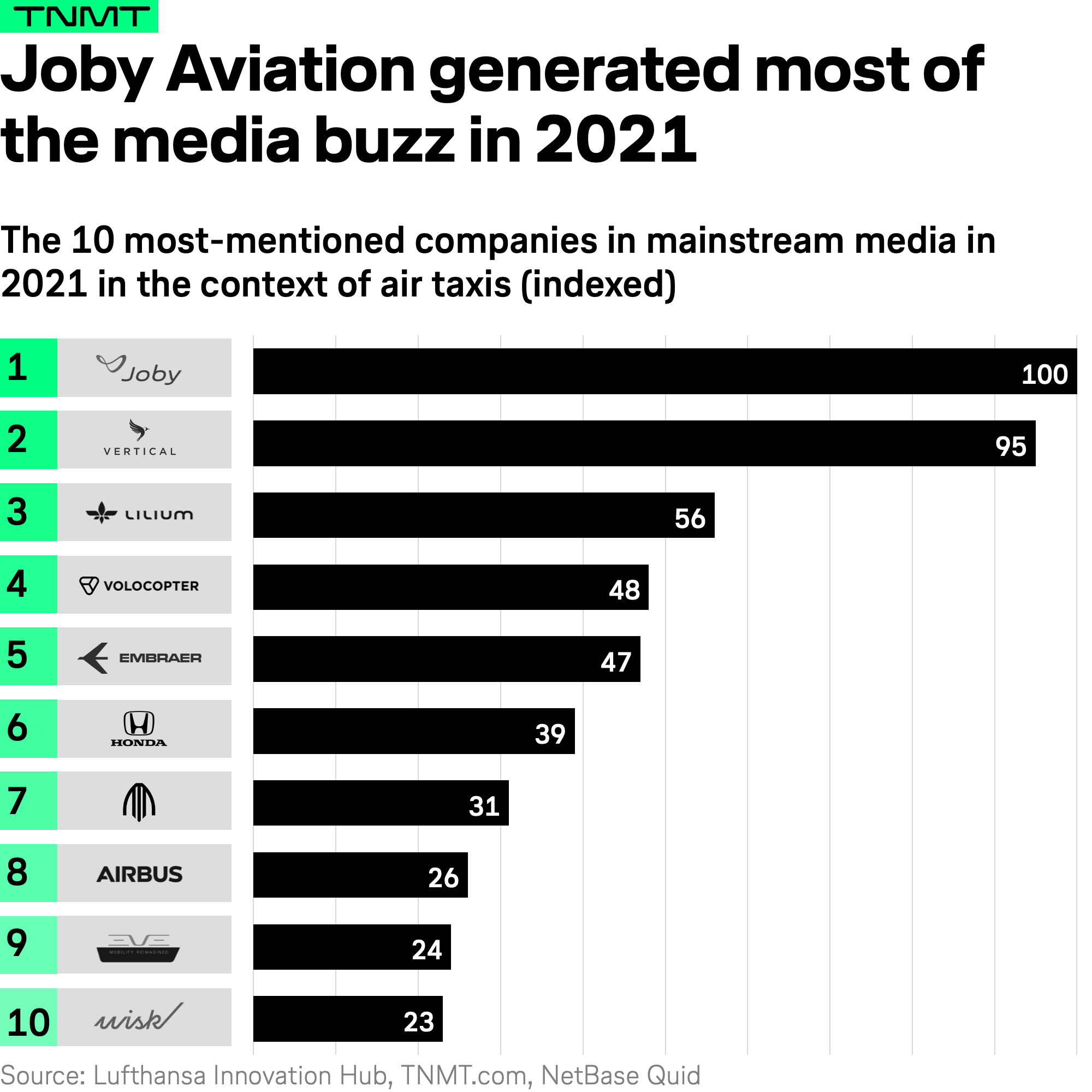 For the air-taxi nerds among our readers, this might not be surprising; in fact, it might actually be a well-deserved achievement. In our 2021 Air Taxi Report, we also crowned Joby one of the current technology leaders in the air-taxi industry based on its patent portfolio and financial resources.
Interestingly, European players are anything but absent this time. Germany's Lilium and Volocopter follow at rank #3 and #4.
Both startups show that European companies are absolutely able to compete with their American peers in terms of winning the attention game—a very valuable currency, especially for startups.
The companies defining the future of ground mobility
How about the (marketing) winners in the battle for innovation leadership among ground transport providers?
Be prepared, as the list contains a couple of surprising players.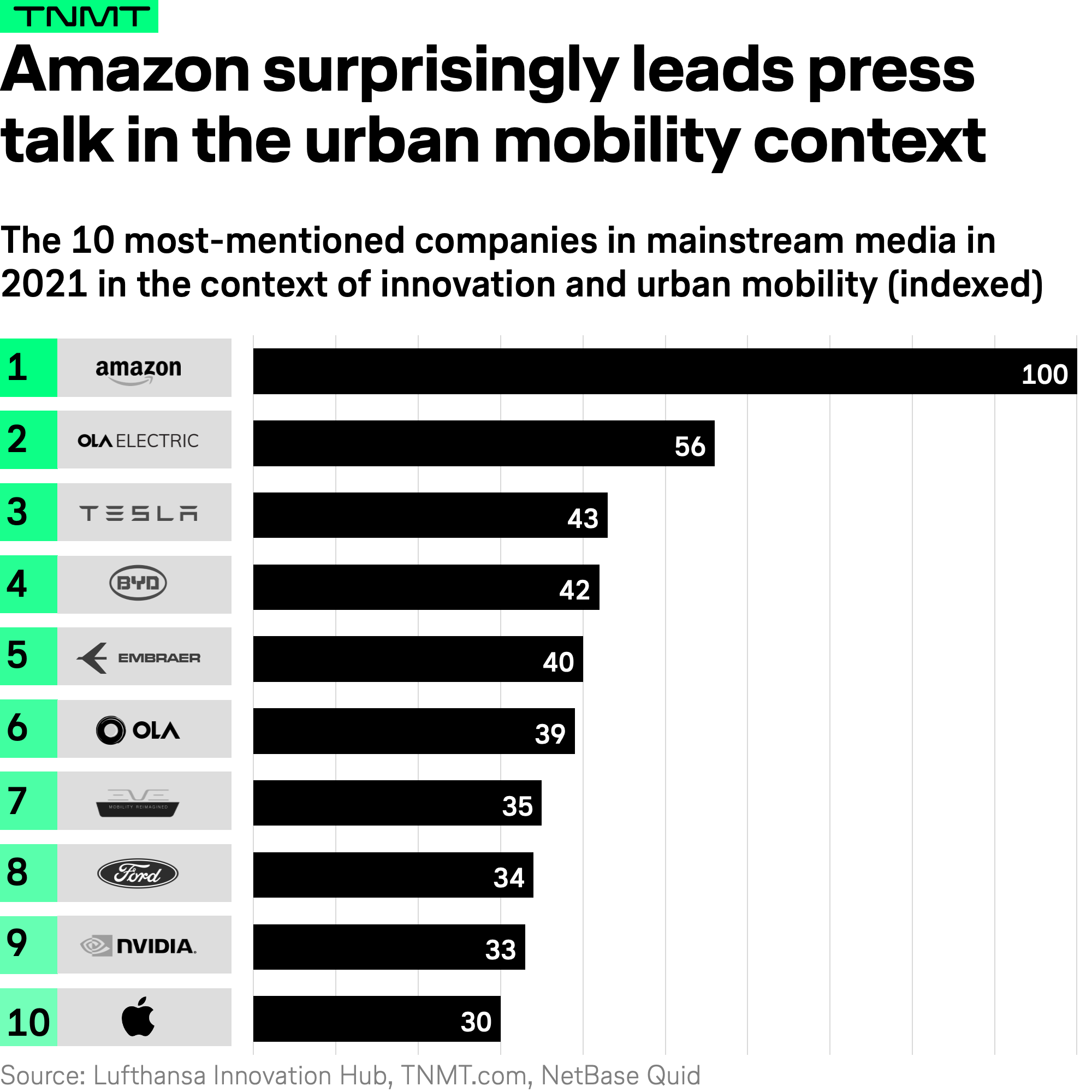 Based on media presence in 2021, Amazon stood out from the crowd the most.
This is quite surprising because the online retail and internet giant is not usually considered a challenger in the transportation space. But Amazon's mobility media run is biased mainly due to one specific event: its investment in electric-truck startup Rivian.
Why?
The partnership paid off massively, both from a marketing as well as a financial perspective last year.
Since then, Rivian's share price has steadily fallen, while Amazon continues to make moves on the mobility front.
Other ground-transport companies making the front pages in 2021 were India's ride-hailing giant Ola (including its micromobility spin-out Ola Electric), followed by, of course, Tesla, as well as Chinese electric car manufacturer Byd Auto, which is not really known in the Western world despite its staggering manufacturing pace. According to last year's news reports, Byd's purpose-built EV model for ride-hailing (co-developed by Didi Chuxing) is rolling off the assembly line at the firm's manufacturing plant in Changsha at the speed of 60 seconds per car.
Amazon is not the only tech company targeting mobility
What's also interesting to see is two other tech companies making the urban-mobility ranking.
And then there is Apple…
Yes, you read that right. Apple made the list.
Several news stories broke last year, strengthening the long-held rumors that the computer giant (now worth $3T in market cap) is eagerly (and secretively) continuing to develop autonomous driving technology.
It will be exciting to learn more about Apple's secret plans going forward.
Maybe 2022 will give us more concrete insights.