As the number of new Covid-19 cases in China continues to decline, local authorities are starting to lift movement restrictions and gradually restoring normalcy in the country.
A growing number of flights is usually a good indicator of a recovering economy as it signals that people are willing to travel again, whether for business or leisure. Looking at the number of aircraft over Chinese territory on Wednesday vs. the same time a month ago, we can see the increased density.
This renewed demand goes hand in hand with airlines opening their flight schedules again. Air China – in contrast to its global peers – has resumed its daily flights from Beijing to London's Heathrow Airport. Meanwhile, the two biggest airports in the country, Beijing and Shanghai, are preparing to get back to full domestic capacity as we speak.
While many international flights are still canceled due to the continuous outbreak of the virus outside of China, we're also seeing some positive signs for long-haul flights. China Southern Airlines, for instance, has re-introduced the A380 into operation last week (for three daily flights from Guangzhou to Los Angeles), after having grounded the aircraft for more than a month.
As flight demand collapses globally, China recovers rapidly
To compare current capacity in air travel across regions and to quantify the current Covid-19 impact on flight demand, we analyzed daily flight departure data from four geographical regions: China, Asia excluding China, Europe, and the U.S. For each region, we selected 15 major airports ranked by the number of flights in 2019 and collected daily departure figures from mid-February until today (end of March). We aggregated the daily volume of flight departures per region to weekly figures and indexed starting data (value = 100) to better compare trends over time.
Here are the results: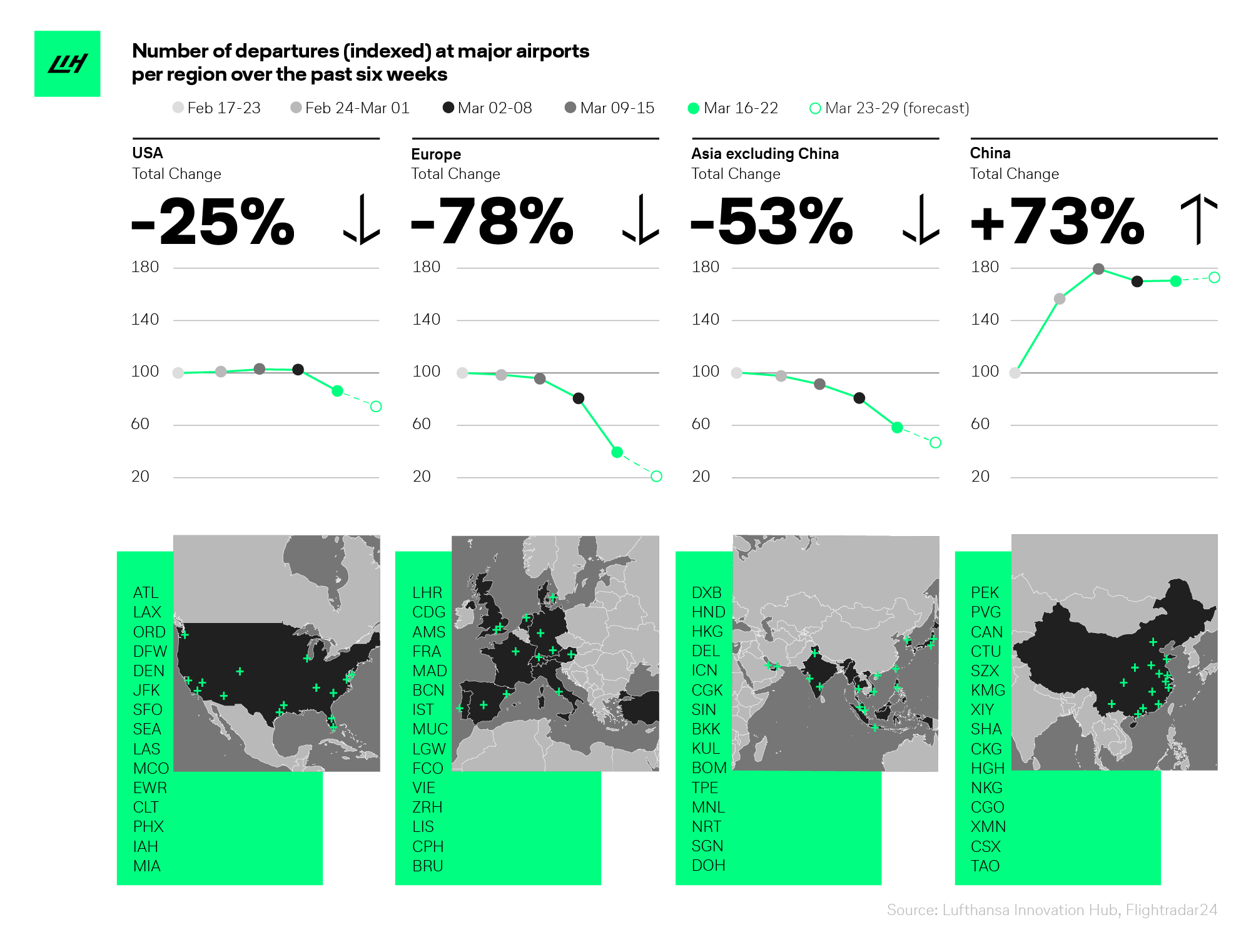 The graphic clearly illustrates which regions are currently struggling the most with the coronavirus epidemic.
As most governments in Europe have decided to close borders and restrict movement and travel among the population, the number of departures in Europe has dropped by close to 80% over the past six weeks. Asia sans China is down by 53% while air travel in the U.S. has only shrunk by 25% so far (as most domestic air travel is still in full swing).
In contrast, China has seen a rapid increase of 73% in flight departures since February 17. The major driver was the first week of March which saw a 50% uptake in flight movements as many (migrant) workers were brought back to their factories.
The hope for a fast revamp of commercial flights across the globe
The findings suggest that travel demand in China has rapidly recovered since the corona outbreak hit its peak in early February – we also show this in another analysis that goes beyond air travel, looking at various other sectors in Travel and Mobility Tech.
China's example can serve as a blueprint for how air travel demand might also develop in other regions of the world over the upcoming weeks and months. Chinese airlines were able to quickly revamp operations after the epidemic was brought under control domestically.
Hence, we advise airlines in Europe and the U.S. to closely monitor the developments and trends in China. We are confident that the rest of the world can experience a similarly rapid comeback, should the virus outbreak be effectively controlled. If this is the case, we expect the travel comeback to move like a wave from East to West – first in Europe, then moving over to the U.S. For the United States, it might take a lot longer to recover as the country is seemingly still in its early Covid-19 days – we have yet to see the initial drop in travel demand. By contrast, we imagine an initial revamp of commercial flights in Europe to kick off as early as mid-May in a best-case scenario.
In short, for anyone looking for signs of positivity and hope during these desperate times for the travel industry, China is the light at the end of the tunnel. It might take many months, if not years, for the travel industry to recover, but travel will return.