I recently returned from the travel-tech extravaganza that is the Phocuswright Conference 2023 in the gorgeous city of Barcelona.
Between networking and sampling local tapas, I delved deep into the current trends shaping our industry.
I'm back with a wealth of insights, neatly categorized into three key themes.
Let's take a quick look at my notes.
The New Traveler: The Evolution of Demand
Revenge Travel Wins: Despite the economic challenges, the thirst for travel is unquenchable, almost everyone agreed at the conference. The majority of travelers are not planning to alter their number of trips, budgets, length of stays, or class of accommodation.
The Resilient Youth: Younger travelers might feel the economic pinch more, but they're not sitting this out. People expect more off-season explorations and fewer but more curated trips.
Community is King: Modern travelers aren't just sightseeing; they're immersing themselves in local experiences. From dining at local eateries to supporting local businesses, it's all about giving back to the community.
Beyond The Price Tag: It may surprise some, but price isn't the only deciding factor anymore. Today's travelers are seeking flexibility and quality. While Expedia's latest research does not negate the importance of price, it certainly underscores the value travelers place on flexibility in their booking decisions.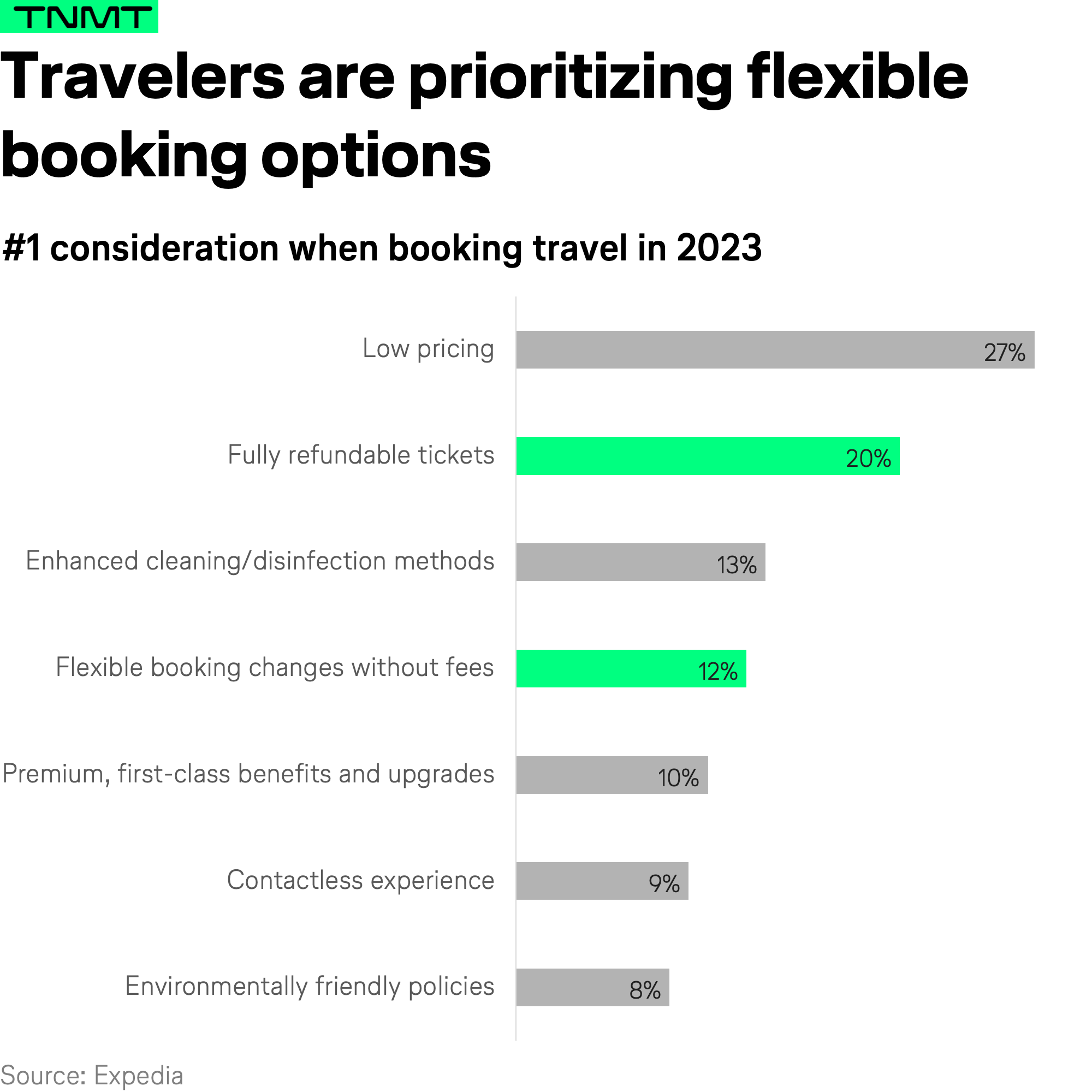 Travel Tech Investments: The Current Climate
The Thrill is Gone: Investment in Travel-Tech startups has taken a bit of a hit in 2023, with funding levels potentially hitting their lowest in a decade. The era of easy money has long disappeared, see our chart below.
Resilience Might Pay Off: Despite this, there's hope on the horizon. With travel demand holding steady and valuations returning to Earth, investors could be lacing up for a comeback next year.
B2B is the New Black: Investors are showing a slight preference for B2B business models, suggesting a shift in focus towards the backbone of the industry.
Recurring Revenue Reigns Supreme: When it comes to B2C, it's all about steady cash flow and a strong business model. That's what most investors are currently leaning towards.
A Tepid Response to Generative AI: Interestingly, investors don't seem too keen on pure Generative AI use cases. However, they see the technology becoming as fundamental to future products as "software" was 20 years ago.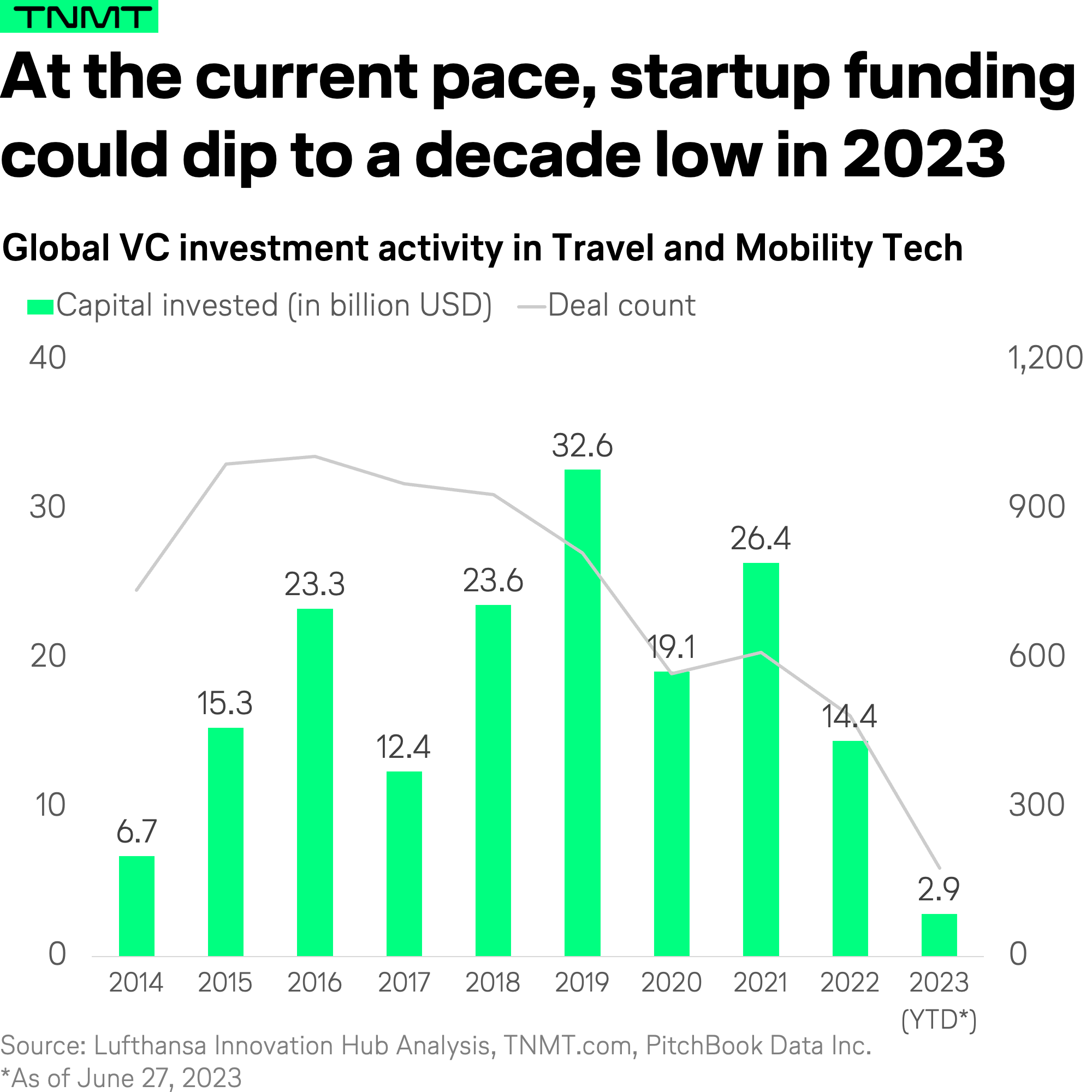 ChatGPT Hype: Worth the Buzz?
Generative AI is Everywhere: You couldn't walk two steps at Phocuswright without tripping over a discussion about Generative AI. The consensus? We're just at the beginning of a revolution that's set to redefine everything from trip planning and customer service to backend operations in the travel industry.
Seeing Double: Case in point—Trip.com's integration of OpenAI tech in February 2023. The company is enjoying conversion rates from ChatGPT tools that are twice as high as the average user, with retention rates 30-40% higher. 
Complexity and Personalization: Generative AI isn't just about tackling more complex search queries. It's also the key to hyper-personalization in travel, helping create tailored experiences for each and every traveler.
The Future of Travel Search: In the medium-term, industry experts predict that no search engine will be left untouched by Generative AI. The tech is set to become an integral part of most travel companies' toolkits.
Ideal for Undefined Travel Plans: Those with flexible, complex, and undefined travel plans are more likely to turn to conversational trip planning tools. The freedom to adapt and change on the go? That's what Generative AI can offer.
Want to dive deeper into the potential of ChatGPT in travel?
Don't miss our latest report where we hypothesize about Google Maps and other map startups building the right interface for Generative AI to massively disrupt the travel sector. 
It's a must-read for any travel-tech enthusiast.